Have you ever lost your most favorite music collection? Or maybe the photos that you were storing since you were eight? This mostly happens when you have stored all your life's data in a Micro SD Card, one wrong move, and boom! All data is either lost or corrupted. Now, only one question remains in your mind i.e. how to get my lost data back? Well, don't worry, there are few trust-able ways to perform a successful Micro SD Card data recovery. But before we get on to the ways, let's understand a few basic things.
Part 1. What is a Micro SD Card?
In case you were in hibernation for the last 20 years. Storing your documents or photos as a hard copy form in a file or shelf is no longer the smartest choice. Micro SD Card is a Microform of Data cards, it is compatible with most of the modern devices such as Mobiles, Camera, Laptops etc. You can store your Photos, Documents, Songs, Videos, and almost any kind of data in it. They can be connected from one device to another in terms of transferring, reading, or writing of data.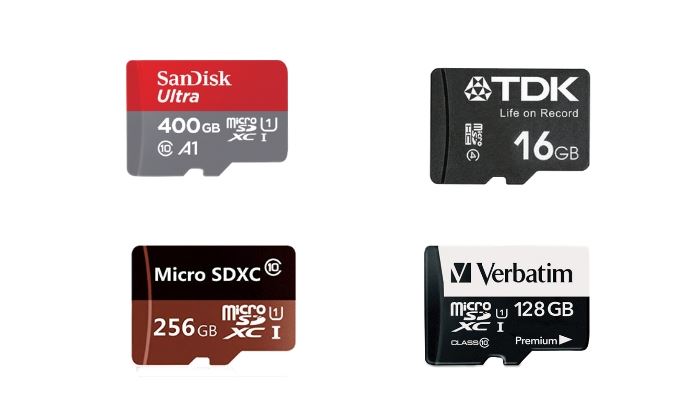 How one can lose data from a Micro SD Card? The potential loss situations: -
Physical Damage: - Micro SD Cards are very Micro in size and are very delicate. Any scratch on it or any kind of physical damage can harm its circuit or the chip part where data is stored. In those situations, you can lose all of your data as the Micro SD Card won't work at all. In that case, you might need to take help of a Micro SD Card data recovery software.


Corrupted cards: - As the Micro SD Cards are always connected to the internet via your device, they are open to malware or viruses. All of your files in your storage card can get corrupted due to a virus.


The during transfer loss: - Many times, when you are transferring data from your SD card to some other device the data gets lost. This may happen due to improper connection, or due to some error. You may not get back your data from anywhere until you recover your data from your Micro SD Card.
Part 2. Is it possible to recover deleted files from a Micro SD Card?
Yes! you can recover lost data from a Micro SD Card. How? Stick with us to learn. In the next part, we are going to cover your multiple queries.
Most asked Queries: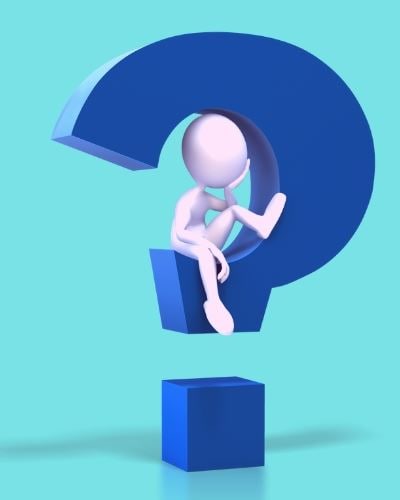 How to successfully perform Micro SD Card recovery?
How to recover files from corrupted Micro SD Card?
How to recover deleted data from Micro SD Card?
How to recover data from damaged Micro SD Card?
Can we recover Micro SD Card data after it gets formatted?
How to recover data from Micro SD Card if not detected? .,.,., and many more.
There are plenty of ways on the internet to recover files from Micro SD Card, but how many you can trust? Trying any of the random so-called free Android data recovery methods is going to make it all worst for you. You need trust and reliability. In that case, you can go with Recoverit (IS).
Part 3. Why the Recoverit is the most preferred Data Recovery Software?
As of now, it is the best and most trusted Micro SD Card recovery software out there. How? Due to the list of features the Recoverit (IS) software got.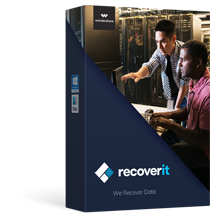 Features of Recoverit (IS) software:
The Recoverit (IS)y software carries a recovery success rate of 98%. That is the best you can get.
It can recover everything from your external Micro SD Card i.e. photos, videos, music, documents, files, and everything else on your storage card.
The files that lost from your Micro SD Card due to the virus, deletion, physical damage, or anything else, it will recover the data from any situations.
You can use its Deep scanning feature to scan your Micro SD Card completely, it will leave nothing behind.
2,526,067 people have downloaded it
How to recover deleted data from Micro SD Card using Recoverit (IS)?
Step 1. Installation:
The first thing you need to do is to go to the Official website and Download Recoverit. Install the program and run it on your computer.
Step 2. Connect the Micro SD Card:
Got your Micro SD Card to recover the data? Connect it to the computer via a data card reader or USB or through any other device.
Step 3. Select the right Micro SD Card:
Once you enter the program, you will see all kinds of external devices that are connected. Chose your preferred Micro SD Card.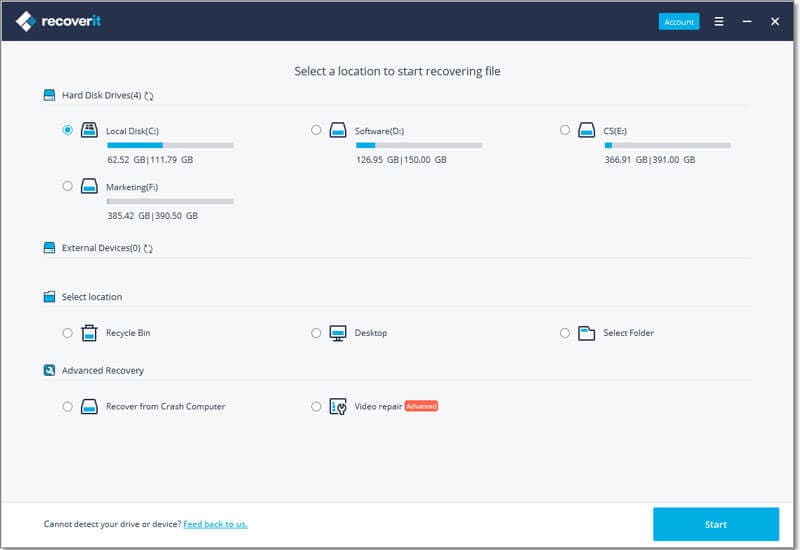 Step 5. Scanning:
Now, the software will scan your Micro SD Card for any lost data. Whatever you may have lost, it will be scanned for the recovery.
Step 6. Recover:
After the scanning, you will get to see a preview of all the lost data such as photos, videos etc. Select the files that you want to recover, then click on recover to move ahead.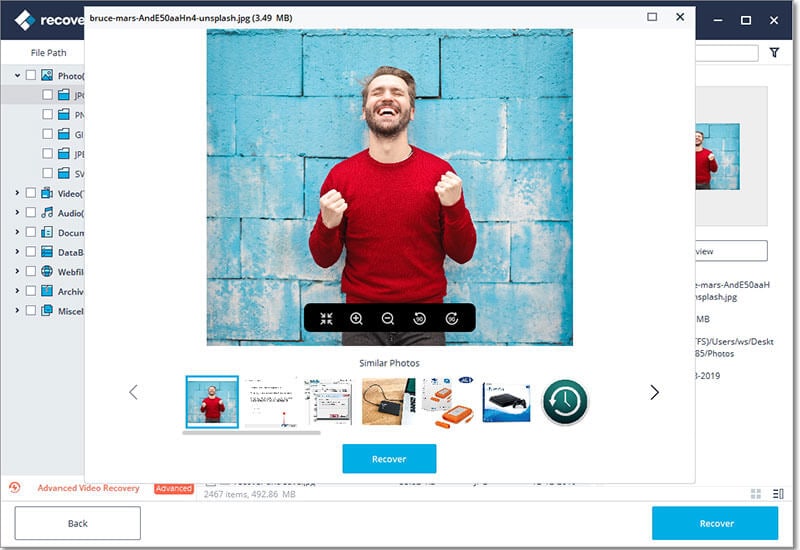 Hurray! Now you have all your lost data back and can save it anywhere safely. Now, in some cases, you might find that you are not able to perform certain actions with your Micro SD Card. It may be due to the write protection.
Part 4. Best way to remove the write protection from your Micro SD Card?
Physical Write protection
In most of the cases, when you are using a card reader, it might have a physical lock. Locate the tiny switch and unlock it.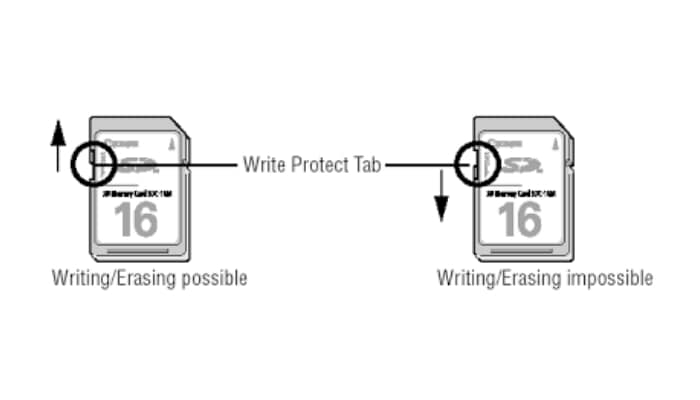 Unlock the soft Write Protection of your Micro SD Card
Connect your SD card to the computer.


Go to "Command Prompt" through the Windows menu search bar.

Open Command Prompt.


Type "disk part" and press enter as shown below.

You will receive a popup window as shown in the image. Click on yes. You will be forwarded to another Command Prompt window.

Type "list disk", then press enter.

Select your memory card from the listed ones. Write "Select Disk (your disk number)" at the place shown in the image, and click enter.

Type "attributes disk clear readonly" as shown in the image, and press enter. Your Micro SD Card will no further be Write protected.
How to prevent losing your data from Micro SD Card? Few tips:
Handle it well: - In most cases, data loss happens due to the physical damage, so you better keep them away from any scratch or tear.
Virus protection: - Transfer files only through the system you know is malware or virus free.
Uninterrupted transfer: - While transferring the file to any device from your SD card, try to keep it uninterrupted to prevent any kind of data loss.
Try the mentioned way and we are sure that you will be able to recover your lost data or recover Micro SD Card. In case of any issue or further queries related to Micro SD Card data recovery, feel free to ask us in the comment box below.