"How to recover deleted photos from Asus ZenFone 5? I accidentally formatted the SD card of my phone and have lost its saved photos too!"
- a question from Quora
This is a query posted by a concerned Asus user on a leading web forum about ZenFone devices. Made by Asus, the ZenFone range of smartphones has certainly proved successful in the last few years. Some of its leading models are ZenFone 2, 4, 5, 6, Go, Max, and AR. Though, there are times when users look for a solution to perform Asus ZenFone recovery after losing their important data due to different reasons. It doesn't matter what the situation is – we have a perfect solution for you. The guide has listed a detailed solution on how to recover deleted photos from Asus ZenFone 5, 4, 2, and other models.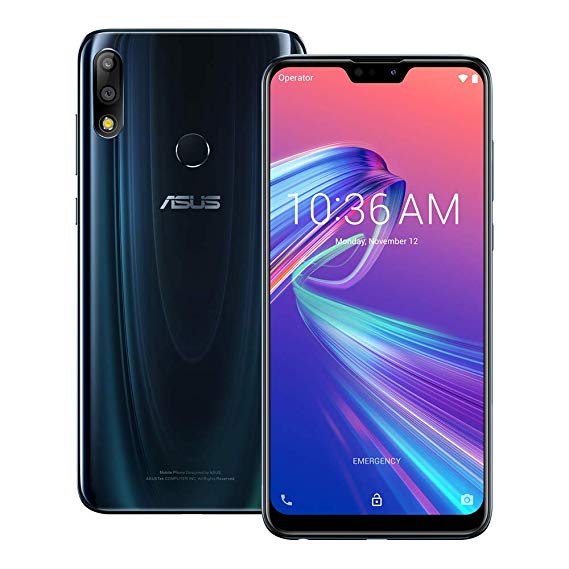 Part 1: Reasons for Losing Data from an Asus ZenFone
Before we get into the details and learn more about Asus ZenFone data recovery solution, it is crucial to know what could have caused it in the first place. Mostly, some of the following issues are the major reasons for unwanted data loss on a device.
A faulty app or component on the device might make the entire system corrupt, leading to the loss of data.


If an app is too old, unsupported, or not compatible with the device


The device storage or the connected SD card might get corrupt due to numerous reasons.


If you have restarted the device while a file was still being processed in the background, then it can make it unavailable.


Sometimes, when we try to copy the data from our phone to another location and halts it in between, it makes it corrupt as well.


If you are trying to change the extension of the data forcefully


A physical or water damage on the device can also make the stored data on it corrupt or lost.


If the process of upgrading the device is halted in between or any other operation (like rooting) is stopped midway.


Any other reason related to a corrupt firmware, broken SD card, malfunctioning system component, and so on.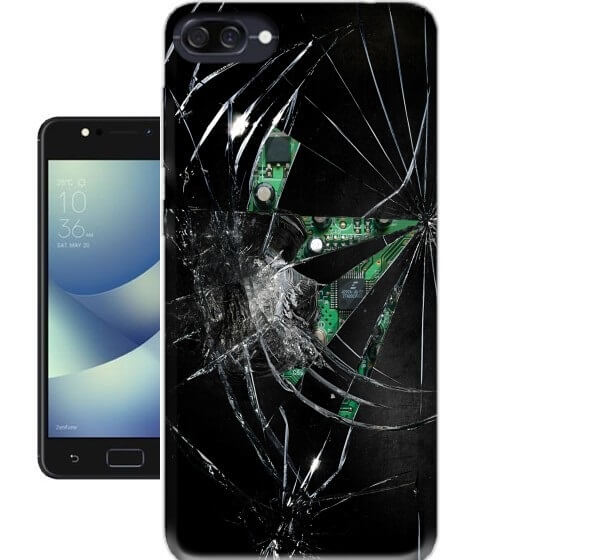 Part 2: Best Asus ZenFone Recovery Software
If you wish to get back your lost, deleted, or inaccessible data from your Asus ZenFone, then give Recoverit (IS) a try. Although there are a handful of Asus ZenFone data recovery tools out there, Recoverit (IS) certainly stands out. The tool is extremely easy to use and is recommended by leading experts. Please note that the tool does not support recovery from Android's internal storage as of now. Though, you can easily recover data from its SD card by simply connecting it to your system. Here are some of the major features of this Asus ZenFone recovery solution.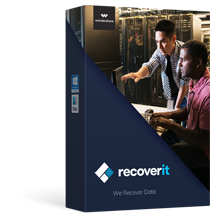 A Life Saver to Solve Your Data Loss Problems!
1000+ Formats Supported: Currently, Recoverit (IS) supports more than a thousand different data formats. This includes all kinds of file formats for photos, videos, audios, documents, and so much more.
Intuitive user-friendly interface: One of the best things about Recoverit (IS) is that it is extremely easy to use and does not require any prior technical experience. You can perform Asus ZenFone recovery with a single click.
Beyond SD card recovery: The application supports all kinds of micro, mini, and standard SD cards from leading manufacturers. Some of the brands of memory cards that it supports are SanDisk, HP, Sony, Samsung, Kingston, and Patriot. Apart from that, you can also recover data from other sources like MP3 players, camcorders, digital cameras, pen drives, and more.
Preview and recover: You don't have to recover all data in one go anymore. The interface will let you preview the extracted data first. Later, you can select the files you wish to save.
So many other features: This Asus ZenFone data recovery tool offers a free basic version and comes with numerous high-end features. It also provides a dedicated customer support to make sure you have a hassle-free data recovery experience.

3,165,867 people have downloaded it
Part 3: How to Recover Deleted Photos from Asus ZenFone 5?
Now when you know what makes Recoverit (IS) the best Asus ZenFone recovery tool, let's know how to use this application. To learn how to recover deleted photos from Asus ZenFone 5, 4, 2, Max, AR, and other models, follow these steps. It will also work to recover every other kind of data type as well (beyond photos).
Step 1

Select your SD card as a source

Firstly, you need to unmount the SD card from your ZenFone safely. Afterward, connect it to your computer and once it is detected, launch Recoverit (IS) application on it. From the list of the available external devices, simply select your SD card and continue.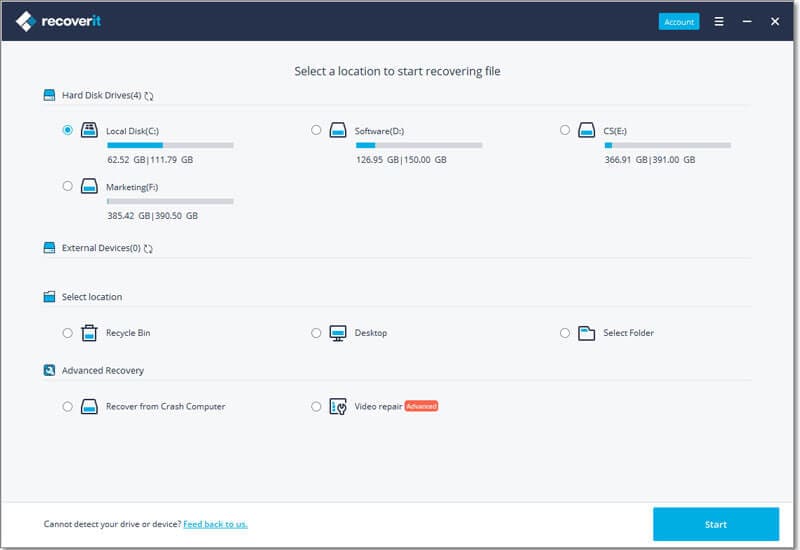 Step 2

Scan the SD card

Click on the "Start" button and wait for a while as the application would scan the connected SD card. Since it might take a while, you can wait for the process to be completed and check the progress from an on-screen indicator.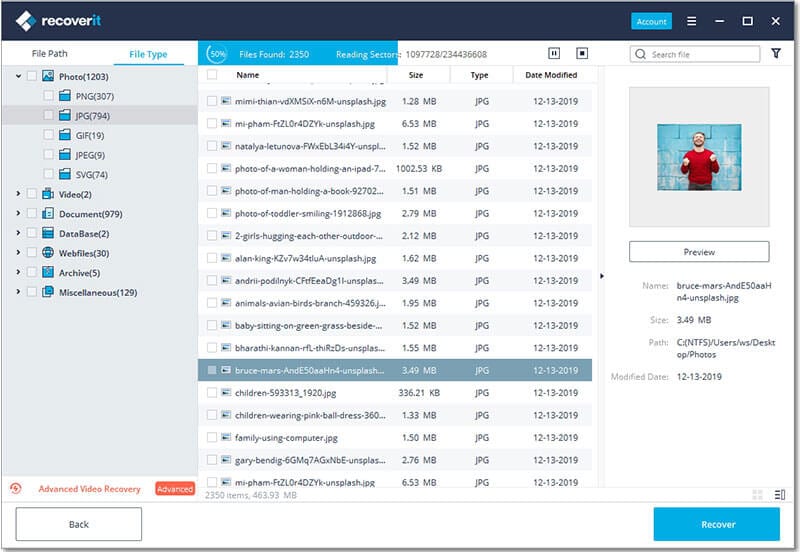 Step 3

Restore your data

That's it! Once the recovery process is completed, all the extracted content will be listed under different sections. You can preview your photos, videos, documents, etc. here and make the needed selections. Click on the "Recover" button and select a location where your extracted files will be saved. Try to restore your data to your computer or any other safe location instead of the SD card again.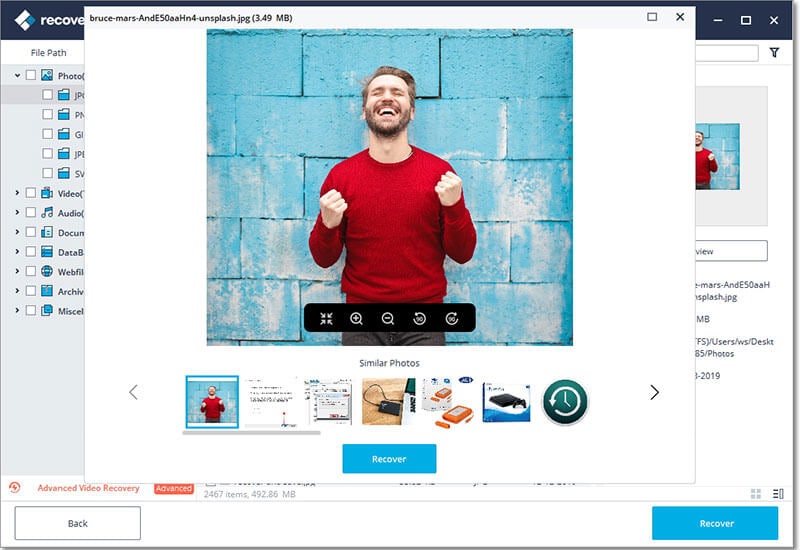 Who knew it would be so easy to perform Asus ZenFone data recovery, right? Now when you know how to recover deleted photos from Asus ZenFone 2, 4, 5, etc. you can teach others as well. Besides photos, Recoverit (IS) can also restore all kinds of other data files as well. It supports 1000+ different file formats and yields exceptional results under every possible data loss scenario. Since it offers a free trial version, you can be the judge of this recovery tool yourself and that too without spending anything!