How to recover data from an Android phone with a broken screen?
If you have a similar question in mind about broken Android data recovery, then you have come to the right place. A while back, I accidentally dropped my phone as well and damaged it severely. I got panicked as I had so much stored data on my phone that I couldn't afford to lose. This got me looking for ways to perform Android broken screen data recovery, and finally, I found some working solutions. Here, in this extensive guide on how to recover data from a broken phone, I have listed both these fixes in detail.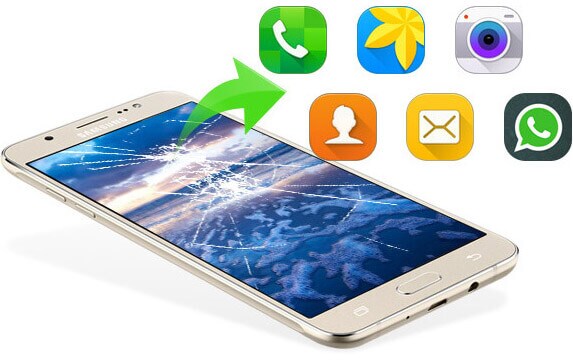 Easiest Method: Broken Android Data Recovery via AutoPlay
Sometimes, the easiest solutions to Android data extraction are also the most effective. If your device's screen is broken, then you might find it hard to access your data the usual way. The good thing is that while its screen is broken, the actual data might be retained in it without any loss. To retrieve data from a broken phone, you can just connect it to your computer. Windows systems have an AutoPlay feature that would automatically help you retain the saved data from your phone. Here's how to recover data from a dead phone easily.
Step 1 To start with, take your Android device and connect it to your Windows PC using a working cable. Make sure that the USB port on your device is clean and not damaged.
Step 2 As soon as your device would be detected by the computer, it will display an AutoPlay prompt. It will have options to sync media, import photos, or browse the device storage. Simply choose to open the device storage on explorer.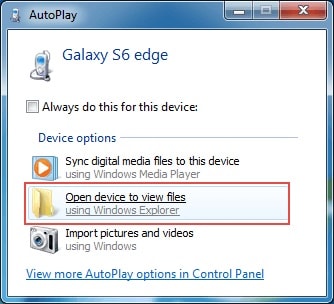 Step 3 That's it! Now you can just explore the stored data on the device, copy the content you wish to save, and paste it on your local system.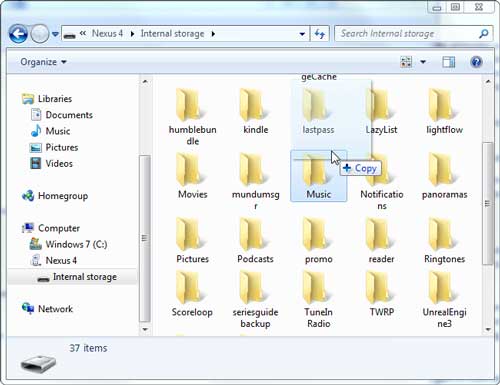 Note: Please note that in some systems, the AutoPlay feature doesn't work at first. To resolve this, just go to your computer's Settings > Devices and turn the AutoPlay feature on for connected media sources.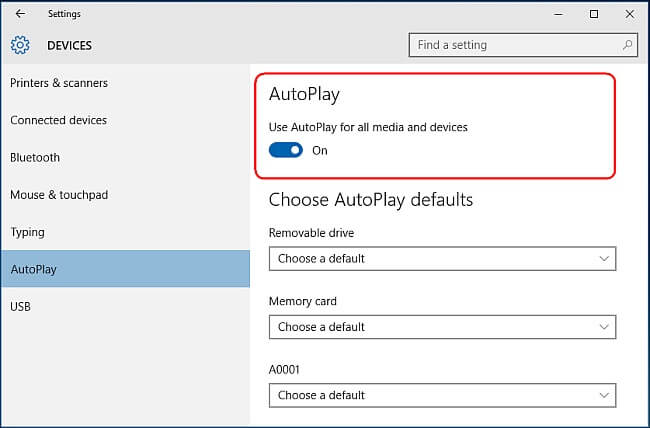 Ultimate Method: Recover Data from Broken Android Phone with Recoverit (IS)
If you have lost your data beyond the scope of recovering it from AutoPlay, then consider using a more advanced option. With the help of Recoverit (IS), you can get back all kinds of lost, deleted, and inaccessible data from your phone's SD card. As of now, it only supports data recovery from the phone's SD card and not its internal memory. Therefore, you first need to attach your device's SD card to the system and later perform extensive data recovery on it.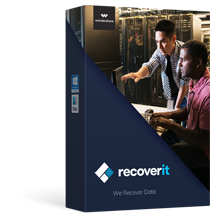 A Life Saver to Solve Your Data Loss Problems!
It can recover your photos, videos, audios, documents, compressed files, and all kinds of data from a device's SD card.
The application is easy to use and supports recovery from all types of memory cards, manufactured by every leading brand.
Apart from SD card, it supports data recovery from numerous other sources like USB drive, digital camera, camcorder, MP3 player, and so on.
It lets us preview the extracted data on its interface and later restore it to any chosen location.
The tool is extremely easy to use and provide a DIY solution with no prior technical experience.

3,165,867 people have downloaded it
If you want to learn how to recover data from Android phone with a broken screen using Recoverit (IS), then follow these steps:
Step 1

Unmount and connect the SD card

At first, you need to carefully unmount the SD card of your device to make sure it won't be damaged. Connect it to your system and launch the Recoverit (IS) application on it. Under the External Devices section, you can see the icon for the connected SD card. Simply select the SD card option and start the recovery process.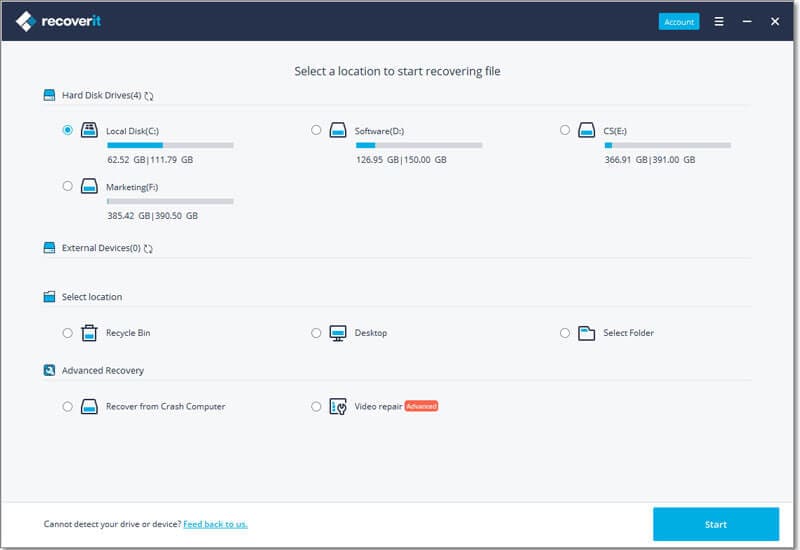 Step 2

Wait for a while

As the application would extract the lost data from your device's SD card, you can just wait for a while. Just make sure that the SD card stays connected to the system and the application is not closed till the process is completed.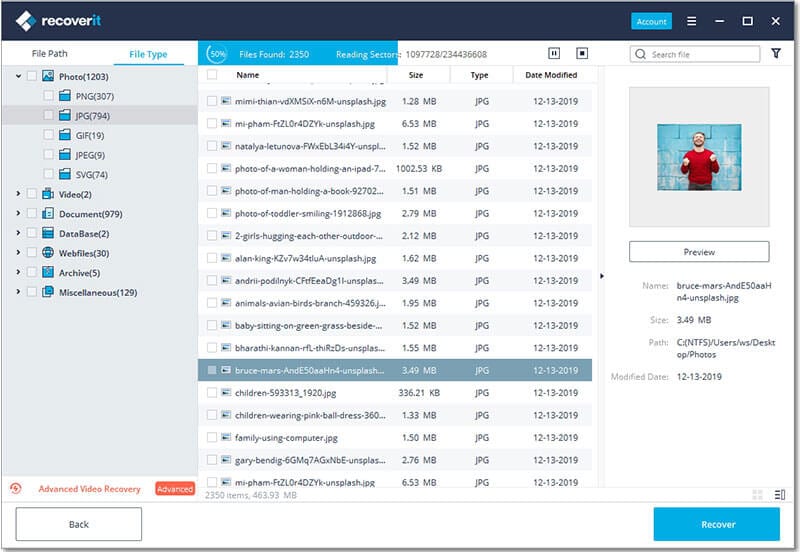 Step 3

Preview and restore your data

When the recovery process is over, the application would display all the extracted content under different sections. You can also preview your photos, videos, documents, etc. and select the content you wish to save. Click on the "Recover" button in the end and save your data to a secure location instead of your SD card.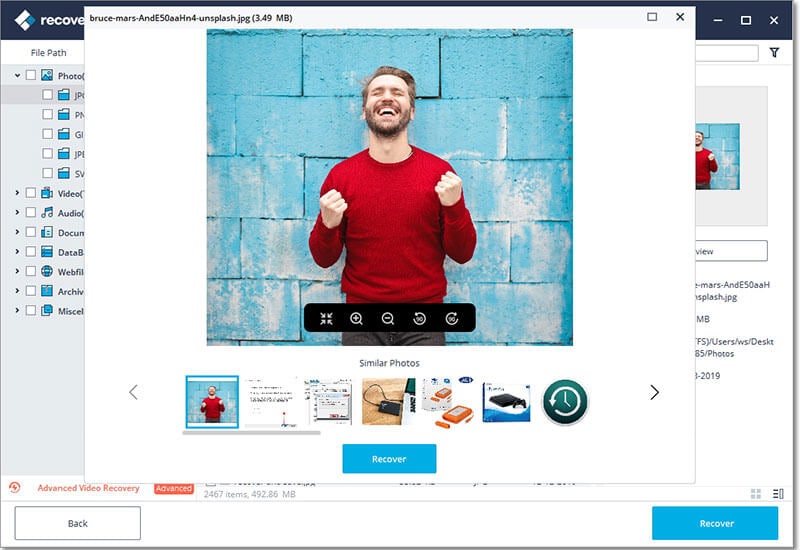 Tips: How to Protect Your Phone and Data?
With the help of Recoverit (IS), you can easily perform broken Android data recovery. Though, if you don't want to experience an unexpected loss of data or the damage to your phone, then consider these smart tips.
Buy a durable cover or case for your phone and make sure the device stays protected. Consider getting a waterproof case to protect it from any water damage.


Apart from a case, also get a gorilla glass or a tempered glass cover to provide an added protection to your phone's screen.


Always maintain a second copy of your data so that you can restore its backup in any unwanted data loss scenario.


Use a cloud based service like Google Drive or Dropbox to maintain a dedicated copy of your important files on the cloud.


Avoid connecting your device to public computers or WiFi networks as they are not secure and can infect your Android with a malware.


Maintain a dedicated SD card only for your Android phone and avoid using it with other smart devices over time.


Keep your SD card locked when you are not using it. This will make sure that your SD card won't be formatted accidentally.
Conclusion:
That's a wrap, everyone! I'm sure that this guide on how to recover data from a broken phone must have helped you. For your convenience, we have provided two different techniques to do broken Android data recovery on your own. Instead of visiting an expert, you can try these options and recover data from a dead phone without any trouble. Ideally, Recoverit (IS) is a highly professional and trusted data recovery tool that can help you get back all kinds of content from different sources. It has one of the highest recovery rates in the industry, making it a go-to recovery tool recommended by experts.