Released back in 2013, Google stunned everyone with their own brand of smartphones – The Google Pixel. With their first model and the subsequent ones, Google has made it clear that their devices are on par with the other flagship phones available on the market.
Pure Android operating system is the plus point of Google Pixel devices, however, one area where Google doesn't provide much support is in Google Pixel data recovery. There is no in-house solution from android where you can recover deleted files from android devices. For example, all your Google Pixel deleted photos will remain lost unless you can find a way to recover them. Let's look at some of the possible ways in which you can perform Google Pixel data recovery easily.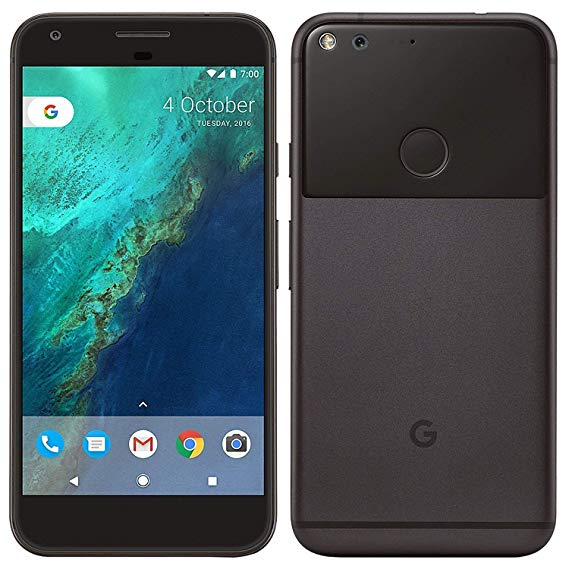 Part 1. Use Google Backup to Recover Google Pixel Deleted Data
If you have been using Google Pixel, you will have full access to Google's account features which also includes Google Drive. It is an option from Google which lets you use their cloud storage to store files. The same platform is also used by Google to upload backups from the phone to the cloud.
Hence, if you have turned on Google drive backup for your data, Google will store them to the cloud at either as soon the data is recorded or at specific intervals. Google drive can backup apps, call history, calendar, contacts, photos, and videos, etc.
Using Google Backup is a great Google Pixel data recovery method that you can try, we have explained the steps you need to follow down below.
Step 1 Open Google Drive app on your pixel.
Step 2 Sign in with your Gmail account if required.
Step 3 Click on the hamburger menu and then click on Backups.
Step 4 You can select what type of files you want to recover from this window.
You should note that you can only restore Google Pixel from backup if you have enabled backup in the first place. In Pixel devices, backup is turned on by default. Hence, all your photos, videos and app data should be uploaded to the cloud by default. However, it is better to double-check the same.
Part 2. Recover Google Pixel Deleted Data with dr.fone - Data Recovery (Android)
But what happens if you lose files and there is no backup in place? Most would regard this situation as something that cannot be reversed. However, all hope is not lost yet!
We bring you a reliable data recovery tool that will help you recover lost files on your Pixel device within minutes. The software is none other than the ever so popular dr.fone - Data Recovery (Android).
It is a multipurpose data recovery software that is optimized for Android devices. Hence, you can use the tool to recover files on any android device in addition to Google pixel.
You can download dr.fone from their official website. Once you download the software, use the following steps to recover lost files from your phone.
Step 1

Launch dr.fone - Data Recovery (Android)

Once the software is launched, you will see that there are multiple options for you to choose from. Since in this guide we are talking about how to recover deleted photos on Google pixel, choose the option Recover.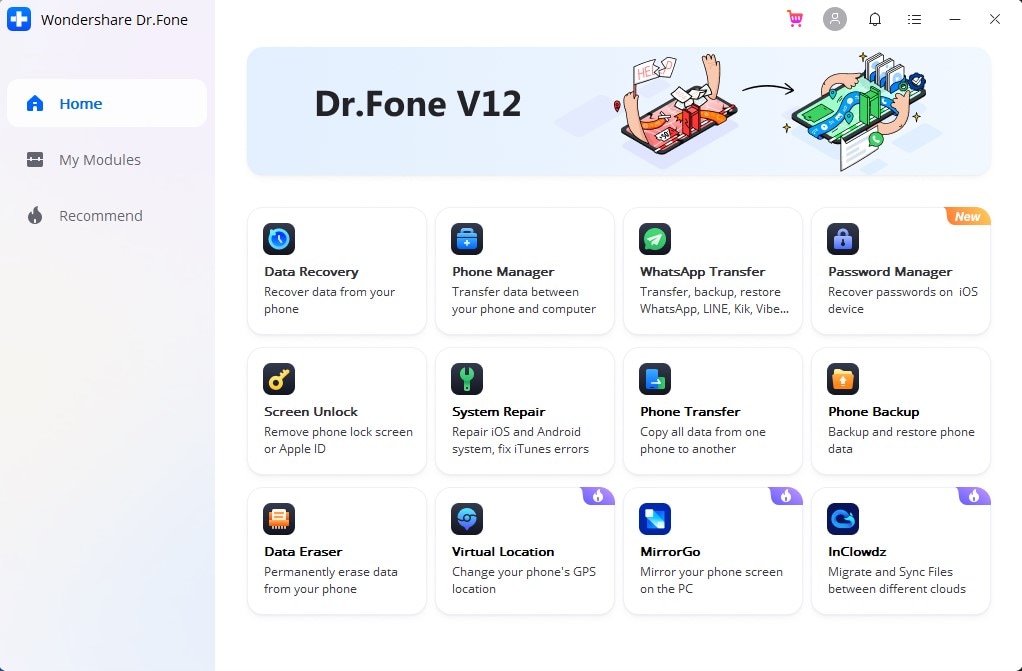 Step 2

Choose the type of recovery

In this window, specify what type of scan that you want to perform. Click on Recover Phone Data.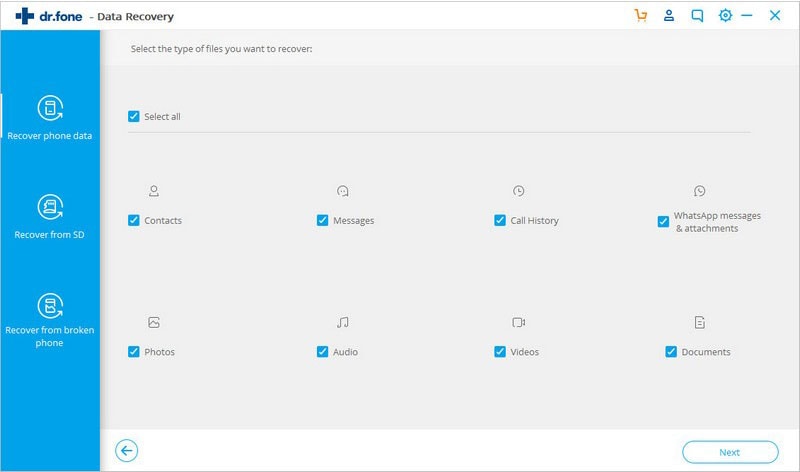 Step 3

Choose the scan mode

You can decide whether the scan should be aimed at all files or just the deleted ones. There is even an advanced scan mode that you can use if you want a more powerful scan that comes at a cost of time.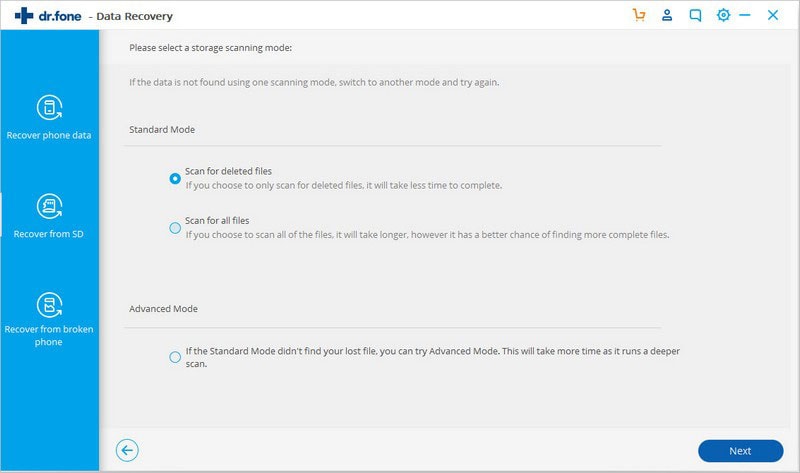 Step 4

Recover files

The software will now start the scan and lists out all the files that it has found during the whole process. You can select the drive where you want to store the files to be recovered and click on Recover.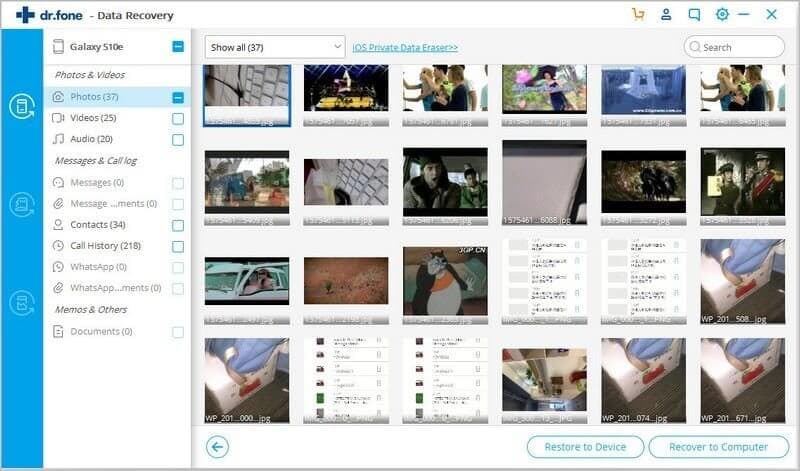 As you might have noticed, the process is quick and simple. There are no hard steps involved, making this software very easy and effective to use. There is no steep learning curve and you can start using it from the moment the installation has been finished.
Part 3: Recover Lost Data from Phone Memory Card
Google Pixel uses data on the onboard storage. This certainly alienates some users from purchasing Pixel devices because external storage support is very important for many buyers. If you lose data on a phone that uses the memory card, there is good news because Recoverit (IS) works on android phones that run on external storage.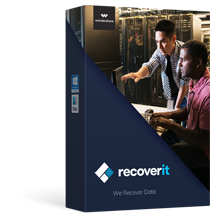 Best Google Pixel Data Recovery Software
Powerful scan tool: The data scan makes sure that every part of the phone storage is checked.
Easy UI: The layout of the software is done in such a way that it is easy to navigate and search.
Secure data retrieval: Recoverit (IS) uses industry-leading safe recovery practices.
SD card memory support: Both Internal and external storage space is provided.
Windows and MacOS support: Works like a dream on both windows and iMacs.

3,165,271 people have downloaded it
The dr.fone is a must-have software regardless of the Android device that you use. Data recovery in Pixel and other Android devices can be quite tricky if you don't know what you are doing. With the right kind of software, everything becomes a walk in the park!
Conclusion
There will be different ways in which you can perform a function, however, the smart way of doing things is to use the methods that require the least amount of effort which gives the best results. And Recoverit (IS) certainly delivers in that regard. Pixel data recovery is now something that you can do on your own, and that too with guaranteed success.