"I accidentally deleted contacts on my Android and now I can't seem to get them back. Someone please help me restore contacts on my Android!"
This query has been posted by a reader recently on our Facebook page about the recovery of lost contacts. Needless to say, our contacts are the single most important piece of data on our device. Without them, we can't text, call, or get in touch with our friends and family. A lot of times, users accidentally delete contacts on their device or lose them during any unwanted data loss scenario. The good news is that there are several solutions to recover deleted contacts on Android. We have listed them right here so that you can also retrieve deleted contacts on Android without any hassle.
Part 1: Is It Possible to Restore Contacts from Android Phone
Before we provide a stepwise solution to recover deleted contacts from an Android phone, it is important to answer this question. In a nutshell – yes, it is possible to restore contacts on Android. Ideally, it can happen in two common scenarios.
Recovering from a synced source

This is the easiest way to restore contacts on Android phone. In case if your contacts are already synced with another source (like Google Contacts), then you just need to sync the device back again. This will help you get back the lost contacts on Android.

Performing Data Recovery

If your contacts were only saved on your device storage or SD card, then you need to use a data recovery tool. When anything is deleted from the storage, it isn't wiped off instantly. Just the space that was allocated to it previously becomes available to be overwritten. Therefore, by using a data recovery tool, we can still recover deleted contacts on Android.
For your convenience, we have provided a stepwise solution for both of these scenarios right here.
Part 2: How to Restore Contacts from Google to Android Phone
If you have already taken a backup of your contacts on Google, then you won't face any trouble restoring them. To do this, you can either sync your contacts with your Google account or even use a dedicated app, Google Contacts. Though, you should note that syncing works in both ways – if contacts are deleted from your device, it will also be reflected on your Google account.
The good thing is that Google maintains a record of the deleted contacts for 30 days. Therefore, if you want, you can just go to its settings and restore contacts on Android that were deleted in the past month. If the duration of the lost contacts is more than 30 days, then this solution would not work.
Prerequisites:
You should have already synced your contacts with Google or they must be saved on Google contacts to begin with.


The same Google account should be used on your Android device where your contacts were originally stored.
To learn how to restore contacts on Android with the assistance of your Google account, follow these steps:
Step 1 Firstly, you need to access Google contacts. You can do this by directly visiting the Google contacts website or via Gmail. Click on the dropdown option on Gmail and select Contacts.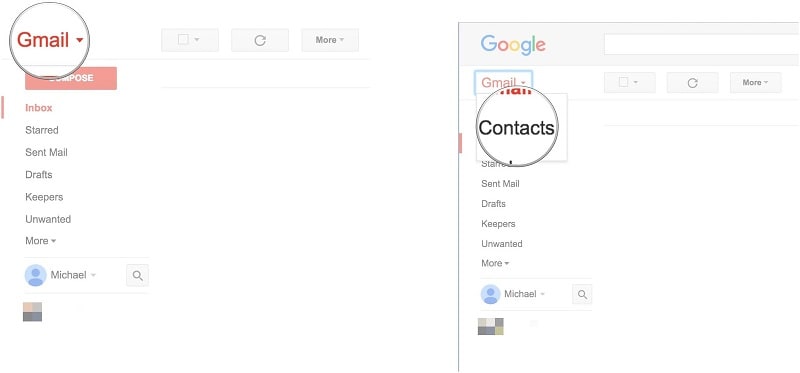 Step 2 This will launch the dedicated section of Google Contacts where you can see the synced contacts. To get back lost contacts on Android, go to the "More" option on the toolbar and select "Restore Contacts".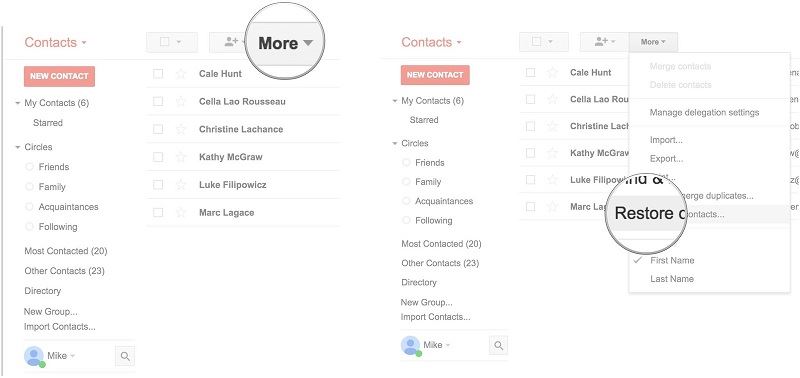 Step 3 A pop-up window will launch, letting you select the duration for which you want to recover contacts on Android. By default, the maximum duration to restore contacts is 30 days.
Step 4 You can choose a readily available option like 1 day, 1 week, etc. or make a custom choice as well. In the end, just click on the "Restore" button to recover contacts on Android.

Step 5 That's it! Now, unlock your Android device and go to its Settings > Accounts > Google. Make sure that you are logged-in to the same Google account here. Turn on the syncing option for contacts so that the deleted contacts would be restored to your device.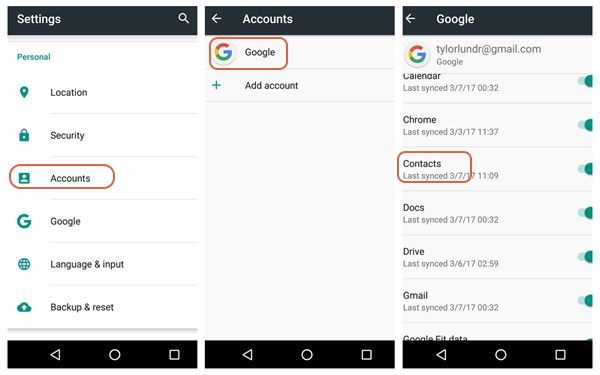 Part 3: How to Recover Deleted Contacts on Android with Recovery Software
The above-listed solution would only work if your contacts are synced with Google and you wish to get them back within 30 days. Needless to say, this is not always the case as you can end up losing your contacts out of the blue. The easiest way to recover contacts on Android is by using a dedicated application like Recoverit (IS). A complete data recovery application, it can get back all kinds of content from numerous sources. Since it supports SD card recovery, you can just remove the card from your device, attach it to the computer, and perform data recovery on it.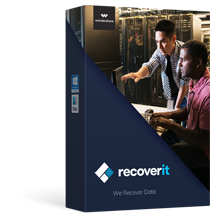 A Life Saver to Solve Your Data Loss Problems!
Using Recoverit (IS), you can get back your lost contacts and their related details without any trouble and under every possible data loss scenario.
Your contacts should originally be stored on the SD card of the device. Presently, it does not support data recovery on Android device storage.
The application fully supports all kinds of memory and SD cards, manufactured by every leading brand.
Apart from contacts, it can also be used to recover your photos, videos, audios, documents, and other files.

3,165,867 people have downloaded it
To recover your lost contacts from an Android's memory card, the following simple steps can be taken.
Step 1

Attach the SD card to the system

To start with, safely remove your SD card from the Android device and connect it to the computer instead. Now, launch the Recoverit (IS) application on the system to view the available storage options on its home. Select the connected SD card under the External Devices option and click on the "Start" button.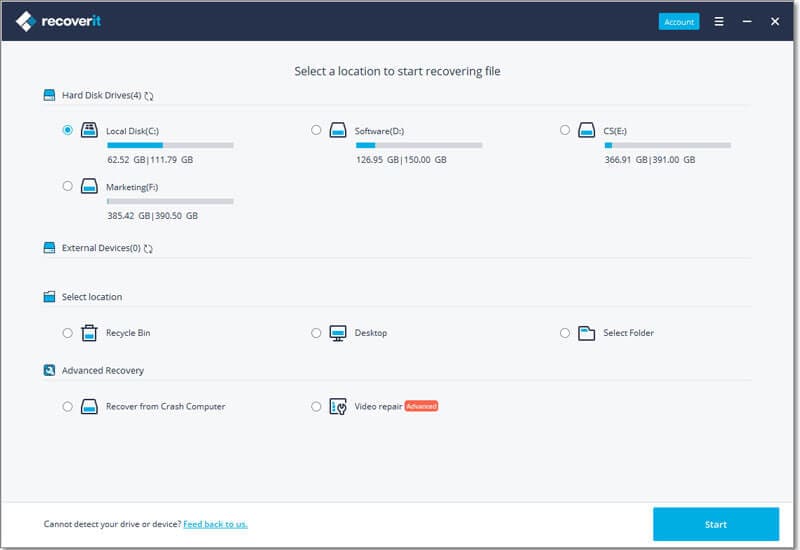 Step 2

Scan your lost contacts

Sit back and wait for a few minutes as Recoverit (IS) would scan the connected SD card for the lost contacts. There is an on-screen indicator to let you know how far the scan has been completed.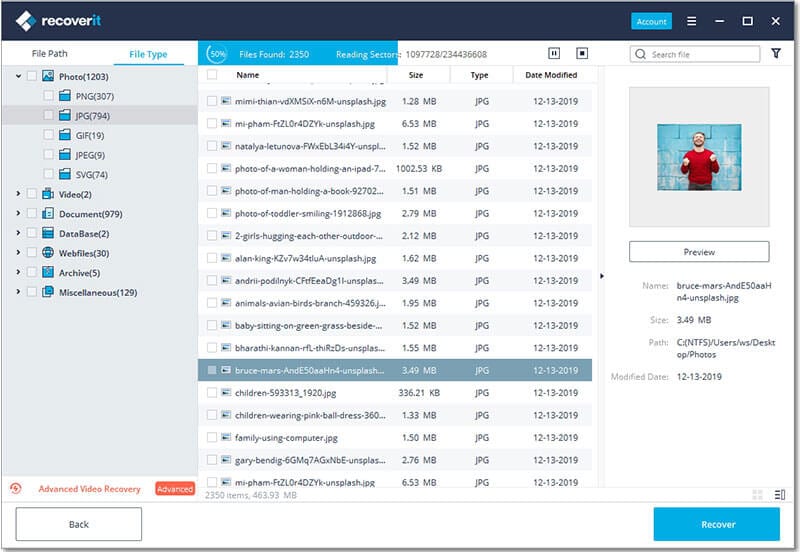 Step 3

Recover your contacts

Once the scan is completed, the application will let you know and list the extracted data under different categories. You can now preview your contacts and click on the "Recover" button to save them. Firstly, you can save them to your computer and later move a second copy to your SD card. In this way, you can easily restore contacts to Android from its SD card.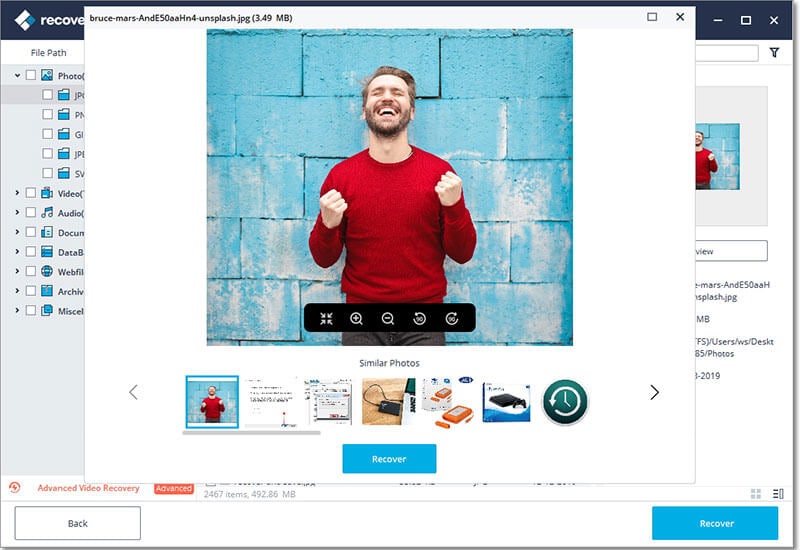 So what are you waiting for? Go ahead and try either of these options to recover deleted contacts on Android without any trouble. In case if your contacts are not synced with Google, then you should take the assistance of Recoverit (IS). A highly resourceful data recovery tool, it can be used to extract all kinds of lost, deleted, and inaccessible content under every possible scenario. Keep the tool handy as you might end up using it during any unforeseen data loss scenario to save the day!