SD card is widely used to store photo or video files in digital cameras and mobiles phones. When you check the media files in it, have you ever meet some problems or perform some mistaken operation that lead to losing some important files? One user once asked me that is there an easy way to recover deleted photos from SD card, because when he want to delete some unwanted photos, he choose the Delete All button careless. Yes, actually there is an easiest and safest method to complete the SD card deleted photo recovery. Read on to get this solution.
Part 1. How to Recover Pictures from SD Card on Mac
Accidentally lost your photos stored on SD card? Relax. Your photos can be recovered, as long as you stop using your SD card and use a secure photo recovery software program.
Why can you recover deleted photos from SD card? In short words, the deleted files are not erased immediately when you activate a delete command. It just reserves space for new data entry. If there's not new photos are saved to your SD card, chances are that you can get back your digital photos. Sound good? Download Recoverit (IS) for Mac now to recovery deleted photos from SD card that is used by a digital camera, a mobile phone, a tablet computer, a GPS navigation device and whatever.
With Recoverit (IS) for Mac application, you can safely recover SD card photos on Mac. Follow these steps to retrieve all your lost photos, in minutes. And you can get other solutions about recovering deleted files from SD card here.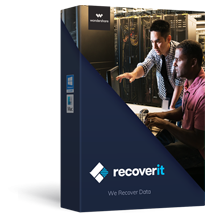 A Life Saver to Solve Your Data Loss Problems!
It is compatible with both Windows and Mac operating system.
It supports a large number of storage device type including hard drives, USB flash drives, SD cards, etc.
All major types of files can be recovered including music, images, video, documents, emails, and archives.
It has a deep scan features for in-depth scanning of the hard drive for searching files to recover.

2,965,271 people have downloaded it
Step 1. Connect SD Card to Your Mac and Open the Program
Power off your device and take out your SD card and then connect it to your Mac with a card reader. Run Recoverit Photo Recovery for Mac and you'll see the main interface as below. This SD card photo recovery application supports popular files such as photo, audio, video, email, documents and others.
Step 2. Choose your SD card
In the next window, please select your SD card and hit the "Start" button. By doing so the software will start scanning the data on your SD card and present to you. You can just wait till the scanning process over.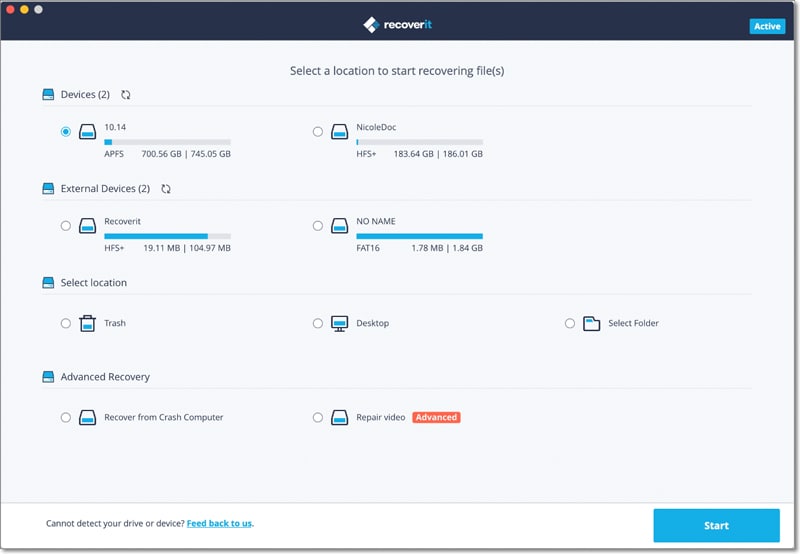 Step 3. Preview and Recover Deleted Photos from SD Card to Your Mac
When scanning complete, you will see all found images on your SD card. On the left is the folder tree (Files View and Tree View), with which you can quickly find lost images files if you know the folder name. You can also use the Filter feature to find your wanted files. In the bottom list, click the image files to preview. You'll see the image quality and whether it's what you want.
The "Deep Scan" option located on the bottom allows you to do the deeper scan in case of you don't find your wanted files in the scanned results.
To recover scanned photos from your SD card, check the box in front of the image files and click the Recover button on top. You'll be asked to choose a folder to save the recovered photos. Choose a folder on your Mac and click OK to start recovering deleted photo from your SD card.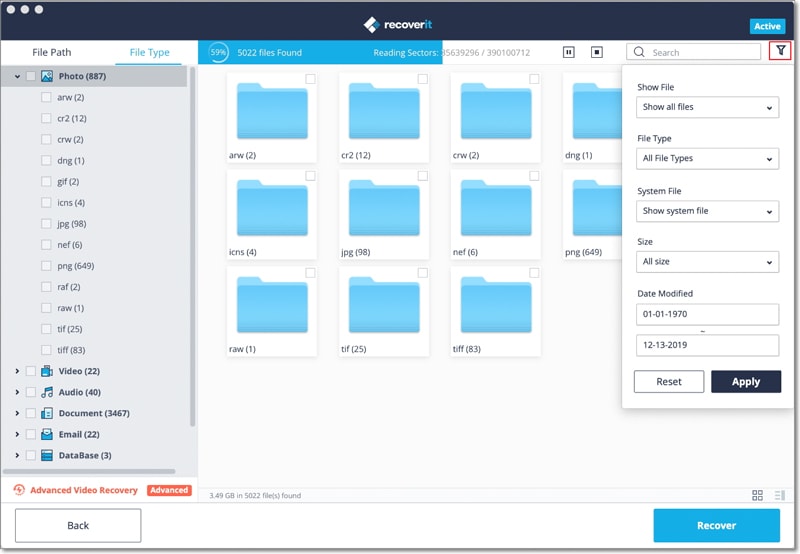 Part 2. How to Recover Pictures from SD Card on Windows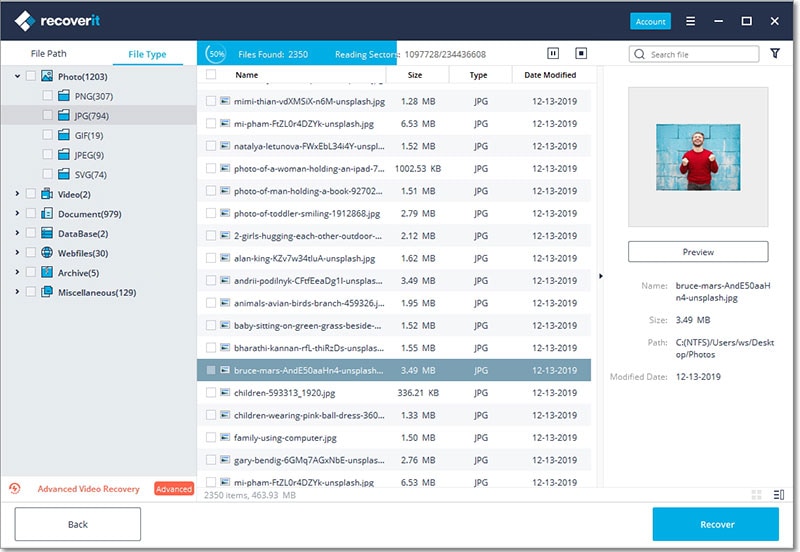 Recoverit (IS) works well for lost file recovery even by clicking "Shift and Delete", data cleared from Recycle Bin as well as formatted data. In order to recover your raw file, Recoverit (IS) scans your device deeply to get the raw file, but using this mode will not display names and the path of those files.
If you need to continue the work later, you are able to save your scan results to perform data recovery later. Basically, Recoverit scans your device and find all the data that it could recover. After the work is done, you can save it on your computer or other place directly. Besides photos and videos, you can use it to recover other files types such as documents, emails, music, your entire archive
Your photos from the SD card can be recovered with Recoverit (IS) on Windows operating systems by following the steps below:
Step 1. Connect Your SD Card with Computer
After you connected the card, run the software on your Windows system. Then choose the file type of files you want to get back. After that, you can click "Next" button on the bottom right of the window.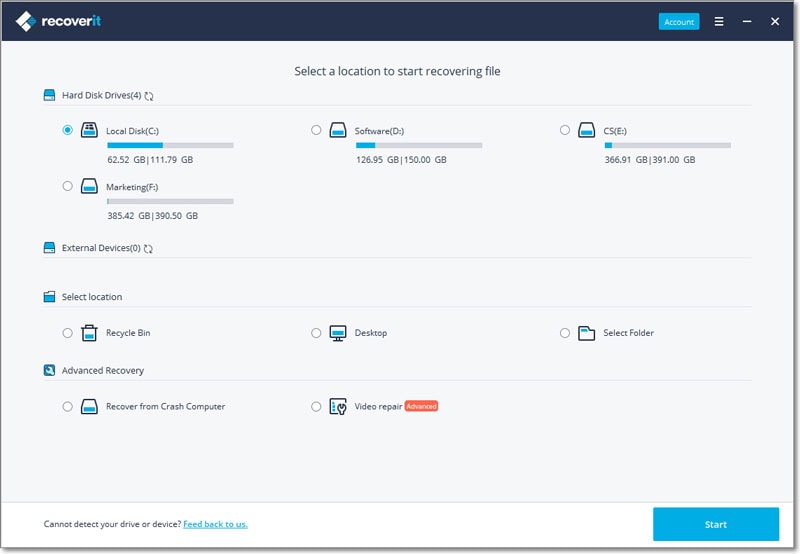 Step 2. Scan Your SD Card
After you selected the external drive such as your SD card, you need to click the "Start" button to scan your card for lost file.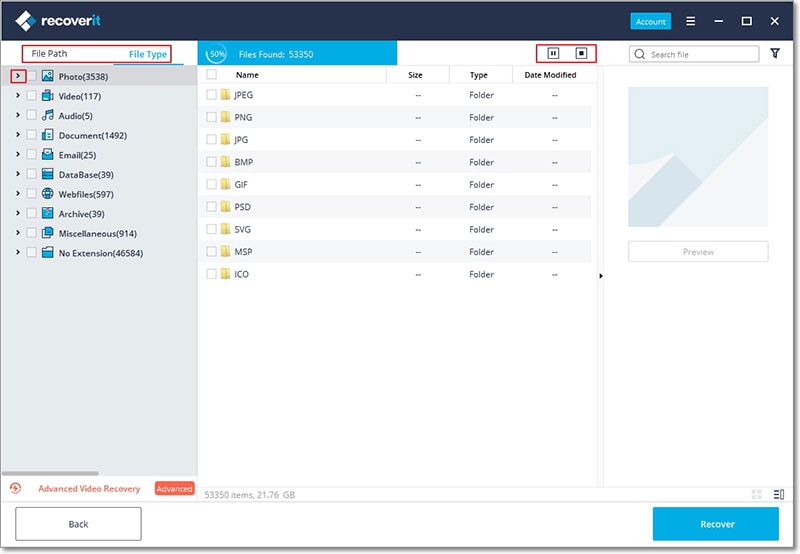 Step 3. Recover Your Photos from SD Card
After you find all your needed photos that you thought are lost, select each and final step is to click on the "Recover" button.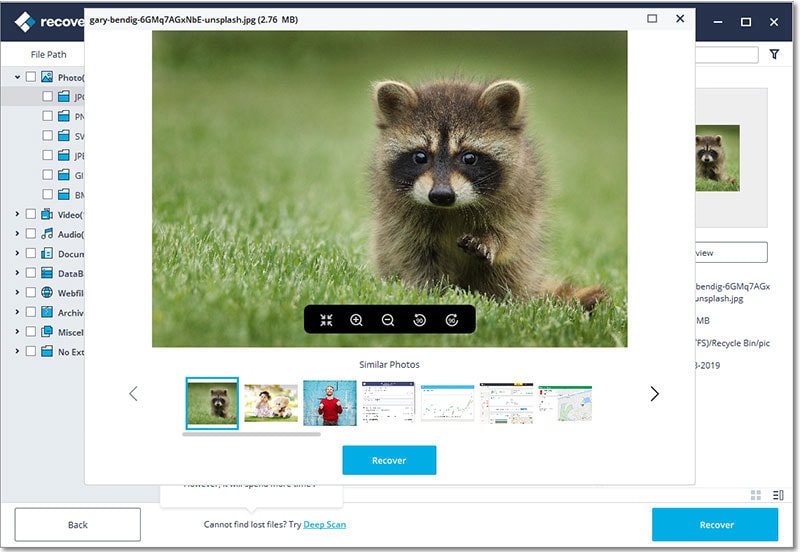 Part 3. Tips for SD Card Picture Recovery
Don't transfer files to your SD card or defrag your SD card. Pull it out immediately you deleted your files or formated your SD card.
You can even restore photos from a formatted SD card if you use a standard format method instead of a low-lever format method.
If Last Data Recovery mode fails to recover your lost photos, try Raw Data Recovery mode. The latter scans your SD card completely by file signatures. It'll find more image files more accurately but requires more time. And unlike Lost Data Recovery, the original file names and folders are not retained.
This SD card recovery software supports all popular SD card brands on the market, like Sandisk SD card, ATP SD card, Lexar SD card, Kingston SD card, Transend SD card, PNY SD card, etc.