When your SD card is corrupted due to a reason, you'll find that you cannot open SD card and access the data on it. This disaster happens here and there, and no way to put an end to this situation. If you're encountering this issue and looking for the solution to recover pictures from a corrupted SD card or memory card, then, you've been the right place. Actually, there are many photo recovery programs can recover photos from corrupted SD card easily and directly, but in order to improve the success rate, you need to find a reliable yet professional corrupted SD card recovery software as your lifesaver.
In this post, you can not only learn how to recover pictures from a corrupted SD card with the Recoverit (IS) software, but also get 6 tips to fix corrupted SD card by yourself. Now, let's check the detailed info as follows:
Part 1. How to Recover Photos from Corrupted SD Card in 3 Steps
There are many recovery software available in the market, make sure you select a tool which is able to restore the image file from the hard disk and memory cards. The application must retrieve images easily, we recommned Recoverit (IS) for Mac (or Recoverit (IS) for Windows).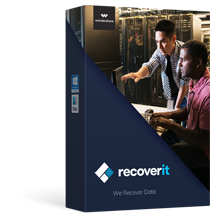 Why Choose This Software to Recover Photos from Corrupted SD Card:
It supports to recover different file types including videos, music, email, images, documents, etc.
It has fast scanning speed, also you can choose to search for specific file format only.
You can preview the scanned files before you recover them.
The program can recover lost photos from almost all media devices including SD card, hard drive, cameras, sport DV and many other devices.
2,652,071 people have downloaded it
---
Step-by-Step Guide to Recover Photos from Corrupted SD Card
Step 1. Firstly, you should download and install Recoverit (IS) for Mac on your Mac computer. Then launch it and you can get the below window. Here, you can connect SD card to Mac and choose it directly, then hit "Start" button to begin a scanning on the SD card.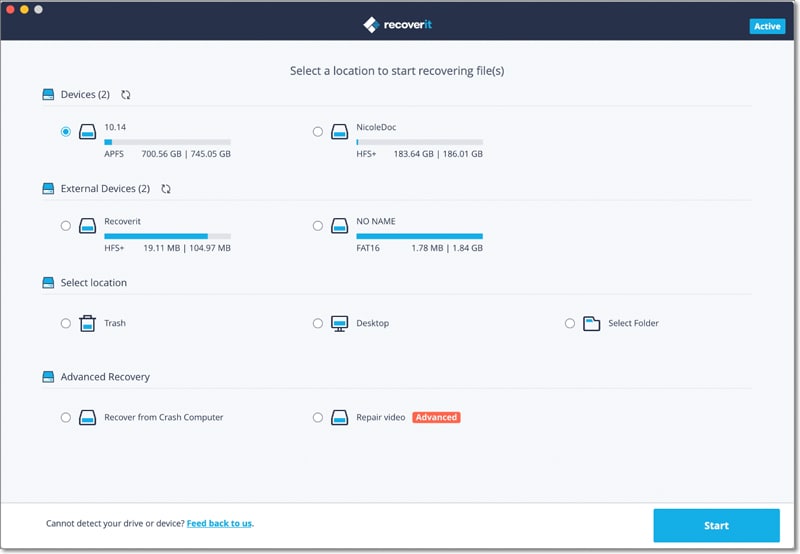 Step 2. Now, the program starts scanning for lost files, it will then list all the scanned files after it have scanned the SD card completely. You can click some of them to check the contents and quality. Select the lost photo files and click "Recover" button, you will get back the photos from corrupted SD card soon.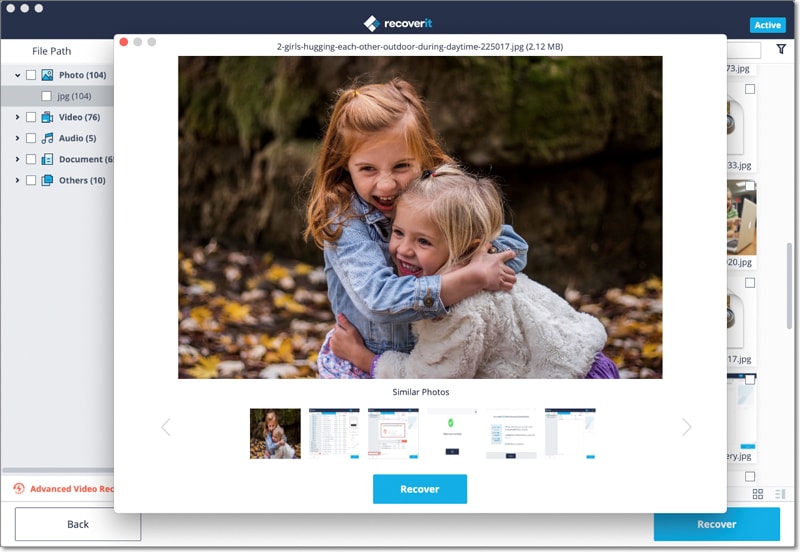 Step 3. If the first scanning cannot find you needed pictures, you can click "Deep Scan" option in the left-bottom panel, and begin to scan again. This mode can find more recoverable files than you imagine.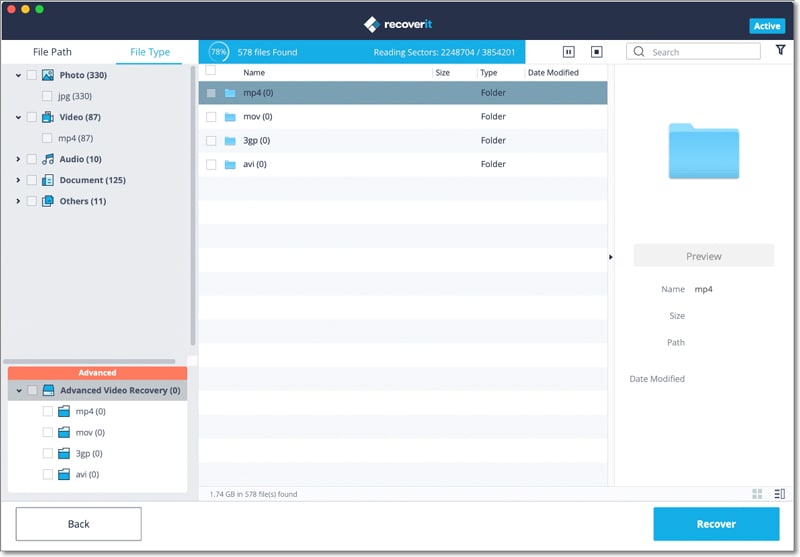 Part 2. 5 Tips on How to Fix A Corrupted SD Card by Yourself
Using the SD card has increased due to the increase of the latest digital camera. SD cards are used in many portable devices userd to store pictures, videos, songs, downloads, video capture, document files, etc. Therefore, the SD card had became one of the easiest ways to portable storage devices. These days cards come with great features and excellent process read or write speeds, the data rate is very good, and comes in greater memory capacity, as well. SD cards are used in various portable devices such as smart phones, tablets, portable notebook, digital cameras and many other devices.
However, besides these advantages, sometimes the user is also facing a number of problems with the SD card and are not able to access the data. This happens mostly when the damaged card, corrupted SD card or formatted card. Users can't access photos, videos and other stored data. In fact, this situation begins with an error message, and if it is not treated properly, then you will find a complete loss of data.
Symptoms of Corruption SD Card:
When you connect the card to the system and doesn't display folders and files. The failure of the read / write to the SD card, this means that your system can't read the card.
When you are able to view photos and video digital cameras, as well as on your system, but they couldn't be copied and you get an error message that the disk is "Protected".
When you try yo open pictures and videos stored on the SD card and receive the error message "memory card corrupted" or "memory card error".
So, these are some of the symptoms that confirm that your card is damaged or corrupted. In these cases, you can try to restore the data stored on the SD card.
Here are the top 5 tips you can follow to correct the corruption and recover data:
Tip 1. If the SD card is not readable on the device, try connecting your card in another device or other device.
Tip 2. If your device or system can read the file, but can't copy, it means that your card is write protected mode. Unlock the switch to copy, save or rename the file on the card.
Tip 3. Sometimes your computer is able to read and you can access the map, but doesn't read the data stored on it. However, you can open other files stored on the card. In this case, one or more file is corrupted. To resolve theis problem, you must use a data recovery tool for SD card.
Tip 4. Determine the type of SD card, if the SDXD card them connects to a device that reads SDHC card, and if it is, then connect the device to read the SD card.
Tip 5. If the SD card is damaged or corrupted and can't access the stored data, you can use the tool to card data recovery for Windows / Mac restore them. Since all the data remains on the card as it is, and therefore can be restored using deleted, lost or damaged cards. It also supports recovery of other memory cards such as CF cards, XD cards, SSD, MMC, mini SD card, Micro SD card, SDHC, etc.