Sony Alpha Nex-5 cameras are widely used among photography lovers. With it, you can take many nice pictures of your lovely families, beautiful scenery and many other wonderful things. But sometimes you may encounter some photo loss problems due to some manual errors or other kinds of errors. This article will guide you on how to recover photos from Sony Alpha Nex-5 and how to protect photos being corrupted.
Part 1. In Such Scenarios, Photos from Sony Alpha Nex-5 May Get Lost
It's a common issue that almost every Sony users will come across in their life. Digital photos or SD card can be easily get damaged or corrupted by any type of error. Here we list some scenarios that you should pay attention. Photos will easily get lost under these scenarios when you use Sony Alpha Nex-5 camera:
Accidentally pressed the "Delete All" button and lost all images on the camera.
Clicked the "Format" button by mistake and all pictures lost.
You get your images deleted which are supposed to have backup in computer but actually not.
The memory card of your Sony camera is corrupted and cannot be used.
Part 2. Best Way to Recover Photos from Sony Alpha Nex-5 Camera
There are many other errors that can cause image loss problem as well. When you encounter such problems, there's no need to be frustrated. It's possible to restore your valuable images from Sony Alpha Nex-5. All you need is a recovery program. Here you can try Recoverit. It lets you retrieve pictures from Sony Alpha Nex-5 only in 3 steps.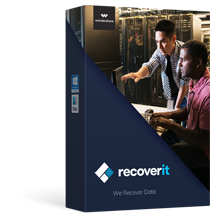 A Life Saver to Solve Your Data Loss Problems!
It is compatible with both Windows and Mac operating system.
It supports a large number of storage device type including hard drives, USB flash drives, SD cards, etc.
All major types of files can be recovered including music, images, video, documents, emails, and archives.
It has a deep scan features for in-depth scanning of the hard drive for searching files to recover.

2,965,271 people have downloaded it
First of all, download and install the tool on your Mac and then follow the instructions below to perform the Sony Alpha Nex-5 photo recovery on Mac.
Step 1: Connect camera to Mac and select a recovery mode
After downloading and installation, start the program by clicking its icon on the desktop. Then connect your device to Mac via a digital cable and four modes are available in the window. Select target file type "Photo" first. This mode allows you to quickly get the lost images back with their original names.
Step 2: Scan Sony Alpha Nex-5 for deleted pictures
Then your camera will be detected as a removable storage device by the computer. Choose it from the drive list. And then click the "Start" button on bottom.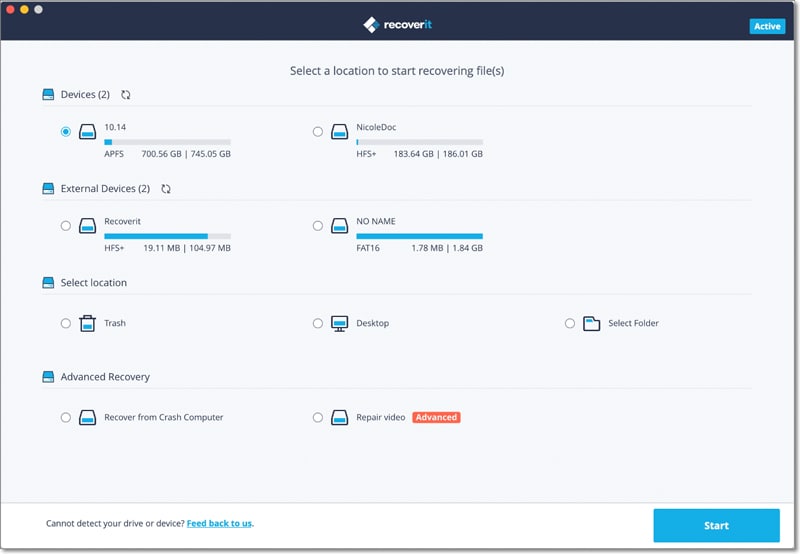 Step 3: Preview and restore pictures from your camera on Mac
After scanning the pictures, you can see the folder tree on the left side of the window. Find the images and preview them to confirm whether they are the ones you want to retrieve. To get your images back, check them and click the "Recover" button on the bottom right of the window. After that, choose a folder to store the pictures and click "Ok" button. After a while, you can retrieve all the deleted pictures to your Mac.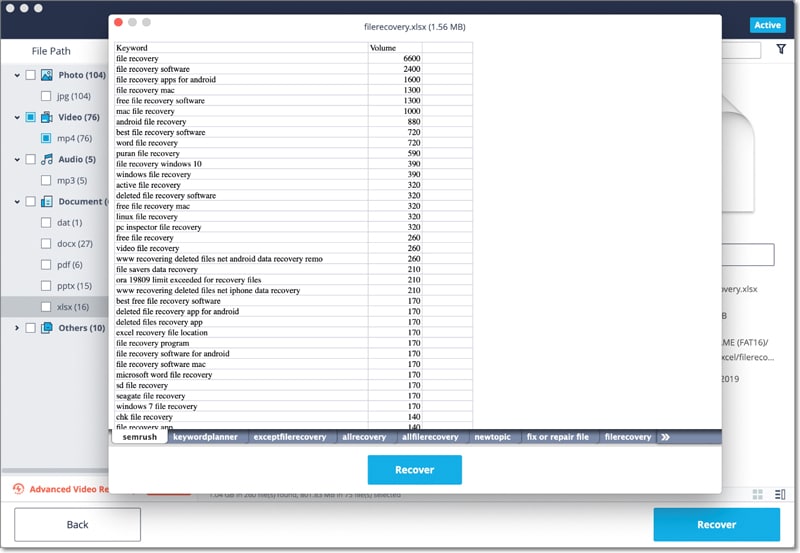 Part 3. How Do I Protect My Digital Photos
We have alreaedy known that how to use Recoverit to recover photos from Sony Alpha digital camera, besides that, the other thing you can do is to protect your photos in the first place.
1. Protect Your Memory Card
Digital pictures were stored on the memory card or called SD card, the first advice for you is to choose a good quality card. Besides of that, it's better to have a SD card with WiFi chip, so that it will transfer your images to the computer in the real time. In this way, you will have a automatically backup to store all your pictures.
2. Keep Your Camera Covered
Remember to protect your camera from water, high temperature, humidity and extreme weather. In these occasions, your camera and SD card will get damaged easily.
3. Remember to Backup Frequently
Always backup your SD card, you can easily backup all the pictures to the cloud or hard drive to keep them safe, and restore them anytime easily.
In the End
Now, we have already talked about how to avoid pictures being accidently deleted or corrupted and how to recover photos from Sony Alpha Nex-5, besides, we also lists some solutions to help you protect photos you have taken. If you find this article helps you solve the problem, share it with your friends, and please check our website for more handy tools and solutions.