It can be very irritating to lose a photograph, whether through sheer accident or a moment of intense passion. Only after it's all been said and done do we realize that we've lost a precious piece of memory that cannot be replaced. There is good news though: whatever photos have been deleted can actually be retrieved, and all it requires is a little of your time for photo recovery on Mac and Windows and patience.
Part 1. Top 10 Photo Recovery for Mac
Apple is known for ensuring the delivery of topnotch products to its customers, so when it comes to data recovery, it doesn't fail to impress. Here is a list of the top ten Mac data recovery software to recover deleted photos, or other files.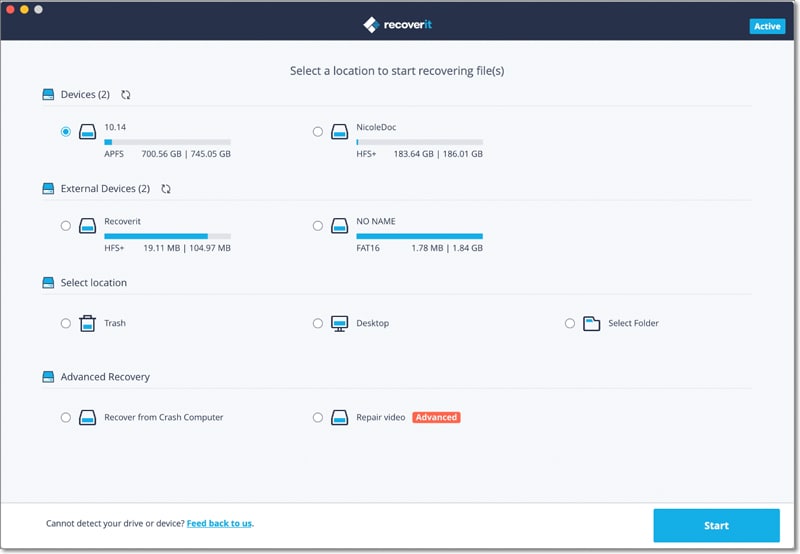 With four modes, Recoverit (IS) for Mac provides a safe and reliable platform to recover not only lost photos but also videos, emails, documents, etc. You can recover that treasured picture from your USB stick, memory card and other devices. Its user-friendly interface will accommodate the most amateur of computer-users.
Step-By-Step Guide to Complete Photo Recovery on Mac
Step 1 Download and install Recoverit (IS) software. Run the software. You will be greeted with the following window.
Step 2 Choose the drive you've lost the files on, then click "Scan". This will begin the process of scanning the drive for lost files. If your drive is not listed, click on "Refresh Drives". Your drive should come up.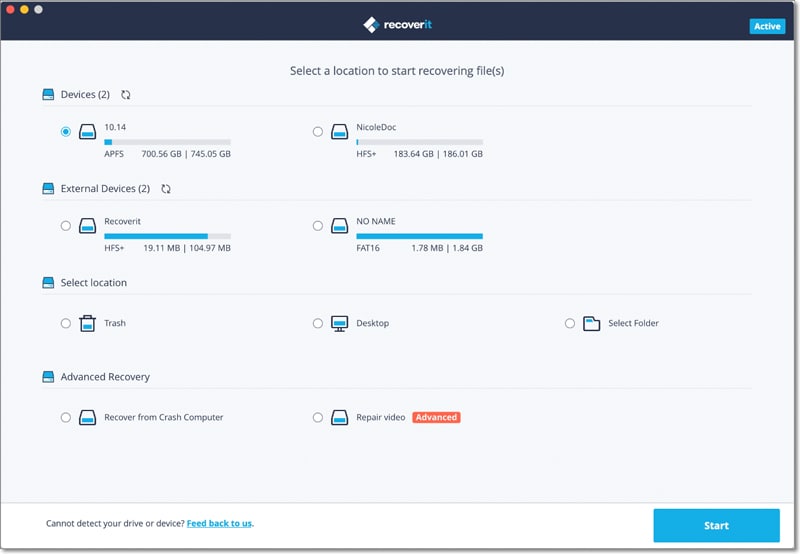 Step 3 Once scanning is completed, you'll be greeted with a list of all the files that Recoverit has managed to pull up. Preview the files here and select the ones you wish to recover. Do this by clicking on the file(s), then clicking on "Recover" at the top.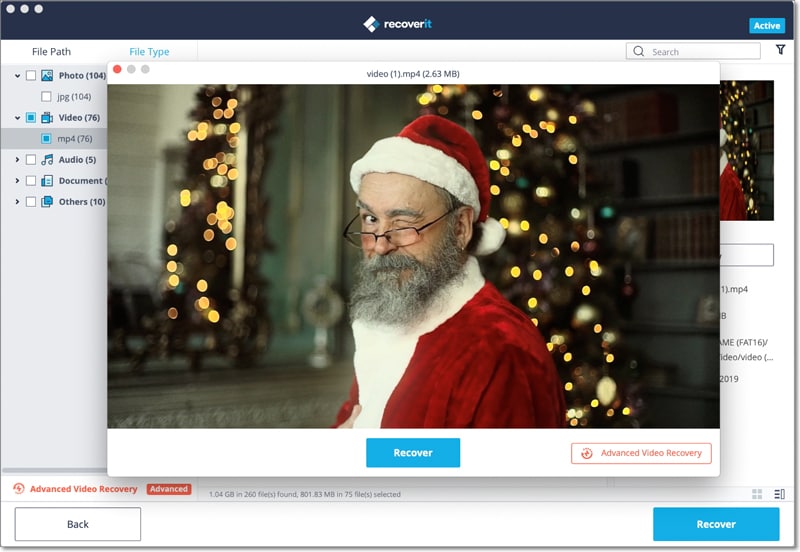 Recoverit Photo Recovery is easy to use and comes with a Deep Scan option as well. You can scan files by type, and can even save scan progress if the scanning is taking too long – you can resume scanning any other time. Recoverable files are shown with their respective "health". Raw Data Recovery can scan files by their signatures and Partition Recovery can help resurrect and entire partition. However, Recoverit Photo Recovery restricts the copying of protected files. Also, if you choose to use the Raw Data Recovery mode, the original file names and folders will be lost.
---
2# Disk Drill Pro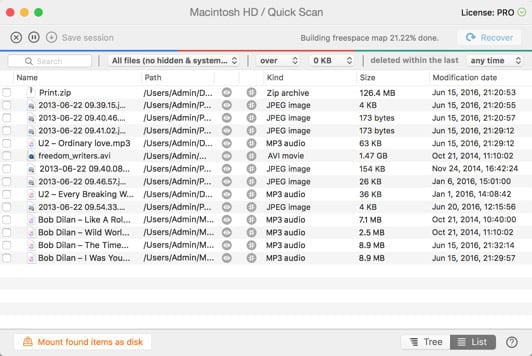 The Basic version of Disk Drill is free and the Pro version is paid. This software can scan all sorts of devices, from iPads and iPods to Kindle readers. The interface may be a little tricky, but the attached tutorials should be a huge help. It doesn't aid much in video or music recovery, but has a 99 percent success rate at recovering lost files and formatted disks.
Price: $89.00
---
3# Data Rescue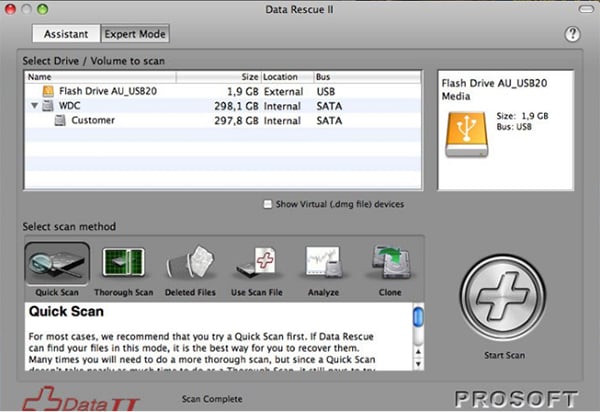 Winner of the Gold Award on Top Ten Reviews, Data Rescue assists in recovering videos and pictures from a Mac hard disk. It is fully featured and works just as well on external drives and storage devices as it does on your computer. It is able to recover almost any file type and is noted for striking a balance between efficiency and effectiveness. The Clone feature backs your drive up prior to scanning and recovering in case any problems are encountered. Without paying, you can't access the unlimited data recovery feature, and the interface isn't as user-friendly as, say, that of Recoverit.
Price: $99.00
---
4# Stellar Phoenix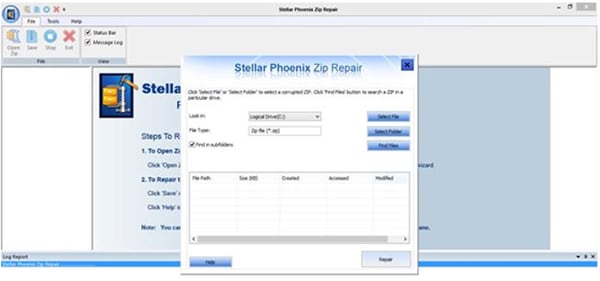 This software can recover deleted files via their original file names, recover lost and deleted HFS, HFS+, FAT, ExFAT and NTFS volumes, plus files from corrupted hard drives. You can pause and resume scan progress, and akin to Recoverit, it is incredibly user friendly. There is also a full hard disk scan option in case the initial scan overlooked some files. It is possible for you to be fazed by the various supported file types, but there should be no questions the help option cannot answer. Beware though; the software may put a bit of a dent in your pocket.
Price: $99.00
---
5# Cisdem Data Recovery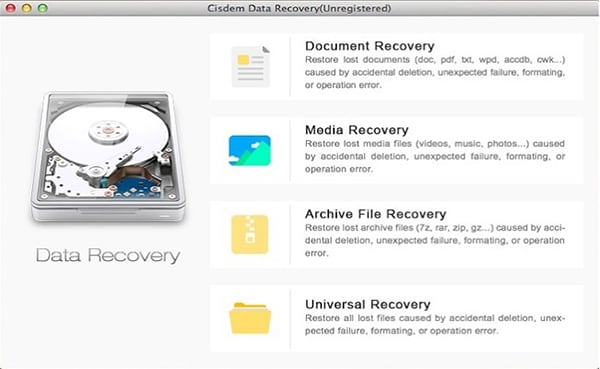 One of the cheapest recovery software out there, Cisdem is an excellent choice for SD data recovery. It can handle 200 plus file formats so don't hesitate to use it when you're looking for virtually any file type. It is quite easy to use – it takes just three simple steps to retrieve that missing data! It has very high HDD and SSD scan speeds, outperforming its peers. However, it is recommended to use Cisdem for light scans and recoveries. Its success rate is not appreciable.
Price: $49.99
---
6# Test Disk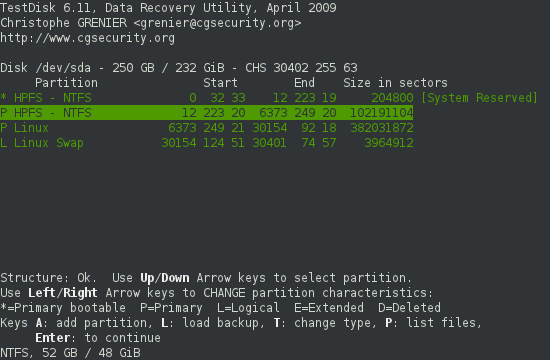 This is an incredibly powerful tool that can recover lost or corrupted partitions and even allows making non-bootable disks bootable again. You can rebuild the NTFS boot sector, fix or recover a partition, undelete files, and copy files from erased partitions. If your Mac was exposed to crashing issues, viruses or human errors, Test Disk is the best option. Amateurs beware: this software is for the more hardcore computer users out there.
Price: Free
---
7# Mac Data Recovery Guru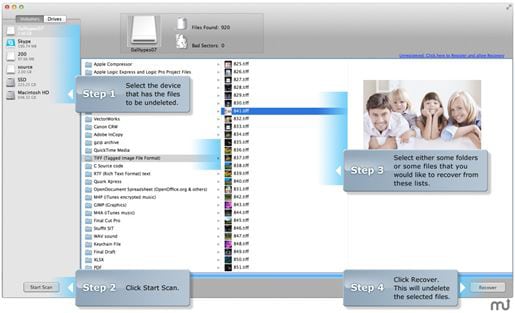 When it comes to recovering photographs, this 99 percent success rate software should be given significant weightage. It is amazingly easy to use with a preview of all the files that can be recovered. It should be noted that although it recovers photos excellently, its performance is lacking in retrieving videos and music files. It also can't retain original file names, and is a bit pricey.
Price: $99.00
---
8# Apple XSoft File Recovery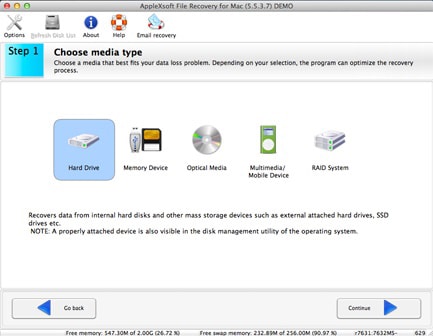 Again, if you're looking to recover photographs, this software should be one of your priorities. It manages to outperform fellow data recovery software in photo recovery, but falls behind in getting back lost documents or other file types. Therefore, if your focus is only photographs, go for Apple XSoft.
Price: $99.95
---
9# R-Studio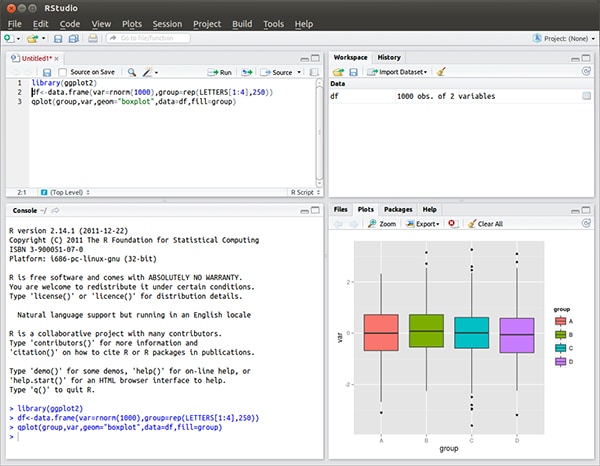 The recovery success rate is quite high with R Studio. With high scan speeds and quick customer feedback, its interface may daunt a few users. This means you may have to go through quite a few user guides before deciding to use this software. Otherwise, it is reliable and will get the job done.
Price: $79.99
---
10# MiniTool Power Data Recovery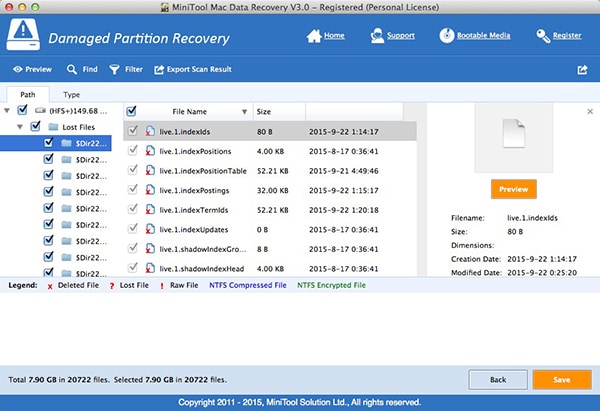 With a 1 GB limit for free usage, or $79 for no-barred retrieval, MiniTool is not one of the cheapest products on the market. It does have super-fast scan speeds though. It has a few snags, such as not being very efficient in recovering videos and music. Use this for documents and photographs. The interface is very user friendly as well.
Price: $79.00
Part 2. Comparison of These 10 Photo Recovery for Mac
Software
Price
Pros
Cons
Recoverit (IS) for Mac
$79.95
- Easy interface
- 4 Photo Recovery Modes
- Preview option
- Deep and Quick scans
None
Disk Drill Pro
$89.00
- Scan all sorts of devices
- Expert at lost files and formatted drives
- Complicated interface
- Not efficient in music or video recovery
Data Rescue 4
$99.00
- Efficient in recovering almost any file type
- Clone option backs drives up
- Not very user friendly
- Payment needed to access full features
Stellar Phoenix
$99.00
- Can recover files via their original file names
- Recover lost and corrupted files, partitions and drives
- User friendly
- The many file options may confuse the average user
Cisdem Data Recovery
$49.99
- Can support 200 plus file formats
- Cheap
- Highest HDD and SSD scan speeds
- Quick to use
- Low success rate
Test Disk
Free
- Free of cost
- Very powerful
- Can work on boot sectors as well
- For expert users only
Mac Data Recovery Guru
$99.00
- Efficient at recovering photographs
- Can't retain original file names
- Inefficient
Apple XSoft File Recovery
$99.95
- Efficient at recovering photographs
- Inefficient at recovering lost documents or files other than photos
R Studio
$79.99
- High scan speeds
- Quick customer feedback
- Highly reliable
- Not user friendly
MiniTool Power Data Recovery
$79.00
- User friendly
- Fast scan speeds
- Efficient at recovering documents and photographs
- Inefficient at recovering videos and music
Part 3. Top 10 Photo Recovery for Windows
We've all been in a situation where we did something that was completely unintentional, or was done with the best of intentions only to be regretted later. This includes deleting files and documents that would have played a major role in your life someday. It doesn't matter if it was the most embarrassing photograph ever; only when it is gone do we realize the true value of that lost file. If you're a Windows user, data loss should not be a big deal. There is plenty of software out there that can effectively recover data that has been lost because of corrupted drives or viruses, or accidental deletion.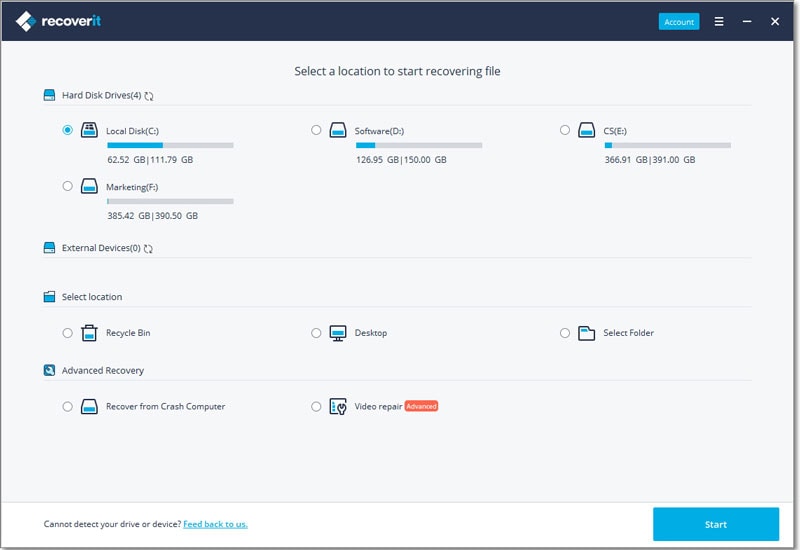 Did you accidentally click on 'Delete' when you meant to just rename the file? Have you misplaced important work documents that may mean a dock in your pay now? Or perhaps you were caught in a moment of extreme embarrassment and decided to erase a picture that was actually a cornucopia of memories? Don't worry about it, Recoverit (IS) for Windows shall solve the issue in a jiffy. It is a simple, quick and powerful solution to one of life's most frustrating problems. With four modes, it offers a friendly user-interface that beginners can use comfortably. You can also preview files before recovering them, as well as pausing and resuming the scan for missing files at ease.
Step-By-Step Guide to Complete Photo Recovery on Windows Computer
Step 1 Download Recoverit (IS) for Mac and install it on your PC. Run Recoverit. The following window will appear. Click on the file types you want to recover. A window should come up displaying the drives on your computer.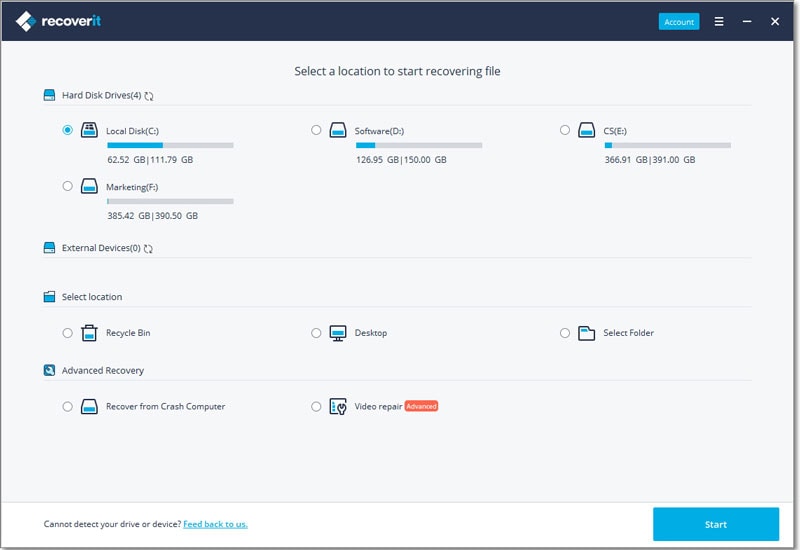 Step 2 Choose whichever drive you lost your file from and click "Start".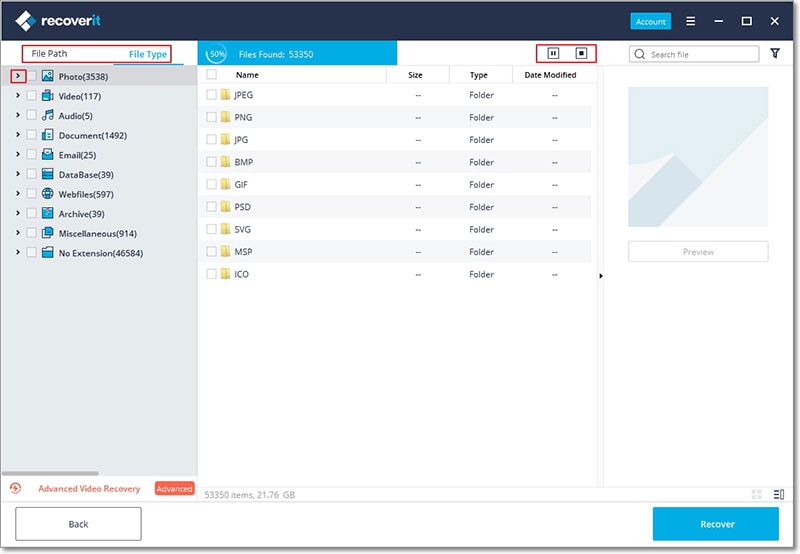 Step 3 When Recoverit Photo Recovery for Windows has scanned the drive, a list of all the files will be displayed. They will be categorized according to file type and path. You can preview these files before selecting which ones to recover. Once chosen, click on "Recover". Choose a path other than the drive on which you lost the file (preferably).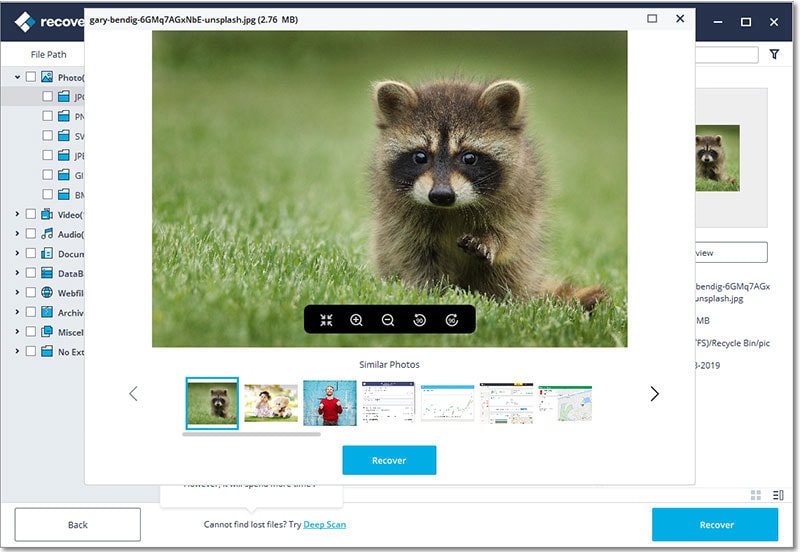 You can also opt for a Deep Scan. You can save scan results and statuses show whether the file is healthy enough to be retrieved. Other modes include Wizard Recovery Mode, Lost File Recovery, Partition Recovery, Raw File Recovery and Resume Recovery.
---
2# Ontrack EasyRecovery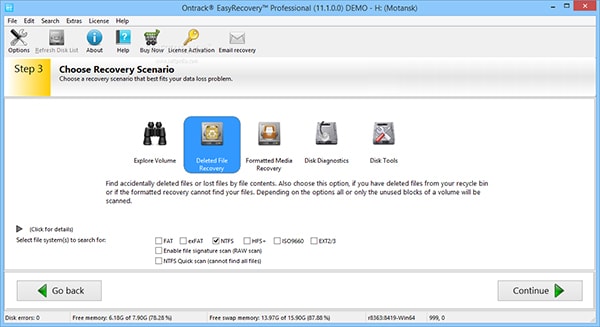 Kroll's Ontrack software is especially designed to recover Microsoft Office files. It is a quick and easy tool that is easily one of the best data recovery software out there. It has the best SSD and HDD scan speeds. It recovers a high percentage of photos, documents, videos and music files, and managed to retrieve almost all data from reformatted drives. It doesn't support Windows 10 though and may fail to identify some file formats.
Price: $79.00
---
3# Wondershare Data Recovery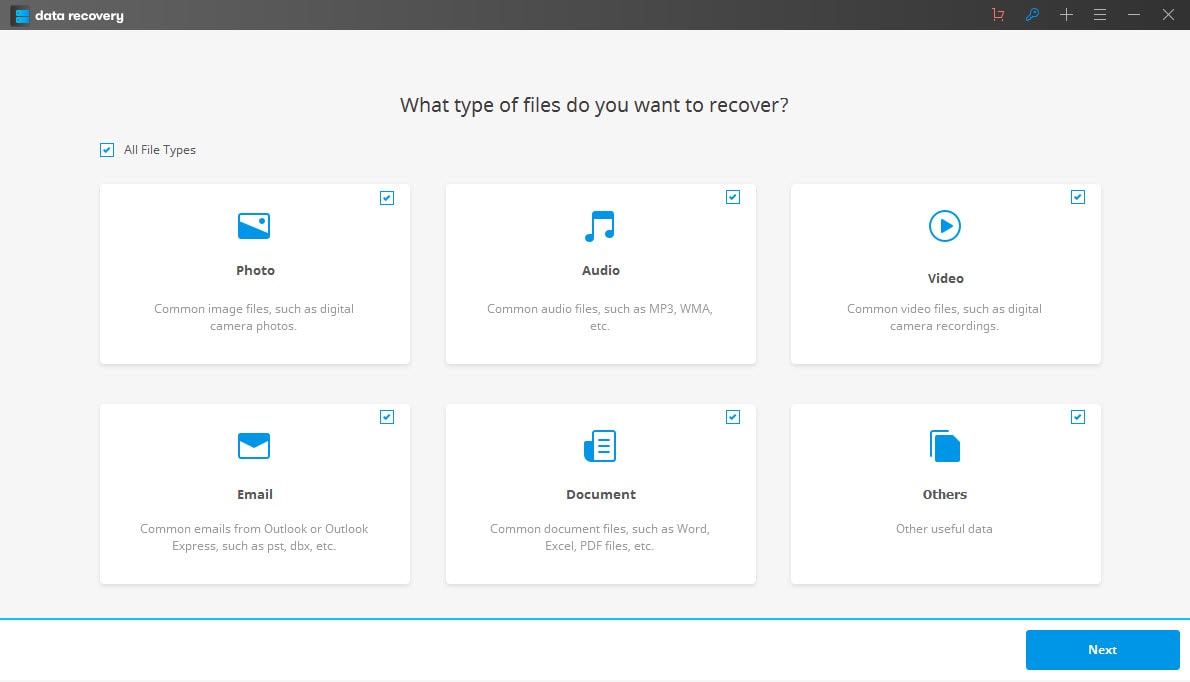 Supporting over 550 file formats, Wondershare is user-friendly and fast. It has a great recovery percentage and offers deep scanning. You can also recover data from other drivers and devices, and there is the preview option of course. To narrow down the choices, you can scan by file type.
Price: $39.95
---
4# Wise Data Recovery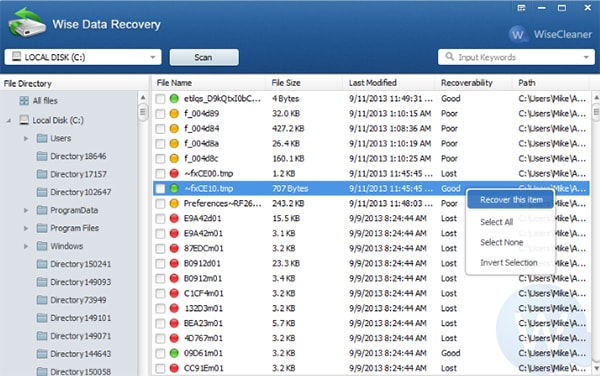 The files that are scanned and shown here are shown in a folder structure that is unique to Windows Explorer, which is great news for frequent Windows users. Files may be recovered internally and externally. The install is quick and clean and you can recover many files simultaneously. It also comes with a portable version. However, files might not remain in their initial folder structure.
Price: Free
---
5# Paragon Rescue Kit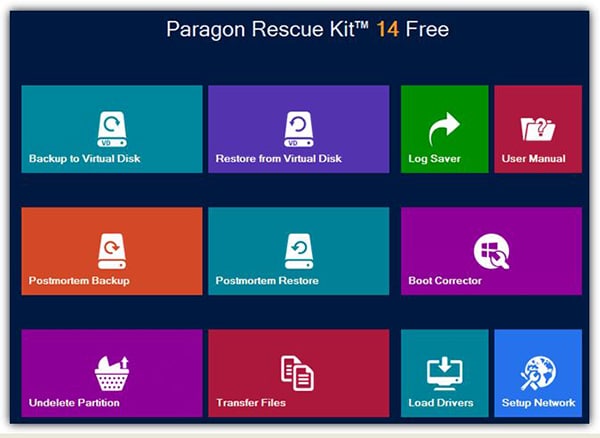 Finding data recovery software is easy enough, but what about software that can recover data to get an unbootable PC up and running again? There is no need to install Paragon, you just execute it. You are presented with various recovery options, and in case you've misplaced your password, the Password Cleaner shall reset it. You can also back up your system or restore it via a virtual disk. Beware: this is for advanced users.
Price: Free
---
6# Seagate File Recovery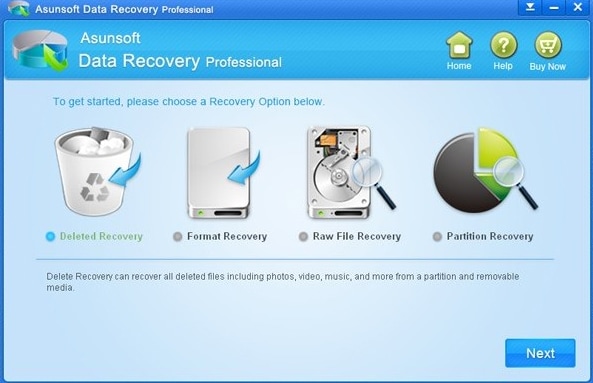 Seagate has been made especially for recovering files from a Windows disk or a USB memory stick. It has two modes: file search mode (analyses tables in discovered partitions), and disk scan mode (scans whole or part of a disk). It is an above average software that performs well, especially when it comes to lost files from HDD and SSD. It also holds an edge in recovering data from micro SD cards. Despite this, you can't connect to or recover files from other computers on the network.
Price: $99.00
---
7# BitRecover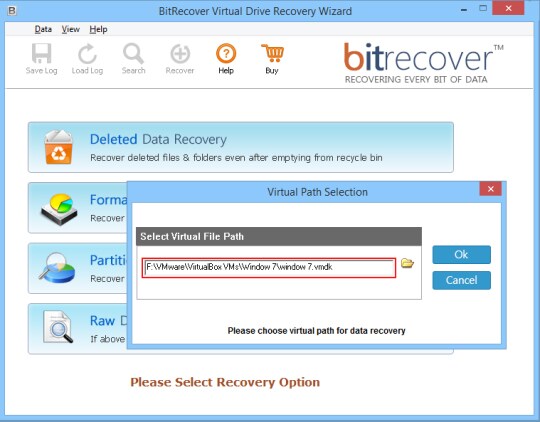 This is a do-it-yourself software that caters to Windows users especially. You can recover data from hard drives, USB drives, etc. It is a wizard-based process that is able to retrieve data from drives of sizes up to 3 terabytes. Recovery rates are strong; however, it is not good with complex data recovery tasks. Filters allow you to track files by their types.
Price: $49.00
---
8# Stellar Phoenix Windows Data Recovery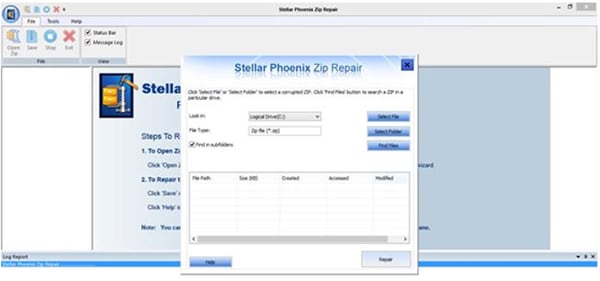 Like the mythical creature it is named after, the Stellar Phoenix software brings your files back to life from their ashes. It is incredibly powerful with one of the best preview facilities out there. The advanced features may be daunting for less-than-advanced users. The interface is even said to be baffling for some, causing interface glitches. It also lags behind in some features that are present in fellow recovery software. It also takes long to scan drives.
Price: $99.00
---
9# Recuva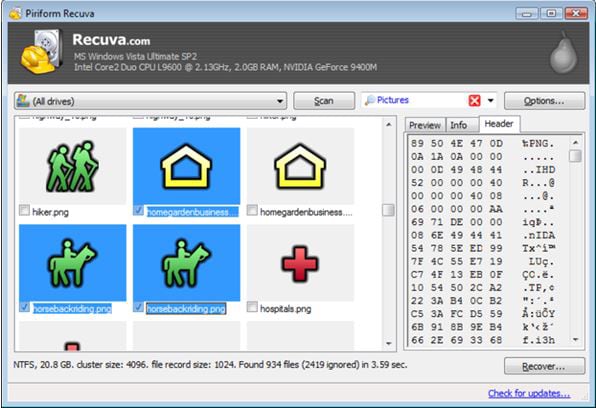 Created by Piriform, this software is highly agreeable when it comes to interface. If there is still something you don't understand, the built-in wizard can help you out. Just answer the questions posed by the wizard and get your hands on that precious data in a bit. You can recover all sorts of files, from photos to videos, and documents to emails. It is best for scanning cameras, MP3 players and flash drives. It does take a long time to scan and retrieve files though.
Price: Free
---
10# GetDataBack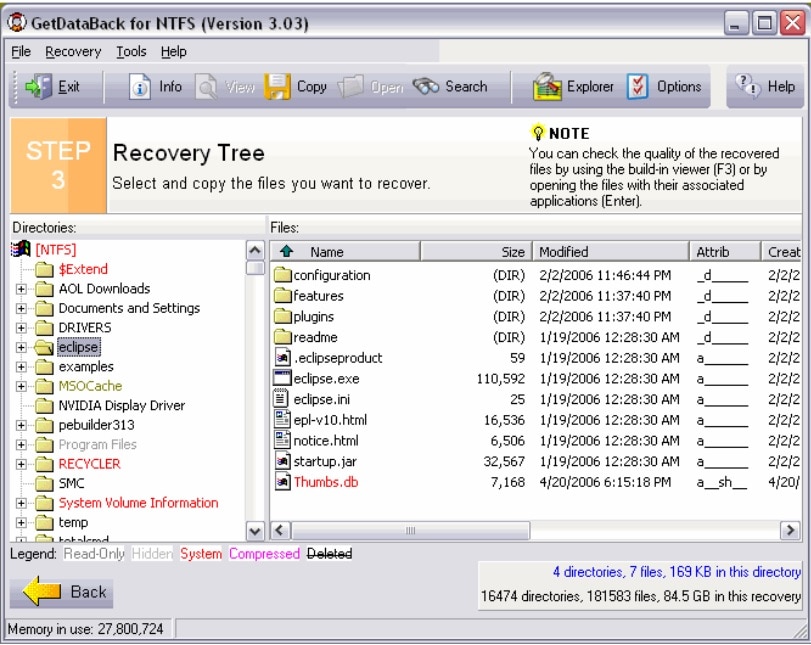 Though highly advanced, GetDataBack should be given credit for trying to make its interface more user friendly. It provides options like 'I don't know, use default settings'. It is a very thorough software which explains the steep price. It has a good success rate and restore files with the directory structure. The deep scan option allows you to recover other lost partitions or files that may have been overlooked initially. Users may be disappointed by the messy look of the interface.
Price: $79.00
Part 4. Comparison of These 10 Photo Recovery for Windows
Software
Price
Pros
Cons
Recoverit (IS) for Windows
$29.95
- Easy to use interface
- Five modes
- Preview option
- Can pause and resume scan
None
Ontrack Easy Recovery
$79.00
- Quick and easy
- Best SSD and HDD scan speeds
- Doesn't support Windows 10
- May not be able to recognise certain file formats
Wondershare Data Recovery
$49.95
- Supports over 550 file formats
- Quick and user-friendly
- Preview option
- Doesn't support photo recovery as well
Wise Data Recovery
Free
- Especially for Windows users
- Internal and external file recovery
- Recover multiple files simultaneously
- Clean install
- Files may not remain in initial folder structure.
Paragon Rescue Kit
Free
- Works on a PC that cannot be booted
- Can back up and restore from a virtual drive
- Various recovery options
- For advanced users only
Seagate File Recovery
$99.00
- Free of cost
- Has an edge in recovering data from micro SD cards
- Above average software with high success rate
- Can't recover or connect to other computers on the network
BitRecover
$49.00
- Caters especially to Windows users
- Has a wizard recovery tool
- Good recovery rates
- Filter options
- Does not work well with complex recovery tasks
Stellar Phoenix Windows Data Recovery
$99.00
- Extremely powerful
- One of the best preview features available
- Takes relatively longer time to scan drives
- Complex interface may baffle some beginner users
Recuva
Free
- Very user-friendly
- Great interface
- Very efficient in recovering data from MP3 players, cameras and USB drives
- Takes long to scan and retrieve files
GetDataBack
$79.00
- Very thorough
- Great success rate
- Restores files with their original folder structures
- Deep scan option allows you to recover files that may have been initially overlooked
- Requires a more advanced user
- Messy looking interface may baffle some users