Photo handling and file management has been gained popularity among various users, as the world has looked over several remedies and solutions that would consequentially improve the performance of their devices and desktops.
This article features the issue relating to the file transfer from one Mac to another Mac, photos in specific. Though there can be various conventional uses that would come in handy, they follow a series of downsides that make them inefficient and inapplicable over a large scale. This article provides you with a comprehensive guide on how to transfer photos from Mac to Mac.
Part 1. How to Use iCloud to Transfer Photos from Mac to Mac
The process of consuming iCloud for a dedicated transfer of photos from a Mac to another Mac follows a series of configurations. Though this procedure might be lengthy to execute, the following guidelines ensure that you can transfer photos from any Mac device to another Mac device present elsewhere in the world, making it easier to ensure an efficient wireless connection for data transfer.
To understand the procedure involving an iCloud transfer of photos, you need to look over the steps declared as follows.
Step 1 Open "Photos app" on your Mac and access the "Photos" tab on the toolbar on the top of the window. Tap on "Preferences" in the drop-down menu that opens to lead to a new screen.
Step 2 Tap on the "iCloud" tab to incite a new menu. Fill up the "iCloud Photos" checkbox to upload images from the Photos App onto the connected iCloud.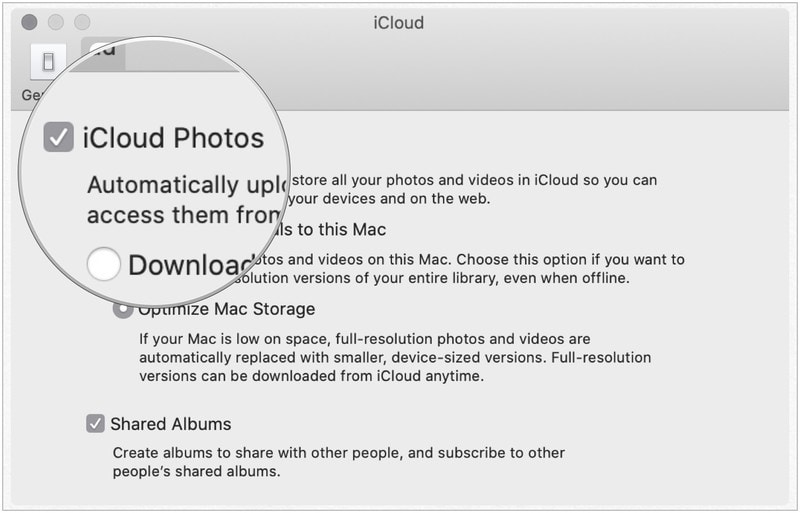 Step 3 Along with these options, it is important to access the "Shared Albums" for configuring a transfer of photos across the devices. Access the similar settings across your Mac and tick the box of "Shared Albums" to proceed.

Step 4 Access the other Mac connected with the similar iCloud account. Open its "Photos App" and select the option of "Shared Albums" along the sidebar of the window. You can view the recent activity that has occurred on your shared albums. Along with that, the platform also offers you to view all albums shared across the iCloud account.

Part 2. How to Transfer Photos from Mac to Mac Wirelessly
If you are up for transferring your data from the older Mac to a newer Mac, you might have come across a variety of solutions that would allow a wireless transfer of data among Macs. If you wish to transfer photos from Mac to Mac, Migration Assistant can come in quite handy in the process.
Although this may seem like a prolonged process, this platform ensures the transfer of data across the devices to its root. While connecting your devices across a similar Wi-Fi connection, you need to proceed to follow the steps offered as follows:
Step 1 Open a "Finder" window on your new Mac and tap on "Applications" present on the panel across the window.

Step 2 With the new screen on your front, access the "Utilities" folder and open "Migration Assistant" from the available folders. Provide the credentials of your device if prompted and proceed.

Step 3 Over the next screen, select "From a Mac…" and propagate.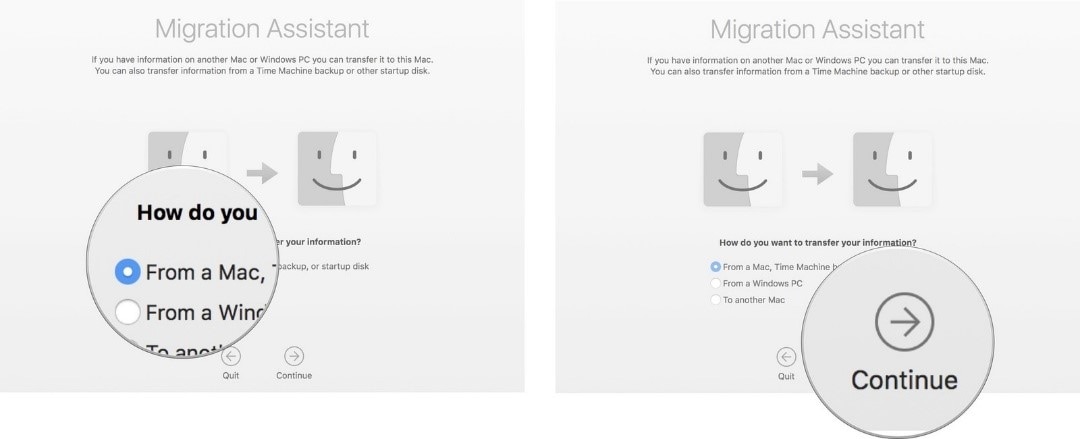 Step 4 Open your old Mac and follow a similar procedure across it to open "Migration Assistant" on it. Provides its administrative password over the prompt and proceed.

Step 5 Select the option of "To a new Mac…" over selecting the option to transfer data from the device and proceed.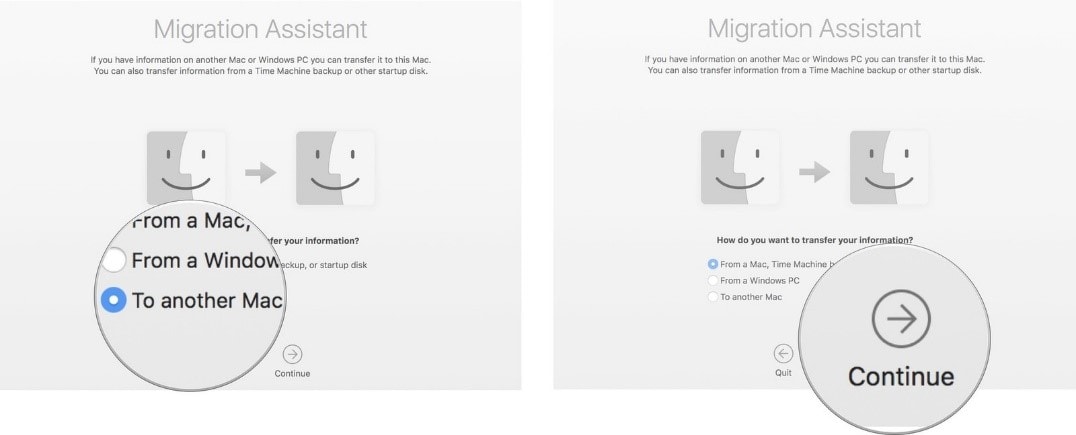 Step 6 Lead to the new Mac where the "Migration Assistant" would be looking up for sources. Select your old Mac and continue to observe a security code being displayed along with the screen.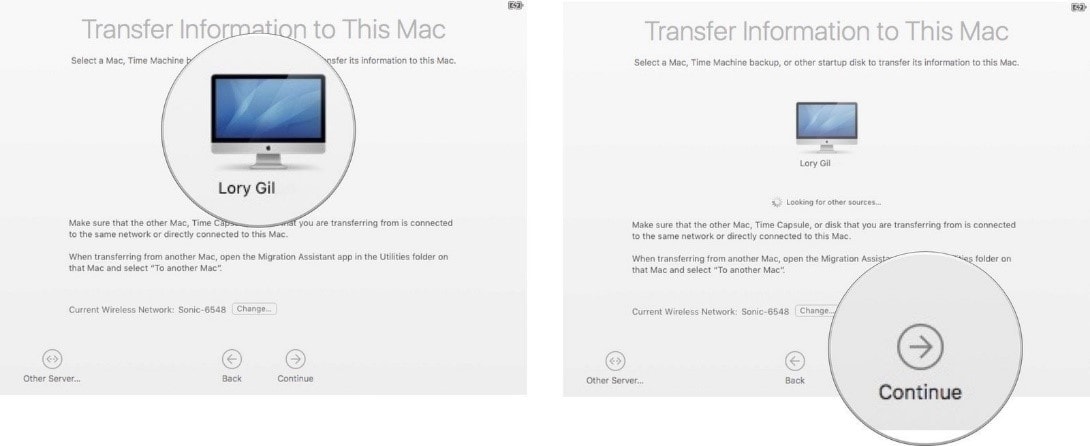 Step 7 Observe your old Mac and confirm whether the code is the same across both devices. Tap "Continue" and lead to your newer Mac.

Step 8 On the screen across your new Mac, select the files that you wish to transfer and initiate the transfer.

Part 3. How to Transfer Photos from iPhone to Mac
In such cases where you must transfer photos from an iPhone onto a Mac, you would come across a series of different solutions that would provide you the required service. However, if you look over the best services that would let you understand how to transfer photos, you should consider using dr.fone – Phone Manager.
This platform offers you a very intuitive interface as a file manager that allows you to transfer photos from your iPhone onto a Mac easily. dr.fone offers you: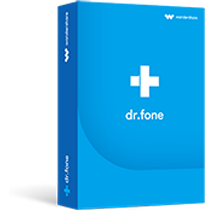 Safely Transfer Photos from iOS Device to Mac with dr.fone
A platform to transfer photos, videos, and all other assorted data.
Backup of the data on the computer with easy restoration.
Transfer media files across other iOS devices and iTunes.
Allows the transfer of data across two different smartphones.
Compatible with the latest versions of iOS.
3,782,659 people have downloaded it
The procedure that allows you to transfer photos from iPhone to Mac is provided as follows.
Step 1 Download and Install
Initially, you need to download and install the dr.fone platform from its original website. Proceed to launch it and select "Phone Manager" in the options on the home window.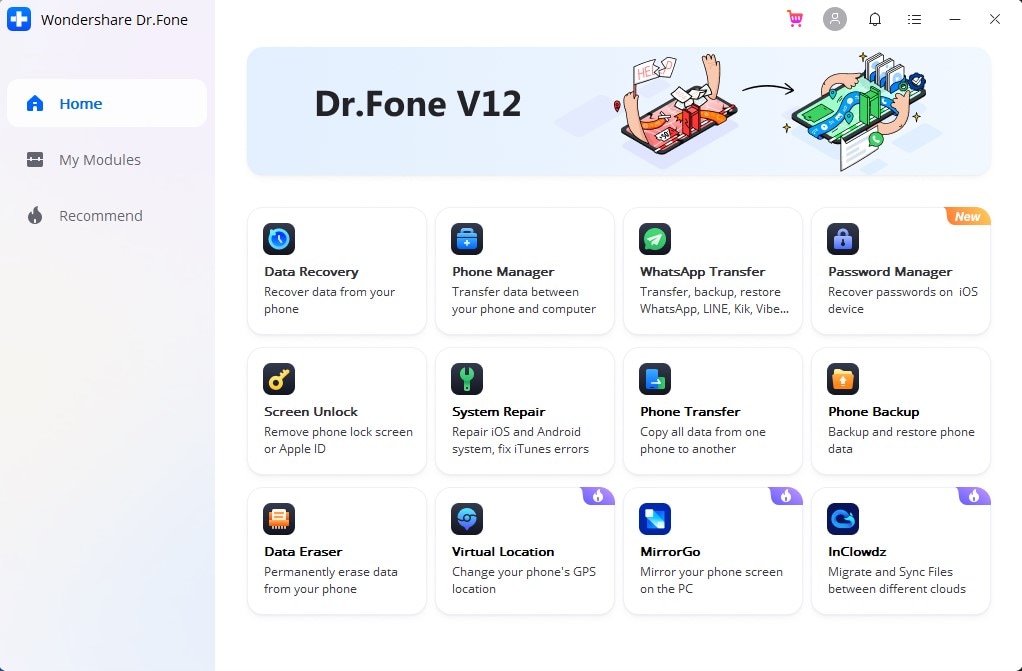 Step 2 Accessing Options
Connect your iPhone and proceed to the next window. Select the option of "Transfer Device Photos to Mac" and transfer all photos onto the Mac with ease.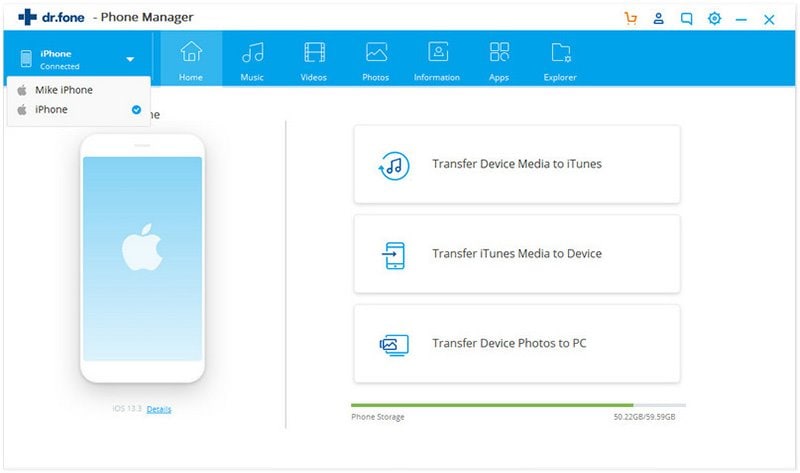 Step 3Selective Transfer
If you are up for transferring a specific set of photos, you need to access the "Photos" tab on the top to lead to your device's album. Select the photos and tap on "Export" to export them across your Mac in the desired location.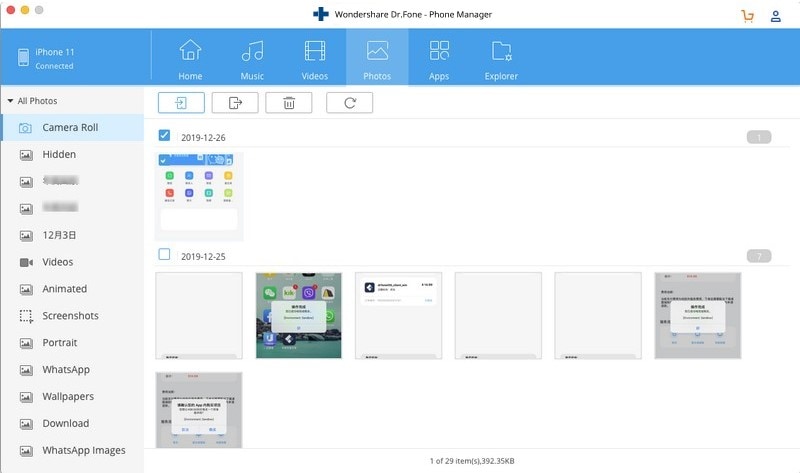 Find more about: How to Transfer data from Mac to iPhone
Conclusion
This article has featured a comprehensive and prolific guide on how to transfer photos from Mac to Mac through different versions of connectivity.