iCloud storage is one of the major highlighted features presented by Apple for the settlement of a better environment that would guide users to an effective interface and device usability. This feature offers users to back their data across a cloud system that is interconnected with the device directly.
iCloud ensures the protection of data with tangible functionality that allows users to transfer their data from their device with ease. The presence of iCloud allows the user to save their device storage and ensure impressive device performance. Thus, many users prefer backing their data across iCloud. This article features a series of different procedures that accredit you to transfer photos from iPhone to iCloud.
Part 1. How to Set Up iCloud and Check iCloud Storage
How to set up iCloud on iPhone/iPad
Usually, Apple devices are provided with a certain prompt where they are advised to select "iCloud Drive" as their backup for storing important data. Although if certain users forget or neglect to add iCloud services to their device, they are provided with the autonomy of setting up iCloud across their iPhone or iPad through the following technique.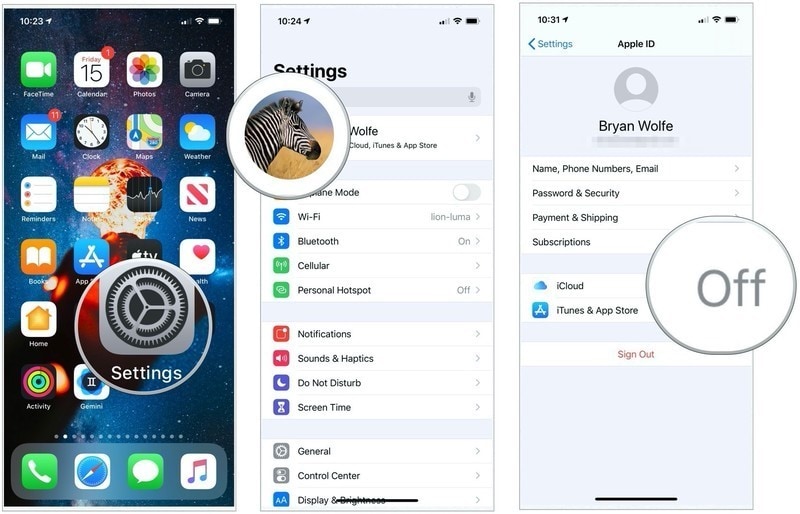 Step 1 Open the "Settings" application from the home screen of your device.
Step 2 Tap on your Apple ID username on the top of the menu. Access "iCloud" from the provided options.
Step 3 On the next screen, you are advised to turn on the "iCloud Drive" button. Provide your iCloud account credentials.
---
How to set up iCloud on Windows/ Mac
If you wish to set up your iCloud Storage across the Windows PC or Mac, it follows a simple procedure that would explicitly connect your iCloud account with the certain device and its data. To set up your iCloud on Mac, follow the guide provided below.
Step 1 Tap on the Apple icon on the top-left of your home screen and select "System Preferences…" from the menu that appears.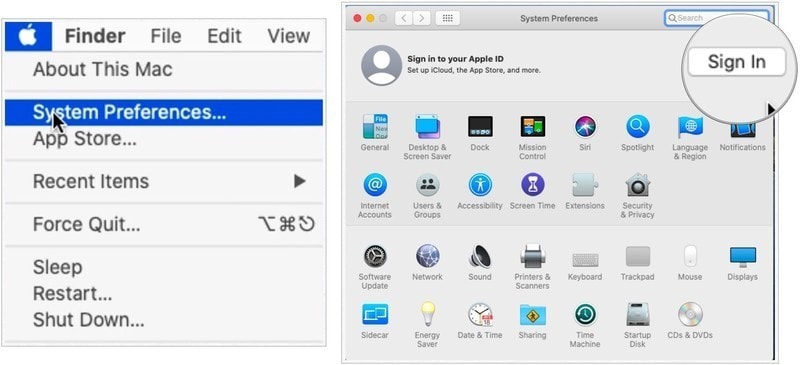 Step 2 On the new window, select "Sign in" on the top-right of the screen and provide your Apple ID credentials.

Step 3 After providing the required credentials and proceeding ahead, you need to tap "Allow" over the prompt that appears and confirm all checkboxes that you wish to connect across your iCloud.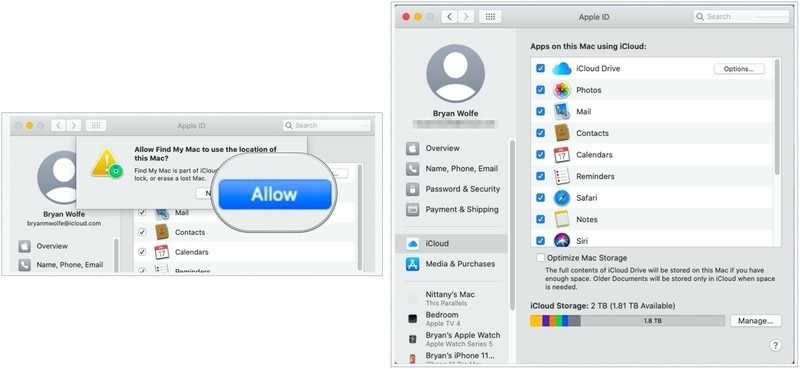 However, if you have a Windows PC where you wish to set up your iCloud account, you need to follow the guidelines offered as follows.
Step 1 Download the official application of iCloud for Windows.
Step 2 Following its installation, provide your Apple ID and password that are readily consumed by your Apple devices.
Step 3 Confirm all features that you wish to use and conclude by selecting "Apply."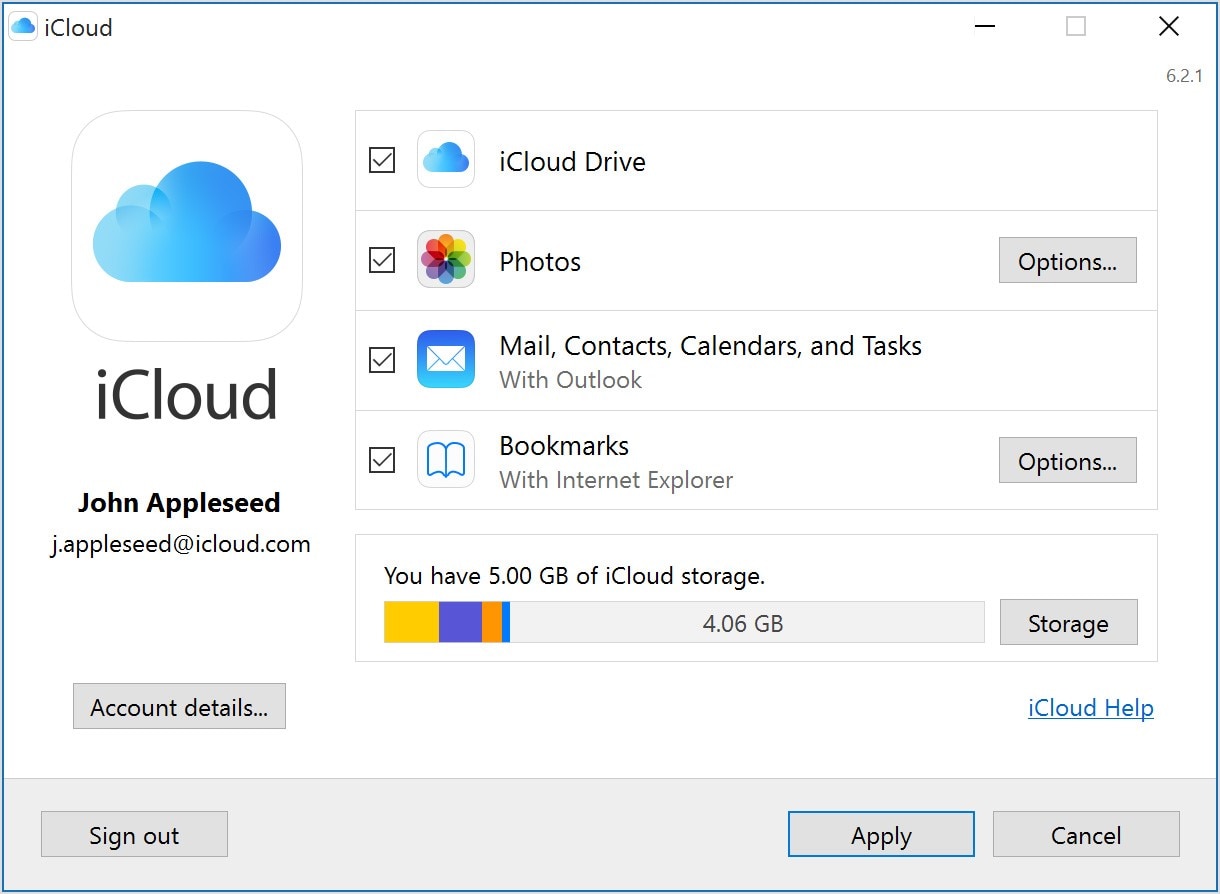 ---
Where can you check the iCloud storage?
While using iCloud storage, there are certain times where you wish to see the probable space that you are left with to use it for covering more data from your device. To check your iCloud storage efficiently, you should follow the step-by-step guideline shown as follows.
Step 1 Open iCloud.com on your browser and provide your account credentials to log into it.
Step 2 Access the "Account Settings" and lead to the "Storage" section.
Step 3 To understand the information present, hold your cursor across the segment until the numerical storage size appears above the graph.
Part 2. How to Transfer Photos from iPhone to iCloud
The process of transferring photos from iPhone to iCloud is quite simple and straightforward to cover. However, as much as this process depicts simplicity, it is also important in protecting the data and keeping it safe for a very long period of time. While the devices are prone to various threats, iCloud storage ensures that all data is safe and accessible at all periods of time. To transfer photos from iPhone to iCloud, you need to follow these simple steps defined below.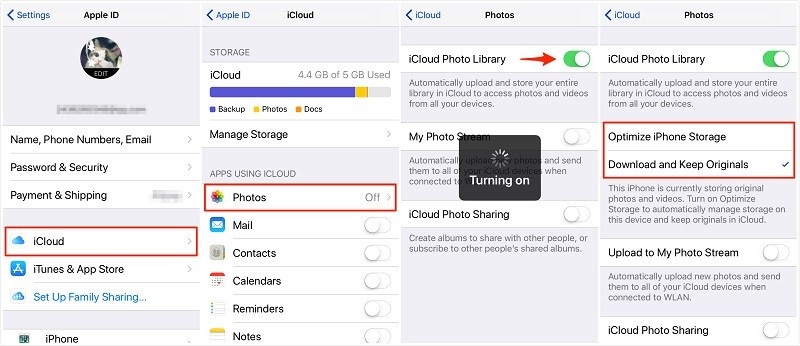 Step 1 Open your iPhone's "Settings" from its home screen and tap on your Apple ID name present on top of the page.
Step 2 Lead on the next page to select "iCloud" followed by the option of "Photos" under the section of 'Apps using iCloud.'
Step 3 Enable the option of "iCloud Photo Library" on the next window and set its size in the options provided below.
Part 3. How to Restore Photos from iCloud to iPhone
As you get to understand the methods that allow you to transfer photos from iCloud to iPhone, there may arise a case where you need to restore a certain set of photos from iCloud to iPhone. Usually, the basic remedy that would arise in your mind would involve resetting your iPhone.
However, there is a method that would allow you to prevent such a technique and restore a certain set of photos and other data with ease. dr.fone – Phone Backup (iOS) provides you with a very simple and efficient interface to execute a simple restoration of photos from the iCloud to the iPhone. There are several reasons why dr.fone should be a choice in such cases.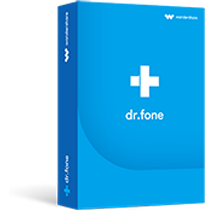 Easily Backup and Rrestore Photos from iPhone to iCloud
It allows direct retrieval of data from iTunes and iCloud.
Supports the latest iPhones with the latest iOS support.
You can preview, select, and restore data with quality assurance.
It is a read-only service with a risk-free environment.
3,782,659 people have downloaded it
To understand the simple function of restoration using dr.fone, proceed with the following steps.
Step 1 Install and Launch
Download and install dr.fone – Phone Backup on your device and proceed with launching it. Select the option of "Restore" followed by "Restore from iCloud backup" to lead to a new window.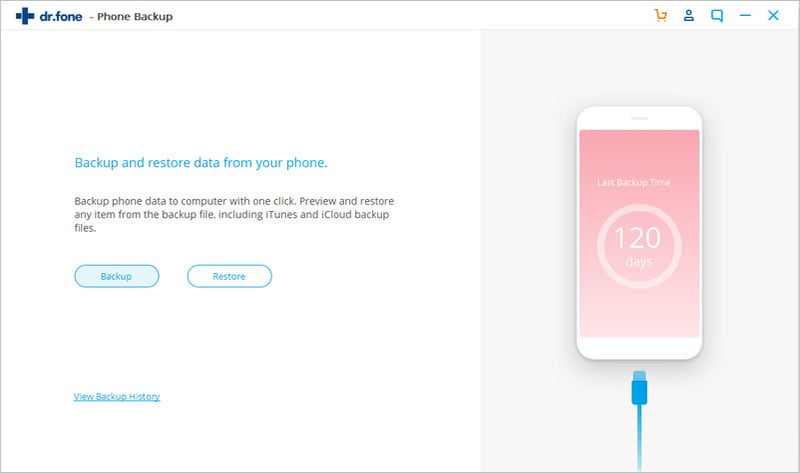 Step 2 Sign in to your iCloud
Provide the credentials of your iCloud account and enter a verification code if prompted. The backup files that are associated with the account are displayed. Select one and tap "Download."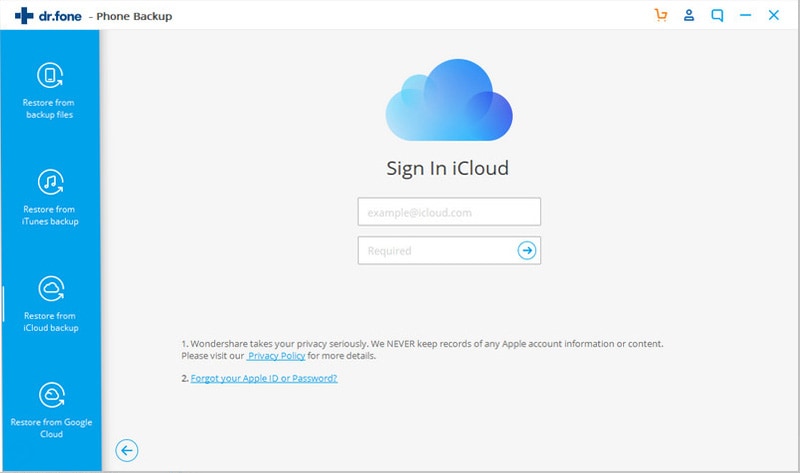 Step 3 Restore Files
The files present on the backup file are displayed on the next screen. Select the specific photos from the list that you wish to restore and tap "Restore to Device" to execute the process.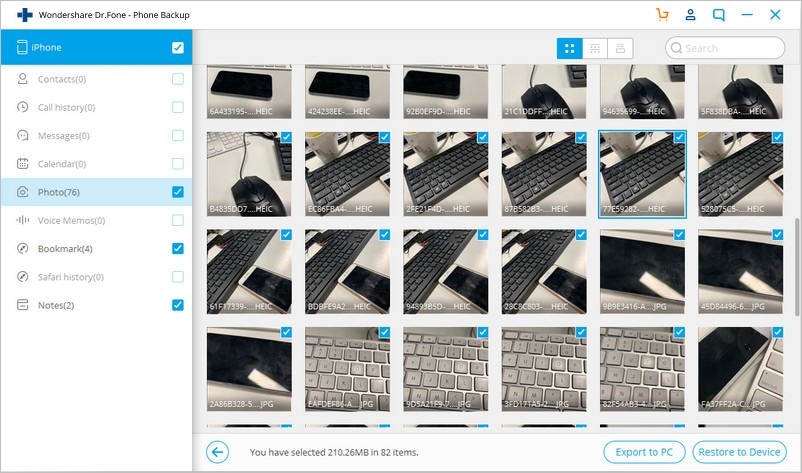 Part 4. Ways to Transfer Photos from iPhone to iCloud on PC
If you wish to transfer photos from an iPhone into the iCloud over a PC, there are certain requirements that are to be fulfilled. Initially, after you are done setting up "iCloud Photo Library" on your iPhone, open the downloaded "iCloud for Windows" application on your computer and enter your credentials.
Step 1 On the initial screen, check the 'Photos' option and open "Options" next to it.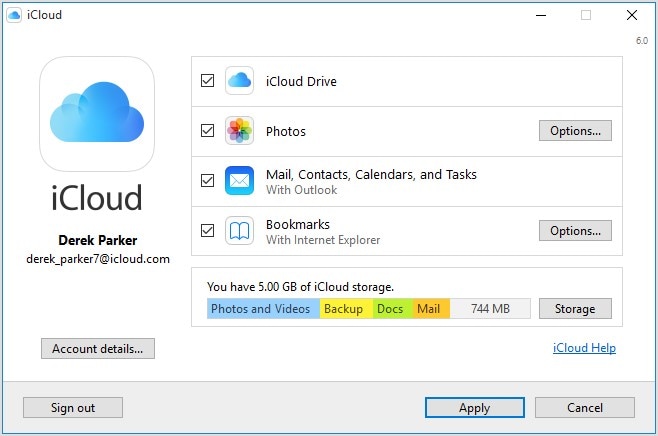 Step 2 Check the "iCloud Photo Library" option in the list along with the "Download new photos and videos to my PC" if you require automatic download. Apply these settings and open "File Explorer" on your computer to find the "iCloud Photos" directory under the 'Pictures' library. The photos from the iPhone would be present in the 'Downloads' folder.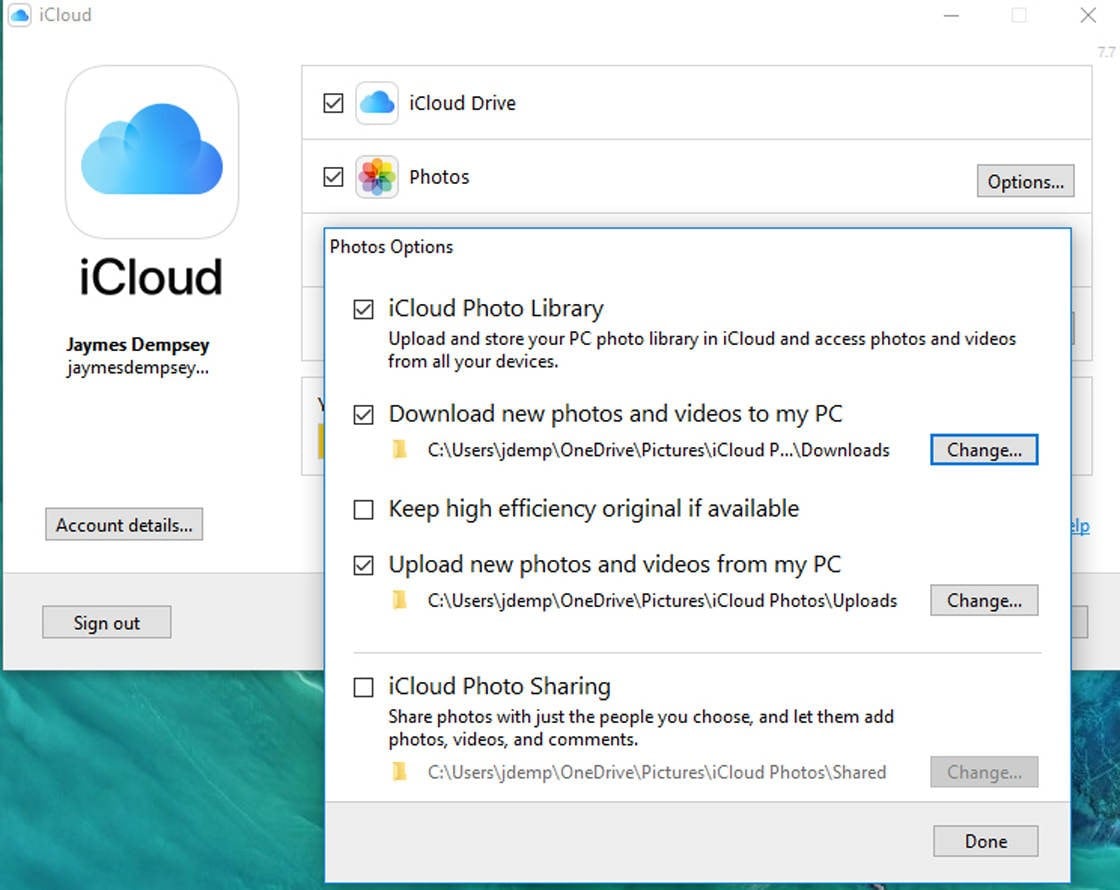 Conclusion
After reading this article, I really hope you have a comprehensive understand of the process that involves the transfer of photos from iPhone to iCloud storage with ease., if you find this article helps you, please don't forget to share it with your friends.