"How to recover unsaved PowerPoint on Mac? I was working on a presentation and forgot to save it afterward. Sadly, I can't find it now and don't know how to recover the PPT file on Mac!"
- a question from Quora
If you are also going through a similar situation, then this would be the perfect guide for you. Working with PowerPoint on Mac can be a tedious task, but losing some important files is certainly a nightmare. If your PowerPoint documents have also been deleted or are now inaccessible, then you need to take some drastic measures. There are inbuilt PowerPoint recovery Mac solutions as well as third-party tools to recover PowerPoint files on Mac. In this guide, we will teach you how to recover lost PowerPoint on Mac in all the possible ways.
Part 1: How to Recover Deleted PowerPoint Files?
This is one of the most common situations that PowerPoint users on Mac suffer from. Too often, they delete a file accidentally or because of any other reason, only to regret it afterward. Thankfully, there are different ways to do PowerPoint recovery on Mac to get your deleted files back.
Solution 1: Check the Trash
As you know, when we delete something from our Mac, it isn't erased from the system right away. Instead, Mac will move it to the Trash folder for a while. Therefore, if you take immediate actions, then you can recover lost PowerPoint on Mac by visiting its Trash.
Step 1 Firstly, access the Trash folder on Mac. You can simply find it on the dock or go to the Spotlight to look for it.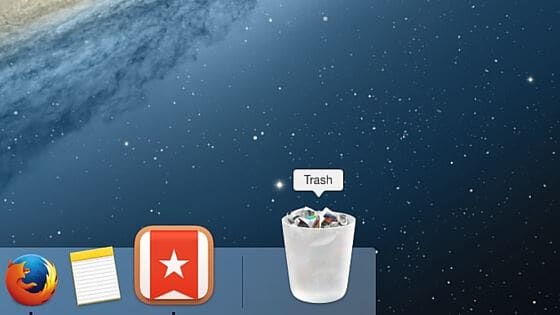 Step 2 The Trash folder will have all the deleted data of your Mac. You can look for the deleted PowerPoint files and select them.
Step 3 After selecting the files, right-click, and click on the "Put Back" option. This will recover PowerPoint file on Mac to the existing location.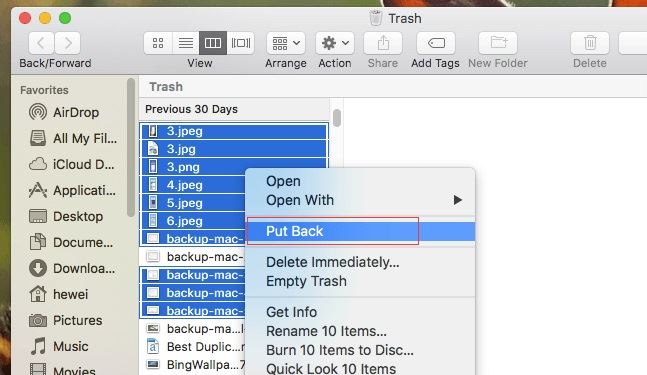 Solution 2: Recoverit (IS) for Mac
If you are not able to get back your lost PowerPoint file from the Trash folder, then don't worry – consider trying a dedicated recovery tool instead. For instance, Recoverit (IS) provides a secure, reliable, and extremely simple solution to perform PowerPoint recovery on Mac. It supports the recovery of all kinds of documents and features a high data retrieval rate. Users simply need to follow a basic click-through process to get back the lost files under different scenarios.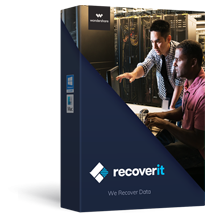 A Life Saver to Solve Your Data Loss Problems!
It is a complete data recovery tool for Mac that can extract PowerPoint, Word, Excel, PDF, and all the other documents. Besides that, it also supports the recovery of photos, videos, emails, audios, and more.
The application supports all kinds of common data loss scenarios. That is, it can recover unsaved PowerPoint on Mac, accidentally deleted files, files lost on a corrupt storage, etc.
The interface follows an intuitive 3-step process and does not need any prior technical experience to operate.
It provides different scanning modes to recover data on Mac. Users can even preview the recovered data on the interface beforehand.
You can perform PowerPoint recovery on Mac's internal drive or on any other connected source like SD card, USB drive, external hard disk, etc.

3,015,629 people have downloaded it
To learn how to recover deleted PowerPoint on Mac using Recoverit (IS), the following steps can be taken.
Step 1

Select a recovery mode

As you would launch the Recoverit (IS) application on Mac, you would be asked to pick a recovery mode.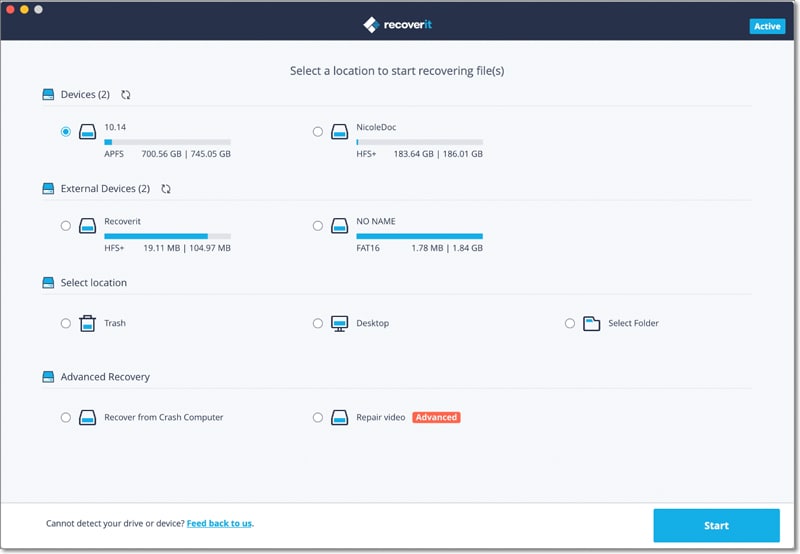 Step 2

Pick a location to scan

Furthermore, you need to select a location to scan for the lost or deleted PowerPoint documents. You can pick a partition or drive and start the recovery process.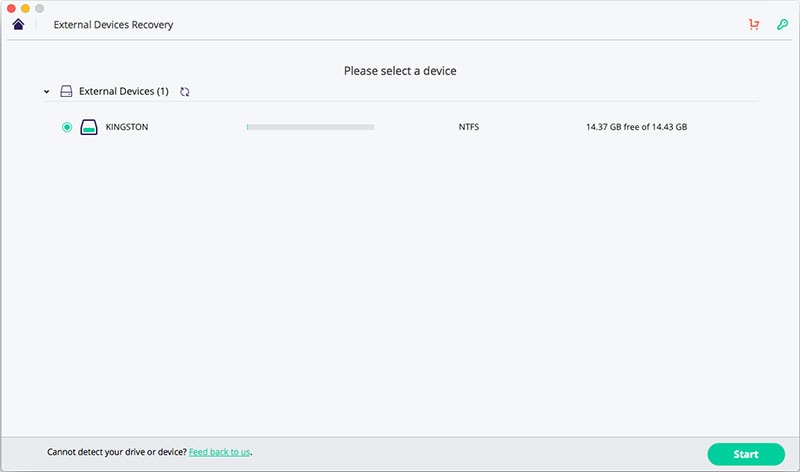 Step 3

Recover lost PowerPoint on Mac

Sit back and wait for a while as the application would try to recover PPT files on Mac that are deleted or lost.

When the process is completed, you can just preview the extracted PowerPoint documents on the interface. Select the PowerPoint files that you wish to get back and click on the "Recover" button to save them.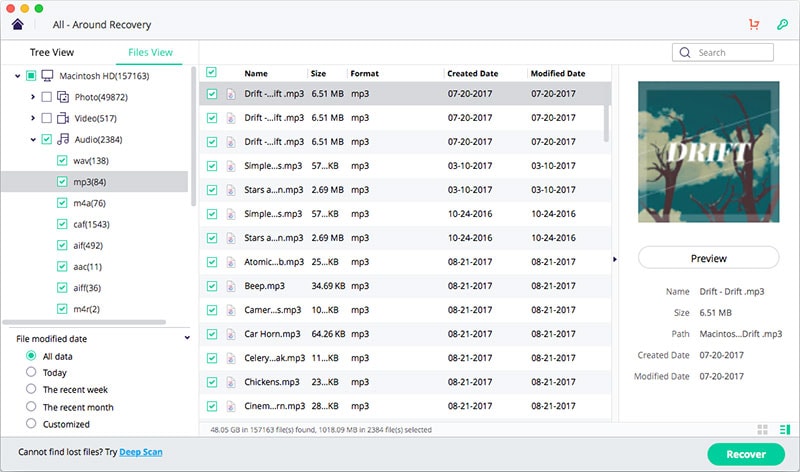 That's it! By following these 3 simple steps, anyone can learn how to recover deleted PowerPoint on Mac. Though, in case if you are not satisfied with the results, then try the All-around recovery mode. It will perform a deep (a time-consuming yet effective) scan on your Mac.

Important Note:
If your Mac runs on macOS X 10.13+ then you should disable the System Integrity Protection feature on it. This will let a third-party application access the internal partitions on the system. To do this, restart Mac in the recovery mode and go to Utilities > Terminal. Now, type the command "csrutil status" and press enter to disable SIP on Mac. Later, you can restart Mac in the normal mode.

Part 2: How to Recover Unsaved PowerPoint Files?
Sometimes, Mac users simply forget to save their PowerPoint files and end up losing them in the end. While Recoverit (IS) can also help you recover unsaved PowerPoint on Mac, you can also take the assistance of its native features as well.
Solution 1: Recover Unsaved PowerPoint Files from AutoRecover Folder
Just like Windows, PowerPoint also provides an AutoRecover option in Mac as well. If you want, you can automatically save the PowerPoint file in the background. Later, if you forget to save the presentation, then you can recover its auto-saved version instead. Here's how to recover unsaved PowerPoint on Mac via its AutoRecover folder.
Step 1 First of all, you need to make sure that the AutoRecover feature is enabled in PowerPoint. Launch the application and go to PowerPoint Preferences > Save.
Step 2 From the Save options, enable the AutoRecover option and feel free to change its frequency to a suitable duration.

Step 3 If you have an unsaved PowerPoint file, then open the Go menu from the Finder. Press the ALT key to access the Library folder.
Step 4 From the Library, go to the location: Containers > com.microsoft.Powerpoint > Data > Library > Preferences > AutoRecovery. While it is a default location, it might change in your system.
Step 5 Here, you can view the auto-saved PowerPoint files. Simply rename the extension to .pptm and try accessing it on MS Office PowerPoint.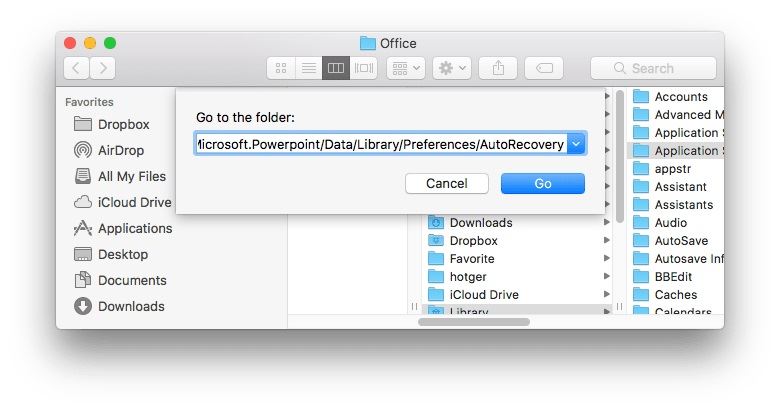 Solution 2: Recover Unsaved PowerPoint Files from the Temporary folder
When we work on an application on our Mac, the system keeps storing the data in the background. Your data would be stored in the form of temporary files to make the processing smoother. Though, if you have suffered from an unwanted data loss, then you can visit the temporary folder on Mac. You can follow these quick steps to recover unsaved PowerPoint on Mac.
Step 1 Turn on Mac and go to its Applications > Utilities > Terminal to launch the Terminal application.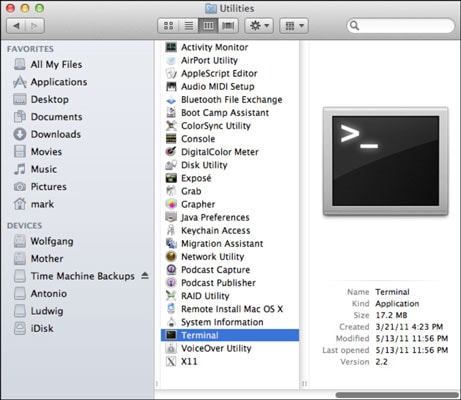 Step 2 Once the Terminal is open, type the command "$TMPDIR" to open the directory where the temporary files are stored.
Step 3 From here, you can access the relevant temporary file and rename it (changing its extension to .pptm). Once it is done, try opening it with PowerPoint to access the temporary data.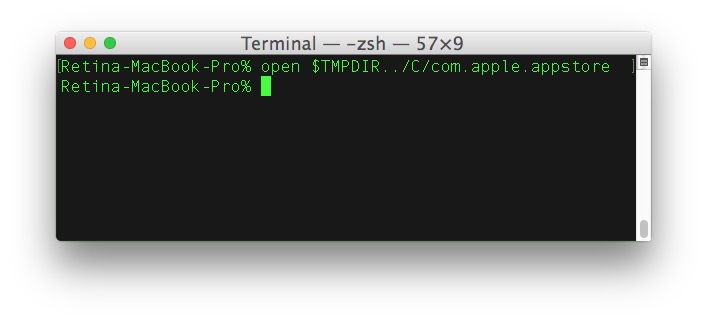 Part 3: How to Recover a Previous Version of PowerPoint File?
There are times when we simply end up overwriting a PowerPoint file accidentally. If the issue is severe, then you can use a data recovery tool (like Recoverit (IS)) to easily retrieve your data. Though, if you have just made this mistake, then consider following these steps to recover overwritten PowerPoint file on Mac.
Step 1 Firstly, go to Mac's Applications > Utilities to launch Terminal.
Step 2 After opening Terminal, type the following commands on it:
$ defaults write com.apple.finder AppleShowAllFiles true
$ killall Finder
Step 3 This will display all the hidden files and folders on your Mac. Now, just go to the location where you have overwritten a PowerPoint file.
Step 4 Find the temporary file that could have retained the existing data and rename its extension to support PowerPoint. Open it with PowerPoint and try to access your saved content.

Part 4: How to Recover PowerPoint Files with Backup?
In case if you have already taken a backup of your data beforehand, then you can easily recover unsaved PowerPoint on Mac. Here are the three commonly opted ways to backup and restore data on Mac.
Solution 1: Time Machine
Time Machine is the native solution to backup data on Mac and to restore it as well. To perform an unsaved PowerPoint recovery on Mac, simply open the Time Machine application on your Mac. You can just use the side scroll to browse the saved backup content. Once you find the PowerPoint file you are looking for, select it, and click on the "Restore" button. This will recover PowerPoint file on Mac from the Time Machine backup.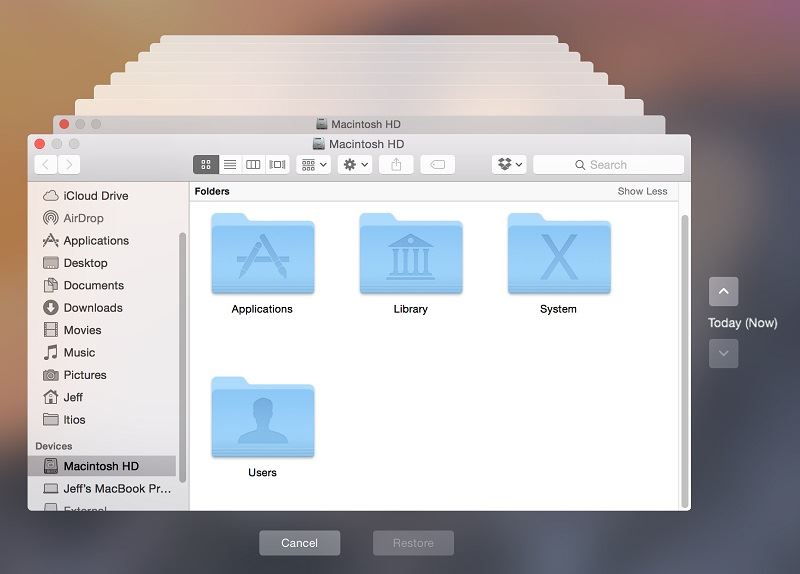 Solution 2: Google Drive
Google also provides a seamless solution to backup data from numerous devices, including Mac. You can either use its application or simply visit its website to access your drive. In this way, you can upload your PowerPoint and keep a backup. Whenever your presentation gets lost or deleted, just visit your Google account and explore the Drive. Select the lost presentation and save it back to your Mac.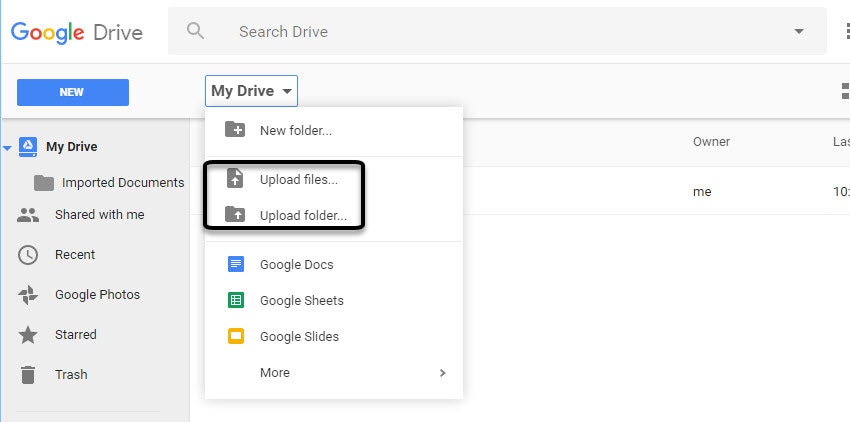 Solution 3: OneDrive
Similar to Google Drive, Microsoft also provides a free cloud access to its users, which is known as OneDrive. You can add its folder to your Mac or access its web application as well. In case of an emergency, visit its dedicated location on your system to find the PowerPoint document. Later, you can just recover lost PowerPoint back to your Mac by making its second copy on the local storage.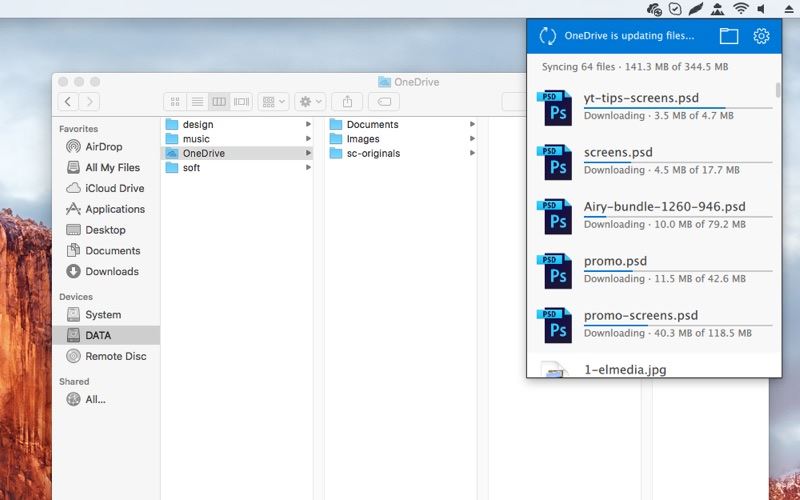 Part 5: Tips to Recover Unsaved PowerPoint on Mac
Although the guide would have helped you perform PowerPoint recovery on Mac, you can also consider the following tips to get better results.
Always maintain a backup of your important files on Time Machine or a cloud-based service, so that you can easily get it back.


If you are working on the same documents, then consider saving them to another location to avoid the overwriting of data.


Install an anti-virus tool on your Mac and keep it active, making sure that a malware attack won't cause data loss in it.


Enable the AutoRecover option on your PowerPoint in advance. Keep the frequency to 5-10 minutes, letting you maintain a backup copy of your documents.


Keep a data recovery tool handy on your system, so that you can immediately perform PowerPoint recovery on Mac and retrieve your files.
The guide would have helped you answer questions like "how to recover unsaved PowerPoint on Mac" or "how to recover deleted PowerPoint files on Mac". Though, if you want to get positive results under all data loss scenarios, then install Recoverit (IS) on your Mac. Since you might suffer from an unwanted data loss out of the blue, the application will make sure that you get your lost or deleted content back immediately. It features a user-friendly interface and has an advanced recovery method that could be a lifesaver someday!