Can I get back my videos and pictures? And which SD card recovery software is best for me?
"I have an SD card from a GoPro that was accidentally reformatted ... video and pictures are missing. Wondering if that is recoverable, and want to confirm which product is best and suitable."
- a question from Quora
What do you do when you accidentally lose an important file? Most people are bound to panic because a single SD card can actually carry lifetime's memories. It is in the midst of such emotions that you need to settle for an effective SD card data recovery tool. There are tons of apps that can recover data that was lost through virus attacks, a factory reset or even accidental formatting.
Top 10 SD Card Recovery Software
These File Recovery tools are worth trying out. They are able to recover most of your lost data in very simple steps.
1. iSkysoft Data Recovery
First of all, iSkysoft Data Recovery is among the most sought-after recovery tools currently available. This SD card recovery app is equipped with the latest technology that will assist you to recover any type of data. It has the capacity to recover graphics, videos, photos, documents, emails, and other files. Besides, it is easy to use and works pretty fast in recovering your data from SD card. You can do a quick scan for those files that you can easily find or an in-depth scan for the more hidden ones.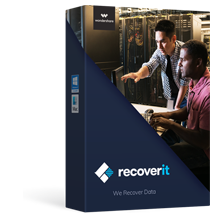 A Life Saver to Solve Your Data Loss Problems!
Recover over 1000 types of files: iSkysoft is equipped with state of the art technology enabling it to recover over 1000 types of data. These include graphics, videos, contacts, pictures, attachments, and document like the webpage.
It is able to recover data from any storage device: Apart from your computer, this tool is able to do raw SD card recovery, no matter the situation at which data was lost. Use it to retrieve your lost data from cameras, camcorders, hard drives, SSD and USB drives.
Flexible Recovery Operations: This feature enables you to pause and resume your scanning process whenever you want to. It is ideal to save your scanning result for easy continuation.
Windows PE feature: This SD card fixer software also lets you create a WinPE bootable media that you can use to access your computer in order to retrieve any lost file.
2,926,067 people have downloaded it
How to recover data from SD card with iSkysoft Data Recovery
These steps will show you the simple way to do an SD card recovery, with steps.
You actually don't need to be a tech-savvy in order to use this app. It is very easy to use with a step-by-step guide on how to recover your lost data. Follow these easy steps.
Step 1

Connect the SD card

The first step towards SD card recovery is to connect your card to the computer. In this case, your phone can act as the external SD device. Next, launch iSkysoft Data Recovery app once the installation process is complete.
Step 2

Select a disk to scan

Once the software prompts you to select a disk to scan then you should pick under 'external devices'. The next move is to click on the 'Start' button to enable the app to go on with a quick scan.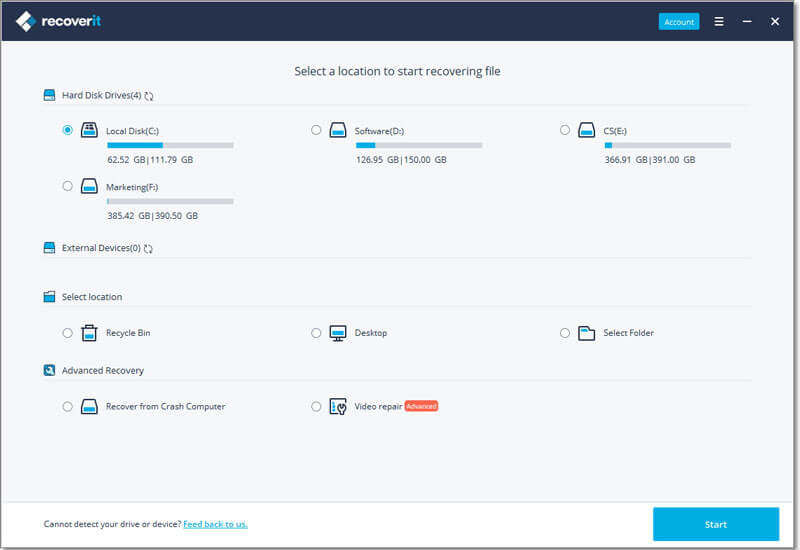 Step 3

Preview the scanned data

Once the scanning process has been completed, you will be able to view all the retrieved data from your SD recovery. Ensure you pick on all your target files by ticking the box that is adjacent.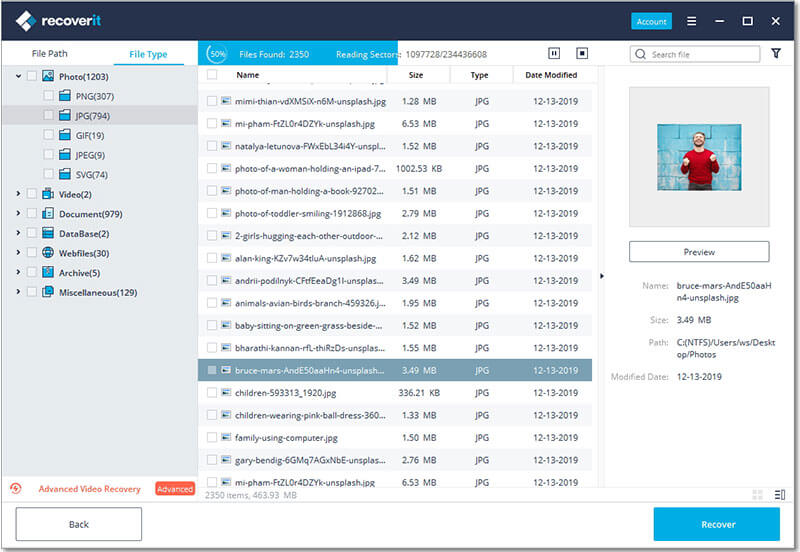 Step 4

Recover data

This is the final step for that SD card recovery full procedure. Once you have selected all the needed files, click on the 'Recover' button at the far bottom-left of the screen. You can decide to save the recovered data to your computer or any other device.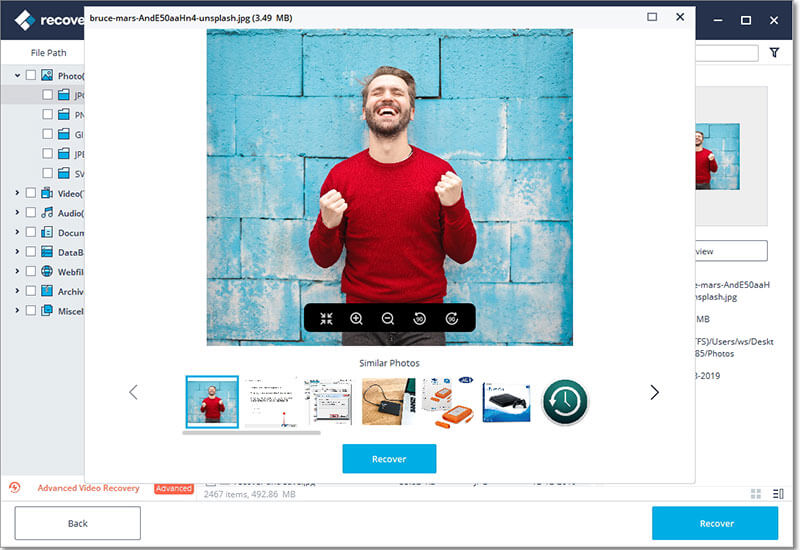 2. MiniTool Power Data Recovery
This is another data recovery software for SD card that you can use to recover your lost data. It can recover data from damaged SD cards, formatted disks, among other scenarios. Similarly, this app is easy to use and has got a powerful scanning mechanism that works in the shortest time possible.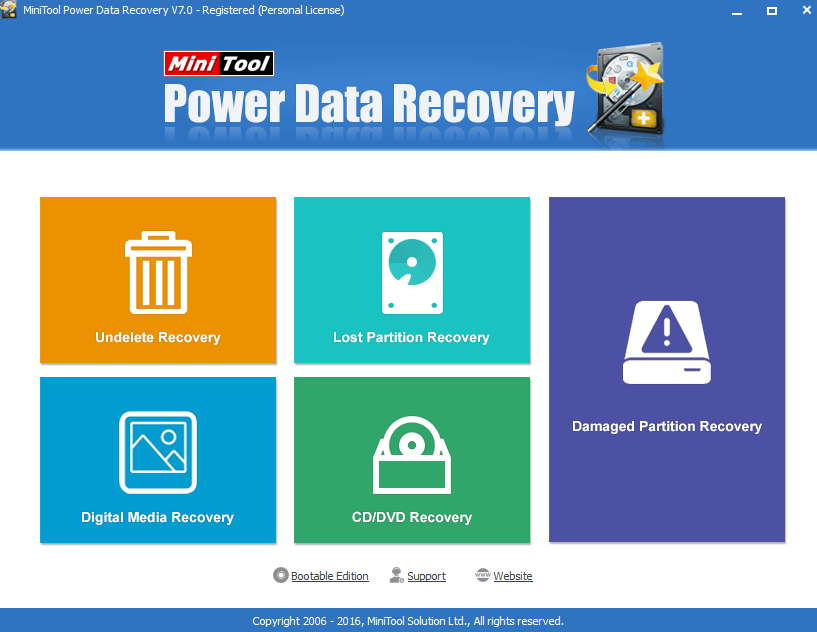 Pros
It has a user-friendly interface.
It will let you preview your data before retrieving.
It is compatible with the latest iOS devices such as iOS 12.
Cons
The trial version has very limited functionality as compared to other similar app.
3. Disk Drill
Disk Drill has stood the test of time especially when it comes to your hardware affairs. Apart from the normal SD card recovery service, this app is encompassed with a SMART disk functionality that monitors your hardware's disk status. Besides, this tool is able to recover up to 500MB of deleted data from your SD card using the free version.
Using it, you will be able to know of the available storage that is present on your machine. You can as well pause your recovery and continue at a later time. You will, however, need to restart your machine after an installation process.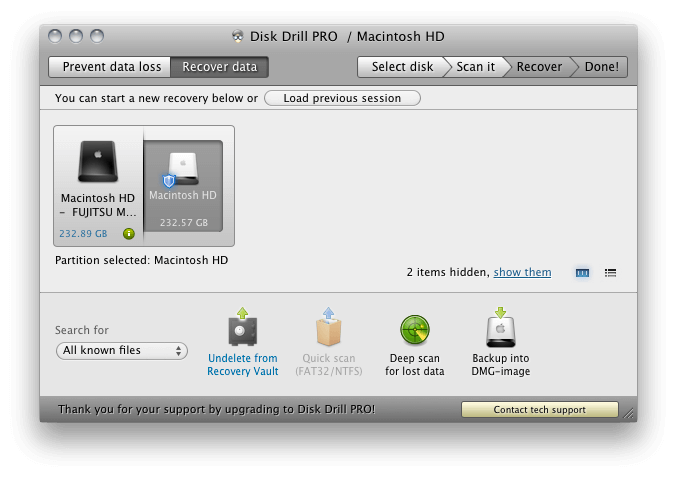 Pros
It has a backup and preview option.
The free version lets you recover up to 500MB data.
It also has an option to pause the recovery session.
Cons
You cannot recover above 500MB of data using the trial version.
Its user interface is not friendly.
A restart of the machine is needed after an installation process.
4. Undeleted MyFiles Pro
This app suits being among the best SD card recovery software because of its diverse recovery solutions. You can use it for file rescue, media recovery, deleted file search, among other solutions. Unlike other apps, it comes with an algorithm that lets you undelete all your accidentally deleted data. Besides, it has a user-friendly interface with adequate online support. Use it to recover data from both internal and external drives. These include mails, contacts, videos, attachments among other data types.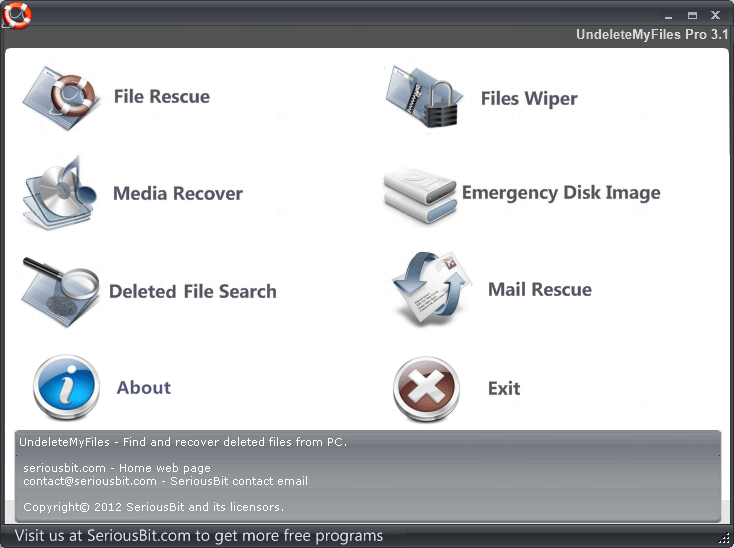 Pros
It is easy to use.
It also has a quick file scanability.
It has got a wide range of supported files.
Cons
The scan result will not show their original file names.
5. Wondershare Recoverit
Recoverit is able to perform SD data recovery from formatted, damaged and deleted drives in just a few steps. It has a user-friendly interface that makes data recovery very simple and quick. This app is also encompassed with the latest technology which makes it compatible with most operating systems. These include MacOS, WindowsOS, iOS, and Android operating system. Among the data types that it can recover include WhatsApp messages, contacts, videos, Kik Chats among others.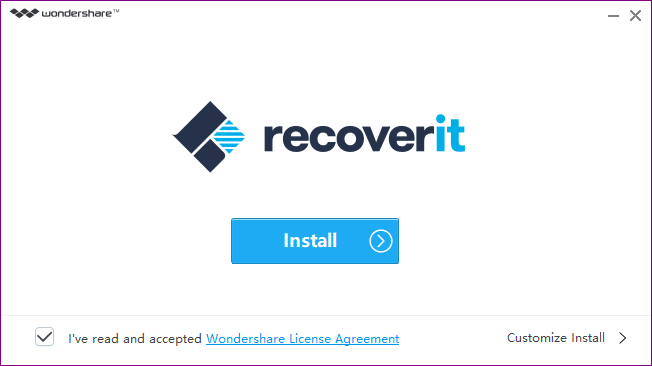 Pros
You are able to preview your data before restoring them.
It is easy to use.
It has a high success rate.
It is also compatible with most operating systems.
Cons
Its free version provides minimal functionality.
The deleted file status is not shown.
6. Puran File Recovery
Puran File Recovery is another powerful tool that is able to recover any kind of SD file. It has the ability to retrieve lost photos, videos, attachments, among other files. You can do a default quick scan, a deep scan or a completely full scan that checks all the spaces within your device. With 3 main recovery modes, this app is able to salvage your data lost due to accidental deletion, corrupted or formatted SD cards. Amidst all these, this tool gives you the opportunity to edit your custom scan list for more accurate data recovery.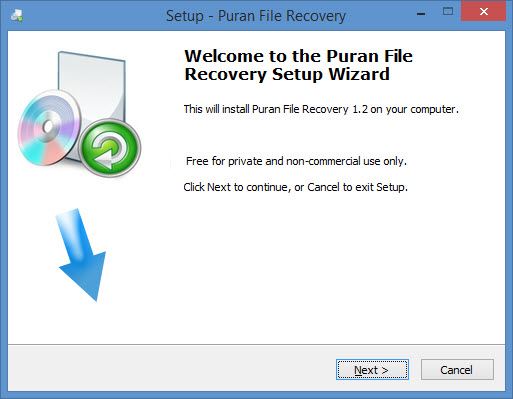 Pros
It is highly affordable.
It is easy to use.
It offers you three recovery modes.
Cons
There is no portable version of this tool.
7. Recuva
If you want a good and a reliable corrupted SD card recovery software which can recover files from corrupted memory cards, hard drives, external drives, and more then you can try Recuva. You can easily recover documents, photos, videos and audio files using Recuva.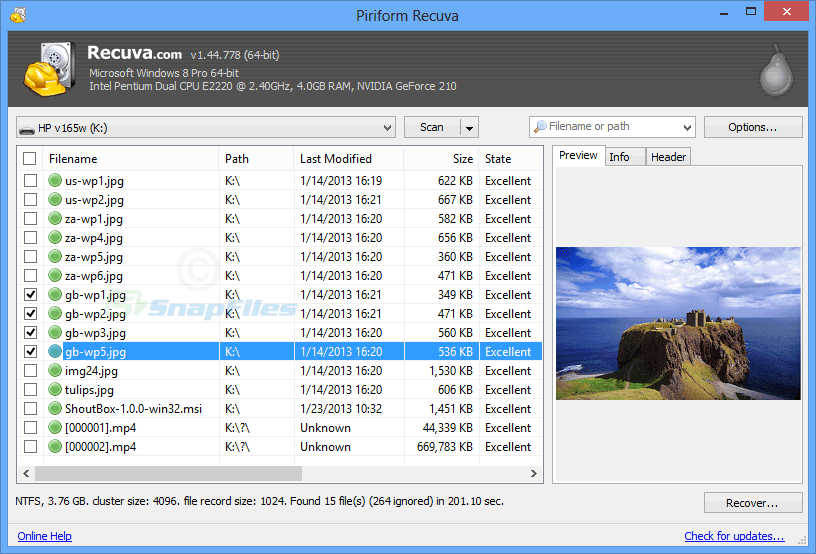 Pros
It has a user-friendly interface.
It enables you to preview your data before recovery.
It has a high success rate.
Cons
The free Recuva software doesn't deep scan all the disks.
It takes a lot of time to scan.
8. Stellar Data Recovery
Stellar Data Recovery is another SD recovery app that has a high success rate. Even though it is full of advanced features, this app is very easy to use. This makes it suitable for both beginners and high-tech users alike. Use it to recover your lost photos, attachments, videos, and other files. You can also explore its preview feature before you finally recover your data.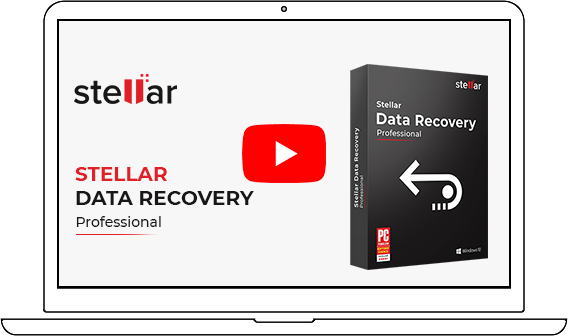 Pros
It has a preview feature that lets you pick on which data to restore.
It is simple to use.
It is compatible with many versions like Windows Vista, XP, MacOS and the latest versions of iPhoneOS.
Cons
You can only use its free version for a limited duration of time.
9. Wise Data Recovery
This app is able to recover over 20 data types ranging from call history, browser history, contacts, WhatsApp messages, videos and much more. Use it to retrieve data lost due to a system crash, incorrectly expulsion, formatting error and the like. Wise Data Recovery is easy to use and offers online support for its users.
Pros
It has a preview option.
The installation process is quick.
It also has multitasking file recovery ability.
Cons
Its folder structure has a tendency of giving errors for individual files.
It is not compatible with most operating systems.
10. OnTrack EasyRecovery Professional
This is another best video recovery software for SD card due to its high level of usability. This app is embedded with above the notch features that are unique in their own ways. It will not only recover your lost data but is able to repair some errors that occur in disks. It is easy to use and will offer you the chance to preview your files before recovery. Use this app to recover up to 25 data types.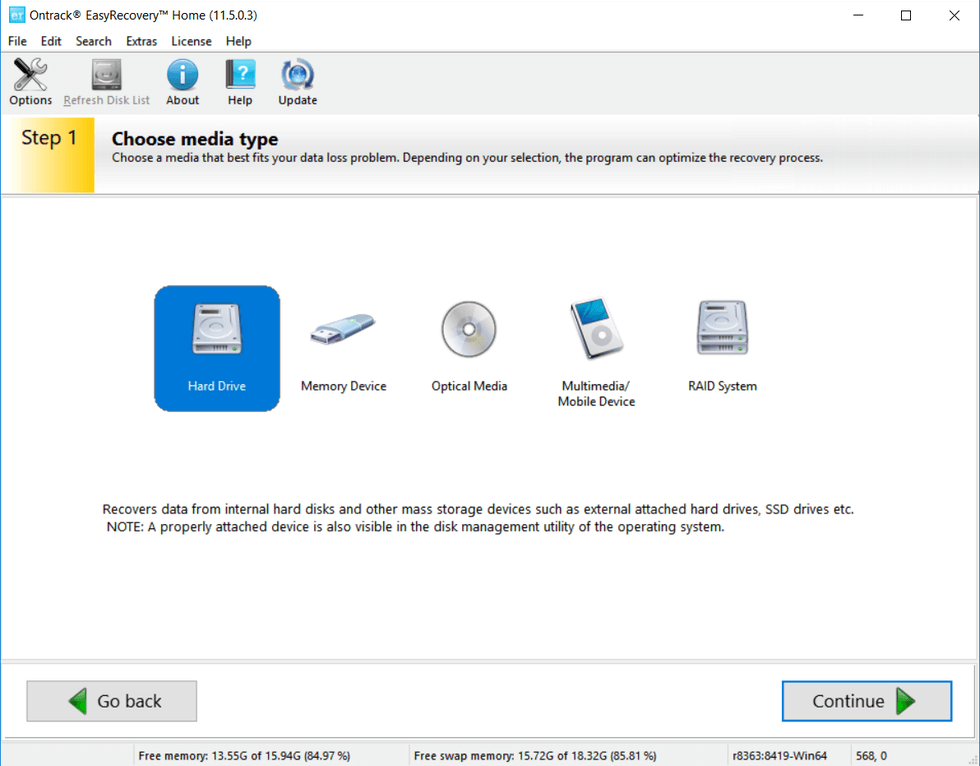 Pros
It is encompassed with unique features.
It offers user support.
It lets you preview data before you retrieve them.
Cons
There is no portable version for this app.
You don't get 100% of the features in the trial mode.
Bottom line
Data loss is a common phenomenon that not anyone can evade. You can use the above tools to bring back lost data within the shortest time possible. However, it is important to know that SD card data recovery requires more than meets the eye. Further usage of your SD card needs to be stopped the moment you realize that some data have gone missing. This is to prevent overwriting on the currently available data. The best option is to use apps that are able to backup your data.
We, therefore, recommend iSkysoft Data Recovery because it has the capacity to back up your data via iTunes and iClouds. Furthermore, it is able to recover any type of data from both internal and external hard drive and is highly compatible with many operating systems.