Many mobile phone making companies install some sort of technical restriction in their handsets so as to debar their use outside of a specific network or location. Often during travel or other circumstances, it becomes necessary to unlock them. During these times, it is best to use SIM unlock service. Using SIM unlock service helps makes the process easier and gets it done faster and better. Given below are top 11 SIM unlocks services that are considered the best SIM unlock services out there.
1. dr.fone
One of the best services out there, iSkysoft's Toolbox offers Android SIM Unlock service as well. dr.fone - Android SIM unlock service works based on a simple 3- step process involving Connecting, Scanning and Unlocking. It also facilitates faster completion of the process in minutes.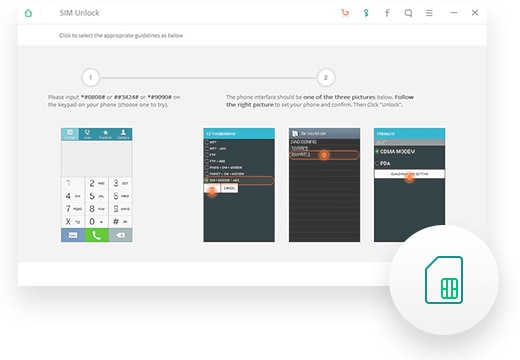 Here are a few main features of iSkysoft SIM unlock service:
Extremely Secure: iSkysoft's SIM unlock service is extremely safe and ensures that no data is lost or leaked from your phone during the scanning process. Since it is a read-only software no damage is inflicted on them either.
Supports Several Network Carriers and Phones: iSkysoft supports several network providers from over sixty countries worldwide- helping you adapt easily and avoid the problem of being dependent on just one. It also supports over 400 devices which ensures that you can easily use it in yours.
How to use iSkysoft SIM unlock services
Here's how you can easily unlock your SIM card in your phone using iSkysoft's Android SIM Unlock service in 3 easy steps.
Step 1: Get iSkysoft downloaded and installed on your computer. Connect your Phone to your PC. Connect your Android phone to your computer using a USB cable. Then click "SIM Unlock".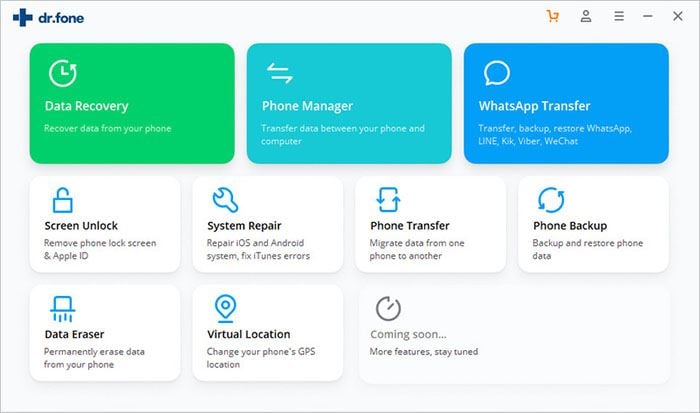 Step 2: Now you can just follow the instructions given by the software program to unlock your SIM.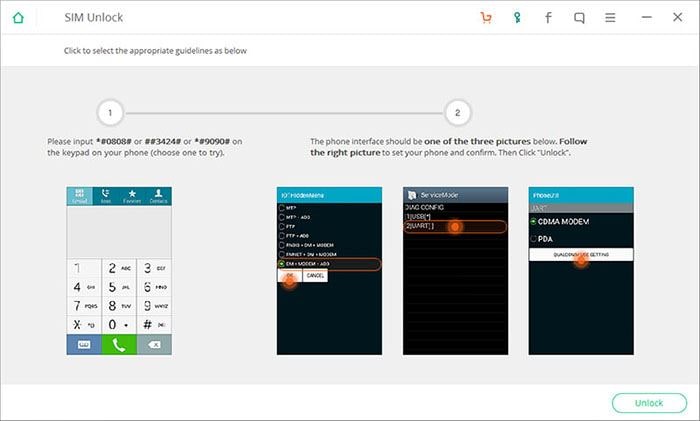 Step 3: After following the instructions to unlock your SIM, restore your phone to Normal mode using the given guidelines. When you get the menu given below once you're done with the process, it means you have successfully unlocked your SIM. You can download dr.fone from the "Free Download" buttons here and try to unlock your SIM card yourself!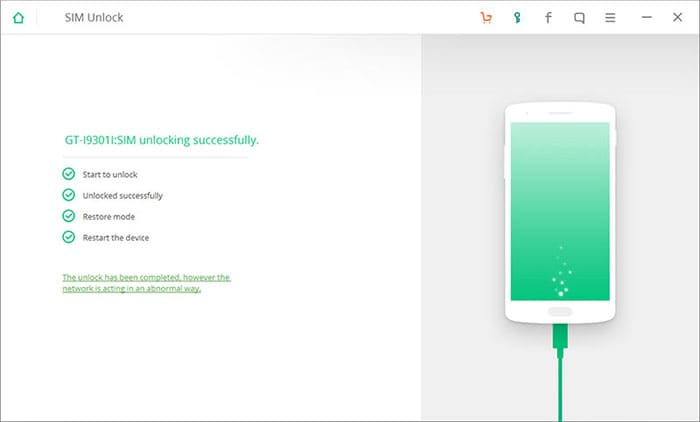 2. Unlock Base
Unlock Base is one of the best SIM unlock services out there as it works on almost all devices- Android or iOS. It also allows you to know how much you'll have to shell out to use the service beforehand. When you visit the website mentioned below, you can see a table for the kind of phone you have- how much time it will take to unlock your SIM and how much it will cost you. Based on the estimates provided, you can choose whether or not you need the service.
Choose the option titled 'Unlock' from the menu on the main page and proceed to checkout to finish your order. Once your order has been processed an email will be sent to the address provided by you with the number and instructions.
Ratings: 4.5/5
Supported OS: iOS and Android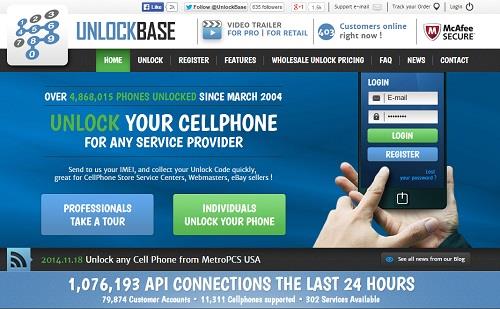 3. Official iPhone Unlock
This iPhone SIM unlock service is well known for it's fast 48-hour delivery. Official iPhone Unlock is easy to use and very safe as it ensures that your iPhone gets unlocked without having to jailbreak the phone. You can simply unlock your iPhone using the IMEI number. Once you visit the official website, mentioned below, select the 'Buy Now' option to get the various iPhone models on display. Select the one you have and enter your IMEI number. You can make the purchase in the checkout page.
Ratings: 4.7/5
Supported OS: iOS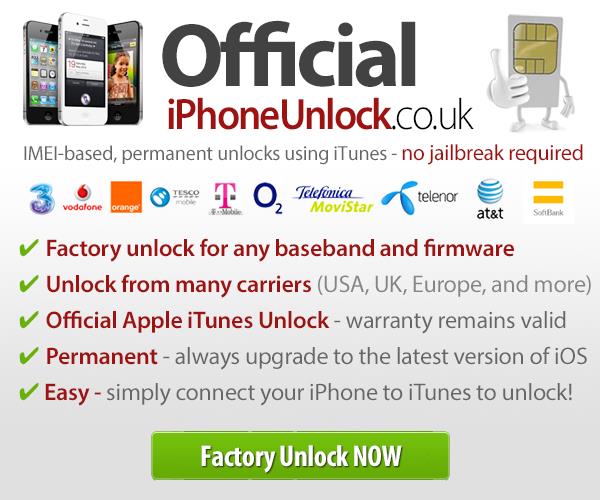 4. Mobile Unlocked
Mobile Unlocked also displays the amount of money you have to pay, thus helping you decide whether or not you want to go forward with using their services. The process involves going to the website, selecting your model and going ahead with the checkout process once you've entered your details. Then you wait for the email to arrive.
Ratings: 4.8/5
Supported OS: iOS and Android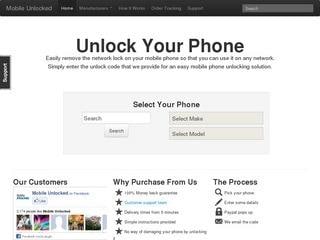 5. iPhone IMEI
One of the easiest services out there, this provides two services- one to help check your IMEI number and the other to use it to unlock your iPhone. All you have to do is visit the website, select the 'Unlock' option, select the service you want, fill in your details and checkout. An email will be provided with the instructions upon payment.
Ratings: 4.8/5
Supported OS: iOS

6. Doctor SIM
A website focusing on SIM related services and unlocking, it provides a lot of information and services regarding the same and hence is listed second on the list of best iPhone SIM unlock services available. It supports all Operating Systems on all devices.
To use the service, go the website mentioned below, click the option titled 'Unlock your Phone' and select your device model. The amount you have to pay to receive the service will be listed. To proceed, click the 'Unlock your phone now' option, select your service provider and enter other details before checking out. Once the checkout process is over, an email will be sent to your ID with the details.
Ratings: 3.5/5
Supported OS: iOS and Android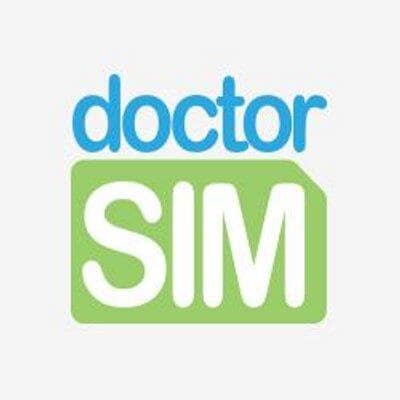 7. Cell Unlocker
Cell Unlocker is meant exclusively for iPhones and one of its best features is the short span of time within which it provides its services. The website also offers a 100% guarantee that their services offer you the lowest price out there.
The process is pretty simple and similar to the rest. Visit the website, select your model and checkout after entering your information. After payment an email will be sent with the phone codes to unlock your device.
Ratings: 4.2/5
Supported OS: iOS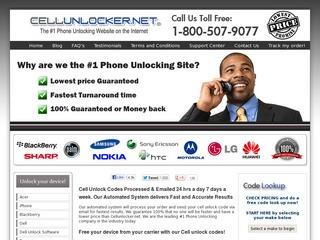 8. Unlock Radar
Unlock Radar is yet another on the list that has a simple process from unlocking your SIM without having to put in the SIM network pin. It is available for all network carriers and follows the same simple procedure of selecting your brand and model, making the payment and later receiving the email regarding the purchase and further instructions to be followed.
Ratings: 4.7/5
Supported OS: Android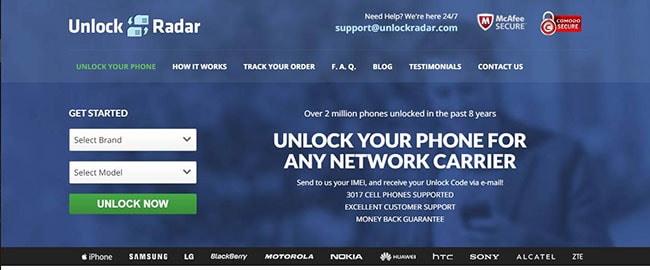 9. Canada's Cell Unlocker
Canada's Cell Unlocker can also be used on your phone to choose a network operator, apart from simply unlocking your SIM. The latter process is, like many others on the list, quite simple and required no SIM network code to be entered. Also, customers can easily avail a detailed explanation of the procedure easily before going forward with the installation process.
Ratings: 4.8/5
Supported OS: iOS and Android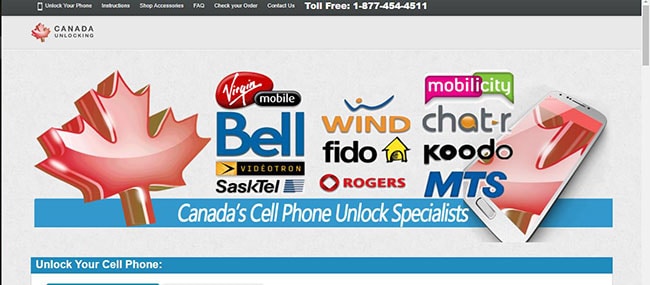 10. Codes 2 Unlock
Codes2Unlock prides itself on it's secure services and easy payment process. You just have to visit the website, select your model and make, select your network provider and then process to payment. You will later receive an email about the order placed and further instructions.
Ratings: 4/5
Supported OS: iOS and Android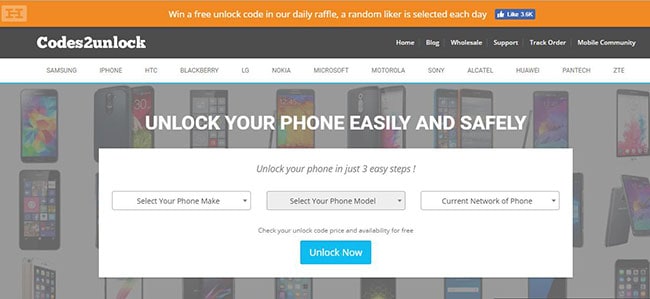 11. Get Unlocked
Get Unlocked is also one of those services which operate on just one click and can easily change the carrier services apart from simply unlocking the SIM. Though it isn't free-of-cost, the stellar customer reviews and its reputed service makes the prices worth it.
Ratings: 4.5/5
Supported OS: Android