Is there any free way to unlock Samsung Galaxy SIM card?
If you have been wondering if there is a free way to unlock your Samsung Galaxy SIM card, then stop the worry. There are a couple of ways of doing so. Of course having your SIM card locked to the device is not of welcome as it imposes many restrictions in the way you use your device. Using the various appropriate free apps on the internet is one of them. Such processes are not complicated since you follow step by step instructions. You can also use some of the free desktop apps on your computer.
Part 1: Free Way to Unlock Samsung Devices - SIM Unlock by Network Provider
Step 1. After fulfilling the carrier's needs request for the unlock code from the network provider. These requirements include phone payment and three-month usage of the same carrier.
Step 2. Once they have provided you with the Unlock code, insert a new SIM card to your Samsung phone. This involves turning off your device, remove the old SIM card and then replace it with the new one. This new SIM card should be if a different network provider.
Step 3. Turn on your Samsung device and if it has a pin code then enter it. When a network is build by your device, the unlock code will be asked. Enter the correct code in order to switch to the new network successfully. If you again enter the code correctly for several times, the device will be automatically locked and hence your carrier will be the only one to unlock.
Step 3: Try making a call. If you make a call and text, then your phone is not locked to any carrier.
Part 2: Unlocking Your Samsung Phone with doctorSIM
Unlocking your Samsung phone with doctorSIM is one of the most efficient and reliable methods. You need to follow the steps outlined below.
Step 1: Visit DoctorSIM official page to begin the process.
Step 2. On this page, locate the "UNLOCK YOUR PHONE" option. It is located on the top of this window. Place your cursor over this label and a drop-down list shall appear. This list consists of several models of phones such as Apple, Alcatel, Huawei, Nokia, LG, iPhone, and Samsung among others. From this list, select Samsung model.
Step 3. Click the button labeled "UNLOCK YOUR PHONE NOW" located on the top half of the homepage.
Step 4. A new page shall open. This page has a form that requires you to supply the relevant details requested. These details include selecting your country and the respective network provider for your phone (the network provider your phone is locked to). If in case you are not sure of the country or network your phone is locked to, a guide through hyperlink is provided. Other details needed include your contact details and the information about your phone. These include your email address, the IMEI code of your phone, and the SMS notification (for notification when the instructions are ready) though this is an optional field. To obtain your IMEI code, just type *#06# into your Samsung's phone. Remember you are only required to type the first 15 words and no inclusion of any other character.

Step 5. Select the mode of payment you are comfortable with to use. It could be PayPal, Credit Card or Bitcoin. Once you have supplied all these credentials, you need to follow the steps outlined below to complete your unlocking process. You will receive an email with a code and instructions to unlock your phone.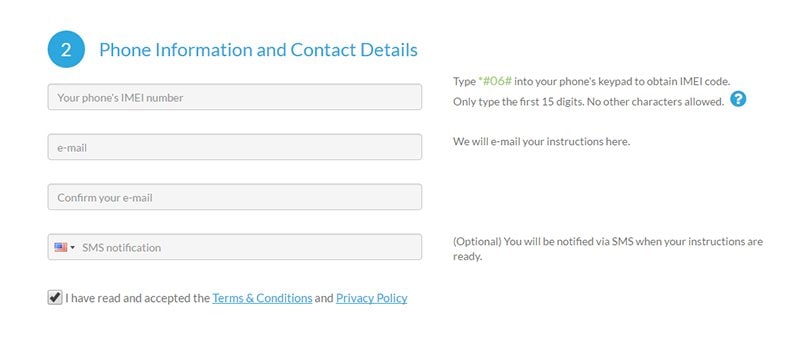 If there is a Wi-Fi connection with your Samsung phone then follow these steps:
Step 1. Connect your Samsung phone to the internet via the Wi-Fi network available.
Step 2. Take a different SIM card which is not of the same network provider as the very one your phone is locked to. Insert this new SIM card into your phone and then power it on. If in case your Samsung phone has a pin, then enter it to open.
Step 3. It will take some few seconds for you Samsung phone to connect to the server and then check the unlock code for your phone. Once it is found it will be automatically applied to your phone.
In case you have no Wi-Fi connection with you, then:
Step 1. Take another SIM card which does not belong to the same network provider as the one your phone is locked to. Insert this new SIM card and turn on your phone. If your SIM card has a pin code, then type it into its keypad to open.
Step 2. You will realize that your phone has no network once it has opened.
Step 3. Open iTunes on your computer and use a USB cable to ensure a connection between the two devices (computer and Samsung phone).
The iTunes will aid in the server checking of the unlocking code. When it finishes checking, this code will be automatically applied to your phone within a very short time. From here you need to disconnect your Samsung phone from your computer and then restart it. At this stage, your phone will be permanently unlocked.
How Do I Know My Samsung Phone is Locked?
There are several ways that can help you know whether your phone is locked or not. These ways include:
Performing a SIM swap
Step 1. Switch off your phone and then remove the old SIM card.
Step 2. Take a new SIM card from a different carrier , insert into your Samsung phone and then switch it on.
Step 3. Once you have switched it on and supplied the correct pin code in case it had, try a phone call or send a text. In case the two do not succeed then your phone is locked.
Use of a Browser
Step 1. On your phone type *#06# and then put down the IMEI code that appears.
Step 2. Use a browser to navigate to IMEI.infor. Enter your IMIE number and tap on the "Check" button.
Step 3. From the new page that appears click on the "Sim lock & Warranty" option. Be patient while the process continues. When this process ends a new page appears that tells you if your SIM card is locked or not.
Part 3: The Best Way to Unlock Samsung SIM Card
dr.fone - Android SIM Unlock is the best tool nowadays to help peoeple unlock SIM card on Samsung devices. It fully supports all kinds of different network operators from more than 60 countries.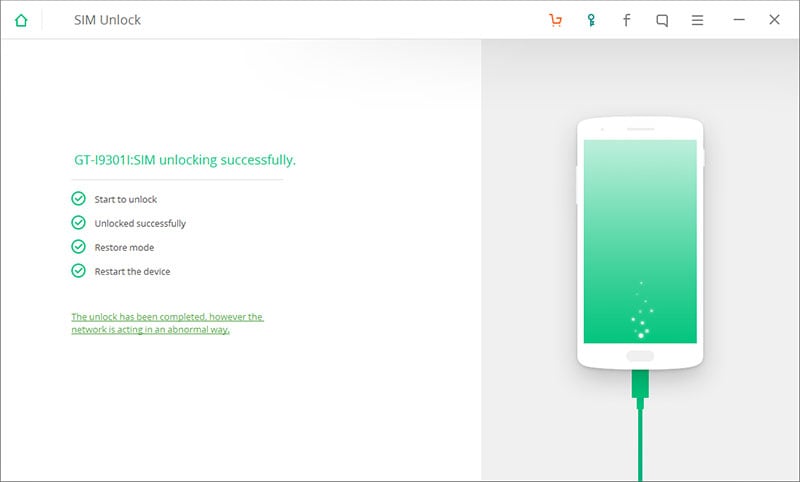 It has NO threads to the data on your phones during the unlock process.
It can unlock Samsung SIM card in few seconds.
It supports more than 400 different Samsung devices
It supports network carries including Verizon, at&t, T-Mobile, Sprint, etc