Video recovery software helps you in recovering lost or deleted video files from a hard disk, memory card, SD card, and other devices using a computer running on Mac or Windows operating system. Today, we will help you by providing ten free video recovery software that would be of immense help during an emergency. With the support of the software, it is possible to restore all the deleted or formatted videos without any hurdles.
Part 1. Top 5 Video Recovery Software Free for Mac
In this part, I'm going to introduce you 5 different proven tools to help you recover videos freely. You can pick the most suitable tool for you after you go through all of the solutions. Now, let's take a look the first tool that I highly recommend you to try it.
1. Recoverit (IS) for Mac
Recovering videos for Mac is much easier with the use of Recoverit for Mac. Thanks to the innovation and technologically advanced features embedded into the software that a Mac user could easily retrieve deleted or lost videos in a few simple steps. A user no longer requires the help of professional recovery specialists because Recoverit (IS) carries out all the necessary activities with less pain.
It is also the safest solution in recovering the delicate videos because it then shows that there is no data loss to the rest of the content. Additionally, the significant role that we can mention here is the powerful scanning algorithm that penetrates every corner of the Mac and retrieves the lost data such as photos, videos, documents, archive records, music, and email messages within no time.
Can't Miss: How to Recover Deleted Videos on Mac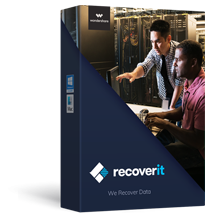 Why Choose This Free Video Recovery Software for Mac:
It helps in retrieving deleted content from trash bin
It provides a complete scan of the drive and recover documents using file signature
It can recover data from corrupted partitions
It helps in performing data recovery at a later stage
2,332,067 people have downloaded it
Let's dive deeper to follow this step-by-step guide to use Recoverit on Mac.
Step 1. Download Recoverit (IS) from the official website and launch it on your computer. Choose "Video" tab and click "Next".
Step 2. Select the drive that you wish to scan for recovery of the videos, and press the "Start" button.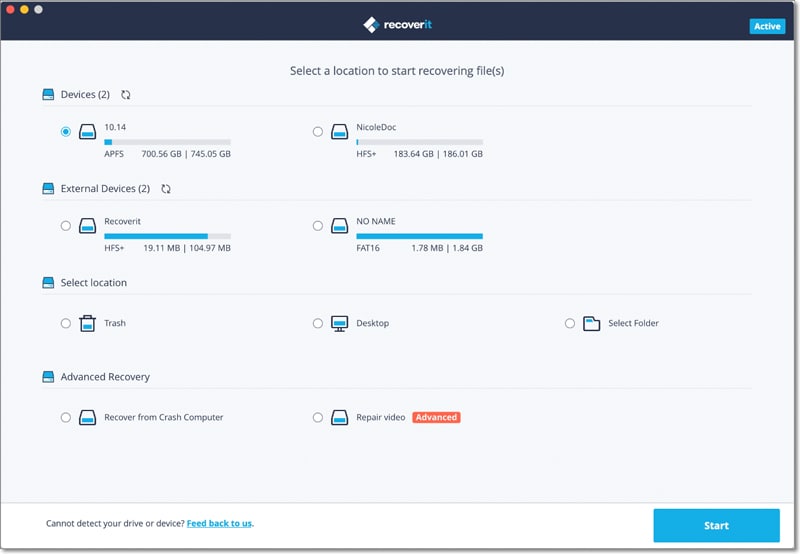 Step 3. After completion of the scan, Recoverit Free Video Recovery for Mac will display all the recoverable videos in a new window. Select the data that you want to recover, and click the "Recover", choose the destination path to save the files.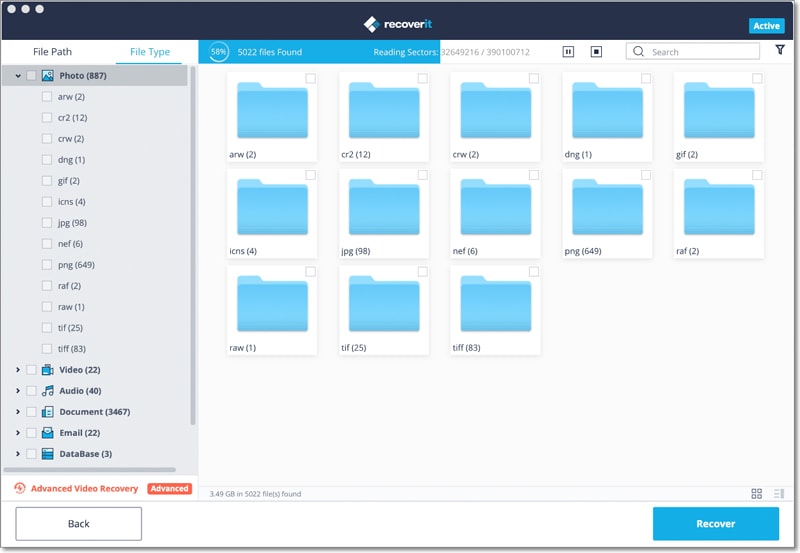 Tips:
You additionally have the possibility to pause and save the scanned information during the scanning process. It will be helpful for you to carry out the recovery process later. Use the preview functionality to look at the parts of the video, which makes it faster for you to retrieve useful files.
Furthermore, use the validity attribution to ensure that the file has good sectors that make it easy for Recoverit (IS) for Mac to recover.
---
Mac Free Any Data Recovery is free software that is helpful for a Mac user to retrieve lost or deleted video files in an easy and painless manner. The program is suitable for those who are going through their first data crisis.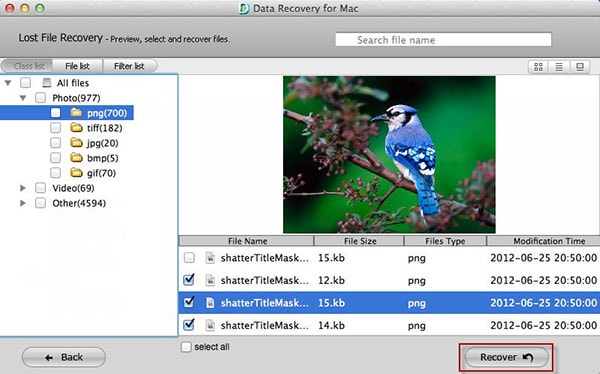 Pros:
Advanced recovery options and search modes
Very clean interface
Cons:
Although the free version lives to its expectation, users may find it difficult to retrieve a large number of files.
---
Free Mac Data Recovery is a simple tool that helps in the recovery of deleted or lost videos files from Mac with ease. The options provided by the software are numerous, making it easy for a user to search and retrieve content in the simplest manner.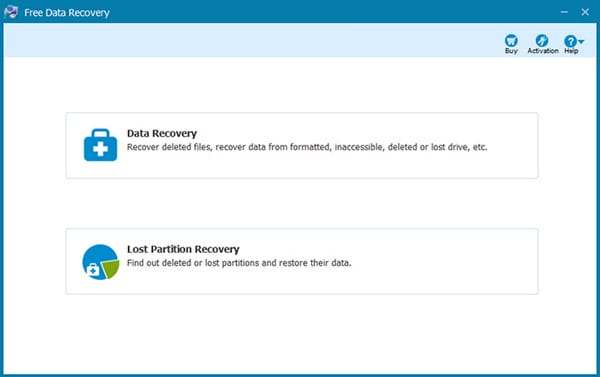 Pros:
Extremely lightweight package.
Quick and deep scan technologies.
Has the ability to work with various devices.
Cons:
May not retrieve all the files and in complete size.
---
Data Recovery for Mac from Wondershare is a comprehensive package, as it is capable of recovering deleted files due to formatting, accidental deletion, and corruption of partitions. It scans deeply for the lost data using latest algorithms and ensures that the file has good sectors for easy retrieval.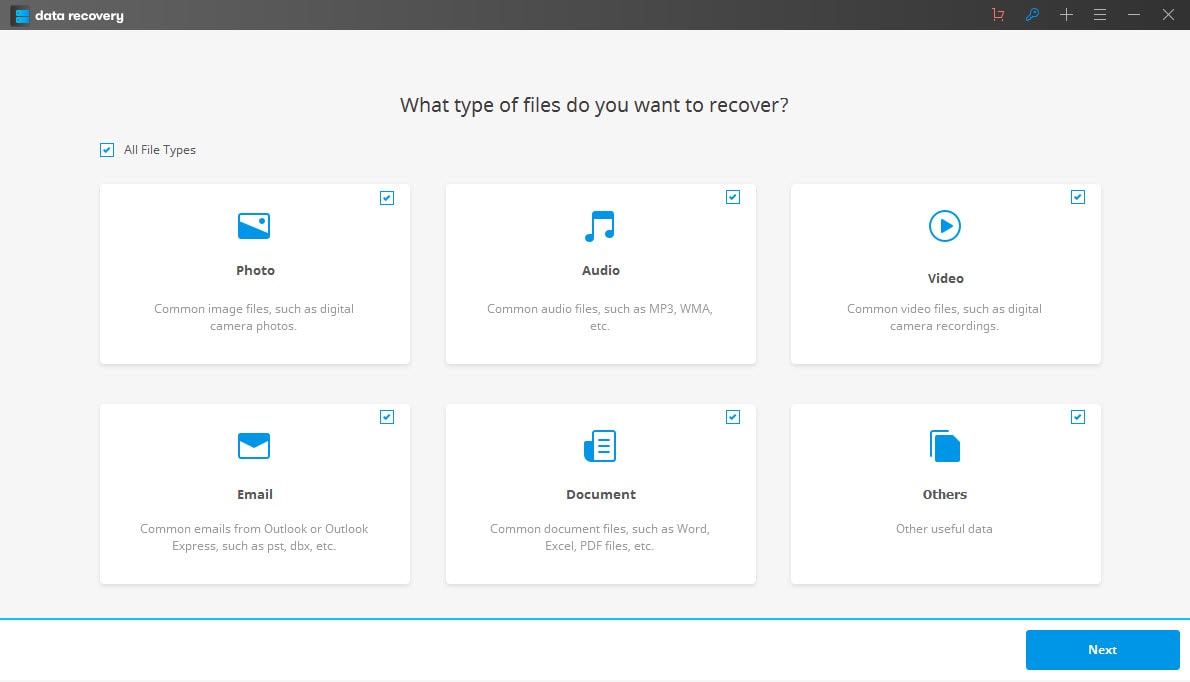 Pros:
Straightforward process for recovery.
Supports majority of the file types currently available.
Recover from multiple devices.
---
Free Mac Data Recovery is another option to recover deleted video files from Mac. It is helpful in recovering various formats of the video and from different devices with simple steps. Irrespective of the reasons, the program is capable of finding the deleted video files from Mac.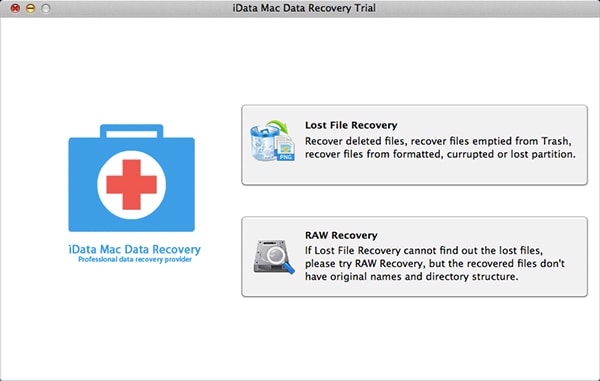 Pros:
Finds the files with ease and faster speeds.
Recovers using latest technologies.
Clean interface.
Cons:
Paid members have the chance to retrieve complete files.
Part 2. Top 5 Video Recovery Software Free for Windows
For the windows users, in this part, we are going to recommend you 5 different tools that can help you back up your videos easily.
Recoverit is an excellent tool to get back all the deleted files from a computer. Regardless of the reason or the circumstances under which a person lost their data, with the use of Recoverit (IS), retrieving the files is a simple procedure. With the comprehensive technologies and innovative retrieval processes, Recoverit Video Recovery Software Free for Windows leads the race of the video recovery softwares for Windows.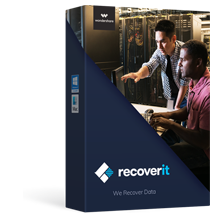 Why Choose This Free Video Recovery Software for Windows:
Recovery different file formats and file types
Clean and direct approach for scan and recovery of data
Customizable scan options
2,563,331 people have downloaded it
Step 1. Download Recoverit Free Video Recovery for Windows and launch it on your computer. From the main window, you can choose the "Video" file type tab from the 6 options.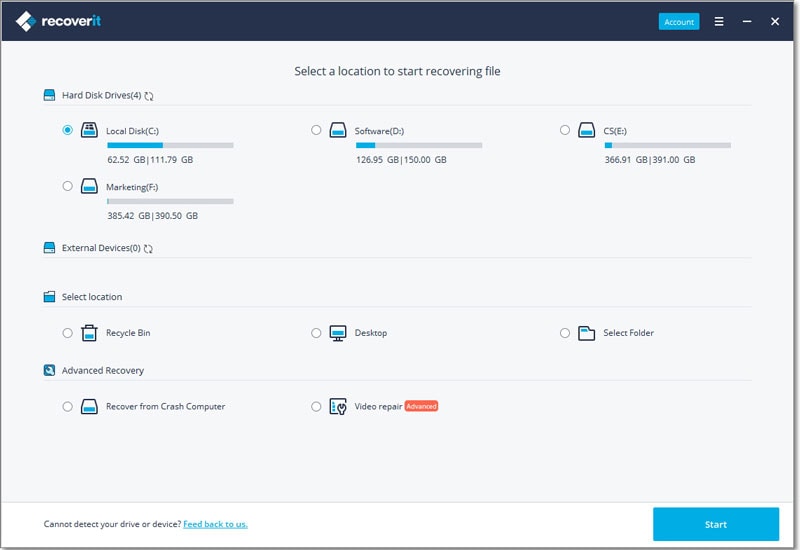 Step 2. Choose the partition from which you wish to retrieve the content. Click the "Start" at the bottom to begin the scan.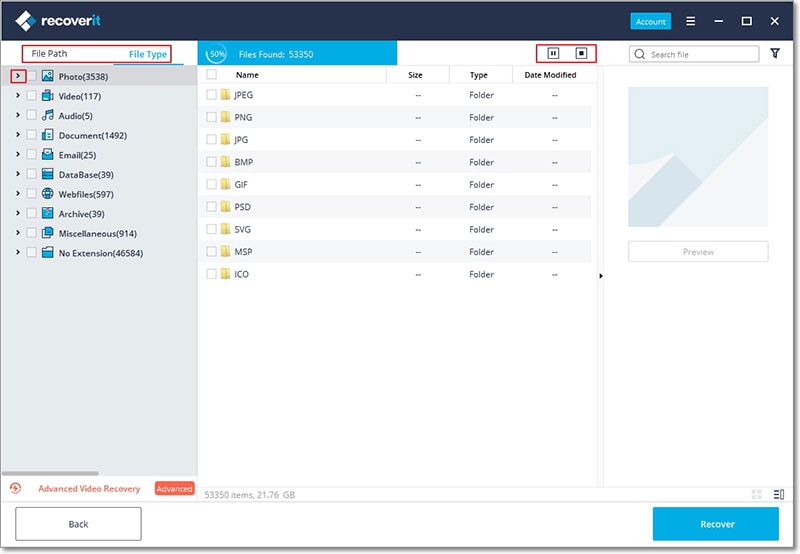 Step 3. After the scan is complete, you can preview the video files arranged under the Video category and mark those that are important. Press the "Recover" key, choose the destination, and allow the program to recover.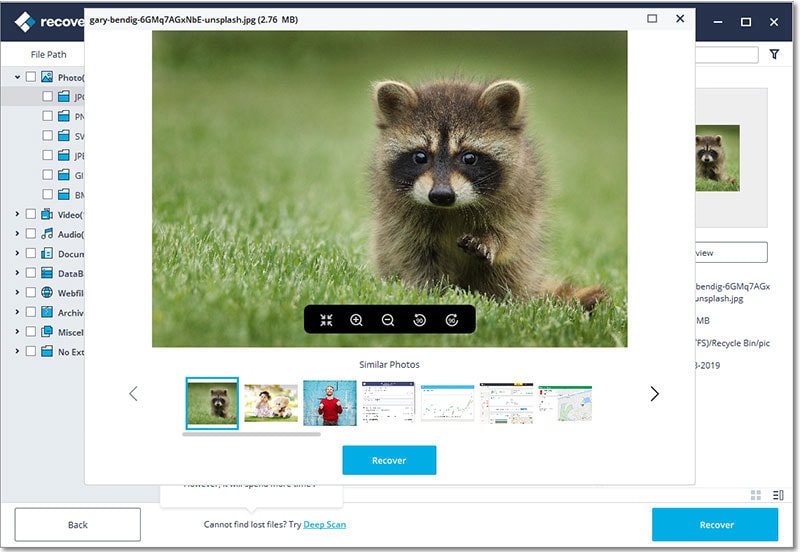 ---
Aidfile Free Data Recovery is a recovery tool for Windows that assists in recovery of deleted or corrupted files. Users can easily browse through the program and get back their deleted content with ease. The use of the latest algorithms helps the program to look into deep corners of the hard drive and ensures that it finds all the good sectors of the missing files.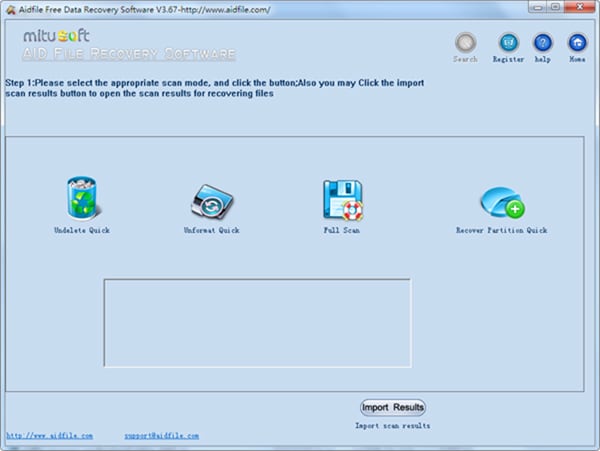 Pros:
Suitable for users with formatted partitions.
Helpful in recovering deleted files from recycle bin with ease.
A reasonable program for struggling users to recover data.
Cons:
May not be suitable for English-speaking community.
Poor optimization
---
Recuva is a favorite recovery tool. It has the ability to retrieve all the lost or deleted content from a computer. Regardless of the cases, such as corrupted files, virus attack, or formatted partition, the software assists in recovering the data with ease.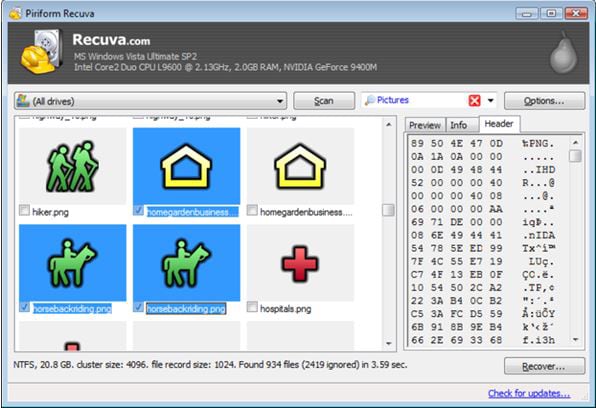 Pros:
Simplistic layout and ease of operation.
Provides the last chance to recover deleted files.
Deep scan technology in free version.
Cons:
Results are not accurate and guaranteed.
Deep scan is slow.
---
ThunderShare Free Data Recovery is a helpful tool for all those who would like to get back their accidentally deleted content from a Windows computer. The program offers complete assistance in retrieval of data from a Windows running computer and from multiple devices such as SD card, laptops, and smartphones. The use of the latest technologies and the best algorithms ensure that the program is smooth and capable of returning accurate results.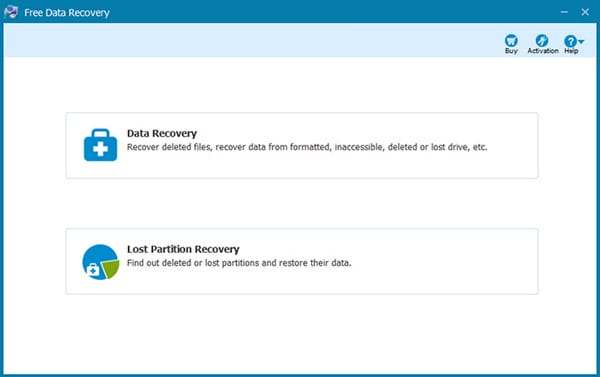 Pros:
Small size package.
Capable of retrieving files with fewer sizes and with no data loss.
Recovers data from formatted or severely damaged partitions with ease.
Cons:
Users cannot see the recovered files until they choose the premium version.
It supports only English language, which makes it difficult for those who do not have proper language skills.
---
7-Data Recovery Suite is a complete tool, which helps a Windows user to search, scan, and recover deleted files with ease. The program has the required elements and suitable for those who accidentally deleted files. It also functions on a severely damaged hard disk, SD card, other storage devices, making it a useful tool in the recovery of records.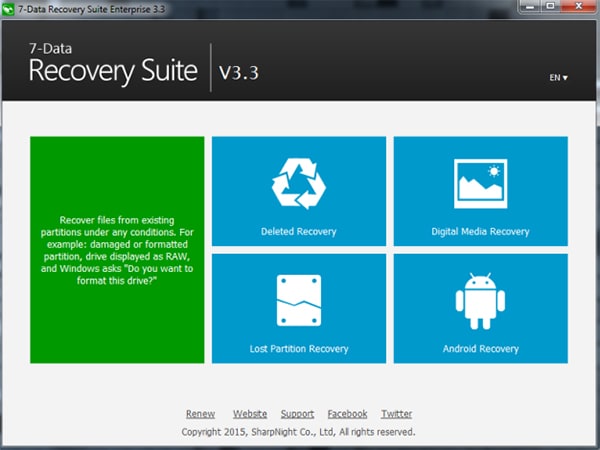 Pros:
Recovers all kinds of data and reads all the file types to ensure free recovery.
Works with smartphones and helps in retrieval of data.
Recovers data from a deleted partition.
Cons:
Conclusion
Given the advantage and availability of data recovery programs, it is now possible to recover all your deleted/corrupted/lost videos from your Mac or Windows PC with ease. Make sure that you are choosing Recoverit Video Recovery as the program because of the numerous advantages it offers over the others. Get your trial copy today and explore the abilities provided by the software.