"Yesterday I uploaded a video on my YouTube channel, but when I checked the folder today morning, I was broken! All my videos were gone, what should I do?"
- a question from Quora
Everyone is familiar with smartphones and YouTube today, nearly every person a teenage to the old age watch videos on YouTube. It contains a huge directory of videos that covers almost every subject worldwide.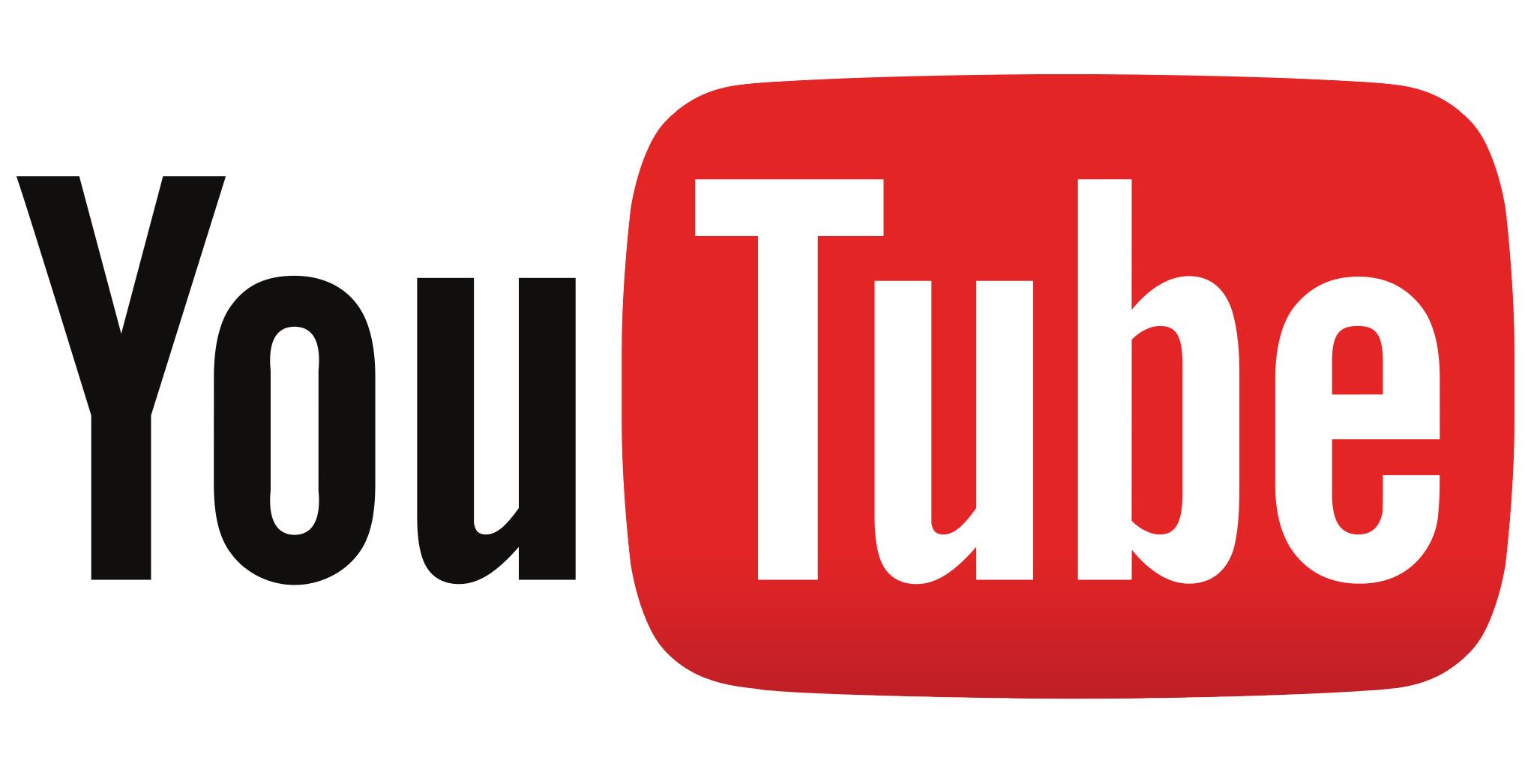 These videos are uploaded by channel owners who are expert in their niche and they continuously provide content on YouTube. You can find anykind of video on YouTube such as informational, educational, lifestyle, technology and the list goes on.
However, what it feels if the videos you uploaded on your channel are lost from your computer somehow. It would be a devastating situation and you could nearly reach a saturation point where you would find yourself helpless.
But not everytime, in this guide we have a step by step list of procedures that you can follow to get your deleted YouTube videos back.
Part 1. How to find deleted YouTube videos with backup
In this situation, your backup folder is the only thing that could give you some hope. If you have taken backup of your video files then you don't need any expert or professional advice. You can easily upload the video files to your YouTube channel and you are done. Don't think about it, there is no harm in uploading these videos to your online channel.
However, if you don't have any backup created then this guide has everything covered. We are going step by step to get your deleted your videos back and you can watch them again on your channel.
Part 2. How to find deleted YouTube videos with archive.org
You might be familiar with your video archives. Here is the step by step guide to recover your deleted videos from YouTube archive.org.
Login to your YouTube email account and extract all the information about your videos that are lost and deleted.


You need to find the video information for the deleted YouTube video's URL. It would not play with this URL.


After getting the video URL, simply go to archive.org and paste the deleted video URL in the search box and click the browsing history option.


The page would take you the history of your deleted YouTube video, here you can find all the videos uploaded on your channel on specific date and time.


Now, this step is important as you have the information about the deleted YouTube video, you can now upload or download the video again on your channel. But the key point that you should not forget is to create a backup.
This step by step guide was the best option for you, however if you still cannot find your deleted videos then we have the perfect solution that would surely help you out.
Part 3. The best Youtube video recovery software - Recoverit
Recoverit is a life saver when it comes to data recovery from different devices. Configured with best features that works fast as compared to other solutions. Here is a quick glance at the best and well renowed features of this tool.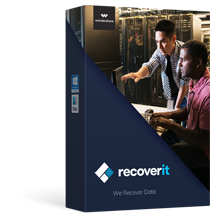 A Life Saver to Solve Your Data Loss Problems!
No matter your data is virus infected or deleted accidently, Recoverit has it all covered as it can recover data in certain situations such as accidental deletion, recycle bin recovery, formatted data, lost partition, external device, virus attacked, system crash and much more.
Be it your documents, graphics or videos, Recoverit supports over 1K+ types of formats that you would ever imagine exists.
All the major storage formats like FAT16, FAT32, NTFS and exFAT are supported by Recoverit.

2,965,271 people have downloaded it
Part 4. How to recover deleted Youtube videos with Recoverit
Step 1

Download and install Recoverit
Step 2

Select the drive with your lost data

Now, you need to select the drive in which your videos were stored, after selecting the drive click on Start and it will scan your drive for lost files.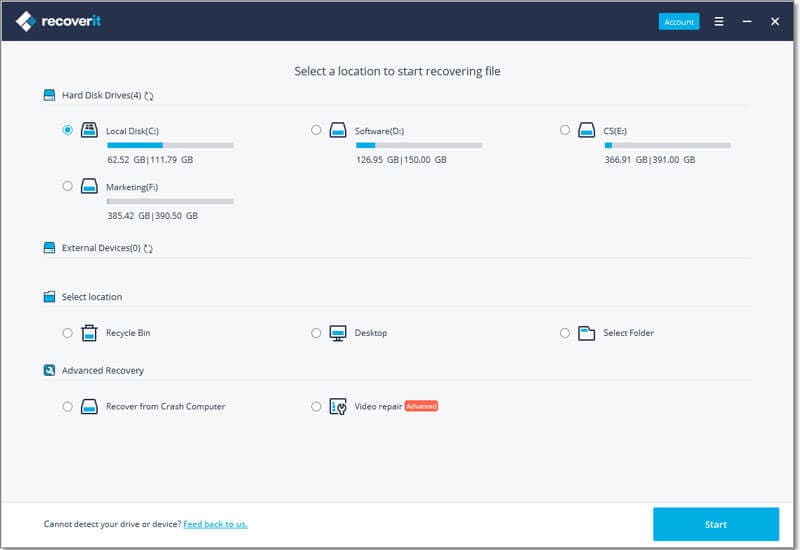 Step 3

Scan results and categorization

The scan will be finished within few moments, here you would need to select in which folder your videos were located and then proceed ahead.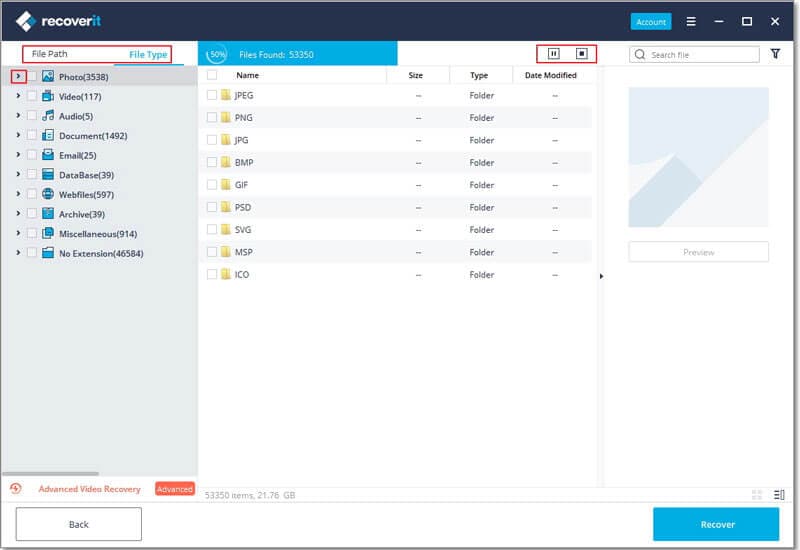 Step 4

Preview and recover your deleted videos

Now, you have a list of all the data that was accidentally lost. In order to end the process, tick the selected videos and click the Recover button to save them on a safe drive other than the one where they were stored already.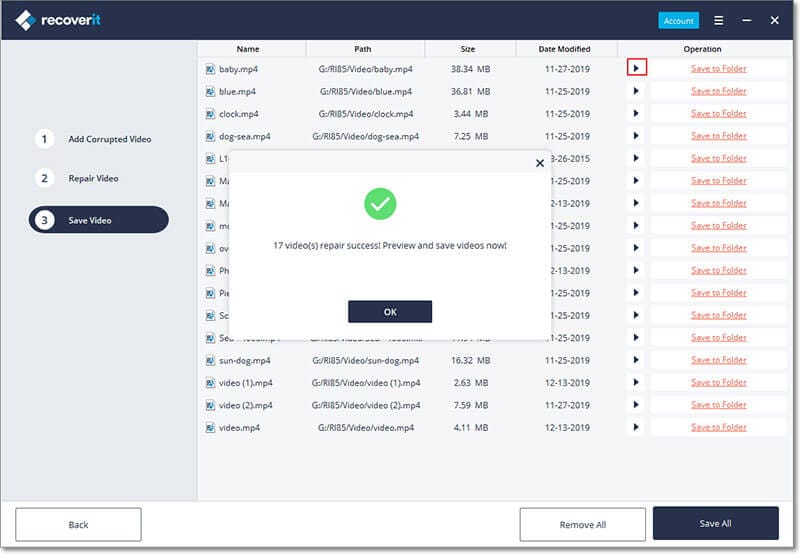 If the files you were looking for were not displayed then there is another on your screen that says All Around Recovery, you can start a deep scan and it would surely get your all deleted videos back.
Conclusion
In this guide, we have discussed all the possible ways to restore your deleted YouTube videos back to your account. However, we can proudly say that at the end Recoverit will be there to save your data no matter what comes in the way.
It's equipped with every tool and feature that is required to recover anykind of lost data. Now, we have done our part and it's your turn now, you can make us feel worth by simply sharing this tool with your friends and family who are facing the same issues with their data.
You have seen the magic it does with lost files and restores them back to their default place. Simply share this link with your contacts and spread more happiness.