Summary:
It can be quite distressing to find that for some reason you have lost the video you worked so hard to create or that documentary you were able to download but are yet to watch. It can happen due to a sudden power outage or a mistake on your part, where you hit delete when you meant to hit save. If the video is in the recycle bin, it's only a matter of restoring it. But if you somehow emptied the trash you may need more drastic measures to get the video back. One of these drastic measures is to use a data recovery program to do video file recovery. Herein lays another problem, it can be confusing to find the right program to help you get the missing video back. In this article we are going to provide you with the top 7 video file recovery programs to make it easy for you to choose.
Top 7 Video File Recovery Software
As the most effective video file recovery program, Recoverit (IS) for Mac (or Recoverit (IS) is the ideal tool to help you recover missing videos regardless of the circumstances leading up to the loss. Some of the features that make this program our first choice include the following.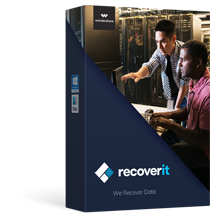 Why Choose This Video File Recovery Software:
It is very easy to use and can help you recover videos in a very short time and without compromising the files in any way.
It can be used to recover all other types of data not just videos. You can use it to recover documents, photos, music and even emails.
You can preview the files before recovery to ensure that you are recovering the right file.
It is 100% safe. Because the program is a read-only one, none of the data on your Mac will be at risk of loss or damage.
2,517,852 people have downloaded it
Step-By-Step Guide to Recover Deleted or Lost Video File
Step 1. Install Recoverit Video File Recovery Software
The following guide will show you how you can recover missing video files on your Mac using Recoverit (IS) for Mac. But before we begin, download and install the program to your Mac. It is important to install the program on a separate drive other than the one containing the missing video files. This is to ensure that the video files will be overwritten. Launch the program and in the main window.
Step 2. Scan the Device
This will open the window below. Select the drive with the lost files and then click on "Start". If you use an external drive and don't see the drive, click on "Refresh" icon next to "External Removable Device".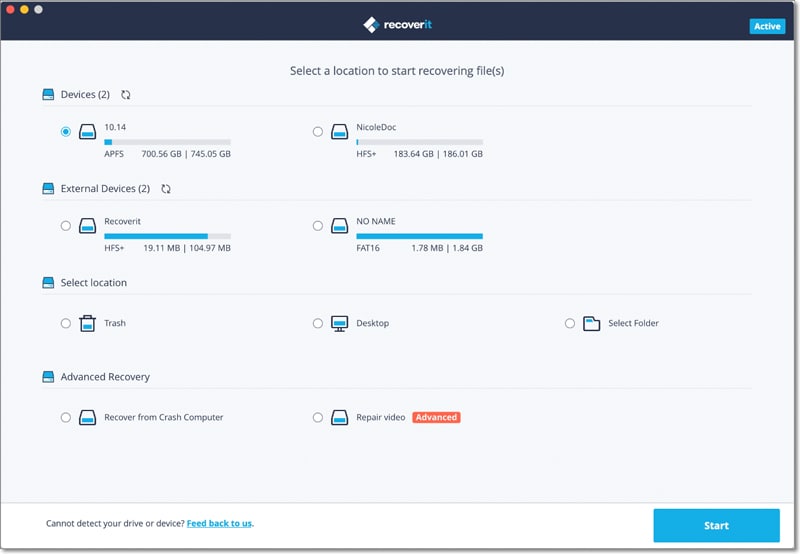 Step 3. Recover Deleted Video Files
Once the scanning process is complete, select the video files you lost and then click on "Recover".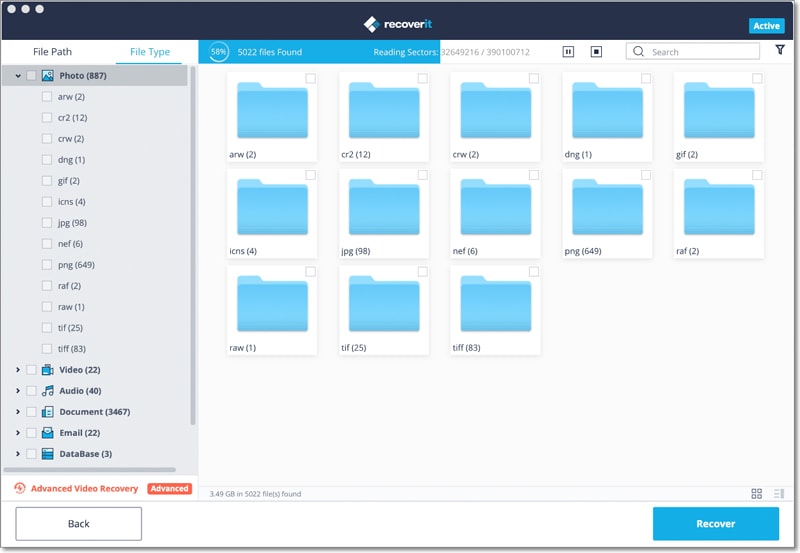 ---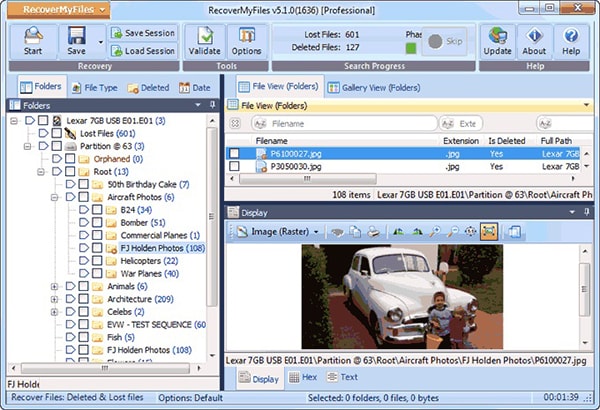 This is another program that can help you get your missing videos files back. It has advanced scanning capabilities although most of them are tailored to the more tech-savvy individual. It is therefore not ideal for the average user.
Pros:
It has above average user ratings and is very effective
It is useful in recovering data from a preformatted drive
Cons:
Could only recover 7% of the missing data on a MicroSD Card
---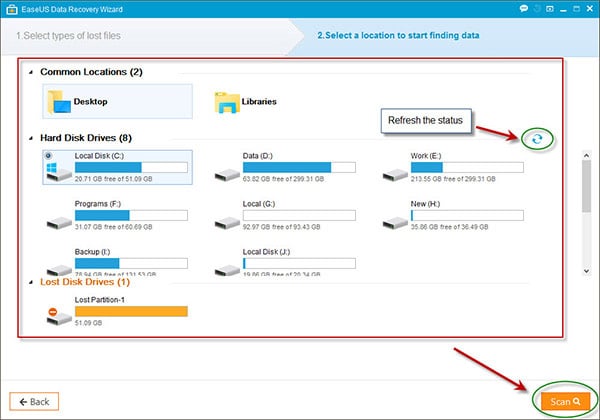 This program is best suited or recovering data from a hard disk drive that has suffered simple logical data loss. It allows users to search by file type and even comes with a raw data recovery mode. It also allows for users to preview the files found before recovery.
Pros:
It is highly effective in recovering data from hard disk drives
Scanning was quick and produced great results
Cons:
It lacks a hex editor
Is not very good for recovering data from external storage devices such as USB drives and Memory Cards
---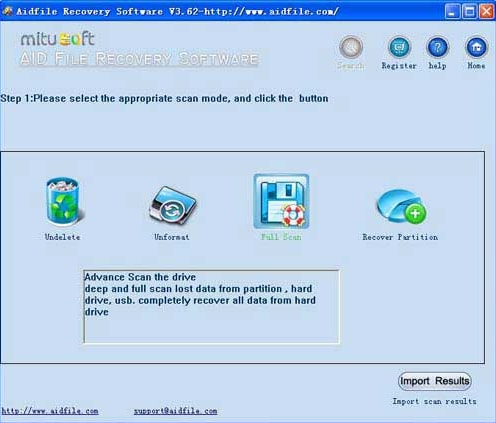 This program primarily focuses on recovering videos from hard drives, digital cameras, USB drives, smartphones, flash drives and memory cards among others. It has features that can be used to recover video files that have been lost due to virus attacks or videos lost through formatting of a storage device.
Pros:
Can be used to recover deleted video files that have been lost under various circumstances
Can recover video files from a wide range of storage devices
Cons:
It can only recover videos
Scanning was a little slow as compared to other similar software
---
This is an affordable undelete tool that lets users recover all types of data including videos from a hard drive. The program is available for both Windows and Mac and is quite effective in data recovery. Scanning is fairly effective and can be fast depending on the type of data you wish to recover. When tested on a Windows 8 device, the program worked very well, recovering well over 70% of the missing data.
Pros:
It is quite effective in Data recovery and works very fast
It recovers data lost under different circumstances
It comes with a user-friendly interface that makes data recovery easy
Cons:
It has a 1GB data recovery limit
---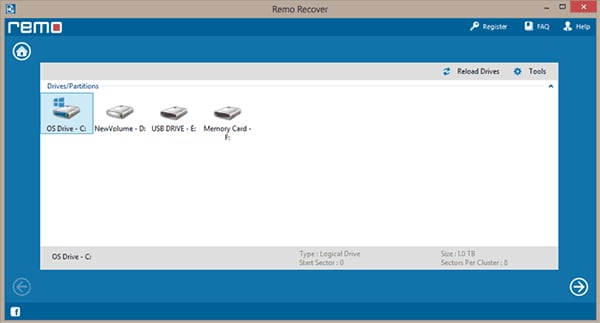 This is a program that is available for both Windows and Mac and a great option when you are looking to recover missing videos files. It can recover videos directly from a camcorder, an SD card or even a USB program. It can recover data that has been lost under different circumstances including files that have been accidentally deleted or a drive that has been formatted.
Pros:
It is easy to use and highly effective
Has great customer reviews and recommended by industry players
Cons:
Only the windows version can be used to recover videos from a formatted drive
---
7# Picture and Video Recovery Software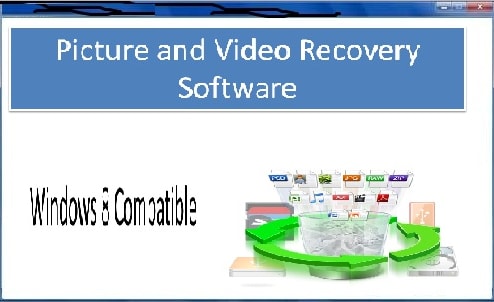 You may not have heard of it, but this program is another effective data recovery that primarily focuses on photo and video recovery. It can be used to recover data from USB drives, hard drives, Memory cards and even iPods. There is no limit to the size of the files that can be recovered and it is also ideal in the recovery of almost all formats of vides files and photo files. You can also recovery videos ad photos that have been accidentally deleted from the recycle bin or from a formatted hard drive.
Pros:
It is reliable and offers users a very simple way to recover videos and photos from numerous storage devices
It is useful in the recovery of different formats of video files and photo files
It comes with a trial version that can be useful in test driving the product before purchase
Cons:
It is a relatively new product and yet to gain any customer reviews
It cannot be used to recover other types of data
The Windows version tested a little slower and didn't recover all of the lost files
It is only available for Windows