Repairit - Fix all levels of video corruption and all formats of video easily.
An easy-to-use video repair software for beginners and professionals.
Unplayable videos are usually corrupted due to high voltage spikes in your power supply, unverified video conversion tools, virus attacks, and other similar problems. Worried about fixing them immediately? Well, a video repair tool can help you do that efficiently.
To effectively deal with your video corruption challenges, an online video repair tool can do the magic you are actually in need of. This guide presents 5 top-grade tools to repair corrupt video files for you. Let's have a deeper look.
Part 1. Make Free Online Video Repair (No Need to Download Software)
Try these top-rated tools for free video repair online and swim your worries away.
Repairit is a great online video repair app that performs fully autonomous video repair for every unplayable, damaged or corrupted video, be it MOV, MP4, or any other format. It can automatically repair your corrupted videos in just three simple steps easily.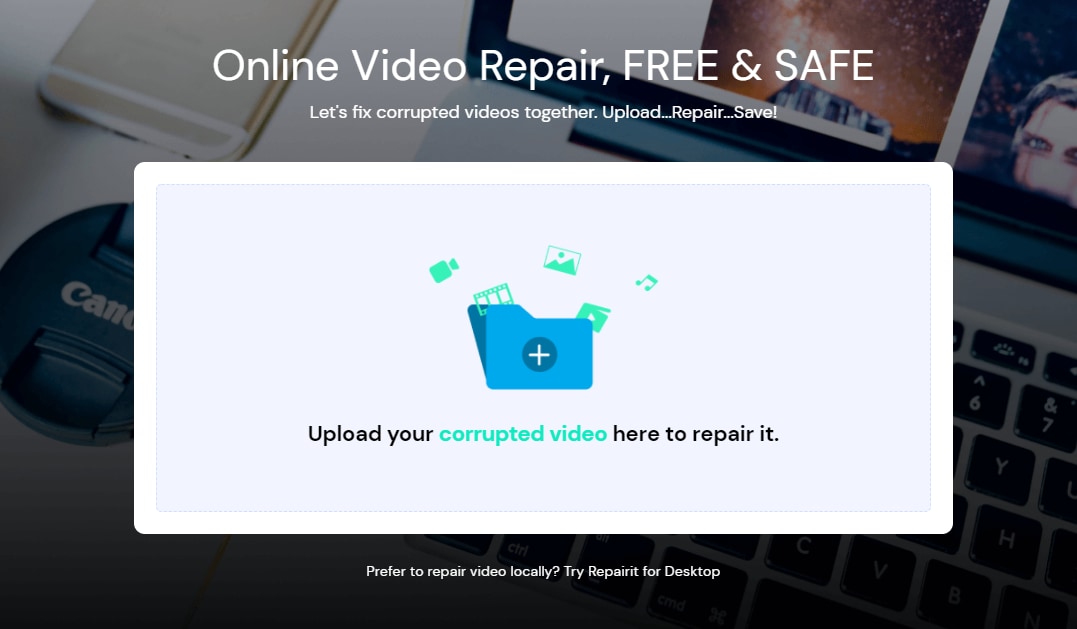 Pros
Supports popular video formats (MP4, MOV, 3GP, etc.) and videos shot on any device.
Full-automatic repair, you can repair corrupted videos download them in minutes. No need human intervention.
The utmost security technology, the file is transferred via a 2048-bit encrypted connection and it will be automatically deleted after 3 hours.
Cons
Repairit Online only supports 3 video formats and 10 video files repair daily.
The repaired video size cannot be larger than 200MB.
1 video to repair at a time and support 30s video segment for preview.
Note: As efficient and friendly as this tool is, Repairit online version is a handy choice for basic video repair. The online version supports just 3 video formats and can repair 10 video files per day. Also, the maximum size of a video shouldn't exceed 200MB. If you need to fix more video formats, or fix video with a larger size (over 200MB), please try Repairit for Desktop.
Fix Video – an efficient video file repair tool – is known for fixing truncated, damaged, and corrupted video files regardless of the formats they are available in. The popular formats this tool supports are MXF, MOV, 3GP, MP4, RSV, and M4V. No matter if you have recorded your videos from professional cameras, Android, or iOS devices, Fix Video will do the job for you.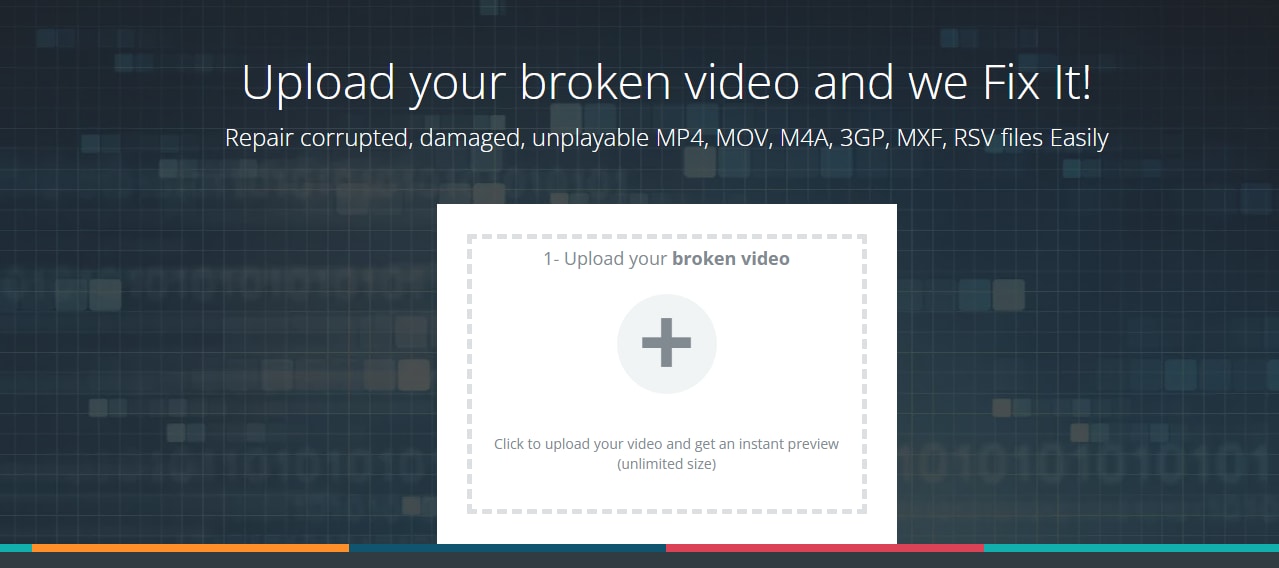 Pros
Repair corrupted, damaged, unplayable MP4, MOV, M4A, 3GP, MXF, RSV files Easily
Support to repair corrupted videos without size limitation.
No matter if your video is recorded from cameras, cell phones, or any other device, it performs complete auto video file repair.
Cons
If you are using your SD card to upload video directly to this tool. You will not be able to do that. It is a must for you to copy the damaged file in your system and then upload it.
3.Video Repair
It is a free video repair online software that uses advanced features to reduce your headaches when it comes to repairing your corrupted video files. What users love the most about Video Repair is its quick 2-step processing approach. One thing that makes it stand out in the market is; you don't need to register yourself or download the software on your PC or laptop, rather you can directly start repairing your broken videos online.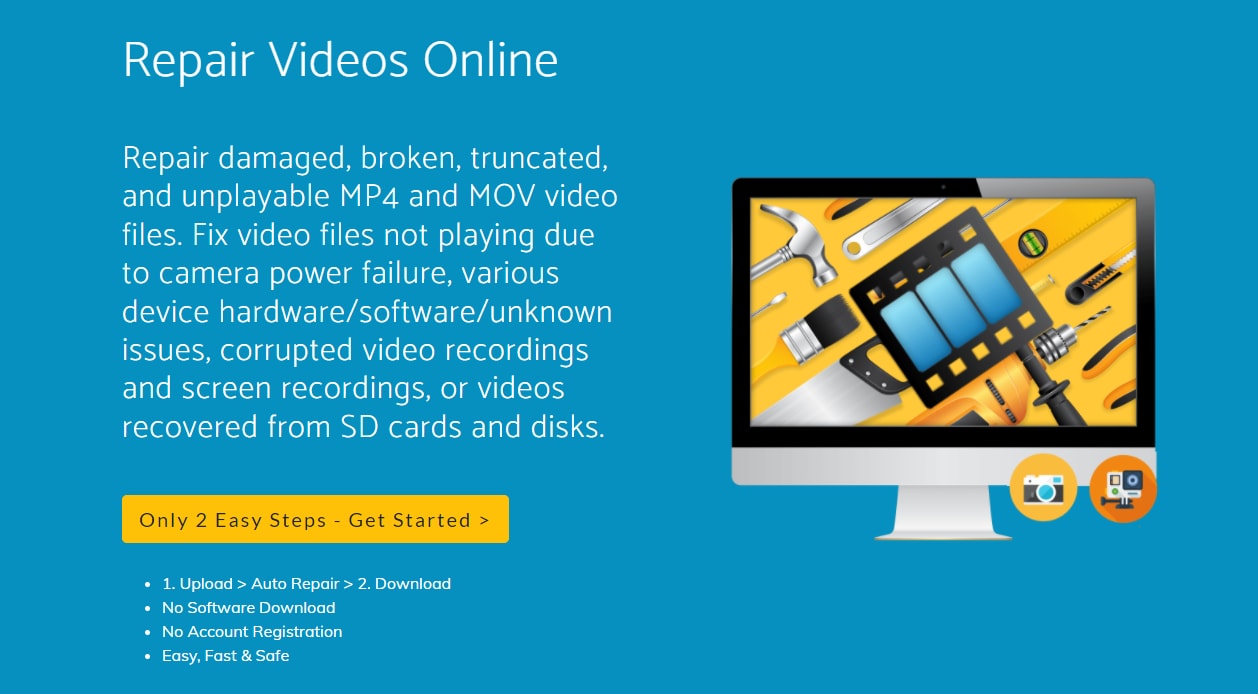 Pros
2-step easy video file repair
Hassle-free, safe, and fast video repair
Fix unplayable videos caused by various reasons, like various device hardware/software/unknown issues, corrupted video recordings and screen recordings, etc.
Full automatic video file repair with 2048-bit encryption approach.
Cons
You can't upload corrupted files over 4GB
It will not allow you to upload a file from an external drive or SD card. Copy the file on your computer first, and then try uploading it
Do you have some large but important videos that are corrupted due to power failure or virus attacks? Looking for an online video repair tool? MP4Repair.org is up for you. Regardless of the size of your videos, it completes the diagnostic in no time (with HTML 5 technology) and this is what makes it lovable among the majority of the users. Are you feeling reluctant to purchase its paid version? Don't worry! A free trial can help you understand the whole functionality.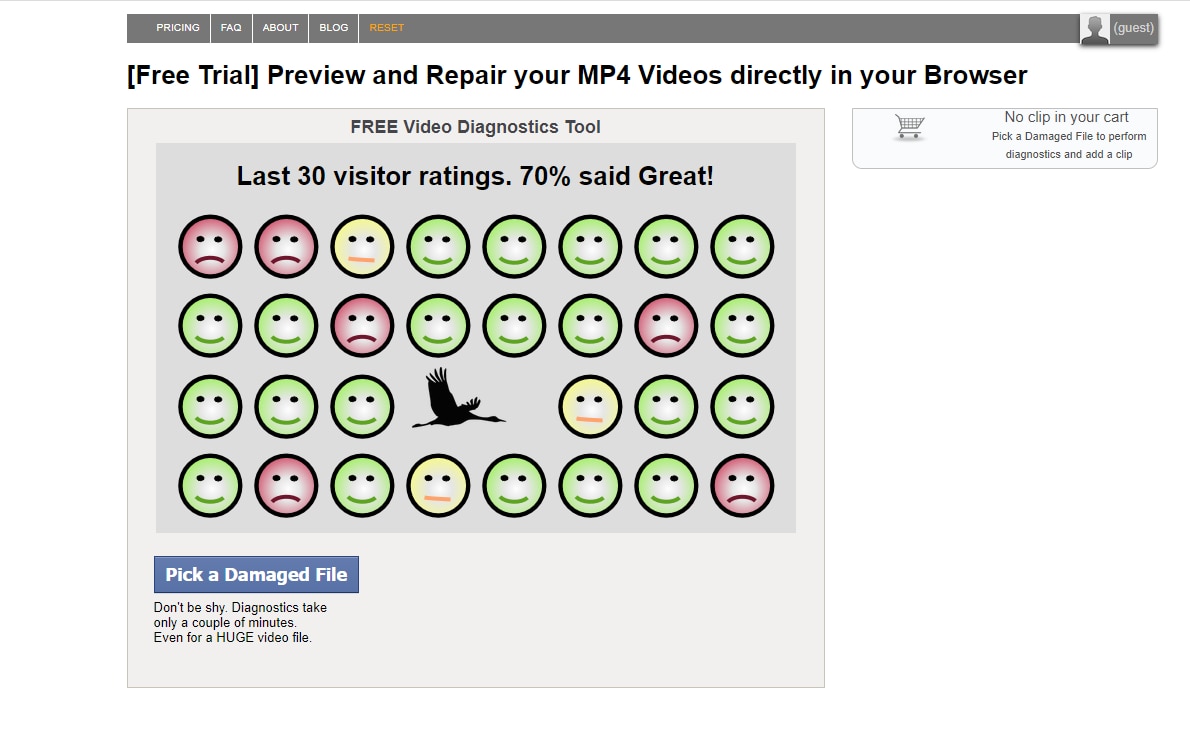 Pros
It supports Mac, Ubuntu, Linux, and Windows OS
Cons
Once your video gets repaired, you need to pay for it before you download it
Confusing interface with the appearance of the black and white screen while doing a video file repair
Do you want to extract audio and video data from the broken files? Repair MP4 is the tool you need to proceed with. It needs you to upload a reference file in the correct format and provides you with an MP4 output. While using this tool, don't forget to ensure that the uploaded files are neither protected nor encrypted to get the job done. Once your video gets repaired, save it in a different location from where it was uploaded.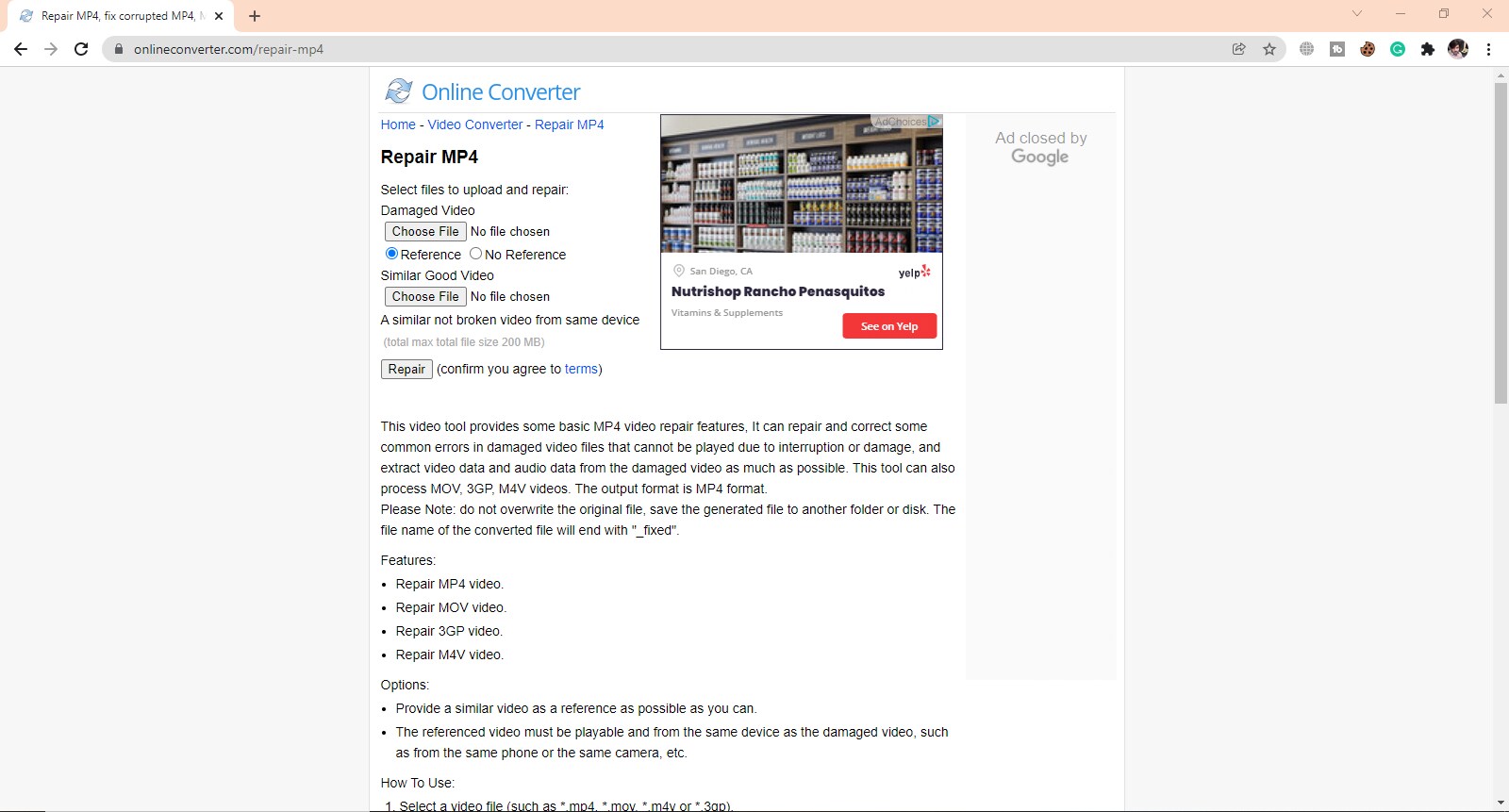 Pros
Perform M4V, 3GP, MOV, and MP4 video repair
Support automatic repair and quick fixes for damaged files.
Cons
Ads occupy almost half of the screen, making it confusing for the users
You need to provide one video as a reference for successful repairing
Part 2. Common Causes to Video Corruption
Your videos may get damaged for many reasons, and a few prominent of them are listed below.
1. Inferior Tools: Never use unverified video conversion/editing tools because they could be the leading reason for video corruption.
2. Power Failure: The power failure may also cause video damage while transferring your videos from one device to other.
3. Recoding Challenges: While recording your video, if your recording device - be it a cell phone or camera - gets switched off due to low battery charging or any other reason, your video may get damaged.
4. Device Problem: If your storage device is undergoing virus attacks or SD card damaging problems, it may corrupt your video in no time.
5. Changing Video Format: Many people have reported that they faced video corruption challenges a couple of times when converting videos from one file format to another.
Part 3. Fix Corrupted Video with Professional Video Repair Tool
Do you have some seriously damaged videos? Unable to fix them through a couple of online video file repair tools? Looking to benefit from a trusted video repair app? Repairit - Video Repair will efficiently repair your video files in a more professional way.
Repair almost all levels of video corruption issues, including video blurry, flicker, choppy, no sound, sluggish display, display stuck, etc.
Repair corrupted/unplayable/unaccessible videos of various formats, such as MOV, MP4, M2TS, MKV, MTS, 3GP, AVI, FLV, MXF, and M4V. It even supports the latest INSV video format.
Support to repair videos shot and recorded on the mainstream video devices, including all leading camera brands such as Canon, Nikon, Sony, GoPro, DJI,etc. or mobile phone.
The "Advanced Repair" function can repair seriously damaged videos with high success rate.
Repair HD, 4K, and 8K videos with a very high success rate.
Step 1.

Download Repairit on your PC/Mac and choose "Video Repair", click on the "Add" button to upload a video you want to repair.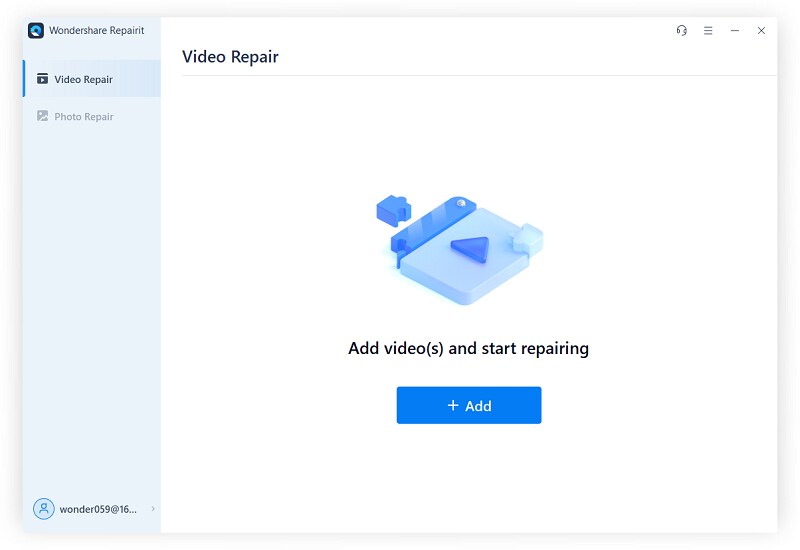 Step 2.

Press "Repair" after the corrupted videos uploaded.

You can upload multiple files at a time and see the information of each video as shown below, then click the "Repair" button, Repairit will begin the video repairing process.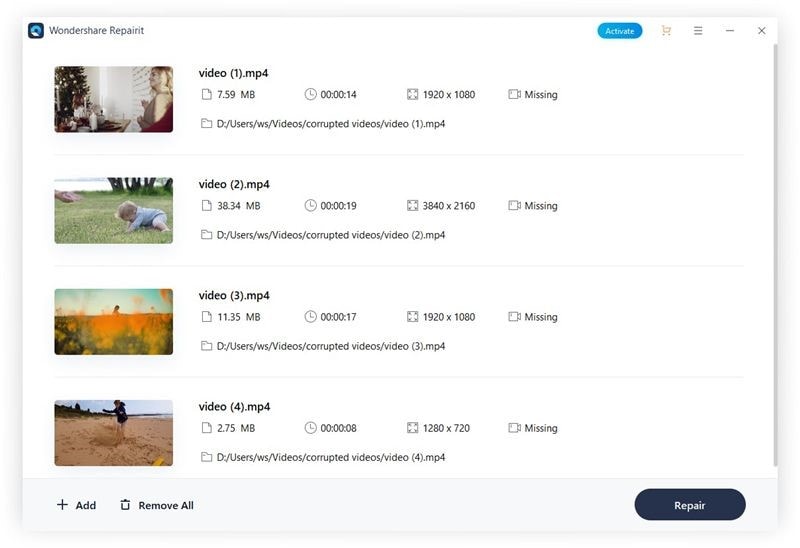 Step 3.

Preview and save the fixed videos.

After the video repair process finishes, you can preview the video quality before saving it, if you're satisfied with the quality, please click the "Save" or "Save All" button to download it locally.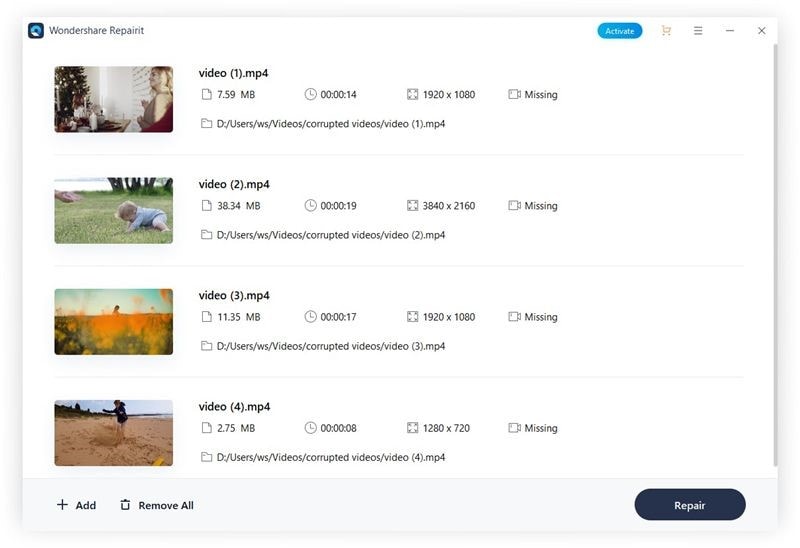 However, if you are not satisfied with the quality of the repaired video or the video is severely damaged, please proceed with the "Advanced Repair" function to make a higher level of video repairing.
Step 1.

If any of your videos is not repaired, you need to press the "Advanced Repair" option as shown below. Then, select the folder.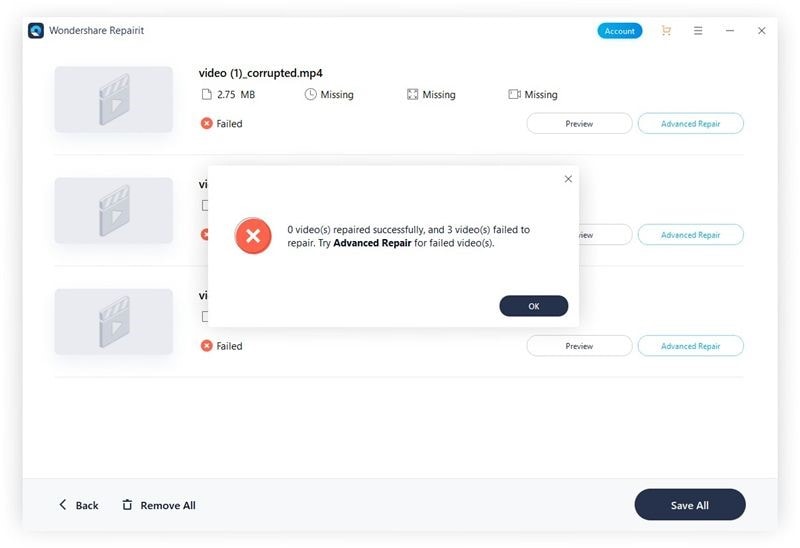 Step 2.

Add a sample video with the same format as the corrupted one and shot by the same device.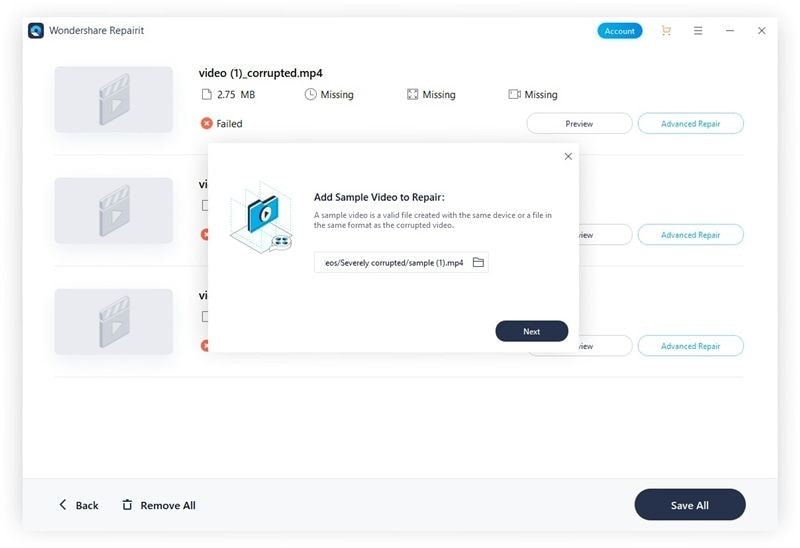 Step 3.

It will take some time for Repairit to process the uploaded video. Once done, press the "Repair" button on a newly appeared popup, as shown below.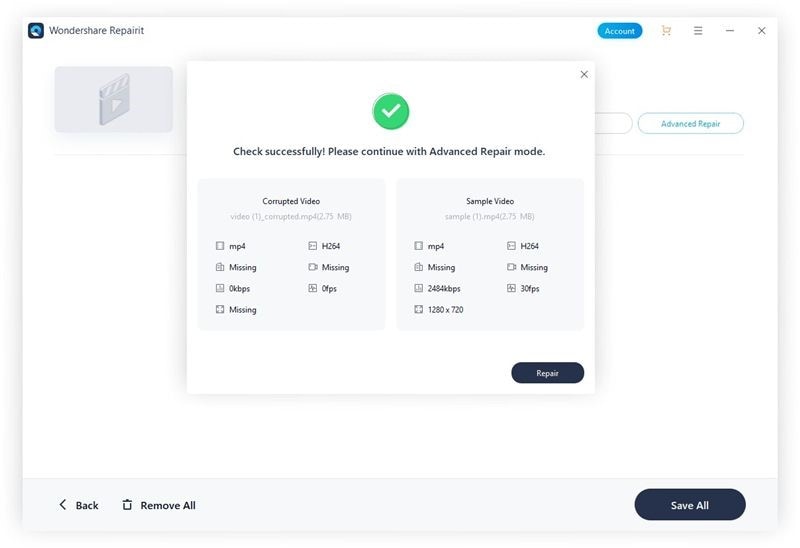 Step 4.

Wait for some time and let the Repairit make an advanced repair. Once the video repair gets completed, press "Ok" on the new popup. Then, save the files to the desired location on your system.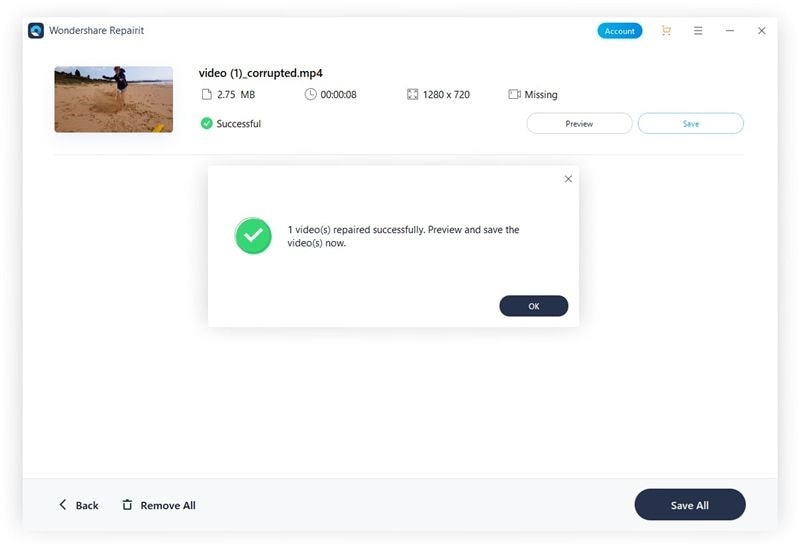 This is how, just by following simple steps, Repairit Advanced Feature can help you repair corrupt video files.
Part 4. Repair Corrupted Video Files with VLC Media Player
VLC is a special media player you can use without paying a single penny. It can play any video file smoothly. You don't need to be a technical person to use this tool as it is pretty user-friendly.
VLC was introduced to play various media files, but a couple of advanced features were added over time. The most interesting feature of this media player is its ability to repair corrupt video files in minutes. A complete guide is presented below.
Step 1.

Download and install the VLC media player. Click on "Media" from the menu bar and press "Convert/Save" below.
Step 2.

Now, press the "Add" button to upload an unplayable video, as displayed below.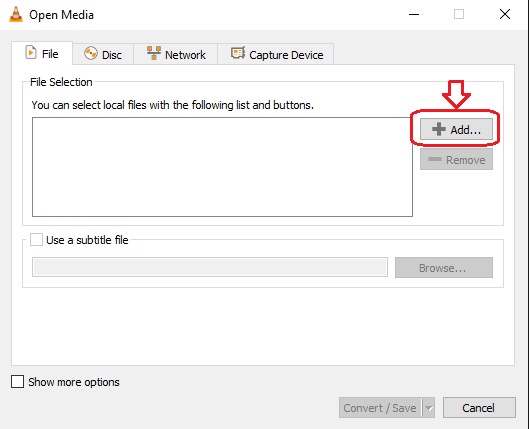 Step 3.

Choose the desired video and press the "Open" button. The visual is attached below.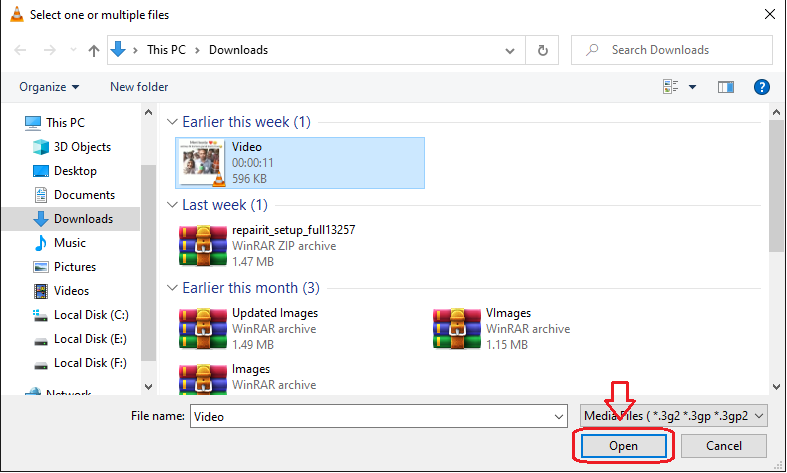 Step 4.

Once you upload the video, click on "Profile" and choose the desired option from the list as shown below.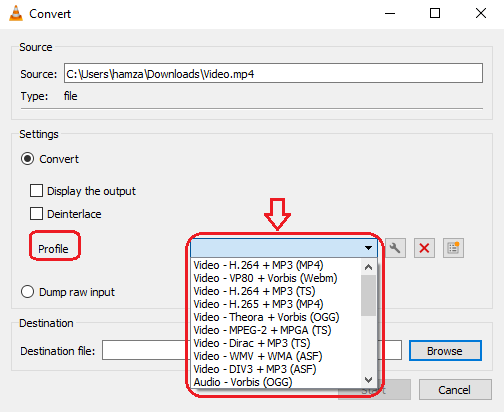 Step 5.

Now, choose the destination and press the "Start" button to get a repaired video file.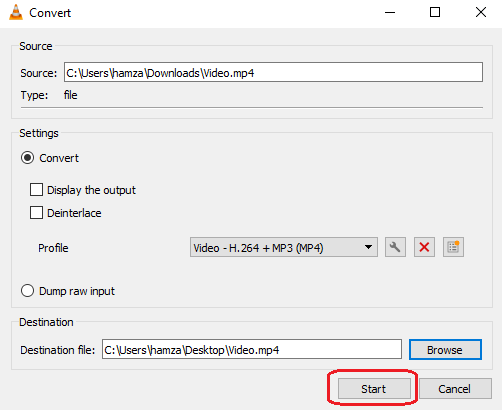 In this way, you will successfully repaired your damaged video file(s).
Conclusion
Videos are the frequently used format to gather quality information from worldwide. People find it easy to record their messages or information with other members or communities. But, it is also a fact that these videos get damaged many times when we try to play them. It may happen to you too. Isn't it?
Well, a video repair app can help you deal effectively with video corruption challenges. If you are looking for a quick video repair but don't have enough time to search for one, you can fully rely on Repairit - Video Repair. It will not disappoint you at any point.