Repairit - Fix all levels of video corruption and all formats of video easily.
An easy-to-use video repair software for beginners and professionals.
Apple is among the most popular smartphone brands known for its efficiency and user-friendliness. But that doesn't make it immune to minor bugs and glitches as many users have recently complained that the sound cut off immediately when they play a video. If you're also facing the "
no sound on iPhone video
" issue, then worry not. Follow the below guide to understand this problem better and troubleshoot it yourself.
Part 1. The Reasons Why "iPhone Video Sound Not Working"
Why "my iPhone has no sound on videos"? While a lot of factors are at play simultaneously that can cause iPhone video no sound, here are some common culprits:
A software or hardware glitch in your iPhone might be the reason why you're facing this issue. The software bugs can be removed easily but you need to contact Apple Store to fix the hardware problems.
Sometimes, there's a low sound issue that makes the video inaudible. Many users complained that iPhone video sound not working when they don't install the latest iOS update. So, always install the iOS updates when available.
You may have connected the iPhone to an external device such as earphones or speakers via Bluetooth. That might be the reason you're unable to listen to the audio of a video.
If you have enabled the "Do Not Disturb" mode on your iPhone, the system turns off any kind of sound including that of a video. Thus, confirm if you have inadvertently enabled this feature or not.
In many cases, the audio jack of your iPhone is clogged with dust particles that block the sound. Generally, the iPhone detects an external earphone and tries to send signals through it. The easiest way is to use a can of compressed air or even an earbud to clean the audio jack.
Part 2. 5 Ways to Fix "iPhone Video Sound Not Working"
Here are a few proven tips to get rid of the iPhone video sound not working problem. Implement them carefully and at least, one of them will get the job done.
1. Check the Volume
First and foremost, be sure you have not put the iPhone on the Silent mode. Many users often overlook this problem and try implementing other solutions, only to find out later that the device has been on silent. All you need to do is swipe the silent button from the left side to the right side to enable the ring mode.
2. Turn Off DND Mode
As mentioned earlier, one of the most common reasons for no sound on iPhone video is due to the Do Not Disturb mode. Once DND is turned on, you cannot hear any sound on the device when playing videos as well as the sound of alarms, calls, and other notifications.
So, the next priority should be to switch off the DND mode to troubleshoot the problem. Here's how to do that:
Step1:

From your iPhone's home screen, head to Settings and tap the "Do Not Disturb" option. Then, turn the slider off, if it's enabled.
Step2:

Else, you can simply disable the "moon-shaped" icon on the control center screen.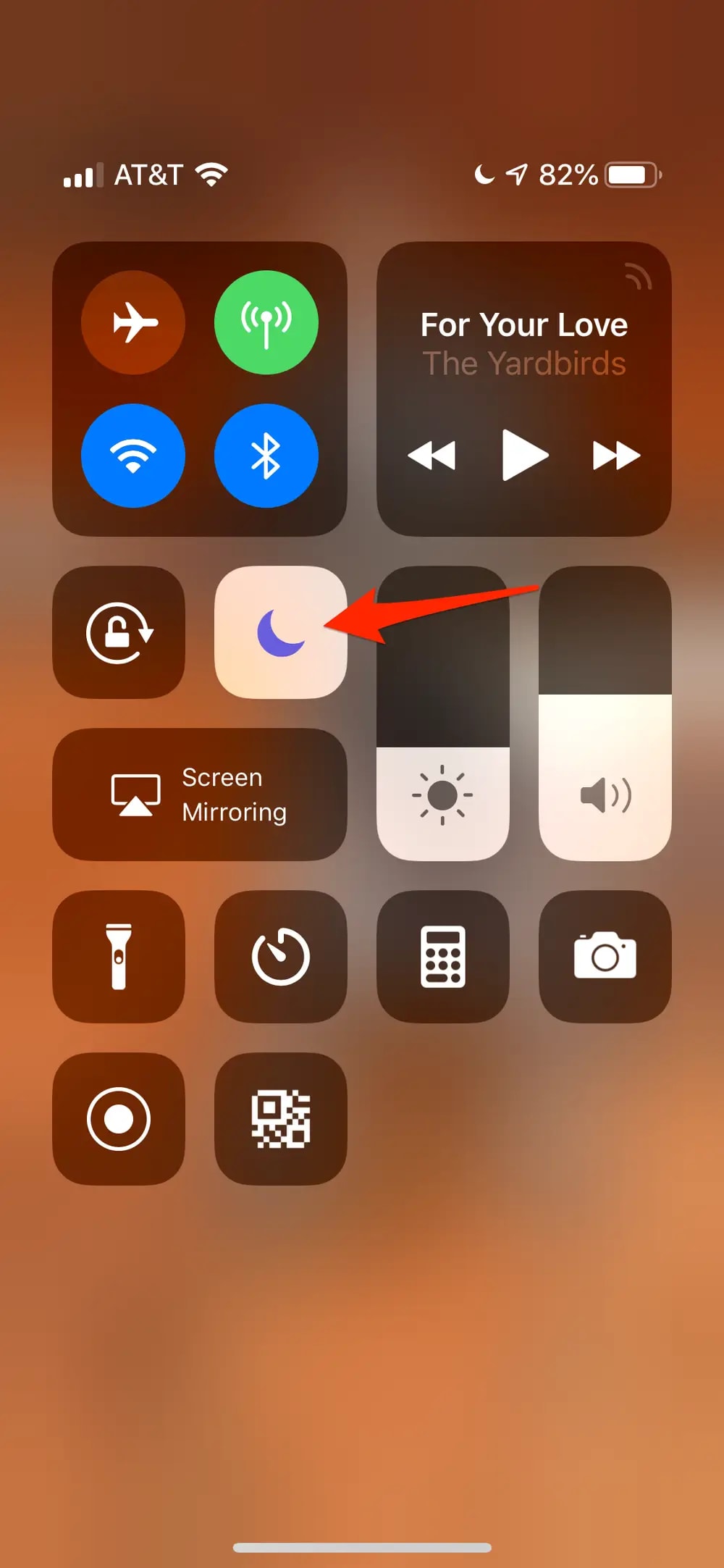 Now, try playing the video again and if the issue persists, jump to the next solution.
3. Disconnect the External Devices
The next fix you should try is to connect any external device connected to your iPhone such as a speaker, headphone, or even a PC. All you need to do is turn off the Bluetooth and Wi-Fi of your iPhone and it will automatically disconnect it from all the external devices. Likewise, unplug the lightning cable to remove any wired connections with other devices. After that, play a video and check if still iPhone video sound not working.
4. Restart Your iPhone
Sometimes, a temporary glitch in the iOS system or any app causes iPhone video no sound. The fastest way to remove it is by restarting your iPhone which takes hardly a minute or so.
5. Update iOS Version
Apple regularly provides iOS updates to offer new features and automatically fix the pending bugs in the system. Also, a faulty or incomplete iOS update can be why no sound on iPhone video. So, the next thing you should do is install the iOS update, if available. Here's how to do that:
Step1:

First, from your iPhone's Settings, navigate to General > Software Update.
Step2:

The system will search and show the available updates. Then, tap "Download and Install" and wait until the process completes.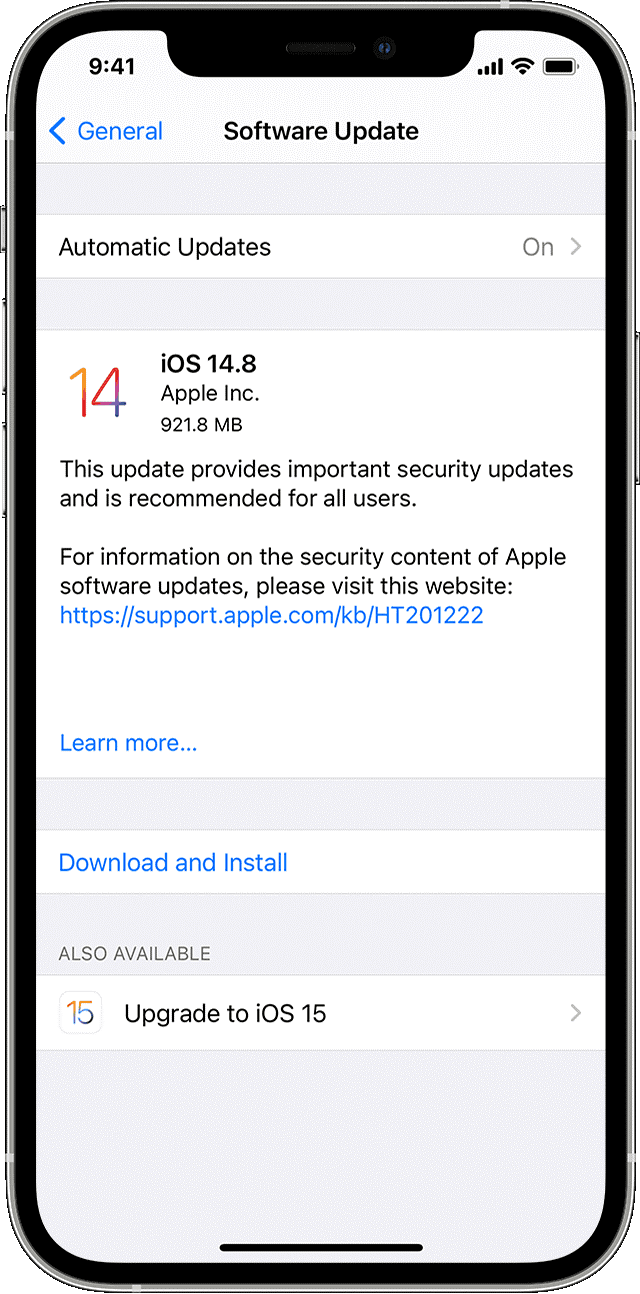 Part 3. Repair "No Sound Video" with Video Repair Tool
For videos downloaded on your iPhone, if none of those mentioned above methods fixed the iPhone video no sound error, the video itself is damaged or corrupted. That's where you need professional video repairing software like Repairit - Video Repair.
Repair almost all levels of video corruption issues, including video lagging, blurry, flicker, choppy, no sound, sluggish display, display stuck, etc.
Repair corrupted/unplayable/unaccessible videos of various formats, such as MOV, MP4, M2TS, MKV, MTS, 3GP, AVI, FLV, MXF, and M4V. It even supports the latest INSV video format.
Support to repair videos shot and recorded on the mainstream video devices, including all leading camera brands such as Canon, Nikon, Sony, GoPro, DJI,etc. or mobile phone.
The "Advanced Repair" function can repair seriously damaged videos with high success rate.
Repair HD, 4K, and 8K videos with a very high success rate.
Step1:

Install Repairit on your PC/Mac and launch it.

Choose "Video Repair" on the left tab and hit "+Add" to upload damaged videos on its home interface.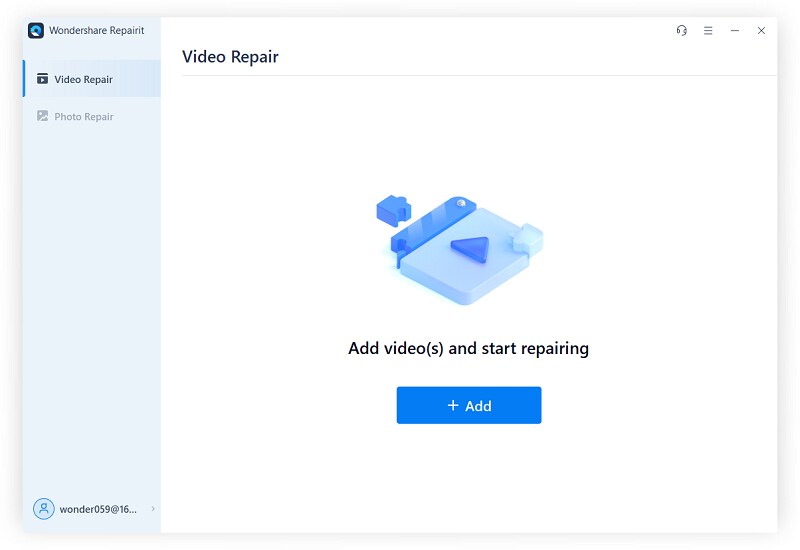 Once the clips are uploaded, you'll see their details on the screen. Just hit "Repair" to begin the process.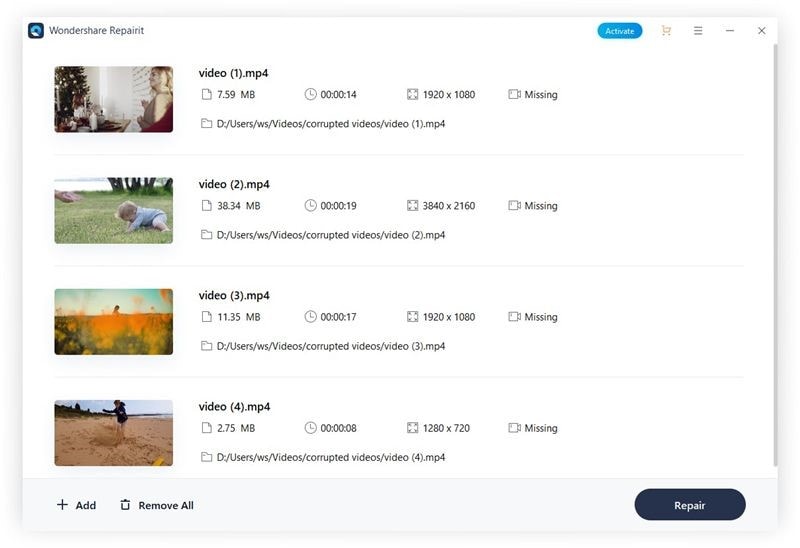 Step2:

Start to repair the corrupted videos after clicking the "Repar" button.

After clicking the "Repair" button, Repairit will start the video repairing process, after the damaged videos are fixed, you can see the result on the below screen.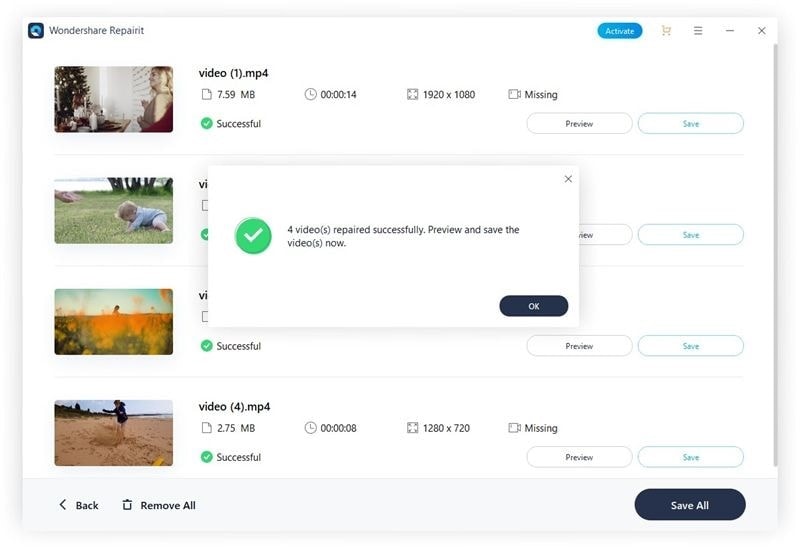 Step3:

Preview and save the repaired videos.

iF you want to check the quality of the repaired video, please click the "Preview" button, then click the "Save" button to save it locally.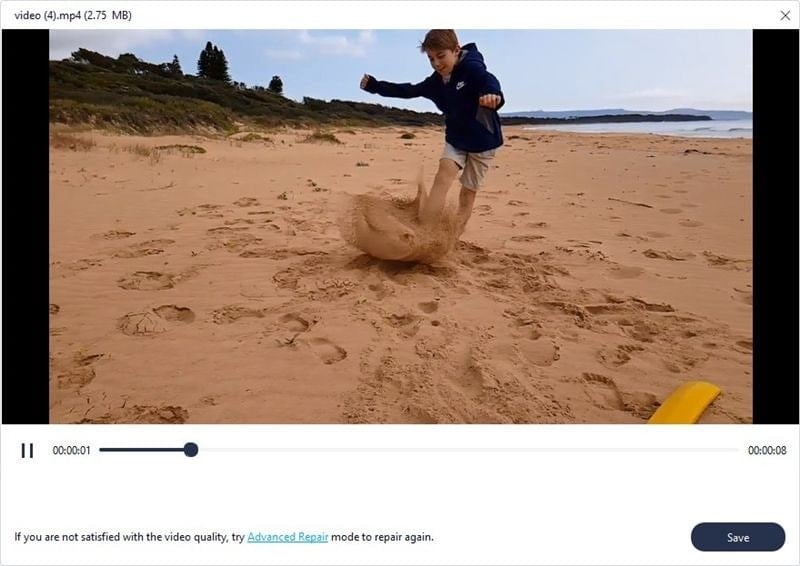 Conclusion
This article provided a step-by-step guide of a few practical solutions to get rid of the no sound on iPhone video issue. If these methods don't work for you, use Repairit - Video Repair to scan and repair your videos without compromising the quality.