Repairit - Fix all levels of video corruption and all formats of video easily.
An easy-to-use video repair software for beginners and professionals.
OBS is among the most popular desktop recording software, but that doesn't make it immune to unexpected bugs. One common issue that has frustrated many OBS users is the infamous OBS black screen during recording.
But the good news is you can fix this problem without going through any tech-savvy procedure. Here is our list of several easy ways to permanently troubleshoot the OBS studio black screen issue.
Part 1. Why Does OBS Black Screen Error Occur?
Before heading to the solutions, it's important to outline the main reasons for the OBS studio black screen error. Check out the below factors:
1. Dedicated Graphics Interfering
Whenever a user launches a program, the system decides whether to use the motherboard or dedicated graphics to run it smoothly. Sometimes, the process interferes with the normal working of the third-party program, leading to the OBS black screen.
2. Lack of Administrator Rights
Another major cause of OBS screen turning black is the lack of administrative rights. The PC automatically activates the restriction mode when the OBS is capturing the entire screen. Such minor bugs are quite common in third-party apps, including OBS. A simple system reboot can help fix it in most cases.
3. Compatibility Issues
OBS isn't compatible with all desktop PCs or platforms. So, it may happen that the device you're using to run OBS doesn't support this program and causing the OBS studio black screen issue. A simple Google search will verify if OBS is compatible with your computer or not.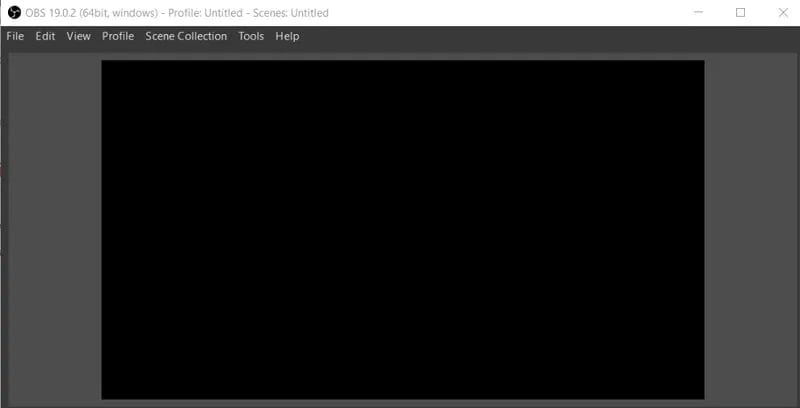 4. Overclocking
Overclocking is a built-in utility that significantly improves the performance of your CPU. Generally, it enables your PC to run applications smoothly, but it can sometimes cast negative effects on third-party apps. All you need to do is disable overclocking to get rid of the OBS black screen problem – if it's the case.
5. Capturing Options
Most screen recording software, including OBS, allows users to record the specific screen area or full screen. Also, several other options need to be set for the program to work smoothly. Thus, make sure you choose the right recording options if the OBS studio black screen appears for no other apparent reason.
6. Conflicting Software
This problem arises when running multiple recording programs simultaneously or numerous versions of the same program. Such a scenario can cause an overflow of met data, leading to several malfunctions, including OBS black screen.
7. Error in Your Computer
A glitch in your system is one of the main causes of the OBS studio black screen issue. It can be a virus or malware attack, outdated graphic drivers, or anything. Run the antivirus software and restart your PC to remove these glitches.
Part 2. How to Fix OBS Black Screen?
Below are some quick and simple fixes to troubleshoot the OBS black screen error. Implement them one by one until the issue got fixed.
1. Run OBS as Administrator
First of all, try running OBS as administrator. Sometimes, Windows restricts certain features due to administrative rights, but the app will be run with full integrity with administrative access. Wondering how to apply this method? Just follow the below steps to get it done:
Step 1.

Right-click the OBS icon and choose "Run as administrator" from the available options.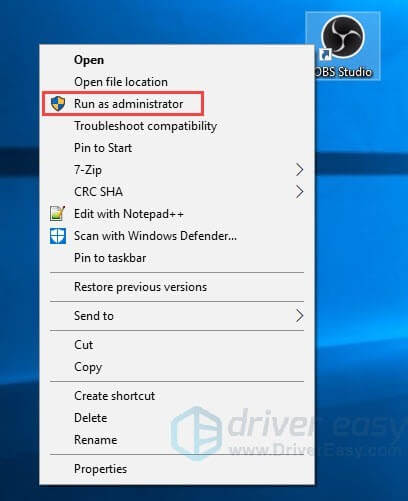 Step 2.

Now, start recording and see if the issue persists.
2. Disable Overclocking
If you think overclocking is why you're experiencing OBS studio black screen, consider disabling this feature. Contrary to what people think, turning to an overclock-off is as simple as possible.
You need to install credible third-party software related to overclocking and manage the settings accordingly. Our research found "MSI Afterburner" as a good tool for disabling overclocking.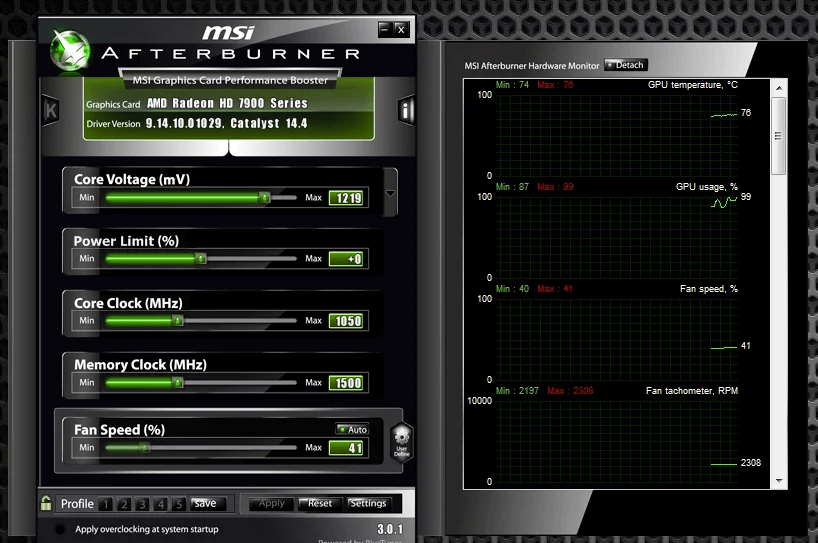 3. Change GPU Settings
This method is viable if you have installed two Graphic cards on your computer, one of them being NVIDIA. The reason is that the game you're recording uses another graphic adapter that is not available for OBS, causing the OBS black screen error.
Note that both OBS and the game being recorded should be using the same graphic adapter. Thus, here's how you switch the GPU load to troubleshoot this problem:
Step 1.

Launch NVIDIA control panela and head to Manage 3D Settings > Program Settings. Click on "Add".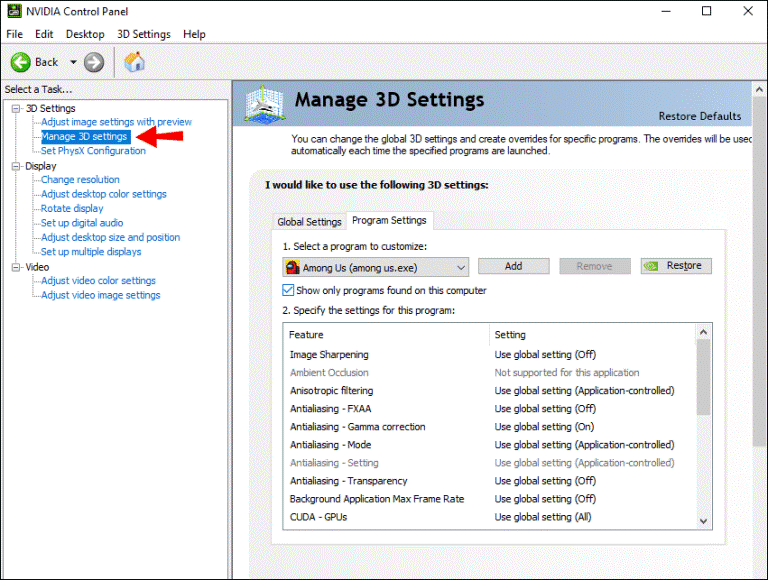 Step 2.

Search for the OBS.exe file.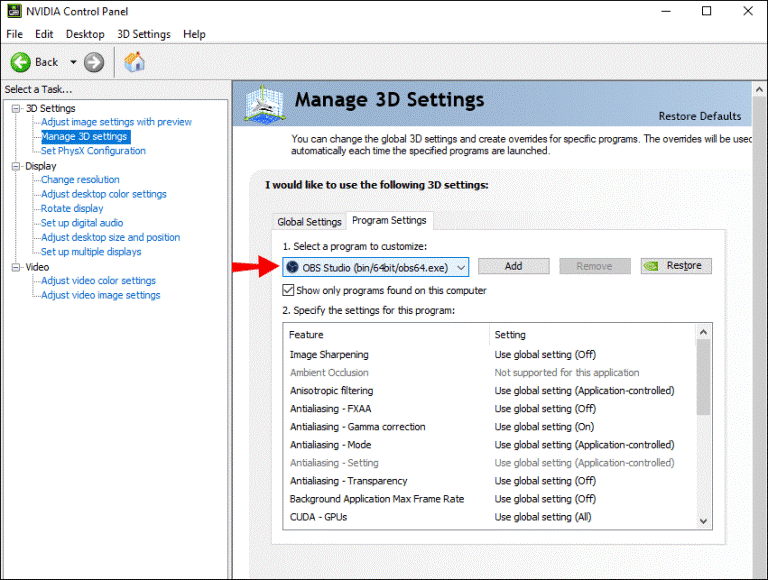 Step 3.

Now, choose "High-performance NVIDIA Processor" to get the best results. Hit "Apply".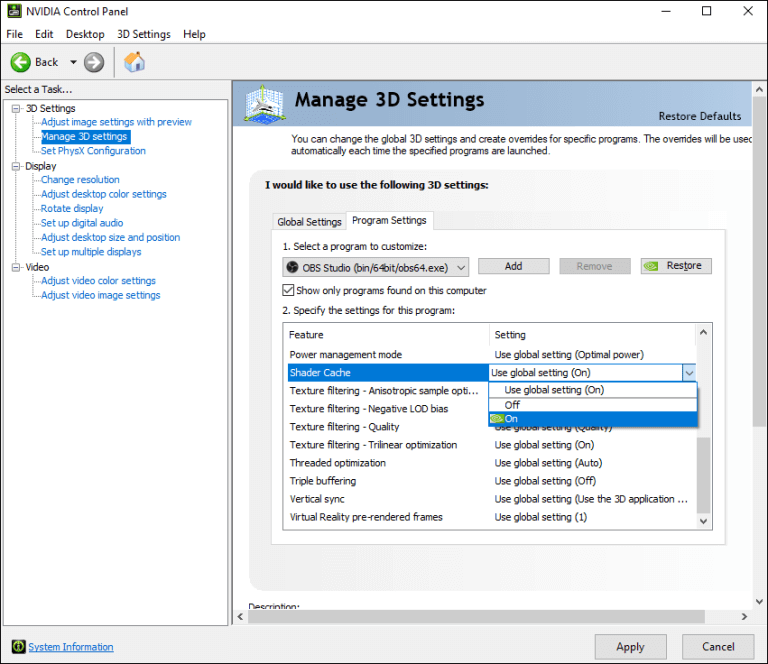 Step 4.

Finally, restart your PC and check if OBS is working normally.
4. Enable the Compatibility Mode
Sometimes, the OBS is simply not supporting your Windows OS, leading to screen recording problems. The compatibility issues are common, particularly if you have installed the latest version of the framework. However, you can fix it by enabling the compatibility mode. To do that:
Step 1.

Search OBS in the search box at the bottom-left corner.
Step 2.

Right-click it and hit "Open file location".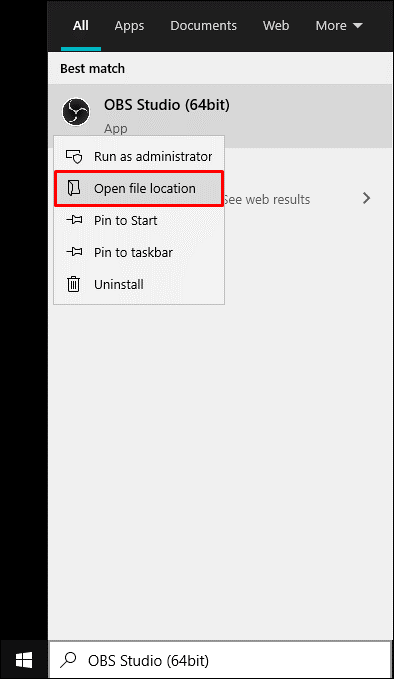 Step 3.

Then, again right-click the OBS icon and choose "Properties".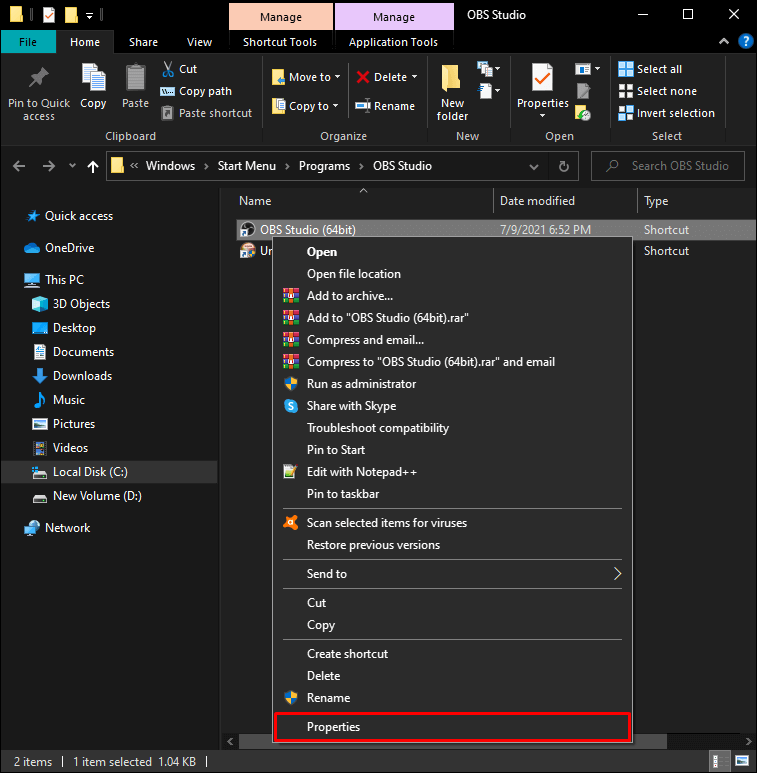 Step 4.

On the pop-up box, select Compatibility and check the box that reads "Run This Program in Compatibility Mode For".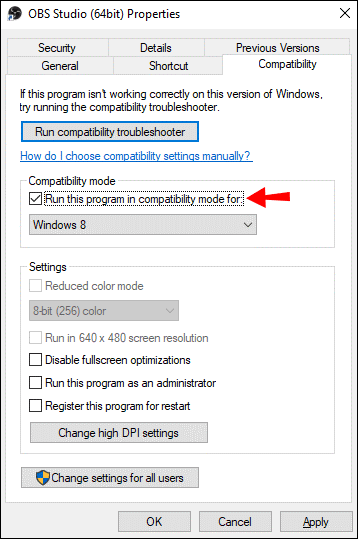 Then, select your current Windows OS from the drop-down arrow and hit Apply.
Step 5.

Finally, restart your PC, and hopefully, it will fix the OBS black screen issue.
5. Changing Drive Permissions
It may occur that the Windows has restricted certain features of OBS, hindering its normal functioning. That holds particularly true if the program is installed in the Local Drive C – or where the Windows is installed. However, many users have claimed that changing the ownership settings of the drive often fixes the OBS black screen issue. Here's how to do that:
Step 1.

Right-click the C drive and hit "Properties".
Step 2.

On the pop-up window, hit "Edit" under the Security tab.
Step 3.

Then, select "Authenticated Users" and check the "Allow" box in front of the "Full Control".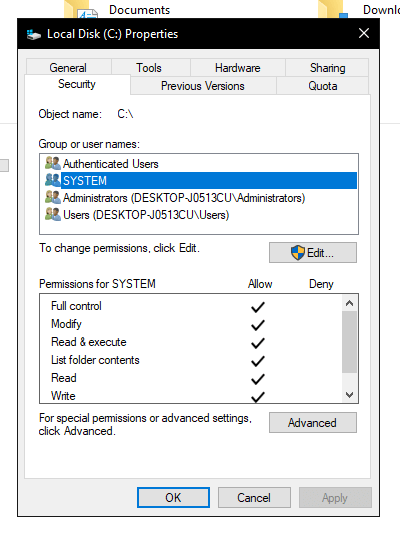 Step 4.

Hit "Apply" to save changes. Now, launch the app again and start recording.
6. Update OBS
Updating the OBS app to the latest version often fix many issues, including the OBS studio black screen error. Here's how to update it:
Step 1.

Launch OBS and go to Help > Check for Updates.
Step 2.

The program will take a few seconds to check if any new updates are available. Hit "Update Now" to continue.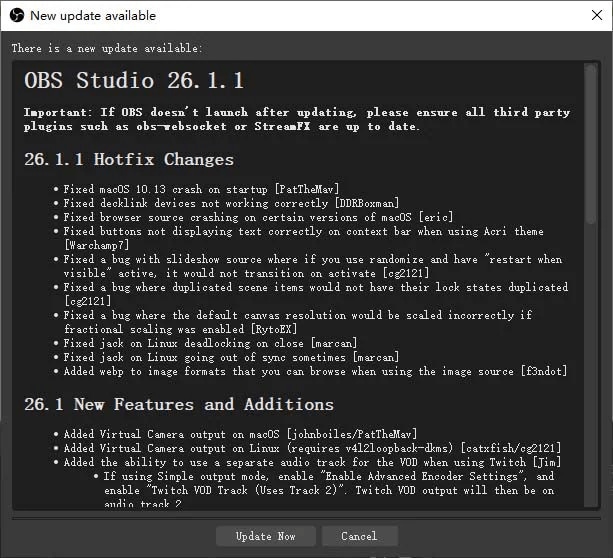 Step 3.

Wait until the process is completed. Then, launch the app again and start recording.
Part 3. How to Fix Black Screen Videos in OBS?
If the videos you've captured using OBS have turned black, use Repairit -Video Repair to fix them. Developed by Wondershare, this tool allows users to repair all types of corrupt and damaged videos and restore them to their original condition.
It is among the very few tools that can repair 4k and 8k videos effortlessly and offer the preview feature. Repairit can fix multiple videos in one go, saving you a lot of time and effort. Install this tool on your computer, and you won't ever get troubled by sluggish or broken video.
Repair almost all levels of video corruption issues, including video blurry, flicker, choppy, no sound, sluggish display, display stuck, etc.
Repair corrupted/unplayable/unaccessible videos of various formats, such as MOV, MP4, M2TS, MKV, MTS, 3GP, AVI, FLV, MXF, and M4V. It even supports the latest INSV video format.
Support to repair videos shot and recorded on the mainstream video devices, including all leading camera brands such as Canon, Nikon, Sony, GoPro, DJI,etc. or mobile phone.
The "Advanced Repair" function can repair seriously damaged videos with high success rate.
Repair HD, 4K, and 8K videos with a very high success rate.
Step 1.

Install and launch Repairit on your PC/Mac. choose "Video Repair" and upload the corrputed videos.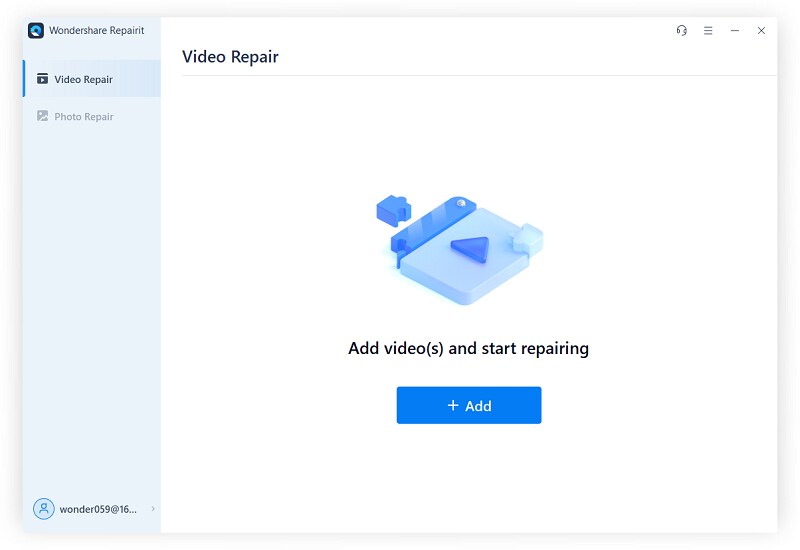 Step 2.

Press the "Repair" button to fix the corrputed videos.

After uploading the corrupted videos, you will see the information of each video as shown below, then click the "Repair" button to start the repairing process.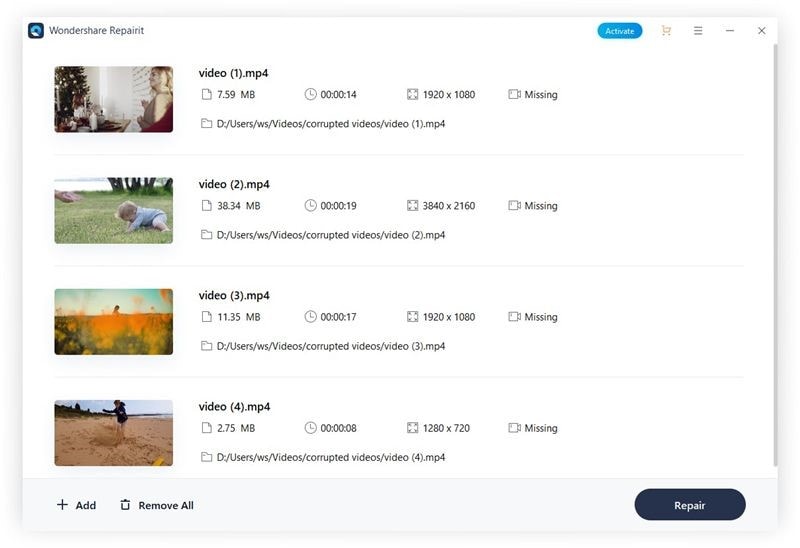 Step 3.

Preview and save the fixed videos.

After the videos are fixed by Repairit, you can preview the video quality if you want, then click the "Save" or "Save All" button to download it locally if you're satisfied with the quality.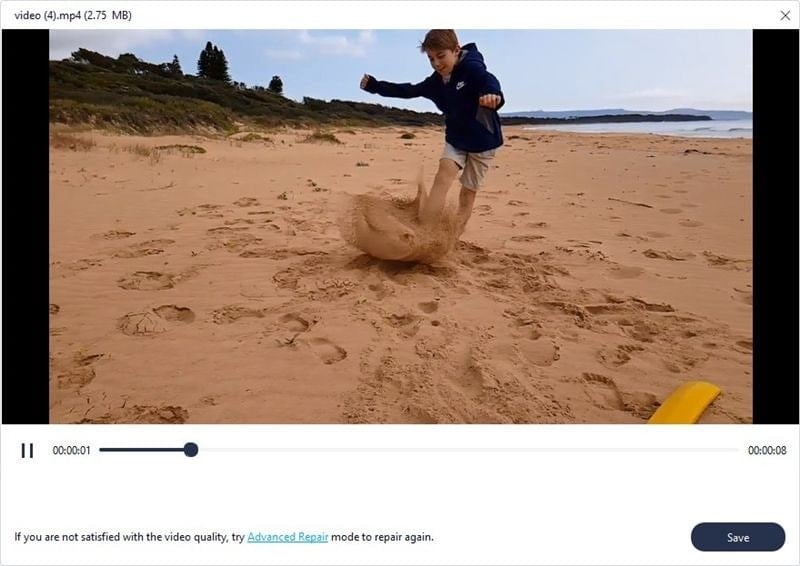 However, if you are not satisfied with the qualiaty of the repaired video or the video is severely damaged, please proceed with the "Advanced Repair" function to make a higher level of video repairing.
Step 1.

When the corrupted videos are not fixed successfully by the above steps, you need to press the "Advanced Repair" option below. Then, select the folder.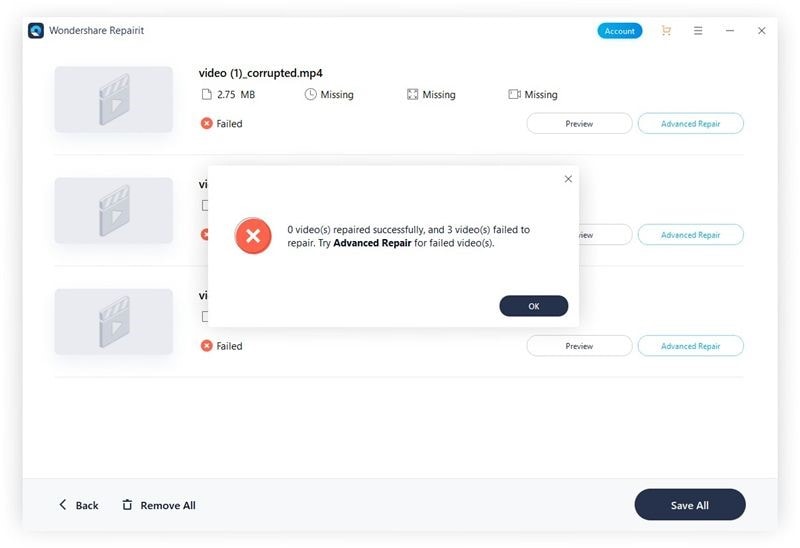 Step 2.

Add a sample video with the same format as the corrupted one and shot by the same device.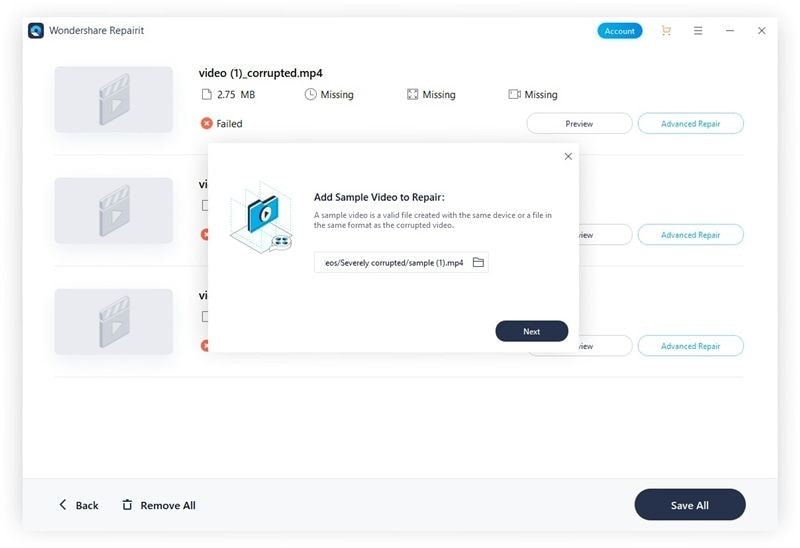 Step 3.

Then Repairit will check the uploaded video. After that, press the "Repair" button on a newly appeared popup, as shown below.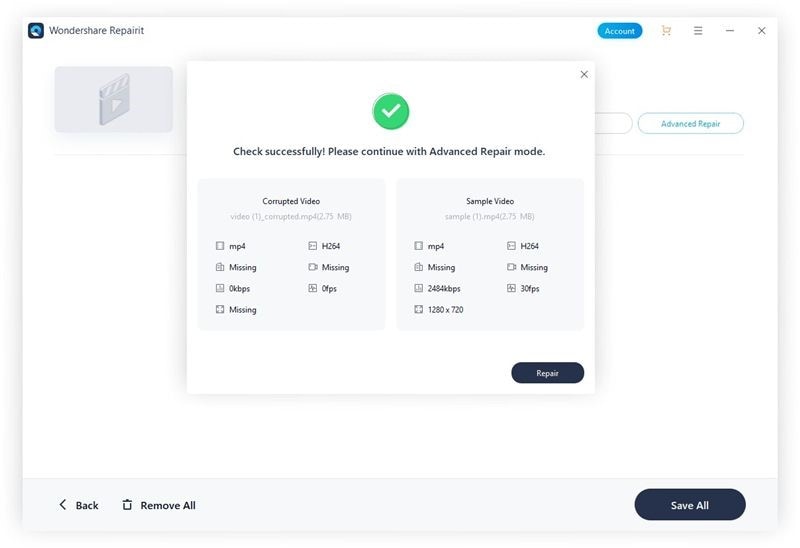 Step 4.

Then Repairit will start repairing the corrupted videos. Once the video repair process gets completed, press "Ok" on the new popup. Then, please choose a destination folder and hit "Save All" to download them.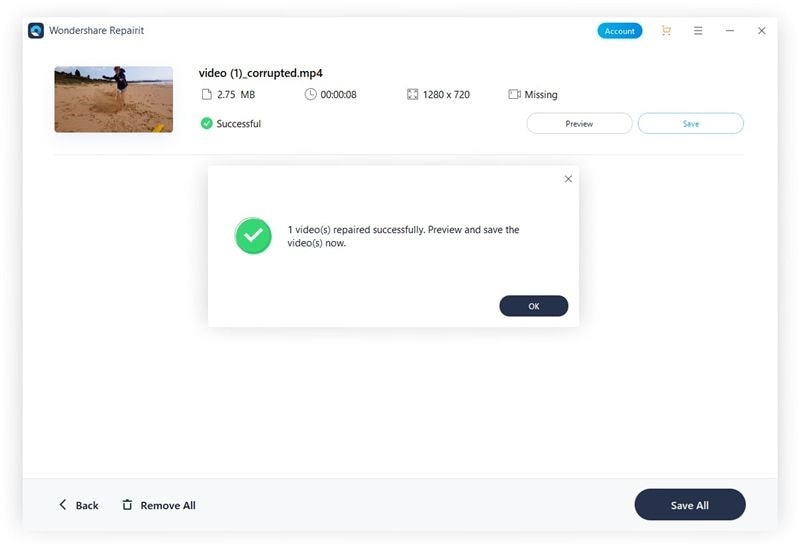 This is how, just by following simple steps, Repairit Advanced Feature can help you repair severely corrupted video files in a more professional way.
Conclusion
This article has discussed a few effective ways to get rid of the OBS black screen issue. Just make sure you read the steps carefully. Hopefully, you'll be able to fix the problem after implementing the solutions above. Use Repairit -Video Repair to fix blurry, sluggish, corrupt, or broken videos quickly and safely. This powerful program makes it ridiculously easy to repair any video regardless of the severity of the damage.