Black screens can evolve into a very itchy issue that might cause you a lot of problems in playing videos. Many people have reported problems related to a black screen while watching downloaded videos or online videos from different media platforms such as Facebook and YouTube.
Out of many playback errors that are reported daily on major platforms, black screens are the top-grossing issue of many viewers throughout the globe. While believing that there are quite a lot of evident remedies available at large, you might face difficulties in successfully executing them.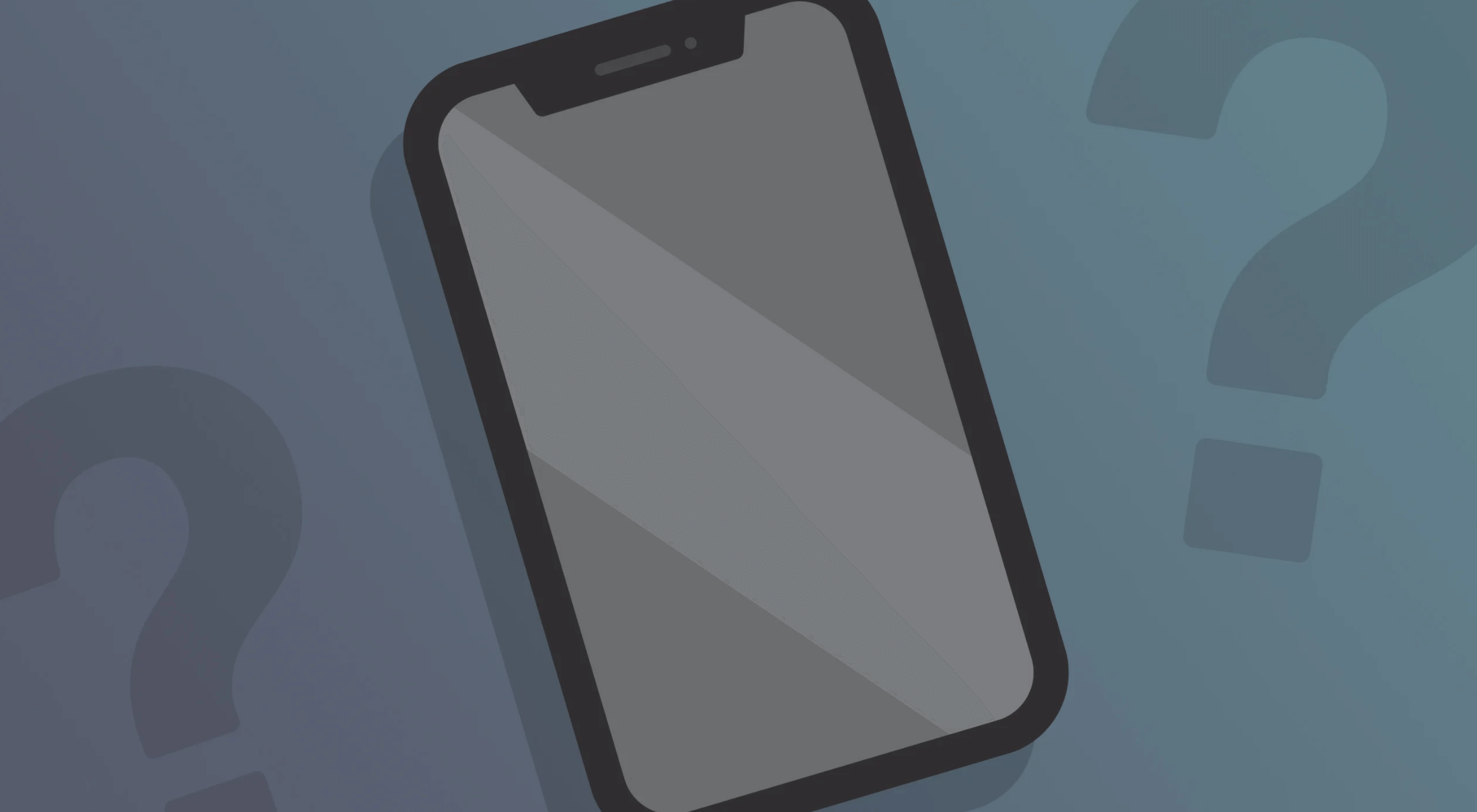 This article focuses on providing you with the ultimate solutions on how to fix black screen on videos that are being generally watched on different platforms.
Following this, you need to understand that remedies require a certain protocol to be followed for its successful execution. This article intends to provide you with robust solutions with their step-by-step propagation for helping you in utilizing them perfectly.
Part 1: Some Possible Reasons For The Black Screen on Videos
Apart from getting deep knowledge of different mechanisms that would guide you on how to fix black screen when watching videos, it is significant for you to understand the dynamics involved in the consummation of such problems.
There are many prominent reasons that become the major factor for any video to display a black screen with no displays, which can then be troubleshot and solved to counter the issue in totality.
Read More: How to Fix iPhone Black Screen Issue Successfully
For this, you need to get aware of these reasons for centering your point of failures, which are described as follows.
Network Connections

A very well-stated reason for any video to show a black screen during playback can be an issue with the network connection. A weak and unstable internet connection will inherently prevent the browser from playing the video for you, leaving you with a black screen.



Adobe Flash Player Issues

Many web browsers, including the most common ones, are developed with a built-in Adobe Flash Player. JavaScript, on the other hand, is a prominent part of the browser functioning. Thus, if you display a black screen in the view, the outdated Flash Player or non-functioning of JavaScript can be a very significant reason for the videos to fail.

Outdated Video Driver

The video drivers installed on your device can be outdated and would require an upgradation. For this, you need to access the original website of the developers and download the latest version of the installed video driver to have it replaced.



Browser Setting Error

Another plausible reason that can be the basic logic of the black screen on video playback could be related to the cookies and caches of the browser. Different cookies and cache data are saved while surfing over different website content, which usually gets stacked up, leading the overall performance to show clogging in execution.

For this, it is important for you to manage your cookies and caches accordingly without causing any problem for other systems.
Part 2: How to Fix Black Screen While Watching Videos?
There is quite a variety available in the form of remedies that answer the question of how to fix black screen on videos from scratch. While believing in the third-party solutions available at large, there is a variety of conventional methods that are provided to the users for fixing their black screen on videos.
This part of the article focuses on various remedies, both conventional and modern, to help you in finalizing the most appropriate method for your video repair.
1. Checking Wi-Fi
Whenever you utilize different social media applications for viewing videos on your device, they require an effective and high-quality network connection to be viewed from. An absence of a good connection will lead you in situations where you cannot play or view videos with ease.
However, if you seek to resolve such situations, you should definitely opt for the following steps, as described.
Step 1: Restart your router device and open the "Settings" on your phone after restarting.
Step 2: Open the section of "Wireless Networks or Connection" and check whether the Wi-Fi is functioning properly.
Step 3: For cases where you use connections apart from Wi-Fi, you can access the "About Phone" section and check the signal strength.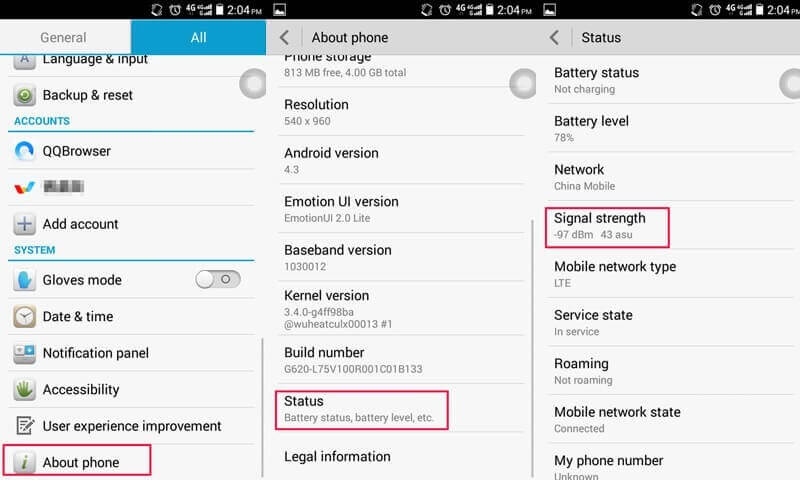 2. Reset your Chrome Browser
Another simple method that can be adopted to understand on how to fix black screen when watching videos, you need to follow the resetting of your browser. A step that you might take is to remove the cookies and cache data off the memory of the Chrome Browser.
Step 1: Open up the "More" button for a drop-down menu. Select "More Tools" followed by the option of "Clear Browsing Data."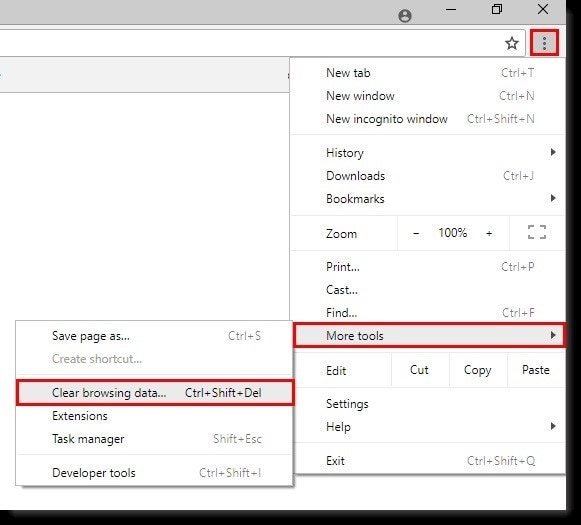 Step 2: Over the new window, you need to select the time frame followed by the options, including Cookies and Cache. Tap on "Clear Data" to execute the process.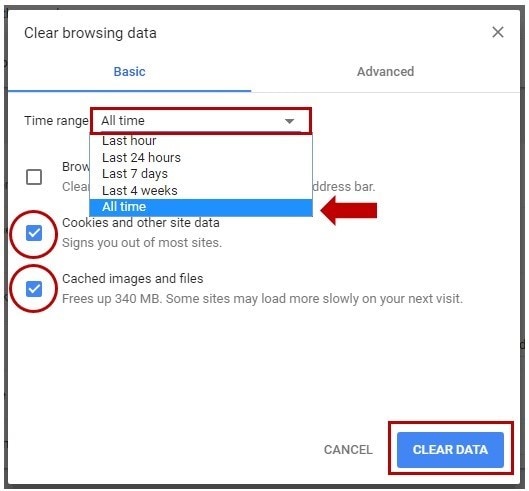 While clearing data, you can also enable your Flash Player on the browser. With the video opened on the browser that is displaying a black screen, you need to:
Step 1: Select the "lock" option present on the left of the address bar to reveal a list.

Step 2: Select the option of "Flash" in the list and change its option to "Allow."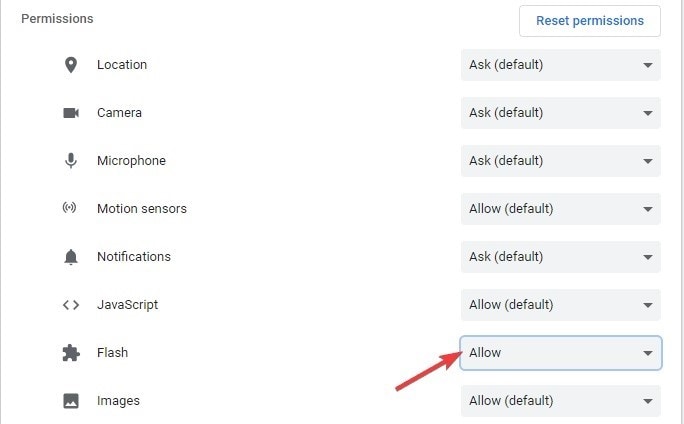 Step 3: Refresh the page and watch your video.
3. Update Adobe Flash Player
Adobe Flash Player can also be a conventional reason for malfunction. You need to simply uninstall followed by re-installation from the Internet Explorer to replace it with the previous version. Keeping Flash player updated is important to avoid such discrepancies.
Part 3: Can I Fix Black Screen on Facebook Videos?
If we move into the specifics and consider platforms that fail to play videos, this article looks forward to presenting effective solutions on how to fix black screen on Facebook videos.
1. Updating your Browser
With many conventional methods already practiced, if you are still unable to discover a proper remedy for it, you can definitely consider updating your browser. Browsers with older versions have the tendency to prevent different websites from operating properly.
Thus, changing or updating the browser is important in this case.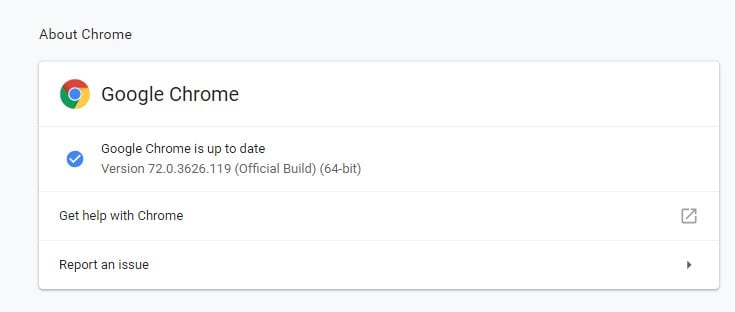 2. Recommend Using Recoverit - Video Repair
[Best Proven Way]
There are a series of different video repairing software that provides you with the ability to fix issues such as file corruption and faulty screens. Recoverit presents a robust structure with impressive results that can be used to discover efficient solutions. For this, you need to follow the steps provided below to understand the dynamics of using Recoverit - Video Repair.
Step 1 Launch and Add Files
You need to have this software downloaded and installed on your computer. After installing it, launch and turn on the main screen to initiate the repair. Tap on "Add" to import video files having a black screen.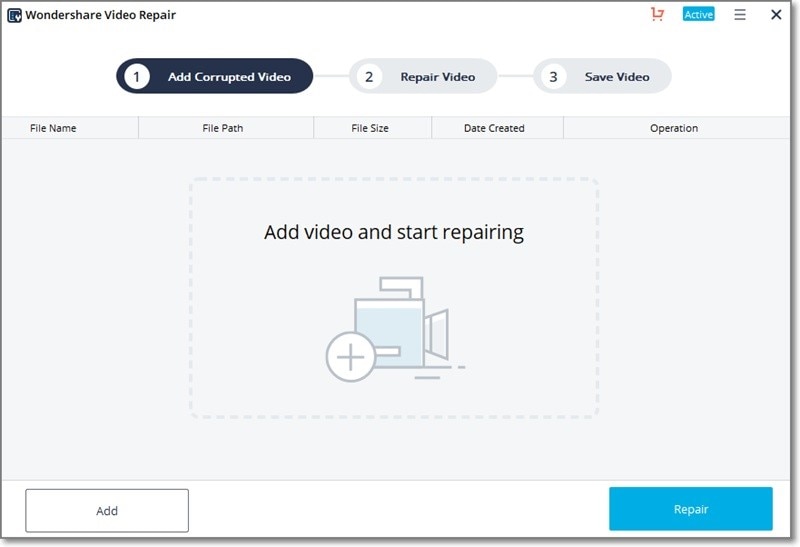 Step 2 Use Quick or Advanced Repair
Initially, you can use Quick Repair for repairing your videos and fix their frame issues. However, if you are still unsatisfied with the results and seek improved work, you can consider using Advanced Repair on Recoverit.
For that, you need to add on a reference file and tap on "Repair."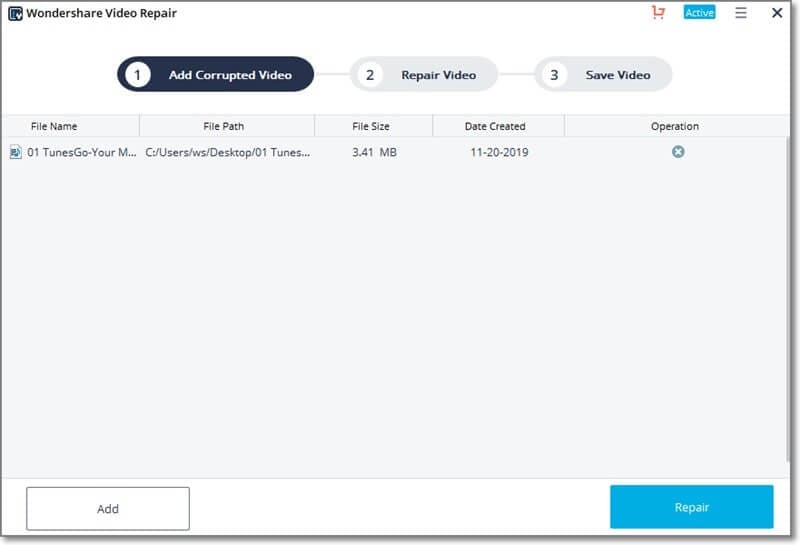 Step 3 Preview and Save
Preview your results and save the recovered video file.
3. Turn Off Hardware Acceleration
The option of hardware acceleration assigns a few tasks to the GPU on the computer to execute. However, to avoid such extravagant settings that are affecting the overall performance in a negative way, you need to follow the steps to turn it off.
Step 1: Launch the browser and open its "Settings" to access the "Advanced" menu.
Step 2: Open the "System" section and turn off the toggle stating, "Use Hardware Acceleration when available."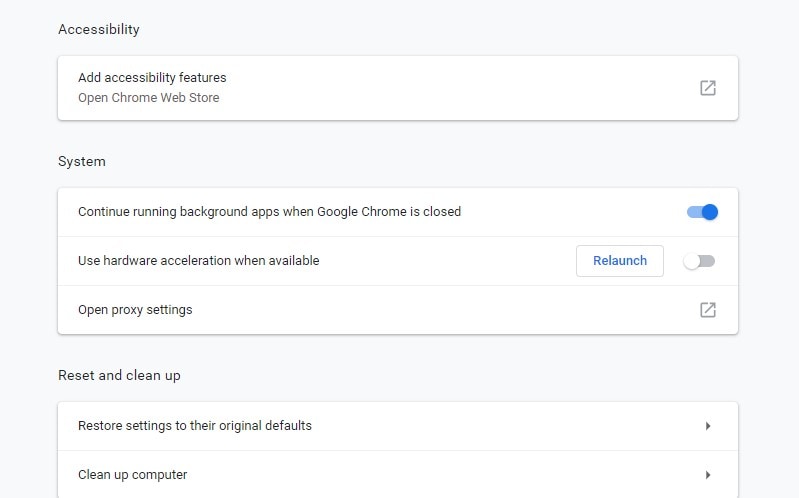 Part 4: How About Fixing Black Screen on YouTube Videos?
While we confer different solutions for handling the Facebook videos, there are multiple steps that can be taken to counter the black screen issue with your YouTube video.
To understand the methods of how to fix black screen on YouTube videos, you need to follow the important points described as follows.
1. Use Another Browser
You can always revert to another browser for running your YouTube videos if one depicts a few problems in running it.
2. Disable Browser Add-ons/Extensions
Open the Extensions of your browsers from the settings and disable the ad blocking extension that is enabled in the list. Following this, you can now simply view your YouTube video.

3. Clean Cookies and Cache
You can simply clear the saved data from cookies and cache from your browser and operate the videos with ease. This surely helps you in fixing the black screen issue of YouTube videos.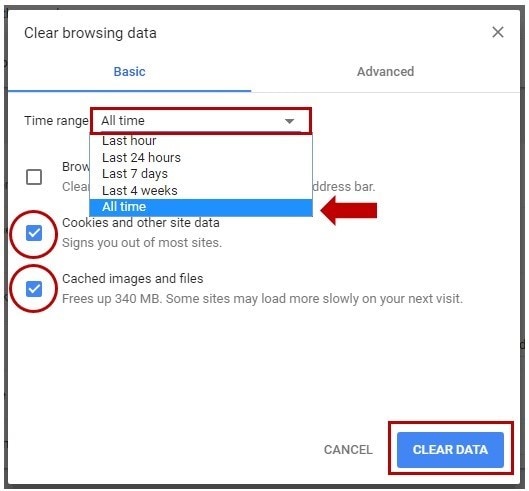 4. Sign out and Re-sign in into your YouTube Account
You can follow simple and effective methods of signing out and re-signing in your YouTube account to refresh the application.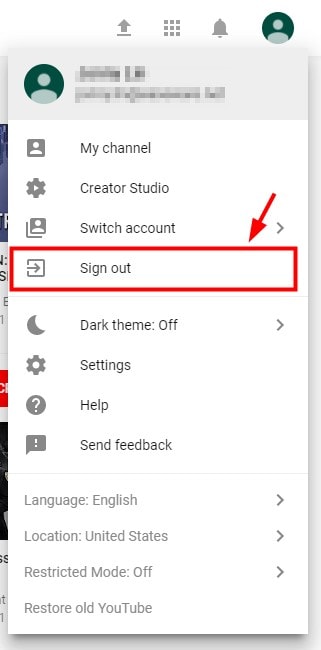 4. Using Recoverit
You can consider Recoverit, an impressive third-party video repairing tool for fixing your black screen issue while viewing videos.
Conclusion
This article has provided you with a detailed overview of the simple and influential methods that can be followed to understand the remedies on how to fix black screen on videos. You should definitely follow them to get an impressive outline of the mechanisms that can be considered as the most optimal.