Can someone assist me on how to repair damaged video files free?
Where can I download these free tool?
The files that we generally save within our computers are described as electronic data having distinctive structures. However, these fragments consider operating thoroughly as long as their structures are fully intact. A small dysfunction in their structure leads to these files getting corrupt.
Part 1: Scenarios of Individuals Accidentally Damaging Their Video Files
The major causes that are responsible for video files getting corrupt are quite simple to apprehend. For any user new with this experience, a corrupt video file simply doesn't operate, which indicates its faulty structure.
Out of many different reasons for these files getting corrupted, the basic scenarios are stated as follows:
1. Mediocre Third-Party Video Players
Selecting the best video player is usually a hard choice for many people. Improper selection leads to sub-standard video players that lack proper properties for processing videos, which usually corrupts them and makes them unplayable.
2. Malware
Many computers are left vulnerable to threats such as malware and viruses due to the absence of proper protective foundations. This leads to malware attack different files within the computer, which may include videos, leading them to their distortion.
3. Damaged Storage
There are different scenarios where physical storage usually gets impaired due to mishandling. This particularly affects the existence of the video file.
4. Premature Shutdowns
Many users who are careless in shutting down their systems properly usually damage a critical element of the video over unannounced actions. In cases where videos are not stopped before initiating shutdown, it causes them to get instantly corrupted.
5. Changing File Structures
Users who blatantly alter the structure of the video files get them corrupted.
Part 2: Fix a Damaged .MP4 Video File
While considering many different scenarios that might become a reason for a video file getting corrupted, the focus reverts to the basic question of how to repair damaged video files through different means. Initially, we consider fixing a damaged MP4 video file with the aid of VLC Media Player, a third-party video player.
VLC Media Player is known for its open-source structure that enables it to provide built-in index repair features for resolving issues instantly. However, to conclusively repair damaged video using the platform, follow the steps as shown below.
Step 1 Change the file format of the corrupt .MP4 file to .AVI by renaming it.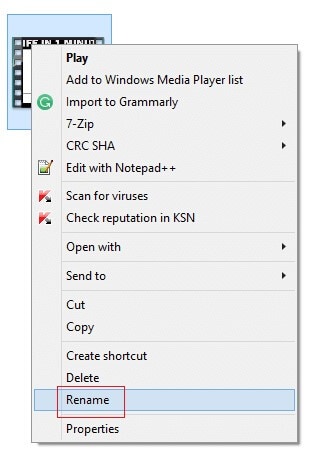 Step 2 Open the File using VLC Media Player.
Step 3 Access the option of "Preferences" from the drop-down menu opening after clicking "Tools."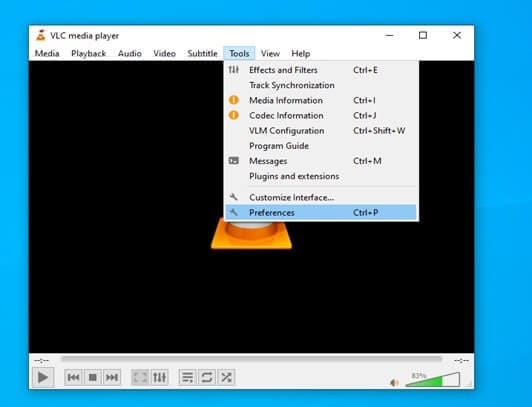 Step 4 Select the button representing "Input/Codecs." This will lead you to another window where you are to change the option of "Damaged or Incomplete AVI file" to "Always Fix." Save your changes and run the video.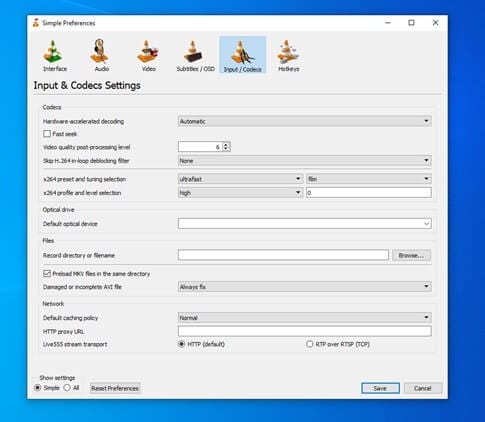 Part 3: Ways to Repair .AVI Video File
Previously, we have stated the major reasons that damage the structure of the video files. The process of repairing damaged .AVI video file involves many different mechanisms that can be adapted according to the consent of the user. Fixing .AVI video files are considered compelling since its problem usually roots in the index.
There are a few methods that can be considered while repairing damaged video files. These methods involve a set of programs that have proven their worth over time.
1. DivFix++
This platform has proven its worth with the explicable performance shown with handling damaged video files. It instantly repairs files over the use of single buttons, where it allows the user to keep both the original version of the file and the repaired file.
The corrected version is easy to recognize since its thumbnail appears on the front after using DivFix++ for fixing its bug.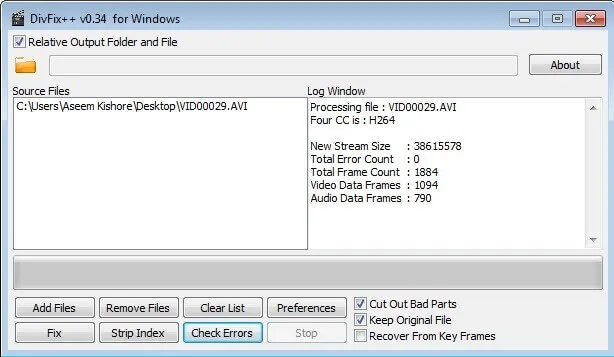 2. VLC Media Player
VLC has stood out to be counted among the best open-source video players that provide a keen environment in repairing the index of .AVI video files. The process of fixing a video file follows a set of changing different settings, which temporarily fixes the bugs present within the file and has it played automatically.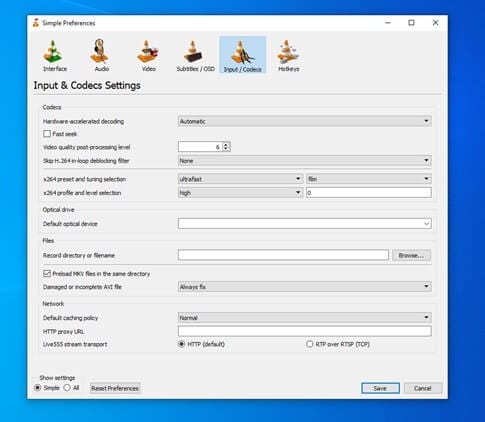 3. Remo Repair AVI
This is another platform that has proven its worth in repairing damaged .AVI Video file. The process that involves fixing the file is detailed with Remo Repair since it involves changing the extension of the file by accessing the local directory for the Remo Repair's folder.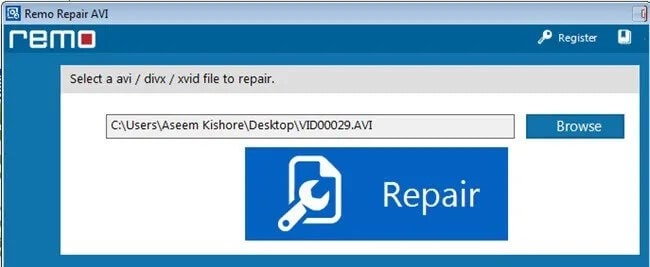 Part 4: How to Repair .MTS Video File
Getting a video file damaged is not acknowledged by many users where they usually seek to re-download or re-record it instead of repairing the damaged files.
Fixing .MTS video files are also possible through VLC Media Player, which follows a simple procedure described as follows.
Step 1 Initially, open the VLC Media Player and access the drop-down menu by clicking "Media." Select the option of "Convert/Save."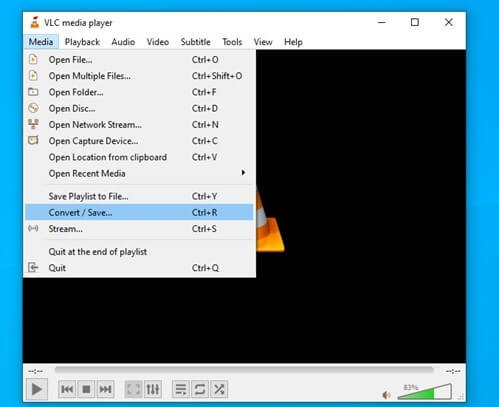 Step 2 This opens a conversion window where you browse and import the corrupted .MTS video file. Click on the button showing "Convert/Save."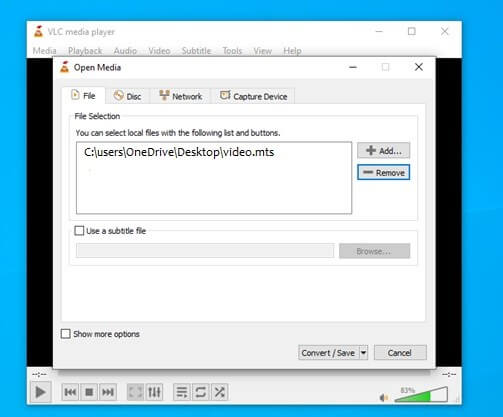 Step 3 After saving the video file in another extension, open "Preferences" from the "Tools" tab.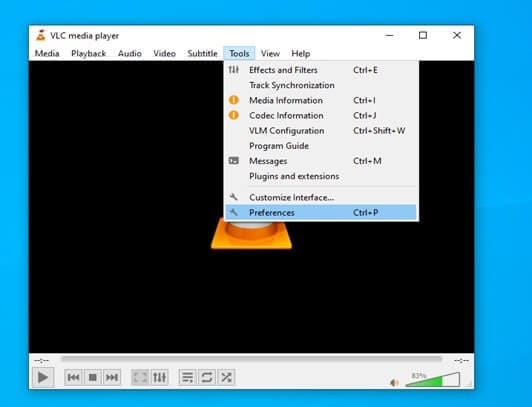 Step 4 Select the section of "Input/Codes" following the sub-section of "Damaged or Incomplete .AVI file". You have to change the option to "Always Fix" and click on Save. The file imported and played is automatically repaired.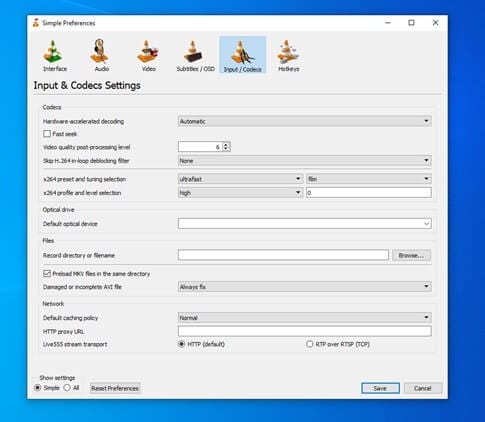 Part 5: Damaged Video Repair Software Recommendation – Recoverit
[Recommend]
While considering the long list of options available for recovering corrupt video files, this article intends to present its users with a very concise set of options to ponder upon while countering the major issue.
Recoverit is a state-of-the-art data recovery software designed to impart its role as an all-in-one recovery preference. It provides a platform for repairing 1000 versions of file types and help users recover their data from crashed desktops.
Recoverit presents a perfect environment for recovering all kinds of damaged data with its advanced set of features.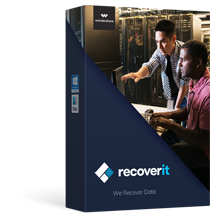 A Life Saver in Providing State-of-the-Art Features in Recovering and Repairing Files
Video Repair provides a state-of-the-art environment to its users by solving all kinds of issues with their video.
You can simply repair your video by performing both Quick and Advanced Repair with single clicks.
This platform has the capability of fixing videos corrupted by malware or faulty applications.
You can upload all kinds of videos recorded from any specific device and have it fixed.

2,965,271 people have downloaded it
For repairing damaged video files, Recoverit follows a very simple and adaptive procedure which is described as follows:
Step 1 Open Video Repair
After launching the platform, select the "Video Repair" option, followed by the "Start" button to enter the specific environment.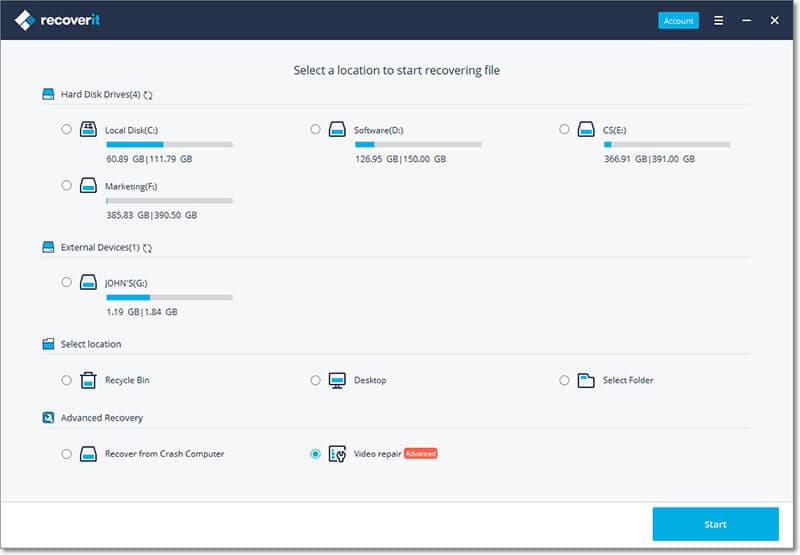 Step 2 Import Files
With a new window on the front, select the "Add" button or the center screen option for importing single or multiple files from the computer.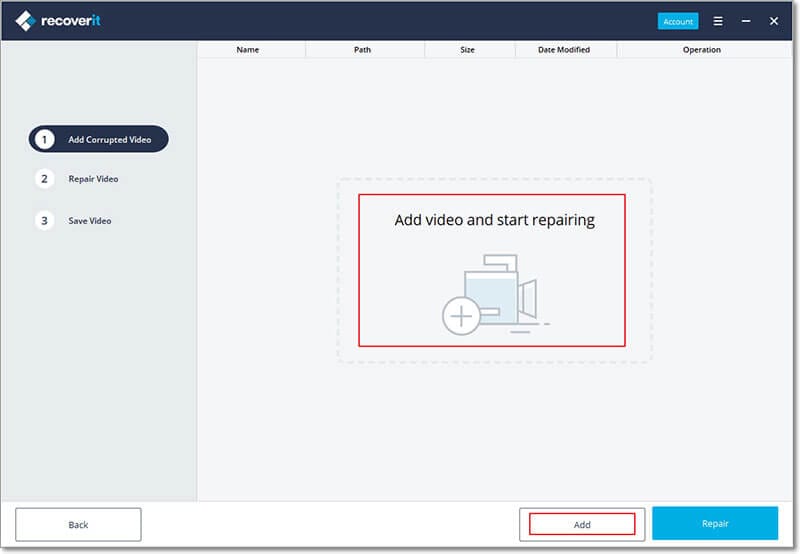 Step 3 Save Video
The repairing process automatically elapses. The user can easily preview and then save the video in the local directory. You can access the "Advanced Repair" option over unsatisfactory results. The process automatically concludes, similar to a simple repair process.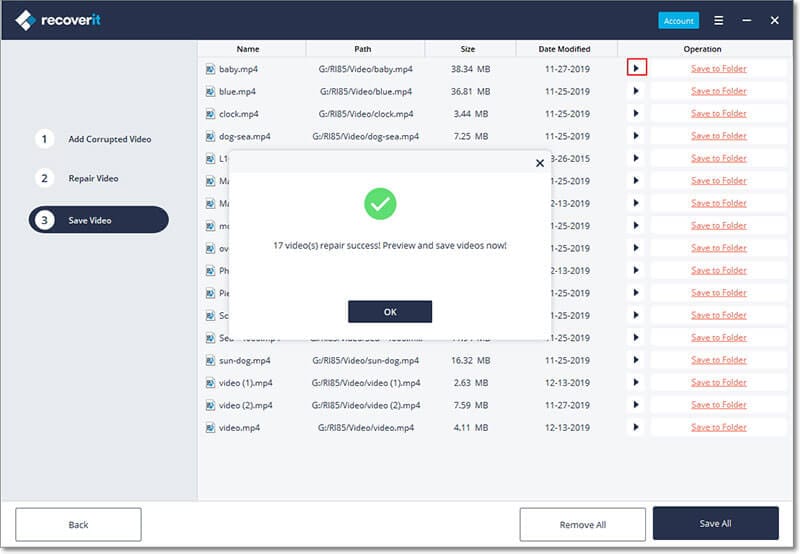 Since this article has explicitly mentioned the list of options available for repairing damaged videos for free, three free damaged video file repair software would be taken into consideration and compared.
1. Digital Video Repair Free Tool
This platform is known for supporting the major video file formats, including .MOV, .MP4, and .AVI. It easily repairs all the broken video files under simple clicks. This platform is known to support files greater than 2GB in size. It allows simultaneous fixing of video files.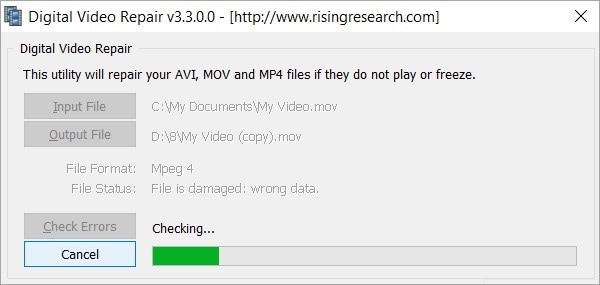 Pros: Digital Video Repair fixes all kinds of popular video formats within a few clicks.
Cons: There is no proper preview of video files available in this software.
2. Repair Video Master
Repair Video Master is another freeware for repairing damaged videos that amend all partly or completely damaged video files with its one-click function. It has a restricted video size of 2GB in its free version. However, it covers the process with considerable speed.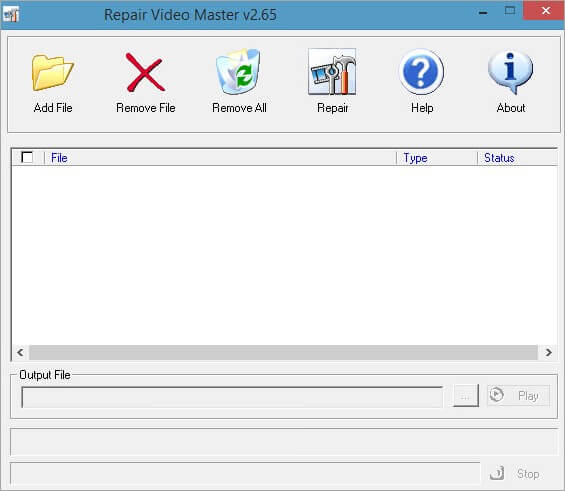 Pros: It repairs all kinds of damaged, corrupted, or broken video files.
Cons: This software is only compatible with Windows.
3. VLC Media Player
VLC Media Player has proven its worth as an explicit video player and video repair software with its open-source structure. It provides a considerate environment in repairing all corrupted files non-functional due to unknown reasons. This platform is compatible with almost all kinds of OS.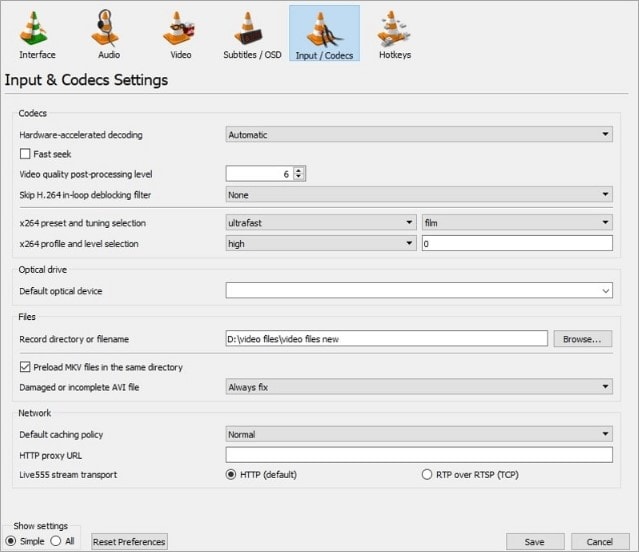 Pros: This platform is completely free of cost, with no ads and spyware.
Cons: Only supports .AVI file repairing.
Conclusion
This article has discussed different methods of repairing damaged video files. However, considering the options available for users without any settled cost, Recoverit intends to provide the most culminating environment to recover damaged videos without breaking a sweat.