"How do I change my Pokémon Go Location?"
"Can someone help me find a legitimate GPS location spoofer to fake my Pokémon Go location?"
"I want to change GPS location on Pokémon Go without stepping out, but can't be able to find a working app for the same!"
While making the base with these questions, this tutorial will teach you the ultimate three ways on Pokémon Go spoofing for iOS. If you also want to hatch more pokémon eggs without stepping out of home, stick to the article till the end and find out some legitimate ways on the query. Well, the Pokémon Go is somewhat strict for such cheaters. So, it becomes more than necessary to go for practical as well as reliable ways and do Pokémon Go spoofing iOS without jailbreak.
Here we got 3 Ways to Change location in Pokémon Go, we'll go by describing each of the three ways in a simple yet understandable manner.
Part 1: Fake Pokémon Go GPS Using Virtual Location.
The steps may be quite comfortable in Android, but when it comes to the iOS platform, it's a challenging task. Fortunately, we have an excellent Pokémon Go spoofing iOS app named dr.fone, which has an option called 'Virtual Location,' for the purpose. It makes the procedure quite easy, and stimulates moves on the path effectively.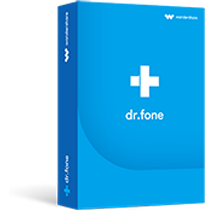 Download dr.fone - Virtual Location(iOS) to have a try!
Best GPS changing app for iPhone.
Make iPhone users feel comfortable when using this app.
Change GPS directly and easily.
3,232,659 people have downloaded it
Given below are some steps to do the process.
Simple steps to change GPS location via dr.fone- Virtual Location (iOS)
Step 1 Install dr.fone app.
First of all, install the official dr.fone app by heading towards its official website. Make sure to download it as per your OS version. Simply tap the 'Install' button and afterward connect your iPhone with the PC.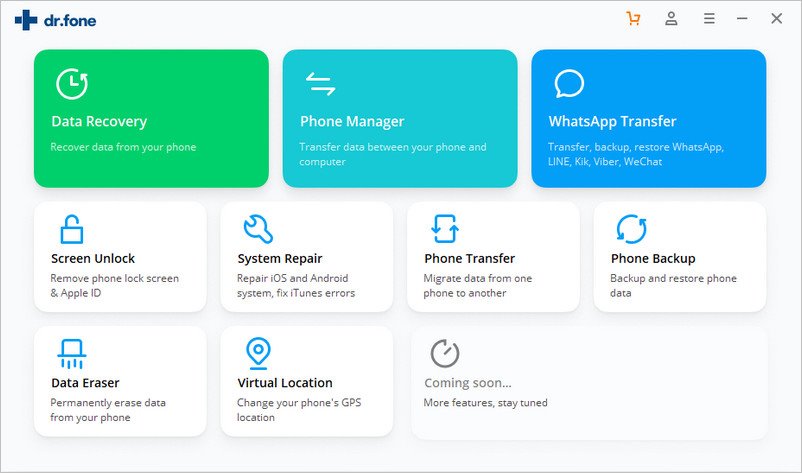 Step 2 Change location.
This step is on Pokémon Go spoofing for iOS using the 'Virtual Location' tab. It is present on dr.fone's home screen, which just opens the new window after you tap it.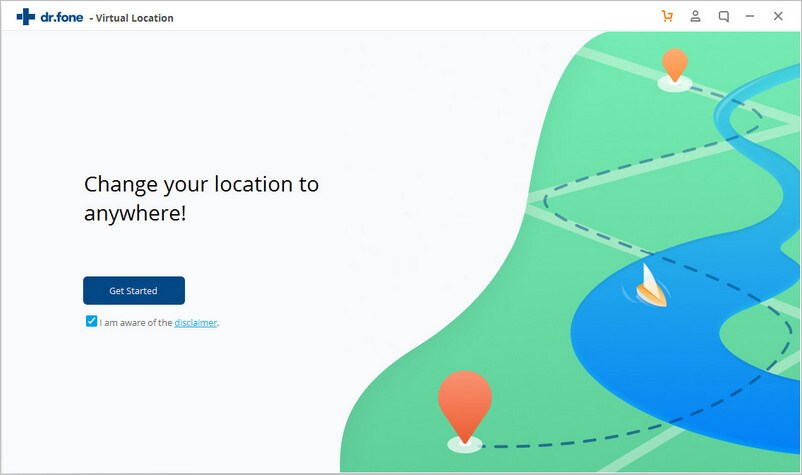 Step 3 Select your fake location.
Using the 'Get Started' button, simply choose your fake location on the map view of the app. From the third option in the line of icons, select 'Teleport' as it's enough for making required changes. You can either enter the desired address in the text box or tap any desired spot on the map view.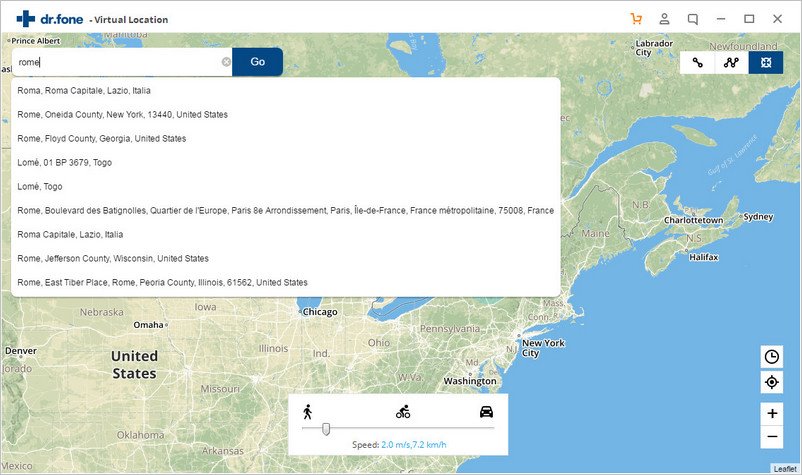 Step 4 Fake Pokémon Go location on your iPhone app.
After making the required changes in the location and confirming it, now it's high time to change or fake your GPS location on the iPhone map itself. Open its current location and view the set virtual location as an existing location. So, this has been done automatically by the dr.fone app, which you can further use as Pokémon Go location spoof.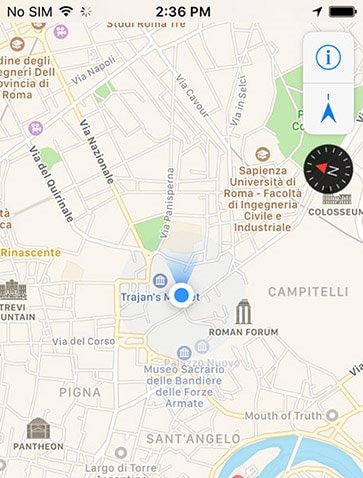 The dr.fone app comes with two modes of movement stimulation. It can be implemented with virtual moves within desired spots on the map's virtual location while playing the game.
The first mode helps you to move within two spots. You can also type in the destination that you want to go to the search bar, and then start moving.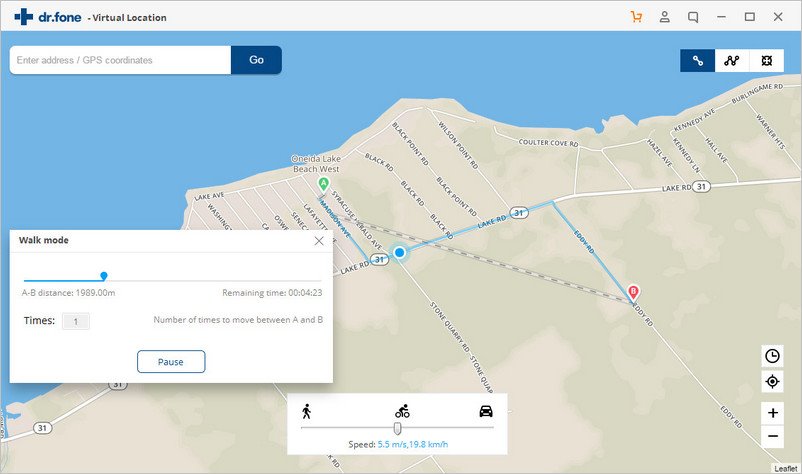 Its second mode assists you to move between multiple spots on the map. You can go to one place first, then type or choose the second place, which is to satisfy your multiple choices.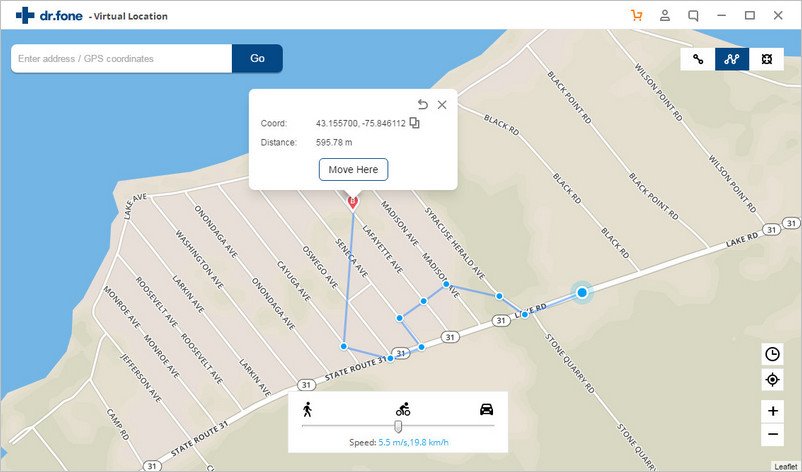 Part 2: Pokémon Go spoofing on iOS Devices Using a VPN
Virtual Private Network hides the original IP address of the device. Therefore, it's an intermediate entity that lets you access the internet with a virtual private address. You can use various readily available VPN apps to change locations such as Express VPN, Nord VPN, IP Vanish, Hola VPN, Pure VPN, and so on.
Well, you have to be very careful while selecting VPN network apps. It's better to first consider a free trial version of any ios VPN app before purchasing its premium version. You can go for Nord VPN as one of the most legitimate apps that will help Pokémon Go location spoof your GPS location. Follow the steps given below to complete the process:
Step 1 Install the Nord VPN app.
Go to the App Store and install the Nord VPN app on your ios device. Firstly, close the Pokémon Go app and do not run it in the background.
Step 2 Create an account and select location.
After launching the Nord VPN app, first log-in to your user account. You can create a new account for that purpose. A map with a list of servers will show on the app. Tap the location of your choice and connect.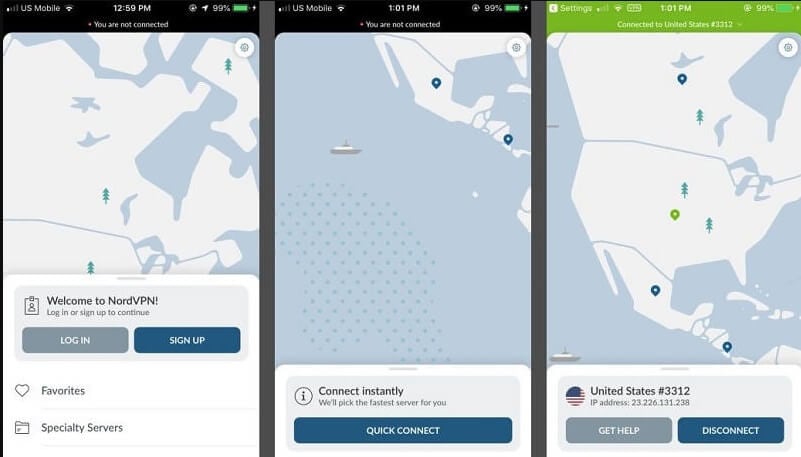 Step 3 Check VPN settings.
Alternatively, you can go and check for VPN settings to observe the list of available servers. Here, you need to simply choose the city or country of your choice and change location.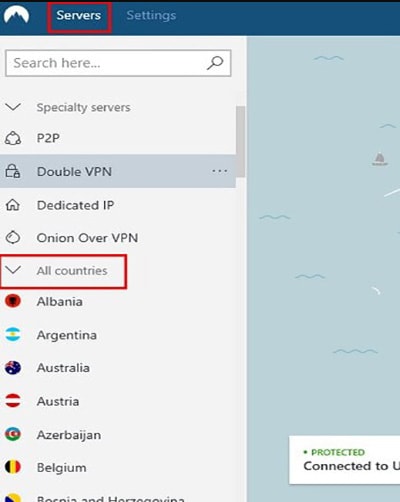 In this method, you can Pokémon Go spoofing iOS without jailbreak. It is wholly secure and helps prevent such Pokémon Go account suspension. The only cons with the way are that VPN apps are not free at all.
Part 3: Using the Pokémon Go Spoofing iOS App
In this way, we will recommend you to install another secure app called Pokémon Go++ to change the Pokémon Go location. The app is, however, not developed by Niantic but is an advanced version of its original app. It's a modified or tweaked version of the initial app with several benefits. You will need a third-party installer like Tutu or Cydia to get it.
Step 1 Install the Tutu app.
First, you need to unlock your jailbroken device and then download the latest version of the Tutu app on your ios device. You can find it on the App store as a tweaked or modified ios app for jailbroken devices.
Step 2 Launch Pokémon Go++ app.
After installation of the Tutu app, look for and launch the Pokémon Go++ app. Before the installation of this app, make sure to uninstall the Pokémon Go app from your iPhone.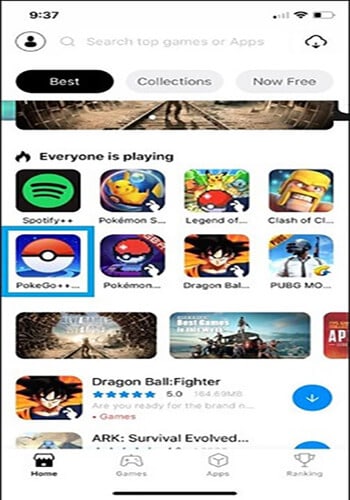 Step 3 Install app and grant permissions.
To install the Pokémon Go++ app, simply tap the 'Install' button. After that, grant the required permissions for completing the installation.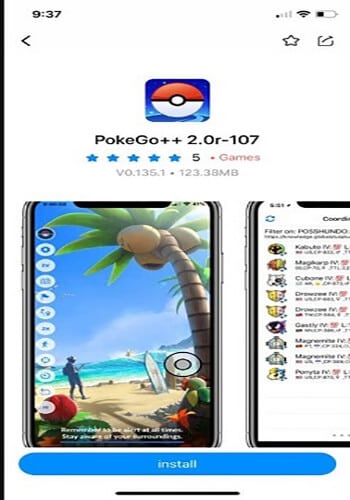 Step 4 Change location.
Well, this Pokémon Go spoofing iOS app requires jailbreaking your iOS device. Launch the Pokémon Go++ app after its installation. First of all, log-in to your Pokémon Go account. Check its settings and change the location by turning on the 'Fake Location' feature. You can also have a radar feature to pinout a new site on its map view.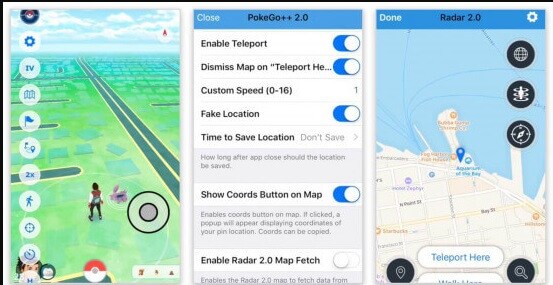 You can switch location multiple times while using the native interface of Pokémon Go++ without any difficulty. All in all, this advanced version of the original app is simple to use.
But you have to suffer from some limitations while using such apps. It requires jailbreaking your ios device and contains a great fear of your Pokémon Go account suspension. So, we recommend using this app on your risk. If you want more recommendations on the spoofing app, please check this article-- Pokémon Go Spoofing: How to Fake GPS of Pokémon Go.
Conclusion
So, these were the top 3 ways to pokemon go location spoof. Well, the third way is a bit annoying because of the high risk of account suspension. However, it's essential to compare all three ways before making any decision.
Way 1 (dr.fone software)

Way 2 (VPN)

Way 3 (Pokémon Go++ app)

Pros
• Effective app
• Easy to change location
• No jailbreak
• Safe and prevent Pokémon Go account suspension

• Simple to use
• Effective
• Advanced version
Cons
• No cons
• Not freely available
• Requires jailbreaking
• May suspend your account

So, consider these points before you decide on the method of Pokémon Go location spoof. Try dr.fone - Virtual Location (iOS) first!