"I am from India, and I downloaded Pokémon Go, have tried playing it in vain. There is no Pokémon close by."
"I can't navigate easily. I can't find any Pokémon or Pokestop near me, can you help? I am from India."
The above are samples of the Pokémon players trying to play and enjoy the game hard. The solution to such problems is Pokémon Go spoofing.
Unless you live in a big city, otherwise, finding Pokémon, Pokestops and gyms can be nerve-wracking. Fortunately, in today's world, there is a solution to every technical problem. Pokémon Go spoofing on iOS and Android is here to help you enjoy the game better by enabling you to lie about your real location.
However, Pokémon Go spoofing is cheating and illegal. Hence, while reading on and using Pokémon Go spoofing on iOS/Android hacks in this article, your account is liable to get suspended and banned from playing Pokémon by Niantic!
Part 1: 5 Spoofing Apps for Pokémon Go on iOS Devices.
In this part of the article, we shall look at the best five applications to spoof Pokémon Go on iOS to help you get more Pokémon and get to the top in the game. You realize this hack lets you win without breaking a sweat, literally! Scroll on.
1. dr.fone – Virtual Location (iOS)
Being a desktop software, you will be required to connect your iPhone to the computer to use it. This application is a foolproof way to spoof the Pokémon Go location with no security worries when you use it smartly. To fake your area, you can do so with a single click or feign movement between two or more spots using the Pokémon Go spoofing iOS solution.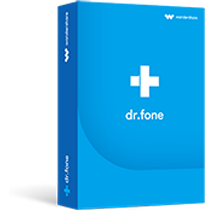 Download dr.fone - Virtual Location(iOS) to have a try!
Change iPhone GPS to anywhere you like.
Create routes on the map or simulate the moving like you're walking.
Cycling and driving within a few clicks.
3,132,659 people have downloaded it
This Pokémon spoofer is intuitive and undetectable by Pokémon Go, thus very secure and reliable, i.e. you won't get caught cheating. It can be accommodated on most iOS machines and does not require you to jailbreak your device for effective working. The only downside to dr.fone – Virtual Location (iOS) is that there is just a free trial version available.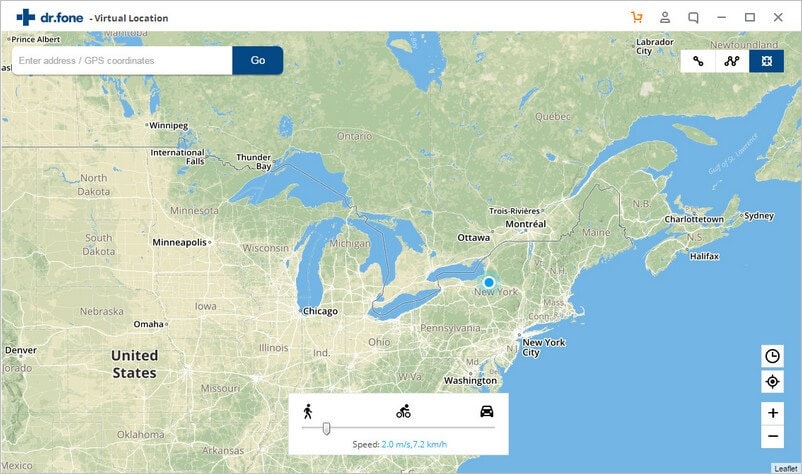 2. iTools by ThinkSky
Next in line is this iPhone handy tool featured by ThinkSky that is incorporated with a myriad of features to help keep your gadget functioning exceptionally. Just like the first app in this list, it needs no jailbreaking and is a desktop application, meaning you can't install it on your iPhone. Once you connect your iPhone to iTools on your desktop, you can then effortlessly spoof Pokémon Go in iOS using the Virtual Location function.
iTools works on a global scale and is very easy to use. To get started, simply launch the map interface, and select the desired location and the simulations picks. It is compatible with the most popular iPhone models with iOS 12 and earlier versions. In case you are looking to use it to change locations more than three times, you will have to subscribe to a premium plan costing $5/month on the low.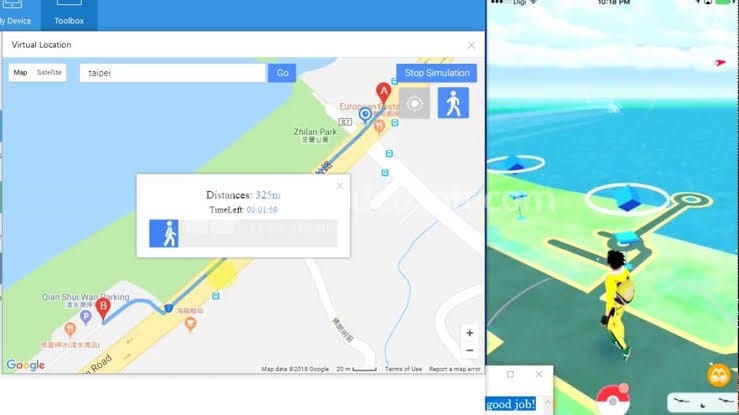 3. iPokeGo for Pokémon Go
This app is created to be used solely with Pokémon Go and allows you to access more amazing features, available freely and paid, to make your gaming experience sensational. Among its cool features is one that lets you alter the radar orientation on your iPhone, thus making it a fantastic Pokémon Go spoofer on iOS. It is super easy to operate and allows you to update your location manually through the radar feature. It also shows/hides Pokémon, gyms, servers, and spots. You don't have to jailbreak your device to install it.
With iPokeGo, you can choose to follow an existing way, work on alternative servers, walk or run in the background, enable different themes, and a lot more to customize the game to your taste. However, the chances of getting away with cheating, when you use this software to spoof Pokémon Go on iOS, are very slim, and your account can quickly get shut down. You will never be able to play Pokémon on that account ever again.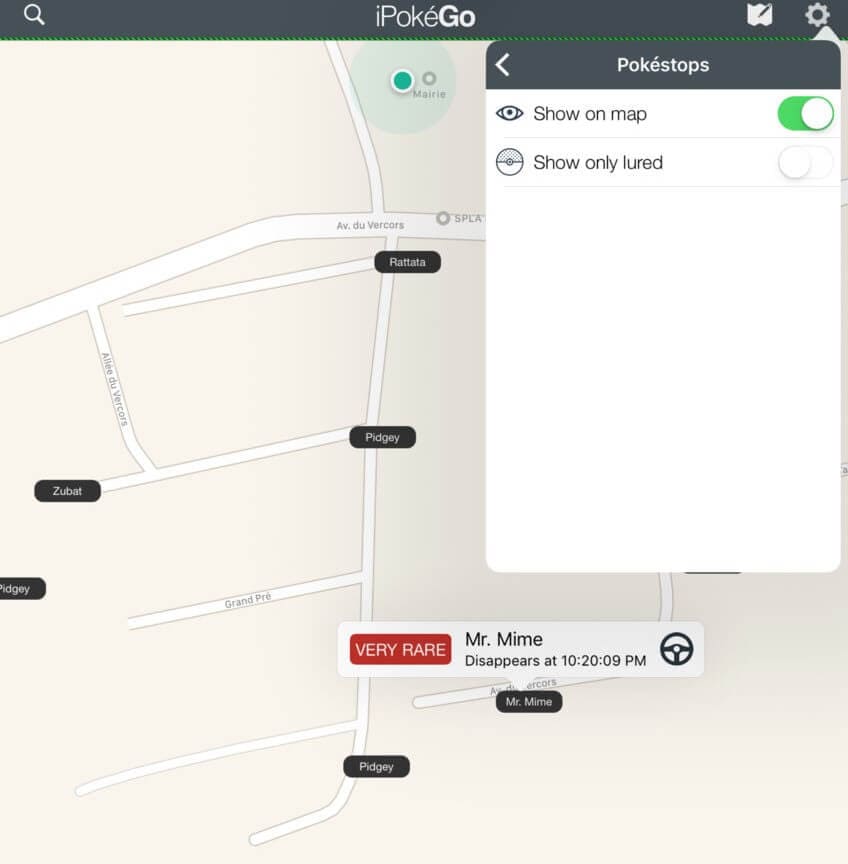 4. iSpoofer
This application is uniquely designed for use on Windows computers only. So, to be able to feign location on Pokémon Go on iOS, you have to connect your device to the desktop using the iPhone/iPad USB cable. It eliminates the trouble of jailbreaking your iPhone, thus helps preserve the originality of your phone. iSpoofer is very useful in faking the whereabouts of your device by manually altering its location according to your preferences.
You'll get a robust privacy policy, and it is incredibly secure. You can rest assured and you won't get caught when you use iSpoofer to mock Pokémon Go on iOS since Niantic is unable to detect its presence. All devices running up to iOS 12.3 are compatible with iSpoofer software, which has a premium plan of $12.95 quarterly.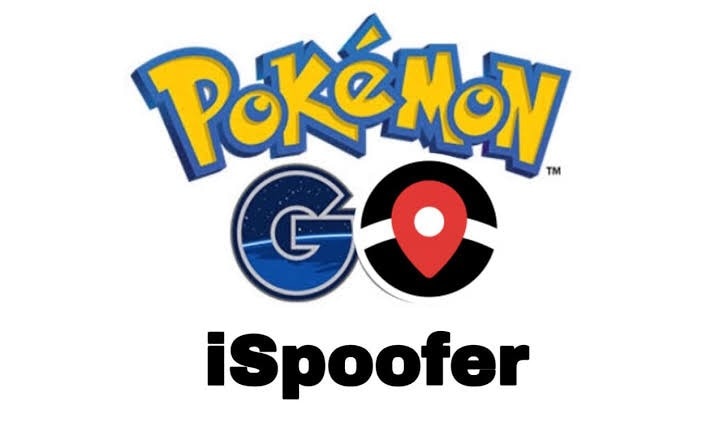 5. iOS Roaming Guide
Last but not least in our list is the iOS Roaming Guide app. It is ideal for those who can't access a computer to perform iOS spoofing on Pokémon Go tasks. It is instrumental and will allow you to tweak your location easily without sweating it. Just drop your pin or search for the desired location from the app's search bar. This application is available for use freely and lets you pin your favorite spots.
There is a catch, though. You have to jailbreak your iPhone first before getting it. You can download it from Cydia or any other known third-party app store. Furthermore, frequent use of this app to spoof Pokémon Go on iOS makes your profile vulnerable to being suspended or banned. You have to be very witty when using iOS Roaming Guide to simulate locations.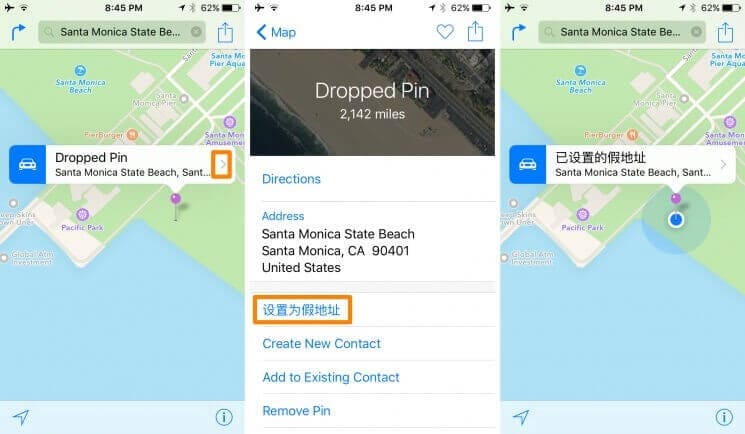 Part 2: 2 Ways to Spoof Pokémon Go on Android.
Next, we look at two methods you can use to spoof Pokémon Go on Android gadgets. Here, we not only list the ways but also guide you on how to go about the spoofing process with clear and straightforward steps.
1. Change Location in Pokémon Go using a VPN
Since Pokémon Go started tracking their servers strictly to fish out players whose location does not correspond to their gadgets' GPS coordinates, one has to be very careful when it comes to spoofing Pokémon Go on Android. Here a VPN comes into play.
A VPN used together with GPS spoofing software protects you from getting caught via IP address identification. Your online activity is hidden, and you can securely alter your location in Pokémon Go on Android.
Step 1 VPN registration. You are first needed to select a VPN and sign up for the service.
Step 2 Installing VPN. Download and have the VPN installed on your Android phone from Google Play.
Step 3 Launch the VPN. On your Android phone, turn on VPN and select a server in the desired location to find Pokémon.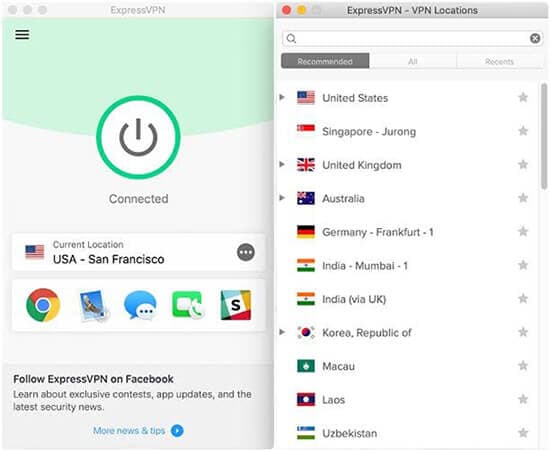 Step 4 Play. You can now launch your Pokémon Go game and carry on with looking for Pokémon in a new location.
2. Using a Spoofing App
An alternative way to spoof Pokémon Go in Android is by use of an application developed for precisely that purpose. Such apps are available in plenty, freely, and don't require rooting before installation. We shall use Fake GPS Go in this case. Let's get started.
Step 1 Settings. On your phone, find Settings and tap on "About Phone".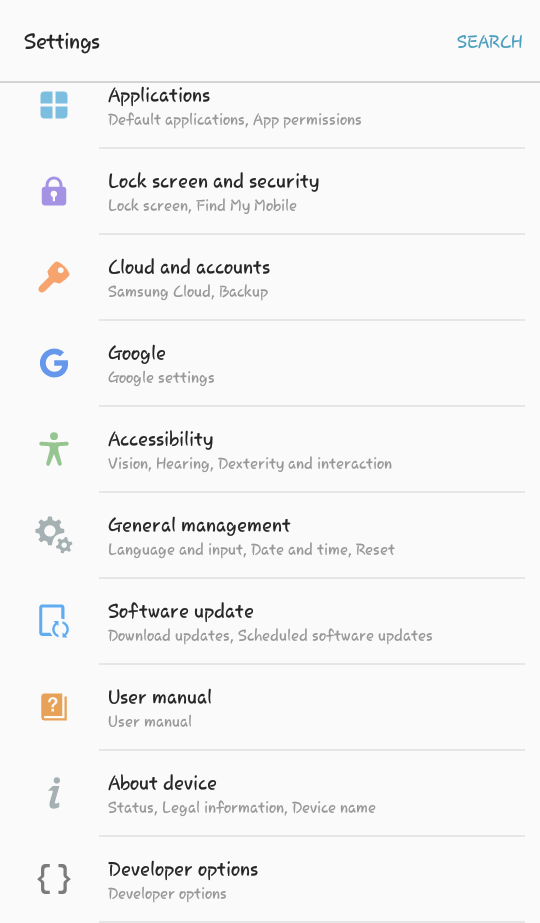 Step 2 Build number. Select "Software info", then tap on "Build number" seven times to launch "Developer Options" on your Android.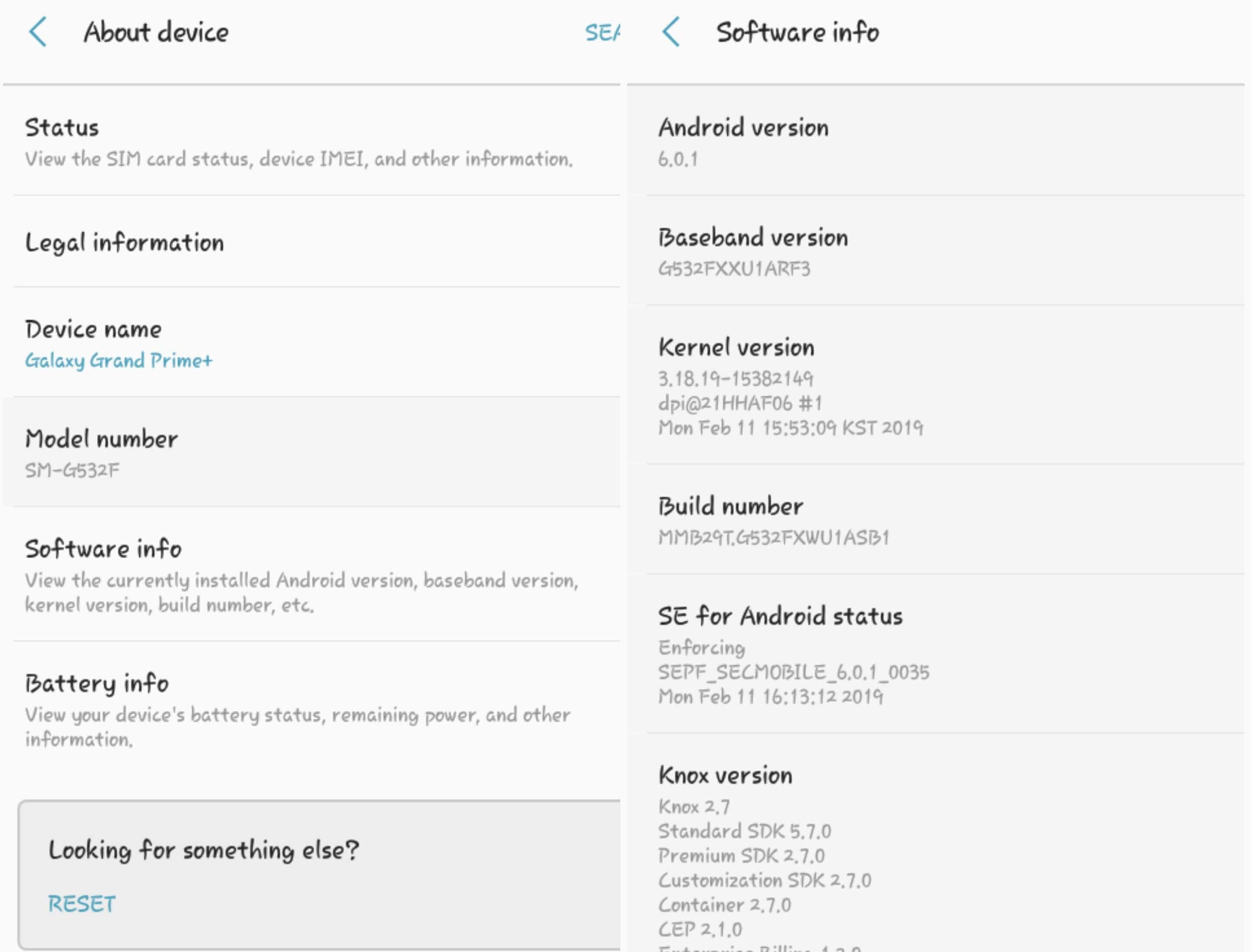 Step 3 Get a fake GPS location software. Next, in the Play Store, search for and download the fake GPS location application.
Step 4 Developer Options and Mock Locations App. Skim back to "Settings" and select "Developer Options". Then, tap on the "Mock Locations App" and choose "Fake GPS Go". Allow the app to alter the location of your Android by granting appropriate access.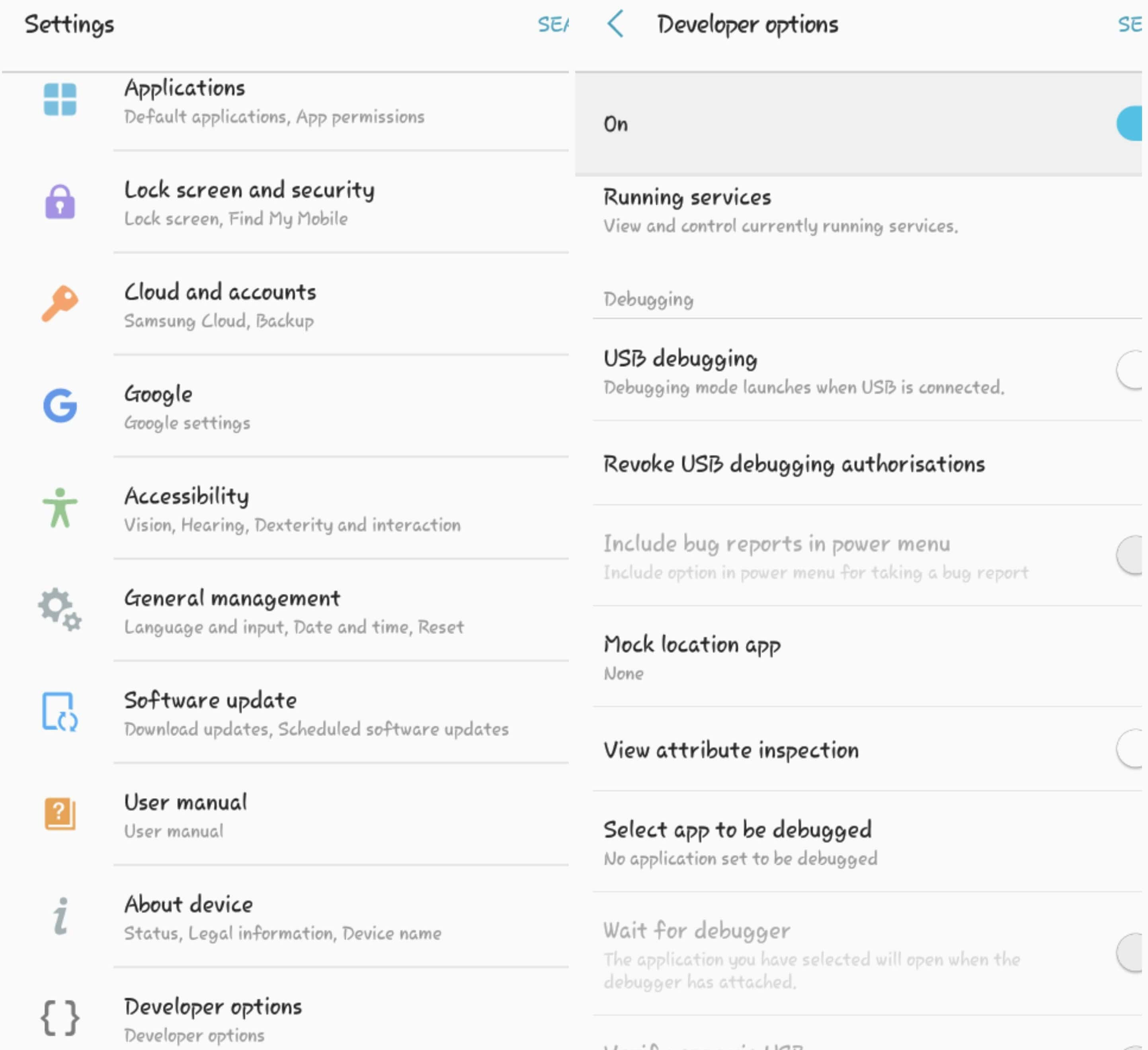 Step 5 Choose location and play. Finally, start up the application and manually input the desired location. Then fire up Pokémon Go and go about finding some Pokémon in the new area.
Step 6 Close the "Fake GPS Go" app.
Before playing, make sure you close Fake GPS Go to avoid it be detected by Pokémon Go and ruining your chances of ever playing and finding your favorite Pokémon.
It doesn't mean the spoof app stops masking your location, nope. It keeps running in the background and becomes useless only when you manually launch and stop the location simulation feature.
Conclusion
To pen off, I believe this article has given you some insight on Pokémon Go spoofing and how to go about location feigning in Android and iOS devices using listed applications and steps. While at it, make sure you are confident of the Android and iOS versions of your gadgets. Before trying out any method, check to see if it requires you to jailbreak your phone.
As much as spoofing helps you get better access to Pokémon, Pokespots, gyms, and servers, it is wrong and could waste your profile in the long run. If you can't be smart at Pokémon Go spoofing, stick to the genuine way of playing the game or try dr.fone - Virtual Location (iOS) to help you change GPS location easily. Enjoy!