Can somebody tell me how to back up and restore WeChat Messages?
I want to backup and restore WeChat messages but it seems when I restore WeChat chats to a new phone I have to restore WeChat data one by one?
- From a user.
WeChat is one of the most popular social IM apps there, which is actively used in numerous parts of the world. It is one of the few apps with a total monthly user base of over 1 billion. If you are also a regular user of the messaging platform, then you must have had a query like this as well. When we move from one phone to another, we often end up losing our chats. An unexpected smartphone problem can also cause the loss of WeChat data.
To avoid these situations, it is recommended to conduct WeChat backup to a secure location. In this way, you can later restore WeChat data and retrieve your chats on the same or another device. Thankfully, there are different ways to do this. In this guide, I will share different ways to backup and restore WeChat chats like a pro.
Part 1: How to backup WeChat chats to computer
This is one of the easiest ways to backup WeChat on your PC. Once you have stored the backup of your chats on the local system, you can easily restore WeChat data back to your Android device. To do this, you need to take the assistance of WeChat's desktop application. One of the best things about WeChat is that it supports a wide range of platforms like Android, iOS, Mac, and Windows. The desktop application can be used to backup and restore chats easily.
Backup WeChat to a Computer
In order to backup WeChat messages on your computer, you can simply follow these steps:
1. Go to the official website of WeChat and download its desktop application on your Windows or Mac.
2. Launch the WeChat application and log-in to your account.
3. Once the application is launched, go to its left panel and click on the hamburger icon (at the bottom left corner of the interface).
4. From the list of the provided options, click on "Backup and Restore".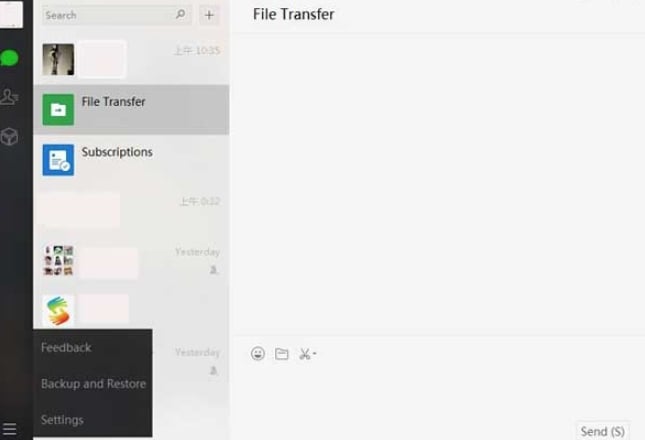 5. The interface will present options to either backup or restore your chats. Click on the "Backup on PC" feature to proceed.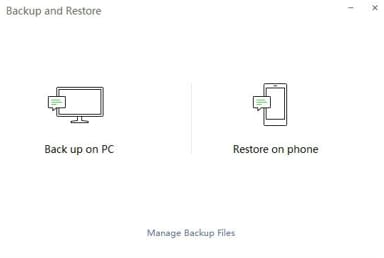 6. Simply select the chats that you wish to save. If you want to take a backup of all the chats at once, then just click on the "Backup All" button.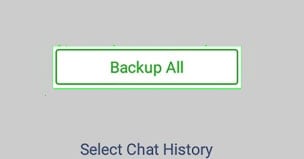 Confirm your choice and wait for a while as WeChat would automatically save your messages on the local system. Just be sure that both the devices are connected to a stable and the same WiFi network.
Note:
1. A downloaded WeChat desktop application (on Windows or Mac)
2. Your smartphone and desktop should be connected to the same and a working WiFi network.
Restore WeChat to phone
Following the same drill, you can also restore WeChat to the target device as well.
1. Launch the WeChat desktop application and go the left panel to select the Backup and Restore options.
2. Instead of taking a backup of your WeChat data, choose to restore it instead.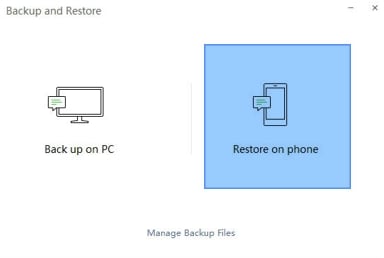 3. Select the conversations you want to get back. You can also select all chats at once as well.
4. In the end, just click on the "Restore" button and wait for a while as your chats would be retrieved back to your phone.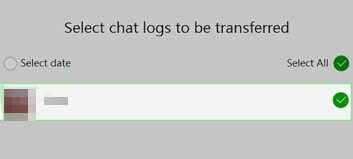 Part 2: How to do WeChat Backup via File transfer
Another technique that you can implement to do WeChat backup s is by using its native File Transfer feature. As you know, WeChat provides a web-based interface, which allows us to access our messages remotely on any computer. Therefore, you don't have to download the desktop application of WeChat on your computer for this solution.
While the method is quite simple, it can be a bit time-consuming. Unlike taking an entire backup at once, you would have to save individual messages. Here's how you can save your WeChat messages on any computer.
1. Launch any leading web browser on your computer and go to the WeChat for Web dashboard by visiting its website
2. Now, launch the WeChat application on your phone and select the WeChat for Web feature. You would have to scan the displayed QR code on the screen using your phone to connect both the devices.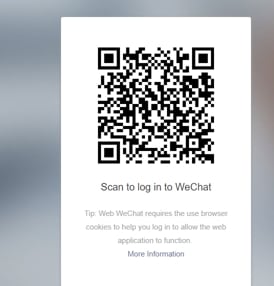 3. View and select the WeChat messages that you wish to save. You can also select the photos or videos that you want to backup as well. It enables the selection of multiple messages at once.
4. After making the appropriate selections, click on the "File Transfer" button on the your phone. From here, you can choose to forward these messages and files to yourself.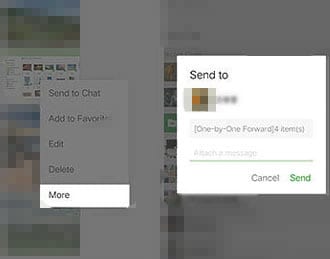 5. That's it! Once you have shared the attachments and messages to yourself on your phone device, go to WeChat's web interface and open the conversations.
6. From here, you can just select the shared data and save it to your computer by downloading it.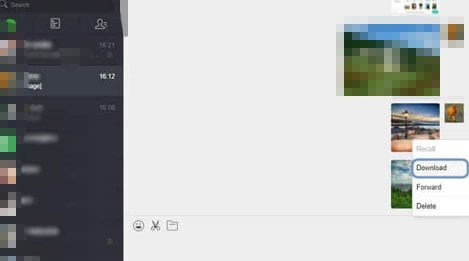 While this is a more time-consuming approach, you can selectively save WeChat data on your computer this way.
Part 3: How to Transfer WeChat to New Phone
This is probably one of the most useful features of WeChat that allows us to transfer WeChat from one device to another. For instance, if you have got a new phone and would like to move your WeChat messages and data, then this would be an ideal solution. While it won't maintain a dedicated backup on PC, it will help you migrate your chats to another device easily.
Notes
1. A stable and latest version of WeChat should be installed on both the devices
2. They should be connected to the same WiFi network
To migrate your WeChat data from one phone to another, simply follow these steps:
1. Launch WeChat on your source device.
2. If you have an Android device, then go to Me > Settings > Chat > Backup & Migration.
3. The iPhone users can go to Me > Settings > General > Chat Log Migration option.
4. Make sure that you have enabled WiFi for chat migration and select the chat transcript. This will display a QR code on the source phone.
5. Now, launch WeChat on the target device and log-in to the same account. Scan the displayed QR code and migrate the chats to your new phone.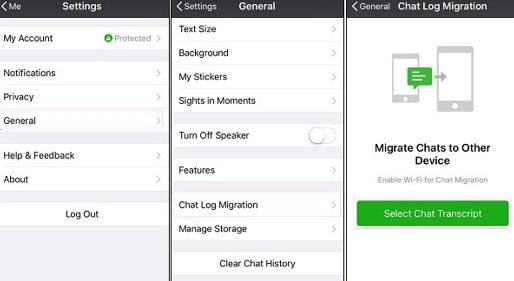 Part 4: The recommended software to backup and restore WeChat using dr.fone
If you are looking fo1r a hassle-free solution to backup and restore WeChat, then try dr.fone - WhatsApp Transfer. It is a dedicated solution to backup and restore popular social apps like WhatsApp, WeChat, Line, Kik, and Viber. With just one click, you can take a complete backup of your WeChat data on your computer. Later, you can preview the backup content and selectively restore it to the target device. This will help you save the storage on the device as well.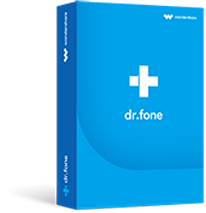 Backup and Restore WeChat Messages without Data Overwriting
Backup Wechat chat without overwriting the previous backups to keep your data intact
Restore WeChat to another iPhone/Android selectively
Restore WeChat messages without overwriting other data on target phone
Keep your WhatsApp data secure all the time
4,195,666 people have downloaded it
Backup WeChat to PC
1. Launch the dr.fone on your computer and connect your iOS device to it. Go to the "Restore Social App" feature from its home screen.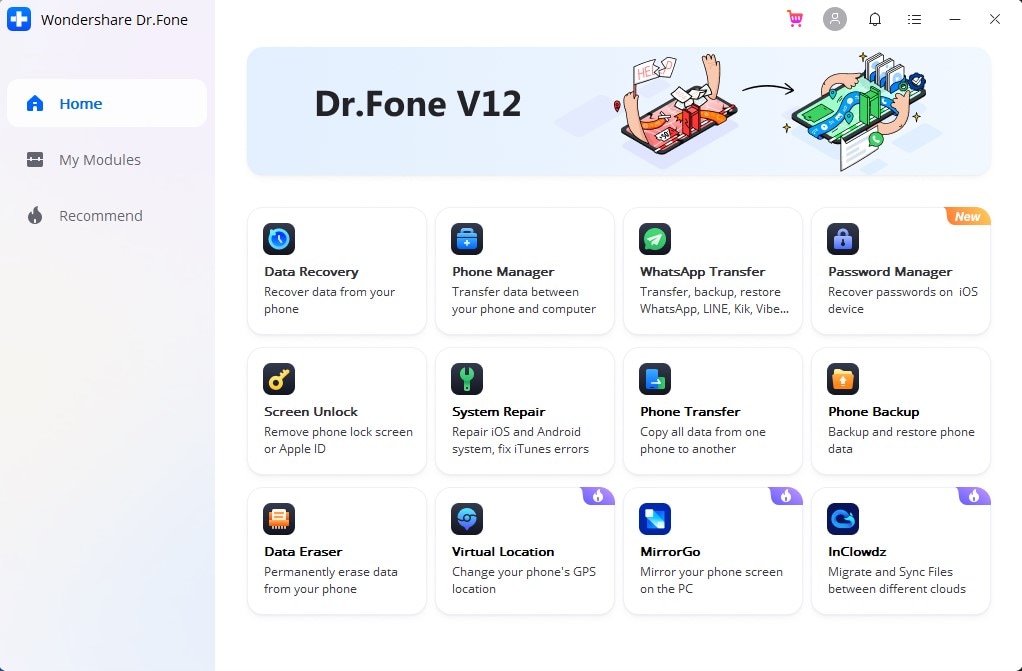 2. From the left panel, select the "WeChat" category and click on the "Backup" button to proceed.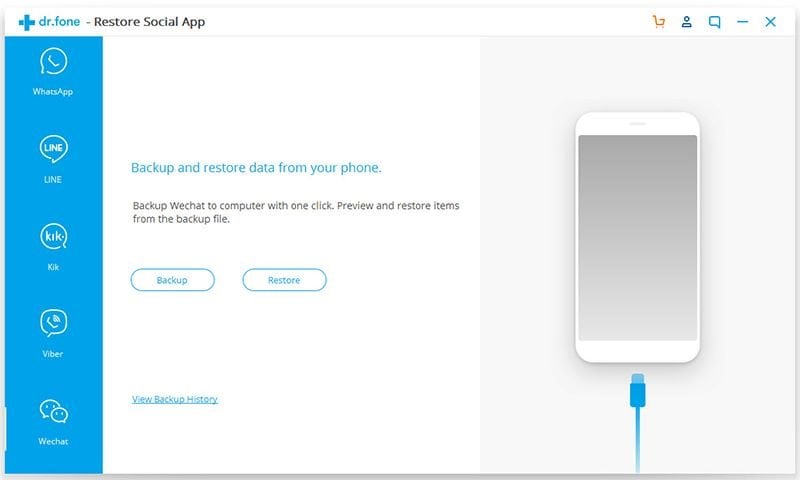 3. Since your device would be already detected, the application will start taking a backup of WeChat chats and media files. Make sure that the phone doesn't disconnect in the process.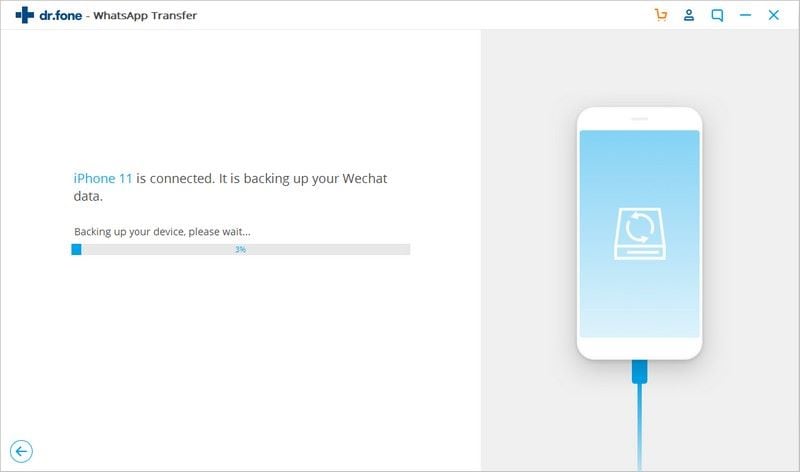 4. That's it! As soon as the process is completed, you will be notified. You can view the backup from here or can safely remove the device as well.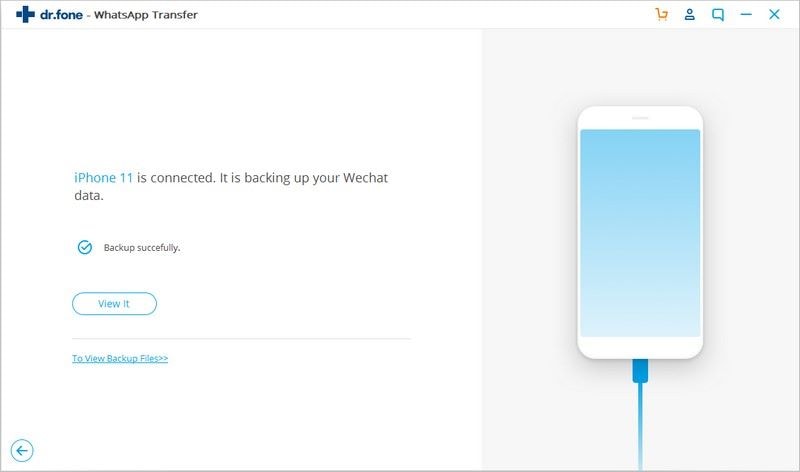 Restore WeChat data
1. Connect the target device to the system and launch the dr.fone on it. From its home, visit its Restore Social App feature.
2. Go to the WeChat tab on the left panel and instead of the Backup, click on the "Restore" button.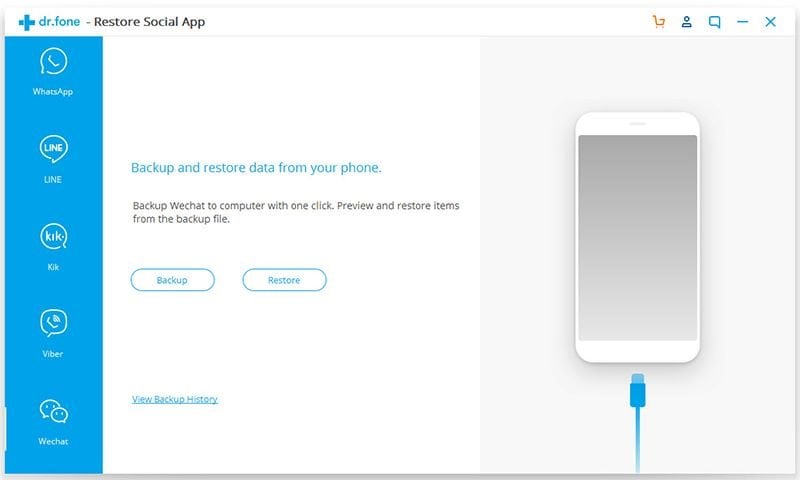 3. A list of all the existing saved backup files will be displayed with their details. Simply select the WeChat backup file of your choice to continue.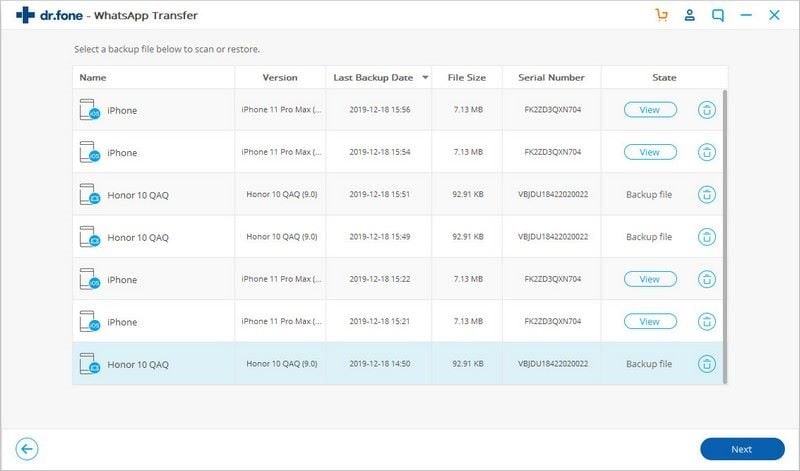 4. The application will automatically fetch the backup content and display them on the interface. You can preview the messages as well as the saved attachments here.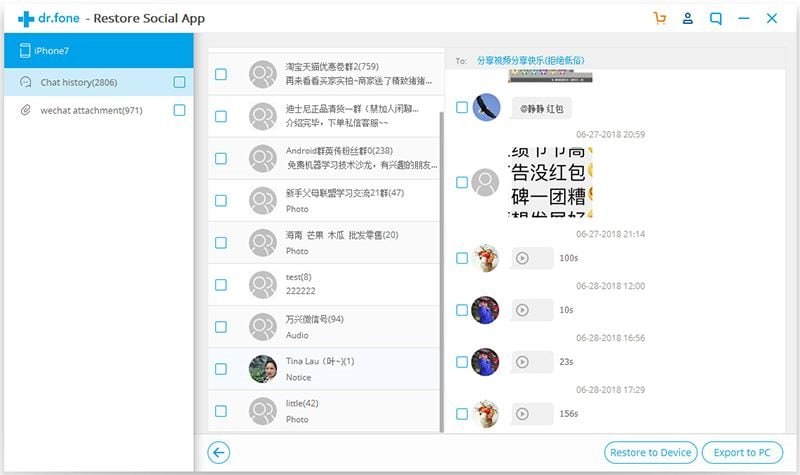 5. In the end, you can just select the content you wish to retrieve and restore them directly to the connected phone or the computer.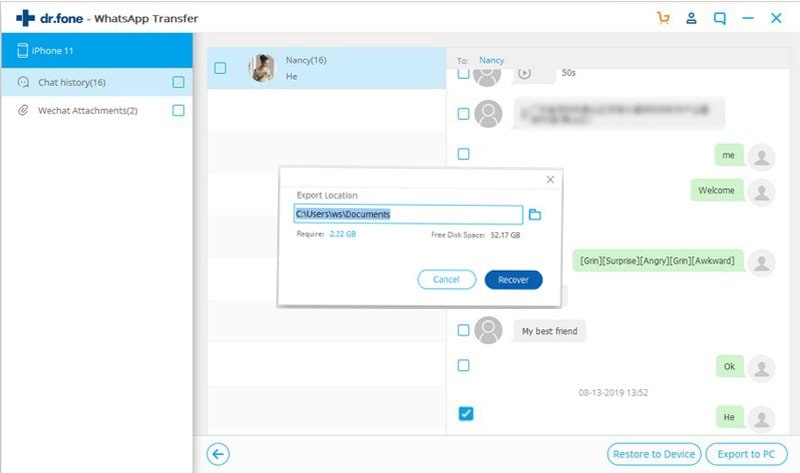 That's a wrap, folks! Now when you know not one, but four different ways to backup and restore WeChat data, you can easily keep your messages safe. By following these solutions, you can even save WeChat attachments as well. As you can see, dr.fone provides the best solution to backup WeChat and selectively restore it to any device. It can also be used to backup and restore other social apps as well like Line, WhatsApp, Kik, and Viber. Go ahead and try it.