Dr.Fone - WhatsApp Transfer
Handle WhatsApp Chats Easily
· Transfer WhatsApp Chats between iOS & Android
· Transfer WhatsApp Business Chats between iOS & Android
· Backup or Restore WhatsApp and WhatsApp Business
· Backup and restore LINE/Viber/Kik/WeChat Chat History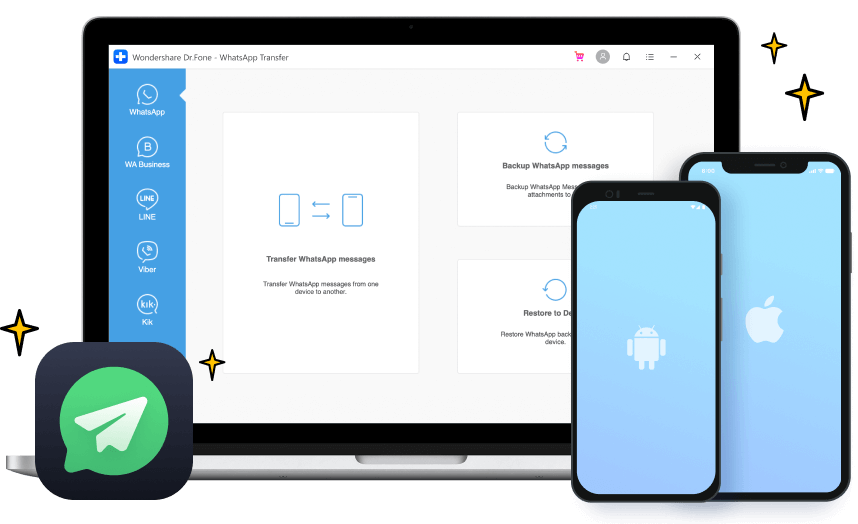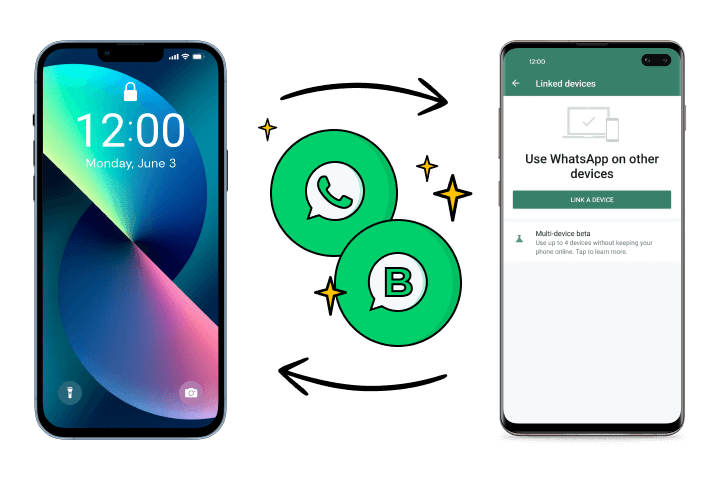 Transfer WhatsApp and WhatsApp Business Effortlessly
Suppose you want to change your old device with a new one. In that case, Dr.Fone can fully or selectively transfer your WhatsApp and WhatsApp Business chat history ( including attachments) between Android and iOS devices without data loss.
Backup WhatsApp and WhatsApp Business
Back up your WhatsApp and WhatsApp Business much more effortlessly. The backup works by itself after connecting your phone and performing one click. Besides, you can preview, check, and export any item to your computer as a PDF or HTML file.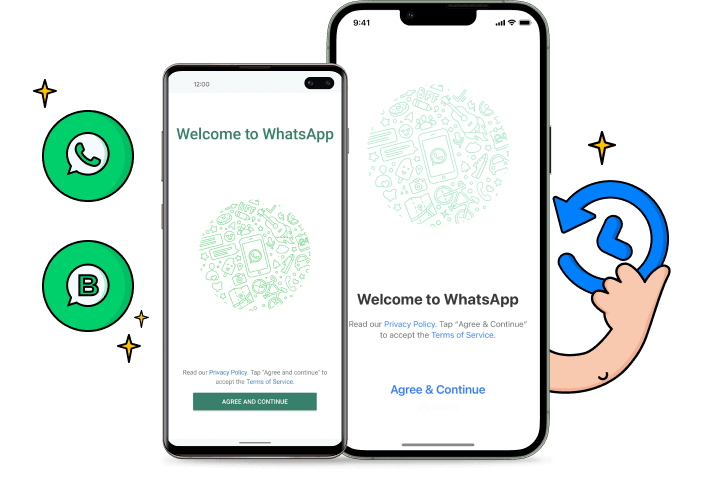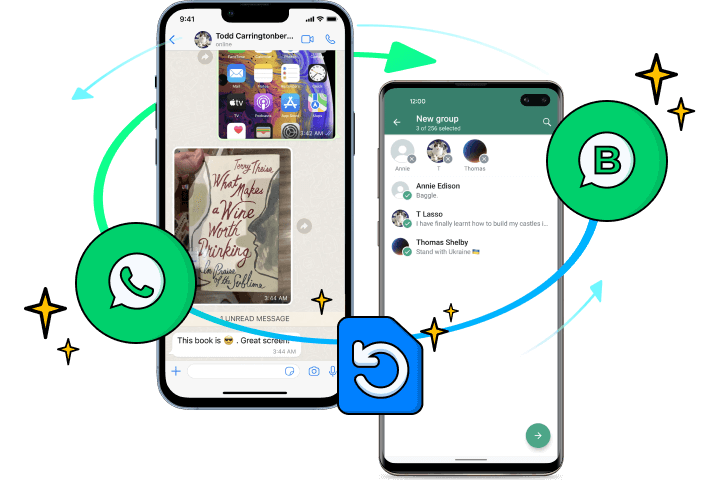 Restore WhatsApp and WhatsApp Business Backup Files
Regardless of the backup file formats, you can restore Whatsapp and WhatsApp Business backup files to your iOS and Android devices easily.
Backup iOS LINE/Kik/Viber/WeChat
Dr.Fone lets you backup all your LINE/Kik/Viber/WeChat chat history, including personal chats and group chats, text, voice, video chat history, images, stickers, etc. You can also preview the backup file, restore chat history, or selectively export any item.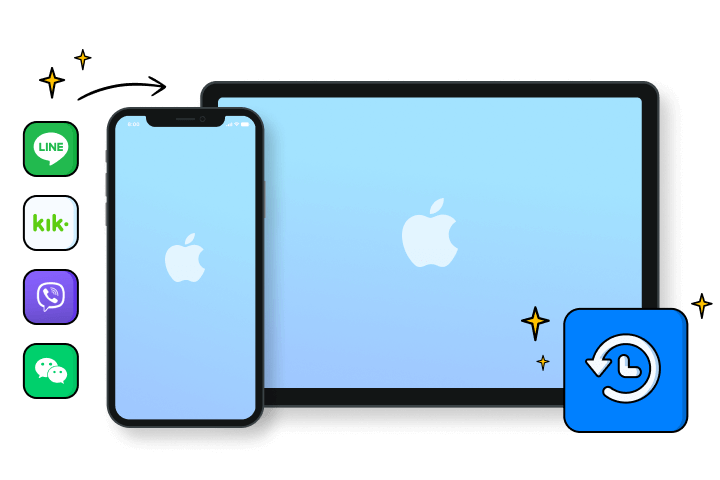 WhatsApp Transfer is Not Enough?
If transferring social apps between phones can't fit your needs, we recommend Phone Transfer to transfer more phone data, which can help you transfer up to 15 file types without any data loss.
iOS to Android
music, messages, photos, videos, contacts, contact blacklist, call history, bookmarks, calendar, voice memo,alarm records, voicemail, ringtones, wallpaper, and notes.
iOS to iOS
photos, videos, contacts, messages, call history, bookmarks, calendar, voice memo, music, alarm records, voicemail, ringtones, wallpaper, memo, and safari history.
Android to iOS
photos, videos, contacts, messages, call history, bookmarks, calendar, voice memo, and music.
Android to Android
photos, videos, contacts, messages, call history, bookmarks, calendar, voice memo, contact blacklist, music, and apps.
Steps for Using WhatsApp Transfer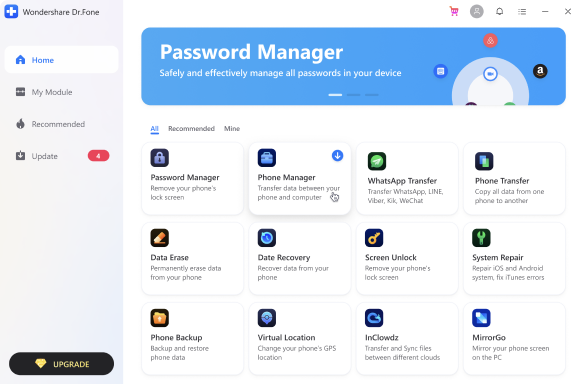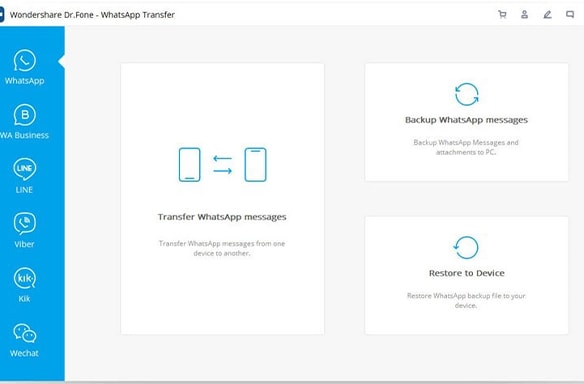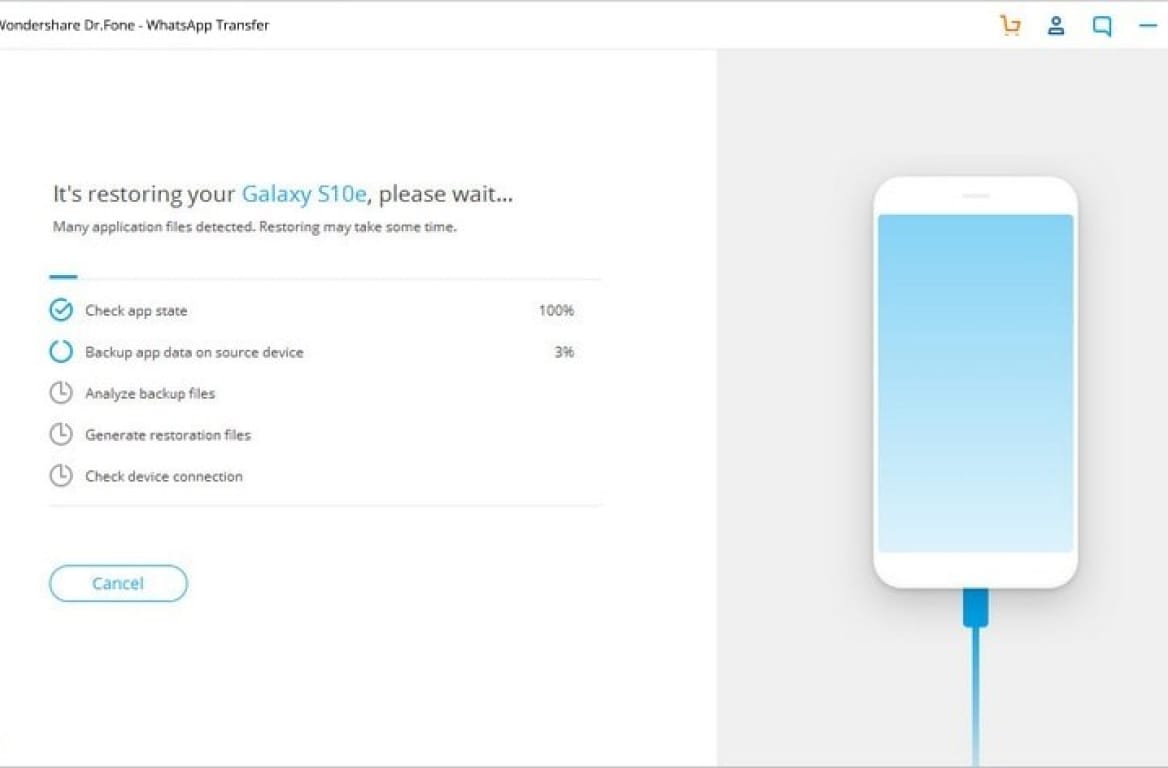 01 Launch Dr.Fone on your computer
Launch Dr.Fone, click WhatsApp Transfer and connect your device.
02 Select the desired transfer type
Select the desired transfer type to start the process.
03 Click "Transfer" to move your WhatsApp data
Just wait for the WhatsApp data transfer process finishes.
Tech Specs
CPU
1GHz (32 bit or 64 bit)
RAM
256 MB or more of RAM (1024MB Recommended)
Hard Disk Space
200 MB and above free space
iOS & Android
iOS 15, iOS 14, iOS 13, iOS 12/12.3, iOS 11, iOS 10.3, iOS 10, iOS 9 and former
Android 2.0 to 11
Computer OS
Windows: Win 11/10/8.1/8/7
Mac: 12 (macOS Monterey), 11 (macOS Big Sur), 10.15 (macOS Catalina), 10.14 (macOS Mojave), Mac OS X 10.13 (High Sierra), 10.12(macOS Sierra), 10.11(El Capitan), 10.10 (Yosemite), 10.9 (Mavericks), or 10.8
WhatsApp Transfer, Backup & Restore FAQs
What devices are supported?

This WhatsApp transfer & backup software is fully compatible with all models of iPhone, iPad, iPod touch, and Android. *Note: Devices equipped with Mobile Device Management (MDM) are not currently supported.

How to transfer WhatsApp history from iOS to Android?

Want to switch from iPhone to Android? WhatsApp should not be a blocking factor. With Dr.Fone - WhatsApp Transfer, you can directly transfer WhatsApp chats from iPhone to Android and restore WhatsApp backup from iTunes to Android.
1. Download, install and open up the Dr.Fone tool.
2. Select "WhatsApp Transfer" among other functions, and connect both devices to the PC.
3. Click on "WhatsApp" from the left bar and choose "Transfer WhatsApp messages".
4. If you have WhatsApp chats backed up in iTunes, you can choose "Restore WhatsApp messages to Android device".

Can I print content from social App backup?

When you view WhatsApp/LINE/Viber/Kik/WeChat backup contents, you can select some content and print them directly.

How to restore iPhone WhatsApp to the new iPhone/Android?

After taking a comprehensive or a selective backup of iPhone WhatsApp data, we can restore iPhone WhatsApp data to the new iOS/Android devices fully or selectively.
1. Launch Dr.Fone and select Restore WhatsApp Messages to iOS Device or Restore WhatsApp Messages to Android device.
2. A list of all the backup files will be provided. Select the file and have a preview of the data, then you can choose the conversations you wish to restore.
3. You will be notified after the restoration process completes. Then, launch WhatsApp and restore the backup to the target phone to access the data.
WhatsApp Transfer, Backup & Restore
Backup, transfer and restore WhatsApp or WhatsApp Business chats between any two mobile phones, whether Android to iOS devices. Backup and restore LINE/Viber/Kik/WeChat chat history, etc.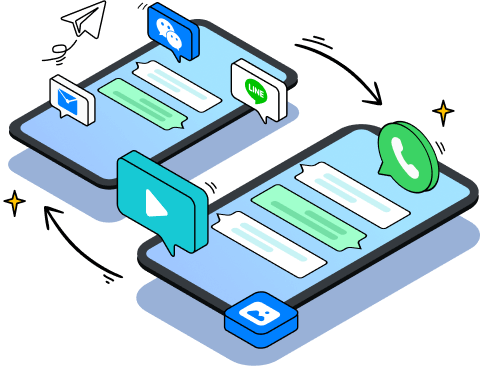 Our Customers Are Also Downloading
Screen Unlock (iOS)
Unlock any type of lock screen from iOS devices in any scenario.
Phone Manager (iOS)
Transfer all types of data between your iOS devices and computers. No iTunes needed.
Phone Backup (iOS)
Backup and restore any iOS data automatically and wirelessly. No data loss.