It is an obvious fact that when you switch to a new device, you are concerned about migration of all the data to the new device. But, when you switch to a new device with a new platform i.e. from Android to iOS, the need of a WhatsApp transfer software program comes into picture. It is important to find the right WhatsApp transfer tool for transferring content from your Android mobile to iPhone. In this article, we are introducing 5 software applications to help you transfer WhatsApp messages from Android to iPhone.
1) BackupTrans Android Whatsapp to iPhone Transfer
This WhatsApp transfer software from Backuptrans can backup and restore data in Android and iPhone. You can copy data from Android/iPhone to your computer and transfer data between Android and iPhone without jailbreaking or rooting your device. This software can directly transfer WhatsApp chat history from Android to iPhone. It also allows you to export WhatsApp messages from Android to document file, copy them to iPhone from PC, and backup from Android to PC. You can even take printout of Android WhatsApp messages using your PC.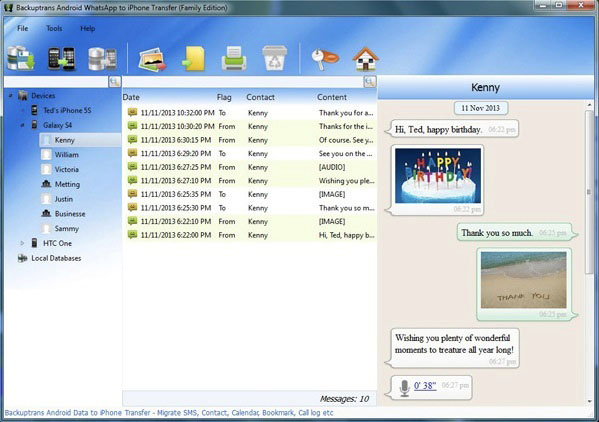 Pros:
It has a user-friendly and neat interface, allowing you to use the services without any glitch.
You can transfer WhatsApp from Android to iPhone free; it supports Mac and Windows systems.
You can extract WhatsApp media files and attachments from Android device and access them on your iPhone.
Cons:
It is not compatible with Mac computers as of now. It's a Windows only software program.
It is not compatible with iPhone or iPad. It means you can use this WhatsApp transfer tool only to transfer from an Android device to an iOS device not the other way around.
2) dr.fone - Phone Transfer (iOS&Android)
dr.fone - Phone Transfer (iOS&Android) is a software application that transfers all content between mobile phones without bothering about their operating system. It means you can transfer WhatsApp messages from Android to iPhone with ease. It supports the latest versions of iOS and Android. All you have to do for data transfer is connecting both the source and destination phones to the computer and you are good to go.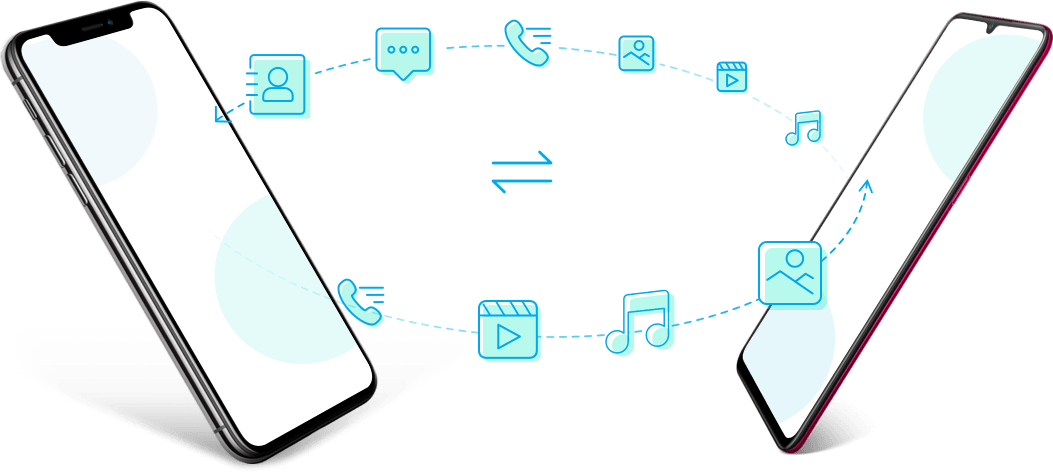 Pros:
It literally transfers all kind of data and files between iOS and Android phones.
This software is cross-platform compatible software. Its functionalities are not limited to a certain OS.
Easy to use and convenient interface makes things work smoothly like other Wondershare software products.
Cons:
You need a Mac or Windows PC to transfer data, as direct transfer between iOS and Android is not possible.
3) Move to iOS
Speaking of WhatsApp message transfer software programs like Move to iOS leave no stone unturned. Being a reliable WhatsApp transfer tool, it is a wonderful solution to transfer message history, mail accounts, calendars, web bookmarks, and contacts, from your Android device to an iPhone over Wi-Fi within few clicks. It is a risk-free and safe method to transfer content between devices. When you launch this program on your Android device, the destination iOS device creates a private Wi-Fi network over which the transfer of content occurs.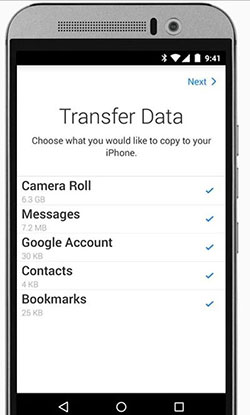 Pros:
Easy to use and a secure solution for transferring message history and other content without using a computer.
Move to iOS is compatible with all Android devices above 4.0 versions.
It can automatically update the default mail account in your iOS device.
Cons:
It's a bit time consuming program, so you need to keep patience while the content gets transferred from your Android phone to an iPhone.
As the data transfer occurs through private Wi-Fi network, risk of pairing with the wrong device is possible.
4) Mobo Play for PC
Being a free phone manager having an App Manager, downloader and installer platform, Mobo Play for PC allows you to synchronise data between multiple mobile devices through your computer. It means that you can transfer data between Android to iOS and vice versa, depending on the need. This WhatsApp transfer tool is an all rounder for your data sync and transfer needs. Using Mobo Play for PC, you can also download and install software applications as per your needs.
Pros:
It works as an App manager, installer platform, and downloader all in one program.
You can backup and sync data between multiple devices without any worry.
With a single platform offering you so many features, it becomes easy for you to get hold of the things.
Cons:
It requires a Windows PC to do the synchronization.
For someone used to work with a smartphone, working with this tool might feel superfluous.
In case of theft or loss of your mobile phone, the risk of exposing your phone's activity is higher.
5) Jihosoft Whatsmate
Jihosoft Mobile Phone Transfer is a WhatsApp transfer tool and a one click solution to transfer WhatsApp and other data between Android and iOS devices. With this amazing tool, you can even recover the accidentally deleted WhatsApp data of your Android/iOS system without backup; the data deletion might be due to jailbreak or ROM flash, factory reset, software crash, system upgrade, or unintentionally deleted. With this tool, you are sure to get the data back in your iPhone or Android device.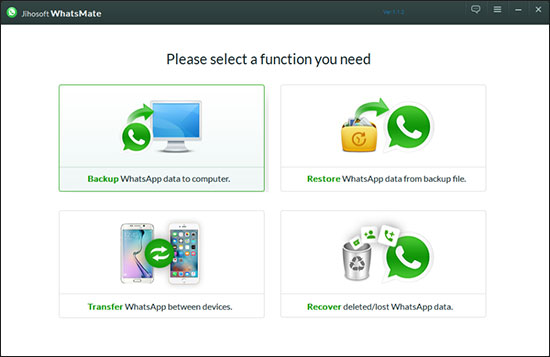 Pros:
It supports all the WhatsApp supported file types such as videos, pictures, audio, contacts, call history, and messages.
Completely compatible with all Android and iOS versions.
Convenient and simple user interface for efficient use and better performance.
Cons:
Available only for Windows PCs.
You need a computer to transfer data between Android and iOS device.