Several phone users now make the change from Android to iPhone devices, and with that change comes the need to transfer WhatsApp messages from the Android device to iPhone, as many don't want to lose their WhatsApp history. Indeed, WhatsApp has become a part of phone users' day-to-day life as it makes communication with family, friends, and colleagues faster. With WhatsApp, users can share and receive messages in texts, videos, audio, images, and other documents quickly.
That is why Android users who want to migrate to iPhone need to transfer WhatsApp messages across these different os to secure vital data.
"How can I transfer your WhatsApp messages from Android to iPhone?" If this is a question you have been asking, then keep reading as you will be taught five significant ways to transfer WhatsApp from Android to iPhone.
Part 1. Easiest Way to Transfer WhatsApp from Android to iPhone
The first easy way to transfer WhatsApp from Android to iPhone is through third-party software called dr.fone - WhatsApp Transfer. This tool has been designed for easy transfer and backup of WhatsApp messages from iOS to iOS, Android to iOS, iOS to Android, and Android to Android. You can also use dr.fone to transfer WhatsApp messages from your phone to a computer for backup.
Other benefits of using dr.fone lie in its features, and these outlined below: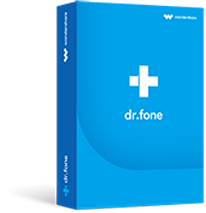 Excellent Tools for Helping You Transfer WhatsApp Messages
dr.fone enables the user to restore any data backed up to another device or a pc. That means that after doing a transfer of WhatsApp data to a new device or pc, you can restore such data to your device or a different one.
It works on all Android versions and iPhone devices, including the iPhone 12. This versatility makes the tool a most-sought after in the market of third-party transfer software.
Suppose you back up your WhatsApp from your phone using dr.fone. In that case, you can preview those data either individually.
You will not lose any data you transfer using dr.fone WhatsApp transfer. Unlike many apps available online that will promise to secure your data and then fail, dr.fone ensures that no vital data is lost while the transfer is going on.
3,990,656 people have downloaded it
Using the steps below, quickly transfer WhatsApp messages from your Android to iPhone:
Step 1. First, launch dr.fone on your pc after downloading and installing the app. With the help of any portable cable, connect the Android phone to your PC.
Click on the "WhatsApp transfer" button on the main screen, select the option "Transfer WhatsApp messages" after clicking on "WhatsApp."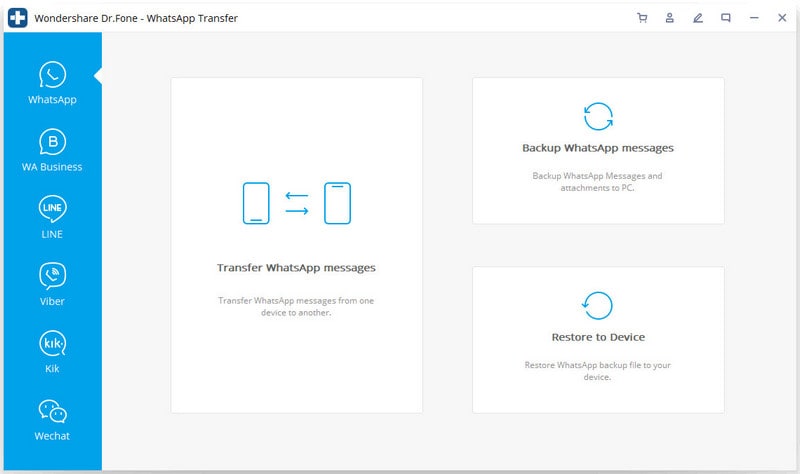 Step 2. The screen shown in the image below will appear once the computer has detected your devices i.e. both the Android phone and the iPhone.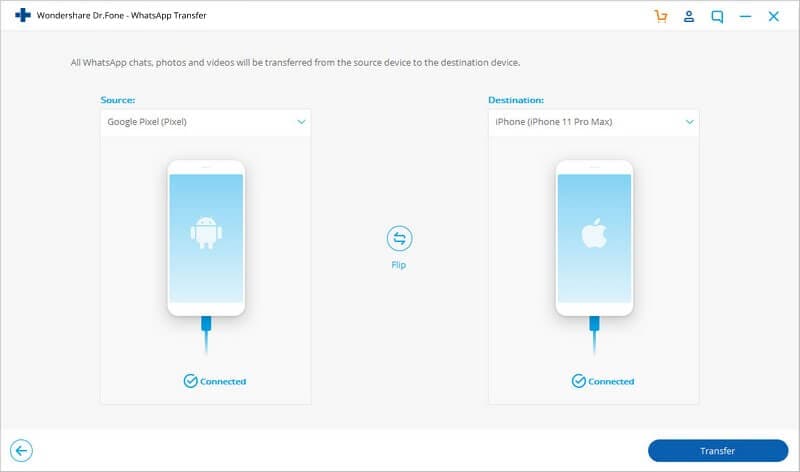 Step 3. Choose to "transfer" your WhatsApp messages from Android to the iPhone devices.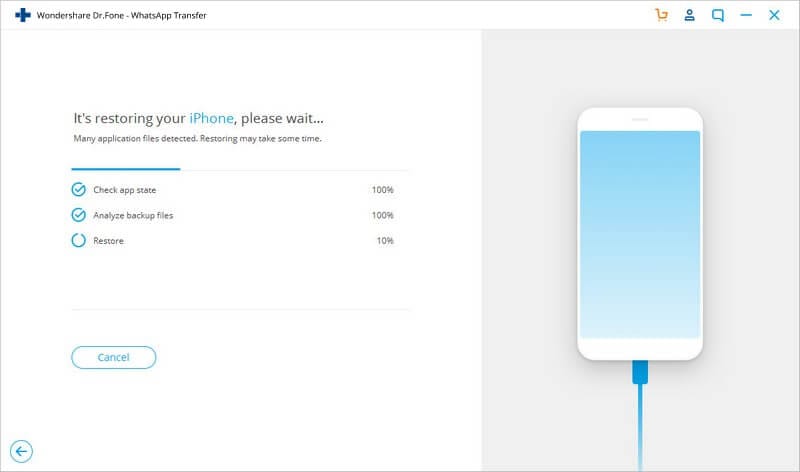 Step 4. Wait for the process to be complete, then you can view your WhatsApp messages on the iPhone device.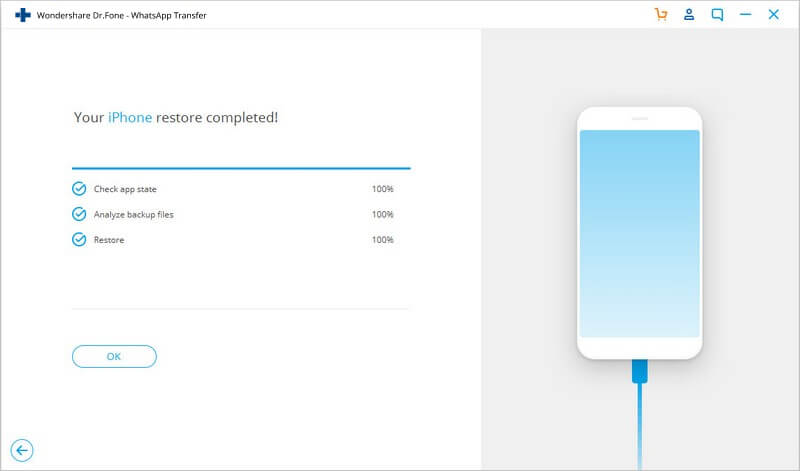 Part 2: Transfer WhatsApp Messages from Android to iPhone without PC
This method involves transferring WhatsApp from Android to iPhone via email for those who want to transfer WhatsApp without software and pc. To achieve the WhatsApp transfer using email, you need to take advantage of WhatsApp's email feature. That means you can mail the vital chats you need to keep on your iPhone to your mail. Thus, you will gain access to the conversations on the iPhone through mail even if you won't restore the same chats.
Step 1. Open the WhatsApp conversation you want to save through mail.
Step 2. Open the WhatsApp chat you wish to save through mail.
Step 3. Select the icon representing "More" at the top right of the page (represented by three vertical dots).
Step 4. Click on "Email conversation."
Step 5. A pop-up message will request if you wish to attach the media files in the selected conversation. Choose not to do so as emails cannot exceed 20mb in size.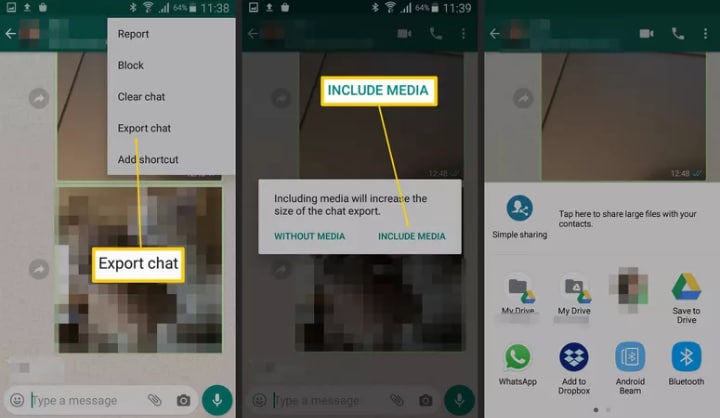 Step 6. You will be taken to your Gmail page with the attached WhatsApp conversation. Here, you can either send it to your email address or save it in your mail drafts, both of which will give you future access on your iPhone.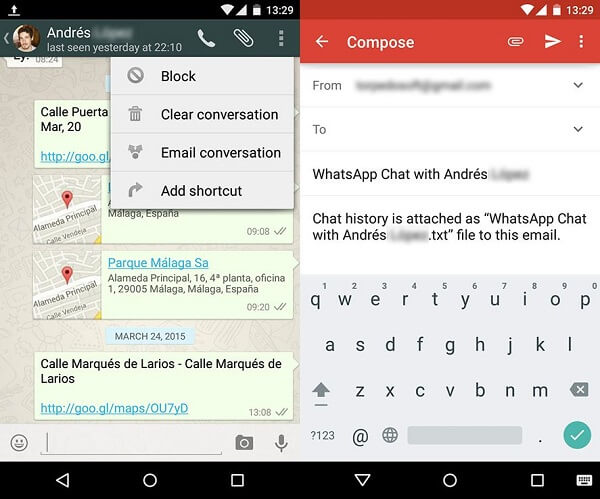 Step 7. When you get your iPhone, open Gmail and download the WhatsApp messages. You will be able to view them as a text file.
Part 3: Transfer WhatsApp Chat from Android to iPhone Using Google Drive
On the surface, this method seems impossible because the operating systems and configurations of Android backup are different from that of iPhone. Thus, backing up directly from Android Google drive to iPhone's iOS is almost impossibility. However, there is a way around this.
This method centers on the way to backup WhatsApp on Google Drive and uses it with your new iPhone from Android to iPhone. Thus, if you have been asking about transferring WhatsApp from Android to iPhone via backup, you should definitely follow the steps below:
Step 1. Open the WhtasApp app and select the "Menu."
Step 2. Tap on "Settings > Chats", and choose "Chat Backup."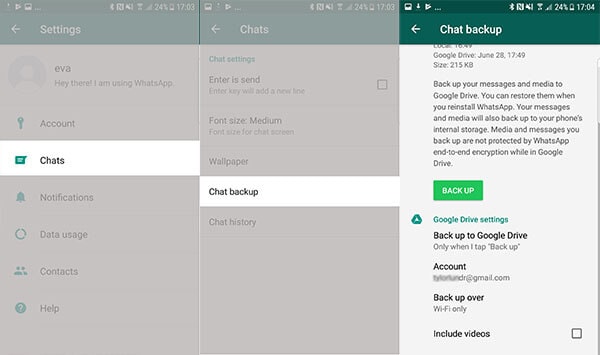 Step 3. Select "Backup" and click "Back up to Google drive."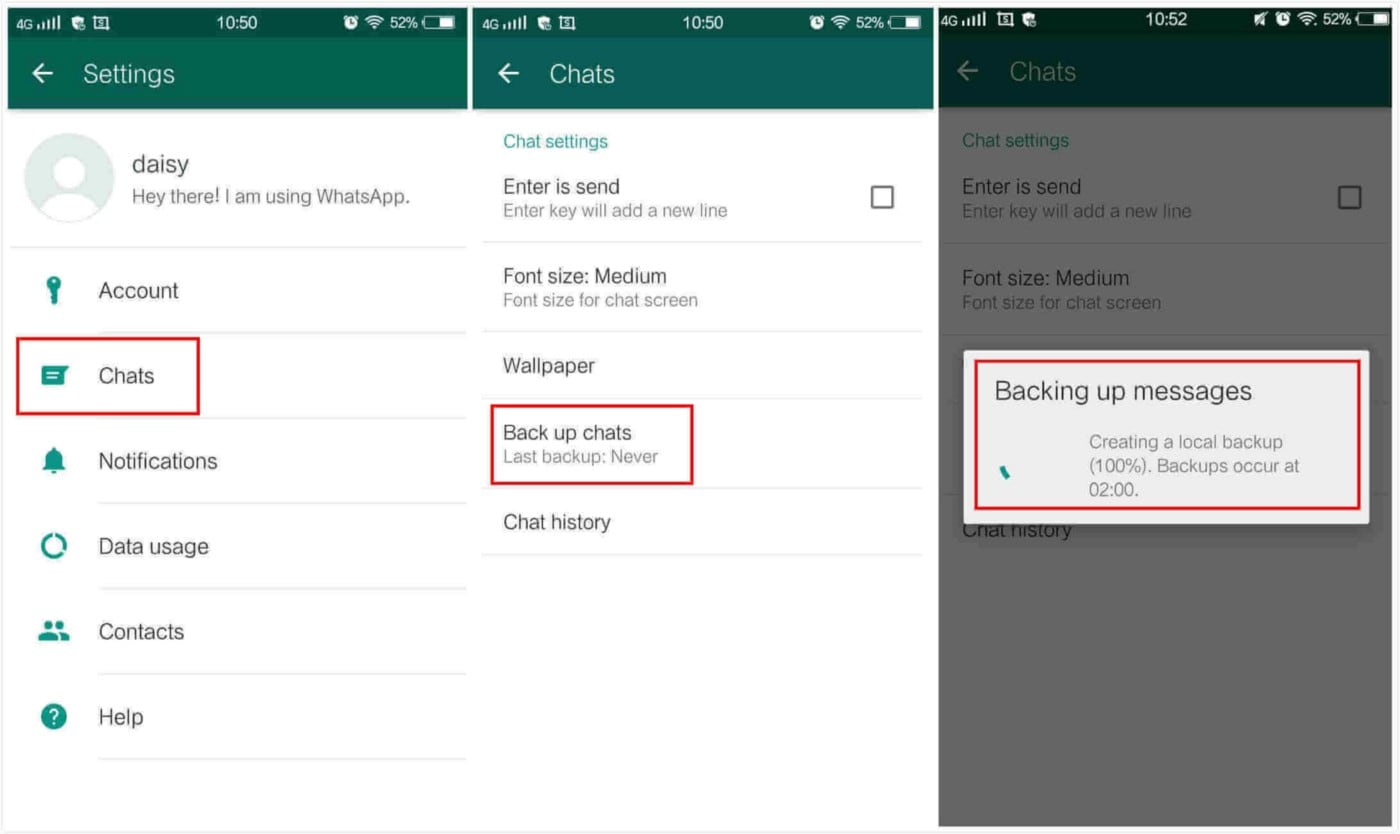 Step 4. Sign in afresh on your WhatsApp account on your iPhone after you have uninstalled it on Android.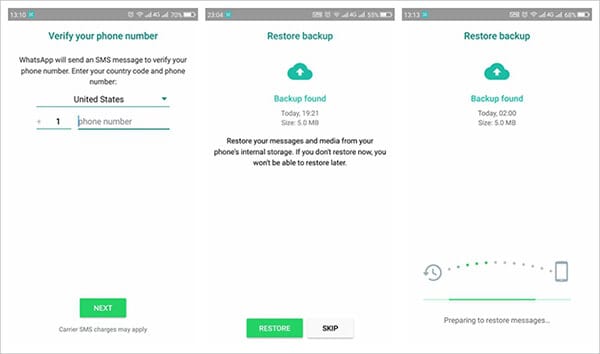 Step 5. After you have done the above, you will receive a message requesting that you "Restore" the backed-up messages on your WhatsApp account. Choose this option, and it will guarantee that all the WhatsApp messages you backed up on your Android automatically reflect on your iPhone.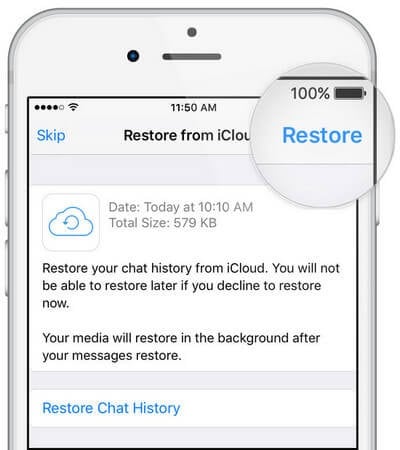 Part 4: How to Transfer WhatsApp Chats via Changing Account Feature
Do you know that you can transfer your WhatsApp messages from Android to iPhone with your SIM cards? This method is also ideal for users who are worried that they will lose their WhatsApp chats and cannot transfer from Android to iPhone by changing phone numbers. Well, you have nothing to worry about.
To transfer WhatsApp chats via changing the account feature, change the phone number on your Android WhatsApp account before switching to iPhone. Ensure both numbers are initially active on the Android before going ahead to do the following:
Step 1. Go to WhatsApp and select the three vertical dots at the top right end of the screen.
Step 2. Choose "Settings" and "Account", select the "Change number" option.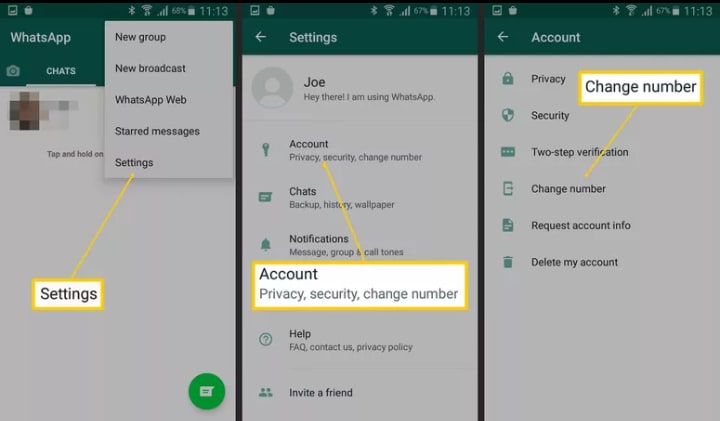 Step 3. Tap the "Next" button.
Step 4. In the fields for "Old phone number" and "New phone number," input the appropriate digits; choose "Next", and select "Done."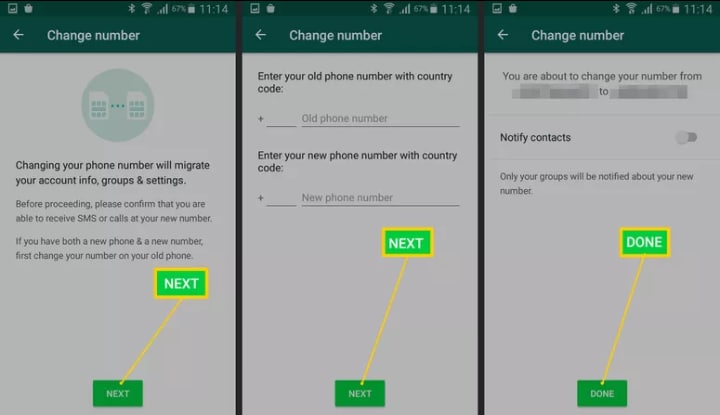 Conclusion
In conclusion, these four methods can be used to transfer WhatsApp messages from your Android phone to iPhone. They are easy to apply even for people who are not tech savvy. You can choose any of these methods that work best for you. Consider the pros and cons of transferring WhatsApp messages from Android to iPhone below:
S/N
Methods of WhatsApp Transfer
Pros
Cons
1
Transfer WhatsApp via email
It is one of the simplest ways to transfer WhatsApp messages from Android to iPhone
Messages can only be moved one by one, primarily because of the size limit of 20mb.
Chats cannot be restored into the WhatsApp messenger of the new device as they can only be viewed and read as text documents or files.
2
Transfer WhatsApp chat from Android to iPhone using Google drive
Complete WhatsApp messages can be backed up all at once without need to select them individually.
WhatsApp cannot be directly moved from this Android backup to iPhone; hence it is unrealistic.
It can get slow, especially when files are large.
3
Transfer WhatsApp chats via changing account feature
It is a seamless way of transferring WhatsApp messages from an old sim to a new one and accessed on the iPhone's new sim.
Both accounts need to stay active for this method to work, and this is not ideal if the old number has been lost or is unavailable.
4
WhatsApp transfer using dr.fone software.
It works across all platforms, which makes it ideal for cross-platform WhatsApp transfer.
It is fast and easy.
It is not limited by size.
It works best when both devices are connected to a computer, and this can be discouraging to those who want to do the WhatsApp transfer without pc.
Going by all the tops ways to transfer WhatsApp messages from Android to iPhone, it is clear that the most recommended way is by using dr.fone WhatsApp transfer app. This tool is versatile yet friendly for even beginners to transfer WhatsApp from iPhone to Android quickly.