How can I Restore WhatsApp backup from Google Drive
"I have been struggling with the entire process of restoring WhatsApp backup from Google Drive. Does someone have any ideas on how I can get it done?"
- From a User
Would you like to hold on to and save all your WhatsApp chats and messages? Are you switching phones and wondering how to take them with you? If your answer to both these questions is a massive YES, you have come to the right place!
Accidental deletions, robberies, and phone upgrades are some compelling reasons why you must consider backing up all your WhatsApp data because it will be a shame to lose all those essential files due to a petty mistake. If you have decided to restore your WhatsApp backup from Google Drive, this article will underscore just how to go about it. Read on to find out how to restore WhatsApp backup from Google Drive!
Part 1: How to Backup WhatsApp to Google Drive
Google drive offers users a officay way to back WhatsApp messages on Android. Now let's find out how to backup your WhatsApp data to Google drive
Step 1: As is shown below, choose Settings > Chat backup > select Back up to Google Drive.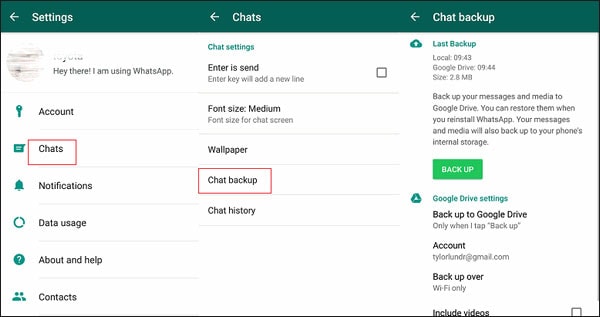 Step 2: Nextly, you can select a backup frequency to backup WhatsApp to Google Drive after accessing an account. Subsequently, you can select the option back up over "Wi-Fi" or "Wi-Fi or cellular". Now it will backup all of the WhatsApp messages for you.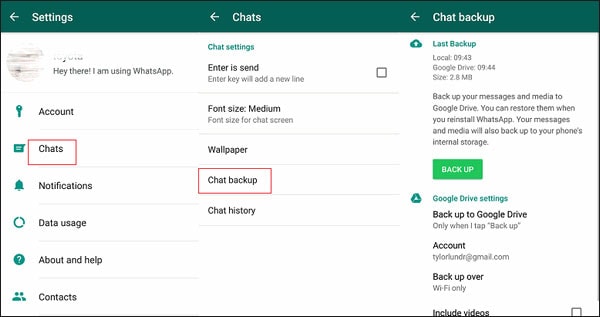 Part 2: How to Restore WhatsApp Backup from Google Drive
If you wish to restore WhatsApp from Google Drive, all you need to do is follow the steps given below comprehensively to get the job done!
Step 1: Uninstall WhatsApp. Reinstalling WhatsApp is a quick fix to restoring your WhatsApp backup from Google Drive. To do that, you must first delete the WhatsApp app from your phone in case you have not done that already. To delete the app, open "Settings" on your Android phone and find the option that says "Apps." Now, scroll down and find "WhatsApp." Click on it. You will see an option that says "Uninstall." Tap on it to eliminate the app from your device.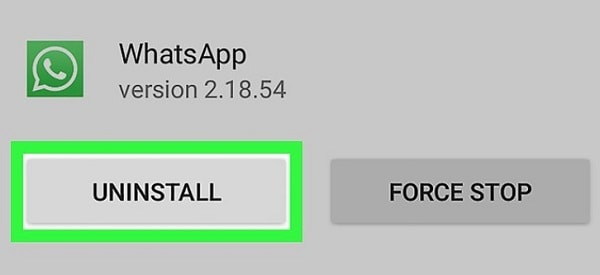 Step 2: Now, you must reinstall the WhatsApp app. To do that, you can simply go to the Play Store and install the app or open the web browser in your Android phone. After that, simply install WhatsApp.
Step 3: Now, click on "Agree and Continue" to acknowledge and verify your agreement to the privacy policy of WhatsApp.
Step 4: Keep clicking on "Continue" to give WhatsApp access to the photos and contacts of your device. According to the version of Android on your device, you might also have to click on "allow" in order to confirm access to the app. You can also choose to click on "Not Now" if you do not want to use WhatsApp to send or receive documents or chat with the contacts on your device.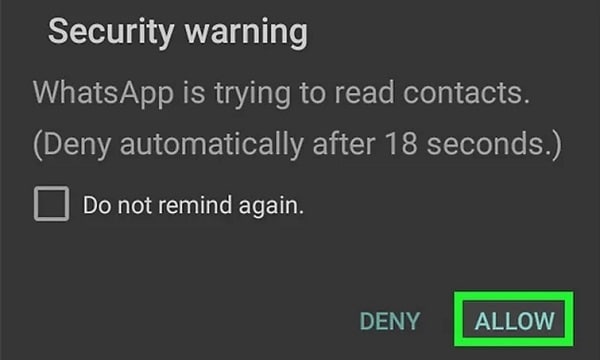 Step 5: Now, you must confirm your phone number by following the instructions that are reflected on the app. When you insert the necessary details, WhatsApp will automatically verify your phone number.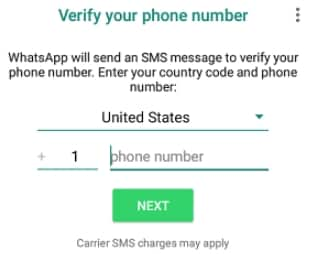 Step 6: Now, it is just a matter of restoring your WhatsApp backup from Google Drive. Tap on "Restore," and WhatsApp will restore the most recent backup that you have form Google Drive. Once you see a green checkmark on the screen, it means that the restoration process has been completed.
Step 7: It is important to note that if you see a message saying that WhatsApp cannot detect any backup, you might want to recheck the Google account from which you are logged in. In order to restore your backup from Google Drive, you must use the same Google account that you utilized to back up your WhatsApp data in the first place.
Step 8: In the last step, you simply need to click on "Next" to restore your data.
Although this solution is quite handy to restore WhatsApp backup from Google Drive, there are a few disadvantages of using this solution. For starters, you will not be able to restore the deleted messages and WhatsApp data from Google Drive.
Furthermore, if you do not have enough storage space in your Drive, you might lose some important messages and other documents in the process. This brings us to an alternative solution where you can never go wrong.
FAQ
How do I restore my WhatsApp from local backup?

1. Launch WhatsApp > click settings > click "Chats" > tap on "Chat Backup" > click "Backup now"; 2. Uninstall your WhatsApp from your device; 3. Reinstall WhatsApp and go through the setup process; 4. Download backup files...for more

How do I manually restore WhatsApp backup?

Connect your phone to your PC, then in the Summary window, you can see an option to manually backup and restore your device. You can click on "Back Up now" for making a backup of all data... for more

How can I restore WhatsApp messages without backup?

If you have not maintained a backup of your data beforehand, then you can adopt corresponding solutions to recover WhatsApp messages without backup on your iPhone or Android...for more
Part 3: The Alternative to Restore WhatsApp Backup from Google Drive
If you wish to restore the existing as well as the deleted WhatsApp messages from your Google Drive, you can use the dr.fone to get the work done. This software is a lifesaver when it comes to transferring and restoring deleted WhatsApp messages from one device to another. This software also guarantees successful WhatsApp recovery on Android devices. You can do that with a few easy steps as given below: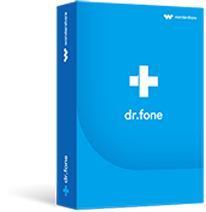 Restore Both Existing and Deleted WhatsApp Data on Android
Recover your WhatsApp data on Android to PC or restore it to another Phone
Preview the WhatsApp data before restoration.
Compatible with both Windows and MAC computer
Easy and simple to use, saving time substantially
4,390,385 people have downloaded it
Step 1: Download and install the dr.fone in your PC. Run the program and tap on "Recovery." Now, connect your Android device to the PC using a USB cable. If you receive a pop-up message on your smartphone, you will be required to enable USB Debugging.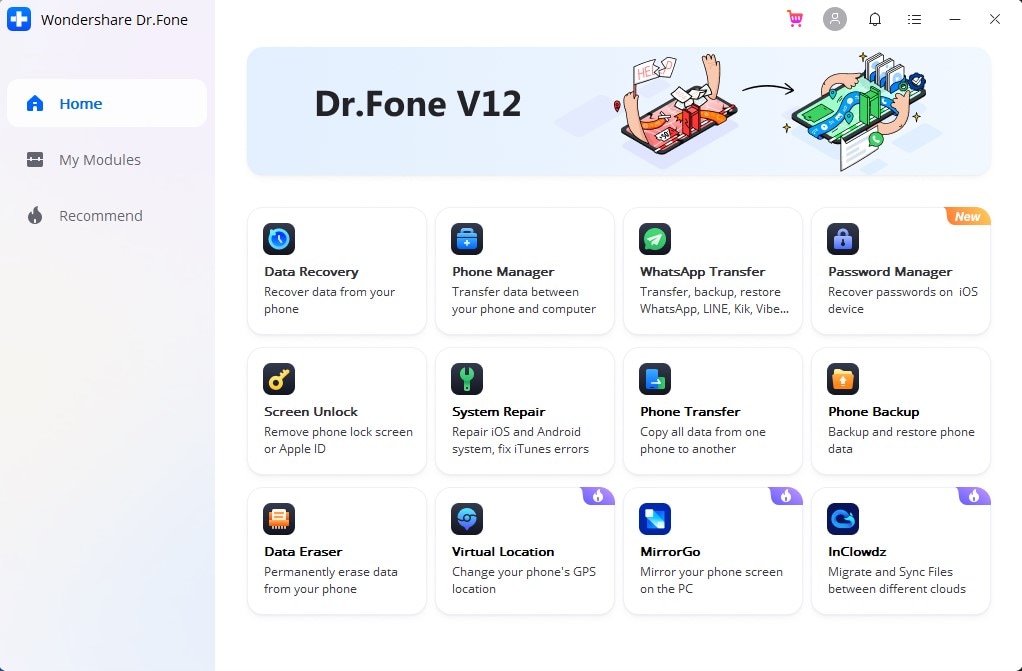 Step 2: After enabling the USB debugging, the dr.fone will detect your Android device. If you wish to recover all your WhatsApp messages, tap on the option that says "WhatsApp messages & attaches." On the other hand, you can also go for multiple selections if you want more than one file type. After that, click on the option "Next" which will enable the software to analyze your data thoroughly.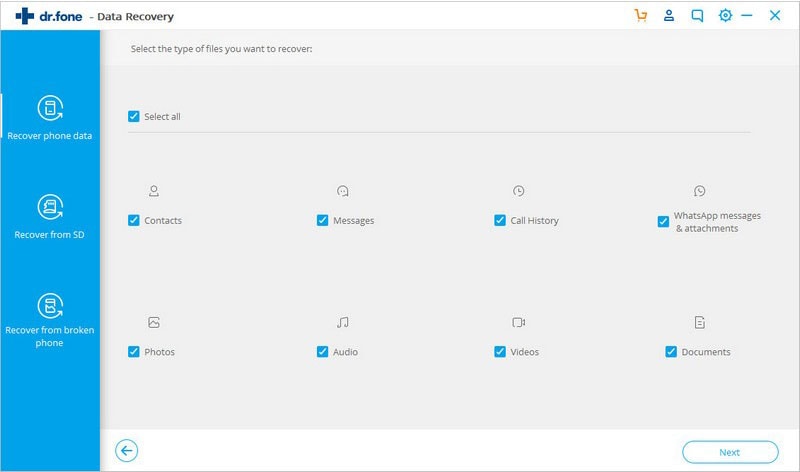 Step 3: On the next screen, you will be given two options to scan. If you want a basic scan, click on the "Standard Mode." Alternatively, if you are looking for a more in-depth and detailed scan of your smartphone, click on "Advanced Mode."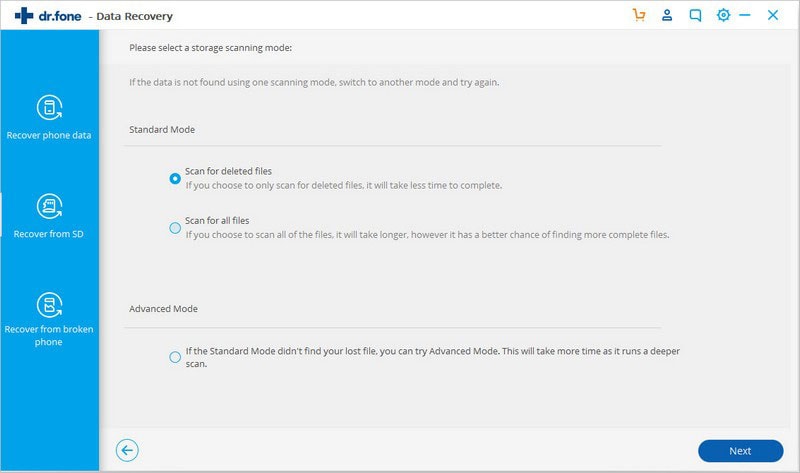 Step 4: Wait patiently for the scanning process to finish as it can take a couple of minutes.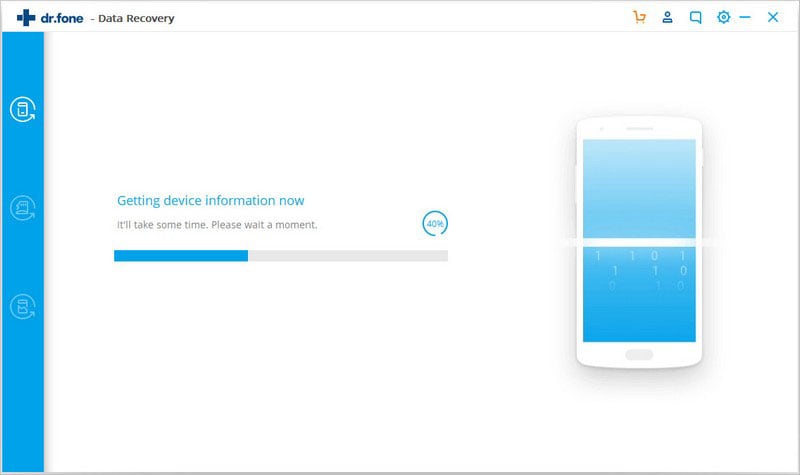 Step 5: On the next screen, select all the WhatsApp files that you wish to recover. After you are done selecting the important data, click on the option that says "Recover." You can either restore WhatsApp to PC or another iPhone/Android
And you are done! The dr.fone does make your WhatsApp experience much smoother and enjoyable.
Part 4: Why Can't I Restore My WhatsApp Messages from Google Drive?
Despite the impeccable services provided by WhatsApp, it has its fair share of issues. Sometimes due to technical glitches, things might not go exactly as planned, and you might experience problems when restoring WhatsApp from Google Drive. Some of the many issues that you might experience while carrying out this task are as follows:
The backup gets stuck at some percentage and results in a failed restoration attempt.
You have a lousy internet connection while restoring your WhatsApp on Google Drive.
You do not have enough storage space to back up data from your WhatsApp to your Google Drive.
You are using an old version of WhatsApp
The uploading process is quick but suddenly slows down and then stops.
If you have experienced or are experiencing any of these problems while restoring WhatsApp from Google Drive, there are some quick fixes to solve these problems. It is always a good idea to ensure that you have a good internet connection when restoring your WhatsApp backup from Google Drive. You must not try to carry out this task with a poor internet connection, or the upload process will simply keep getting stuck or will take forever to complete. This just means that you will need to restart the process all over again.
Also, it is essential to ensure that you are using the latest version of WhatsApp when Using an older version can similarly create problems and impediment in the successful restoration of the backup from Drive. Lastly, you must have enough storage space in your Drive.
If you try to back up your WhatsApp messages and other data on Google Drive without having sufficient space and then try to restore that same data, you might just end up losing all your data altogether. Therefore, you need to predict all these challenges beforehand to ensure the restoration of the WhatsApp backup from Google Drive goes smoothly.
Conclusion
Although there are many solutions to teach you how to restore WhatsApp backup from Google Drive, the dr.fone software is probably your best and safest bet in this scenario. This all-in-one solution is unique and super user-friendly. This means that even novices can easily operate and launch this software through simple and easy-to-follow steps to perform relevant actions. You might as well give it a try.