"Online backing up sucks. I have tried tons of time to backup and restore WhatsApp contacts, but they failed. Can anyone help me out on this?"
WhatsApp is one of the most popular social messaging apps out there, used by millions of people worldwide. Be it talking to friends or being in touch with our colleagues, we all use WhatsApp for different reasons. Though, a lot of times, users end up losing WhatsApp contacts due to different reasons.
If you are also going through a similar situation, don't worry - this informative aticle will guide you how to backup contacts in WhatsApp. Yes, later you can easily restore them to your target device. For instance, if you are moving them from one phone to another , you need to backup and restore your WhatsApp contacts. Let's learn how to do the same in this guide.
Part 1: Easy Way to Backup & Restore WhatsApp Contacts using dr.fone
Why do I recommend dr.fone - WhatsApp Transfer to help you backup your WhatsApp contact? dr.fone is the best solution to backup and restore WhatsApp contacts for Android or iOS users. It can help users for transferring data, backing up WhatsApp chats, and later restoring them. It provides users with a simple method to backup WhatsApp contacts as well. You can also export your WhatsApp messages to your computer or simply transfer WhatsApp chats directly from an iOS device to another iPhone or Android.
With the help of dr.fone - WhatsApp Transfer, users can save their WhatsApp messages, contacts, and even attachments. Later, they can get a preview of the backup content and perform a selective transfer to the target device. Apart from WhatsApp, users can also take a backup of their Kik, WeChat, Line, and Viber messages as well. You can do it all without any prior technical experience since dr.fone provides an extremely user-friendly solution.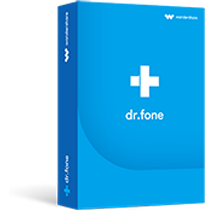 When you use dr.fone, you will enjoy such features as the following:
It allows for the phone to phone transfer. You can transfer WhatsApp files from iOS to Android and vice versa and iOS to iOS or Android to Android.
It allows for transferring all your WhatsApp Business chats to a new iPhone or Android when you are changing devices.
dr.fone lets you transfer your WhatsApp messages and media files to a computer to avoid essential data loss.
It allows for the restoration of backed-up files on a wide range of systems.
dr.fone WhatsApp Transfer has a preview feature that lets you go through the files you have backed up before restoring them to any device of your choice.
3,898,656 people have downloaded it
How to backup contacts in WhatsApp and restore them using dr.fone? Simply follow these basic steps:
Step 1: Launch dr.fone.
Firstly, download the dr.fone on your computer and install it. Once it is installed, launch dr.fone and click on the Restore Social App option from the main window. At the same time, connect your device to the system using an authentic cable.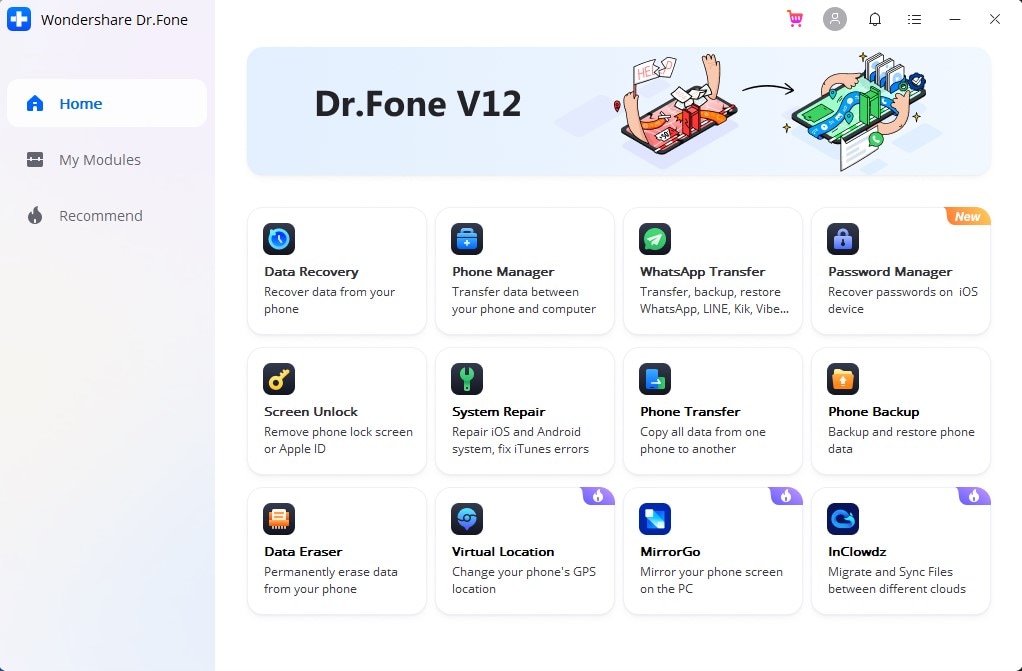 Step 2: Backup WhatsApp contacts.
Go to the WhatsApp tab on the left panel and from the provided options, click on the "Backup WhatsApp messages" option.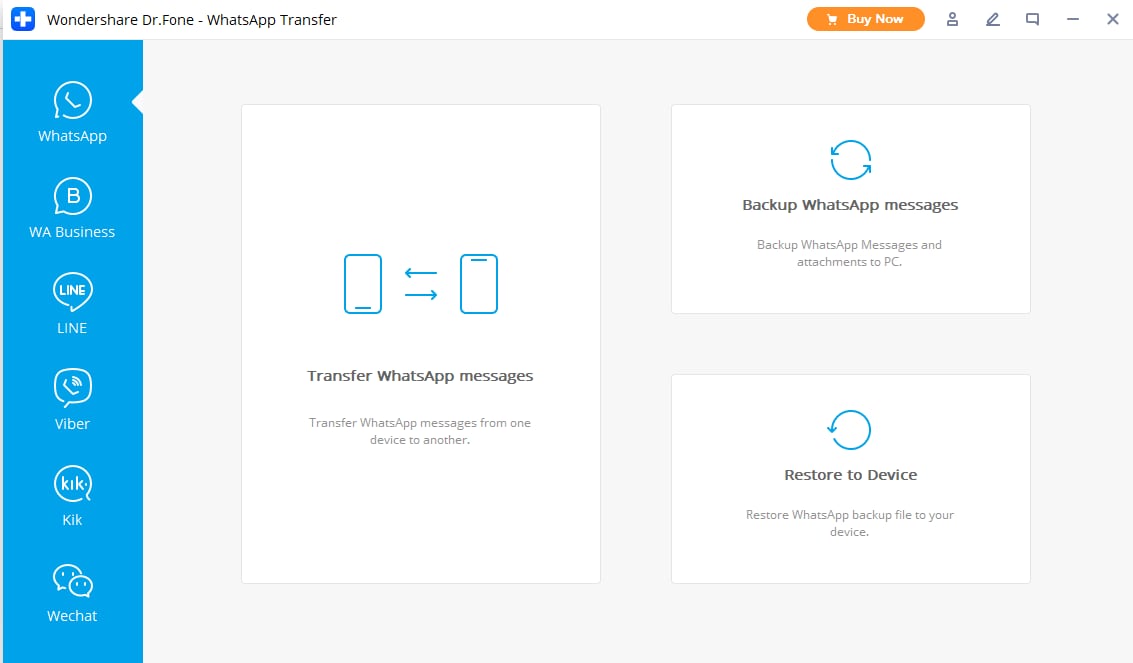 The tool will start taking a backup of your WhatsApp contacts or other data. Just wait for a few minutes as dr.fone will save your WhatsApp contacts on the local system.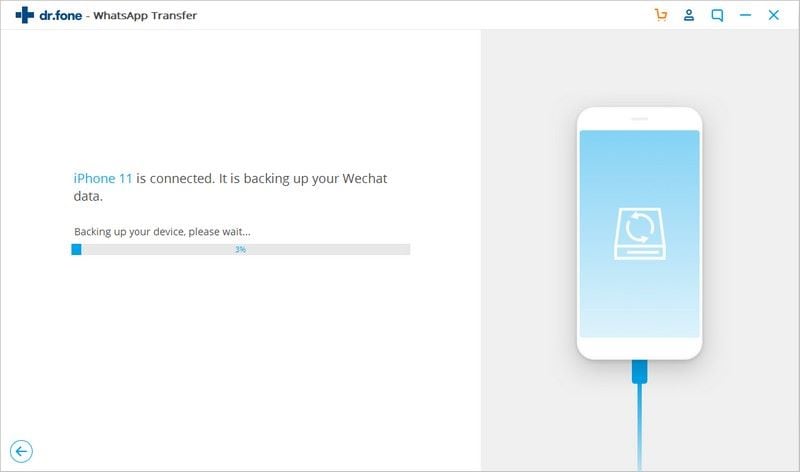 After when the backup process is completed, you will be notified. You can just view the backup content here. Also, you can safely remove the device when the transfer is completed.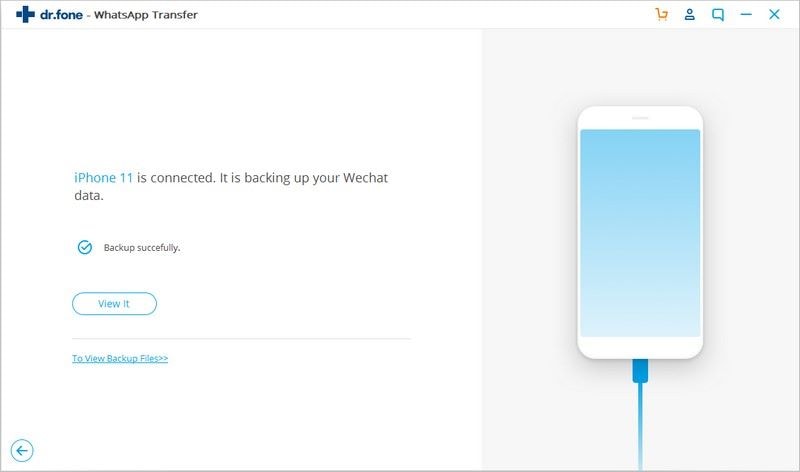 Step 3: Select the backup file to restore.
Whenever you wish to restore your contacts, just connect the target device to the system. Launch the dr.fone - WhatsApp Transfer and go to the WhatsApp section. You can choose to restore WhatsApp data to an iOS or Android device from here.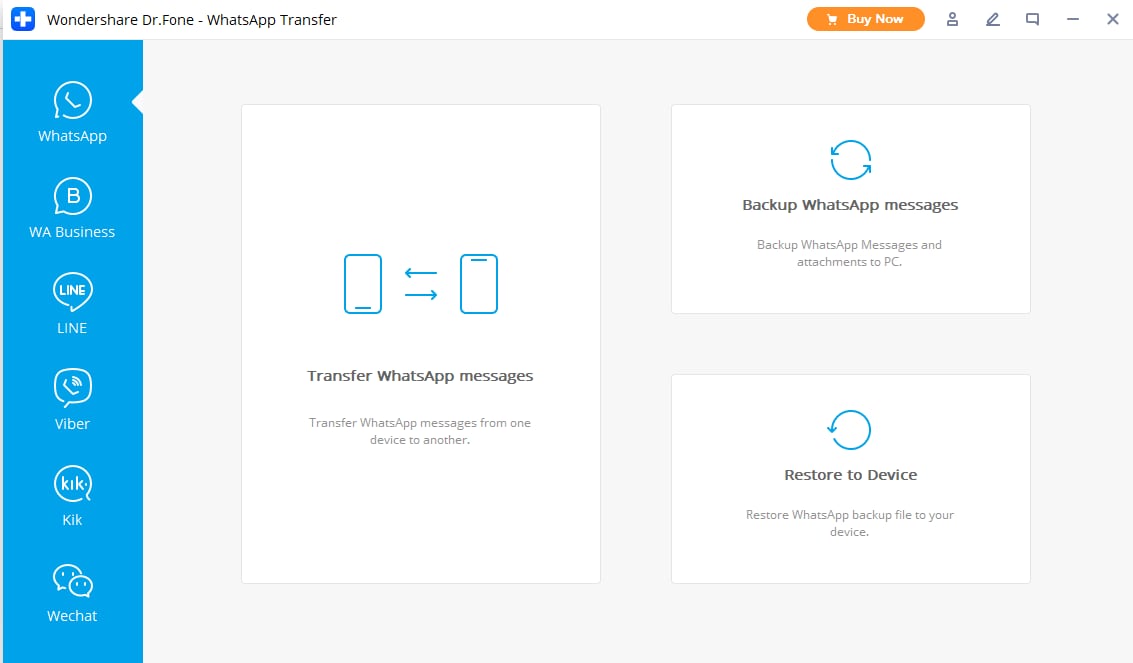 The interface will display a list of all the existing backup files that are already present. Simply view their details and choose any file to proceed.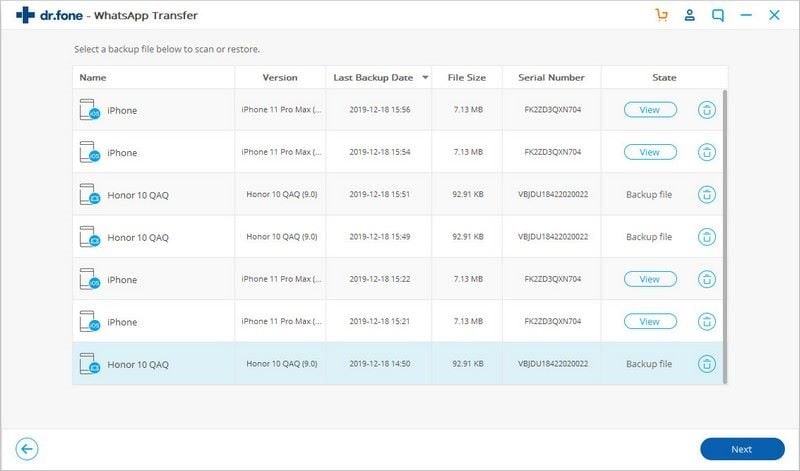 Step 4: Preview and backup your contacts.
In no time, dr.fone would automatically fetch the content of the backup and display them on the interface. You can just preview the WhatsApp chats and attachments here from different contacts.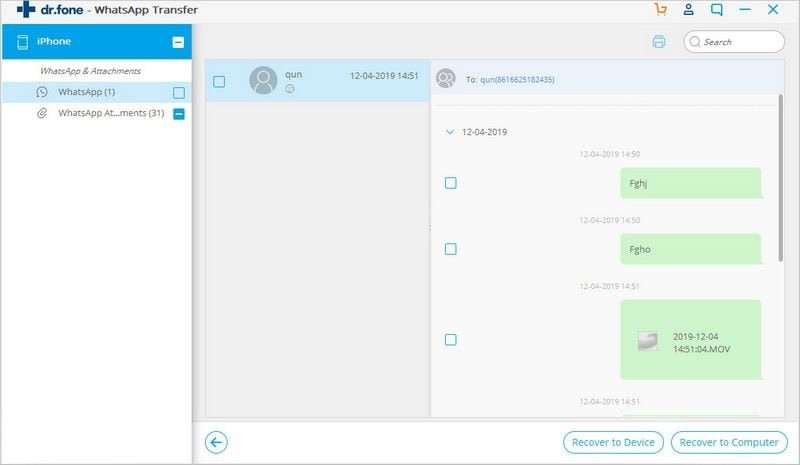 In the end, you can just select the data of your choice and restore it to the target device. You can also save the selected information on the computer as well.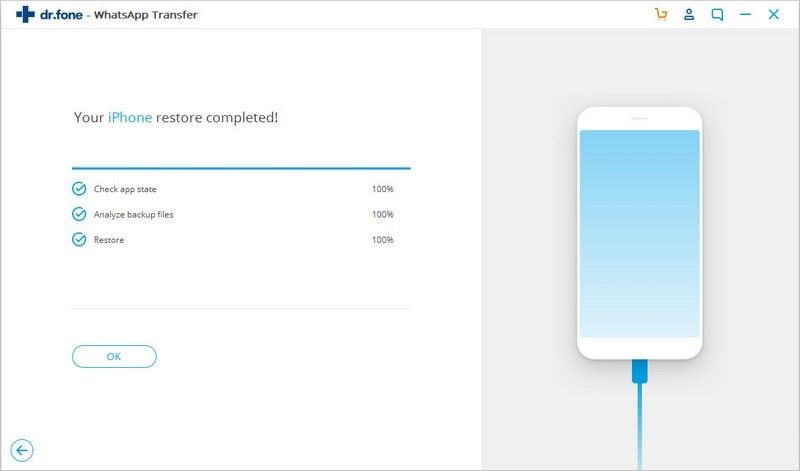 Read more: Transfer WhatsApp from Android to iPhone Easily
Part 2: How to Backup Contacts in WhatsApp to Gmail on Andorid
For Android users, one solution to backup and restore WhatsApp contacts is using Google Drive. This would be a native solution for Android device users. Those who use WhatsApp on Android can connect it to their Google account. In this way, they can store WhatsApp contacts on Google Drive.
Backing up your chats via Google Drive consumes a lot of cellular data, so make sure your device is connected to a stable WiFi connection. Here are some important things to tick in your checklist before starting the process:
You should have an active Google account linked to your mobile.
The phone should be connected to a stable network.
After meeting these requirements, you can just follow these basic steps to backup WhatsApp contacts on Google Drive.
Step 1: First of all, you need to launch WhatsApp on your Android phone.
Step 2: Tap on its menu and visit its settings. From here, you can visit the Chats > Chat Backup option.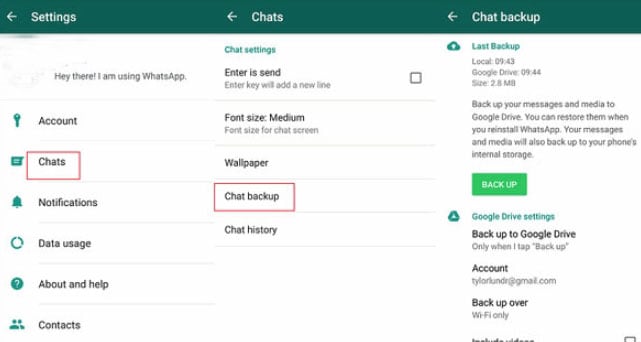 Step 3: Here, you can choose to take an immediate backup of your WhatsApp contacts and data on Google Drive. There is also an option to take automatic backup here.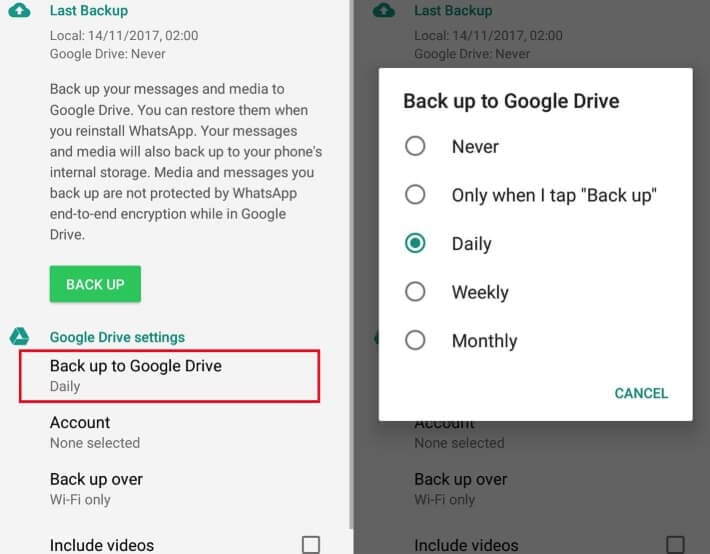 Step 4: Once your backup is stored on Google Drive, you can restore it to your Android. Just uninstall the app and install it once again if you are using the same device.
Step 5: Launch WhatsApp and agree to the terms and conditions. Log-in to your account by providing the same phone number and be sure that the device is connected to your Google account (where the backup is stored).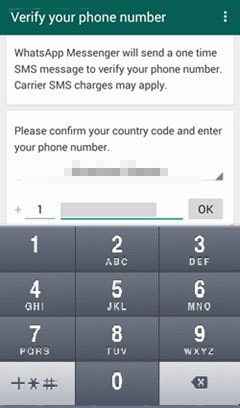 Step 6: The app will automatically detect the existing backup and will ask you to restore it. Tap on the "Restore" button and wait for a while for your contacts to appear.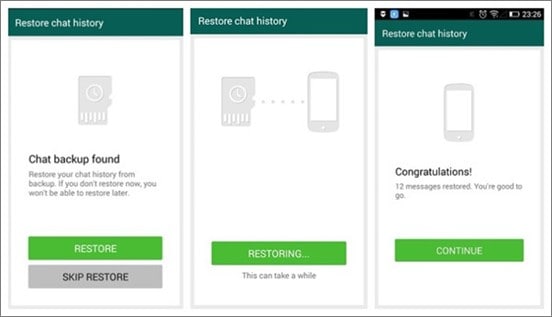 Please note that in order to restore your WhatsApp contacts, the existing data on the app would be deleted this way.
Part 3: How to Backup Contacts in WhatsApp on iPhone
Just like Android, there is also a similar solution to backup iPhone WhatsApp contacts as easy as you wish. iCloud provides a wireless solution to save your WhatsApp data easily. Later, you can restore the backup on the same device and retrieve your WhatsApp contacts with it. Just make sure that the following conditions:
There should be enough free space on the iCloud account.
The device should be linked to an iCloud account.
It should be connected to a working WiFi network.
Here is a stepwise approach for you to backup and restore WhatsApp contacts using iCloud.
Step 1 : To start with, go to the settings on your iPhone. Visit your Apple ID and make sure that it is connected to an iCloud account.
Step 2 : Now, launch WhatsApp and go to its Settings > Chats > Chat Backup. Tap on the "Backup Now" button to take an immediate backup of WhatsApp chats and messages.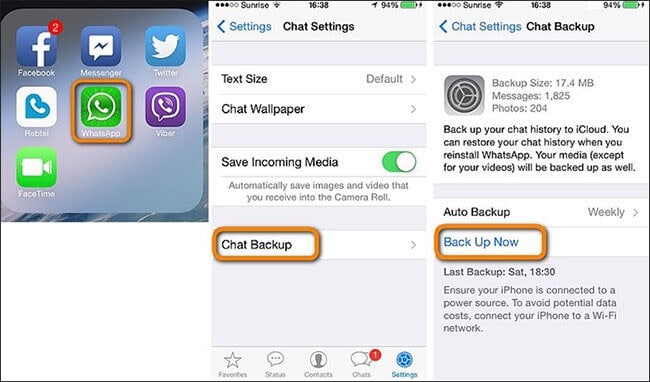 Step 3 : You can also go to the Auto Backup option here and choose the frequency for taking the backup of your WhatsApp data. There is also an option to include or exclude videos in the backup.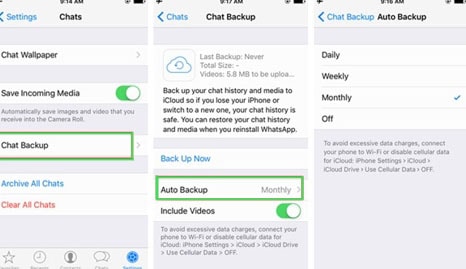 Step 4 : Now, to restore the data, you can just launch WhatsApp. If you are already using it, then you need to uninstall the app and reinstall it.
Step 5 : Perform the initial setup by providing your phone number and making sure that the phone is connected to the same iCloud account.
Step 6 : As the app will detect the previous backup, tap on the "Restore Chat History" button. Wait for a while as your phone would automatically restore the existing chats and contacts on your phone.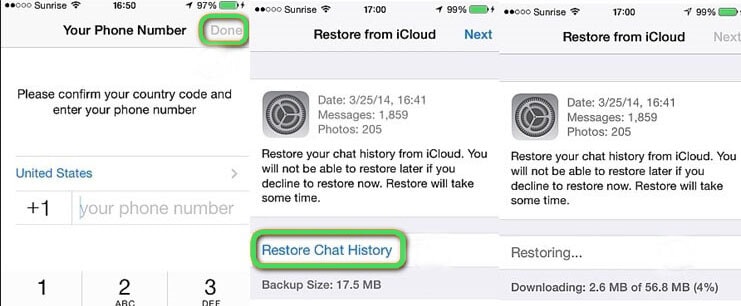 While the solution might sound simple, you should know that it will erase the existing WhatsApp data on your iPhone. There is no provision to preview the WhatsApp contacts and selectively restore them.
Part 4: How to Restore Deleted WhatApp Messages without Backuup?
In many cases, we may delete WhatsApp messages and forget to make a backup before deleting them, and wonder how to restore deleted WhatsApp messages without backup. Don't worry, dr.fone - Data Recovery will help you to do it. dr.fone - Data Recovery supports to recover deleted WhatsApp data from iOS and Android devices easily, here taking iPhone data recovery as an example to show you how to restore WhatsApp messages with dr.fone.
Step 1: Launch dr.fone and choose Data Recovery, connect your iPhone.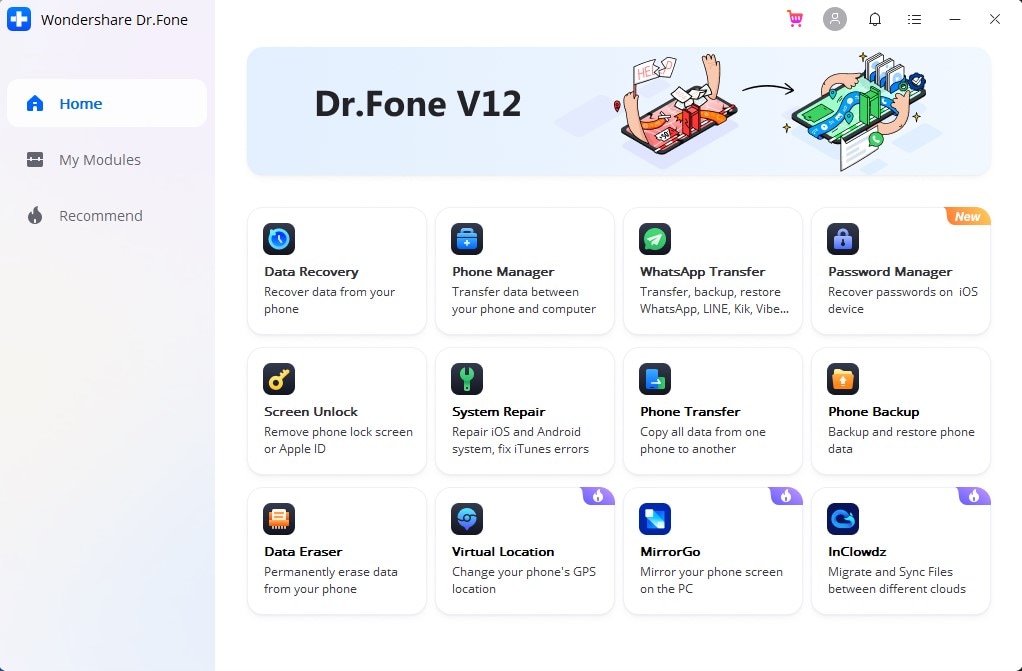 Step 2: Choose "Recover iOS data" and select "Recover from iOS device".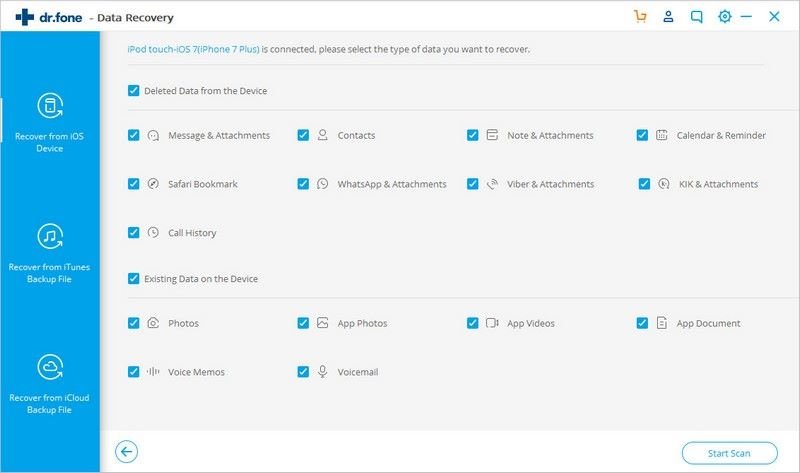 Here you will see all data types on the screen, choose the target data types and click on the "Start Scan" button.
Step 3: dr.fone will start to scan the data from your iOS device.
Step 4: Preview and export the recovered data.
After the scan process finishes, all deleted data will come back, you can preview the data, then click "Restore to Device" or "Export to Computer" to save the data locally.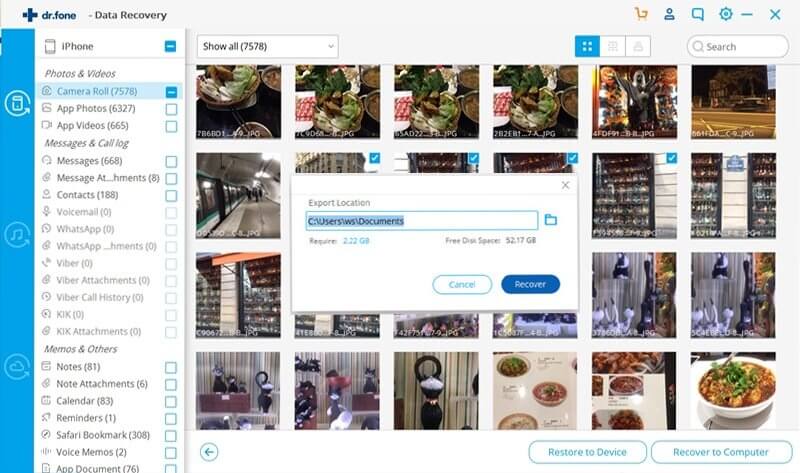 Conclusion
There you go! By following this guide, you would be able to save your WhatsApp contacts like a pro. It doesn't matter if you use an Android or an iOS device, we have listed solutions for both operating systems. You can see that dr.fone - WhatsApp Transfer is the best solution that throws light on how to backup contacts in WhatsApp and how to restore them. It allows us to preview our data and perform a selective transfer. The tool offers tons of other features too, making it the best WhatsApp data manager for any devices.
Read More: How to Restore WhatsApp Backup for iPhone and Android