"Does WhatsApp backup WhatsApp contacts?"
Sadly, WhatsApp does not backup the contact list while it only creates a backup file for the chats of your contacts. Although the backup file stored on your device has only messages and if you are backing up your WhatsApp data to Google Drive or iCloud you have the flexibility to backup attachments as well. But there is no functionality to backup your Whatsapp contacts yet. That doesn't mean there is no such way to do so. We have listed out the best and optimized ways to backup WhatsApp contacts easily and quickly, go take a look.
Part 1: Best Tool to Backup WhatsApp Contacts - iSkysoft Toolbox
iSkysoft Toolbox - iOS WhatsApp Transfer, Backup & Restore provides us with the simplest way to backup WhatsApp contacts. The same software can also be used to export the WhatsApp messages to a computer or restore the WhatsApp content to another phone. It fully synchronizes the phone and the computer for an easy experience of transferring and backing up data. iSkysoft Toolbox – iOS WhatsApp Transfer, Backup & Restore can also support photos, videos, pdfs and other such attachments of WhatsApp. On a plus, it also has the option of selective transfer. Best of all, when working with the iSkysoft Toolbox – iOS WhatsApp Transfer, Backup & Restore, it ensures that all other content/data in the phone remains unaffected.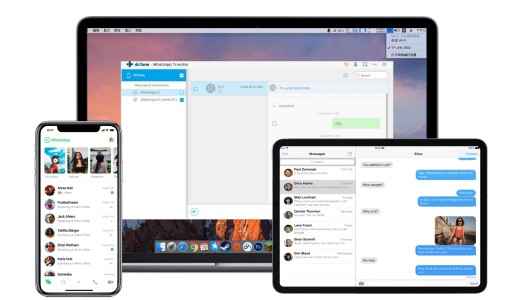 It is powerful tool which can easily and effectively help you transfer or backup WhatsApp data within just a few clicks.
With this tool, you have the privilege to preview the data prior to transferring it.
While backing up your data either completely or selectively, there is no data loss risk at all.
iSkysoft Toolbox is fully compatible with both Mac and Windows oriented computers.
It supports even the latest iOS firmware, i.e. iOS 11 and all its former versions.
How to use iSkysoft Toolbox to backup WhatsApp contacts
We have mentioned a detailed guide below on how to backup WhatsApp contacts using iSkysoft Toolbox, make sure to follow the instructions carefully.
Step 1 – Download and Launch
Install and launch iSkysoft Toolbox. Now, choose 'WhatsApp Transfer, Backup & Restore' from the main screen of the software window.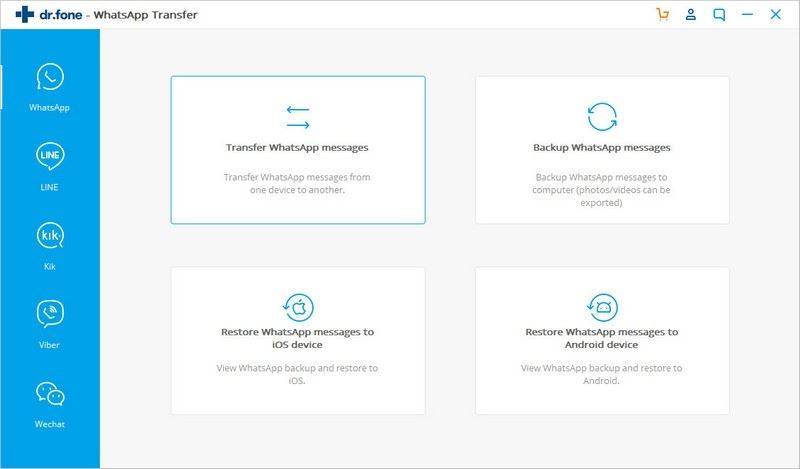 Step 2 – Choose Backup Option
Next, the software will come up with different options to transfer, backup or restore WhatsApp data, select 'Backup WhatsApp messages' in this case. At this stage, you need to connect your phone to the computer using an USB cable.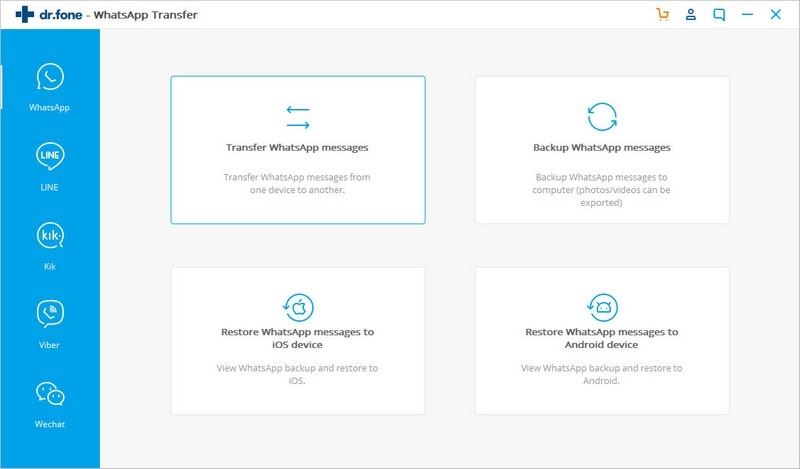 Step 3 – Start making Backup
Soon as the software detects your device, you'll have to click on the 'Backup' button appearing on your screen to initiate the backup process.
Tip: When the backup completes, click 'View it' and then click 'View' next to the backup file, so that you can preview the complete WhatsApp data on the software window.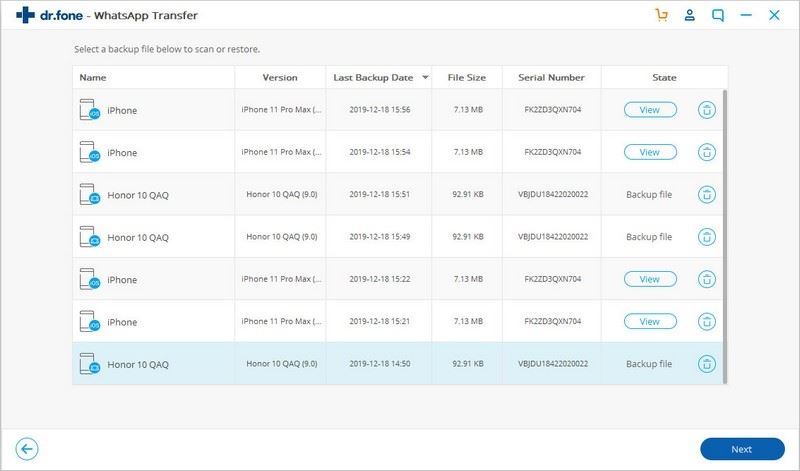 Step 4 – Finish the Process
Lastly, you can selectively transfer your WhatsApp data either to any other device or export to your computer.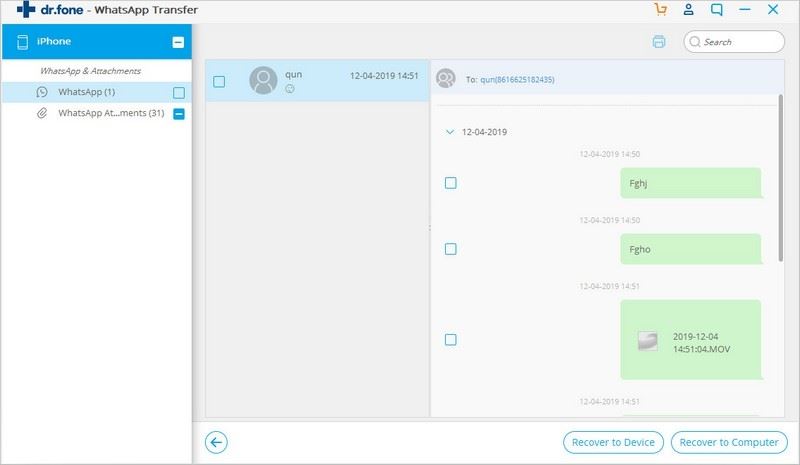 Part 2: Backup WhatsApp Contacts using Goole Drive (for Android Users)
Backing up WhatsApp contacts to Google Drive can be done simply from within the app itself. The process of how to backup WhatsApp contacts can be seen step by step in the following manner.
Step 1: From the menu icon in your WhatsApp account tap 'Settings'. The menu icon is represented by three dots.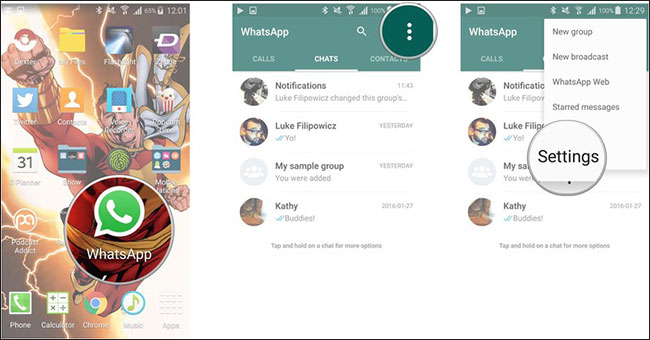 Step 2: Next tap 'Chats and Calls' > 'Chat backup'.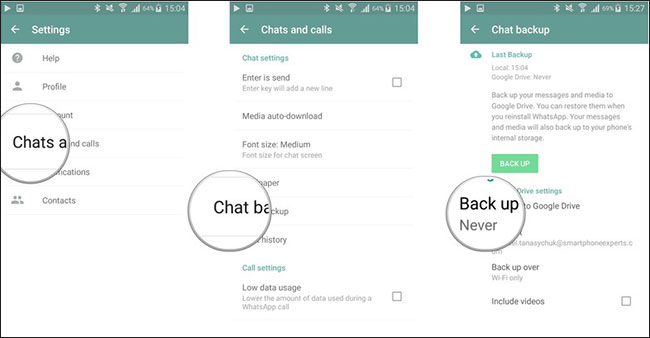 Step 3: You will now find the option of choosing the frequency at which you want your backup process to automatically take place over 'Google Drive'. Set it 'monthly' or 'weekly' or any other option as pre your preference. Next, select the desired 'Google Account' to which you would like to backup your WhatsApp files on.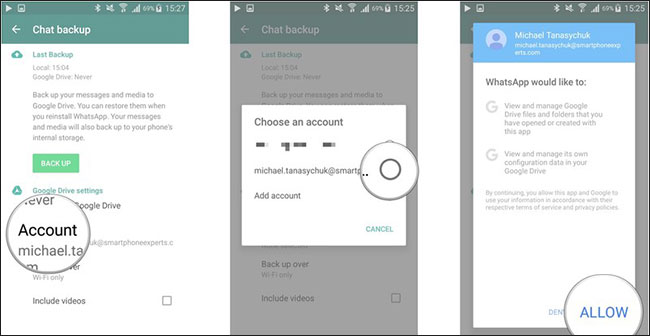 Step 4:Now, select the preferred option under 'Back up over' section. If you wish to back up over Wi-Fi, select the circle next to "Wi-Fi" or you could use your cellular network but remember that it will incur your data charges.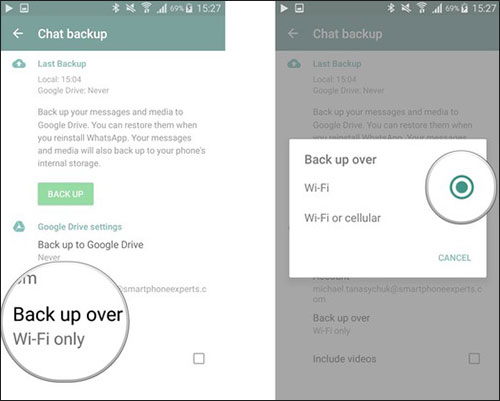 Step 5: To include the WhatsApp videos in the chat, in the backup file, ensure to check the 'Include videos' box.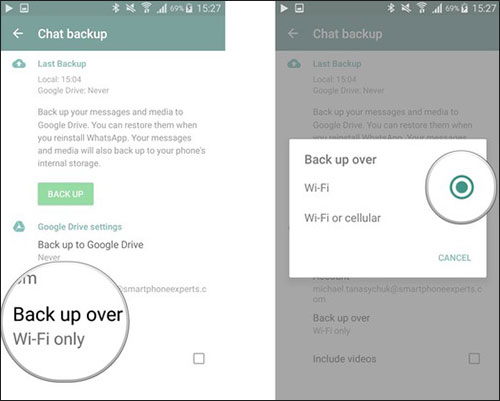 Part 3: How to Backup WhatsApp Contacts to iCloud (for iOS Users)
WhatsApp contacts backup in iPhones is also possible through iCloud. Apple provides 5 GB storage for free to all its users. However, likewise 'Backup to Google drive method' above, this process too needs an active internet connection and is also time consuming. Follow the simple steps listed below and learn how to backup WhatsApp contacts using iCloud.
Note: First and foremost, make sure that your iCloud account is active and is set up to back up the files from WhatsApp.
1) Turn iCloud Drive and ensure WhatsApp is enabled
Step 1: Visit 'Settings' from your Home screen and tap on '[your name]' at the top of your iPhone Settings. Now, hit the 'iCloud' tab and then get into 'iCloud Drive'.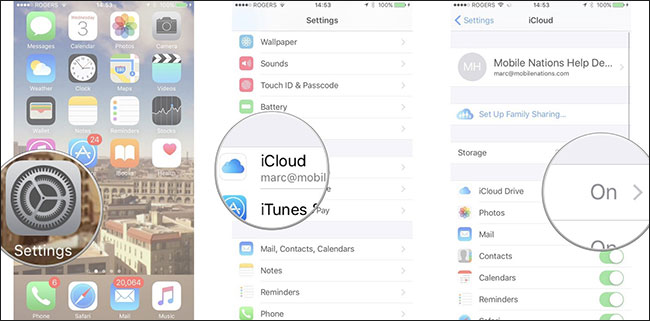 Step 2: If the iCloud drive is 'Off', make sure to toggle it 'On'. Also, ensure that WhatsApp can access iCloud by toggling 'On' WhatsApp in iCloud Drive.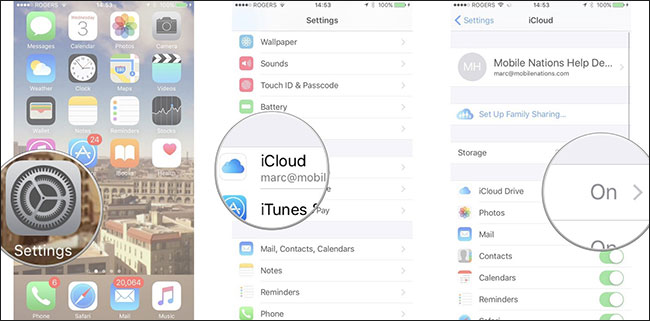 2) Backup WhatsApp to iCloud Now
Step 1: Open WhatsApp on your iPhone and go to 'Settings'. Then tap on 'Chats' and select 'Chat Backup'.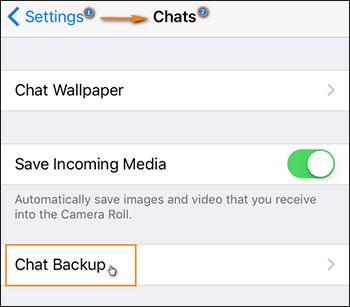 Step 2: Toggle the 'Include Videos' to 'On' if you want to include videos in your WhatsApp backup. Also, for automatic backup, ensure to set the frequency of WhatsApp backups according to your preferences and turn On 'Auto Backup'.

Step 3: Lastly, hit on 'Back Up Now' button.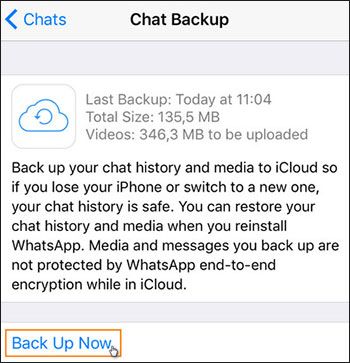 Part 4: How to Backup WhatsApp Contacts using Export Whatsapp Contact List
This is one of the easiest ways to export/backup WhatsApp contacts with just a simple click. You simply need to install the 'Export WhatsApp Contact List' app from Google Play and wait until the application filters all the contacts and categorizes the contact list in your mobile in percentage form. Using this app, you can export unlimited WhatsApp contacts in your mobile and is therefore, a good alternative to backup WhatsApp contacts.
This below listed procedure will explain you how to use the app
Step 1: Install the app from Google Play and open it on your device. The app filters the WhatsApp contacts itself and you can view the number of WhatsApp contacts in your device.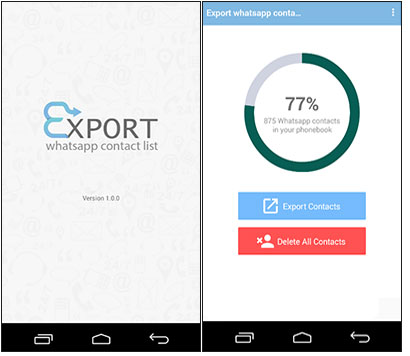 Step 2: Now, simply hit the 'Export Contacts' button and give the desired name to the CSV file and hit 'Export' button lastly. In a short while WhatsApp contacts backup file will be saved on your device's storage.