How can I backup WhatsApp on Android without losing any data? Will it over-writing my previous backup?
- From an Android user
For an Android user, you may use WhatsApp everyday chatting and connecting with your families and friends. Days go on; your phone storage will burn out because of these chat histories, images, and even attachments.
Backing up your phone frequently not only makes your Android phone more secure, but saves storage as well.
Here comes question: How to backup WhatsApp Android without losing any data? Let's check it out!
Part 1: Backup WhatsApp Messages on Android by One Click
[Recommend]
If you're worried about backing up your WhatsApp files, the good news is that we have a one-stop WhatsApp backup tool to recommend. It will successfully back up all your WhatsApp messages and other selective files by only one click. Just follow the steps given below to backup Android WhatsApp without any hassle.
Firstly, let's check out some key features about dr.fone - WhatsApp Transfer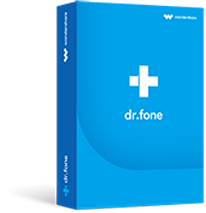 Backup WhatsApp photos, messages, videos and more on Android Phones
It provides a simple solution to preview backup file data and selectively restore it to a computer or an Android device.
It can easily restore the backup taken from an Android to another iPhone/Android without facing any compatibility issues.
WhatsApp Transfer supports most Android devices models and compatible with the latest Android System.
3,990,656 people have downloaded it
Follow the guide below and backing up your Android from here:
Step 1. Please connect your Android phone to PC, download and launch dr.fone . Thereafter, choose "WhatsApp Transfer".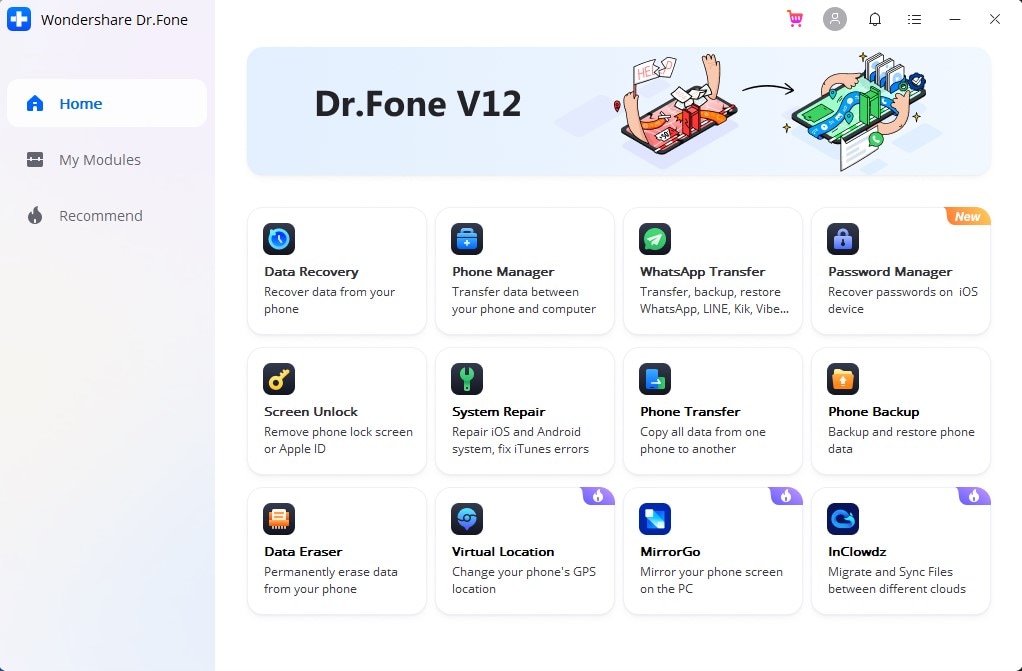 Step 2. Choose "WhatsApp" on the left, then click "Backup WhatsApp Messages".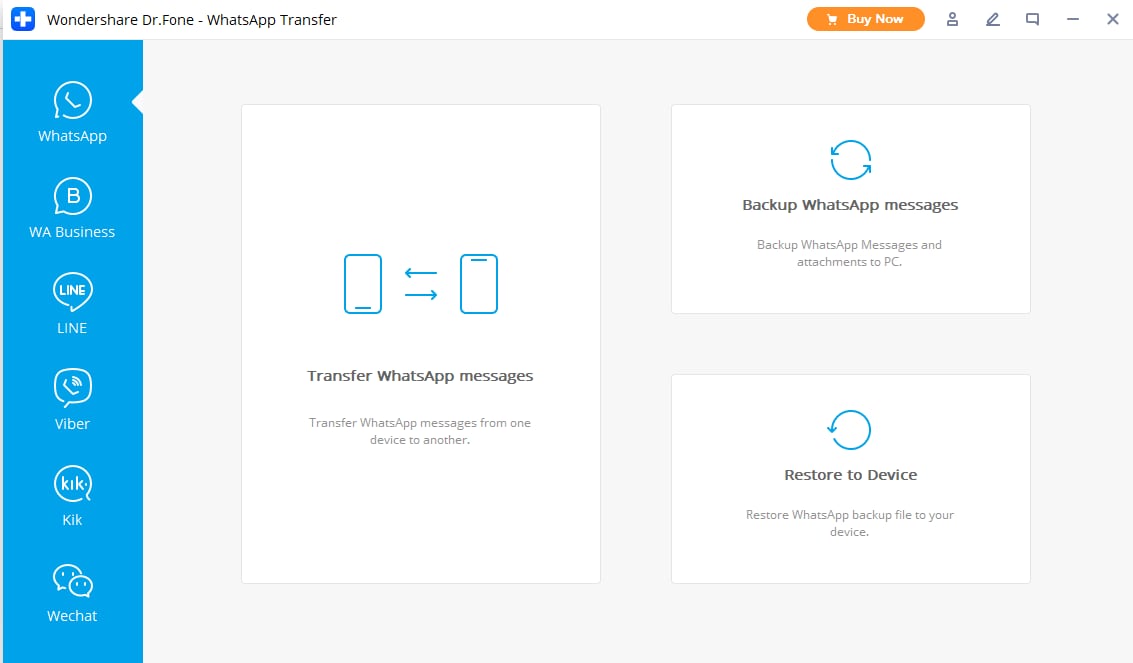 Step 3 . Waiting for the backing up process finished successfully. Click "View it" to view all the files you just backed up. If you want to know more about how to restore backup WhatsApp on Android, dr.fone also can help you with that.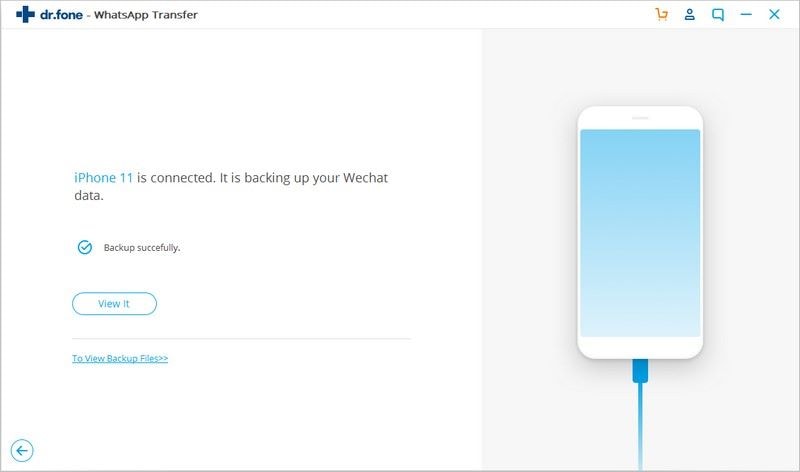 Part 2: How to Backup WhatsApp Android with Google Drive
It is also another easy way to back up your WhatsApp Chats by using Google Drive. Kindly remind that before we start, make sure you already have a Google account, if not, we need to sign up first.
The following steps illustrate how you can backup WhatsApp Android from google drive.
Step 1. Launch WhatsApp on your phone, go to "Settings" section and click "Chats backup".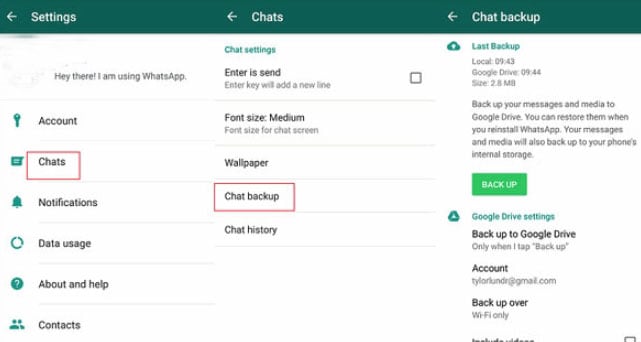 Step 2. Tap on "Backup to Google Drive" and choose whether you would like to backup your WhatsApp data daily, weekly, or monthly. Log into your Google Drive account and start backing up.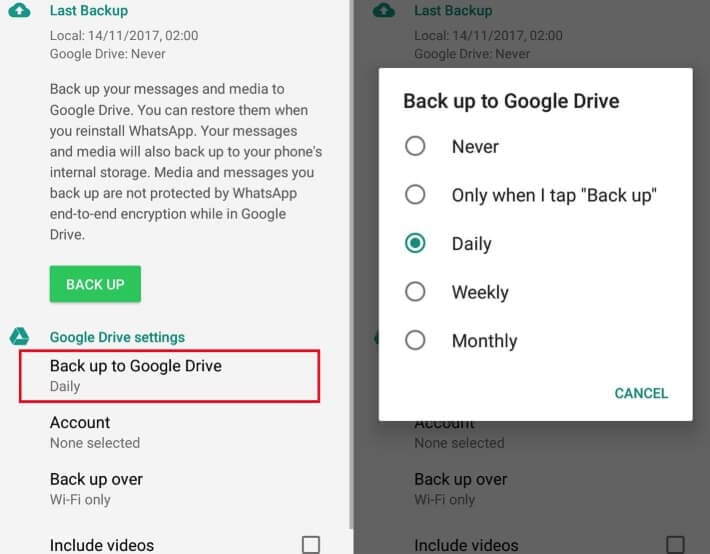 Step 3. Check the box and choose whether you want "Include Videos" or not for your backup.
Step 4. Now go to your Google Drive, your WhatsApp has already backed up successfully.
Please note that:
Backing up WhatsApp messages by Google Drive will probably overwrite some previous files that, so you can not ensure that some of your precious WhatsApp files are still there.
You will not be able to restore WhatsApp backup if you can not use the same phone number or when your SD card is corrupted.
Part 3: How to Backup WhatsApp Android Via Local Backup
If you already have a backup on your computer, and don't want to save your data on Google Drive. To back up your WhatsApp messages locally, you simply need to follow these concise steps below to complete the local backup process successfully.
Step 1. Same as before, you should launch the WhatsApp app first.
Step 2. Go to Settings < Chat < Chat Backup.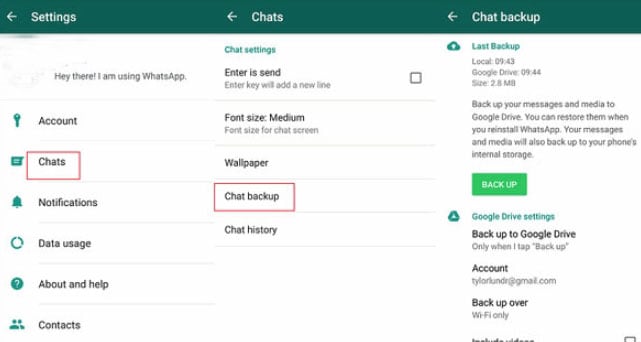 Step 3. When you choose "Backup to Google Drive", you need to uncheck that box and choose "Never" option. Then tap on "Back up" to create a local backup. You can check your backed up files under Whatsapp/Databases folder later.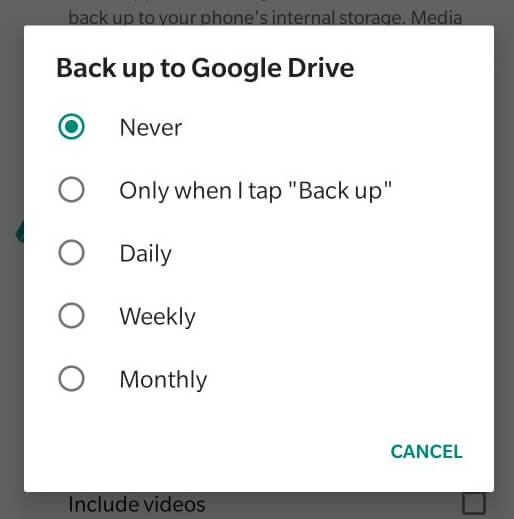 Please note that:
WhatsApp local backup is only saved for 7 days on your phone.
WhatsApp will also automatically backup your data of last 7 days to your phone.
Part 4: How to Backup WhatsApp Android Using Email Chat
Sometimes we just need to send a single conversation to somebody directly, one of the other easy ways is by emailing WhatsApp chat history.
One thing you should know about this method is you will receive a TXT file after you send your chat history via email, the other thing is you can only one conversation in an email, you can't backup several conversations at a time. Follow this step by step guide below:
Step 1. Launch WhatsApp and go to the conversation that you are willing to email. Click on the contact name at the top.
Step 2. Click "Export Chat" and choose whether you want to email the media files (images, videos, documents etc.)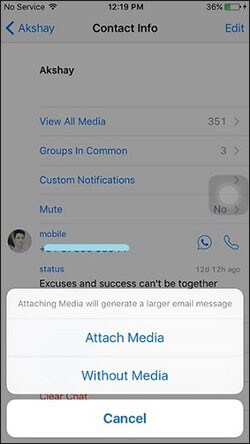 Step 3. Click "Email" and you will see the email process until it succeeds.
Attention: If you choose email messages with media files in the previous steps, you will see all the media files will be attached individually in the email.
Part 5: Why I Can't Backup My Android Device Successfully?
While WhatsApp lets us take a backup of our chats to save messages, However, it is not surprising if your WhatsApp app gets stuck during the process of backing up your messages. If that happens, your best bet is the dr.fone. It can let your backup process smoothly and easy to use. Alternatively, it might also be a minor glitch so you can try doing the following:
1. Update WhatsApp.
Obviously, the first method is to check if you have updated your WhatsApp to the latest version. To do so, visit the Google Play Store and click on the three horizontal lines on the screen's top left side. After that, click on "My apps & games." Here, all your installed apps will be visible, and there will either be an option of "Open" or "Update" in front of each app. If it says "Update" in front of WhatsApp, update it immediately by tapping on it.
2. Check the Storage Space.
Alternatively, you might need to check your storage space if your WhatsApp backup has suddenly stopped working on your Android phone. To do so, simply click on "Settings" and then tap on the option that says "Storage." This allows you to investigate precisely how much storage space you are left with on your device. You will also be able to check which of the apps is taking up the most space in your phone.
3. Restart Your Phone.
Try to restart your device. Sometimes, it is possible that a mere restarting of the device can get your WhatsApp functional again. Therefore, try to reboot your Android phone and then check if the WhatsApp backup is in order and working again.
4. Re-sign in Your Account on WhatsApp.
If these options do not work, you might need to try to re-sign into your account on WhatsApp. Yes, sometimes the solution can be something as minor as this! It is possible that your WhatsApp backup stopped working or failed because the server of the platform failed to sync with the account correctly. Although it does not happen very often, you can try logging out of your account and then logging back in.
If none of these options work, try dr.fone to fix the problem without any further hassle!
Conclusion
Finally, it is time to conclude the last words in this guide. I'm sure that after reading this post, you will find out that when you face an Android backup issue, dr.fone - WhatsApp Transfer would be beneficial to help you solve this problem, it can backup all types of files selectively in one click. You can restore your WhatsApp data from your backup later.
This software is not only easy to use, but safer to transfer and backup through different devices, not only Android, dr.fone also works for WhatsApp iPhone backup & restore. If you find out this guide is helpful, feel free to share the guide with your family and friends if they meet the similar problems.