WhatsApp has become almost everything to everyone. You can make voice and video calls, and share media files such as music, pictures, and videos. Also, the status part of WhatsApp often makes it a great form of entertainment.
It won't be a pleasant experience if you lose your device. Every fun file, including funny videos, or even work videos, goes with it. There's a need to backup your WhatsApp videos, in the case of unforeseen circumstances. Thanks to options, there is more than one way to backup videos on your iPhone. Here's how to backup WhatsApp videos on iPhone and Android.
Part 1: How to Backup WhatsApp Videos on iPhone?
Option 1: Using iCloud for Backup
For people who run an iOS 9 or the later versions, you can also back up your media and video files to iCloud by using the app settings. However, be sure to enable your iCloud drive and sign in using your Apple ID, then go through the following steps:
Step 1. To enable your iCloud drive, go to your phone's settings, select iCloud, then click on the toggle on iCloud drive.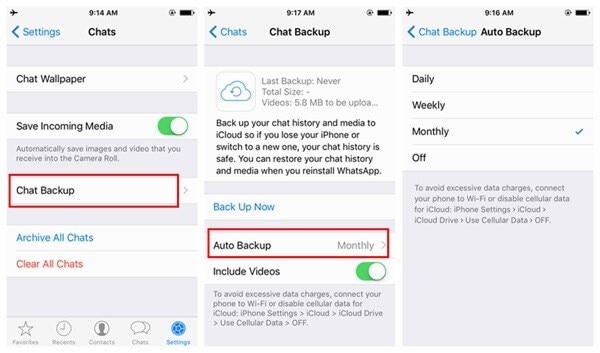 Step 2. Open WhatsApp and click on the "settings" option at the right bottom part of your phone.
Step 3. Click on "chats" and then the "chat backup" option.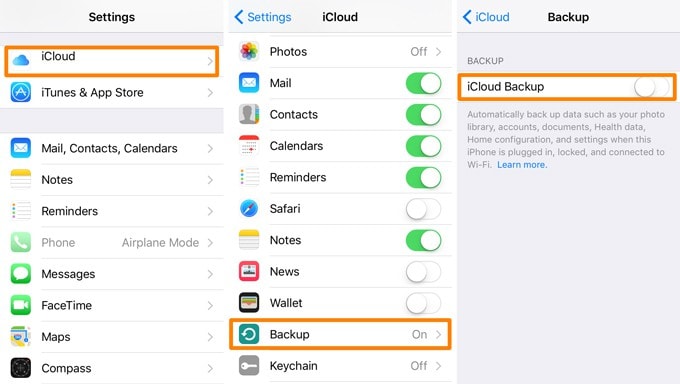 Step 4. Select the "Back Up Now" option and then back up your WhatsApp videos by enabling the "include videos" options.
Downsides to Backing Up Your WhatsApp Videos Via iCloud
If you are using an iPhone, you must have asked the question 'how can I backup WhatsApp on iPhone without iCloud?' This is probably because you have witnessed firsthand some of the downsides of using iCloud to backup WhatsApp videos.
As much as backing up files has its advantages, there are a few disadvantages with the iCloud backup that you may like to know:
Confidentiality: with iCloud, Apple gets to have access to the data that you're backing up.
Security: hackers are always targeting Apple's iCloud. No one would be comfortable with the thought of losing their files.
Internet Connection: when using iCloud as a backup tool, you'll need a Wi-Fi connection. You can imagine all the possible situations where you would have to lose files because there's no Internet signal.
Speed of File Transfer: large files are slow to transfer when using iCloud.
---
Option 2: Using iTunes for Backup
A good alternative for backing up your WhatsApp media files is by using iTunes. Here's how:
Step 1. Launch iTunes after connecting your phone to a computer. Next, sign in with your Apple ID.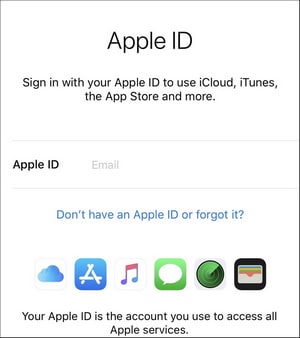 Step 2. Click the 'Restore backup' button on the iTunes 'backup' page to begin the WhatsApp video backup process.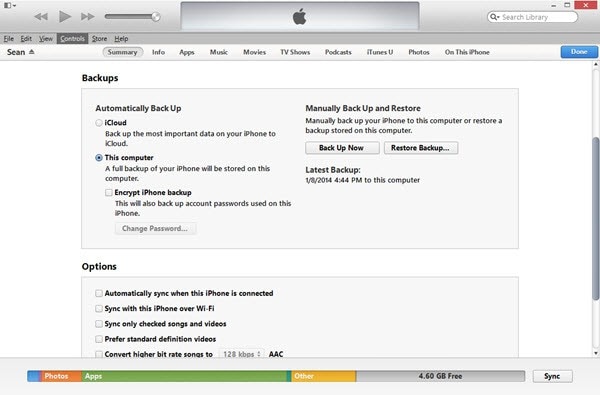 Step 3. Select the "Backup now" option and select "this computer" to avoid creating the backup on iCloud.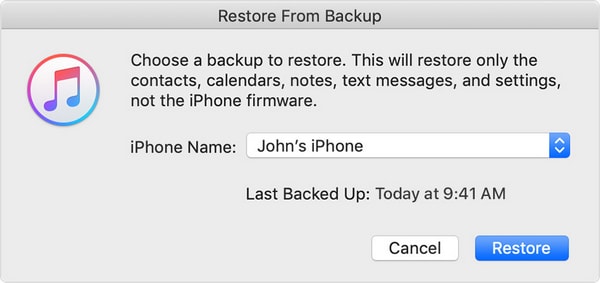 Cons of Backing Up Files On iTunes
The only factor that distinguishes iTunes from iCloud is the ability to save all the files you may be unable to keep on iCloud in iTunes. However, on the con side, here are a few things you might want to know:
You will not be able to back up through iTunes if you don't connect your iPhone to a PC or Mac.
iTunes is known to be slow on computers, especially with Windows software. Imagine using it for businesses that upgrade their hardware once in a while.
With iTunes backup, you'll need to encrypt your passwords still. Otherwise, you risk losing your apps' profiles as a result of forgotten passwords.
Note: Another important question people often ask is 'can we backup WhatsApp video calls?' Backing up video calls on WhatsApp is not allowed because it goes against the strict privacy policies set up by WhatsApp. Do no, and you are not officially allowed to backup WhatsApp video calls.
Part 2: How to Backup WhatsApp Videos on Android?
Have you ever wondered how to backup WhatsApp videos on Android? Don't worry; it's possible to backup WhatsApp videos, and we've got the answer. Here's the easiest way to backup videos on WhatsApp.
With the introduction of a backup feature (Google drive) by WhatsApp in 2015, set by default, you get to back up all chats, videos, images, and documents on WhatsApp to your Gmail. However, you can always backup your WhatsApp files at any time you please, using the following steps:
Step 1Open the WhatsApp Application.
Launch the WhatsApp app from your Android device and tap on the three dots on the right side of your screen. Click on 'settings from the list of options to be displayed.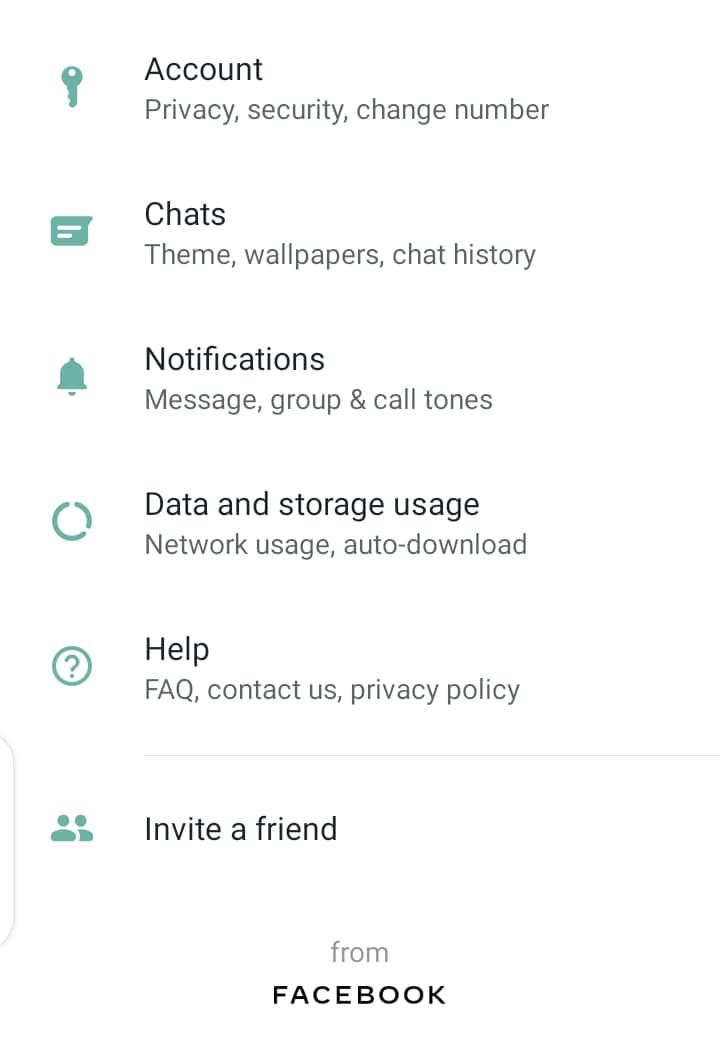 Step 2Select the Backup Option.
Once you have opened the 'settings page, click on "chats" and select the "chats Backup" option to enable you to backup your files. It would interest you also to know that WhatsApp backup includes videos.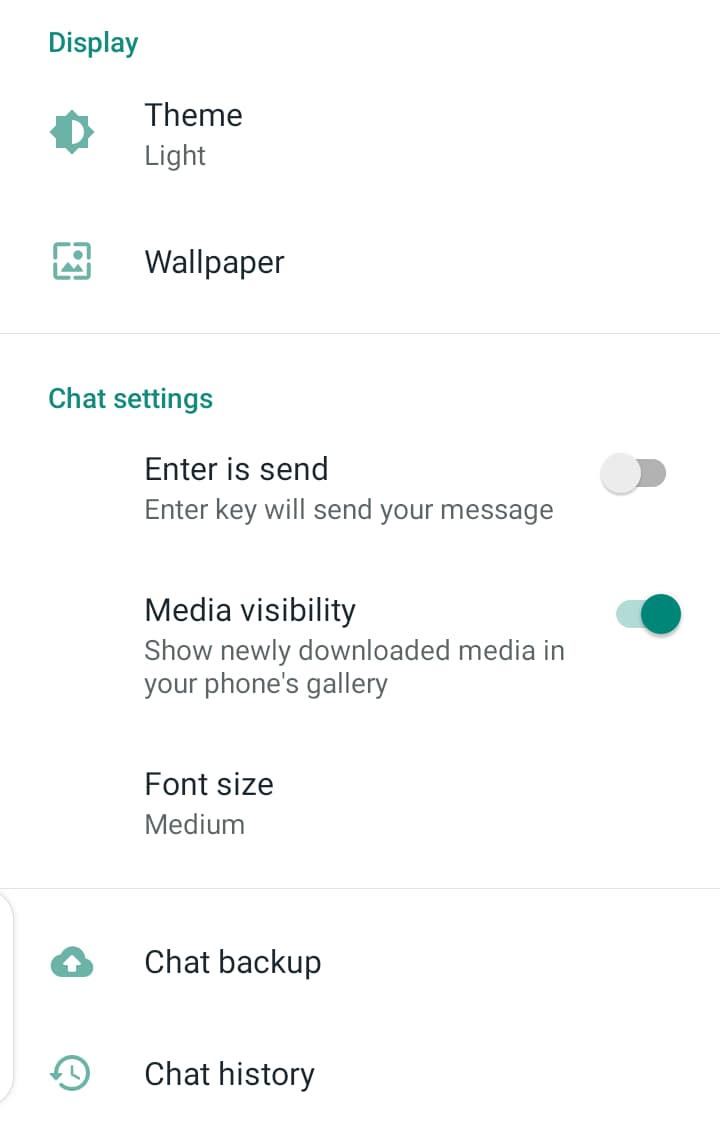 Step 3Proceed to Backup WhatsApp videos.
To backup WhatsApp videos on android, scroll down to the bottom of the 'chat backup' page and tick the box by the "include videos" option. Next, you will click on the green button tagged 'backup' on your screen.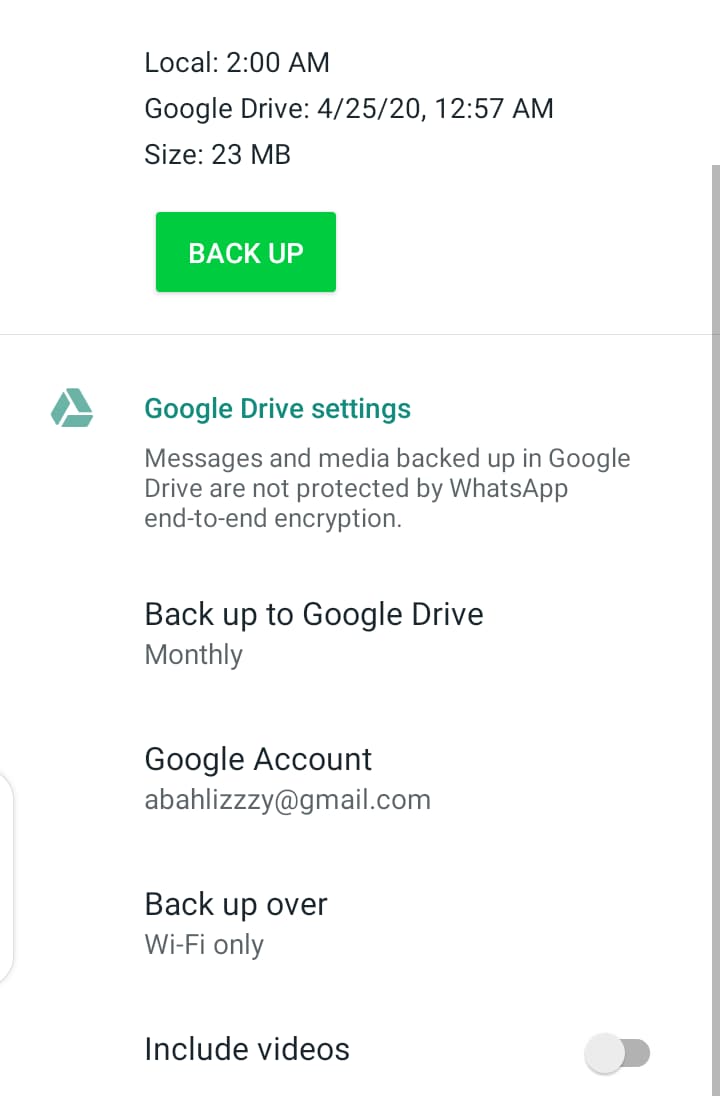 There you have it. This answers your question about 'how do I backup WhatsApp videos.' However, It's best to know that this method of android WhatsApp backup is only possible via Google drive, and as such, will require the following:
Activating a Google account on your phone.
Installing Google play services on your phone.
Having sufficient free storage space on your phone for the backup.
And of course, a good internet connection.
Part 3: Proven Best Ways to Backup WhatsApp Videos On iPhone and Android
Many people ask online, 'How do I transfer WhatsApp video from iPhone to computer'? This is very easy with the help of dr.fone's WhatsApp transfer software.
The most reliable and stress-free method of backing up your WhatsApp media files is through a Restore Social App, the dr.fone Toolkit. It is available for both Android and iOS. You not only transfer your WhatsApp messages, including the media files (and videos), to your PC but you also quickly restore the backup files to your new devices. dr.fone is reliable as many users trust is based on the great reviews posted.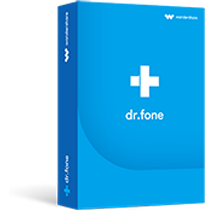 Backup and Transfer WhatsApp Videos Easily
Transfer and backup your WhatsApp videos from your IOS device to your android device without any loss of data.
You can restore your files on new devices after backing them up from an old device to a PC.
You can also backup chat history from all other chatting apps.
Enables you to preview the WhatsApp backup files.
3,898,656 people have downloaded it
If you're wondering how to transfer your WhatsApp files to a new phone, maybe to save space, or you got a new device, the most trusted and the most downloaded tool is the dr.fone WhatsApp transfer tool. It's fast, reliable, and very effective. The easy part is that you get to restore all files to another device with a click. Here is how to backup WhatsApp Videos on iPhone and Android to PC:
Step 1Launch WhatsApp Backup Tool.
First, download and install the dr.fone WhatsApp Backup Tool on your computer system. Next, Open the backup tool and click on 'WhatsApp Transfer'.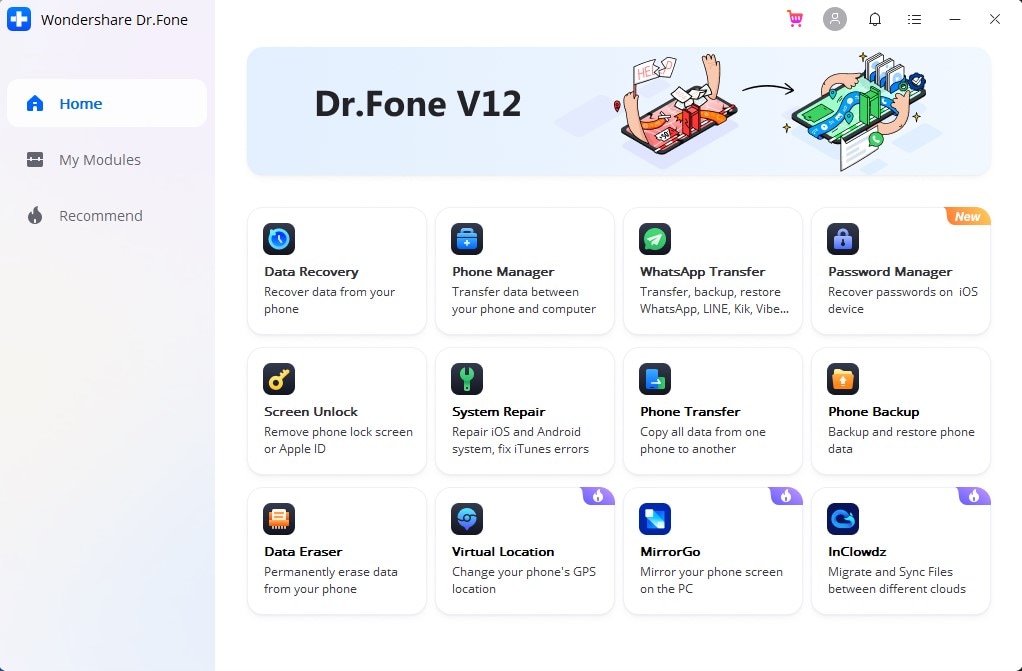 Step 2Connect the iPhone or Android to your PC.
Once the WhatsApp backup tool has been successfully launched, you will then connect your iPhone to the PC through a compatible USB cord.
Step 3Access the Back Backup Options.
Once you have selected the WhatsApp transfer option, you will find a list of options displayed on one left-hand side of the screen. From the list displayed, click on 'Whatsapp Option' next, select 'WhatsApp Backup Messages' to begin the WhatsApp backup process.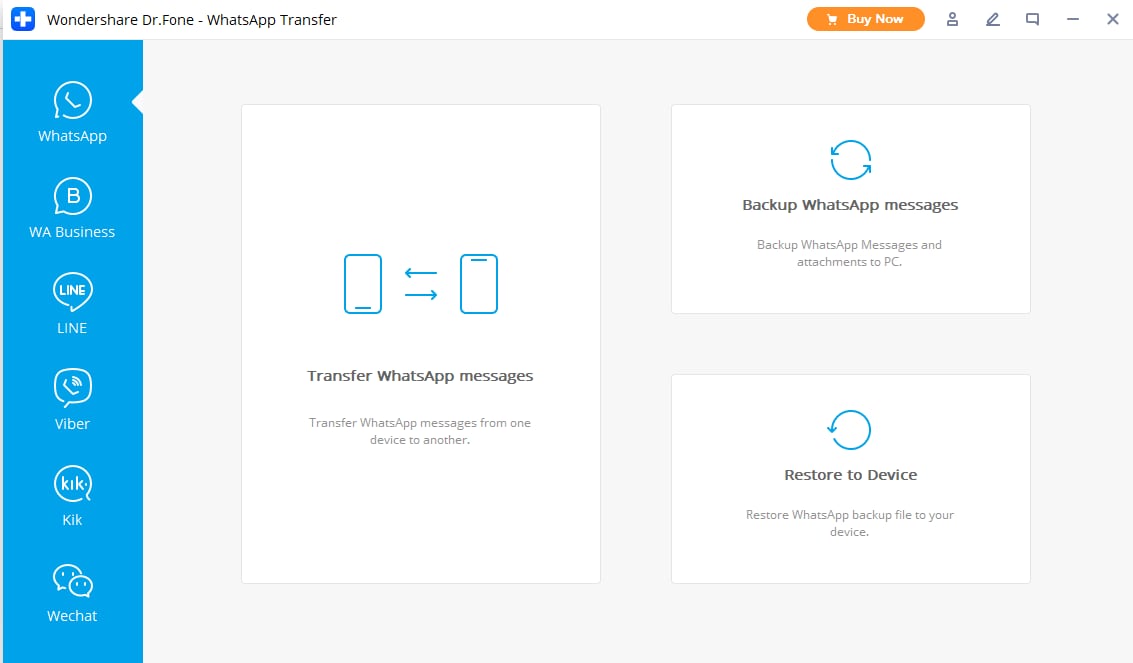 Step 4Backup the WhatsApp Videos.
You will find a list of WhatsApp files, including the videos you intend to backup displayed on the screen. Highlight the desired videos and select the backup option. The video files will then be backed up on your computer.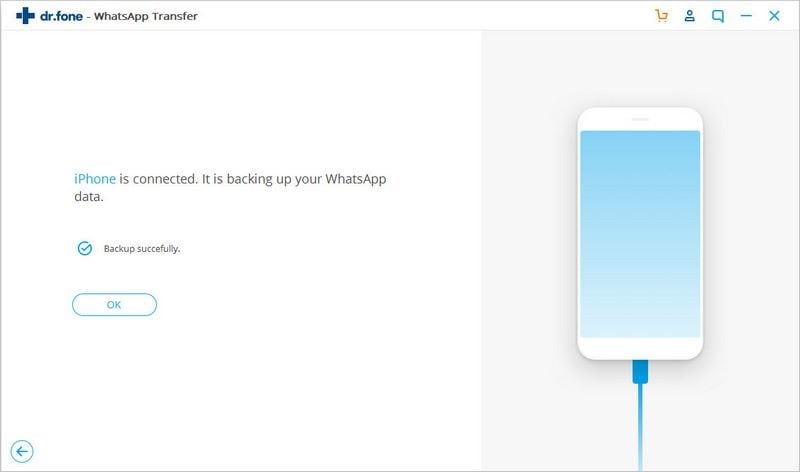 Step 5Preview the Backed up Files.
Once the WhatsApp videos have been successfully backed up, select the "view" option to get a preview of the WhatsApp backup.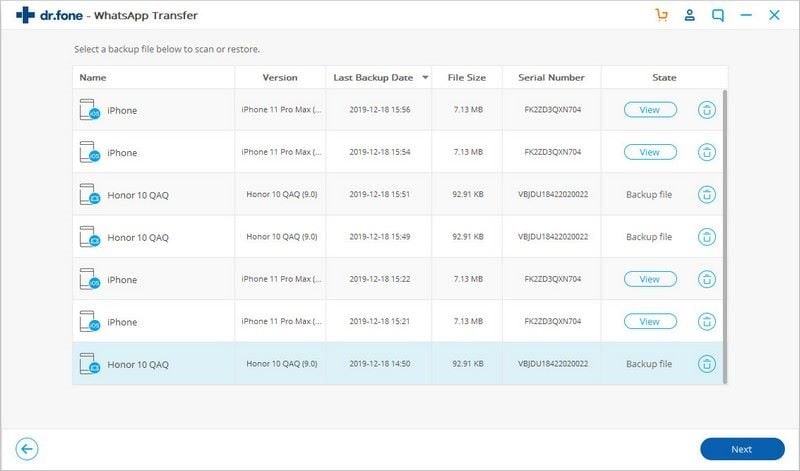 Conclusion
That's it! The post provides you 4 pratical ways to backup WhatsApp videos on your iPhone or Android. While you can use iCloud and iTunes to backup video files on your iPhone, you will find that there are a few downsides to them. That's where dr.fone comes in. With the knowledge of dr.fone, you can have a hitch-free backup and restoration of your WhatsApp media files, both from your iPhone and Android devices.