"What can I do when my WhatsApp iCloud Backup is stuck?"
This is a question that often arises among iOS users, and the solution to it is simpler than it really seems. While performing WhatsApp iCloud backup is the most preferred method, it is not what you would call entirely foolproof. In case it goes down, we could end up in a load of trouble if we are not aware of any other methods to backup WhatsApp messages, chats or other data to the computer. It is thereby essential that we understand a few other easy and effective methods of WhatsApp backup. This article is aimed at addressing this very issue, by providing guides on how to backup WhatsApp data on iPhone without iCloud.
Part 1. 2 Methods to Backup WhatsApp without iCloud
Method 1: Backup WhatsApp from iPhone with dr.fone - WhatsApp Transfer
dr.fone - WhatsApp Transfer is a software for simple, efficient transfer, backup and restoring of all kinds of WhatsApp data. It is one of the best tools on the market today for this very task.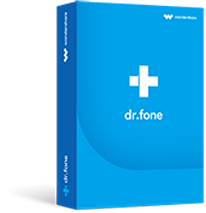 Backup WhatsApp data with ease
Its one-click backup enables you to back up your WhatsApp chats and attachments with just a single click.
You can export WhatsApp messages, videos, music and any other attachment selectively to your computer.
You can preview, read and print your messages in HTML or CSV format.
3,990,656 people have downloaded it
Described below is a step-by-step guide on how to backup WhatsApp data on iPhone without iCloud
Step 1. Launch dr.fone, select 'WhatsApp Transfer, Backup & Restore'. Select the module that says 'Backup WhatsApp messages'. Using a USB cable, connect your iOS device to the computer.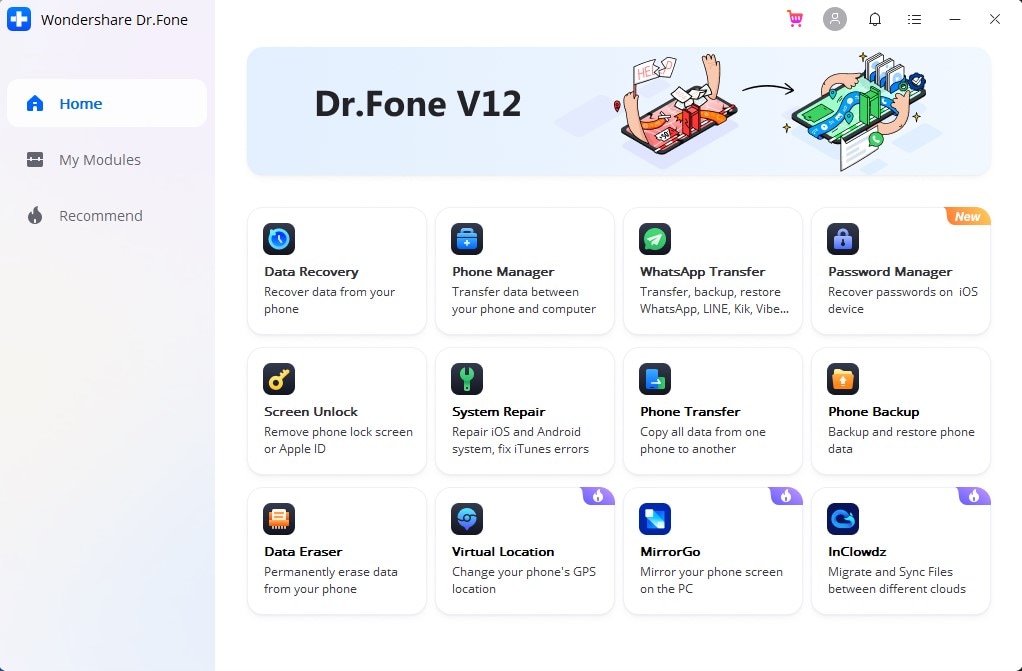 Step 2.Select 'Backup'. The connection of your device with the PC must remain uninterrupted till the process is complete. Once the backup is complete, select 'View It'. Select 'View' next to preview the backup file.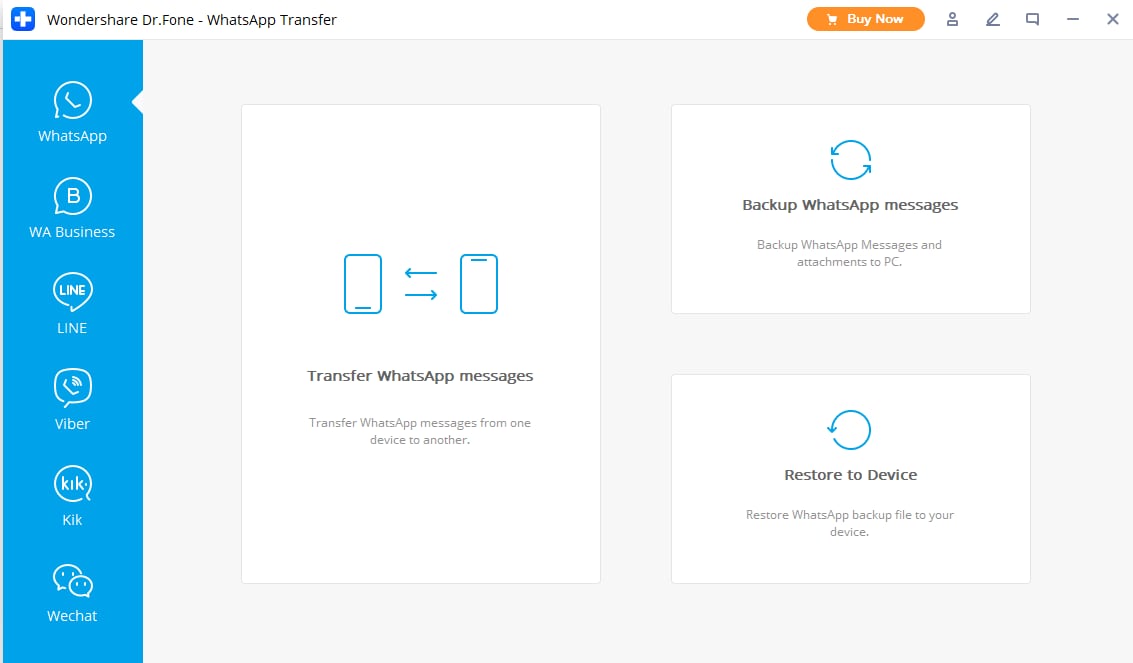 Step 3.Select 'WhatsApp' or 'WhatsApp Attachments'. This shall show you your WhatsApp backup. You can selectively choose and export any WhatsApp messages and attachments to your computer.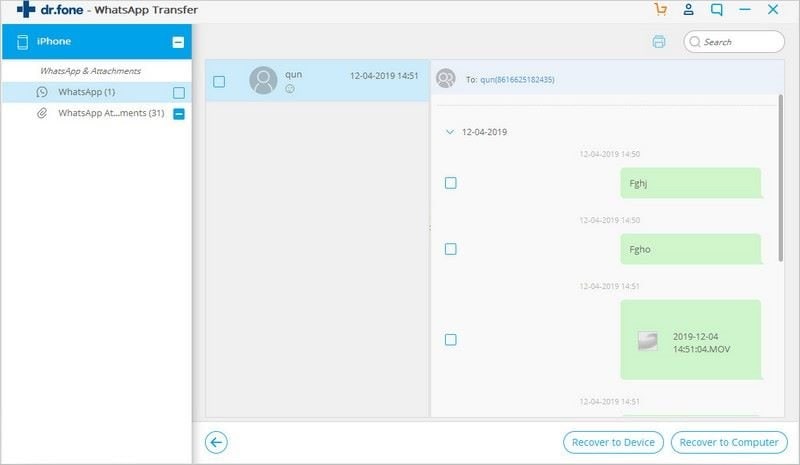 If, however, you are hesitant to use any third-party software to backup WhatsApp from your iPhone without iCloud, you can also perform the backup by means of iTunes. See it below.
---
Method 2: Backup WhatsApp from iPhone Using iTunes
how to backup WhatsApp data on iPhone without iCloud? There is another reliable method, that's using iTunes to backup WhatsApp data, considering how the iTunes software belongs to the Apple family itself. In addition to this, it is a safe, effective software for creating a backup as well as restoring data from the backup. You may choose to perform the WhatsApp cloud backup along with an entire backup of your iOS device by means of iTunes. The process is very simple, as illustrated below.
Note: Backing up WhatsApp with iTunes doesn't allow you to preview or selectively restore the backup files.
Step 1. Open iTunes. Using a USB cable, connect your iOS device to the computer. A message asking for your device password or to Trust this Computer will pop up. Follow the instructions on the screen. Then select your device when it is recognized and appears in iTunes.
Step 2. Choose to encrypt your backed-up data by selecting the 'Encrypt' box and create a password that is easy for you to remember. In case this isn't required, simply select 'Back Up Now'.
Step 3. After the completion of the process, you may check whether the backup has been created successfully on the Summary screen. Underneath the Latest Backup heading, the date and time shall be displayed.

Part 2. How to Backup WhatsApp with iCloud
If you have encountered a problem while trying to backup WhatsApp with iCloud, it may be due to several reasons. You may try to fix this by either restarting your iPhone or the WhatsApp app or by selecting 'Settings'> 'iCloud'> 'Manage Storage'> 'WhatsApp Messenger'> 'Delete Data'. Close the Settings and open the WhatsApp chat settings, then try restarting your backup. If this solves the problem, then you may backup WhatsApp with iCloud backup.
To backup WhatsApp with iCloud, follow the given simplified, step-by-step guide:
Step 1. From the Home Screen of your iOS device, launch WhatsApp. Select 'Settings' >> 'Chat' button >> 'Chat Backup' >> 'Back Up Now' to begin the process of uploading your WhatsApp chats to your iCloud storage.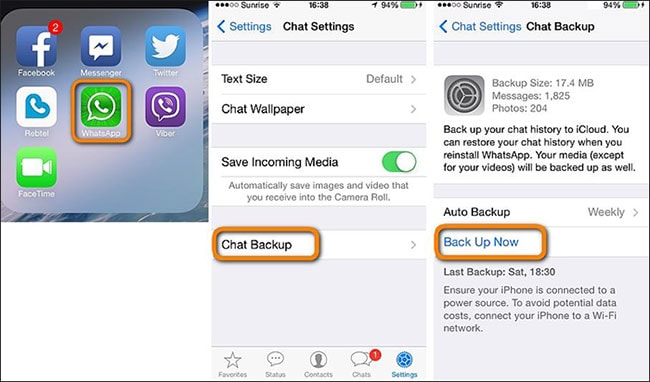 Step 2. You can also choose to set up iCloud to automatically backup all your chat data by selecting 'Auto Backup' and selecting a backup frequency of your choice. Choose 'Chat Backup'. This will take you back to the last Settings menu. Select the switch beside 'Include videos', according to whether you'd like to enable/disable this option.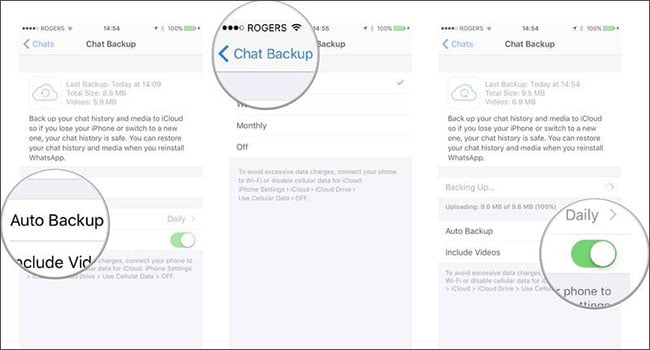 Step 3. After having created the backup, you can now restore all your chats if you reinstall WhatsApp on any iOS device.
Conclusion
WhatsApp, which created initially as a casual online chatting app has now gained popularity fast, to the extent that it, in addition to casual chatting and both informal and formal conversations too, is now used almost extensively for strictly professional communication as well. As a result, a lot of the data that we send and receive using WhatsApp is very important and must be protected and managed efficiently.
In case something goes wrong with our iPhones or we simply wish to switch to a new phone, we should not have to lose all our important data and start afresh. It is, therefore, very important that we understand how to backup WhatsApp data on iPhone without iCloud, in addition to understanding the process of backup of WhatsApp with iCloud. In case the straightforward method of iCloud backup fails for any reason, we shall always have other means to create and protect our data from getting lost.