Did you send a wrong message in WhatsApp to someone or a wrong group? Now you want to find a way to delete this message permanently?
Millions of people are using WhatsApp daily, and you may be using WhatsApp to send your messages too. Using this app constantly might make you send messages that you did not intend to send in the first place.
Fortunately, in this post, you can learn how to delete WhatsApp messages with only a few steps. Within a time limit of one hour, you can choose to delete any messages for yourself or everyone. Furthermore, if necessary, you could also find right methods to recover deleted WhatsApp messages.
Part 1: How to Delete WhatsApp Messages on iPhone
WhatsApp is a cheap and easy way to send text messages without using a text plan. The memory of an iPhone can be filled up with chat records from old chats,and you would want to clean up these messages to save on space. Long conversations and archived messages are taking up your phone's memory.
If you need to protect your privacy, save space, keep your conversations private and clean your phone, you can delete all chat history in iPhone via the following steps:
1. Deleting One Message in A Conversation:
Deleting a single message from a group chat or conversation you need to:
Open the group chat or conversation containing the message.
Scroll up to the edit button and tap on it.

Click to select the message you want to delete.
Remove the message from the page by selecting the trash icon at the bottom.
2. Delete An Entire Conversation:
If you need to remove a whole conversation,follow these steps:
Select the chats section in the WhatsApp application.
Slide your thumb across the conversation from right to left that you want to erase.
A delete button will pop up and then tap it to delete message in WhatsApp completely.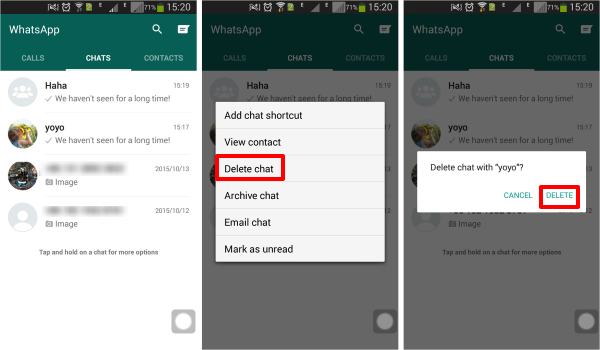 3. Delete the Chat History:
Open WhatsApp and go to settings.
Scroll down and find clear all conversations.
Select it to delete all your chat history.
Part 2. How to Delete WhatsApp Messages After 7 Minutes on Android
The new feature in WhatsApp enables users to unsend messages. This feature has been in testing for quite some time,and if you have the latest update,you can save yourself the embarrassment of sending ill-advised messages.
A message can only be deleted within the first seven minutes. If you hit the send button eight minutes ago,you are in bad luck. Maybe that's how it is supposed to be. However, there is a method that you can use that lets you delete messages after sending that are not only longer than seven minutes but also up to seven days old.
Follow these steps:
Disable mobile data and wifi. Go to the phone's settings and tap on the mobile and wifi toggles.
Scroll up to the edit button and tap on it, and select WhatsApp and select force stop.
Go to the date and time option and reset the date to match the day you sent the message that you want to erase.
Click to select the message you want to delete.
Remove the message from the page by selecting the trash icon at the bottom. If your phone is set to use your network provided time you will be required to turn off this option.
Open WhatsApp again and search for the message. Tap and hold it then select delete for everyone.
Switch your mobile data and wifi back on and change back the date. Your message will be replaced by a place holder "this message was deleted".
Note: This Trick Comes With A Few Challenges:
Deleting messages older than a week would prompt WhatsApp to ask you for the correct date.
The sender and the receiver need to have the latest version of WhatsApp to perform this trick.
Part 3. How to Delete WhatsApp Messages for Everyone?
What is "Delete for me" and "Delete for everyone"?
"Delete for me": a function enables you to delete the message from your phone but the receiver will read the message. This feature is important if you think that someone else has access to your phone and you want to keep the messages private.
"Delete for Everyone": a function deletes sent messages and received messages both on the sender's end and receivers' end. This feature is important if you have sent an ill-informed message and you do not want the recipient in a group chat or individual chat to read it.
What happens when you use "Delete for Everyone"?
When you "Delete for Everyone" as the sender, the receiver will not be able to read the message, which will be replaced by the place holder. The message was deleted.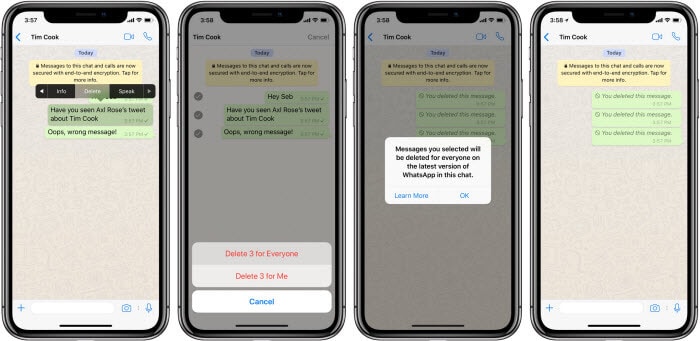 In this way, why you CAN'T use "Delete for everyone"?
Time limit for deleting messages

"Delete for everyone" has a time limit, unlike the normal delete that operates all the time. You can only unsend messages within one hour of sending them. The 'Delete for everyone' option will not be seen after that.

Received messages

"Delete for everyone" works on sent messages. This means you can delete messages you have sent and not for anyone else. For example, if you are a group admin you cannot delete a message sent by a group member. You can however use the "Delete for me" option to remove received messages from your phone.

Quoted texts

If someone sends a response quoting your message, you would think that if you "Deleted for everyone" the quoted message will not appear. This does not happen. The message that you sent will be deleted but the quoted message sent by the receiver remains visible.

Undeletable WhatsApp pictures on iPhone

Apple usually has a restrictive environment. Such restrictions are evident when trying to delete a message on WhatsApp. The "Delete for everyone" option does not delete media files. To understand this you need to know the formats: WhatsApp media files download on iPhone and Android. In Android, the files get downloaded automatically on your phone.
Things are different in the iPhone. A media file is not automatically downloaded on your phone. Even when you click on the file to view it sticks on the WhatsApp servers unless you click on the "Save" button.
Part 4. How to Recover Deleted WhatsApp Messages?
Although deleting messages is in a second, but is that possible for me to get all the WhatsApp messages and files that I deleted permanently back? Can it come true?
If you considering this, dr.fone – Data Recovery software will be a great choice for you. This data recovery tool is available for both Android and iOS devices. It helps you get back lost photos, contacts, messages, video, app data and much more that you have permanently deleted.
To get your deleted WhatsApp data back, you just need to follow these steps:
Download, Install and launch the dr.fone software in your device.
Select the "Data Recovery" option on the main menu. On the left side, you can select where you want to scan for the lost messages in WhatsApp.

When the scanning completes, you will see the results on the list and tick the conversations you want to recover.
Click the "Recover to Computer" button once complete to save the messages to the computer. You can restore or open them to your device.
Apart from using the above method to retrieve deleted WhatsApp messages from iPhone, you could also choose a data recovery from iTunes or iCloud.
Think Before You Delete
Just remember "Delete WhatsApp Messages" or "Delete for Everyone" might not always work, and WhatsApp won't notify you if it does fail. However, think before you delete WhatsApp messages, or the other good advice for you is to backup your WhatsApp chat history frequently. please be noted that, no matter what your device is, Android or iPhone, dr.fone will be your handy tool. Hope you find the post helpful for you.