WhatsApp is one of the best apps all over the world due to its many good features, we can share text, images, videos, audio, and documents through this application very easily. It also provides voice call and video call support. Many people are promoting their business or brand via WhatsApp groups these days. But, sometimes, we have to delete WhatsApp group chat and WhatsApp group message due to different reasons.
For example, you have joined a WhatsApp group for the promotion of your business or industry, after completion of promotion now you don't need its information. Similarly, you have left a group and don't want to keep a chat related to that particular group. In this article, we will discuss how to delete WhatsApp group chat and message, and how to leave a WhatsApp group? Read the complete article to have complete knowledge about them.
Part 1: Simple Steps to Delete WhatsApp Group
We can create or join different WhatsApp groups according to our needs. Similarly, if we don't like a group that we joined mistakenly or a friend added us, we can leave and delete that particular group easily. You don't need to worry about how to delete WhatsApp group? We can delete a WhatsApp group and group chat by following the steps given below:
Step 1. Firstly, open that particular group that you want to delete.
First of all, open that particular group that you want to delete. After that, tap on the top bar that shows group info.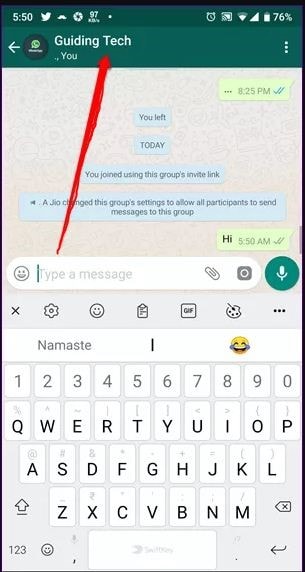 Step 2. Scroll down and find the "exit group" option.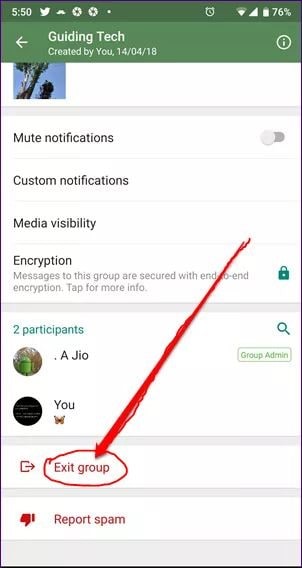 Now just scroll down and find the "exit group" option and click on it.
Step 3. Choose the option "exit".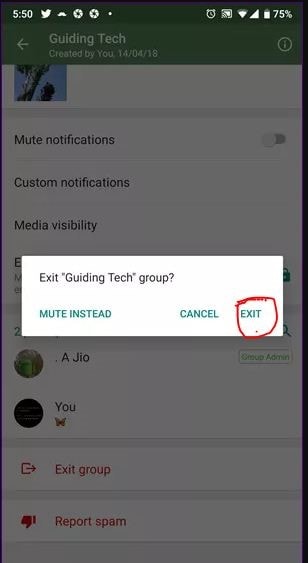 Now click the button "exit" and you will no longer receive irrelevant information.
Part 2: Why We Should Delete WhatsApp Data Sometimes?
As we all know very well, the use of WhatsApp is increasing day by day all over the world. With almost 2 billion monthly users, this app has become one of the most popular messengers. We use this app to share data with friends and family and the plus point is everything is free. We don't have to pay for a video call or a text message. Although, this is one of the best apps for data sharing sometimes we have to delete this app from mobile. The following are some basic and simple reasons to do it.
Reason 1. WhatsApp can access all your data.
We are using this application regularly for sharing data with friends and family. We share personal pictures, personal videos, and other personal data that we don't like to share with anybody else in the world. But have you ever imagine that WhatsApp has access to all our data. Yes, it's true; WhatsApp messenger has access to your phone gallery which means it can access your pictures, videos, and notes. So, if you take care of your personal information, then you must delete WhatsApp data. This is the best way to keep your private data safe and secure.
Reason 2. It is not good for health sometimes.
As it is a well-known proverb "excess of anything is not good". Sometimes we use this application excessively which is not good for our health and fitness. For example, we join different WhatsApp groups and we remain busy chatting with group members. In this way, we can't concentrate on other objectives of life including studies, plans, and jobs, etc. So, if you have joined too many WhatsApp groups, then you must leave them and delete their information. In this way, you can concentrate on other objectives of your life efficiently.
Reason 3. Time wasting.
Another major reason to left WhatsApp groups and delete WhatsApp group chat is wastage of time. Yes, we mostly waste our precious time by sharing different videos and pictures in different WhatsApp groups. We should avoid this practice to become a successful person. So, you should exit unnecessary WhatsApp groups and delete their chat and message. In this way, you can focus on your job or studies efficiently.
Part 3. How to Delete WhatsApp Group Data Permanently on iPhone?
Sometimes we have to delete WhatsApp data from our mobile due to many reasons. For example, identity theft is very common these days and it is very important to keep it private by using a reliable tool or application. There are different tools and apps available to recover and delete data permanently. Similarly, we can use Dr.Fone-Data Eraser to delete WhatsApp group data permanently. It is a very simple tool and can be used for earsing data on Android and iOS. Here I will introduce how to use Dr.Fone-Data Eraser to earse data from iPhone. The following are its main features: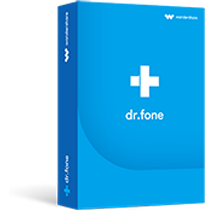 Best Tool to Thoroughly Erase Data on iOS
Prevent from identify thieves.
Powerful scanning ability.
Removes all of the unnecessary junk files, caches to free up iPhone storage.
Erases backup and deleted data completely as well.
Erased information is gone everlastingly and nobody can recover it.
Available for all iOS devices.
3,997,720
people have downloaded it
By following the steps given below, you can easily delete WhatsApp group data with Dr.Fone.
Step 1. Download and install this software.
Just download and install it in your phone or PC accordingly and choose Data Eraser.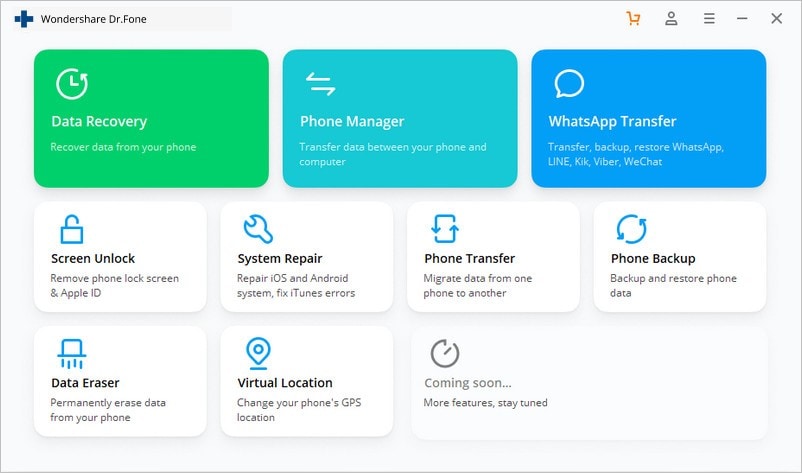 Step 2. Now attach your device to the computer.
You can attach your device from which you want to delete data.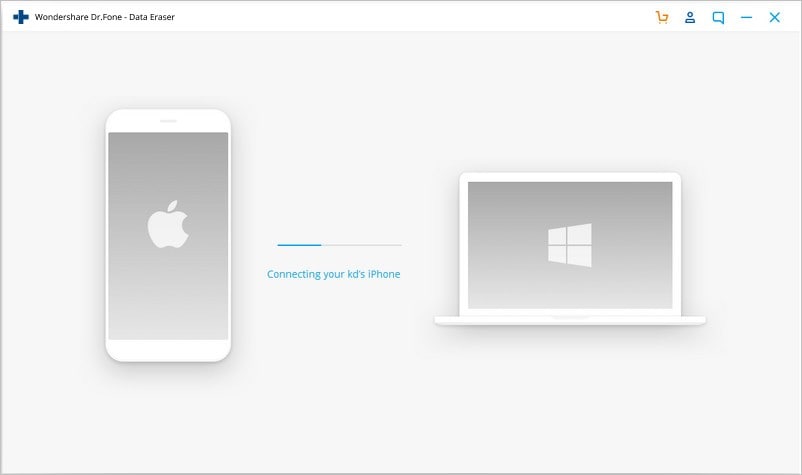 After connection, it will display three options and you can choose whichever one you need.If you want to erase all data, just choose "erase all data".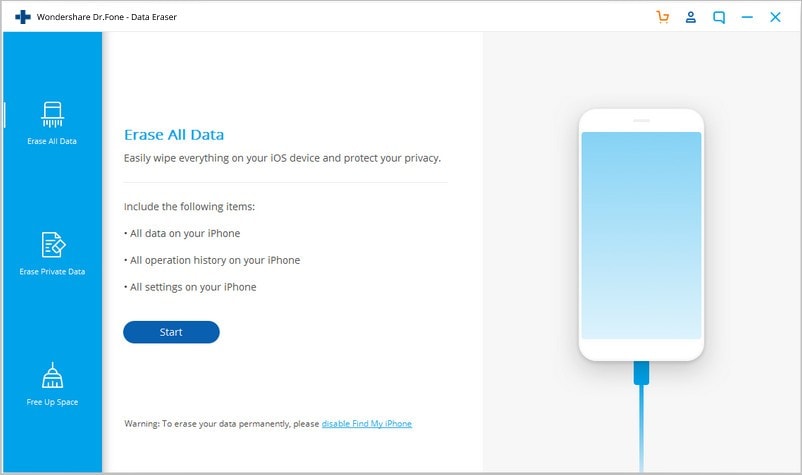 Step 3. Now start to erase WhatsApp data.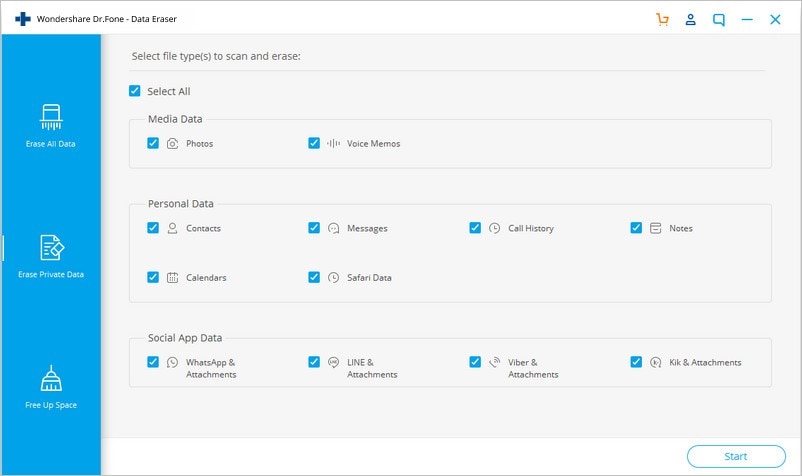 At that point, you can choose the types of data you want to erase, here are three kinds--media data, personal data and social app data. Choose WhatsApp if you want to remove WhatsApp data only. And then click start.
Step 4. Wait until process completion.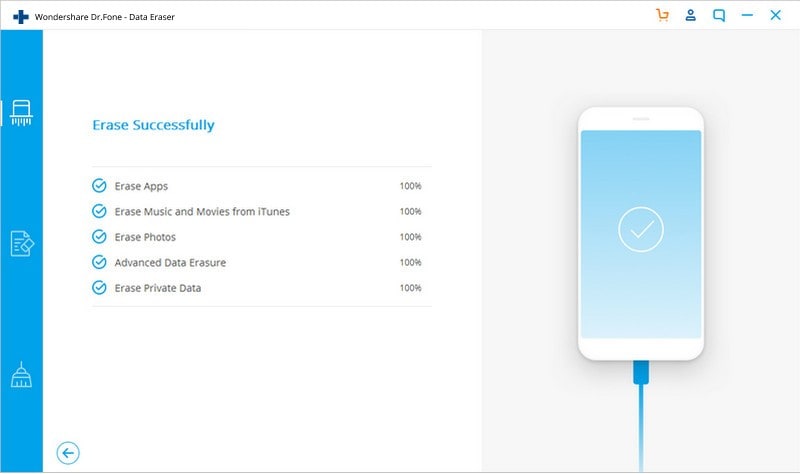 As you can see all results appear in scan search results, now select the entire message that you want to delete and click on the "erase button" to erase data permanently.
Conclusion
If you have a tool like Dr.Fone then you don't need to worry about how to delete WhatsApp group or WhatsApp group message. With this tool, we can do it very easily and quickly. Furthermore, it always provides accurate and reliable results. So, we can choose Dr.Fone as an effective tool to erase important data permanently and protect personal privacy.