Whatsapp is sometimes down for many globally but this is usually a temporary problem. WhatsApp is one of the most popular tools nowadays, and below are the most common WhatsApp problems on Android and the guide to teach you how to solve them.
Part 1: Why I Can't Connect to WhatApp?
Some of the common reasons why you cannot receive messages on Whatsapp Webb or desktop are because of problems in your computer, phone, or Wifi connection.
1. Phone Connection Problems
Being unable to send or receive messages on your phone means that you cannot perform the same task on your desktop or Whatsapp Web. If your phone cannot send a message on WhatsApp you can try and troubleshoot the problem for both android and iPhone.
Try using Whatsapp Web on your computer if your phone still does not send messages. If the problem persists you could be having connection problems with your phone.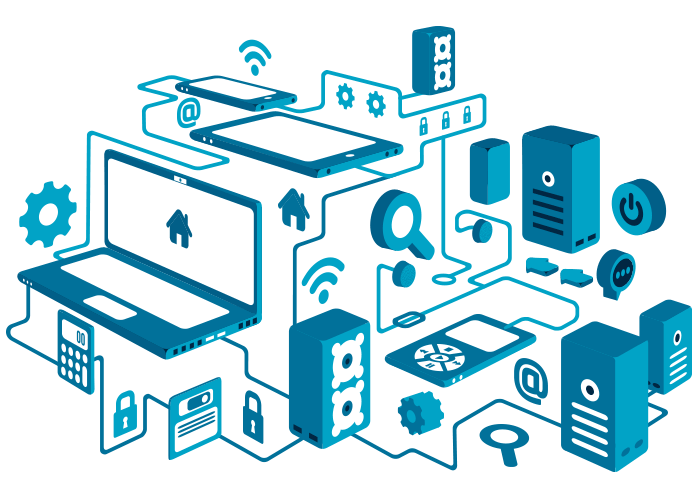 2. Computer Connection Problems
Ensure that you have a strong internet connection to use your Desktop or Whatsapp Web. A yellow banner on top of your chat list with the message "Computer not connected" ensures that your internet connection is active.
If the problem persists despite the internet connection refresh the page on Whatsapp Web or restart the program if you are using Whatsapp Desktop. You can also log out from the Whatsapp web or WhatsApp Desktop and then log in again.
Another important point to note is that for Whatsapp Web you must use the latest versions of Firefox, Chrome, Microsoft Edge, Safari, or Opera. Internet Explorer is not supported.
3. WiFi Connection Problems
Using a managed Wi-Fi connection like the one in the office, campus, or library, the network might be set up to limit the use of WhatsApp Web. If this is the case ensure that the network is set up to bypass traffic to ".web.whatsapp.com","web.whatapp.com", or".whatsapp.net".
Part 2: Is WhatsApp Secure (Updated 2020)?
WhatsApp is a heavily used app by its users. Whatsapp maintains its servers and services to keep up with the heavy customer consumption rate.
WhatsApp follows several security and safety protocols such as two-factor authentications, end to end encryption, and many more to create a safer environment. Some loopholes still exist that enable hackers to steal data.
One important thing to note is to keep updating your WhatsApp to remain protected since the updates come with bug fixes and security patches.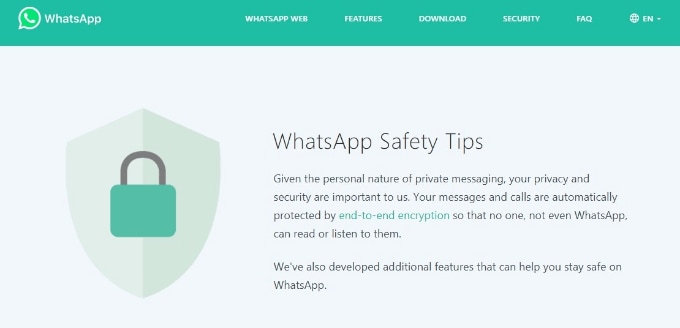 1. Is WhatsApp safe for calling and messaging?
Messaging and calling is the main purpose of using Whatsapp. About 80 billion messages are sent in Whatsapp daily and all of these messages are protected. To keep your calls and messages safe Whatsapp protects them by an end to end encryption. This means that you and the receiver can read and listen to each other and Whatsapp cannot read or listen to your messages.
Your WhatsApp message is turned to code by an algorithm and is decoded when it reaches the receiver on the other end. The video and voice calls in WhatsApp are also sent and received similarly.
2. Is WhatsApp safe for your privacy?
Upon signing up with WhatsApp they ask you for your mobile number and they save it in their database permanently. Your identity on WhatsApp is your name, mobile number, and profile picture. You can choose who can access your profile picture but not your number or name. You can use the Privacy settings in WhatsApp to alter and protect your privacy.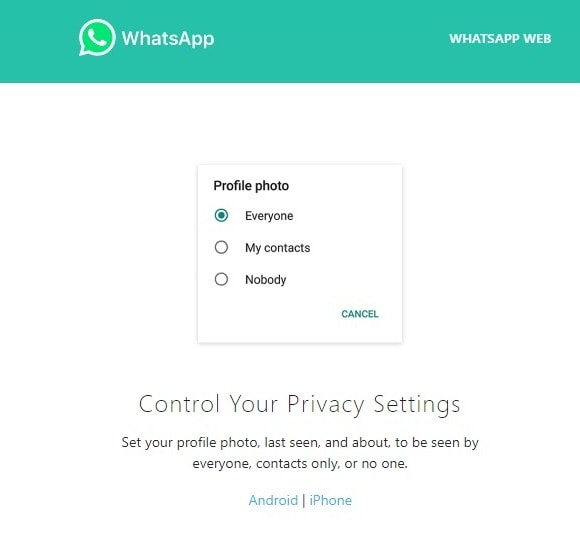 The most vulnerable items in Whatsapp are your statuses and stories. Anyone who has your mobile number can view them especially if you have many contacts on your list. You can however pick some who can view your status but it's a tricky affair.
Vulnerabilities in Whatsapp.
The following are some of the vulnerabilities in Whatsapp that need to be fixed as soon as possible
Fraud and fake news: Forwarded messages that do not go through any verification are common in WhatsApp groups. Users receive them and forward them without finding out the truth about them. Fake news spread in this manner and can lead to severe consequences.


Infected links and files: Users unknowingly forward infected files that are created by hackers to attack devices. Phishing links and malware roam around Whatsapp and Whatsapp is not able to automatically block them.


Google Drive backups: Calls and conversations are end to end encrypted but the files uploaded to Google drive are not. Hackers can access your backups from the drive and get anything they want.


Zero-day exploit: This is a vulnerability in Whatsapp that was unknown to everyone. Hackers use it to access and exploit data. This risk is inevitable and can happen to any app.
Part 3: Why I Can't Download Images and Videos on WhatsApp?
If you are having problems downloading or sending media files check out the following issues. Ensure that your phone has a strong internet connection and you can try loading a web page to verify this.
Your date and time are set correctly. Connecting to the Whatsapp servers will be impossible if your date is set incorrectly.


If the problem is still there you can try checking out your SD card. Ensure that your SD card has:


Enough storage space. If there is storage space in your card but you still cannot download any files from WhatsApp you will be required to erase WhatsApp data from your card


Ensure that the read-only mode is turned off.


If your problem persists it could mean that your SD card is corrupted. You need to reformat or purchase a new SD card.
Part 4: How to Backup WhatsApp Chats?
You might be using Whatsapp for work or chatting with your friends. You might also have some important messages or media files in there and it would be a shame if you lost it all. This is the reason why it is important to back up your files and we will discuss how to do this in this section.
1. How to backup media filed between iPhone and Android.
Transferring files from Android to iPhone is kind of impossible. When you back up your media files on Android you normally back up to Google Drive. The IOS device uses iCloud to back up Whatsapp media files. Even if you have the IOS Google Drive app it is still impossible to restore your backed up data.
iOS will only communicate with iCloud. Some third-party applications could come in handy however the privacy of your data is still questionable.
2. How to backup your Whatsapp chat with Google Drive
WhatsApp backs up your chats and media files to the cloud daily. In case you delete WhatsApp from your phone your messages will be intact. You will have access to your messages and edits even if you switched from an android phone to an iOS device.
3. How to backup WhatsApp Chat History in One Click
Since everything is now backed up you can be able to retrieve your files when you reinstall Whatsapp. But the most secure way to keep all your WhatsApp data is to use dr.fone - WhatsApp Transfer.
dr.fone - WhatApp Transfer is a great software that enables the transfer of your whatsapp data from an Android Phone to an iPhone possible.
It is common not to retrieve your WhatsApp chats and media files when you switch from an Android to and iOS since the chat is usually backed up in Google Drive in android and iCloud in iOS. With dr.fone - Whatsapp Transfer you are guaranteed of transferring your WhatsApp data between mobile phones.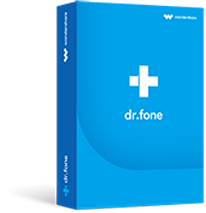 Backup and Restore WhatsApp Chat History in One Click
Backup WhatsApp messages in one click, preview backup file data and selectively restore it to any other devices.
Backup WhatsApp data selectively
WhatsApp Transfer supports most Android devices models and compatible with the latest iOS System.
3,990,656 people have downloaded it
Step 1: Plugin your device to PC, download and launch dr.fone. Thereafter, tap "WhatsApp Transfer".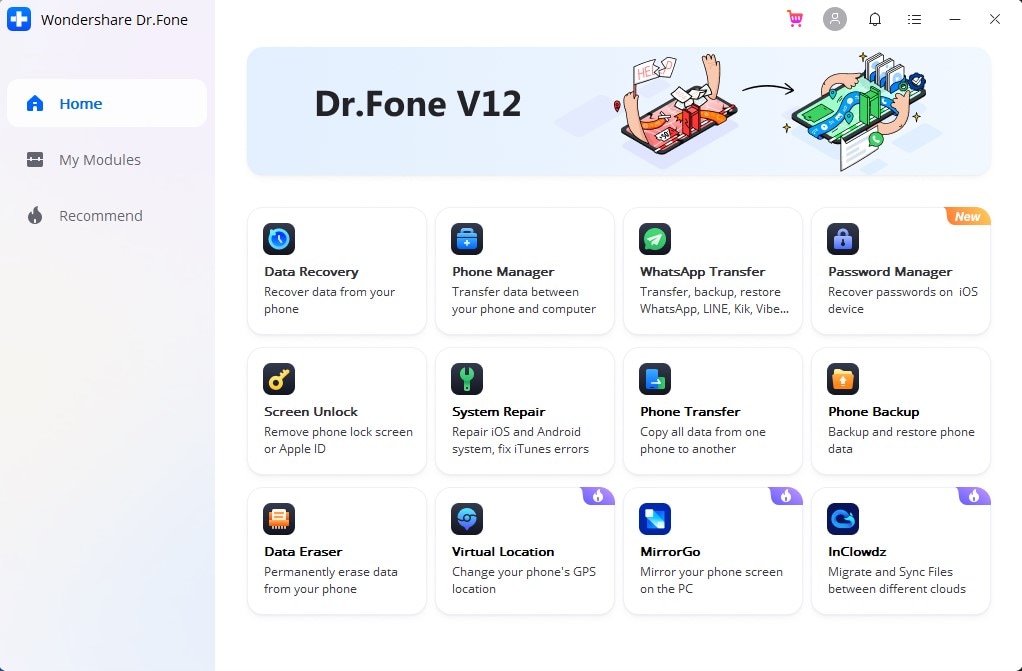 Step 2 . Tap "WhatsApp" on the left, then click "Backup WhatsApp Messages" on the screen.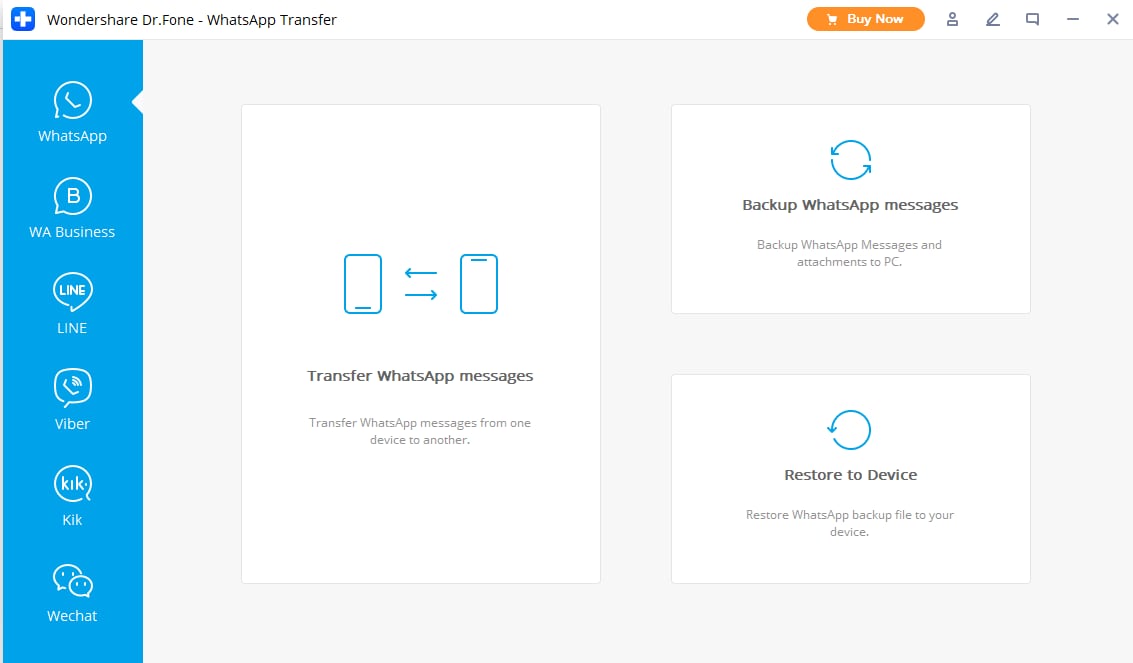 Step 3 . Waiting for the backing up process finished successfully. You can click "View it" to view all the files you backed up already.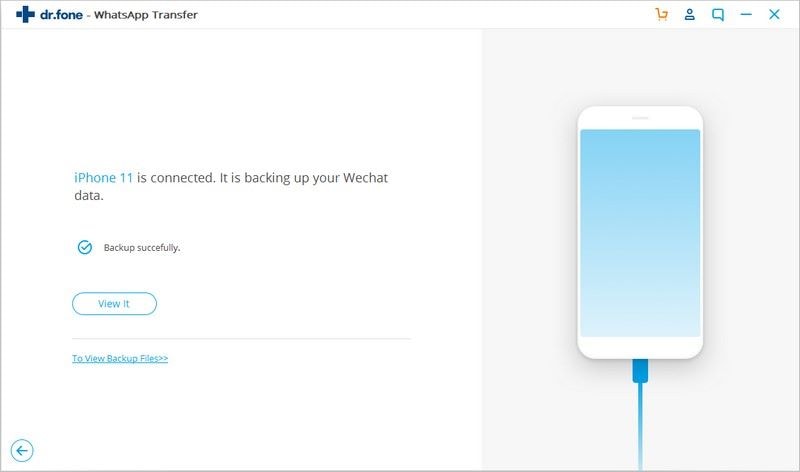 Conclusion
In summary we have discussed various ways of fixing your WhatsApp not working problems, security issues and data backup. There are many ways of getting around such problems and the dr.fone software performs various WhatsApp data transfer functions perfectly. I highly recommend dr.fone - WhatsApp Transfer if you have problems with your WhatsApp.