Can I Move WhatsApp media to SD card?
My phone has used up all its internal memory, and I wish to move WhatsApp photos to SD card. Can someone help me rectify this problem?
- From a user.
WhatsApp has become nothing short of a phenomenon today. Some use it to stay in touch with their friends and family while others communicate about work-related stuff. It cannot be argued that WhatsApp is one of the most utilized and relied upon app in our lives.
However, every single day, WhatsApp users receive new images and videos on the platform but have nowhere to store them except in the phones' internal memory. WhatsApp leaves us with no other choice than to delete a few or more of the media folders on our phone when we run out of memory. Or so it is believed!
In this article, we will teach how can I move WhatsApp to my SD card, thus freeing up some much-needed internal memory on the phone.
Part 1: How to Move WhatsApp to SD Card on Computer?
WhatsApp backup to SD card is effortless using a computer. All you need to carry out this task is a USB cable and your phone so that you can easily connect your device to your computer. If you are wondering how can I move WhatsApp to my SD card, simply follow the steps given below to get the job done:
Step 1: Connect your Android device to your PC using a USB cable. Ensure that your computer detects your device.
Step 2: Find the folder of the Android phone on your computer and from the internal memory folder, locate the WhatsApp folder. Once you find the WhatsApp folder, copy it.
Step 3: Now, simply paste the WhatsApp folder in your SD memory card folder. That's it! You are done!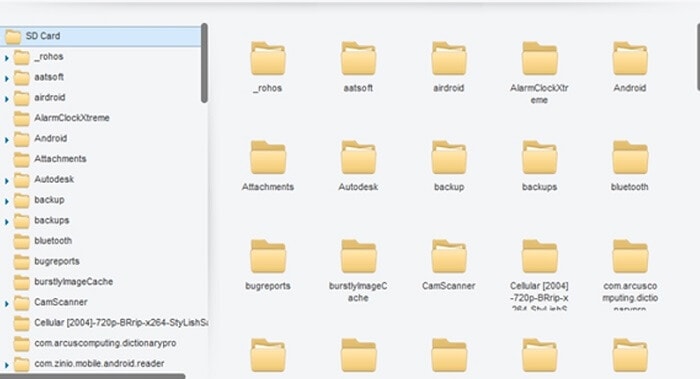 Part 2: How Can I Move WhatsApp to My SD Card Via File Manager?
If you want to move WhatsApp media to SD card via the File Manager, that can be done too. It is pertinent to note here that this method is fairly straightforward and just by following a few steps, you can put it into practice. However, remember that this method is only to help Android users manage all their WhatsApp media files better. You cannot set this method as a default option to transfer all your media files to your phone's external memory. To move WhatsApp data to SD card, follow the steps given below:
Step 1: Open the app of File Manager on your phone. An Android phone usually has an in-built File Manager app. However, if you do not have one, you can easily find a few handy File Manager apps on Google Play.
Step 2: When you launch the app, look for the internal storage files. There, you will find the WhatsApp folder.
Step 3: Open the WhatsApp folder, and you will see the media folder. Cut it!
Step 4: Now, make a new folder inside the SD card folder named WhatsApp. After that, open this new folder that you have created and paste all the media files into it.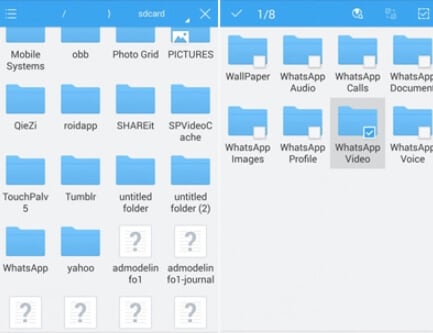 Part 3: How to Change WhatsApp Default Storage to SD Card?
It is also possible to make your external SD card the default storage of all your WhatsApp media files. To do this, you can use a variety of third-party tools such as FolderMount and XInternalSD to carry out the task. Using these apps, you can easily root your Android device and store all your media in the SD Card by default. Follow the steps given below to set the default using the XInternalSD app:
Step 1: Open the User Interface of the XInternalSD app. Now, modify the path for the internal SD card by changing it to external.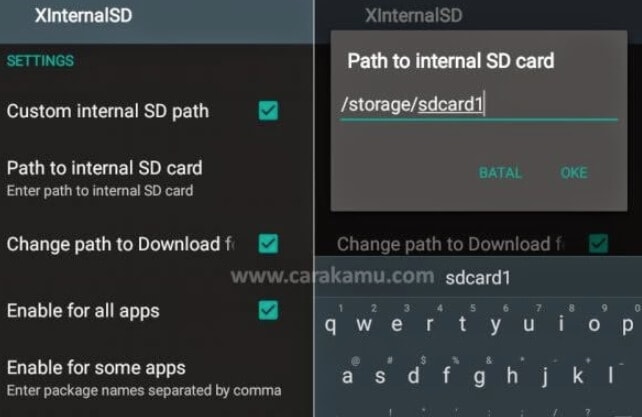 Step 2: Click on the option that says "Enable for apps" and select WhatsApp.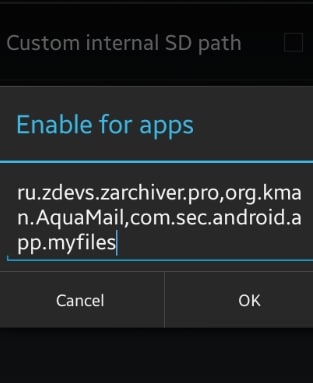 Step 3: Now, copy this WhatsApp folder from the internal storage and paste it to the external SD card.
Step 4: Delete the WhatsApp folder that you see in the internal storage.
Step 5: Now, simply restart the device, and you will see that the WhatsApp media files will start getting saved to the external SD card.
Note: You can carry out the same task using other third-party tools such as FolderMount and Link2SD.
Part 4: Recommended Tool to Move WhatsApp to SD
WhatsApp backup is a significant step to have an account on WhatsApp to ensure data safety. It is very challenging to predict when you might lose all your relevant data due to accidental deletion, robberies or switching of phones. Therefore, before you understand how can I move WhatsApp to my SD card, it is essential to know the correct steps to back up the WhatsApp media in the first place. To back up your WhatsApp files, follow the steps given below: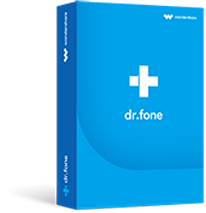 Backup and Transfer WhatsApp Messages Without Losing Data
Move WhatsApp messages, pictures, videos and more from iPhone to iPhone/Android.
Transfer WhatsApp data selectively to save time and space storage.
Ensure your WhatsApp data is safe all the time.
Backup WhatsApp data without deleting the existing backups.
4,295,666 people have downloaded it
Step 1: Download, install and launch the dr.fone software and select the option that says "Restore Social App" from the Toolbox. Now, connect your iPhone/iPad to your PC.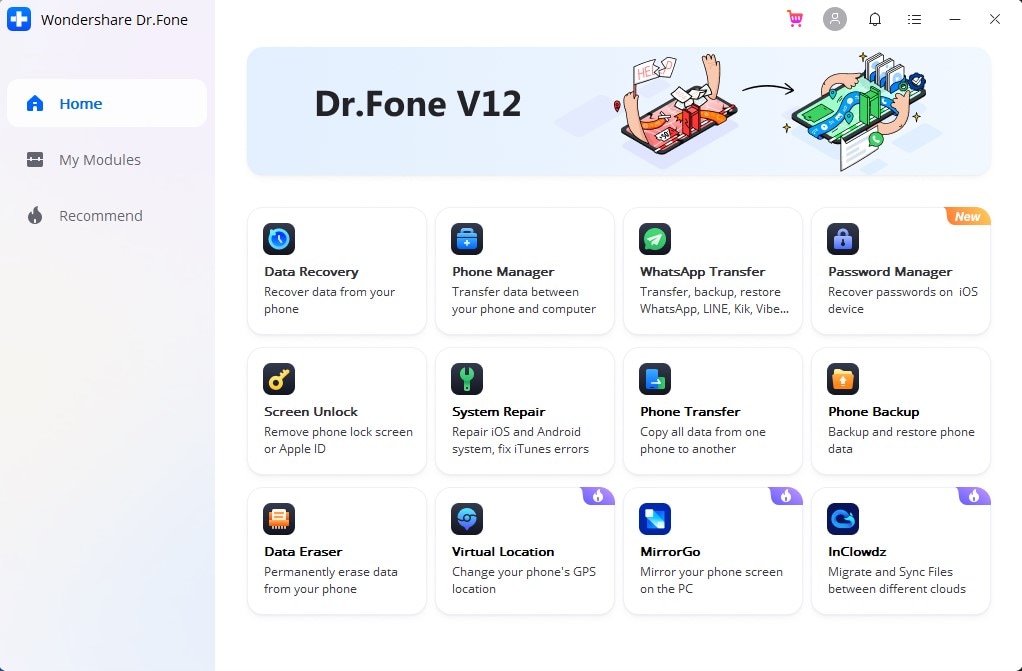 Step 2: On the next screen, click on "WhatsApp" and then select "Backup WhatsApp messages." When you do that, the dr.fone software will initiate the backup process of WhatsApp.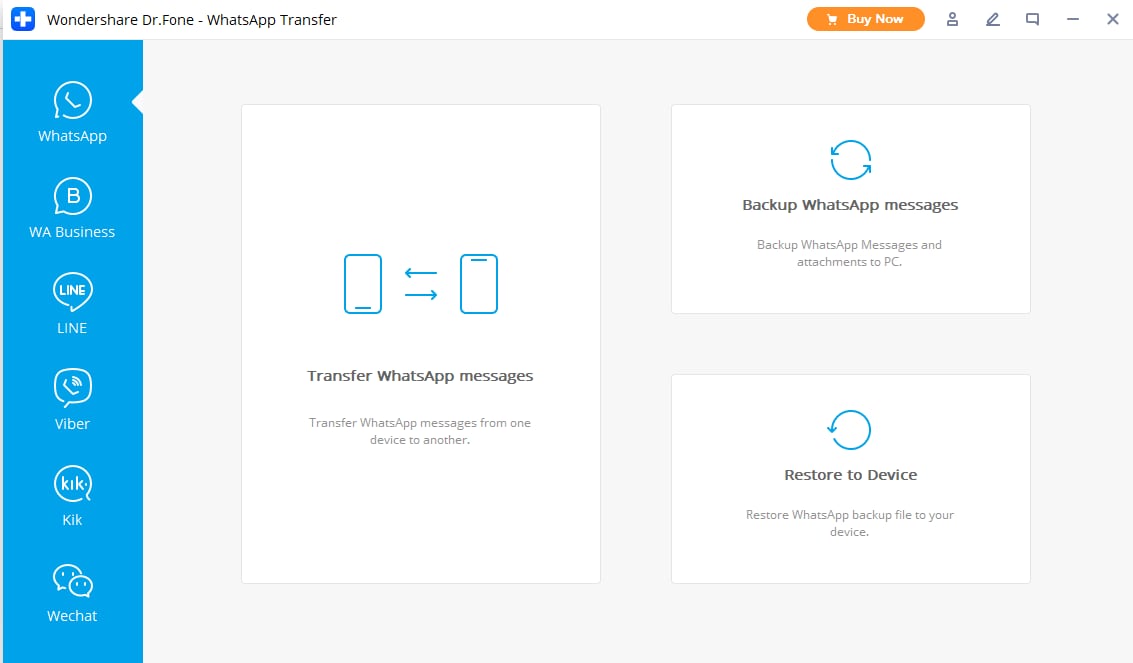 Step 3: You will now see the WhatsApp messages getting backed up on your device.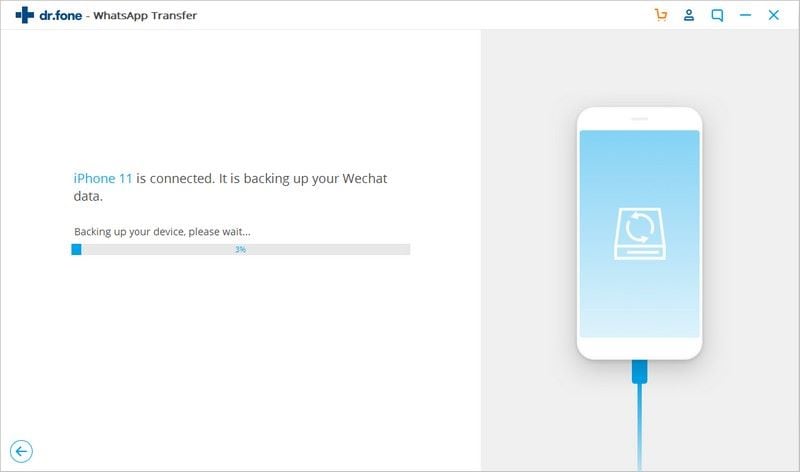 Step 4: Once the backup process finishes, you will see a pop-up that says "Backup successfully." You will also be able to check the kind of data that has been stored on your device by clicking on the button that says "View it." You can also selectively export your data to your PC or any other Android/iOS device.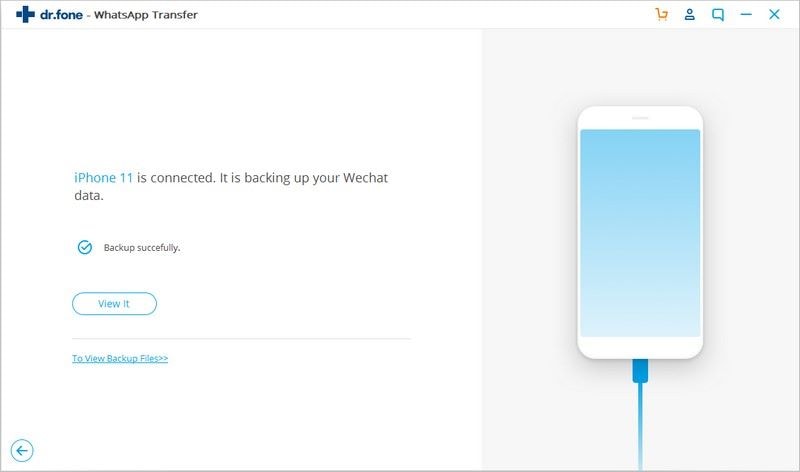 Now, in order to store whatsapp media on sd card, you can again use the dr.fone software and follow the steps given below:
Step 1: Open the dr.fone and then tap on "Restore Social App". On the next screen, click on "Restore WhatsApp Messages to iOS device" or "Restore WhatsApp to Android Device" in order to begin the scanning process of the WhatsApp files.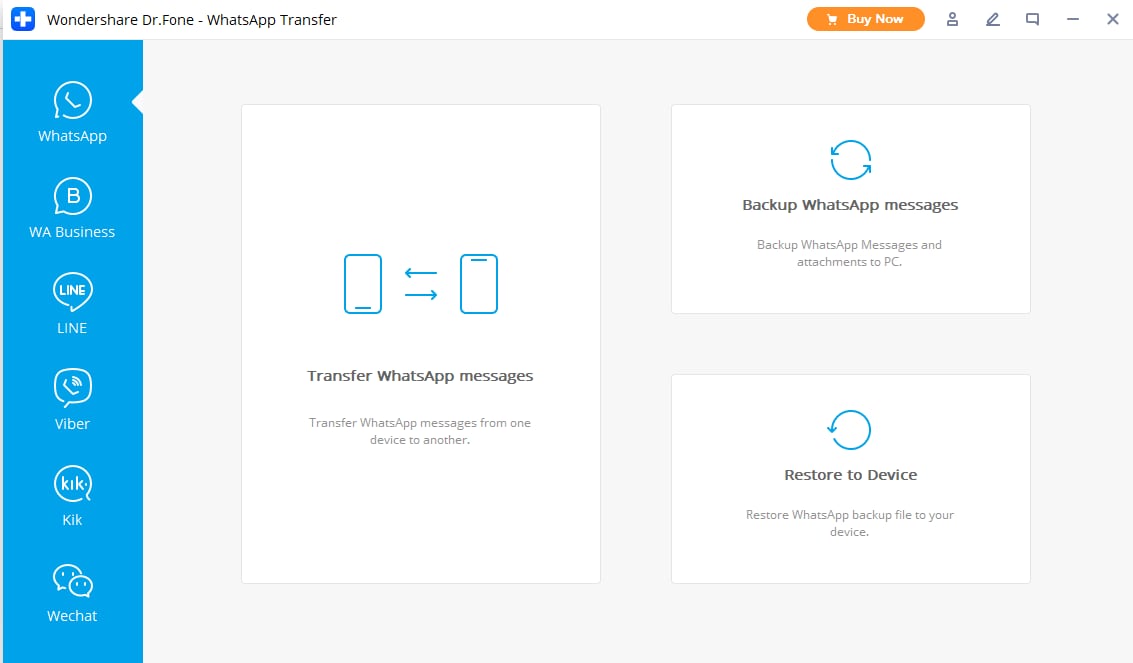 Step 2: After the backup scanning is completed, all the backup records of WhatsApp will be reflected on the screen. Choose as well as view them one by one or together to restore your WhatsApp data to an iPhone/iPad selectively.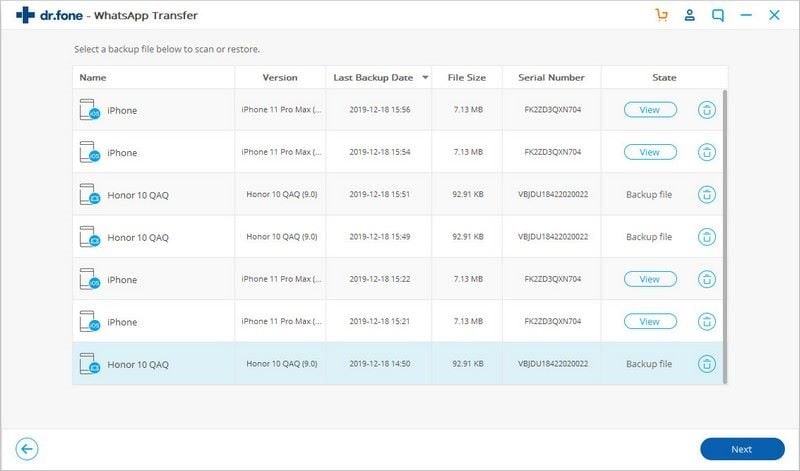 Step 3: You will now see different categories of your WhatsApp backup files on the dr.fone software. Thanks to these categories, you will be able to export your files selectively to an iOS device. In order to start restoring all your WhatsApp messages and other data to your iPhone/iPad or any other iOS device, click on "Restore to Device" as seen in the screenshot below.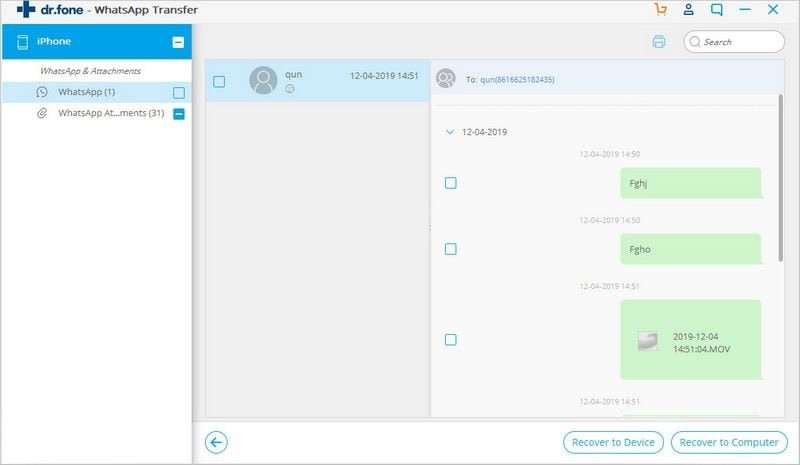 Why Use dr.fone Software?
It is a very handy software that can help users with a variety of technical problems. You can use it not just to transfer your data from your device but also to back up your data from WhatsApp. It is one of the most reliable tools available in the market, so you do not have to worry about security and privacy when using this software. Moreover, it is a great tool for regular use because it does not have glitches in it very often. You just need to keep updating it to its latest version to reap the best results out of it. dr.fone software definitely stands out amongst other software because it has a very friendly User Interface that can be easily understood by everyone. Once you start using this software, you will realize how easy it is to work with it in order to keep your files and data secure.
Conclusion
As you can see, it's no a big deal to slove how can I move WhatsApp to my SD card provided you back up the WhatsApp files in the first place. It is of paramount importance that you keep your WhatsApp files backed up and secured at all times, especially if you have a lot of valuable data saved in there.
In today's technological world, our lives have become significantly easier, thanks to the multitude of social media platforms and other networking channels. However, glitches and technical issues are natural in such platforms too because after all, they are nothing more than machines and software that can make mistakes or get stuck at times. Therefore, it is good to rely on such platforms, but you cannot blindly trust them either. This is why it is a good idea to always have a secure back up in place to ensure that if anything untoward does take place, you can have a fallback option to rely on.