"I have backed up my WhatsApp chats, but I can't seem to view or extract them without erasing the existing data on my phone. How can I see my WhatsApp messages without deleting the previous one?"
- a question from Quora
If you have a similar query about WhatsApp backup extraction, then you have come to the right place. A lot of times, users take a backup of their WhatsApp data in the cloud or the local storage.
Though, they face trouble extracting it. For instance, the native solutions would erase the other kinds of data such as contacts, call history and more on the target phone. If you don't want to face this issue, then you can use a dedicated third-party method.
In this guide, I'm going to guide you how to read and extract messages from WhatsApp backup without losing previous data.
Part 1: Best Mobile Phone Backup Extractor in 2020
Plenty of times you would require a tool to extract messages from WhatsApp backup to a readable format, as WhatsApp data is encrypted and can't be read from a backup.
Third party tools such as dr.fone - WhatsApp Transfer can give you a hand and make life simple. This tool helps you transfer WhatsApp messages from iOS to iOS and iOS to Android devices without any flaw.
The best part about this tool is you can selectively backup WhatsApp into your PC and preview it as well.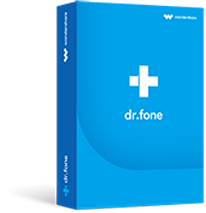 All-in-One Tool to Backup, Restore and Transfer WhatsApp Data on iOS/Android device
Easily back up WhatsApp files with one click. Extract your WhatsApp data including messages, contacts and attachments to your computer anytime.
Preview the WhatsApp data before you restore WhatsApp messages, photos, videos, attachments and more.
Transfer WhatsApp/WhatsApp Business Chats history between iOS & Android.
Compatible with the latest iOS systems such as iOS 13, iOS 14 and latest Android systems.
4,290,481
people have downloaded it
Before we dive deeper to know how to extract messages from WhatsApp backup, I'm going to guide you to learn about how dr.fone - WhatsApp Transfer can help you backup messages in the most effective way.
Step 1. Connect your phone and click "WhatsApp Transfer" on the homepage.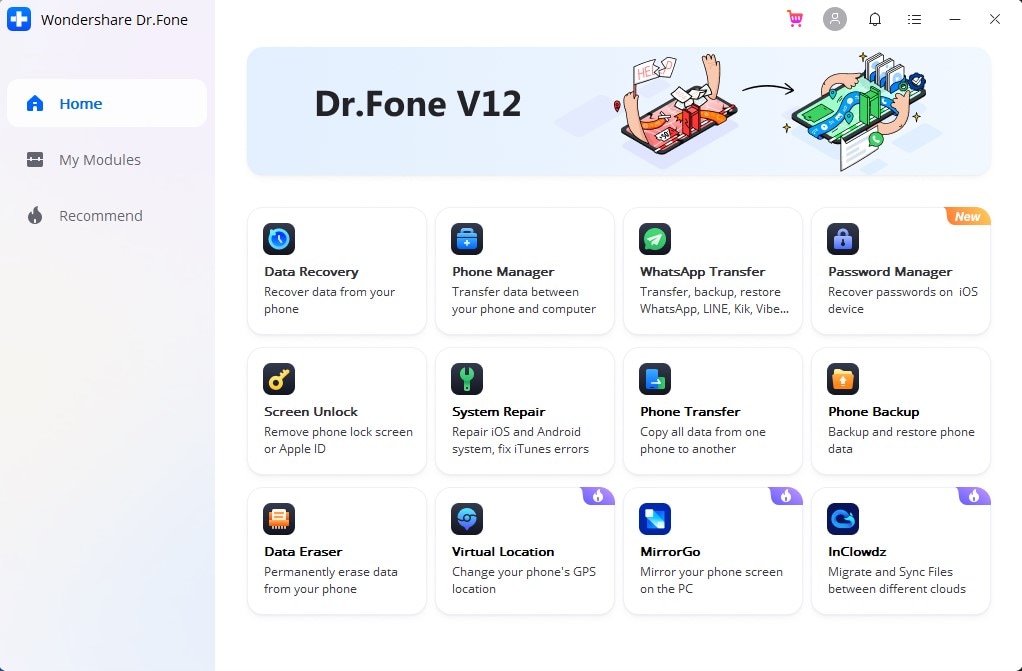 Step 2. Then choose Backup WhatsApp messages to start scanning the WhatsApp backup files on your phone.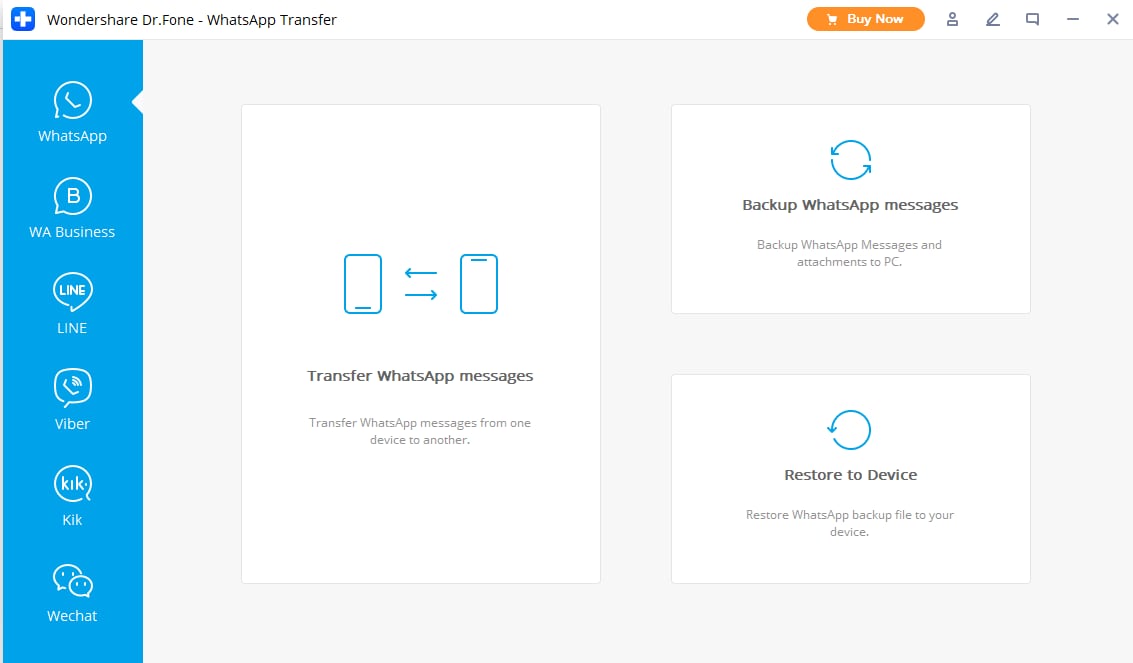 Step 3. Start to back up the WhatsApp messages on your iOS/Android phone.
When it finished, the program will show a pop-up stating "Backup successfully". When the WhatsApp files backed up completely, you can check on what kind of data is stored by clicking "View it" and selectively export the data to the PC or another iOS/Android device.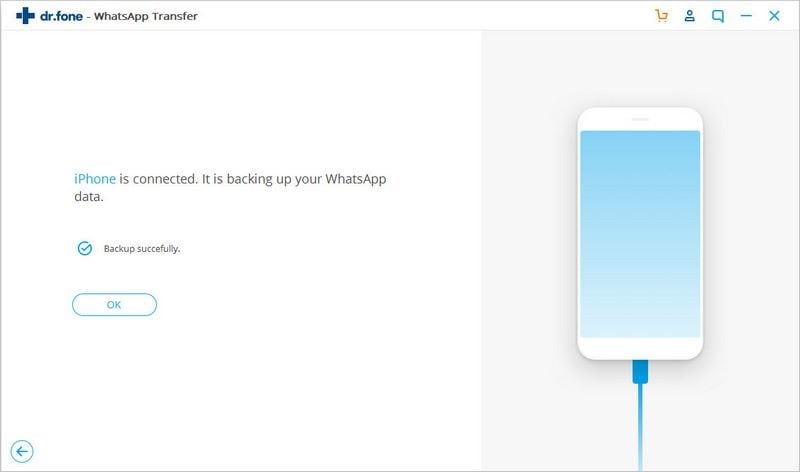 Once you have backup on your phone or on your desktop, now we can go through this step by step guide below to learn how to use this great WhatsApp extractor to view and export WhatsApp messages.
---
How Can I View and Export WhatsApp Data
Step 1. Click "WhatsApp Transfer" tab on the homepage and don't forget to plug in your device.
Step 2. Choose "Restore WhatsApp messages to iOS/Android device" and start scanning the WhatsApp backup files.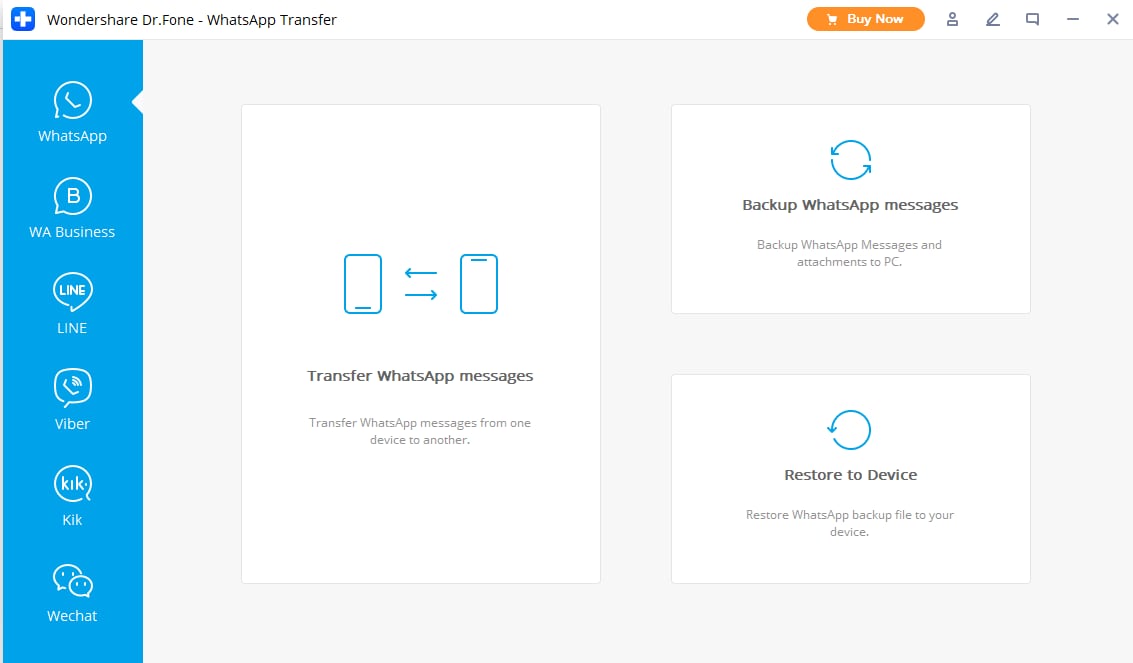 Step 3. View and restore WhatsApp messages to your phone selectively.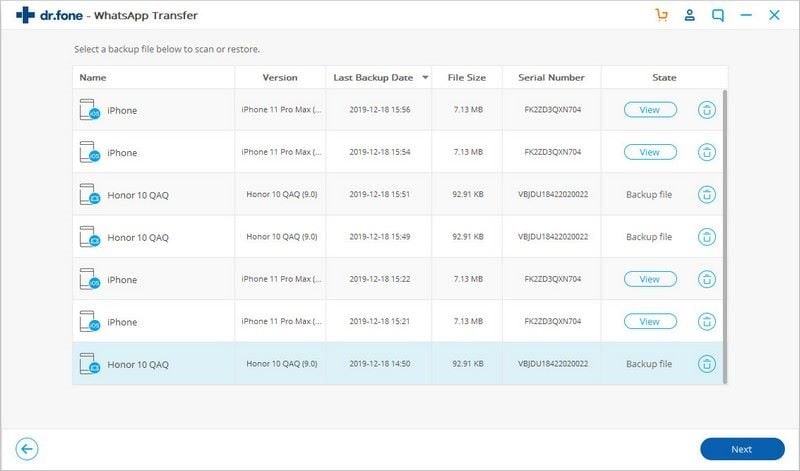 ATTENTION
For the iOS users: Turned off "Find my iPhone" on device by clicking "Settings">"iCloud">"Find my iPhone" on your mobile device before we start.
If you use Android phone: Authorize restore operation and when you export WhatsApp on your Android device, click "Yes" on your phone to enable the USB debugging.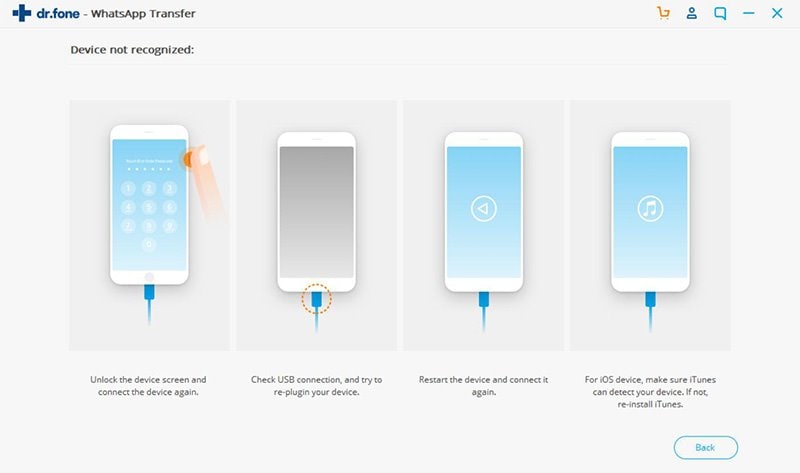 Keep your iOS/Android device connected until the restore finishes successfully.
Part 2: Extract WhatsApp Messages from iPhone Using iTunes/iCloud
As we know, iTunes and iCloud backup are the two main solutions for backing up iOS devices. Extracting the WhatsApp message backup out of the iTunes backup file is quite easy as you can do it by using dr.fone – Data Recovery (iOS).
It is not only a data recovery tool, but it also can be used to view and extract messages from WhatsApp backup using iTunes.
1. Get your WhatsApp files from iTunes
Step 1. Launch dr.fone – Data Recovery, click "Recover from iTunes Backup file".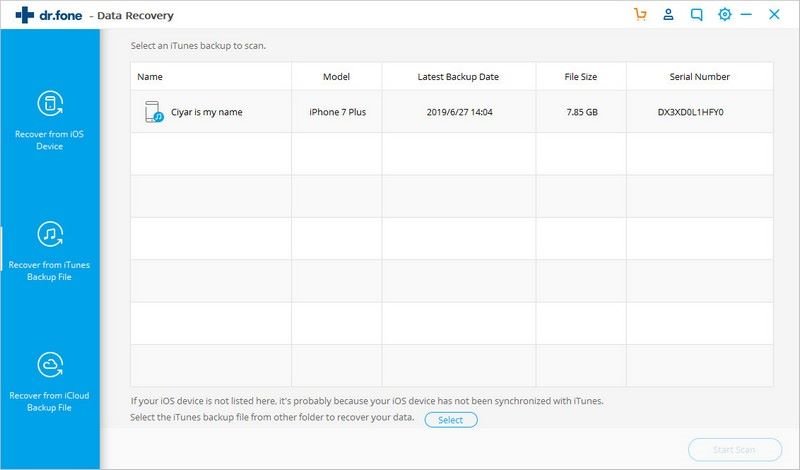 Step 2. Make sure your iPhone have synchronized with iTunes before, then select iTunes backup file to scan device.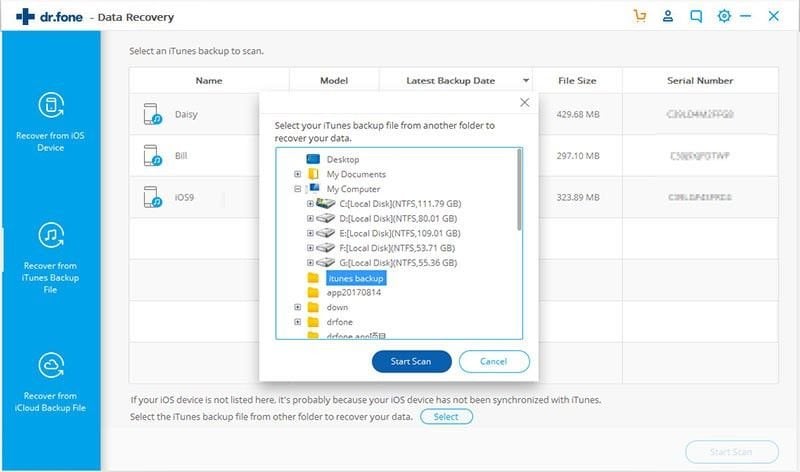 Step 3. After scanning all files on your device, choose "WhatsApp" on the left, you can view all the WhatsApp messages and attachments and extract them to your device selectively.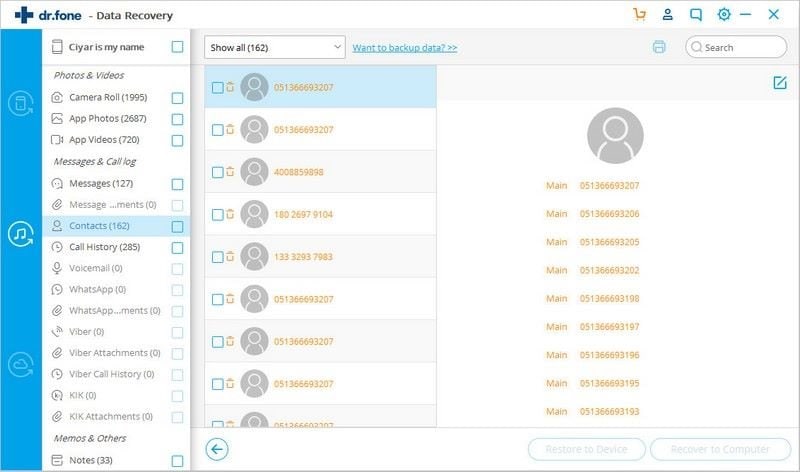 It won't delete any the existing data on your device, if you are wondering how to read the file on your labtop, just click "Recover to Computer" you can also save them separately on your computer as well.
---
2. Extract your WhatsApp files from iCloud backup
Before you proceed, just notice that you have already backed up your WhatsApp data to iCloud before.
Step 1. Launch dr.fone – Data Recovery, click "Recover from iCloud Backup file" and sign in iCloud with your iCloud account information.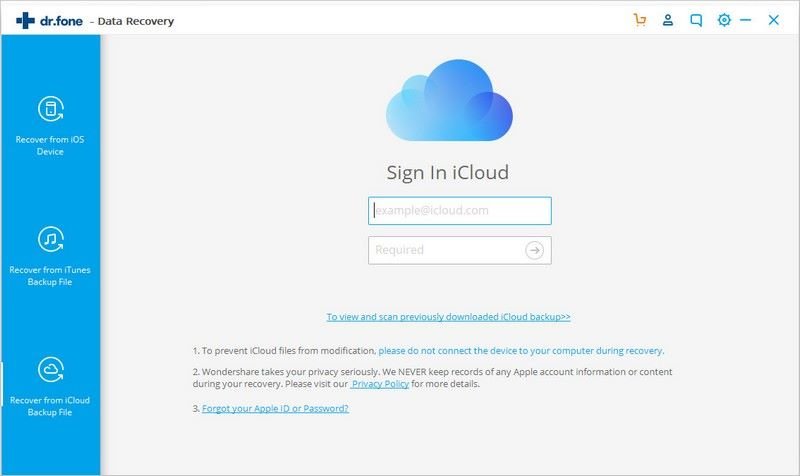 Step 2. After you log into iCloud, all of your iCloud backup files will be detected and displayed in the main window. View and select the file that you would like to download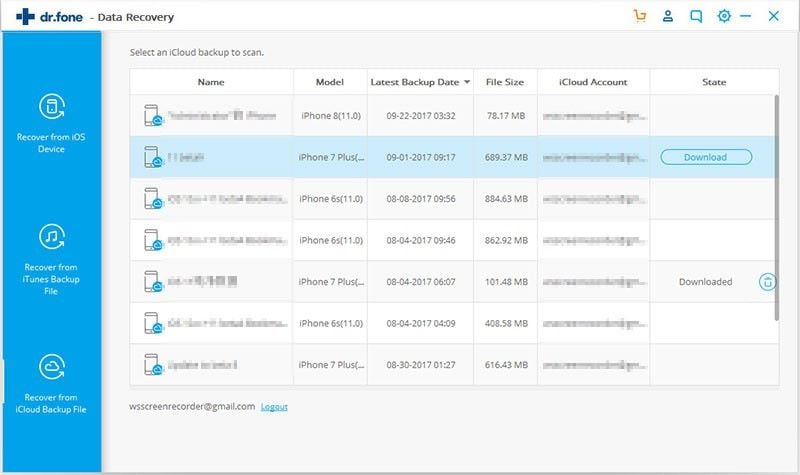 Step 3. Select "WhatsApp" when you choose the type of files you would like to download, click "Next" to proceed.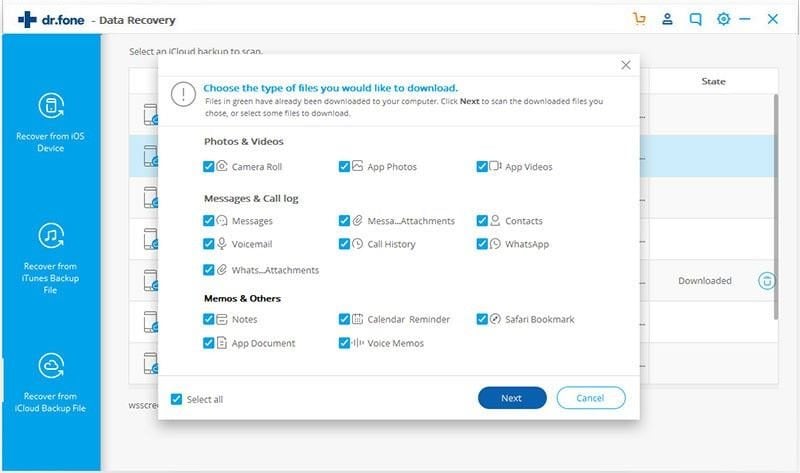 Step 4. After download messages and attachments from WhatsApp, you will see all data displayed. Viewing and extract the files to your computer or recovering them to the connected device.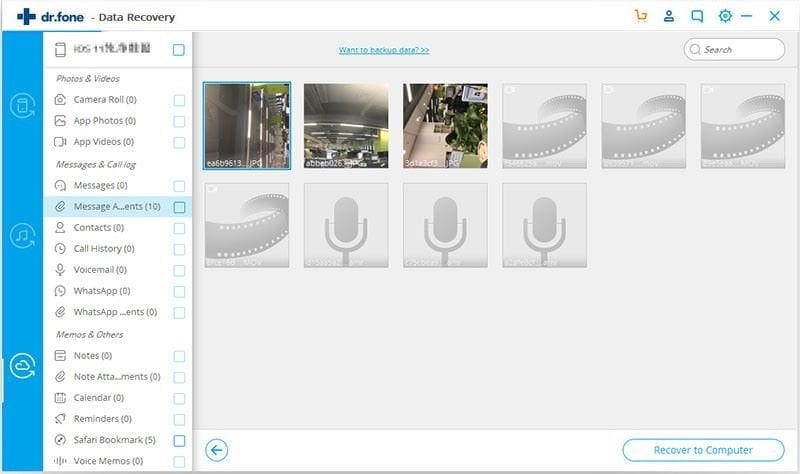 Part 3: Extract WhatsApp Messages Android from Google Drive
When you have an Android device, it is advised to restore WhatsApp from Google Drive, so that you can read the WhatsApp backup files easily as Google Drive stores backup in Android relevant format.
Let's go through the step-by-step procedure to learn how to extract WhatsApp messages Android from backup file on Google Drive.
Step 1: First of all uninstall and reinstall WhatsApp on your Android device.
We recommend that you already create a WhatsApp backup on Google Drive, and then perform the previous operation. Make sure that your Android device is activated with the same Google account which you have used earlier for backing up data.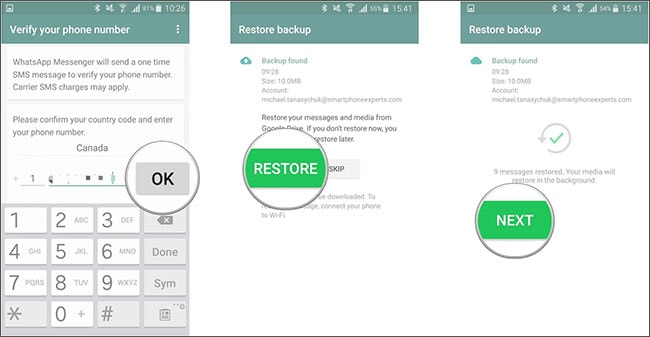 Step 2: Launch WhatsApp on your Android phone and then provide the same cellular number to set up the account.
As soon as your account gets verified, you will see a popup seeking your permission to restore WhatsApp from Google Drive. Here, you have to click 'Restore' and then 'Next' to initiate the restoration and finally, hit on 'Continue' once the restoring process is over.
You will be able to access and extract your WhatsApp messages without any lag. The media files will take some time to get restored on your Android phone, though the messages will instantly be there.
FAQs
How can I access WhatsApp backup on Google Drive?

1. Open Google Drive and login using your Google credentials.

2. Tap on the gear icon on the top corner of your screen and tap 'Settings' from the drop-down list.

3. Click on 'Managing Apps' on the side panel to find the WhatsApp folder.

...for more

How can I read WhatsApp messages from iCloud backup?

1. Go to your iPhone Settings and navigate to iCloud Drive.

2. Click WhatsApp to toggle the backup option ON

...for more

How to backup WhatsApp from Android to iPhone

1. Install iSkysoft toolbox on your computer and connect your iPhone and Android phones to the computer.

2. Click "Transfer WhatsApp Messages".

3. Wait for the programs to recognize the devices. Click "Transfer" when ready.

...for more
Write in The End
For both iOS and Android users, to be honest, dr.fone - WhatsApp Transfer would be a great choice to manage your WhatsApp backup data. No matter you would like to backup your daily messages or extract important files, this tool can give you a hand and make your life easier.
BTW, not only for WhatsApp, it works for the mojority of the communication tools in the world such as LINE/Kik/Viber/Wechat on iOS/Android flexibly.