"I deleted my WhatsApp account by accident, how to recover WhatsApp account and get all my conversations back? I need those conversations very bad."
Every day, iPhone and Android users lost their WhatsApp messages for many reasons, and it's ture that losing a WhatsApp account or the whole WhatsApp data in today's day and age is almost a nightmare.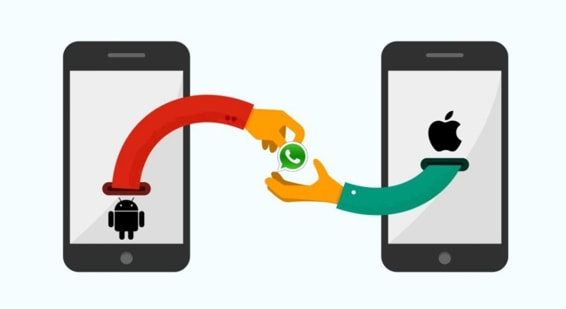 WhatsApp account recovery is crucial as losing your smartphone takes away the precious data along with it. As WhatsApp is incorporating payment gateways, it's a big concern to part ways with your phone, because the risk of data and information theft runs high. As there is a 30-day window to re-activate a WhatsApp account, when the device gets lost or stolen. You need to first get in touch with WhatsApp to recover WhatsApp account within the said time-frame.
In this article, we are going to explain how to recover WhatsApp account and messages with different approaches.
If you want to know more tips about WhatsApp account, click here Comprehensive Guides on How to Login WhatsApp Account.
Part 1: What Are the Common Reasons for Deleting WhatsApp Accounts
There are may different cases for users to delete WhatsApp account accidentally due to various scenarios. There are some common courses that users remove their WhatsApp account:
Software Update: Usually there are some rare unless full of bugs when you update your Android and iOS devices.
Factory Reset: When you make your phone factory reset, the WhatsApp may get down.
Virus Infection: Malware or virus infection trigger the app deletion.
Just Delete the App by Honest Mistake: That's the most common reason actually.
Part 2: How to Recover WhatsApp Messages After Account Deletion
In case you not able to retrieve WhatsApp conversations after deleting the account, you can always try dr.fone – Data Recovery(iOS) to recover the WhatsApp account data of your old device.
This tool can recover WhatsApp chat history and messages when you lost or locked your device and don't remember your password, damaged it by water, accidentally deleted, its iOS got crashed, or factory restored the device, or switched to a new device and new number.
This tool enables you to retrieve deleted WhatsApp messages, contacts, pictures, videos, and other app data as well post WhatsApp account recovery.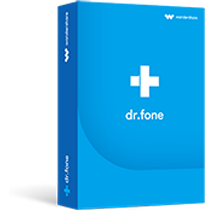 The most reliable WhatsApp Account Recovery tool for iPhone/Android
Compatible with the latest versions of iOS 13/14.
Recover more than 20 types of file types.
Support both Mac and Windows systems, it has garnered a large fan following.
Preview and scan your data before taking the final call to recover the data.
Recover data in 3 different modes i.e. from the backup files on iTunes, directly from the iOS device, and from iCloud backup files.
Restore data from iTunes backup files with ease.
3,890,385 people have downloaded it
For recovering WhatsApp messages after WhatsApp account recovery, you can also follow recover WhatsApp from iCloud and recover WhatsApp messages from iTunes modes of dr.fone – Data Recovery (iOS).
In 'recover from iCloud' mode you need to ensure that WhatsApp backup must be saved on iCloud, whereas 'recover from iTunes mode' needs you to backup WhatsApp using latest iTunes version on your PC.
Now, let's go through the step-by-step guide for dr.fone – iOS Data Recovery.
Step 1 Install dr.fone - iOS Toolkit and Connect Your Device.
Install the software and launch it on your computer. Get a branded lightning cable and connect your PC and iPhone. On your iPhone screen, select 'Trust this Computer' when prompted. Click the 'Data Recovery' tab.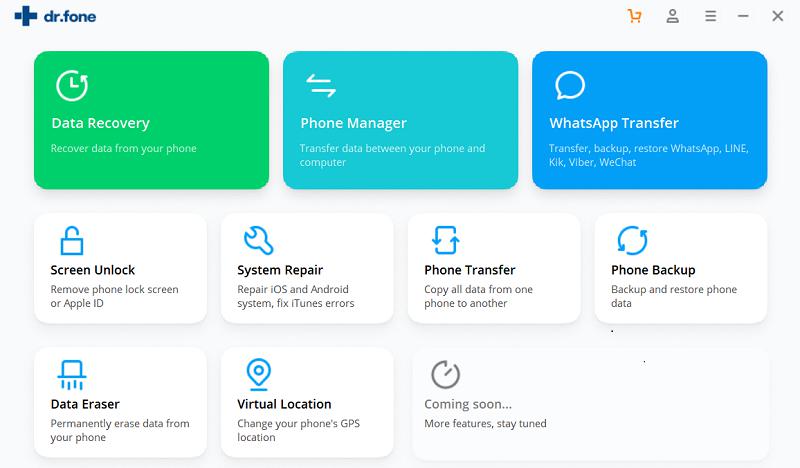 Step 2 Scan Device for Lost Data.
Select any option between 'Existing Data on the Device' and 'Deleted Data from the Device' to scan the data and choose the 'WhatsApp & Attachments' option under it. After that the 'Start Scan' button to process.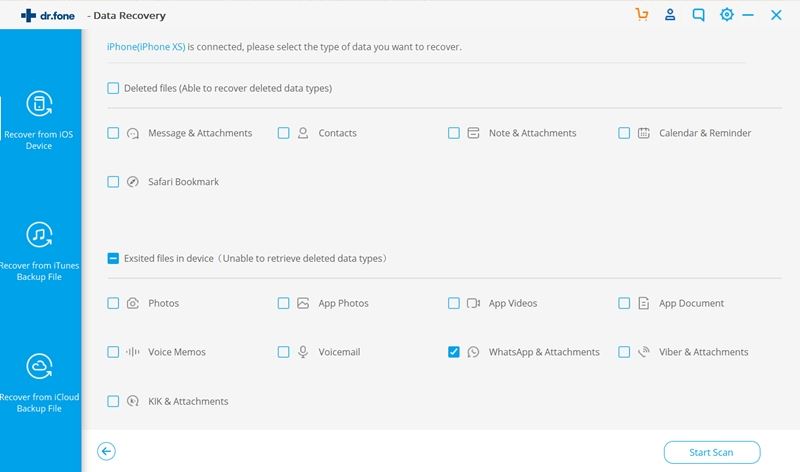 Step 3 Preview the Scanned Files.
You can tap on the data that was scanned and preview it before recovering it. After finding the data tap the checkbox against it and click 'Recover to Computer' and the data will get recovered onto your computer. Now that you have your recovered data at hand, you can easily restore it back to your iPhone.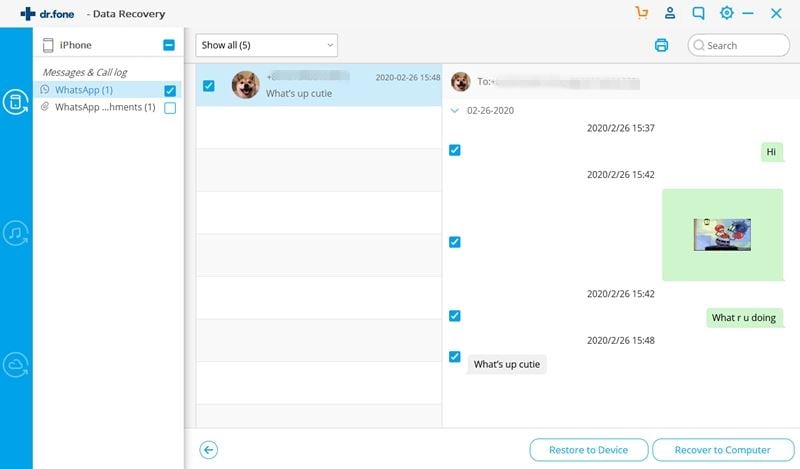 For the Android Users, check this article and read more about recover WhatsApp messages on Android.
Part 3: How to Recover WhatsApp Account On New Phone with Old Number
When you lost your phone by accident, and you would like to recover WhatsApp account on a new device. Many of you will ask me "How do I get my old WhatsApp account back without SIM?" or "How can I login to my WhatsApp account on my new phone, with the lost SIM number?"
First thing first, you can't activate your old WhatsApp account with a SIM but with a phone number.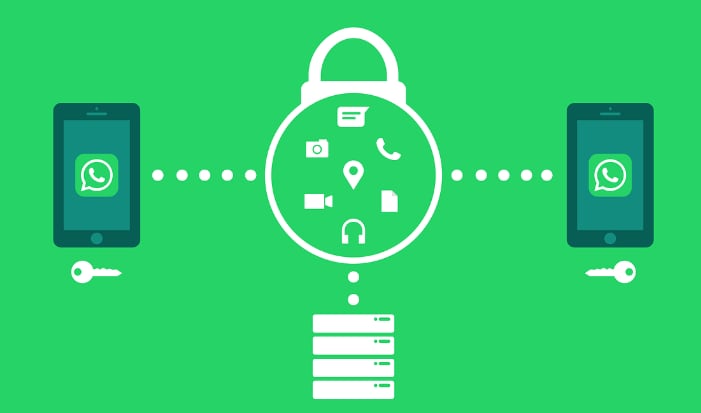 Follow the guide below to activate WhatsApp account for your old number:
First thing first, you should lock your SIM card by calling your mobile service center, after you lock your SIM card, the person who is in possession of your phone cannot use it.
After getting your SIM card locked, you are able to activate your WhastApp account on another device. You can use a SIM card with the same number, so that it would be the fastest way to get back your account.
Part 4: How to Recover WhatsApp Account Without Old Number on Lost Device
With the change number feature, you can use your old WhatsApp account for a new phone number on a new device. Ensure that you can still access your old WhatsApp account before you start.
For changing your phone number in WhatsApp, first you need to change the old number in your old mobile and then installing WhatsApp on your new phone. Here the 'Change Number' feature comes in handy.
1. Recover WhatsApp Account On Your Old Device
Step 1. Launch WhatsApp and tap the menu button, then 'Settings' > 'Account' > 'Change Number'.
Step 2. In the 'old phone number' section you need to enter your already linked WhatsApp number and mention your new number under 'new phone number'.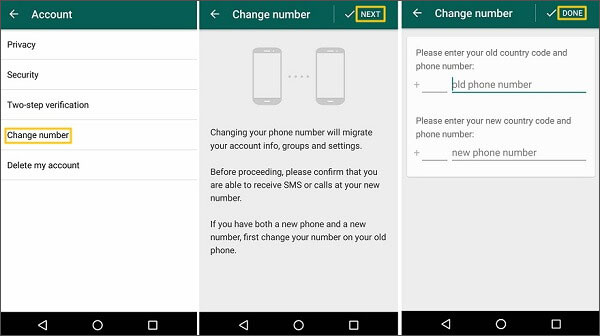 Step 3. You got to verify the new mobile number by entering verification code, as soon as you receive it on your new device.
Step 4. It is recommended to back up your chat history to Google Drive. You can create the backup by tapping the menu button, then 'Settings', then hit 'Chats' > 'Chat backup' > 'Backup'.
---
2. Recover WhatsApp Account On Your New Device
Step 1. You need to manually transfer your backup file in case you haven't backed up the chat history on Google Drive. Install WhatsApp on your new device and verify the new mobile number once again. Now, restore the backup when prompted and recover your WhatsApp account.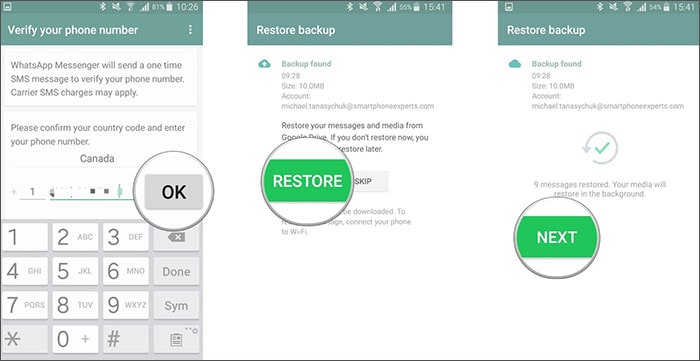 Step 2. Once you change number, Your contacts need to save your new number so that you can exchange messages and view each-others' status message.
This feature migrates your WhatsApp account information along with the profile information, groups and settings information as well. It also erases the account related to your old mobile number.
Conslusion
Although it seems possible to get back your WhatsApp account and recover your deleted messages and conversations, but there always comes up new solutions to solve these difficulties. If you feel it troublesome to get back WhatsApp account for precious data, then you might as well use dr.fone - Data Recovery, the best recovery tool with user-friendly interface and secure process to help restore any sort of WhatsApp data. Check out for more!