Can I recover deleted WhatsApp messages online without losing data?
"I deleted some WhatsApp files on my phone by accidents, but I want to get my WhatsApp chats back. Are there any solutions that can help me out?"
- From a user.
WhatsApp has become an important part of our daily life for building communications and keeping in touch with your friends and family. If you delete some of your valuable WhatsApp messages by accident, you may feel frustrated and upset for losing the precious data stored in the WhatsApp. However, you don't need to worry so much as some WhatsApp recovery solutions can help you get back your deleted WhatsApp messages.
Part 1: How to Directly Recover WhatsApp Messages on iPhone/Android
1. How to recover WhatsApp messages directly from your iPhone
For iPhone users, if you are still struggling with how to recover deleted WhatsApp messages online, you can feel relieved with the help of the dr.fone - WhatsApp Transfer . This professional WhatsApp recovery tool is able to recover WhatsApp messages, photos, contacts, videos, attachments and more successfully without any hassle. In addition, you can preview and only retrieve the deleted WhatsApp messages that you want.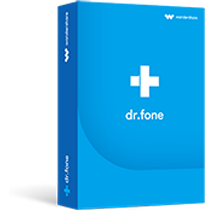 The most reliable WhatsApp Recovery tool for iPhone/Android
Recover WhatsApp messages online directly from the iPhone, iTunes backup, iCloud backup as well as google drive.
Enable you to scan and preview deleted WhatsApp data before recovering them.
Compatible with both Windows and MAC computer
Enable you to scan and preview deleted WhatsApp data before recovering them.
Help you recover WhatsApp chats successfully even you lost your iPhone, locked it, forgot the passcode, accidentally deleted the data, or even when your phone got damaged due to water or running a factory reset.
3,890,385 people have downloaded it
Step 1 . Install and launch dr.fone on the computer and connect your Phone to it through a USB cable. After that, select 'WhatsApp Transfer' from the main window of the toolbox as shown below.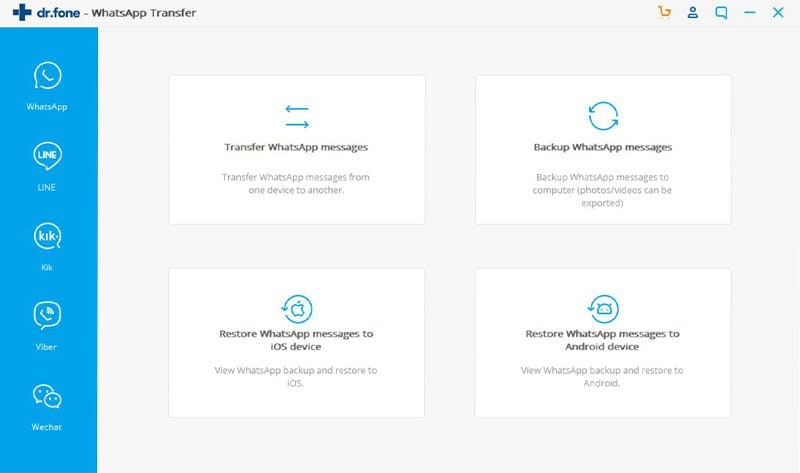 Step 2 . Now choose the 'Restore WhatsApp messages from iOS device' to start recovering your WhatsApp chat history from iPhone.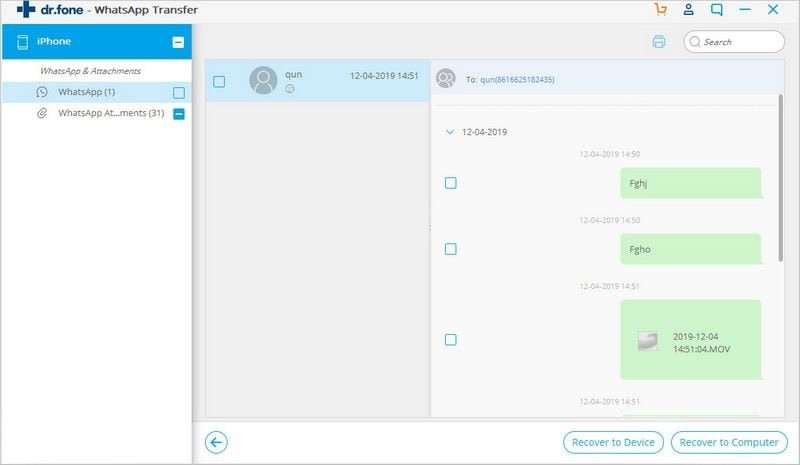 Step 3 . After the process ends, you can preview the data that you just got back.
---
2. How to recover WhatsApp messages directly from your Android
Step 1 . As same as the step shown above, you can start by installing and downloading the dr.fone on your computer and then connect the Android with computer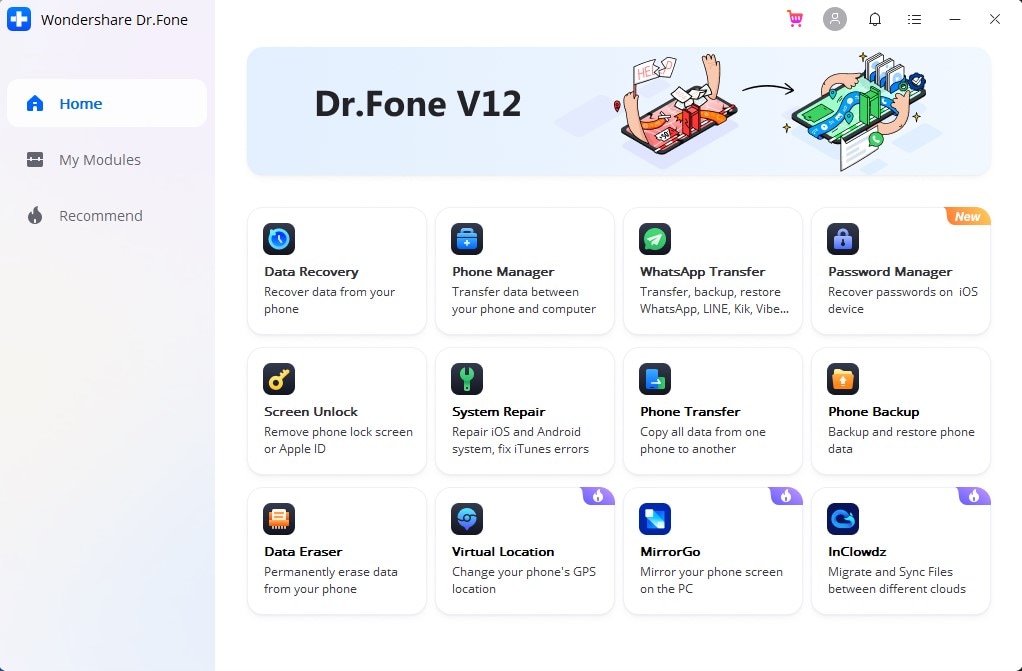 Step 2 . On the next page, please choose the "Restore WhatsApp messages from Android device" option and then click on the "Scan for all files".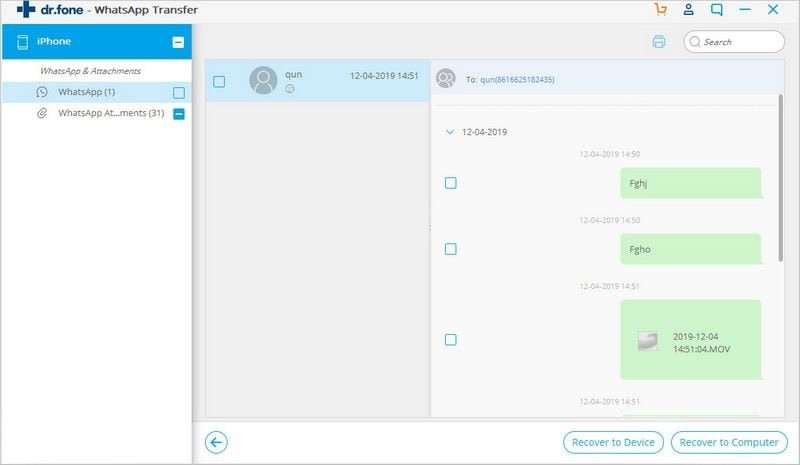 Step 3 . All of the deleted WhatsApp messages will be shown in the toolbox and you can preview them and save the type of important WhatsApp data to the computer.
Part 2: 2 Ways to Recover WhatsApp Messages Online
Method 1: Recover WhatsApp Online from WhatsApp Local Backup
A method that you can use to carry out free WhatsApp recovery is the local WhatsApp backup which's provided on your device. You need to keep in mind that the device stores WhatsApp backup files only for 7 days.
Step 1 . First of all, please uninstall WhatsApp from your device and then download WhatsApp again from Google Play Store and reinstall it.
Step 2 . After installing the WhatsApp, you need to enter the same mobile number you have used to create the backup on your local drive and then set up your account.
Step 3 . If nothing goes wrong, you'll then be shown the following screen where WhatsApp notifies you that a Chat back has been found. Click 'Restore' and WhatsApp will then start restoring your WhatsApp account data.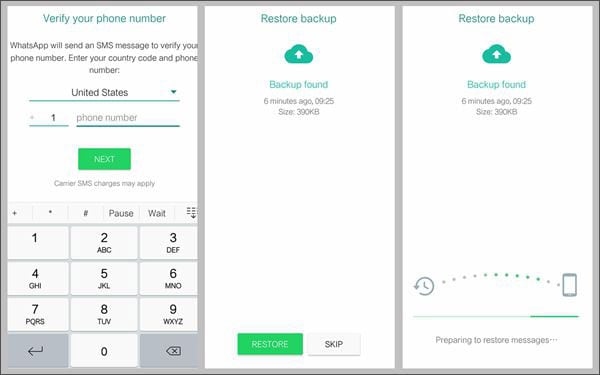 Pros
Your WhatsApp is automatically backed up with a frequency that you choose.
The WhatsApp is stored in your device under the WhatsApp folder.
You can backup WhatsApp anytime by taping the 'Back Up' button.
Cons
You can't retrieve WhatsApp messages online if the WhatsApp backup file gets corrupted or deleted due to system crash or a virus attack.
If you lose the phone or sell it to someone, the backup won't help you much as it was stored in the phone itself.
The duration of storing backup files on your device is only 7 days.
You can't restore WhatsApp selectively.
---
Method 2: Recover WhatsApp messages Online from Google Drive
Compared to local backup files for Android devices, it is better to recover WhatsApp messages online using Google Drive. The backup data remains safe away from malfunction due to malware and viruses.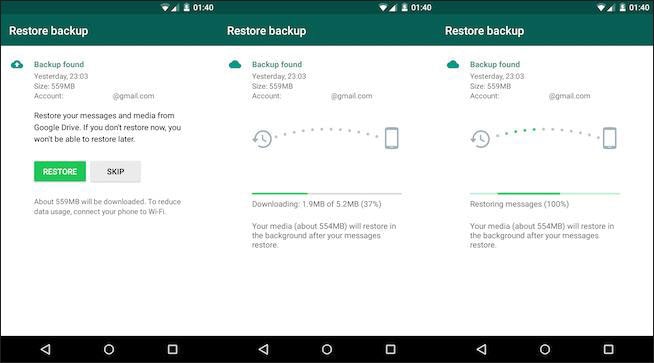 Step 1 . Make sure that you have a Google Backup prior to uninstalling your WhatsApp from your device. In order to successfully recover WhatsApp messages online using Google drive, your device must be configured with the same Google Account that you used to create a local backup.
Step 2 . Reinstall the WhatsApp and then reconfigure your WhatsApp account with the same phone number that you ever used to create the backup on your Google drive.
Step 3 . You'll receive a message noting that a Chat back has been found. Now click 'Restore' for start restoring your WhatsApp account messages and images.
Pros
It is easy to operate with Google Drive backup as you only need to set up your WhatsApp & Google account and select restoring WhatsApp to finish the process.
Google Drive backup stays secure as there's no risk of corruption due to malware attacks.
You can recover WhatsApp messages online anytime and anywhere as it can be synced easily with your Google account.
Cons
The Data you lost after the recent backup can't get restored.
You can't recover the deleted WhatsApp if you did not backup them to google drive
You can't restore WhatsApp data selectively
You need to ensure there is enough space for the google drive otherwise, the backup process may get interrupted.
Part 3: Free WhatsApp Recovery Apps You should Know
1. Antidelete
Antidelete can recover WhatsApp messages online when the people delete the WhatsApp messages that have been sent to you. It works when a friend deletes a message on WhatsApp and shows you the deleted chats. The status of the app should be under the 'Running Service' situation upon its activation to make sure that your WhatsApp messages are secured even if you are offline.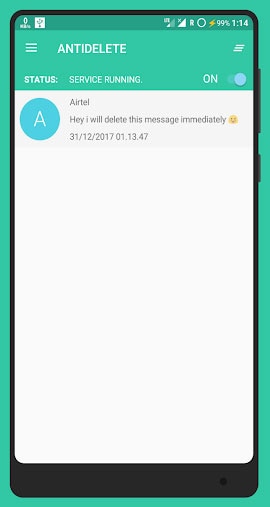 ---
2. WA Delete for Everyone | View Deleted Messages
WA Delete for Everyone is a superb free WhatsApp recovery app that enables you to read deleted messages in WhatsApp even if someone has deleted them. This free WhatsApp recovery app for Android allows you to read and save WhatsApp messages only when the WhatsApp messages are unread and the sender has deleted them while you were offline on WhatsApp or not chatting with them.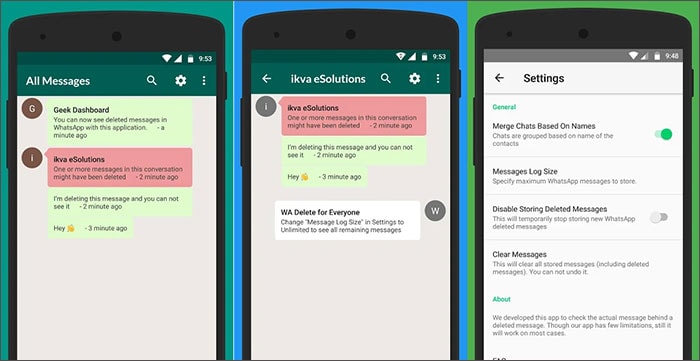 ---
3. WhatsRemoved
WhatsRemoved app can be downloaded from the Google Play Store and offers you a free WhatsApp recovery service. It detects and saves WhatsApp messages and files. To recover WhatsApp messages online, you need first to install this app on your Android device and keep track of your WhatsApp messages being deleted. After installing WhatsRemoved, you will be required to specify the desired content you intend to save. When any of your friends delete a message, picture, or any other file, this app will detect and save them for you. It enables you to view messages that your WhatsApp friends have deleted and don't intend to show you.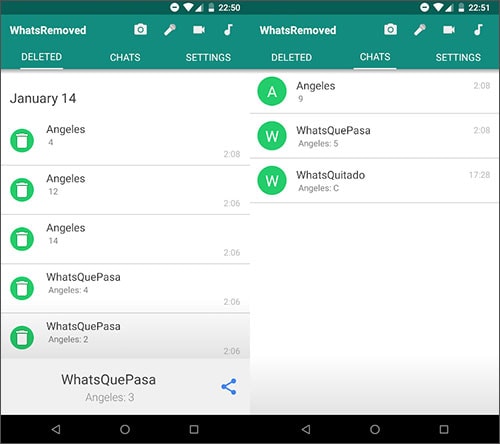 Conclusion
To protect your WhatsApp data and ensure they are accessible, it is recommended to make a backup of WhatsApp messages on your phone. If you delete the WhatsApp files by accident, the dr.fone offers users a reliable and efficient solution to help you restore deleted WhatsApp messages online. It not only ensures your deleted WhatsApp chats can be found again but also lets you choose only the wanted data to restore them to computer or another phone