Everyone use WhatsApp in their day–to–day lives and sometimes it contains pretty important messages which they might not want to lose. Hence, creating a backup for WhatsApp and restoring it later is very helpful in various situations where we accidently delete our chats or delete WhatsApp by mistake. As most of us are already familiar with the backup processes, in this article, we have singled out 5 easy ways on how to restore WhatsApp backup. Restoring the backup takes only a few minutes if you are well acquainted with the process involved in it.
Part 1: How to Restore WhatsApp from Local Backup
A local backup data usually get stored in your internal storage when you backup WhatsApp and so that restoring of messages can be easily done later depending on your need. Carefully follow the steps listed below to restore WhatsApp backup.
Note: A local backup has only recent 7 days of WhatsApp data in it. So be sure if you want to restore it.
Step 1: Open your File Manager and go to the internal storage. Make sure you have the backup in it under the name of 'WhatsApp'. Get into the 'WhatsApp' folder and then tap on 'Databases'.
Step 2: You'll see a couple of files there and ensure that the name of the backup up file which you want to restore should be changed from msgstore-YYYY-MM-DD.1.db.crypt12 to msgstore.db.crypt12.
IMPORTANT: Make sure not to change the crypt file number because there might be an earlier backup named with crpyt9 or crypt10.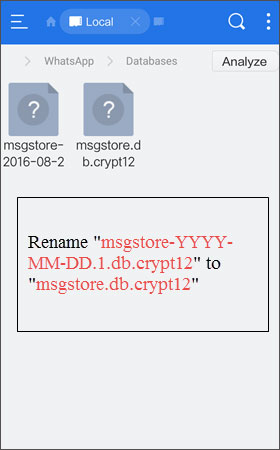 Note: This is vital as WhatsApp app only looks for the highest crypt file number to restore the WhatsApp backup data from.
Step 3: Now, uninstall the WhatsApp and reinstall it but make sure to enter the same phone number which was used to make backup earlier. Once your account is verified, a pop up asking your permission to restore your WhatsApp chat history from the local backup appears. You now need to tap 'Restore' followed by 'Next', so as to start restoring your messages. Tap 'Continue', on completion of the restoration process.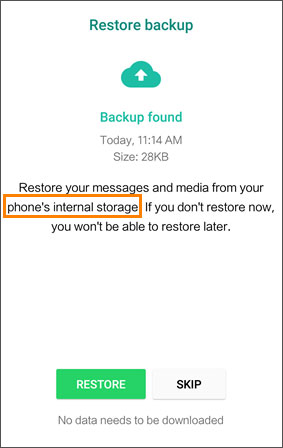 We believe the above procedure has aptly guided you about how to restore WhatsApp backup from a local backup.
Part 2: How to Restore WhatsApp from Google Drive
Next method to restore WhatsApp backup on today's list is via Google Drive. We assume that you have a backup of Whatsapp on your drive already, let's now, move on to the process on how to restore WhatsApp backup via Google Drive.
Step 1: Make sure your device is configured with the same Google account that was used for backing up your WhatsApp. Uninstall the WhatsApp app and later reinstall it afresh.
Step 2: After reinstalling WhatsApp, launch the app and enter the same phone number to log in. When your account gets verified through your phone number, a pop up appears that asks your permission to restore the backed-up chats from Google Drive. Now, tap 'Restore' > 'Next'. WhatsApp now starts restoring your chats. When the process is over, tap 'Continue'.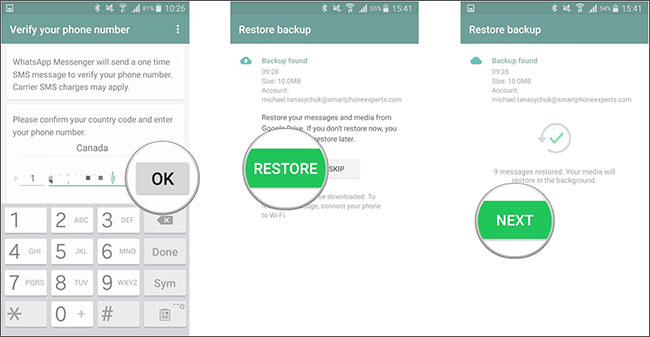 That's it, your guide to restore WhatsApp backup using Google Drive ends here.
Part 3: Restore WhatsApp backup from iCloud
iCloud is a popular storage space for iOS users to store their data. If you have also previously backed up WhatsApp on your iCloud and now want to restore it, follow these simple steps about how to restore WhatsApp backup using iCloud.
Step 1: To check you have a backup of your WhatsApp files on your iCloud, first launch WhatsApp and go to 'Settings' > 'Chats'. Next, move to 'Chat Backup' and look for an iCloud backup of your messages.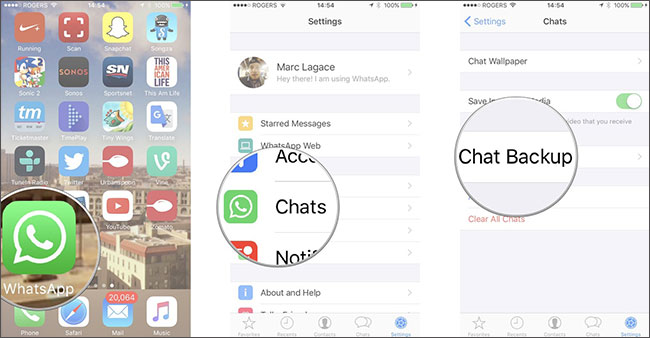 Step 2: If a backup of your WhatsApp is available on your iCloud, you may now uninstall the WhatsApp app from your device.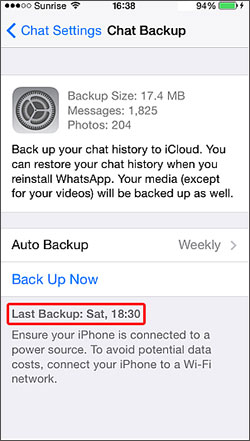 Step 3: Now, reinstall WhatsApp from App Store and launch it. Now, get your device verified with the same credentials, you will then be provided with the option of restoring your backup from iCloud. Follow and confirm the instructions displayed on your iPhone to restore your WhatsApp backup successfully.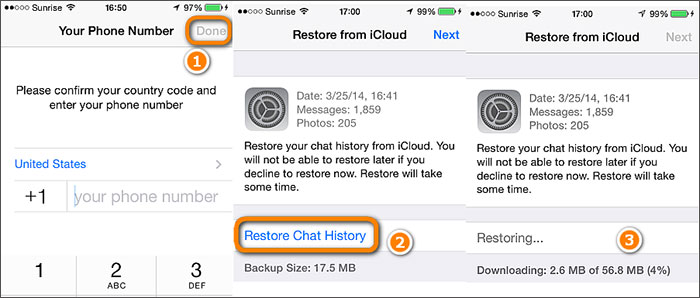 Part 4: How to Fix "Restore WhatsApp Backup Failed" Problem
If in case, you come up with a situation where your WhatsApp tosses up 'Restore WhatsApp Backup Failed', follow the below mentioned ways to get it fixed within no time.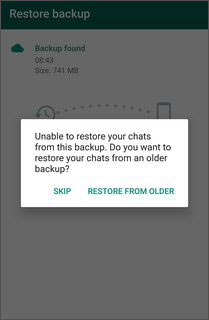 Method 1: Restart Your Device & Try Again
When your WhatsApp backup fails to restore, an efficient solution would be to close your WhatsApp and shut down your phone. There might be too many apps running in the background of your phone. Some of these unnecessary apps might be the reason for the failure of restoration. If you power off your phone, those apps in the background also shuts off and 'rebooting device', freshens up your phone. It is advisable to wait for a minute before you switch ON your phone again.
After your phone has booted, try to restore your backup again. This is one of the simplest methods you can try when your WhatsApp fails to restore. However, it might not always work but it is definitely worth trying in the first place when you come up to 'restore WhatsApp backup failed' issue.
Method 2: Check Out Network Condition
A poor internet connection can also be an eminent reason behind such issues. If you are using Wi-Fi, you should make sure your router is working properly. If there are no issues with your router, try doing the following.
Turn OFF your Wi-Fi and turn ON your cellular network and try restoring your WhatsApp again. If you are able to restore WhatsApp now, the problem occurred because of your Wi-Fi router.
If the problem persists even after connecting to your mobile network, turn ON the Airplane mode in your phone. This turns OFF all the network connections in your phone. After a minute or so, turn it OFF and retry restoring WhatsApp backup via cellular data of Wi-Fi network.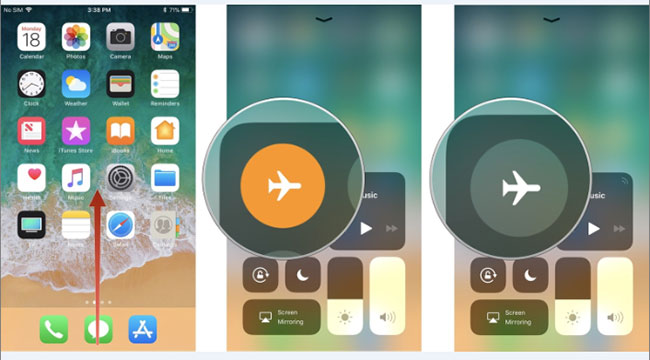 Method 3: Update WhatsApp
Whenever WhatsApp is not upgraded to the latest version, glitches occur every now and then, within the application. So, make sure to update it to the latest version. A new version comes with a better ability to fix system bugs and also adds new features to your WhatsApp. So, we recommend you to try restoring your WhatsApp back up only after upgrading your WhatsApp to its latest version.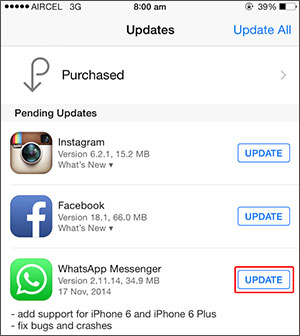 Part 5: Best WhatsApp Backup & Restore Software You Should Know
One of the effective solutions to backup and restore WhatsApp is by using iSkysoft Toolbox - iOS WhatsApp Transfer, Backup & Restore. With it, you do not have to worry about any errors occurring during the process of restoration. It is compatible with almost all the iOS devices and supports the latest iOS 11 firmware version as well. You not only can backup WhatsApp or restore it within a few clicks but also can transfer them to other device. iSkysoft Toolbox meets all your urgent demands with utmost security and reliability.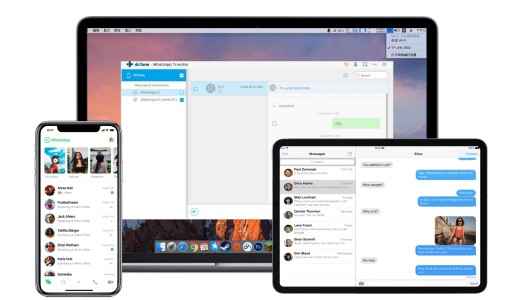 iSkysoft Toolbox – iOS WhatsApp Transfer, Backup & Restore is fully compatible with both Windows and Mac computers.
The software not can only backup or restore the Whatsapp data, but also enables the users to transfer it between iPhone to iPhone or iPhone to Android.
With this powerful tool you have the privilege to selectively transfer data as well. It supports various data types like photos, videos, pdfs and much more.
The tool also allows you to sync your iOS device to your computer effortlessly.