WhatsApp is an app for instant messaging and a definite favorite of many social media users. Sending photos through WhatsApp has become a trend, not just to friends and loved ones but also on WhatsApp status. Images are helpful for communication with people, as well as entertainment and keeping of memories. It has been said that pictures are worth a thousand words; they convey emotional events that words cannot narrate. That is why people love to use.
WhatsApp chats to send pictures and share them with others. Moreover, who doesn't want to send and receive photos instantly?
Although it is easy to save, send, and transfer photos from WhatsApp, several users cannot do this. Therefore, it has become a necessity to write this as a guide on how you can enjoy the best of WhatsApp. At the end of reading this article, you can be able to save photos that have been shared from WhatsApp to your gallery. You will learn how to use WhatsApp to send pictures and transfer pictures from WhatsApp to your computer and your Laptop to WhatsApp.
Part 1: How to Save Photos from WhatsApp to My Gallery
Let's get straight to the point. You may be asking the vital question, "How do I save photos from WhatsApp to my gallery?" Do not worry; you are just like several WhatsApp users who do not know how to save that cute picture on a status or that memorable photo sent by a friend.
Follow the steps below to save photos from WhatsApp straight to your phone gallery:
Step 1. Ordinarily, photos that have been sent to you on WhatsApp automatically save to your phone's gallery as "WhatsApp images" after you have downloaded them.
Step 2. To begin, open the WhatsApp chat where the photo you want to save is located.
Step 3. Tap the "Download" button, and the photo will be saved on your device.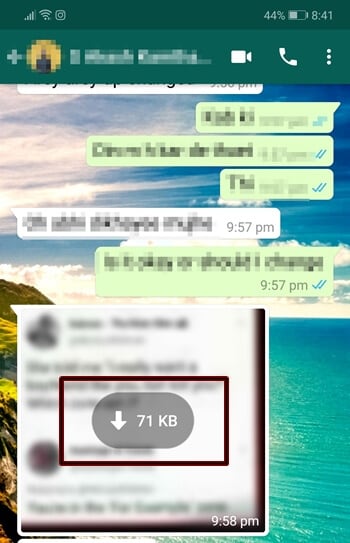 Step 4. Now go to your phone's gallery and select the "WhatsApp images" folder to view your saved photo. You can also find this folder in the section labeled "Other," still in your gallery.
Step 5. From the folder for WhatsApp images, you can decide to copy the photo and paste it into another folder.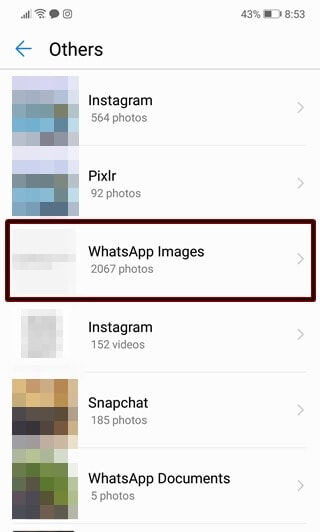 Part 2: How to Send Photos via WhatsApp without Losing Quality
When a photo is sent through WhatsApp, the quality automatically reduces from the original quality. It is as a result of the fact that the image gets compressed to reduce its size. However, you can still maintain the picture size and original quality of any image you want to send on WhatsApp.
Follow the steps below to send pictures on WhatsApp without succumbing to the natural "compression" that every photo on WhatsApp goes through:
First Method: This method is ideal if you only need to send one photo or two.
Step 1. Launch the file explorer or file manager of your device and find the photo you need to send.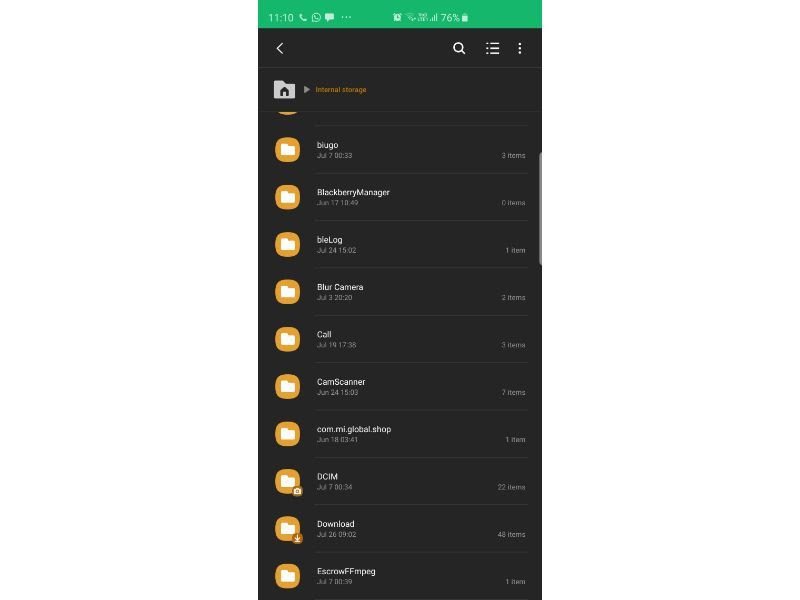 Step 2. Change the name of the image to "image.doc."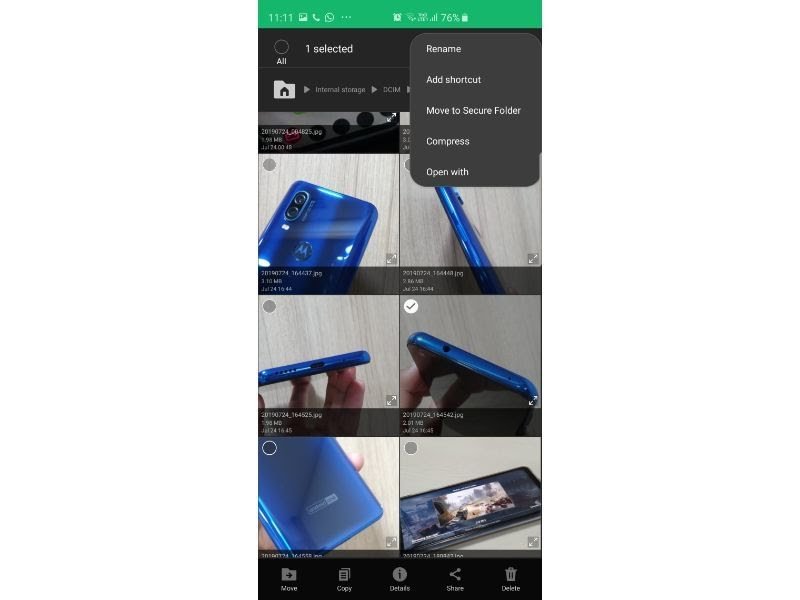 Step 3. Now you can send the photo as an attachment.
Step 4. Let the recipient of the photo rename the file back to .jpg after receiving it to view it.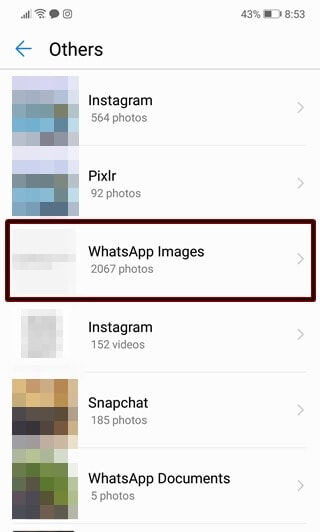 ---
Second Method: The second method of sending photos via WhatsApp and maintaining the quality applies to bulky images.
Step 1. Using the file manager of your device or any third-party tool, compress the whole folder of the photos you want to send through WhatsApp.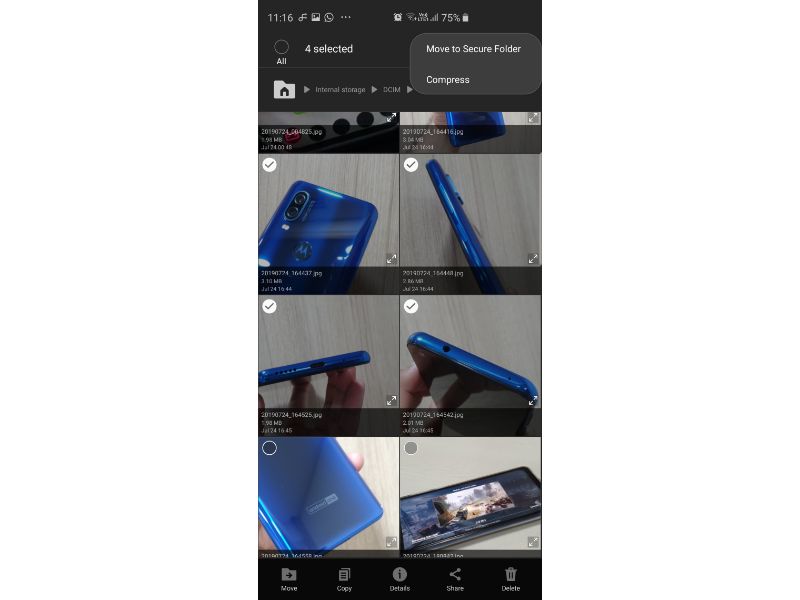 Step 2. You can either send the zipped folder as an attachment or straight from the file explorer/manager.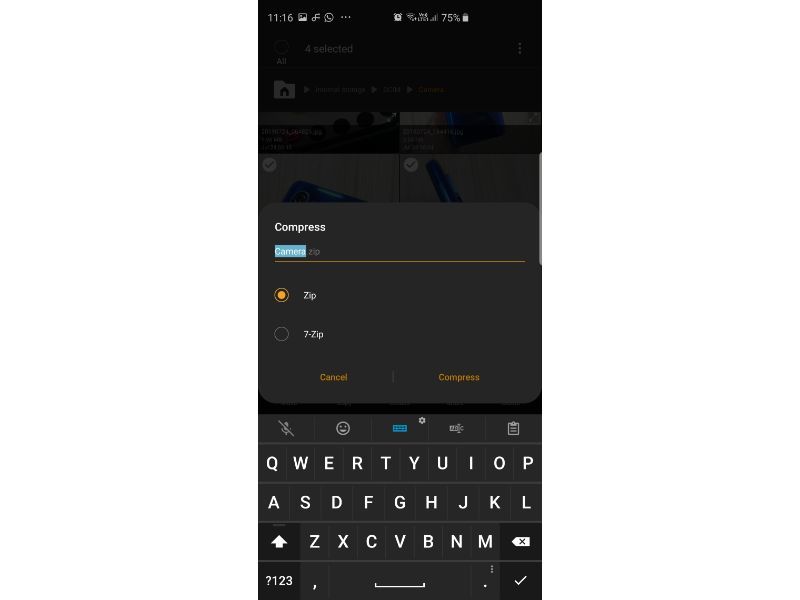 Step 3. After the recipient gets the zipped image folder, advise them to decompress the folder to view the photos.
Part 3: How to Transfer Photos from WhatsApp to Computer
Most users have found that transferring photos from WhatsApp to their computers is very important for safe-keeping. Although there is a feature for backup on your device daily, weekly, or monthly, users prefer to move the WhatsApp photos from phone to computer. Some moments cannot be re-created, so if any loss occurs, it is gone for good.
To transfer WhatsApp photos from your phone to a computer:
Step 1. Use a USB cable to connect your device to the computer.
Step 2. Unlock your phone and swipe from top to down of the screen to access the phone's notification center.
Step 3. In this section, select "USB charging this device."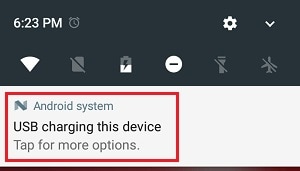 Step 4. A menu will pop up from which you will select "Transfer Files."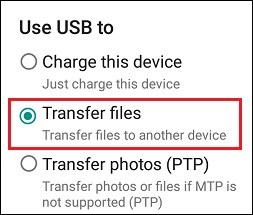 Step 5. Launch your PC's File Explorer and on the side menu, click your device.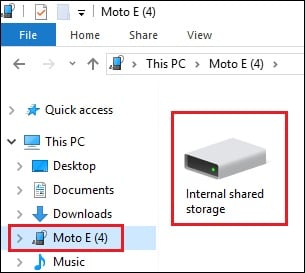 Step 6. Double click the folder labeled "Internal shared storage" or "Internal storage," depending on how your phone terms it.
Step 7. Double click the "WhatsApp" folder.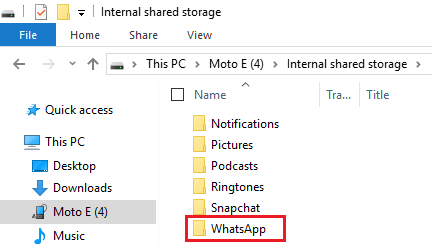 Step 8. Double click the "Media" folder to launch it.

Step 9. You will see the folder "WhatsApp Images."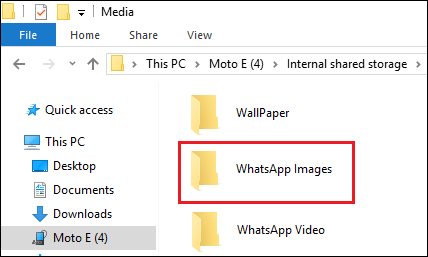 Step 10. To transfer the whole images from your WhatsApp images folder, drag and drop the folder on your desktop.
An easier way to transfer from your WhatsApp to a computer is with the use of third-party transfer software. A perfect example of a tool you can use for such transfer is called dr.fone WhatsApp Transfer.
dr.fone is a software designed to transfer and backup WhatsApp chats, images, videos, and other file types (up to 15 different file formats) to different devices and systems. With dr.fone WhatsApp Transfer, you can back up your WhatsApp attachments and then export them to your computer. Afterward, you can restore the attachments when you need them.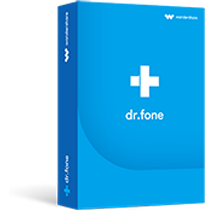 When you use dr.fone, you will enjoy such features as the following:
It allows for the phone to phone transfer. You can transfer WhatsApp files from iOS to Android and vice versa and iOS to iOS or Android to Android.
It allows for transferring all your WhatsApp Business chats to a new iPhone or Android when you are changing devices.
dr.fone lets you transfer your WhatsApp messages and media files to a computer to avoid essential data loss.
It allows for the restoration of backed-up files on a wide range of systems.
dr.fone WhatsApp Transfer has a preview feature that lets you go through the files you have backed up before restoring them to any device of your choice.
3,898,656 people have downloaded it
Follow the steps below to transfer your WhatsApp photos to a computer using dr.fone:
Step 1 Plug a USB cable to connect your device with the computer. Select "Whatsapp Transfer."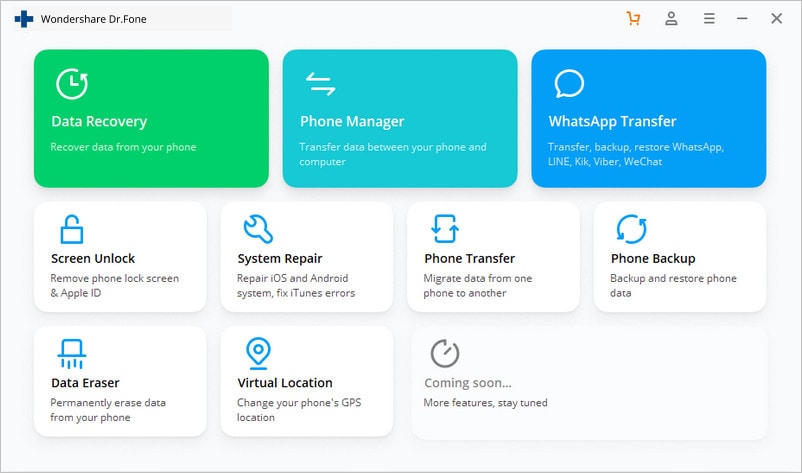 Step 2Begin the backup process by clicking "Backup Whatsapp messages."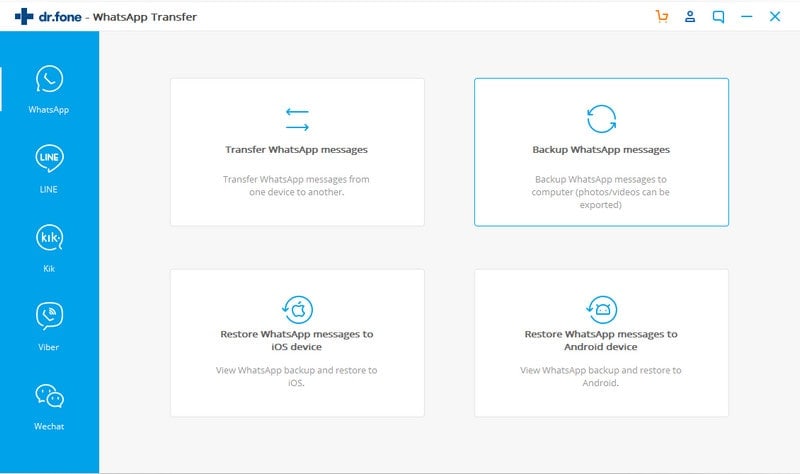 Step 3 Complete the backup process of all your WhatsApp data; this includes your WhatsApp photos.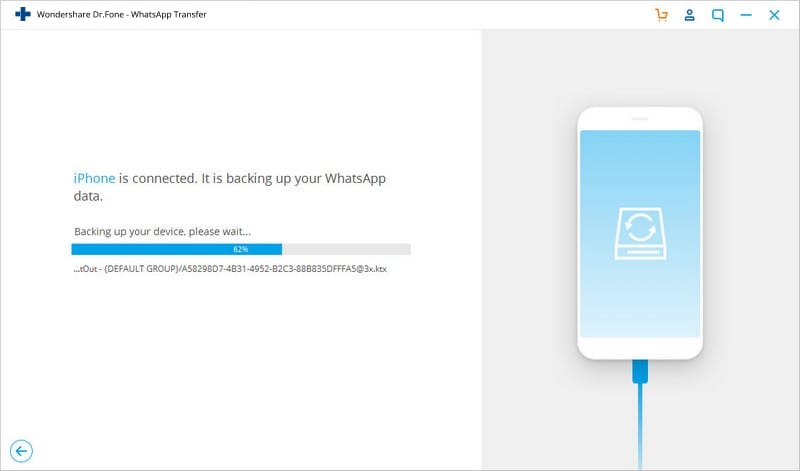 Step 4 Once the backup completes successfully, tap on "View" to see the files that have been transferred and be sure of your backed-up WhatsApp videos.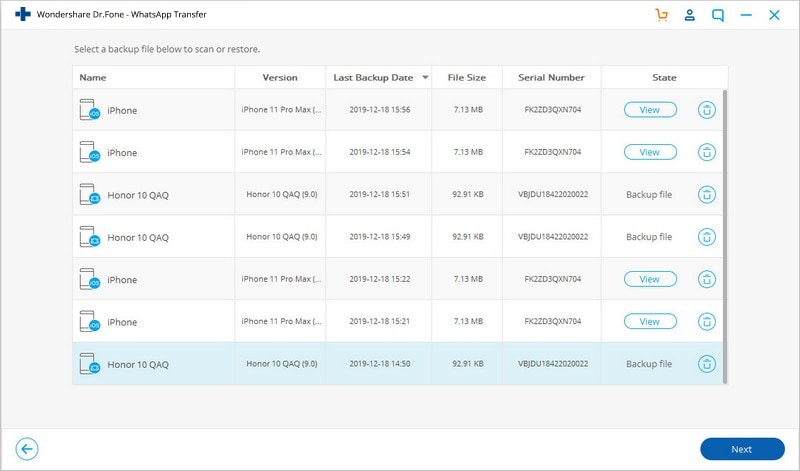 Step 5 Click to export the backed-up WhatsApp photos to your PC. That is as simple as it gets.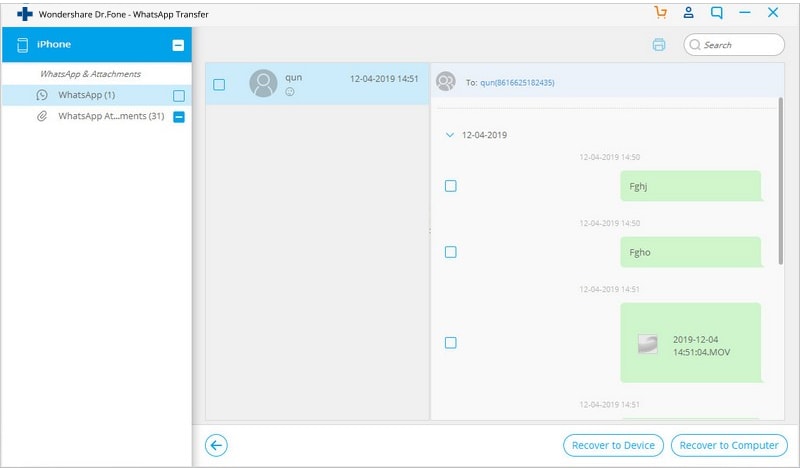 Conclusion
WhatsApp is a whole more fun if you know how to save your favorite photos, and send and transfer pictures to your loved ones or business partners. That is what this article has succeeded in teaching you how to do. Now you can easily save, send, transfer, and backup your WhatsApp photos. Even more so, you do not have to compromise on quality before you can send pictures from WhatsApp.
It is essential to backup your important data, and for WhatsApp photos, the best tool to use is dr.fone WhatsApp Transfer. The process of transferring and backing up photos to your computer has been made easy with dr.fone.