WhatsApp plays an important role in our daily communication. You likely have that one chat that means a lot to you and you need to keep it forever. You may need to save it as a portable file, right? Well, this guide will teach you how to save WhatsApp chats as PDF as well as transfer data.
Part 1: Why I Need to Convert WhatsApp Chat to PDF
I'm sure that you have known why you need to save WhatsApp chats as PDF, or you will not click into the present post, right? However, there are many reasons for doing this. Do you know them all? Next time you may run into some relevant issues... so anyway, extensive knowledgement is shown for your reference:
Legal Reasons: WhatsApp chats might be needed as proof of claim before a court. A printable PDF file is more presentable than a screenshot of the conversations. Exporting the chats as PDF enables them to come with timestamps of the conversations. You can also include media files.


Business Reasons: You can export your WhatsApp conversations with retailers, wholesalers, customers, suppliers, or manufacturers for documentation reasons.


For Research: If you are conducting a survey and are interviewing your sample population on WhatsApp you could export their responses via PDF.


Offline Backup Solution: It is common to back up your chats ad-media file to the cloud (Google Drive). Having conversations stored offline is also not a bad idea.
Part 2: How to Export Your WhatsApp Chats to PC/Mac
Before you save WhatsApp chat as PDF, first, how to export your messages to the computer?
WhatsApp can export chat history (include/exclude media) into text. dr.fone - WhatsApp Transfer is a good tool to use to export chats from your I phone to your computer. It does not matter if you do not install iTunes into your computer if you already have the dr.fone software.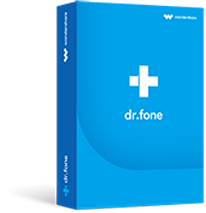 Save and Export WhatsApp Chats in One-Click
Backup WhatsApp messages in one click, preview backup file data and selectively restore it to any other devices.
No matter if you install iTunes or not, you can save WhatsApp chat history easily.
WhatsApp Transfer supports most Android devices models and compatible with the latest iOS System.
3,990,656 people have downloaded it
Now, let's dive deeper, follow this step-by-step guide below, and find out how to download and export WhatsApp easily using dr.fone.
Step 1: Connect your iPhone to the computer.
Install dr.fone software to your computer and plug in your iPhone using your lightning cord. Run the program and select the WhatsApp transfer tab.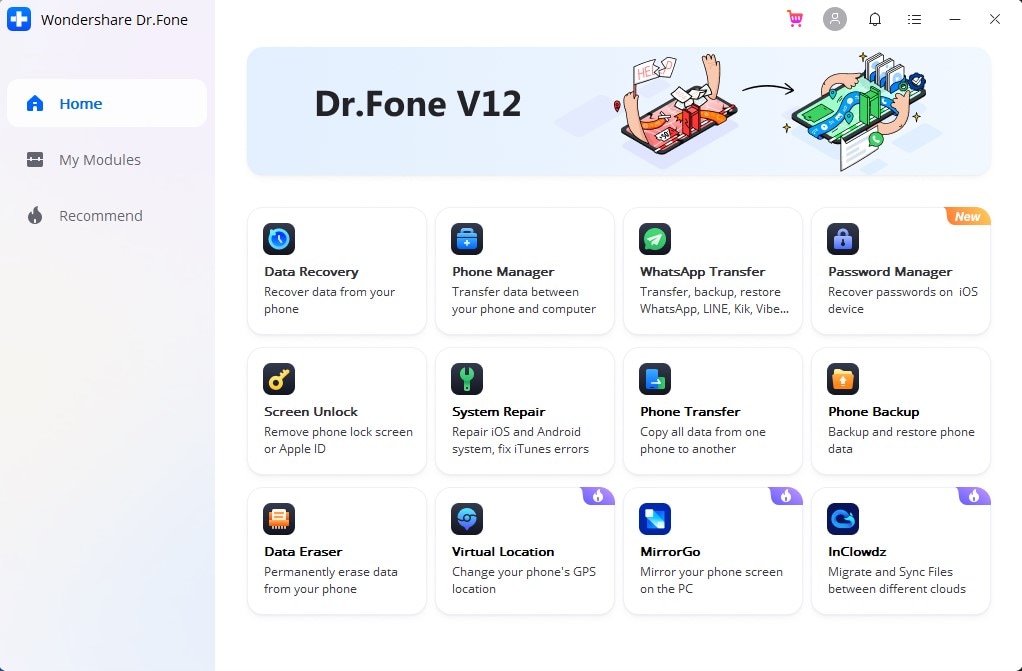 Step 2 . Back up your WhatsApp data.
Once your phone has been detected select the WhatsApp tab on the left sidebar. Select WhatsApp messages and click backup.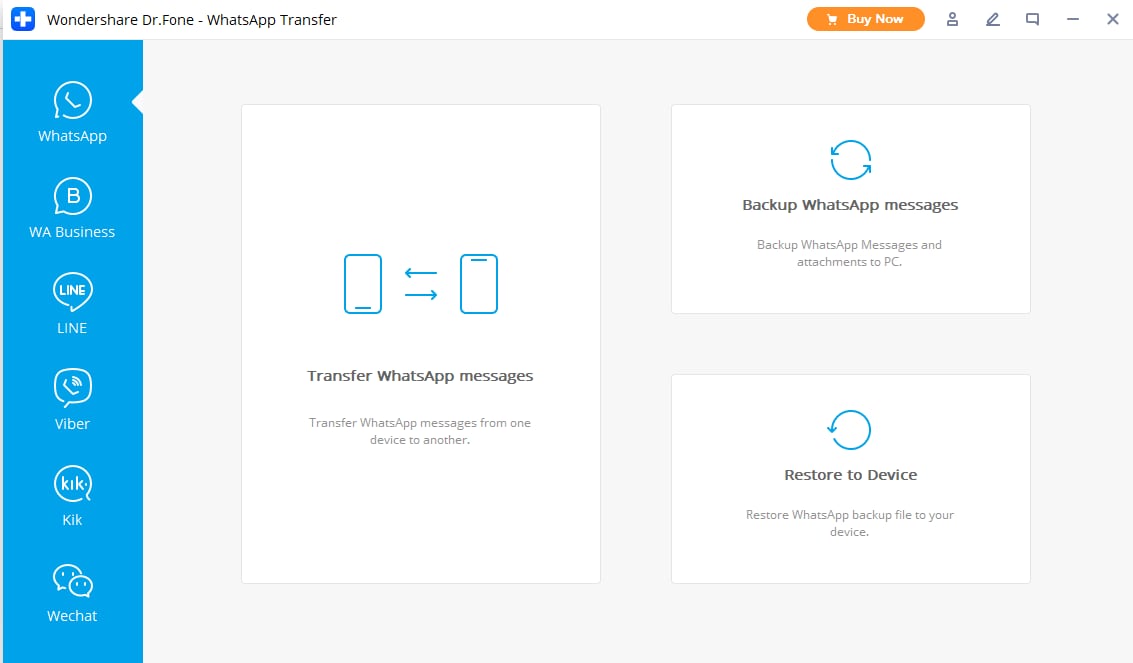 Step 3 . Preview the backed up data.
When the backup completed, go to the WhatsApp tab and select restore to device and press the view button on the side of the backup in the list. When the scan is complete select the checkboxes on WhatsApp attachments and WhatsApp on the left side to filter and preview data.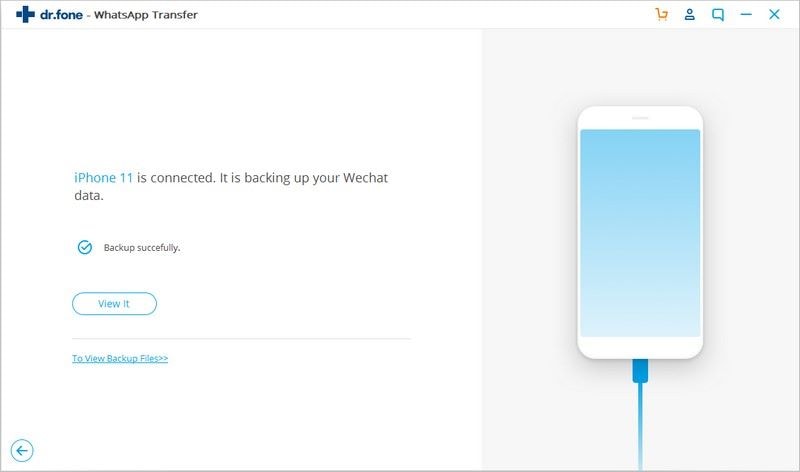 Step 4 . Save/export WhatsApp chat.
Once you have finished reviewing the chats, you can now select the conversations that you want to save or export to your PC. Select the recover to computer button to save the chosen chats to your system.
Part 3: How to Save WhatsApp Chat as PDF
If you are using WhatsApp for official purposes it is better to save the chats. WhatsApp has a feature that enables you to export the files in text format but lack one to convert the text to PDF. Here is how to do it.
Step 1 Download a third party app called WPS Office from play store.
Step 2 Open the chat conversation that you need to export in WhatsApp.
Step 3 Select the three doted menus on the top right corner, choose export chat.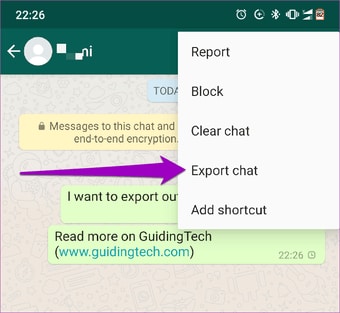 Step 4 On the share menu select Gmail, send the file to your own Gmail address by selecting the to option.
Step 5 Download the file upon receiving the mail, open the exported conversation in WPS Office.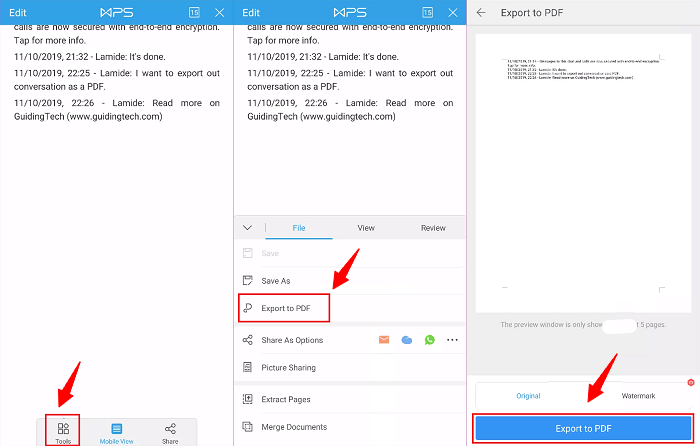 Step 6 In WPS Office there is an option of Export to PDF in the menu.
Part 4: How to Transfer WhatsApp from Android to iPhone Smoothly
WhatsApp data transfer from android to iPhone is more common today since more people are switching from android to iOS. dr.fone is advanced software that enables data transfer from one phone to another with just a click.
1. How to transfer WhatsApp between different OS in one click?
Follow the steps below to transfer WhatsApp data from android to iPhone.
Step 1: Install and launch Dr. Fone in your computer and ensure that your android and iPhone gadgets are connected to the computer. Then choose WhatsApp Transfer> WhatsApp> Transfer WhatsApp Messages.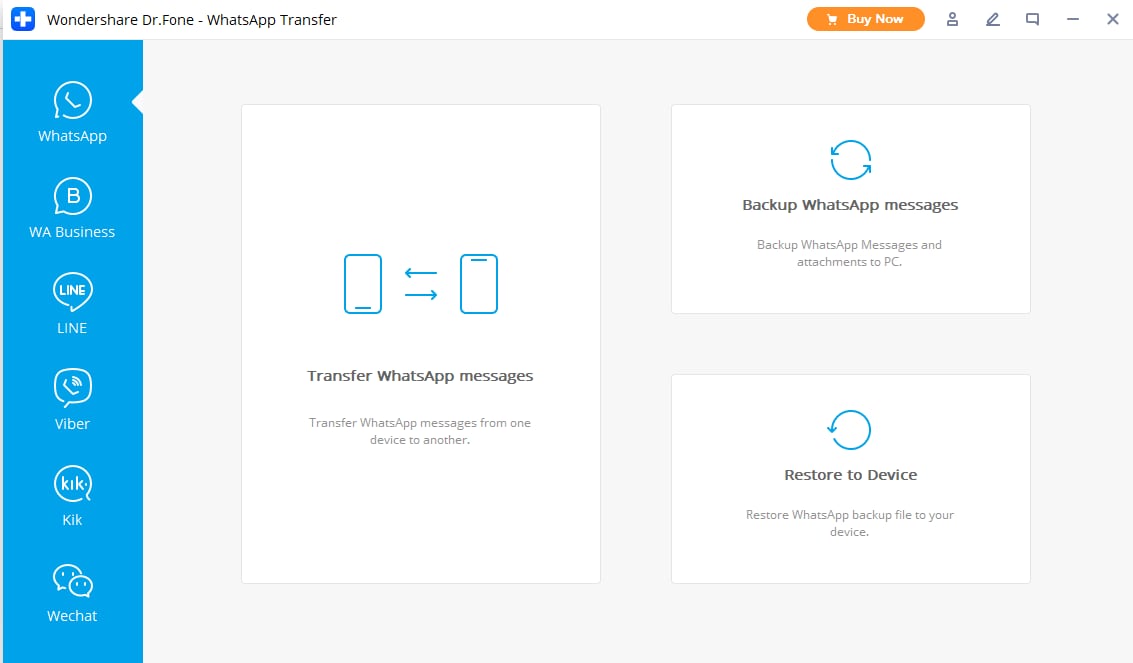 Step 2 . Once the android and iPhone are detected you can see the screen below. Select transfer to transfer WhatsApp messages from android to iPhone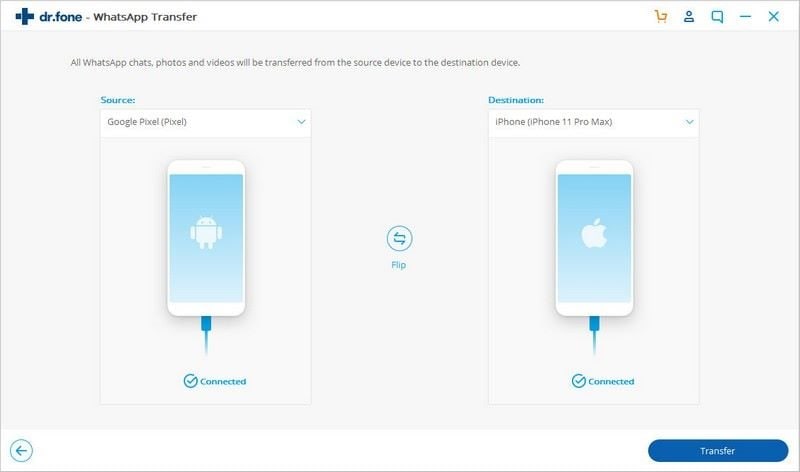 Step 3 . Wait for the transfer process to complete then you can see the transferred messages on your iPhone.
2. How to switch your chat history between devices via email?
The email chat method can also be used to transfer WhatsApp messages from Android to iPhone. This method only transfers WhatsApp chats with txt extensions. Follow the steps below to transfer WhatsApp chats from Android to iPhone.
Step 1 On your android phone launch, WhatsApp select settings then chat settings. Click the email chat on the drop-down menu.
Step 2 Select the WhatsApp history or conversation that you want to transfer. A pop up saying "attach media will generate a larger email message" will show up. Select attach media or without media depending on your preference. Enter your email then click "send".
Step 3 Log in to your email via your iPhone. You will be able to read your WhatsApp messages in your email account but will not be able to sync them to your WhatsApp account.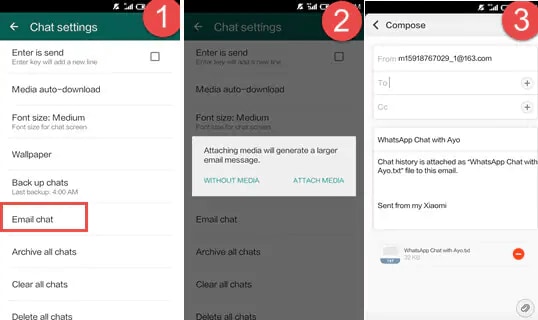 This is a very tedious method since you have to email WhatsApp messages from one contact at a time. It is not recommendable for WhatsApp history mass transfer.
Conclusion
That' it! This article discusses how to save WhatsApp chat as PDF. Sincerely Hope it helpful for you! Apart from this, I also mention data transfering, serving as an essential role in WhatsApp data management. As far as I am concerned, there are various tasks that you cannot perform unless you have software like dr.fone to help you. This software enables you to export your chats and media files from WhatsApp to other file formats and even from an Android phone to an iPhone. These are tasks that were previously impossible to do.
With dr.fone - WhatsApp Transfer, all your data transfer is made easier with just a click.