From the time, WhatsApp was launched, every single person has switched from the conventional SMS to WhatsApp to send-receive messages along with media attachments. We all carry important discussions over the app one to one or in groups for WhatsApp's complete safety, security and reliability. And it is our responsibility to keep those chats and data save. Hence making backup of our conversations becomes important to avoid any chats loss or if we switch to new device, we can easily shift old chats to the new phone as well.
Considering this, we have listed out the main WhatsApp message backup apps or softwares using which you can easily backup your WhatsApp data.
1. dr.fone - WhatsApp Transfer
[Can't Miss]
The simplest and best way for WhatsApp message backup is by using dr.fone - WhatsApp Transfer. You don't have fear about any privacy issue since it is totally safe to use. With this, you can do the iOS backup, restore as well as transfer tasks with your Windows and Mac computers. The app saves a lot of time and has some simple steps to create your WhatsApp backup. It synchronizes your phone and your computer and transfers the files as quickly as possible.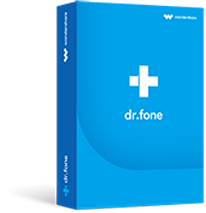 Save and Export WhatsApp Data in One-Click
This tool supports various file types, such as WhatsApp messages, group chats, images, videos etc.
Along with being compatible with iOS devices, it assures full security as well.
You can view and extract your backup anytime you want.
You can easily transfer between iOS and Android devices.
It gives a free trial version and is easy to use tool.
3,990,656 people have downloaded it
The following steps will give you a detailed explanation on how to use this WhatsApp message backup app for pc.
Step 1. Install dr.fone
Install the software and launch it on your computer.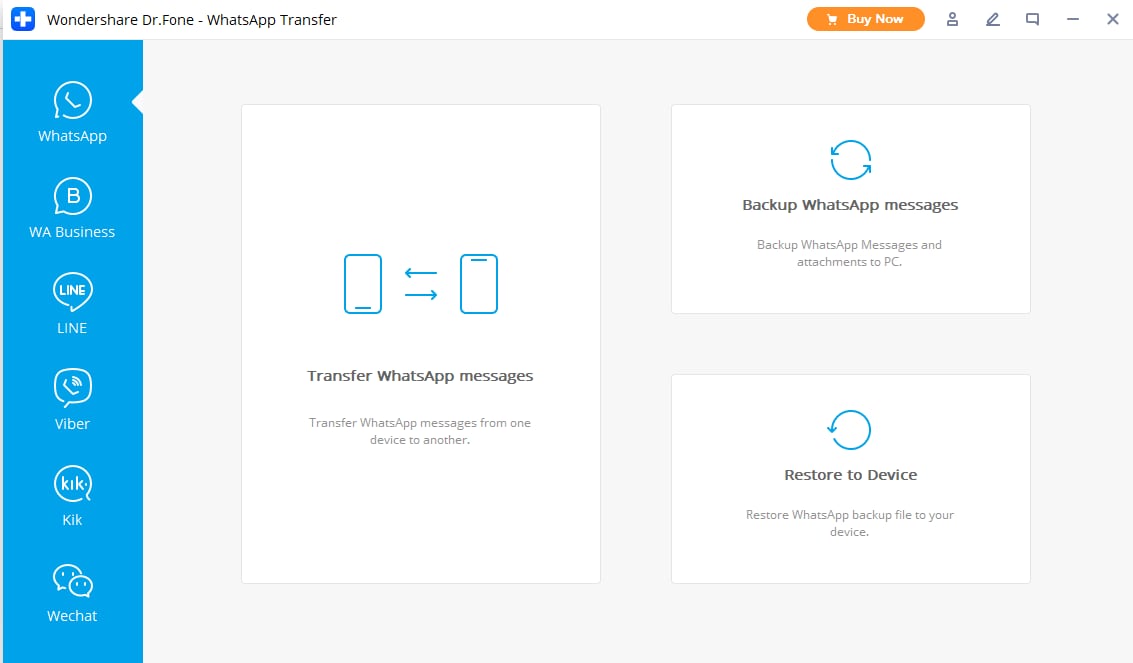 Step 2. Start Backup Process
Use a suitable USB cable to connect your phone and computer. Select 'Backup WhatsApp messages'. Click 'Backup' to start the backup process.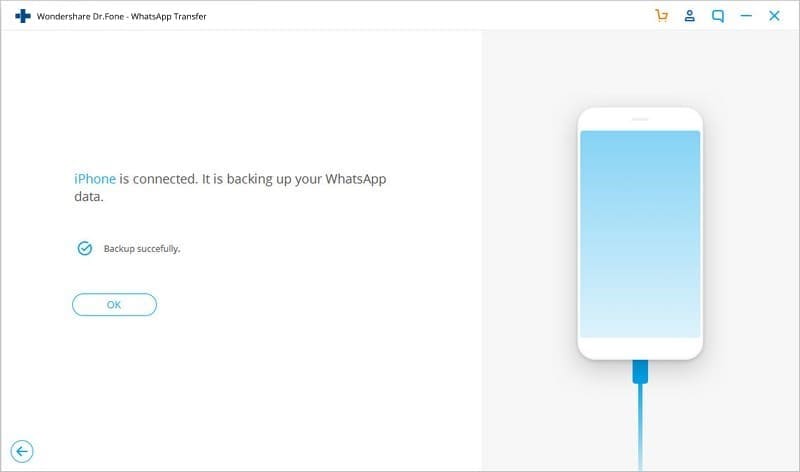 Step 3. View Backup Files
When the process is completed, click 'View it' > 'View' to preview the files you want to backup. Choose 'WhatsApp' and 'WhatsApp Attachments' and preview your WhatsApp backup. Check what you wish and export the files.
When you later want to access the files you just backed up on your computer:
Mac users should search for 'dr.fone' to find the Backup Folder.
Windows users should go to 'Settings' > 'Options' > 'General'. Go to 'Automatically open target folder after recovery' to open your backup files on your phone.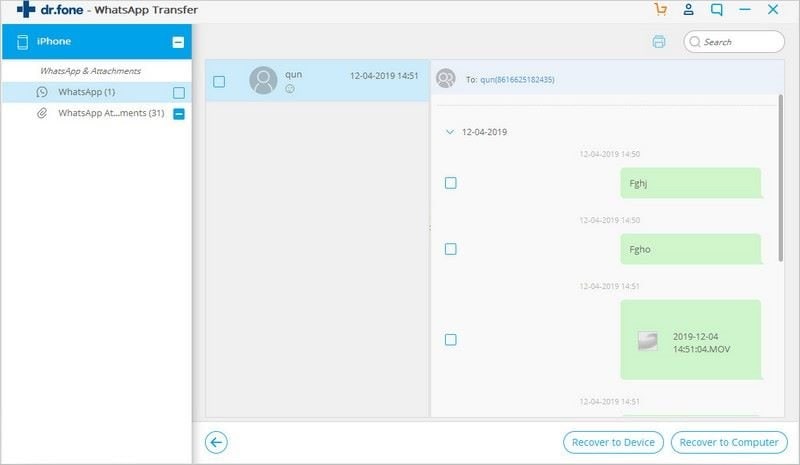 2. BackupTrans
BackupTrans is an app designed to store all your valuable WhatsApp files from your phone to your computer, be it an iPhone or an Android. This WhatsApp backup software should be a choice for you when you want to manage your WhatsApp in your computer smoothly and in an organized manner. The software also supports restoring your WhatsApp chats back to your phone from your computer. It is a convenient and safe way for WhatsApp message or other data backup. It works perfectly fine with iPad, iPod Touch, Samsung, Motorola, Sony Eriksson and many other models of Android.
It backs up and restores WhatsApp chat history from iPhones and Android phones to your computer.
It can transfer WhatsApp files in iPhones and Android phones within the same platform.
It can export WhatsApp messages to document files such as CSV, Txt, Doc, Html and PDF.
You can also extract the audio, video and other attachments that come with the WhatsApp chats via this app.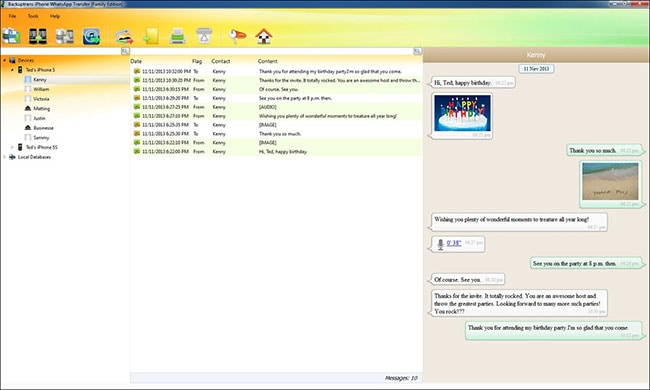 3. Mobikin
Mobikin is powerful assistant app for Android phones and tablets, iPad, iPhones and iPods customers. It allows its users to quickly transfer, backup, manage and restore all the contents on the device. It is very promising WhatsApp message backup app since it fully supports iOS 11 and comes with a free trial version. The main features of this WhatsApp backup tool are:
You can easily transfer 14 file types from iOS and Android devices to PC including photo, songs, video etc. You can export your contacts in three formats namely CSV, VCF and XML.
You can manage your various contents like editing, deleting or adding specific file type.It is a one-click backup and restore program.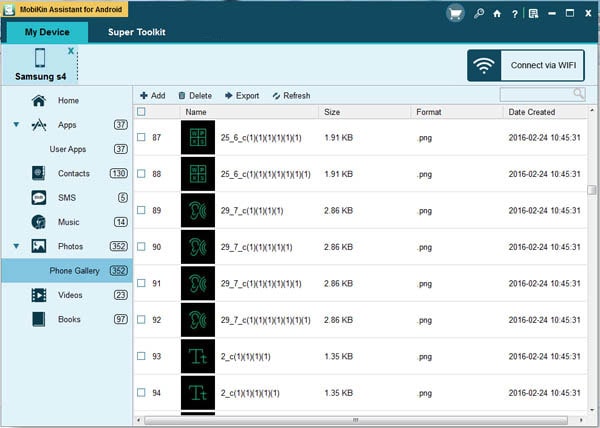 4. Backup Text Pro for Whats
Backup Text Pro for Whats is a WhatsApp backup software that can export WhatsApp chats. This app can also convert the files into simple plain texts, CSV, Excel and HTML formats making them readable in your phone or your computer. You can either save your files in SD card or mail them as attachment. This is a fast method for WhatsApp message backup. The features of this WhatsApp backup app are:
With this app, the messages can be effortlessly restored to your phone as SMS.
The emojis in the chats are represented in text format while exporting.The app can help you to filter your WhatsApp history by chat, date and message type.It supports Windows, Unix or Mac plain text new line format.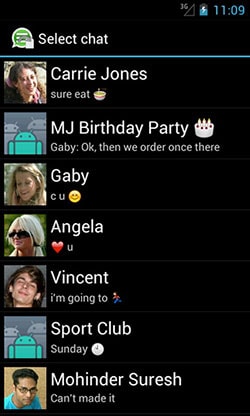 5. Backup for Whats
Backup for Whats is a popular WhatsApp backup software that allows the backup of WhatsApp chat history including images, videos, photos, voice notes directly to your Google Drive personal account. You can then restore the backup to any other device and thus secure your chats in case you purchase a new phone or lose your phone.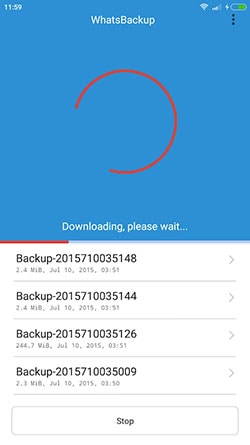 ---
Conclusion
In general, the five WhatsApp message backup apps recommended above are top-ranking in today's market. With all things considered, I hold the view that dr.fone - WhatsApp Transfer is much more reliable and easier to use.