By the end of 2020, the Android smartphone user base is at a staggering 3.5 billion active users! This number indicates that people are buying more and more Android phones on a yearly basis.
When buying a new android phone, we tend to configure it in the same way we did using our previous phone such as keeping the same apps, the same visual styles, etc. However, things start to change when we consider the actual data transfer process. The prime example is WhatsApp that gives users some serious headaches!
We have compiled several tested methods about how to transfer WhatsApp chat history from android to android. Of course, other types of WhatsApp data can also be readily transferred. Let's go through them and you can pick one that best suits your requirements.
Part 1: Transfer WhatsApp History from Android to Android at Ease
The first method is always the easiest and the most effective solution to help you move your WhatsApp chat history from Android to Android. Actually this method can helps you switch WhastApp among any types of operating system, no matter you use Android or iOS device. this tool will transfer chat history in one-click.
With a single click, dr.fone - WhatsApp Transfer can help you transfer WhatsApp messages completely with no data loss.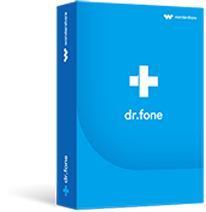 Transfer WhatsApp from one phone to another
Selectively save and transfer WhatsApp messages without any hassel.
Preview the WhatsApp data and selectively transfer the required WhatsApp data.
Export up to 20 types of WhatsApp data from your Phone, including WhatsApp messages, photos, text messages, videos, notes, etc.

3,760,385 people have downloaded it
Here's how to use dr.fone to transfer WhatsApp from Android to Android:
Step 1. Download the dr.fone on your computer and launch it, please also plug in your Android device.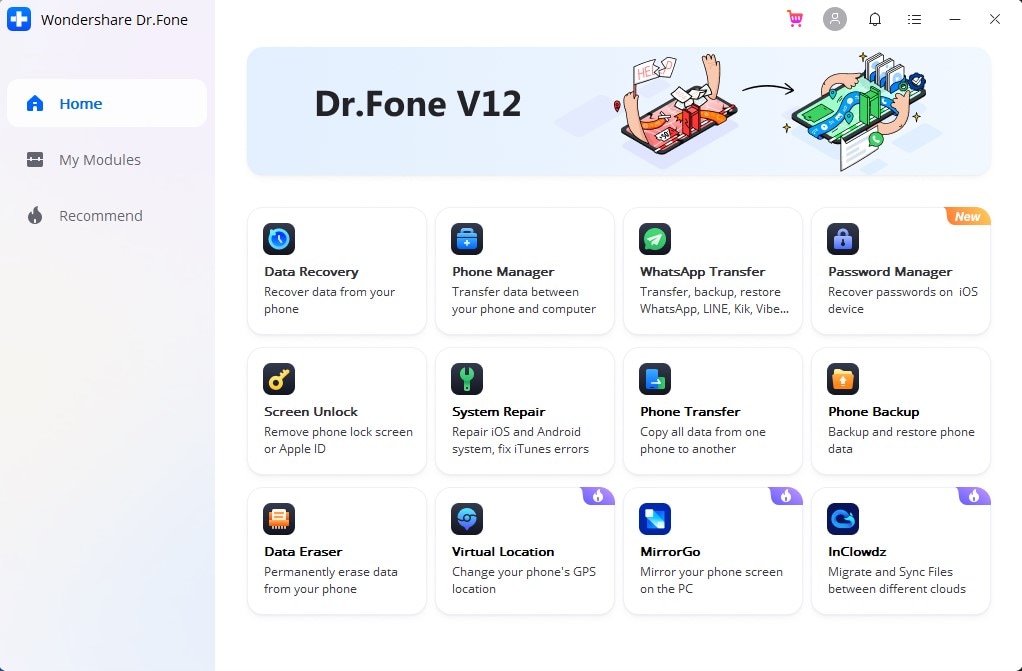 Step 2. After launch dr.fone - WhatsApp Tranfer, choose "Transfer WhatsApp messages." on the top left corner.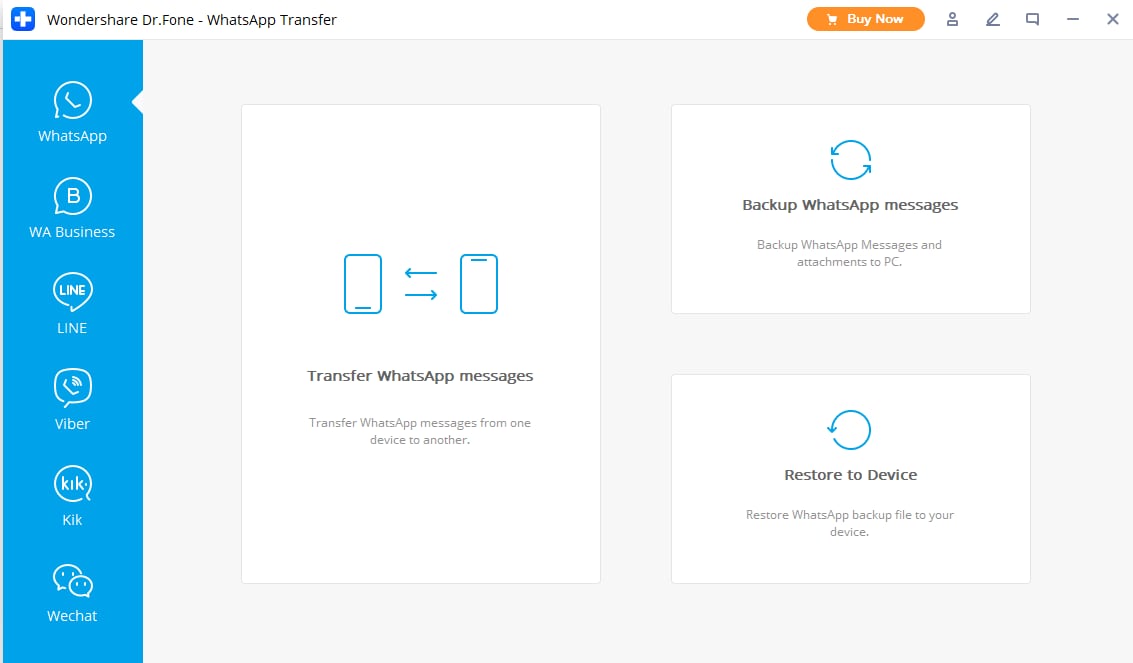 Step 3. Tap on the "Transfer" button at the screen below to transfer WhatsApp messages from Android to Android, and wait for the process ends.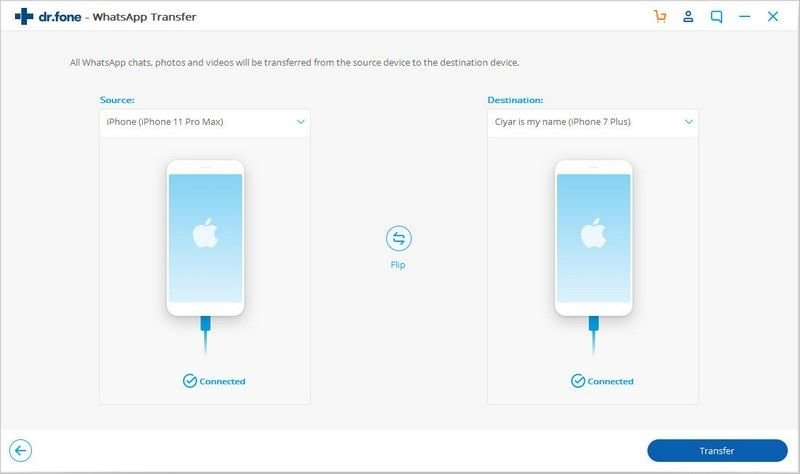 Part 2: Transfer WhatsApp Chat History from Android to Android by Google Drive
The second method our list involves is Google Drive and that means you will require an internet connection. For this method, we recommend using WiFi for this process as it can get quite data heavy. Let's get on to the actual steps involved.
Step 1: Open WhatsApp on your old android phone. Click the three vertical dots on the top right corner of your phone.
Step 2: Click "Settings" and choose the "Chats" to get to the backup options. In the chat options, click "Chat backup" to see the backup settings and click "Backup" to make a manual backup file from your device to the google drive.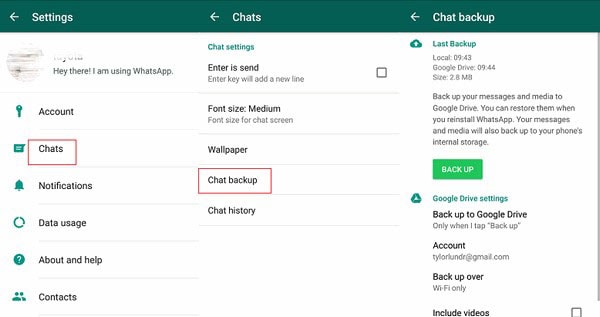 Step 3: Now install WhatsApp on your new Android device.
Step 4: Launch WhatsApp on your device and sign in with your Google account or you can use your phone number to sign in securely.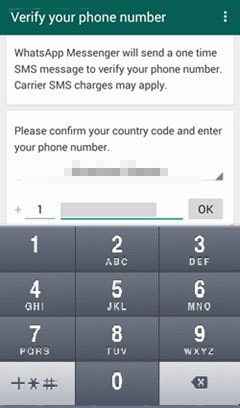 Step 8: After signup, you will be shown your backup file. Click "Restore" to copy your files to your new phone.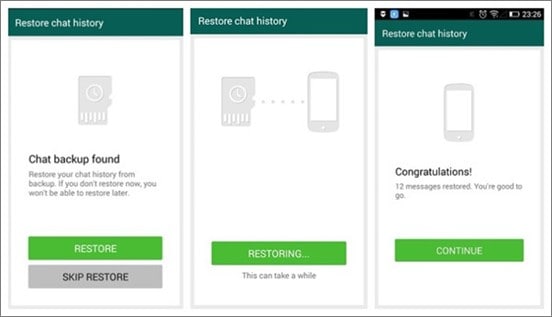 To transfer WhatsApp messages from android to android using Google drive, you will need an active Google account and a stable internet connection.
Also, you must take into consideration that the backup file can take up a large portion of your Google drive account. Therefore, ensure that you have enough space on your Google drive before the backup process. Large file means that you will require a large amount of internet data to download and upload the file. so make sure that you have sufficient internet backup.
Part 3: Transfer WhatsApp Messages from Android to Android by Backup
In this method, Whatsapp backup file is stored on your phone's storage rather than on the cloud. On phones without SD card or only with the interner momery, the files must be transferred using WiFi transfer or using a computer. We will discuss the process in detail in the following step by step guide.
Step 1: Before going into the restoring process, it is essential that you have the backup file set up for your old phone. To back up your WhatsApp data on your Android device, navigate to WhatsApp settings> Chats> Chat backup> Back Up Now.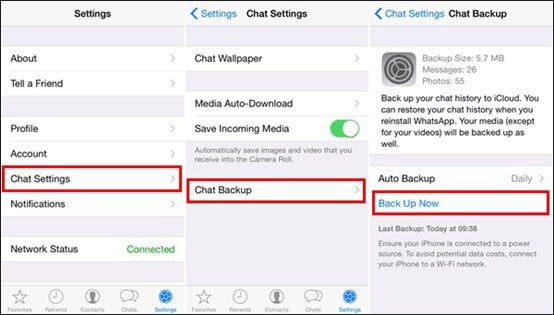 Step 2: Now find the WhatsApp backup data on your old phone by going to sd card/WhatsApp/database and you will find a backup file shown like msgstore-2017-08-26.db.crypt8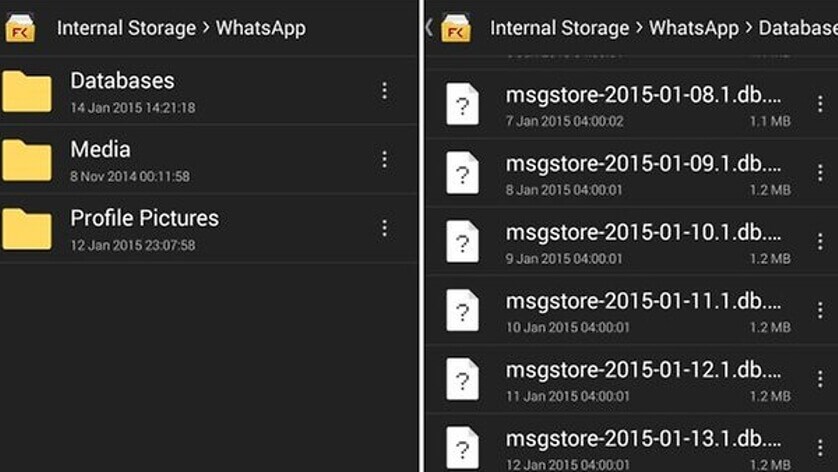 Step 3: Copy the msgstore-2017-08-26.db.crypt8 backup file to your new phone and remember where it is stored. You can save it on your desktop.
Step 4: Now download WhatsApp on your new phone and backup the WhatsApp data according to the same operation process in step 1 above. After backup, you can find the similar WhatsApp backup file on your new phone like msgstore-YYYY-MM-DD.db.crypt
Step 5: Uninstall the WhatsApp on your new phone and delete all data in the file of sd card/WhatsApp/Database on your new phone.
Step 6:Now let's do the most important step which is done by coping the WhatsApp backup file (from your old phone) that you just saved on your desktop to the sd card/WhatsApp/Database on your new phone.
Step 7: Reinstall the latest WhatsApp from Google play and Complete the preliminary configuration that comprises of adding your phone number and Google ID.
Step 8: After that, you will be prompted with the following message. Click "Restore" to begin the restoration process.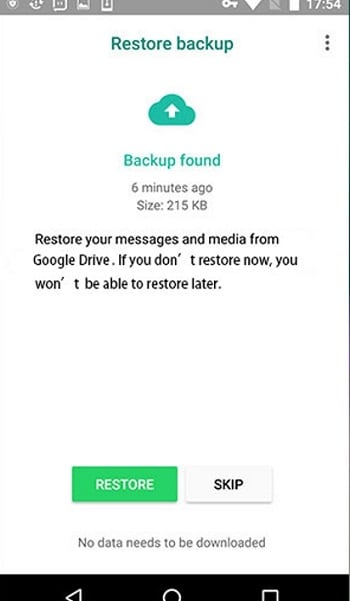 Part 4: Fix WhatsApp Transfer Errors on Android
Android is undoubtedly one of the most versatile mobile operating systems out there. With such expanse of features, we can also expect to see some aspects of the device not working as properly as we intended them to work. For WhatsApp transfer using android, you need to keep an eye out for these common WhatsApp data transfer errors.
Error 1- WhatsApp installation process unsuccessful
If you receive this error on your new Android phone, make sure that you are running on the latest update of Android for your phone. Once you verify that, install the latest update and try the installation process again.
Error 2 - Not enough space on the local storage
When you click the option to backup the device, you might get a message that there is not enough storage on your internal memory. This error happens when the size of your backup file exceeds the internal storage memory, at this point, you can try not to include media files in your backup to reduce the file size.
Error 3 - Transfer failed
If the file transfer fails halfway, check the USB connection between the PC and the phone. If the same occurs during WiFi, check the distance between two phones because WiFi connection tends to break as the distance between two phone increase.
Error 4 - Activation code error
When you download WhatsApp to the new phone, the sign-up process involves you to enter an activation code. This activation code is directly sent to your mobile number. However, sometimes users fail to receive the activation code. The possible reasons for this are the lack of mobile reception or any connection issues. If you are not getting activation code even if you have good reception, use the "Call me" option. With this option, a representative from WhatsApp will directly call you. This is a much more reliable method to log in.
Error 5 - Some contacts are not visible
Sometimes, you may not see all the contacts on your new phone which you have restored. This is frustrating as you might have spent a lot of time and effort in getting all those data into your new phone but all that will be in vain if you can't access it. The solution for this lies in the WhatsApp Settings.
Navigate to Settings> Contacts> Show all contacts.
Click on "Show all contacts" to enable the option.