How can I Transfer WhatsApp Messages from Android to iPhone
"I spent lots of time searching for the soltion to transfer WhatsApp from Android to iPhone but can't find a reliable solution that can work. Can anyone help me"
- A user from Quora
One of the biggest challenges when moving from smartphone platform to another is the fact that you have to start anew. The most common example is WhatsApp. When you buy a new iPhone, you are leaving all the chats and important media that you had on the Android phone. However, let us cheer you up with good news - You can now transfer WhatsApp from android to iPhone and we will teach you how to operate!
There were many user requests on the same. In this guide, we are going to introduce you to 3 methods to achieve WhatsApp Android to iPhone transafer.
Part 1: Transfer WhatsApp Messages from Android to iPhone using dr.fone
WhatsApp stores all kind of file types in your phone's storage and due to this reason, it requires special attention that you get all files for the transfer in one go. The first method we are going to introduce is a complete package that provides various useful tools for smartphone users, regardless of the platform - dr.fone Restore Social App.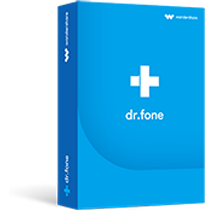 Transfer WhatsApp Messages between Android and iPhone Selectively
Keep your WhatsApp messages secure and intact during transfer process.
Enable you to preview the WhatsApp data and move WhatsApp chats from Android to iPhone selectively.
Compatible with the latest iOS systems and Android systems.
You can backup WhatsApp anytime and the new backups will not overwrite the older ones.
3,495,656 people have downloaded it
Let's learn how to transfer WhatsApp chats from android to iPhone using iSkysoft
Step 1: Install iSkysoft toolbox on your computer and connect your iPhone and Android phones to the computer.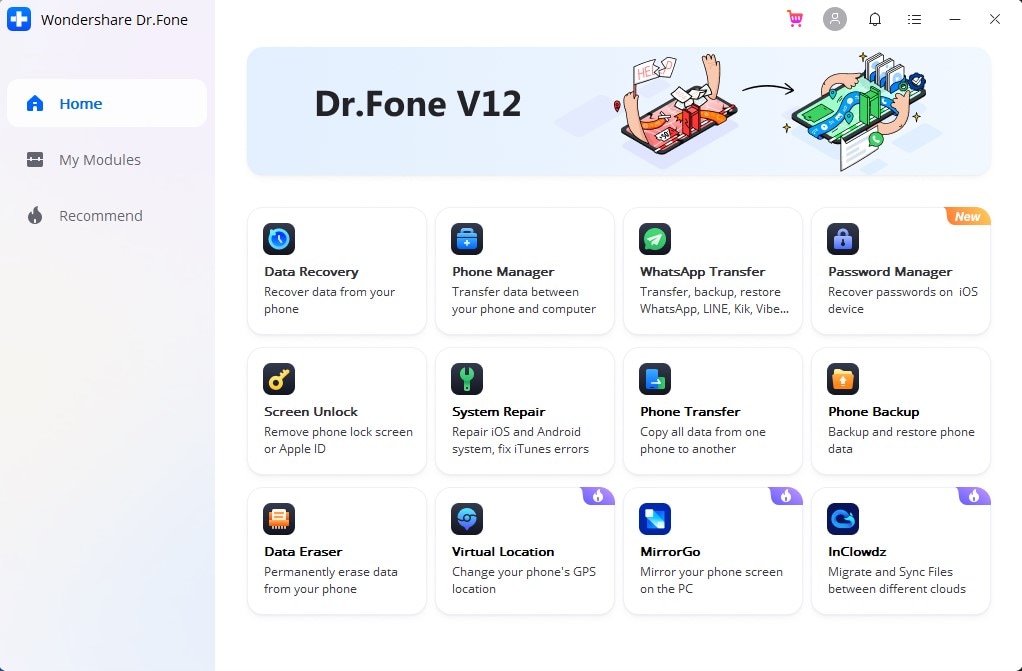 Step 2: In the four options that are presented, please click "Transfer WhatsApp Messages".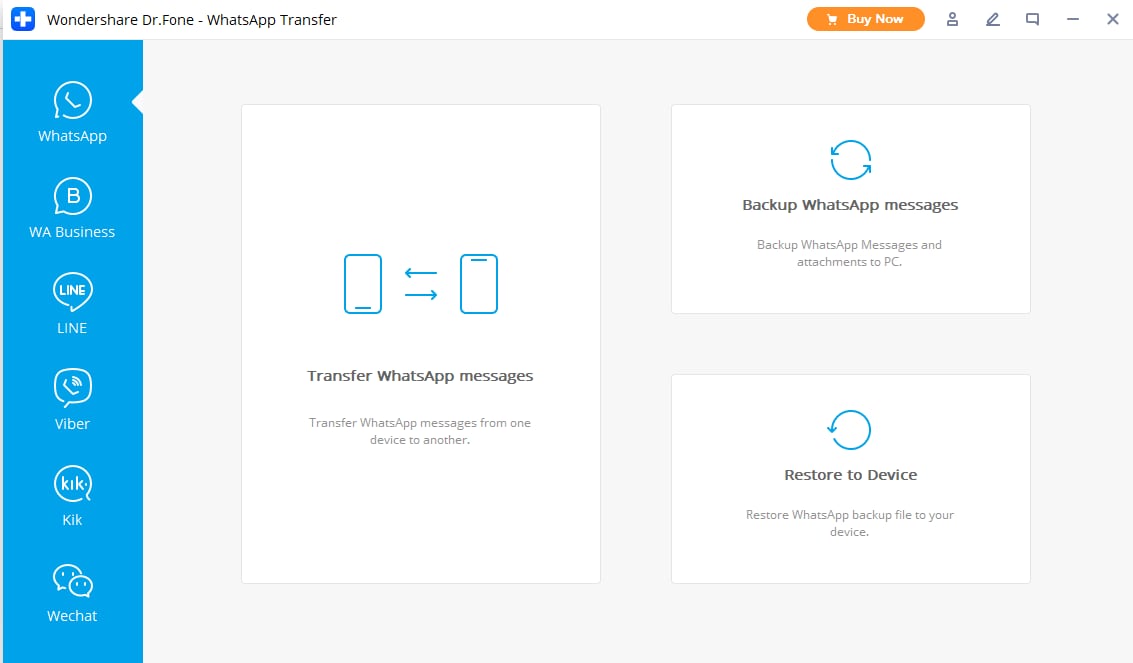 Step 3: Wait for the programs to recognize the devices. Click "Transfer" when ready.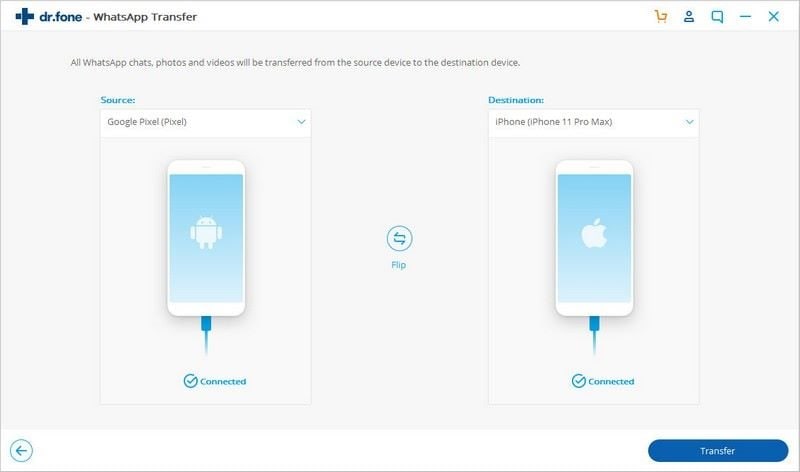 Step 4: The WhatsApp transfer process will begin to move WhatsApp from android to iPhone.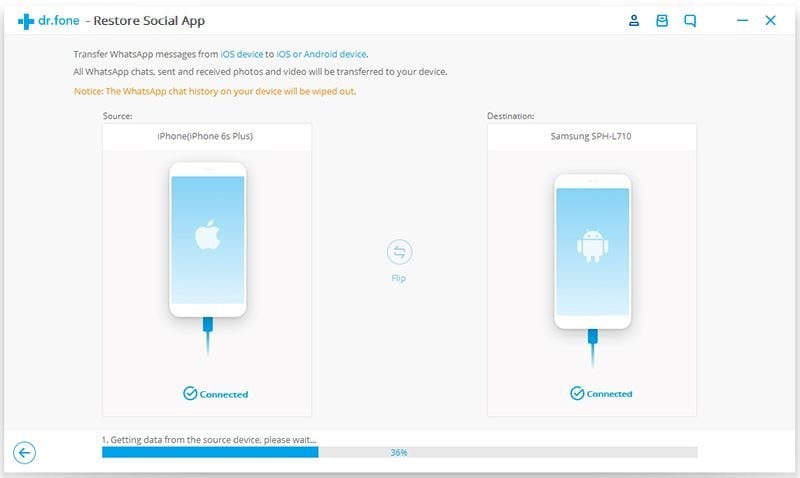 With dr.fone, you don't have to bother with iCloud or iTunes as the software will do everything for you. ISkysoft Toolbox can be installed on Windows or Mac OS, ensuring that the software is compatible with the most common operating systems.
Part 2: Move WhatsApp from Android to iPhone via Email Chat
Many of us regard email as a means to send important messages over the internet to the other recipient's inbox. However, did you know that you can also transfer WhatsApp chats from android to iPhone using email? Let's go over it in detail!
Step 1: Open WhatsApp and head over to its settings by tapping on "three dots" at the top right corner of screen.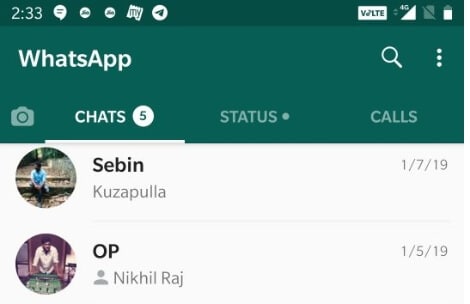 Step 2: Then please go to Chats>Chat history>Export Chat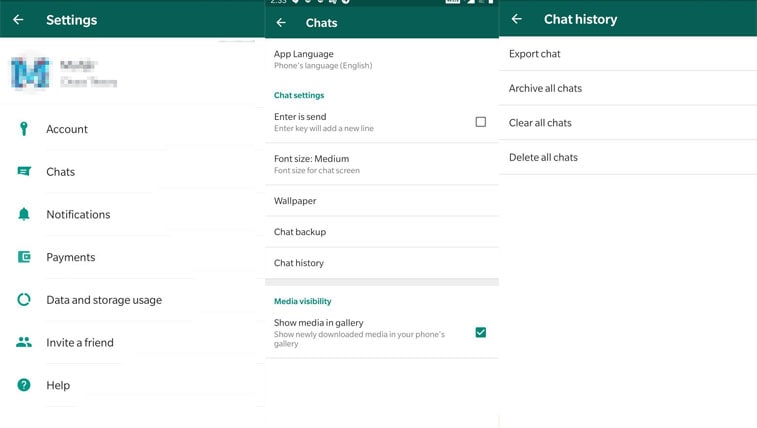 Step 3: You will be asked whether you want to email Chat with media or without media. You can choose the one you prefer. (Emailing chat with media will increase the file size)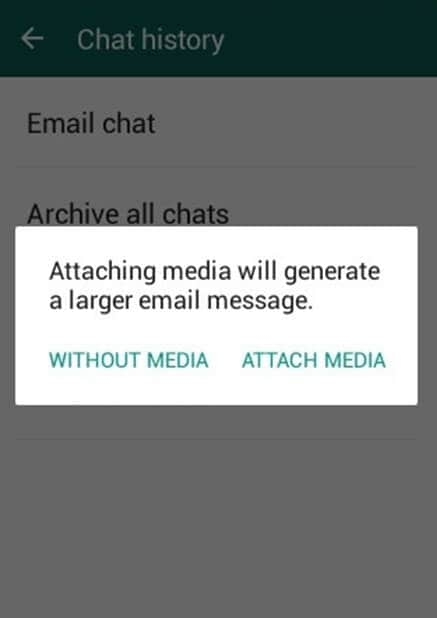 Step 4: You will be redirected to the Gmail window where you can configure the mail details.
If you are planning to go with the Gmail method to transfer WhatsApp from Android to iPhone, there are some more details that you will have to keep in mind.
Gmail has a size restriction of 25 MB and when you include media like Photos or Video, the size always goes beyond that limit.
It requires you to have a constant internet connection
The feature only works with one contact at a time, if you need to transfer multiple contacts, the process becomes very complex
Part 3: How to Transfer WhatsApp Messages from Android to iPhone via SD Card
WhatsApp saves the chats and media in local storage so that you may access it any time when browsing through history. These are called WhatsApp databases. You can copy the database files from one phone to another, and have the same chats on the destination phone. Here we are going to help you perform the same procedure, but from an Android phone to iPhone. Let's see how it's done!
Step 1: Create WhatsApp backup on your Android device if it's not already in place. To create a manual backup, navigate to WhatsApp settings> Chats> Chat backup> Back Up Now. Click the option "backup Now to create the backup file manually. It will automatically create the database files in your device storage.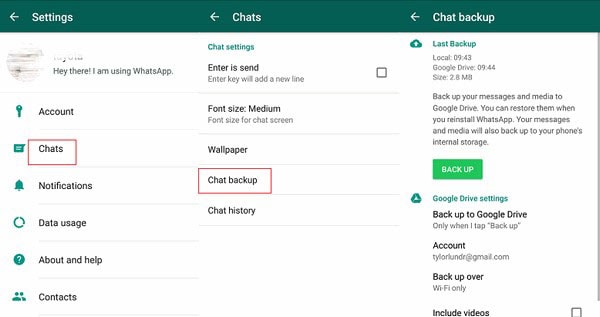 Step 2: Now navigate to Internal storage/WhatsApp/Database to find the backup files. If you are using an SD card, the root folder is located at sd card/WhatsApp/Database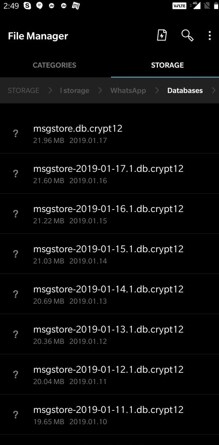 Step 3: Copy the latest WhatsApp backup file and paste it in the internal memory of your iPhone. Save a copy on your computer for added safety.
Note: These files will have .crypt12 file extension because of their encryption so that only WhatsApp can access these files. You can use ES Explorer or WhatsApp viewer to access the chat and media in these files.
Part 4: Why I can't Transfer WhatsApp from Android to iPhone with Google Drive
You might be thinking why we didn't mention how to transfer WhatsApp messages from Android to iPhone using Google Drive till now, there is a good reason for it. When you are making the switch from an Android Smartphone to an iPhone, you cannot access the Google Drive as Apple devices doesn't support Google Drive.
The major reason for this compatibility issue with iPhone and Google Drive is due to the encryption that Google uses to store and secure their cloud files. The iPhones simply lack the decoding mechanisms to decode the files from Google drive. The iOS users have their own cloud service created by Apple called the iCloud. However, since the iCloud and Google drive are practically rivals, they are not compatible with each other.
Unfortunately, all these reasons contribute to the reason why you cannot transfer WhatsApp chats from android to iPhone with Google drive.
If you have seen tutorials on the web saying that you can transfer WhatsApp from Android to iPhone with Google drive, then you can consider them as spam to just get the clicks. You can try it for yourself, but the result will stay the same.
Conclusion
Compared to these several solutions listed here on how to transfer WhatsApp from Android to iPhone, you can find a proper one that suits your needs. The dr.fone is created to help users transfer WhatsApp messages between divergent devices successfully without overwriting any data and you can also preview the specific WhatsApp pictures, videos and more before you restore the data .
However, as a consumer, you have the freedom to choose any method that you find satisfactory. Hope this article helped you in transferring WhatsApp from android to iPhone.