- "Is it possible to transfer WhatsApp history from Android to iPhone?"
WhatsApp is one of the vital apps of both Android and iPhone. It is for the same reason that whenever you change the phone you need to transfer WhatsApp from Android to iPhone or vice versa. It is also very important that you always get your hands to the best method to transfer WhatsApp messages. Such method will ensure that your requirements are fulfilled and you also get the best outcome.
This article introduces 3 methods to help you transfer WhatsApp messages from Android to iPhone with detailed instruction. Keep reading!
Can't Miss: How to Transfer WhatsApp Messages from Google Drive to iCloud
Method 1: How to Transfer WhatsApp Messages Using Third-party Tools
To backup WhatsApp messages this program is a boon. There are many reasons to it. First of all the interface of the program is very graphical. It means that you can use it without any issue and trouble. Then is the ease of use as the processes are very simple and straightforward. The transfer from iPhone to Android and vice versa has never been as easy as it is with this program. The other best part of the program is the fact that it can transfer the WhatsApp from your iPhone and Android to your PC. The process which you need following has been mentioned as below. The program is very easy to use and therefore a boon for those that are not tech savvy at all.
Step 1: Download and install the program on your system. Once done launch it on your PC or Mac after connecting both of your phones to the system. Once the program recognizes your device you will be guided through a setup for device setup. Pop up on your screen will show "Backup My Data". Click OK to accept and transfer WhatsApp from Android to iPhone. The most important thing is the fact that you should never provide your password.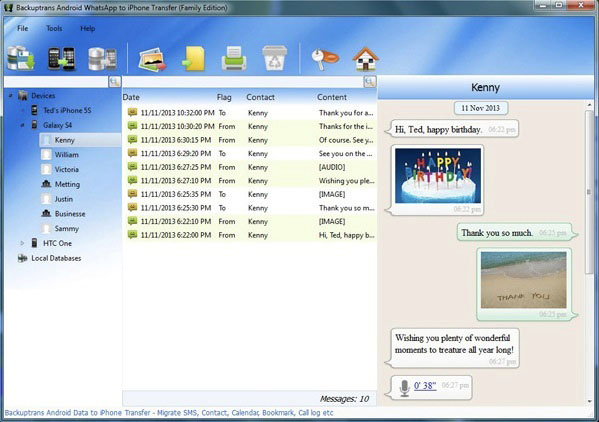 Step 2: Now you need to go to the Android device on the PC screen. Here you will see your WhatsApp conversations. Right click the device name and select "Transfer Messages from Android to iPhone". The conversations will be transferred to your iPhone from Android and this completes the process in full.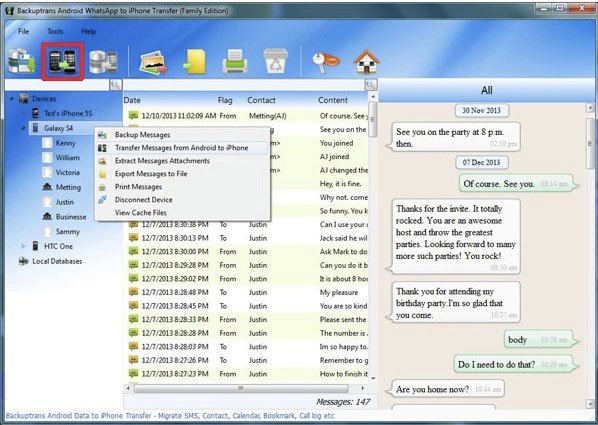 Method 2: How to Transfer WhatsApp Messages Using Email Chat
It is another important and widely used method to make sure that you transfer WhatsApp from Android to iPhone. The best part of this process is that it requires no third party tools. The WhatsApp for instance allow Google Drive integration which means that you can easily transfer the messages to your Google Drive and restore them at later point if you change the phone or even OS. The worst part is that the mass transfers are not possible at all. It is therefore advised to all that this method should always be applied if you are ready to spent a large amount of time. The bottom line is that the process is very tedious.
Step 1: On your device open WhatsApp, click Settings then Chat settings and finally Email Chat from the drop down to start transfer WhatsApp from Android to iPhone.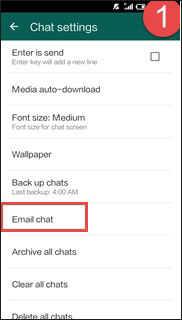 Step 2: Choose the conversation you want to transfer. You will get a prompt that "Attaching Media Will Generate a Larger Email Message". Here from the pop up you can select "Without Media" or "Attach Media".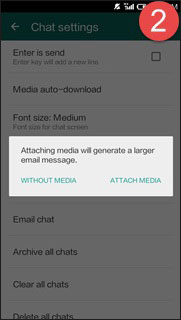 Step 3: Enter your email address you want to send media to. From the same sending interface click "Send". This will complete your process in full to transfer WhatsApp messages from Android to iPhone 6.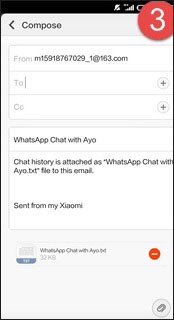 The most important part of the process is that once it is all done you need to login the same email address on your iPhone. Here you will be able to see all the chat history in form of attached text file. The process does not allow you to sync your messages with your iPhone so it is practically worthless. The overall management of the process is not as great as the other processes offer. To transfer WhatsApp from Android to iPhone this method is not recommended.
Method 3: How to Transfer WhatsApp Messages Using WhatsApp Backup
This method is one of the best and highly recommended to all. This method is not only easy but it also allows the users to overcome the problems which other processes present. The process is highly advised to all those that do not want to use any other process or might find it difficult. WhatsApp backup is a feature that is highly versatile. It means that you can use the process to create backup on any platform. It also means that your conversations are safe and secure all the time if you have configured your WhatsApp correctly. The process is completely WhatsApp dependent and therefore it is highly recommended to all.
Step 1: Backup your chat history on your old phone by visiting Settings > Chat Settings.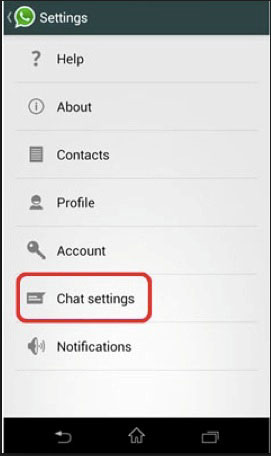 Step 2: Backup your conversations by pressing the Backup conversations. You can also see the date and time of the last backup made. This will allow you fully follow the Android WhatsApp to iPhone transfer mechanism.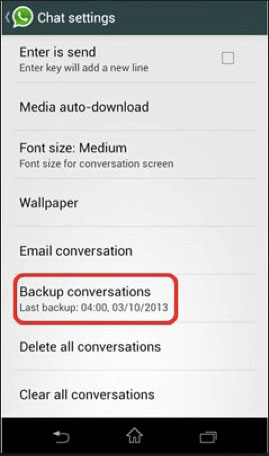 Step 3: Now you need to uninstall the WhatsApp from your old Android Phone to move forward with the process. No trace of WhatsApp should remain on your Android phone. Though it is not compulsory but recommended.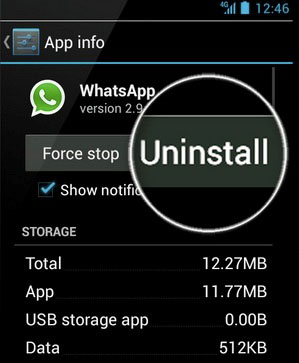 Step 4: Here comes the very important aspect. Download the WhatsApp on your new phone and configure it properly with your number. Here you will get a pop up that backup on your account has been found. Click the Restore button on your phone to restore the chat history on your new mobile. The process effectively answers the question how to transfer WhatsApp from Android to iPhone.
Whatever process you follow it is very important that you follow the steps as they have been mentioned. To transfer the messages from the Android to iPhone and vice versa it is very important that you have your WhatsApp configured properly with same numbers. When it comes to the processes it is very important to note that the last process is highly recommended and therefore must be followed to transfer WhatsApp messages from Android to iPhone. As the process is WhatsApp based so it is highly recommended and must be followed to get the work done.