How do I transfer my WhatsApp messages from iPhone to Android?
"I have bought a new Android and I want to transfer WhatsApp from my iPhone to new Android. Can you help me out?"
- A Question from Quora
Anyone who has tried to transfer WhatsApp from iPhone to Android knows the pain of leaving behind all your valuable data on your iPhone when switching to the new Android Phone. The lack of any official Whatsapp data transfer makes the matters much worse. Now users are stuck with their old phone and a new phone with nothing to bridge information about WhatsApp transfer between the iOS and Android systems! Searching online doesn't do much good either, as there are softwares that tell the user one thing and do the opposite.
However, you don't have to worry anymore because we did the search for you! We tried different softwares and tricks and found out which works and which doesn't! In this article, we are going to share some of the easiest ways in which you can transfer WhatsApp messages from iPhone to Android. Make sure to read till the end as we are going to give you our top pick among the listed methods!
Part 1: Best Software to Transfer WhatsApp from iPhone to Android – dr.fone
dr.fone - WhatsApp Transfer is the best software to transfer whatsapp chats from iphone to android within several simple steps. It is the easiest way to transfer whatsapp data from iphone to android and recognized by millions of users for its versatility to backup and transfer WhatsApp between iPhone and Android. It is easily compatible with nearly all the iOS and Android models of phones and tablet.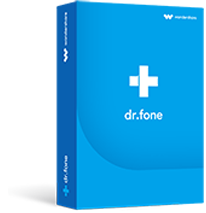 Transfer WhatsApp from iPhone to Android Selectively and Simply
Help you transfer WhatsApp messages,photos, documents, videos and more from iPhone to Android simply and easily
Allow you to preview WhatsApp data and only restore the desired WhatsApp messages to new phone
Come with user-friendly and time-saving operation process
Offer one-click solution to backup your WhatsApp messages to PC
Compatible with the latest iOS versions and devices such as iOS 12, iOS 11, iPhone XS, iPhone X, iPhone 8 (Plus), iPhone 7 (Plus), iPhone SE, iPhone 6s (Plus), iPhone 5S, iPhone 5C, iPhone 5, iPhone 4S, and iPhone 4.
4,290,481
people have downloaded it
Steps on how to transfer whatsapp messages from iphone to android with dr.fone - WhatsApp Transfer.
Step 1 . Install dr.fone on your computer. Now plug both devices into the computer using a USB cable. Launch dr.fone and Click "WhatsApp Transfer" to begin.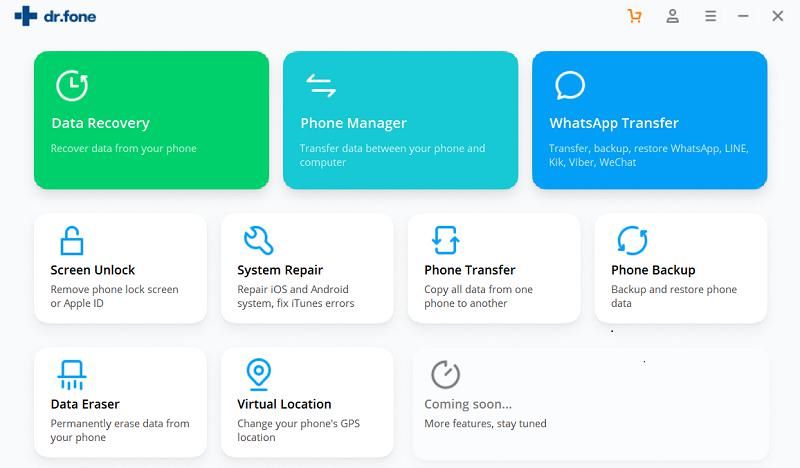 Step 2 . Now you will see four options laid out in the software. Click " WhatsApp " on the left side and then tap on "Transfer WhatsApp messages" to start the process.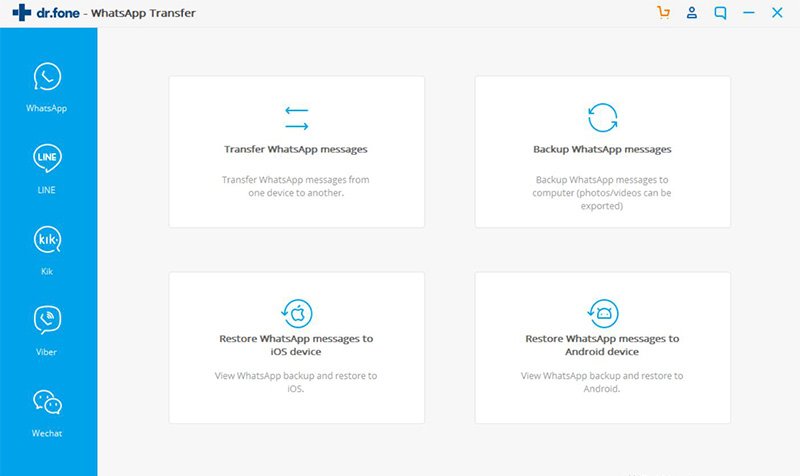 Step 3 . To begin the procedure, click on the 'Transfer' option. Make sure that you maintain a solid connection between the phones and the computer.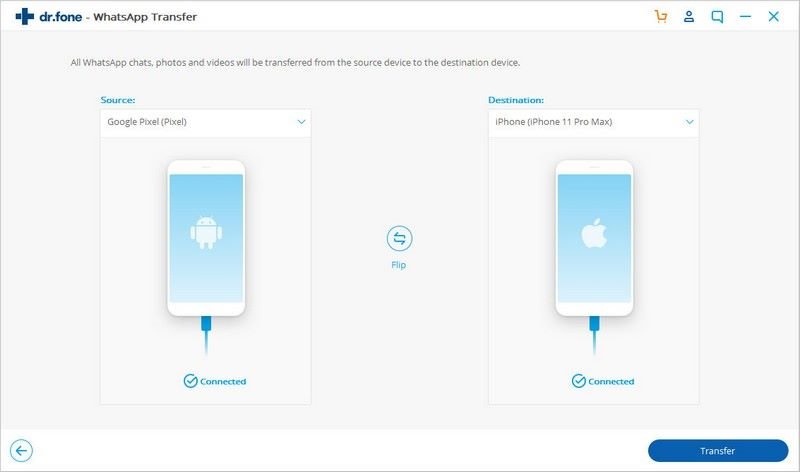 Step 4. You will then prompted to enter your google play account so that the software can start retrieving the WhatsApp data. If you do not have a Google Play ID, you can skip the process.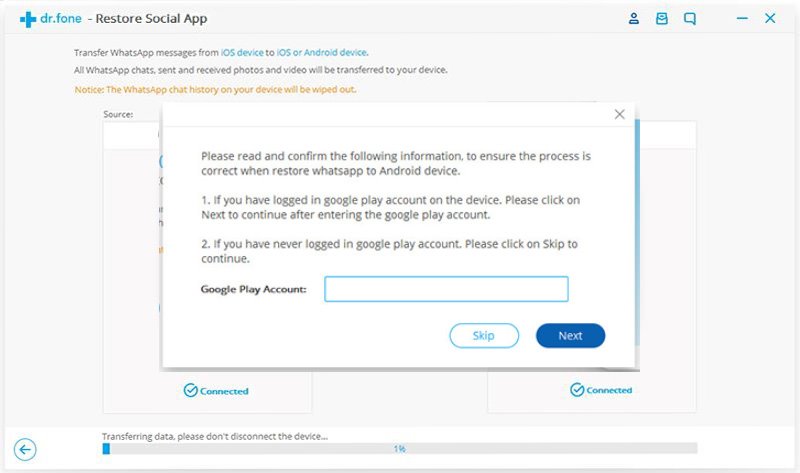 Step 5. Midway through the process, you will be shown a message asking whether you would approve the existing WhatsApp messages on your destination phone to be overwritten, click "Yes" to proceed with the process.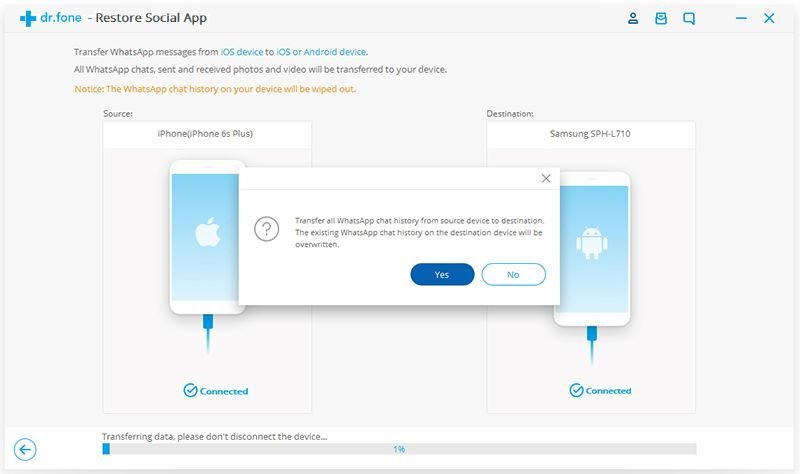 Step 6. You will be shown the following window after the messages have been transferred.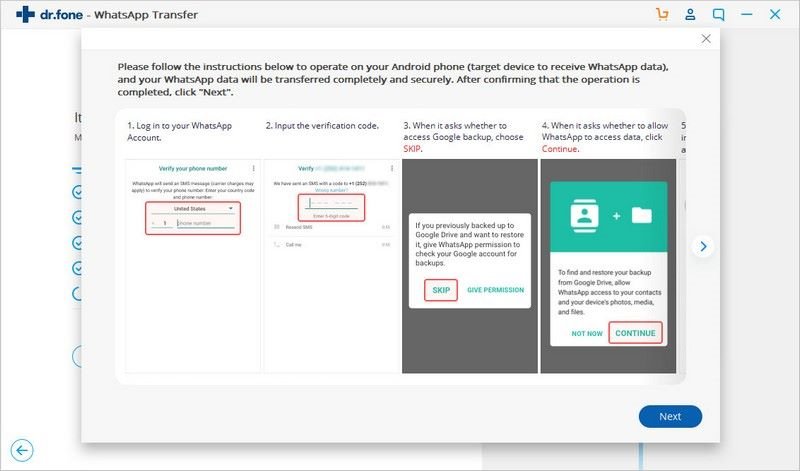 Part 2: How to Transfer WhatsApp Chats from iPhone to Android using Email Chat
Did you know that emails can also play a vital role in transferring WhatsApp Chats from iPhones to Android? Not many users know of this feature because it's not that of a popular option when file sizes go beyond a certain limit. However, it is good to familiarize yourself with such methods, we will explain them in detail.
Step 1. Open WhatsApp in your iPhone, get Email Chat alternative by clicking the "Setting>Chats Setting>Chat History>Email Chat".
Step 2. Select WhatsApp messages which you need to transfer from the iPhone to Android. Then one pop-up window will open, "Attaching Media will generate a larger email message". You need to choose either email "Attach Media" or "Without Media".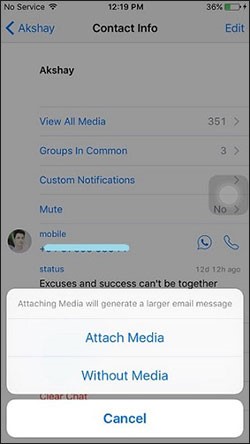 Step 3. Type the email id and press the sending button. Then log in to your email account in the Android device and you will get the email which you have just sent. The WhatsApp messages of iPhone need to get stored in the TXT format. Also, you can view the older WhatsApp messages, however, are incapable to sync messages with the WhatsApp app on the Android device.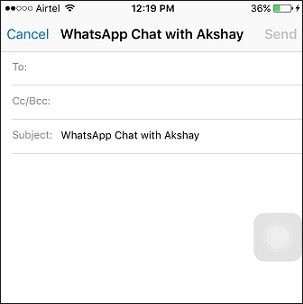 Note: Using Email Transfer will require you to have a stable internet connection for the upload and download of the recovery file. The method will not work if your WhatsApp file is more than the Google Gmail limit.
Part 3: How to Transfer WhatsApp Data from iPhone to Android using iTunes and Wazzap Migrator
You can use iTunes and Wazzap Migrator to transfer the WhatsApp messages and attachments from your iPhone to the Android device. Here, you don't need your iPhone for making the data transfer. You only need the WhatsApp backup from iPhone and your Android device.
Step 1. Backup all data on iPhone to PC with the iTunes.
Step 2. Please download and run the iPhone Backup Browser and choose the backup file you just created
Step 3. Find the WhatsApp messages which are usually stored in the file of ChatStorage.sqlite. Choose the WhatsApp messages you want to restore and export them to your computer. After that, please transfer the WhatsApp data to your Android with USD cable.
Step 4. Download Wazzap Migrator from Play Store and launch it on your android device
Step 5. Now you need the iPhone backup file stored in your Android device. In the Wazzap Migrator app, click "Select iPhone Archive" to begin.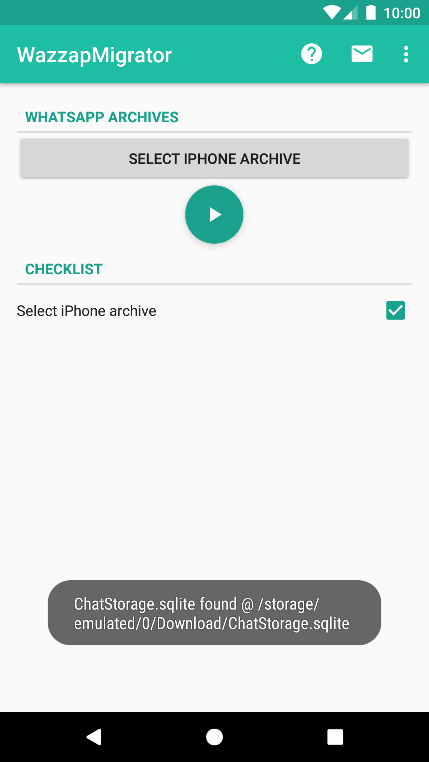 Step 6. Now you can select which all data that you want to transfer to your Android device from your iPhone to the android device.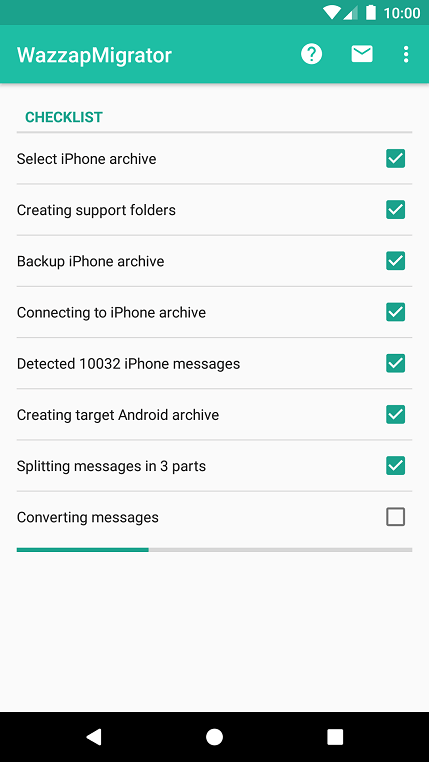 Step 7. After the transfer process, you will be shown a window similar to the one below, carrying the details of the transfer.
Note: This method will require you to create an iOS WhatsApp backup first and then store it in your android device storage. This will require you plug your iPhone to iTunes, create WhatsApp backup and then copy it over to the Android device.
Part 4: Two common misleading ways to Transfer WhatsApp Messages from iPhone to Android
Note: The following contents are about transfer via WhatsApp backup and google drive. They are misleading ways that exist commonly online but actually they won't work. We list these them here but so do not use them.
How to Transfer WhatsApp from iPhone to Android using WhatsApp Backup
If you want to transfer WhatsApp from iPhone to Android using WhatsApp backup, the simple WhatsApp 'backup & restore' technique just won't work as WhatsApp on iPhone uses iCloud whereas WhatsApp on Android uses Google Drive. So, Android won't be able to identify WhatsApp backup. The following steps are usually introduced online commonly but actually, they won't work.
Step 1. Just open WhatsApp on your iPhone and go to the "Setting > Chats > Chat backup" option and click on "BACK UP NOW".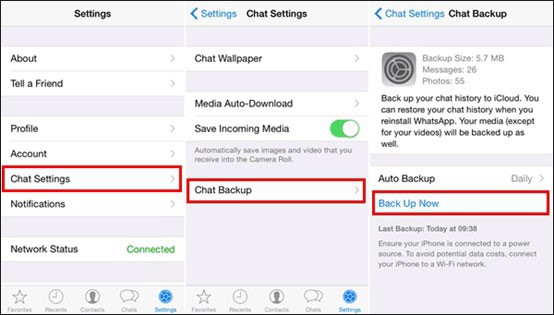 Step 2. Download the WhatsApp and install on the Android phone.
Step 3. Sign into your WhatsApp account. The WhatsApp will show your pop up asking for whether to restore data from backup for the first time.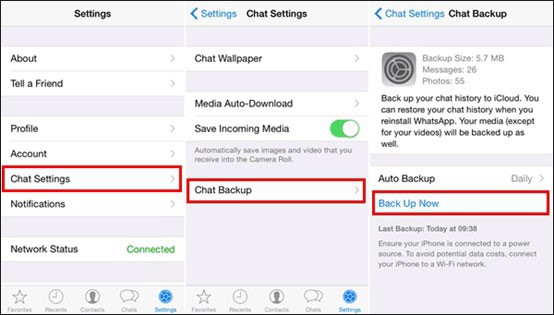 Step 4. Select the "Restore" option if you want to restore from the WhatsApp iCloud. You need to wait until it gets completed.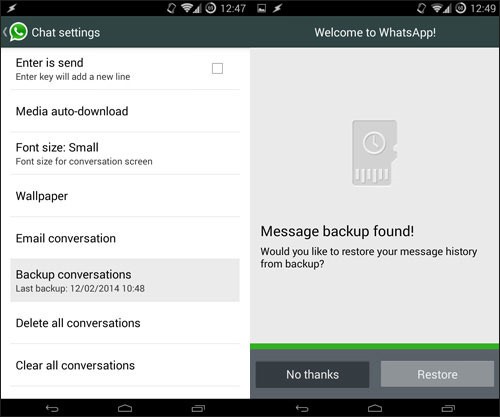 How to Transfer WhatsApp Chats from iPhone to Android via Google Drive
If you want to restore whatsapp from iphone to android using Google Drive, we are sorry to say that it won't work. The following steps are introduced just for your reference but actually, this way won't work for you to transfer WhatsApp messages from iPhone to Android.
How to Make Backup of Google Drive?
Open your WhatsApp
Then tap Menu > Settings > Chats > Chat backup.
Tap the "Back up to Google Drive" option and choose the backup frequency except Never.
Choose a Google account which you'll back up the chat history with. If you are not having a Google account, then tap on the Add account while prompted and then enter the login credentials. Just keep in mind that you are using a Google account for the backup.
Then tap the Back up to select the network that you want to use for taking backup.
Also, you can take manual back up of your chats in Google Drive anytime:
Now, open your WhatsApp.
Then tap Menu > Settings > Chats > Chat backup.
Then tap the BACK UP to start the Google Drive backup and this procedure would take some minutes.
To restore the backup of Google Drive successfully, you should utilize the same mobile number as well as Google account to create your backup. To restore the backup
Just ensure that the unchanged Google account is added to your phone which was utilized to do the backup.
Then uninstall the WhatsApp and reinstall it.
After you verify the mobile number, you can restore your media and chats from Google Drive by tapping RESTORE.
When this restoration process gets completed, tap on the NEXT button and you will be able to see all the chats after completing the initialization process.
Conclusion
Before choosing a WhatsApp transfer option, you need to see whether it has the following characteristics: transfer.
Easy setup and instructions
Fast WhatsApp data transfer process
Intuitive UI and simple layout
No data loss
Be able to preview the WhatsApp data before restoring.
When we reviewed other methods, it became apparent that they make "compromises". These compromises are in the form of data loss, complex UI or limited functionalities. Trying each and every method on this list, the dr.fone is advantageous in terms of transferring WhatsApp data between iPhone and Android. For this reason, we are fully confident to recommend you this option above all others. Follow this guide and you have plenty of options to get the work done!