How do I transfer my WhatsApp to a new phone?
"Every time I switch to a new iPhone, I lose all my chats and videos on my previous phone. Is there any way I can transfer WhatsApp to new iPhone without losing anything?"
- A Question from a User
Did you know that in 2017, over 1.54 billion phones were sold worldwide! We all like to own the latest in tech every time a new phone comes about. However, the most annoying part of switching to a new phone is the lack of continuity between the old and new.
One of the most annoying thing is that we lose all our WhatsApp data on the previous phone when we shift to the new one, losing important media and chats in the process. Moving them one by one is tiring and time consuming. Well, the good news is that there are still solutions that can help you transfer WhatsApp messages to new phone with ease! Let's review!
Part 1: Transfer WhatsApp to New Phone with dr.fone
There are many tools out there on the internet that "guarantees" a safe transfer of WhatsApp data from your old phone to a new one. But in reality, they fail to meet their promises and leaves the user disappointed. However, dr.fone is different, it can help you transfer WhatsApp to new phone successfully and smoothly.
The company has a strong pedigree in developing softwares that are aimed at solving the everyday problems faced by smartphone users. With dr.fone - WhatsApp Transfer, they did it once again, and hence, takes the first spot on the list with ease! The best thing about dr.fone - WhatsApp Transfer is that it supports both Android and iOS devices, so users can transfer WhatsApp to a new iPhone or Android phone from the same software. Let us see how it's done!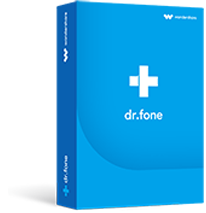 Transfer WhatsApp to new iPhone or Android phone Selectively
Transfer WhatsApp messages,photos, documents, videos and more from one phone to another
Allow you to preview WhatsApp data before you transfer the WhatsApp to new Phone
Offer quick and convenient WhatsApp transfer solution without losing any data
Help you backup WhatsApp data to PC as easily as possible
Compatible with the latest iOS and Android systems
3,920,846 people have downloaded it
Step 1 . Download and install the dr.fone on your computer and choose the "WhatsApp Transfer" on the page below.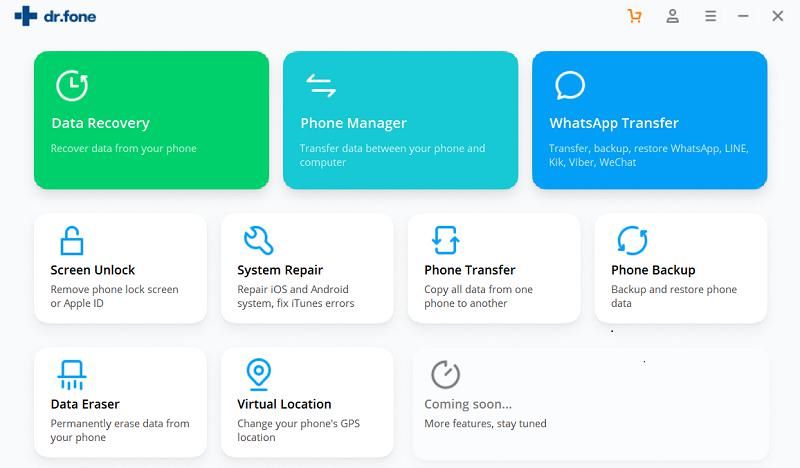 Step 2 . On the next screen, please tap on "Transfer" on the left side and then click on "Transfer WhatsApp Messages" after you have connected your phones to the computer.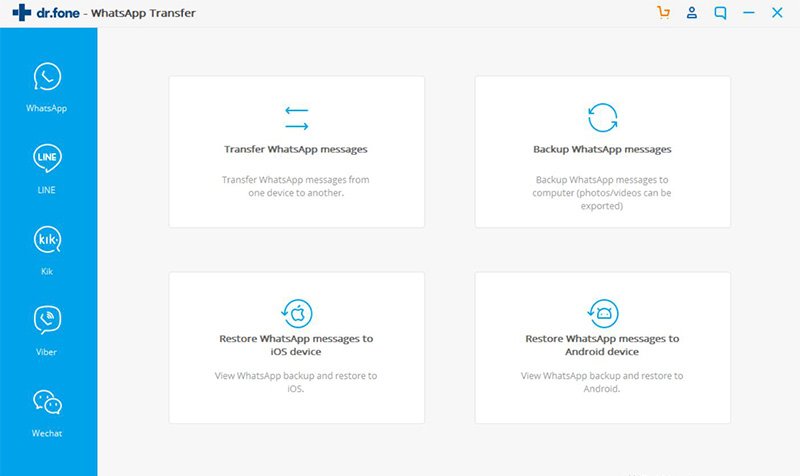 Step 3 . You will see that the software will recognize the connected devices and prepare the files for transfer automatically. You can change the "Source" and 'Destination" devices if there is any mixup in the matching. Click "Transfer" when ready. Here we set an example on how to transfer WhatsApp from iPhone to new Android phone. Now let's tap on "Transfer" to start transfer WhatsApp messages to new Phone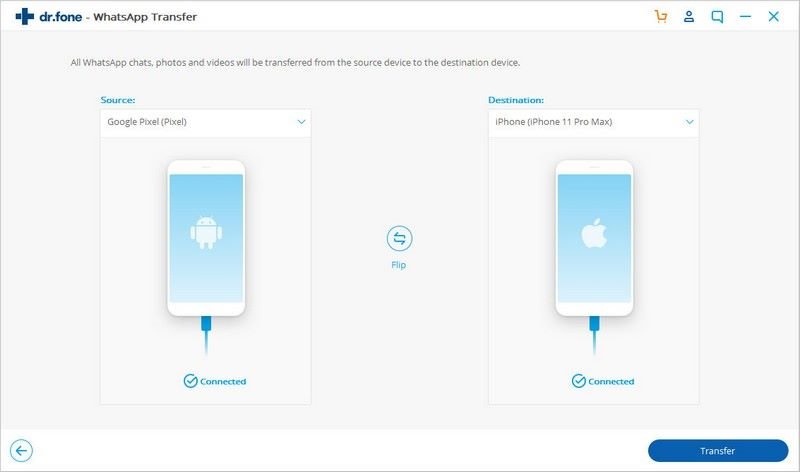 Step 4 . Then the program will start to move WhatsApp messages to your new Android phone as shown below.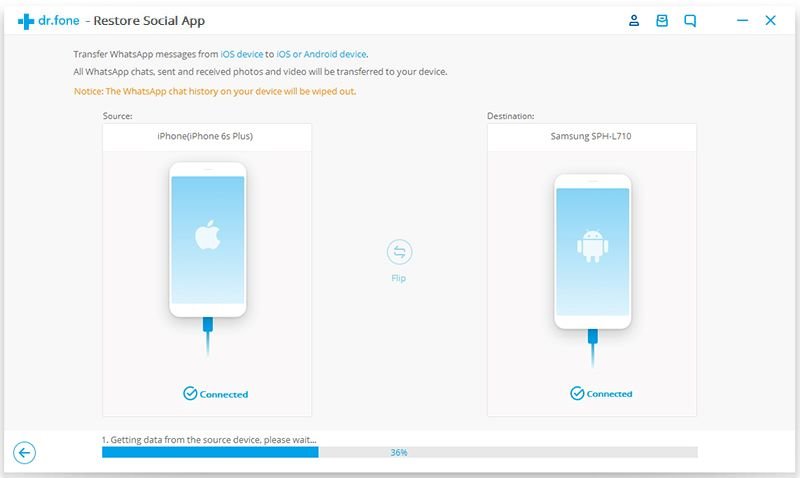 Part 2: Transfer WhatsApp Messages to New Phone Using iCloud
The next method on our list is targeted for iPhone to iPhone WhatsApp transfer using iCloud. Apple offers iCloud storage support for iOS users so that they can save their app data on the cloud rather than the device. To transfer WhatsApp from one phone to another using iCloud, you must first backup WhatsApp on your existing phone to the iCloud. Let us explain in detail.
Steps involved in transferring WhatsApp from old iPhone to your New iPhone using iCloud
Step 1 . Ensure your device has a stable internet connection. We recommend Wi-Fi over Mobile Data.
Step 2 . Backup WhatsApp to iCloud from your existing device by following the steps detailed in the following picture. You can find the option by navigating WhatsApp>Settings>Chat Settings> Chat Backup>Backup now.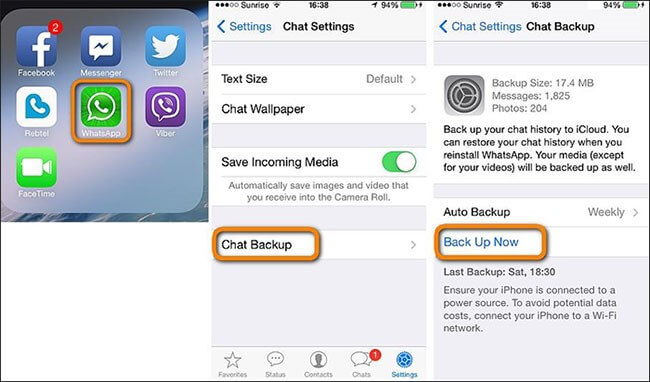 Step 3 . Back Up Now to begin the backup process. We recommend carrying out the upload process using WiFi rather than mobile data.
Step 4 . It will take some time to upload the WhatsApp data to iCloud, do not cancel the process halfway.
Step 5 . On your new iPhone, install WhatsApp from the iTunes.
Step 6 . Open WhatsApp and go through the initialization process. You will be asked where you want to back up chat history from iCloud. Click "Restore Chat History" to proceed.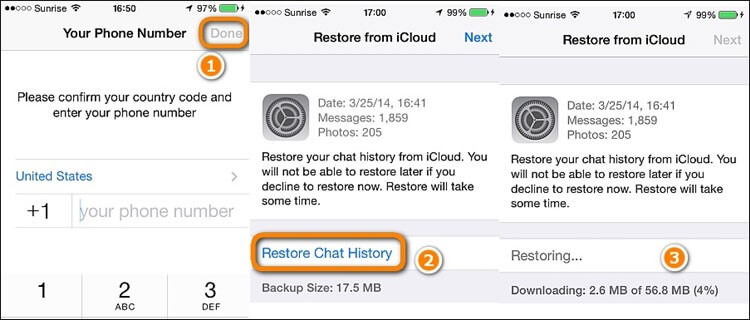 Step 7. Now the backup file will be retrieved from iCloud. Since the download involves a large data set, Wi-Fi is preferred over mobile data
Part 3: Transfer WhatsApp Messages to New iPhone using iTunes
Another method can you can choose to transfer WhatsApp chats to new phone is by using iTunes. For this method, unlike iCloud, you will need the help of your computer.
Step 1. Connect your current iPhone to the computer and open iTunes.
Step 2. Navigate to files>Devices>Backup.
Step 3. Click 'Back Up Now" to back up your WhatsApp data.
Step 4. Keep the phone connected till the files are moved to the computer. You can disconnect your iPhone after the file transfer is complete.
Step 5. Now connect your new iPhone to the computer.
Step 6. You will have to log in with your new number after which you will be promoted "Restore from iTunes Backup".
Step 7. Click "Restore from iTunes Backup" to continue.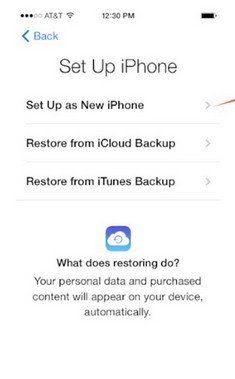 Step 8. The Backup process will initiate. Make sure the new iPhone stays connected throughout the process.
Note: you can also initiate iPhone restore backup manually by navigating files>Devices>Backup and clicking Restore backup.

Note: Both iTunes and iCloud WhatsApp data transfer options have some inherent problems associated with them. Make sure you understand the following before you go this route.
ITunes needs you to backup all of data including WhatsApp on iPhone and restore all data to new phone wholly
iTunes and iCloud doesn't help to transfer data between Android device and iPhone.
iTunes and iCloud Backup doesn't offer support for Video Backup.
Large files will burn up your iCloud storage and makes the upload/download process lengthy and data intensive.
Frequent backups are required to maintain iTunes backup with all the new chats.
Both iCloud and iTunes ways do not allow you to transfer WhatsApp selectively to the new phone
The iCloud only offers you 5G free of charge space for backup
Part 4: Move WhatsApp to New Phone Using Google Drive
We have gone through the process of transferring WhatsApp data from old iPhone to new iPhone, but we haven't forgotten about the Android user base! In the start of 2018, the overall Android user base stands at 2.3 billion, which significantly larger than the iPhone user base. So it's safe to consider that Android users buy more devices and replace their existing Android devices more often.
Like iCloud, Google has its own cloud service for its billions of Android users – Google Drive. It is a place where Android users can store files, app data, pictures, videos etc. In this method, we will discuss how you can use Google Drive to transfer WhatsApp data from old phone to the new!
Step 1 Open WhatsApp on your current Android phone.
Step 2 Navigate Settings>Chats>Chat Backup.
Step 3 Click "Backup" to begin the backup process.
Step 4 You will be asked about how often you want to back up your android WhatsApp data. You can choose between any option or leave it at "Only when I tap "Backup"" option.
Step 5 Choose between the network type that is going to be used for the upload process. We recommend WiFi because WhatsApp data can get quite large and may mess up your mobile data plan.
Step 6 After the upload process has been completed, close the WhatsApp on your old phone and open WhatsApp on your new phone.
Step 7 During initialization, you will be prompted the message "restore WhatsApp from backup". Click on this option to initialize WhatsApp data restoration from backup.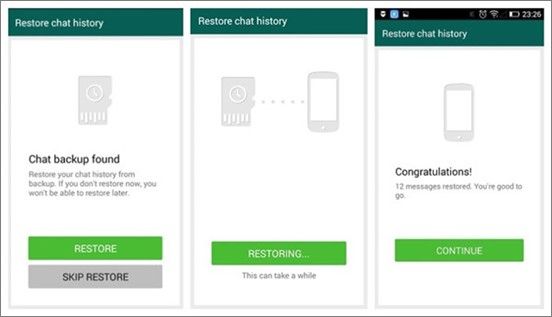 Part 5: Migrate WhatsApp Data to New iPhone using Move to iOS
Move to iOS is a software developed by Apple Inc. for helping users move files from android to a new iPhone. It can also be used for transferring WhatsApp data from Android to new iPhone. Let's review the steps involved;
Step 1 Open the "Apps & Data" settings in your iPhone and click "Move Data from Android".
Step 2 Download and install the "Move to iOS" App from the Play Store to your Android device
Step 3 Open the "Move to iOS" app in your android device and click continue
Step 4 Click on "Continue" on your iOS device.
Step 5 A unique code will be generated by the iPhone which you need to enter into the Android Device.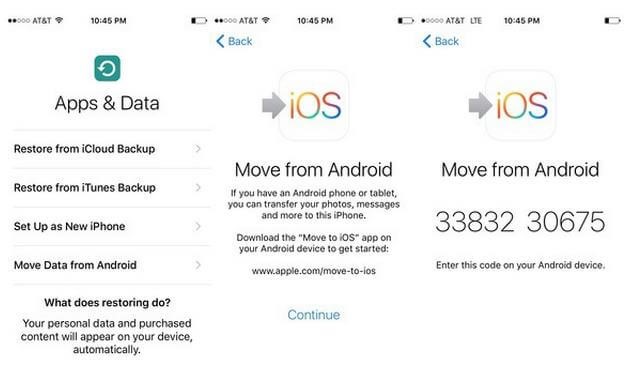 Step 6 Both phones will then connect with each other using a WiFi connection. Once a connection is established, files can be transferred from the Android to the iPhone.
Conclusion
Switching phones used to be an arduous process in terms of moving all the data on your previous device to the new one but it doesn't have to be that way anymore! Follow any of the listed methods that suits your needs and you will have all or part of your WhatsApp data on your new device! If you are looking for the easiest way to transfer WhatsApp data between devices of different or same platforms (iOS or Android), dr.fone takes the crown. The dr.fone can successfully facilitate iPhone to Android and Android to iPhone WhatsApp Data transfer.