"When I change my device, especially I got an iPhone, and my previous phone was Samsung, can I transfer WhatsApp from Android to iPhone? How can I deal with that?
- A Question from a User
We're a few months away from the a launch of the 2020 iPhones, which are expected in September or October 2020. With the new iPhone release date in a few months, many people may have the same question as before.
We're concerned about transferring WhatsApp from Android to iPhone and how to transfer WhatsApp to new phone without any data loss. This guide may give you a great suggestion to help you face this kind of issue.
Part 1: How to Transfer WhatsApp from Android to iPhone [3 Solutions]
You have already known how to backup WhatsApp messages from an Android device, but if you got a new iOS device and can't transfer WhatsApp messages from Android to iPhone using iTunes or iCloud.
So what should we do? Any solution? The answer is YES!
Solution 1: Transfer WhatsApp to New Phone with dr.fone
What I recommend to you first is a WhatsApp data migration tool called dr.fone - WhatsApp Transfer. This program can help you transfer WhatsApp data from Android to iPhone smoothly. What's more, all the WhatsApp data and files that you transferred is the same as the origional one.
This software is also easy to use, you just download and launch the program, and all the transfer process is selective and in one click.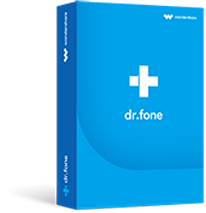 Transfer WhatsApp to new iPhone or Android phone Selectively
Transfer WhatsApp messages, photos, documents, videos and more from one phone to another
Allow you to preview WhatsApp data before you switch the WhatsApp to new Phone
Offer quick and convenient WhatsApp transfer solution without losing any data
Help you backup WhatsApp data to PC easily in one click
Compatible iOS including the latest iOS 13/ iOS 14 and Android systems
3,990,656 people have downloaded it
Step 1. Plugin your iOS and Android devices, download and launch dr.fone on your computer and choose the "WhatsApp Transfer"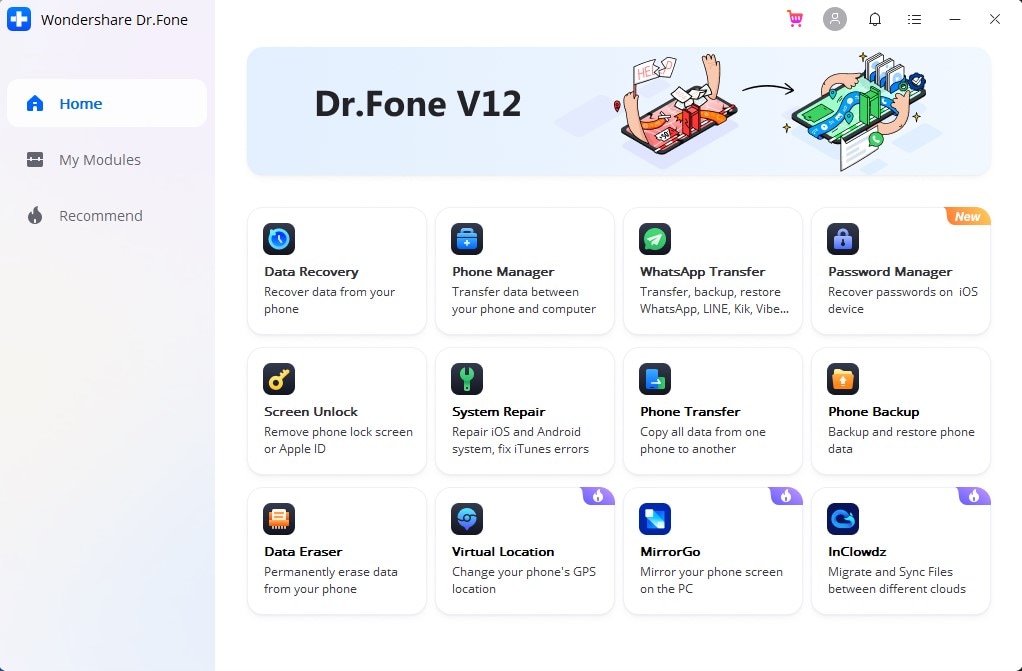 Step 2. Click "Transfer" and choose "Transfer WhatsApp Messages".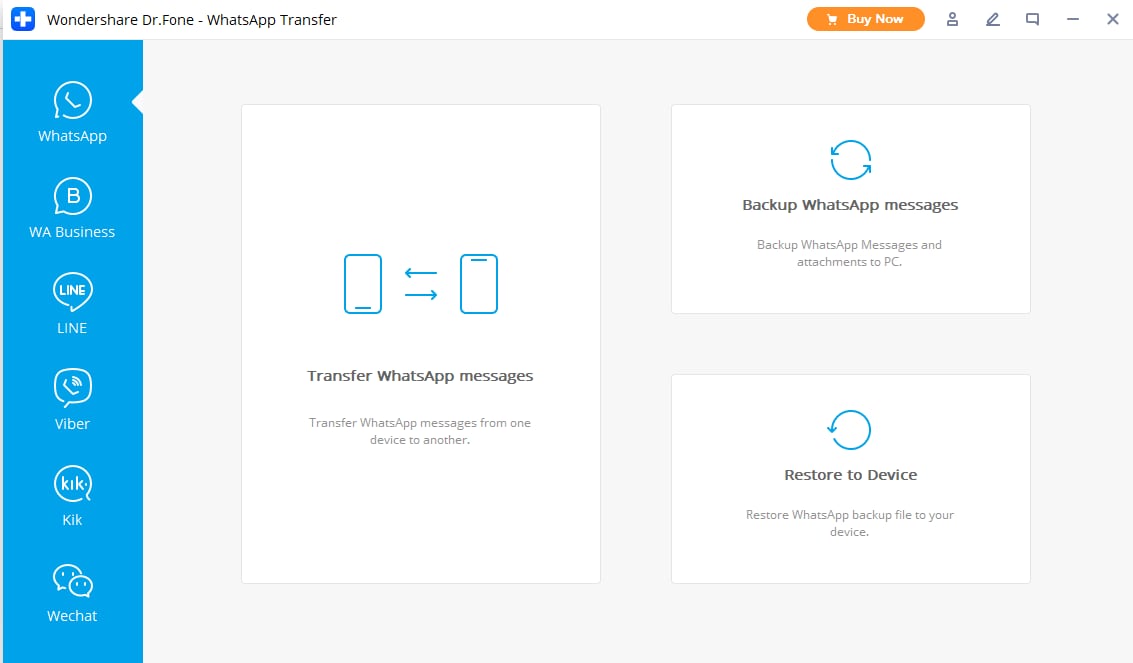 Step 3. It will recognize the connected devices and prepare the files automatically. Make sure your old device and new phone have connected successfully, click "Transfer" to start the transferring process.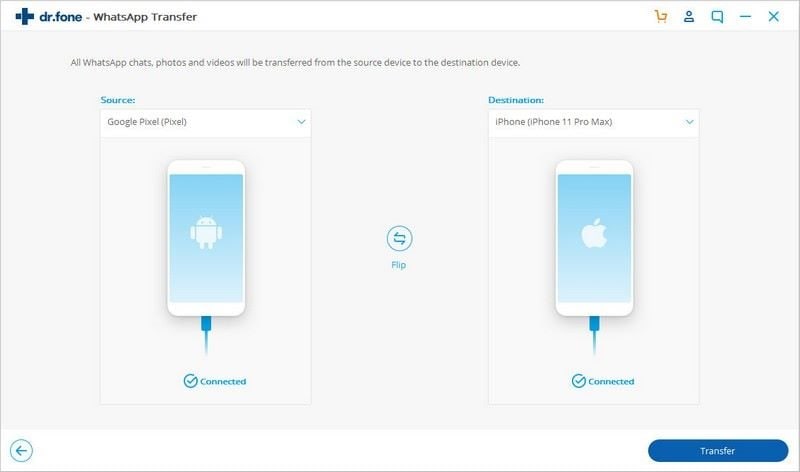 Step 4. Just one click as you did, you have already move WhatsApp to new phone successfully and 100% the same as the original.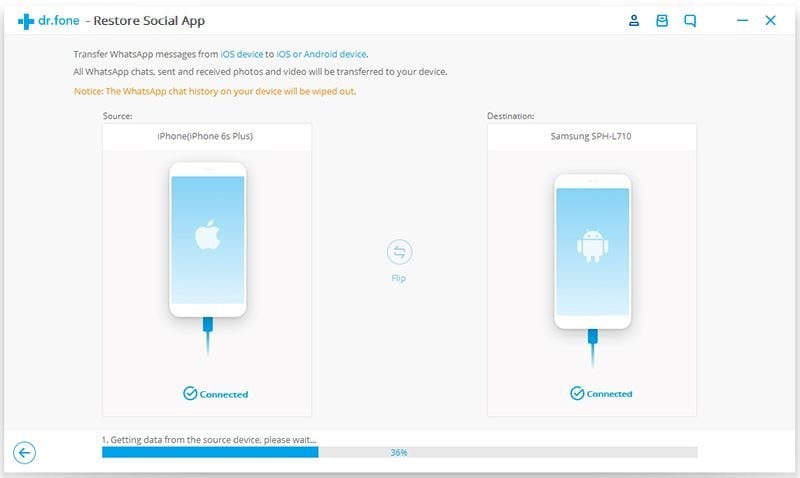 ---
Solution 2: Transfer WhatsApp Messages from Android to iPhone Using Google Drive
Like iCloud, Google has its cloud service for its billions of Android users – Google Drive. It is a place where Android users can store files, app data, pictures, videos,etc. In this method, we will discuss how you can use Google Drive to transfer WhatsApp data from the old phone to the new device.
Step 1. Open WhatsApp on your current Android phone.
Step 2. Navigate Settings > Chats > Chat Backup.
Step 3. Click "Backup" to begin the backup process.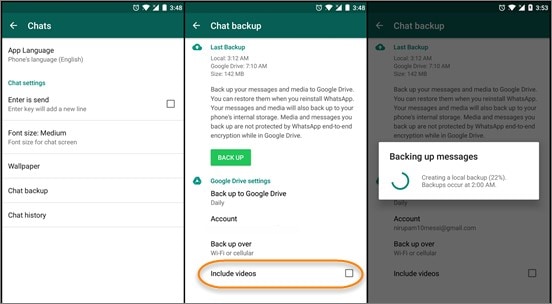 Step 4. You will be asked about how often you want to back up your Android WhatsApp data. You can choose between any option or leave it at "Only when I tap Backup" option.
Step 5. Choose between the network type that is going to be used for the upload process. We recommend Wi-Fi because WhatsApp data can get quite large and may mess up your mobile data plan.
Step 6. After the upload process has been completed, try to check your WhatsApp on your new phone.
Step 7. During initialization, you will be prompted the message "restore WhatsApp from backup". Click on this option to initialize WhatsApp data restoration from backup.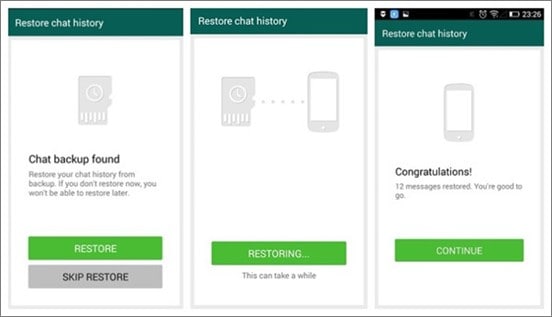 ---
Solution 3: Migrate WhatsApp Data to New iPhone Using "Move to iOS"
"Move to iOS" is a software developed by Apple to help Android users move files from Android to a new iPhone. It can also be used for transferring WhatsApp data between these two devices.
Step 1. Open the "Apps & Data" settings in your iPhone and click "Move Data from Android".
Step 2. Download and install the "Move to iOS" App from the Play Store to your Android device.
Step 3. Launch "Move to iOS" on your Android device and click continue. At the same time, click on "Continue" on your iPhone.
Step 4. A unique code will be generated by the iPhone, which you need to enter into your Android Device.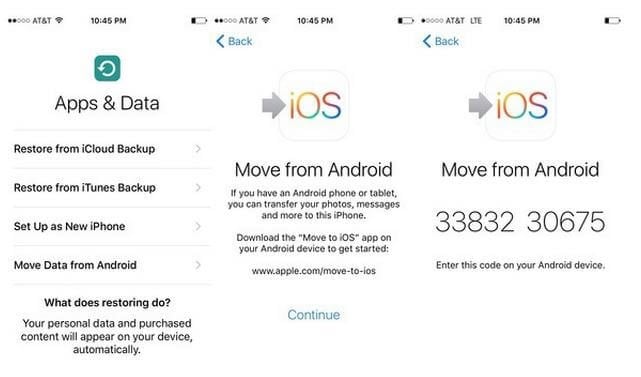 Step 5. Make sure both devices stay connected to Wi-Fi until the app tells you the transfer has been successful. And that's it! You should now be able to access all of your old device's WhatsApp data on your new iPhone
Part 2: (3 Ways) Switch WhatsApp Data from iPhone
Just switched to iPhone from your Android and now looking for some ways to transfer WhatsApp chats from Android to iPhone? As you may know how to move your photos, videos, audios, documents, contacts, emails, etc from an old Android device to a new iPhone by using "Move to iOS" app but now, how about switching them back? Here we provide 3 ways to help you as well.
Method 1: Transfer WhatsApp Messages to New Phone Using iCloud
The next method on our list is targeted for iPhone to iPhone WhatsApp transfer using iCloud. Apple offers iCloud storage support for iOS users so that they can save their app data on the cloud rather than the device.
To transfer WhatsApp from one phone to another using iCloud, you must first backup WhatsApp on your existing phone to the iCloud.
Step 1. Ensure your device has a stable internet connection.
Step 2. Backup WhatsApp to iCloud from your existing device by following the steps detailed in the following picture. You can find the option by navigating WhatsApp < Settings < Chat Settings < Chat Backup < Backup now.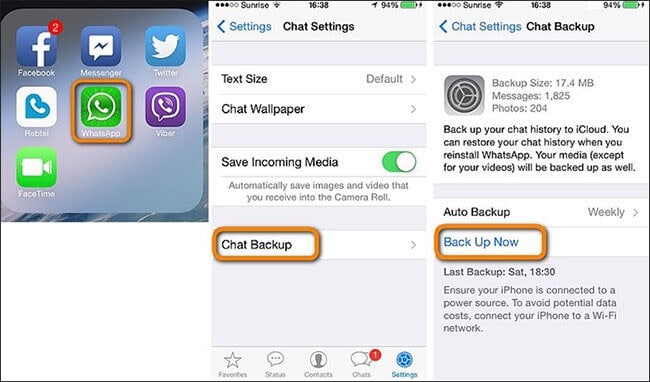 Step 3. Back Up Now to begin the backup process. We recommend carrying out the upload process using Wi-Fi rather than mobile data.
Step 4. It will take some time to upload the WhatsApp data to iCloud, do not cancel the process halfway.
Step 5. On your new iPhone, install WhatsApp from the iTunes.
Step 6. Open WhatsApp and go through the initialization process. You will be asked where you want to back up chat history from iCloud. Click "Restore Chat History" to proceed.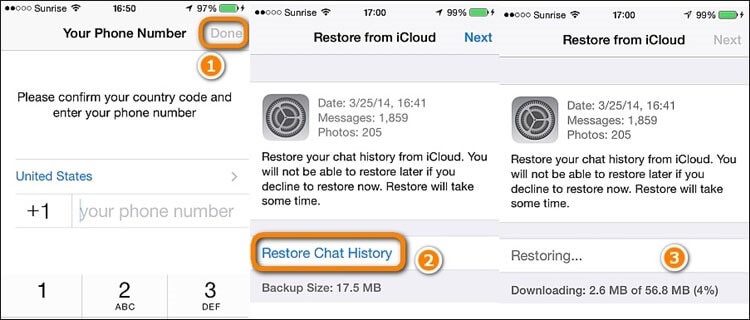 Step 7. Now the backup file will be retrieved from iCloud. Since the download involves a large data set, Wi-Fi is preferred over mobile data
---
Method 2: Transfer WhatsApp from iPhone to Android using dr.fone
[Recommend]
The most secure and simple method to transfer WhatsApp from your iPhone is by using dr.fone - WhatsApp Transfer. It supports WhatsApp's attachments such as photos, audios, videos, documents and has only a few simple steps on how to transfer WhatsApp chats from one phone to another.
Its features are limited to transferring and backing up and full synchronization between your iOS device and your computer. While doing so, it does not interfere with any other data files on your phone, thus providing selective backup.
Step 1. Install and run our dr.fone - WhatsApp Transfer on computer and then connect your Android & iPhone with the USB cable, then run "WhatsApp Transfer".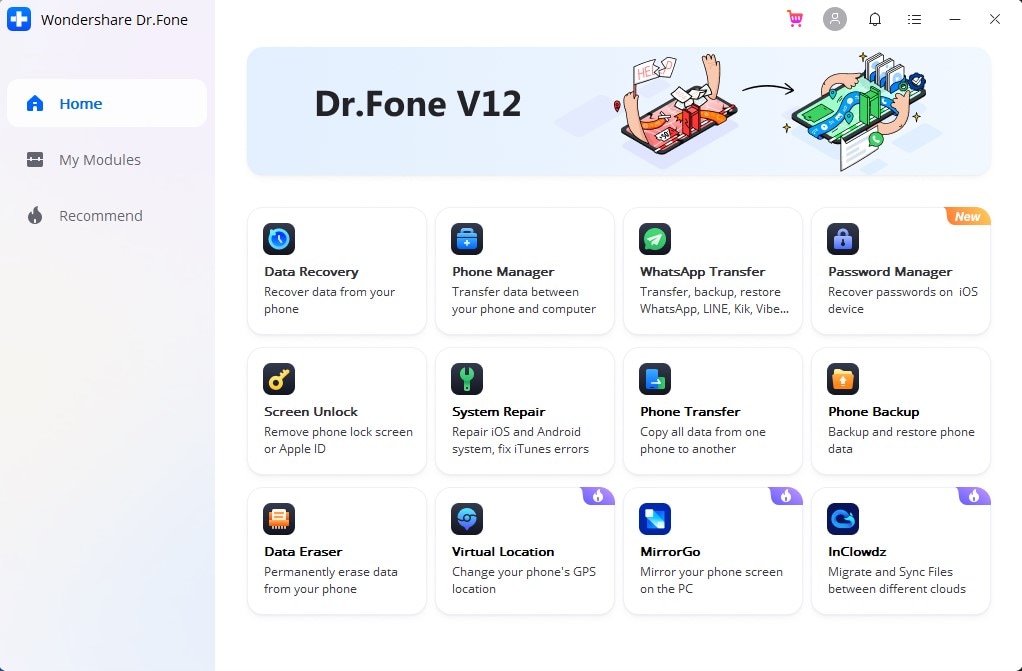 Step 2. Now, select "Transfer WhatsApp messages". Plug your iPhone and another phone, make sure that the iOS device is displayed as the "Source" device and the Android device as "Destination" (that is for you are trying to transfer from iOS to Android).
If the source device happens to be incorrect, you can click on the "Switch" button to swap.
Step 3. To start transferring, please click "Transfer". A pop-up will notifice you if you want all the WhatsApp chats history getting overwritten on the target device. Click "Yes" to proceed.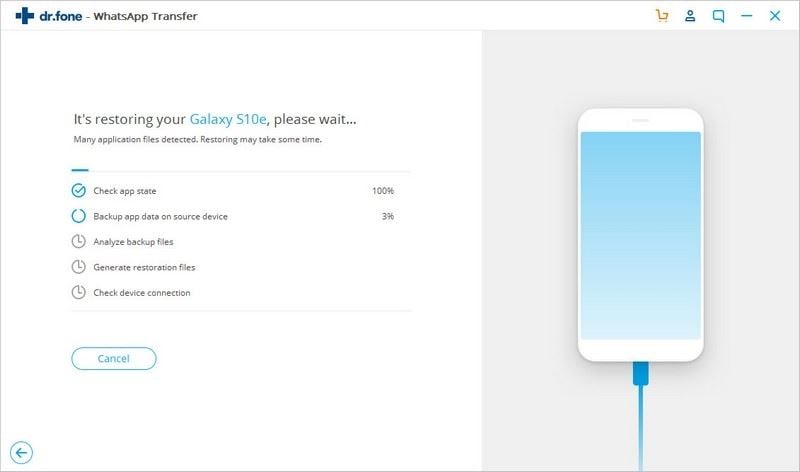 Step 4. The dr.fone begins the WhatsApp restore process from iOS to Android. Make sure the devices stay connected during the process until a pop-up notify you "Transfer completed" after the transfer process finishes completely.
---
Method 3: How to Transfer WhatsApp from iPhone to iPhone Using iTunes
Another method for iOS user is transferring WhatsApp from iPhone using iTunes. Simply follow these steps:
Step 1. Connect your current iPhone to your computer and then run iTunes.
Step 2. Navigate to files < Devices < Backup.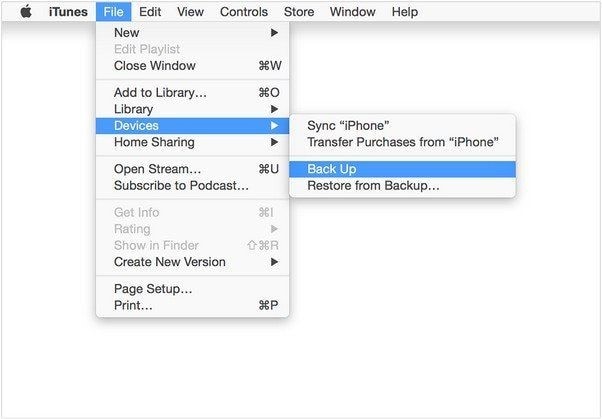 Step 3. Click "Backup Now" to start backing up your WhatsApp data.
Step 4. Keep the phone connected till the files have moved to the computer through iTunes successfully.
Step 5. Now connect your new device to the computer and login. A pop-up will notify you to "Restore from iTunes Backup".
Step 6. Click "Restore from iTunes Backup" to continue. Please make sure your device keep connected during the whole transferring process.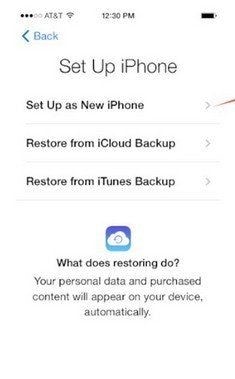 Note: you can also initiate iPhone restore backup manually by navigating files < Devices < Backup and clicking Restore backup.

Common Questions about WhatsApp Transfer via iTunes & iCloud:
iTunes needs you to backup all of data including WhatsApp on iPhone and restore all data to new phone wholly.


iTunes and iCloud doesn't help to transfer data between Android device and iPhone.


iTunes and iCloud backup doesn't offer support for Video Backup.


Large files will burn up your iCloud storage and makes the upload/download process lengthy and data-intensive.


Frequent backups are required to maintain iTunes backup with all the new chats.


Both iCloud and iTunes ways do not allow you to transfer WhatsApp selectively to the new phone.


The iCloud only offers you 5G free of charge space for backup.
Conclusion
Although the exact iPhone 12 release date is a confusing topic, it's sure that every time you get a new iPhone, switching to a new operating system van be a headache, no matter if you want to transfer WhatsApp from Android to iPhone, or transfer WhatsApp to a new phone.
While we have mentioned the other methods before as well, dr.fone - WhatsApp Transfer remains to be the most convenient.
The reason being that, dr.fone becomes the best handy software to face this problem because it offers an all-in-one solution to compete WhatsApp data transfer between the same or different operating systems in only one click without losing data.