WhatsApp is an application which we use to communicate with other via mobile phone. It supports iPhone and Android phones. With the help of a push notification service, this application can instantly receive information sent by relatives, friends, and colleagues. It is free to switch from sending mobile phone text messages to using the WhatsApp program to send and receive messages, pictures, audio files and video messages, etc.
Although, there are many benefits of WhatsApp people always want more accuracy and privacy. Now many people are using GB WhatsApp instead of the formal WhatsApp application. You don't need to worry about GB WhatsApp? It is a new version of WhatsApp with some modification and created by a third party and therefore it is not available on Google play. People ask about is it safe to use GB WhatsApp? And the answer is yes, it is safe to use.
The GB WhatsApp application has the video call function and many privacy features in the latest update of the GB WhatsApp APK. With GB WhatsApp Plus, you can use the two accounts of WhatsApp and WhatsApp Plus on the same device, and you can Use more themes, thereby increasing the number of letters, the possibility of hiding notifications, and the possibility of sending larger video sizes and audio files without worry, and the possibility of sending e-books. We can use GB WhatsApp for different purposes and reasons. We can hide online status, blue ticks, writing status and many more.
Part 1: How to Use GB WhatsApp on iPhone?
GB WhatsApp is very easy to use, install and maintain. If you are interested in installing this app, then follow the given steps. You can enjoy it efficiently after installing. This is many times better than the official WhatsApp.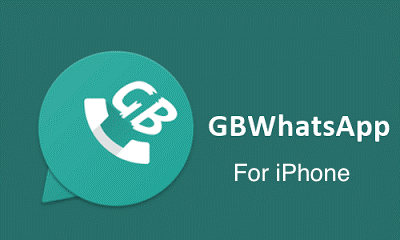 Step 1. Open your system and go to the browser and search GB WhatsApp for iOS.
Step 2. Now click on the download button. Downloading this app requires some permissions. You have to allow them.
Step 3. After this, it will start downloading. Now you can install it.
Step 4. Now open this app and enter your phone number.
Step 5. Verify your number by entering a password.
Step 6. Now it has successfully installed and you can enjoy it accordingly.
Main functions.
As compared to the official WhatsApp, this version has more qualities and features. Also, its characteristics are many times better than the original app. For example, changing the theme, hide the blue ticks, make a group of lovers, and share HD images and videos etc. GB WhatsApp is best option for you if you want to enjoy WhatsApp. There are many functions in "GB WhatsApp". It provides users with a good experience using the application. The functions of GB WhatsApp are as follows.
It has multiple languages.
You can be online 24 hours a day (always online function).
You can send more than 10 pictures from the gallery at a time.
You can send videos up to 50 mb.
Add new emojis.
You can set up WhatsApp group name to 35 characters.
You can keep chatting privately.
Many more
Part 2: What is the Difference between GB WhatsApp and WhatsApp?
WhatsApp and GB WhatsApp are two MODs of WhatsApp Messenger with many similar features. Which one should we choose and why to choose?
The biggest and almost only difference is when using two WhatsApp accounts on the same phone: WhatsApp only lets you use two WhatsApp accounts on the same phone if you use two MODs: if you try to install the official app and WhatsApp you will not be able to do so. Similarly, we can't hide status, chat history and blue tick with official WhatsApp while we can hide different features with GB WhatsApp. With this application, we can handle our WhatsApp data professionally and efficiently.
Part 3: Which GB WhatsApp is the Best and Safe One?
GB WhatsApp now includes the anti-cancellation function; once enabled, other users will not be able to delete your messages after they send you text messages. In addition, a message dispatcher is built into GB WhatsApp. You will get the auto-reply message feature, which will also be enabled to hide chats, save status, and hide status privacy from view. With GB WhatsApp, you can send 100 photos and videos at a time, which is much better than the 30 native limits. You can also make non-contact phone numbers, and you can send video files up to 50MB. GB WhatsApp allows you to hide Bluetick, last appearance, second tick, write a message, recording status, etc. It is recommended to use GB WhatsApp 8.65 Apk for better results. By using this APK you can improve your WhatsApp usage experience efficiently.
Top reasons to use it.
GB WhatsApp has many good features due to which people prefer to use this application. We can use it free of cost according to our needs and requirements. There are many new options available which are very useful. For example, we always prefer good privacy while using the internet and technology. Similarly, many people don't want to show their privacy on WhatsApp. GB WhatsApp is the best option for that kind of person. We can do the following with this application.
Hide recording.
Hide the blue tick.
Hide view status.
Customization, automatic reply messages.
Many more.
Other features of GB WhatsApp.
Now people are converting from official WhatsApp to GB WhatsApp due to many features of this particular application. The following are also important features due to which we should use this application.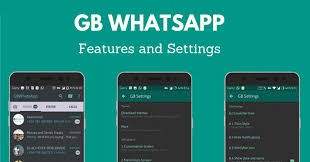 Anti-ban.
No root access required.
Adhesive labels available.
Check the history of messages from contacts and groups.
Forward the message to anyone without a forwarding label.
The size of the audio clip is now up to 100 MB and the video size is 50 MB.
If your friend changes his image, you will be notified.
Stop answering calls from specific contacts or groups.
If you are a privacy lover, then GB WhatsApp should be your first choice for better results.
Part 4: Can I transfer GB WhatsApp Messages to WhatsApp? And How?
GB WhatsApp is the best-modified application for the original WhatsApp Messenger. Interestingly, you can use this modified version on your device without being banned. It will help you live a relaxed life with your friends. If you use this application, you can create multiple WhatsApp accounts and enjoy some great features. Most people use this application to use multiple WhatsApp accounts at once.
Is it safe to use GB WhatsApp? Or can we transfer GB WhatsApp messages to WhatsApp? Yes, it is safe to use GB WhatsApp, and can we transfer GB WhatsApp messages to WhatsApp very easily. We can do it by following the steps given below.
Step 1. Open GB WhatsApp and go to setting>chats>chat backup. At that point, you take backup of all your WhatsApp data.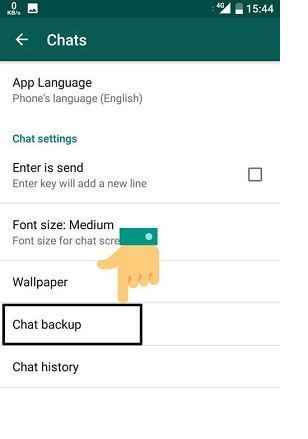 Step 2. Now download and install the official WhatsApp app on your phone.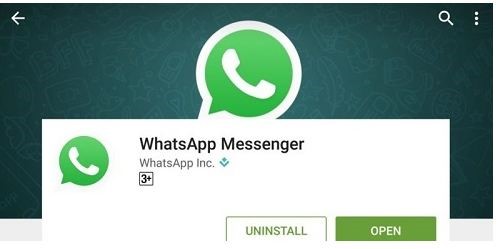 Step 3. Now open file manager and find storage of your phone.
Step 4. Now navigate to GB WhatsApp>database and find the list of backup files and choose the recent file.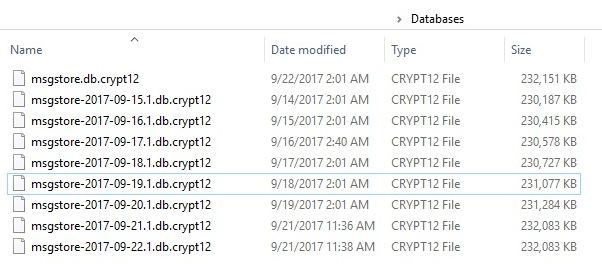 Step 5. Now copy the backup file and go to WhatsApp>database folder and paste the file here.
Now all GB WhatsApp data has transferred to WhatsApp and you can enjoy the official WhatsApp on your mobile phone. So, in this way, we can transfer GB WhatsApp data to WhatsApp efficiently and quickly.
How to use Dr.Fone to transfer WhatsApp?
We all know it very well that the use of WhatsApp is increasing day by day. Almost every person with a mobile phone is using this application. Sometimes due to different reasons, we have to transfer WhatsApp data from one device to another. It is very important to use a reliable tool to transfer data efficiently. Dr.Fone is one of the best tools in this regard. Through this tool we can transfer data easily among different devices. We can transfer iOS to android, iOS to iOS, android to iOS and android to android.
Key features of Dr.Fone.
Sometimes we have to transfer our data on WhatsApp from one device to another, there are different options available to complete this task. For example, With Dr.fone you can make the backup of your WhatsApp data and history much easier than ever. Through this tool we can perform the following very quickly and easily.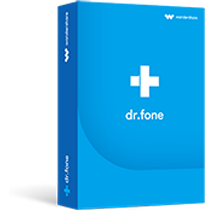 When you use dr.fone, you will enjoy such features as the following:
It allows for the phone to phone transfer. You can transfer WhatsApp files from iOS to Android and vice versa and iOS to iOS or Android to Android.
It allows for transferring all your WhatsApp Business chats to a new iPhone or Android when you are changing devices.
dr.fone lets you transfer your WhatsApp messages and media files to a computer to avoid essential data loss.
It allows for the restoration of backed-up files on a wide range of systems.
dr.fone WhatsApp Transfer has a preview feature that lets you go through the files you have backed up before restoring them to any device of your choice.
3,898,656 people have downloaded it
By following the steps given below we can transfer data very easily and quickly.
Transfer WhatsApp from iPhone to Android/iOS.
Step 1. Download and install Dr.Fone.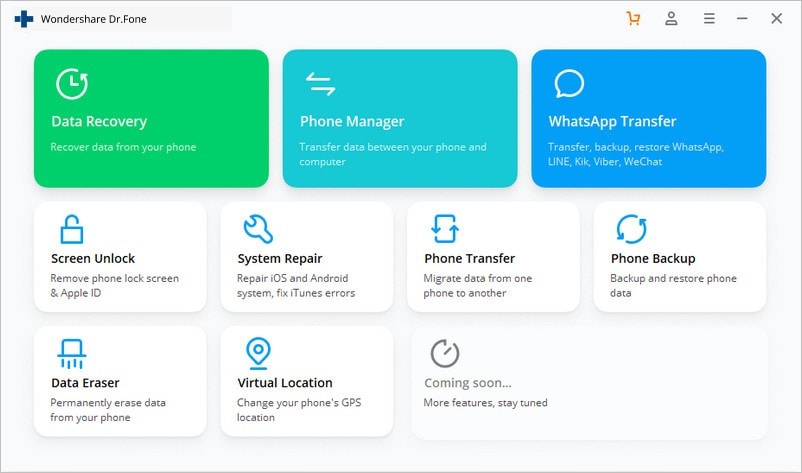 Step 2. Connect your devices.
Connect your devices to the computer to transfer WhatsApp messages. Your computer will detect devices after connection automatically. The following window will appear after connecting your devices with the computer.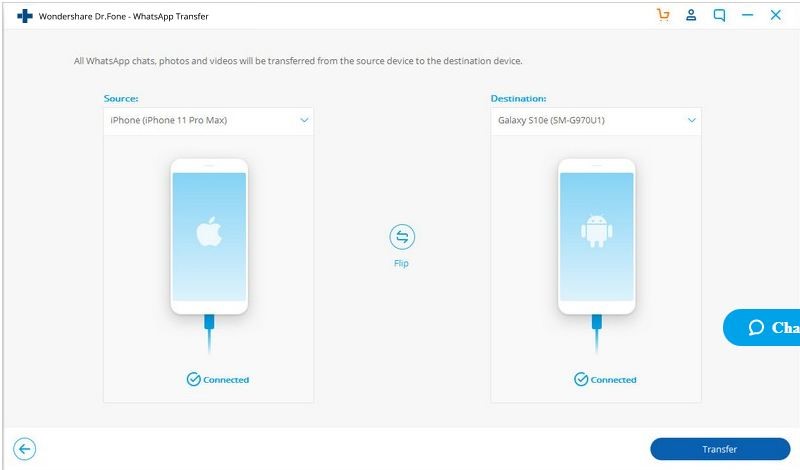 Step 3. Start to transfer WhatsApp messages.
This step is very important because at this step data will be transferred from one device to another. Just choose the destination device and click yes.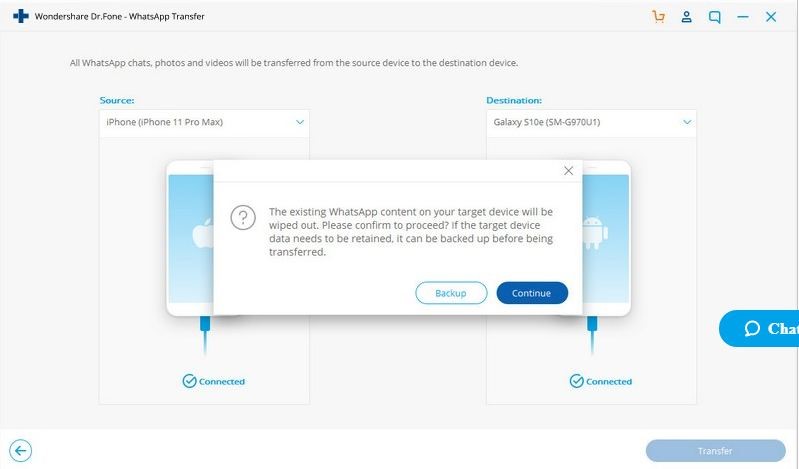 Step 4. The transfer process will start now.
Now data will start transfer from one device to another.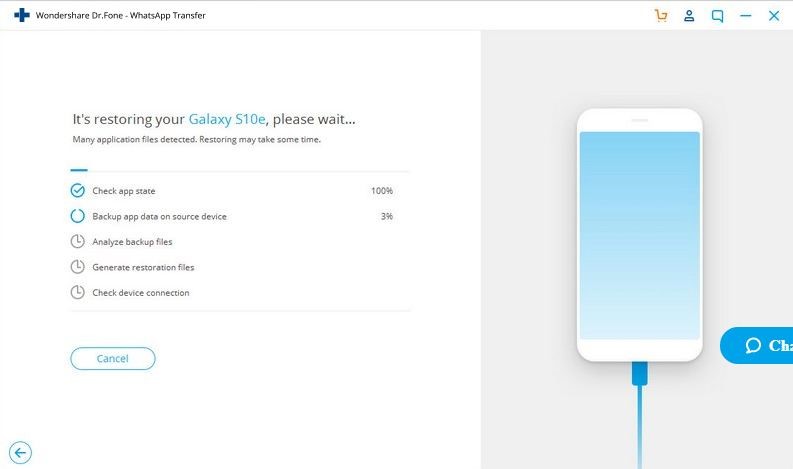 Step 5. Wait for the completion of the process.
Now just wait for few seconds until the completion of the process. Just wait and keep your devices connected to avoid any kind of inconvenience. You can disconnect your devices when you see the window given below.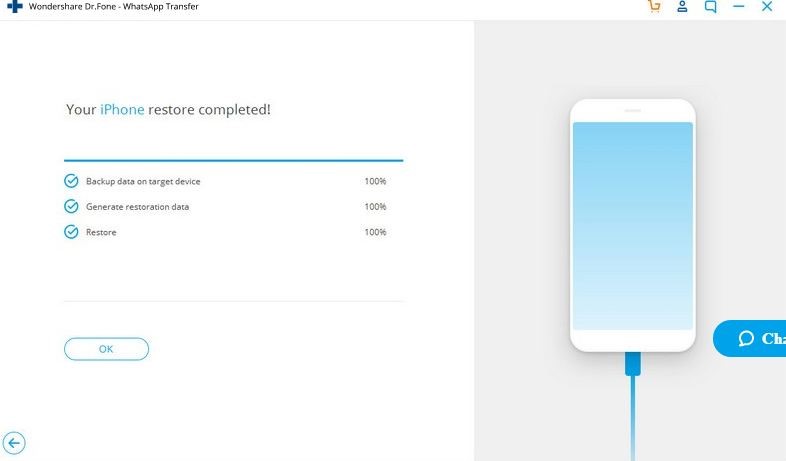 It's done now. With just a few clicks, you can transfer WhatsApp data from one device to another with this data transfer tool.
Conclusion.
So, if you are using WhatsApp and want to transfer data from one device to another, then you must use Dr.fone for better results. It is very simple to use, install and maintain. Many professionals are using this tool now due to its good quality features.