What could be the most irritating part when you have WhatsApp? When you want all your WhatsApp stuff gets saved by creating backup and somehow WhatsApp backup stops working, right? We can understand how much important your WhatsApp data is and so is saving them. And you can be up in arms when backup fails to run. Hence, we have listed some possible fixes that can be tried whenever WhatsApp backup is not working.
Part 1: 4 Methods to Fix WhatsApp Backup not Working Issue
1. Update (Firmware and WhatsApp)
Whenever WhatsApp backup not working issue arises in an iPhone, the first doubt goes to the out-dated version of your iOS. On downloading the newest software version, various issues in the device gets fixed since every fresh version is supposed to fix the old and irritating bugs and give new feature for enhanced performance. Ergo, it is recommended to get your software updated when WhatsApp backup process fails to work. Here are the steps for this method.
When you have iPhone:

How to: Open 'Settings' in your device and look for the 'General' option. Tap on it followed by 'Software Update'. You will be notified if there is presence of any new software. Install the newest version when available.

For an Android device:

Since Android software is more stable than that of the iOS. So here we won't recommend you to update the software as a fix. Instead, you should try updating your WhatsApp if your Android device's WhatsApp backup is not working as well.

How to: Just go to the 'Play Store' and tap on the three horizontal lines at the top left. Choose 'My apps & games' You will spot a list of all installed apps and beside each app and will get to see 'Update' or 'Open' written.

If 'Update' is written beside 'WhatsApp', tap on it and update the app.

2. Check the Storage

If still WhatsApp backup is not working, make sure to check if your device has enough space or not. An insufficient space can be a big reason and trigger this problem. Here is how to check storage in your device.

For Android Device:

How to: Open 'Settings' and go to 'Storage' option. You will now be able to inspect about the storage including available storage and how much space an app is taking etc.

For iPhone:
How to: Go to 'Settings' and tap on 'General'. Now, scroll down to get the 'iPhone Storage' option. There, you will be allowed to see the storage information.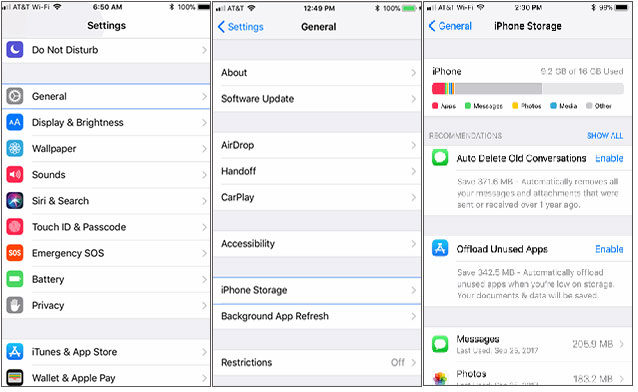 3. Restart your Device
This could sound silly but trust us this workaround is the most effective and simplest. You just need to close the WhatsApp in your device and then restart your device. This method could be considered as the recommended one. Hence, be it Android or iPhone, try restarting and get out of the trouble at once.
4. Log Out and Log in to iCloud (For iOS Devices)
If the above methods didn't worked and still your WhatsApp backup is not working, you need to sign out and then sign in again into your iCloud account. Please note that this method is for iOS device users only. Here are the steps for this process.
How to: Open 'Settings' and tap your name. Look for 'Sign Out' option and type in the Apple ID and password.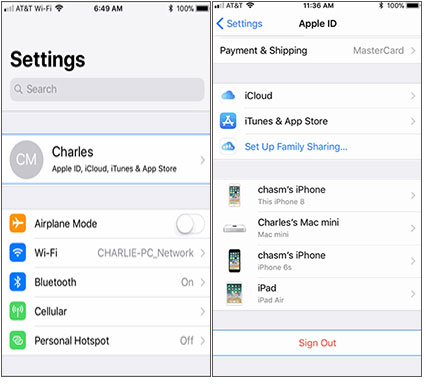 Now, tap 'Turn Off' and enable the data types you wish to copy.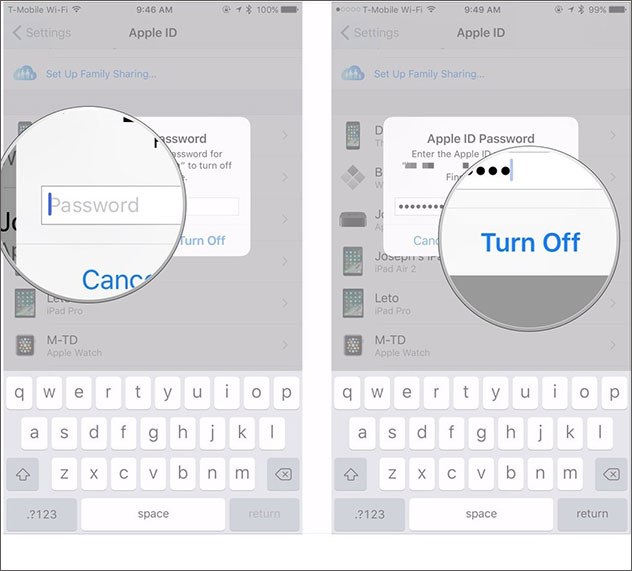 Tap 'Sign Out' and confirm it by again tapping 'Sign Out'. Now you can sign in again to your iCloud account.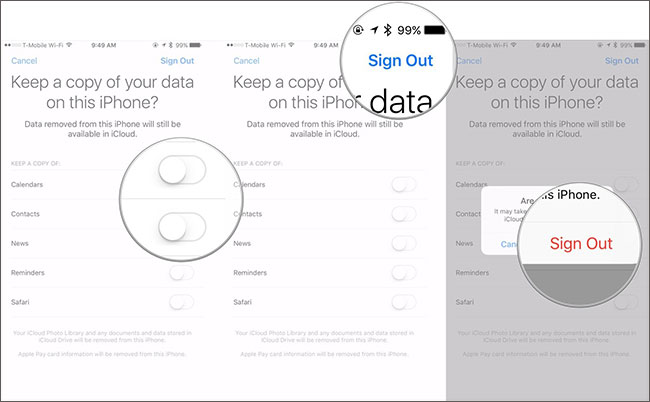 Part 2: Alternative: Best Way to Backup WhatsApp for iPhone
You can try the most superior way to backup your WhatsApp for your iPhone. The way is using iSkysoft Toolbox - iOS WhatsApp Transfer, Backup & Restore. This is one of the most trustworthy tools that can help you in creating WhatsApp backup or transferring WhatsApp. You can even use this tool to restore when in case WhatsApp is not restoring backup. Here is how to use this tool in order to backup your iOS WhatsApp.
Step 1: Open the Tool
Firstly, download iSkysoft Toolbox and run it now to ente the main interface. From there, just click on 'WhatsApp Transfer, Backup & Restore'.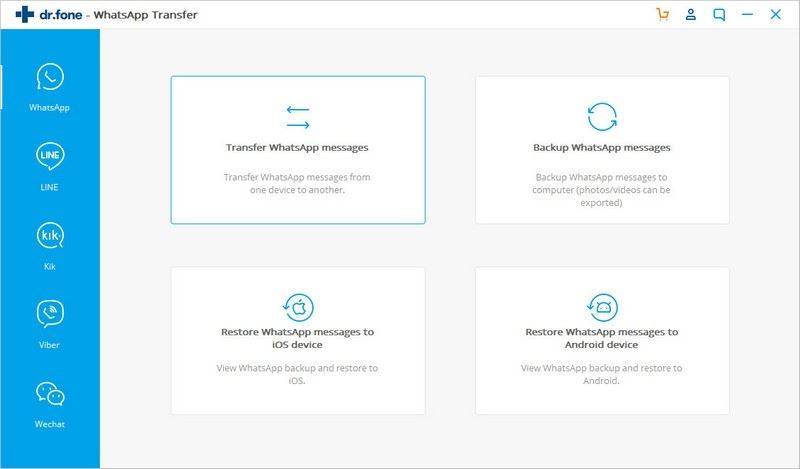 Step 2: Backup your WhatsApp
Now from the next interface, choose 'Backup WhatsApp messages'. Connect you iPhone to the PC now. Hit on 'Backup' button and the process gets initiated. Don't disconnect the device during the process.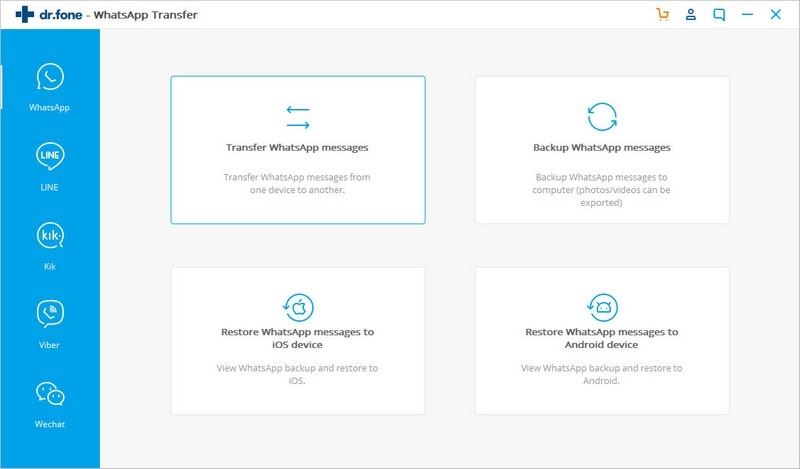 Step 3: Preview your Backup
When backup gets completed, you can click on 'View it' option followed by 'View' so that you can have a look on your backup items. Choose 'WhatsApp' or 'WhatsApp Attachments' to preview the backup.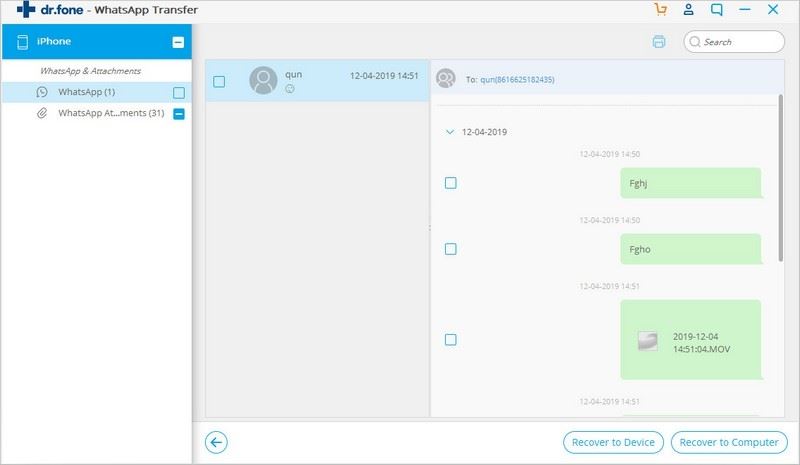 Part 3: Alternative: Best Way to Backup WhatsApp for Android
If you are using an Android and want the best way for backup too, we have solution for this too. iSkysoft Toolbox - Android Data Recovery provides the users with a better option for making backup of WhatsApp in their Android Device. With the help of Android Data Recovery by iSkysoft Toolbox, you can easily backup your WhatsApp and can access it any time later. Let us learn the steps for this.
Step 1: Launch the Toolbox
Download, install and run the iSkysoft Toolbox for Android in your computer. Choose 'Data Recovery option and connect your device to PC afterwards using a USB cable. Don't forget to allow USB Debugging in your phone.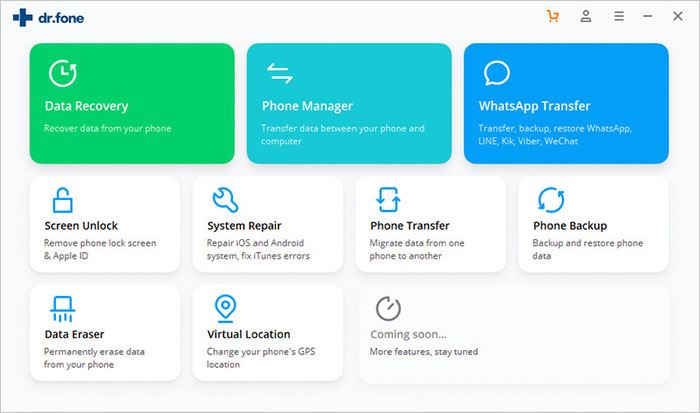 Step 2: Choose the Appropriate Item
Your device will be scanned and the data types will be shown on the next screen. Choose 'WhatsApp messages & attachments' from the list. Click on 'Next' option then.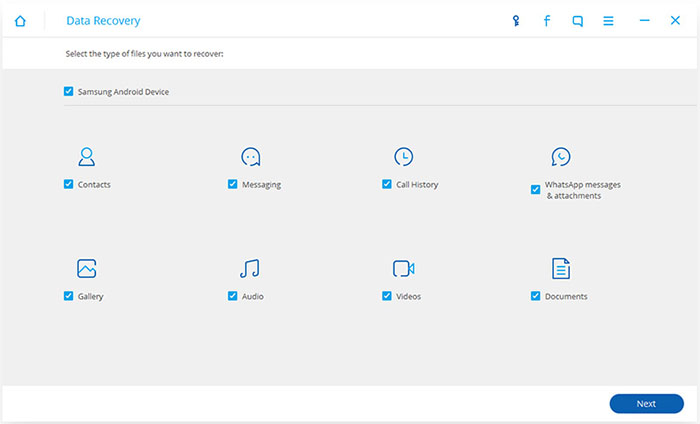 Step 3: Pick out the Scanning Mode
It's time to go for a scan mode. You will get to see 'Standard Mode' option under which there will be two scan options. One is 'Scan for deleted files' and the other is 'Scan for all files' choose the latter one and proceed.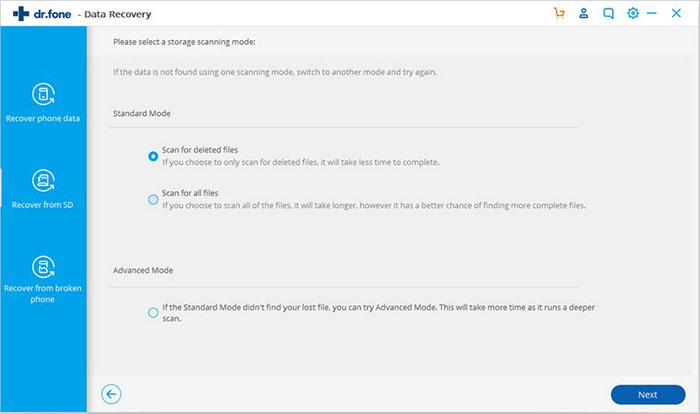 Step 4: Preview the Files and backup them
Click on 'Next' after select the scan mode and you can then preview your files on the next screen. Look at the left panel to find 'WhatsApp' option. Click on it and view your files and attachments. Once satisfies, hit on the 'Recover' button and you are done.